This Amazing Hotel Dining Perk May Be Vanishing Forever
One of your favorite parts of traveling may now be a thing of the past.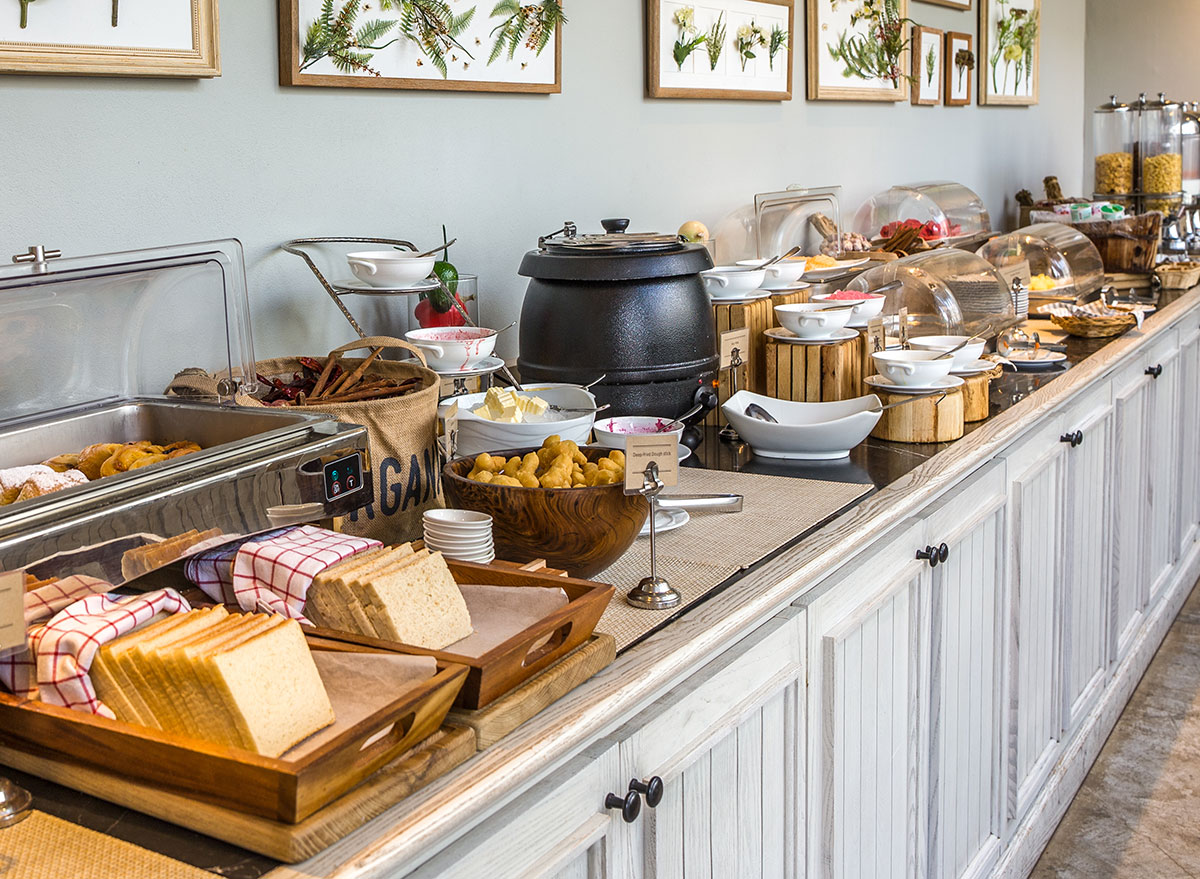 When you go on vacation and stay at a hotel, one of the best parts of the experience—aside from the soft bathrobe folded on the tub and complimentary toiletries—is the breakfast buffet that awaits you near the lobby every morning.
Sure, the breakfast buffet at every hotel may not consist of the most impressive spread of baked goods and savory offerings. (We've all been to that airport hotel that only had the basics: scrambled eggs, sausage links, slices of both white and brown bread for toasting, a cauldron of steel-cut oatmeal, and at the table, a small bowl of jam and honey packets.) But at least it was some complimentary (or even not) nourishment, set up as a convenient, unlimited spread.
Unfortunately, the pandemic may have terminated this kind of morning feast. According to Eater, large hotel chains like Four Seasons, Hilton, MGM Resorts, Marriott, and InterContinental stopped all of their food services in mid-to-late March. As restrictions are lifting globally, the hospitality industry has actively restructured its services to better accommodate guests in such a way that's safe, healthy, and socially distant. One of the first things to get the ax was the quintessential self-service buffet. (Related: Shocking New Video Shows How Fast Germs Spread in a Restaurant.)
While the latest research supports that the novel coronavirus is not transmittable through food, that isn't the focal point of concern with a buffet. Rather, it's the shared utensils, plates, and glasses that could put you at risk of exposure. For example, the tongs and ladles that sit in the dishes beneath the warming tray with slices of ham, biscuits, and gravy could be contaminated.
But wait, aren't objects low risk for coronavirus transmission?
The CDC may have said that the risk of contracting COVID-19 through objects is low due to the virus' poor survivability on surfaces, but that doesn't rule it out entirely. In fact, just a few months ago, a team of scientists in Japan put an ultraviolet light above a buffet to demonstrate how easily infection can spread.
In the viral video, one of 10 participants was asked to rub their hands with a liquid that's only visible under blacklight. In the experiment, he represented someone with coronavirus who had just coughed into his hands. He goes through the buffet line first, followed by the nine other participants. After just 30 minutes, the blacklight turned on and revealed that every person had the simulated contaminated substance on their hands and, for three individuals, their faces.6254a4d1642c605c54bf1cab17d50f1e
Think about it, if someone who has coronavirus (and assumingly doesn't know it) sneezes into their hands and then touches the orange juice pitcher just before you do, you may have just exposed yourself to the virus. Unless that is, you sanitize your hands immediately after touching it—but is that really going to be at the forefront of your mind when you go to sit down? We would argue you'll be too tempted to pick up that blueberry muffin before you have time to think about washing your hands.
Do members of the hospitality industry actually believe hotel breakfast buffets are gone?
Unfortunately, the days of the communal waffle iron are—as of now—over.
"The breakfast buffet will be a thing of the past," Claudio Scarpa, director of the hotel association for Venice, Italy, told Eater, who now serves guests breakfast bags.
However, this is not to say that breakfast foods will no longer be available at hotels. Anthony Melchiorri, a hospitality consultant and host of Hotel Impossible on the Travel Channel told The Washington Post that hotels have plenty of options to make the morning meal safer for guests to enjoy, such as limiting capacity through a reservation-only policy.
Senior vice president of global operations at Hyatt told the paper in an email that restaurants have already adopted a new breakfast service, offering made-to-order options and a-la-carte menus instead of a self-service buffet.
In short, the breakfast buffet may be gone for good, but a morning meal will continue to be served at hotels and other lodging facilities, just in a slightly different fashion.