25 Best-Ever Restaurant Buffets in Las Vegas
There's a Las Vegas buffet for every type of traveler.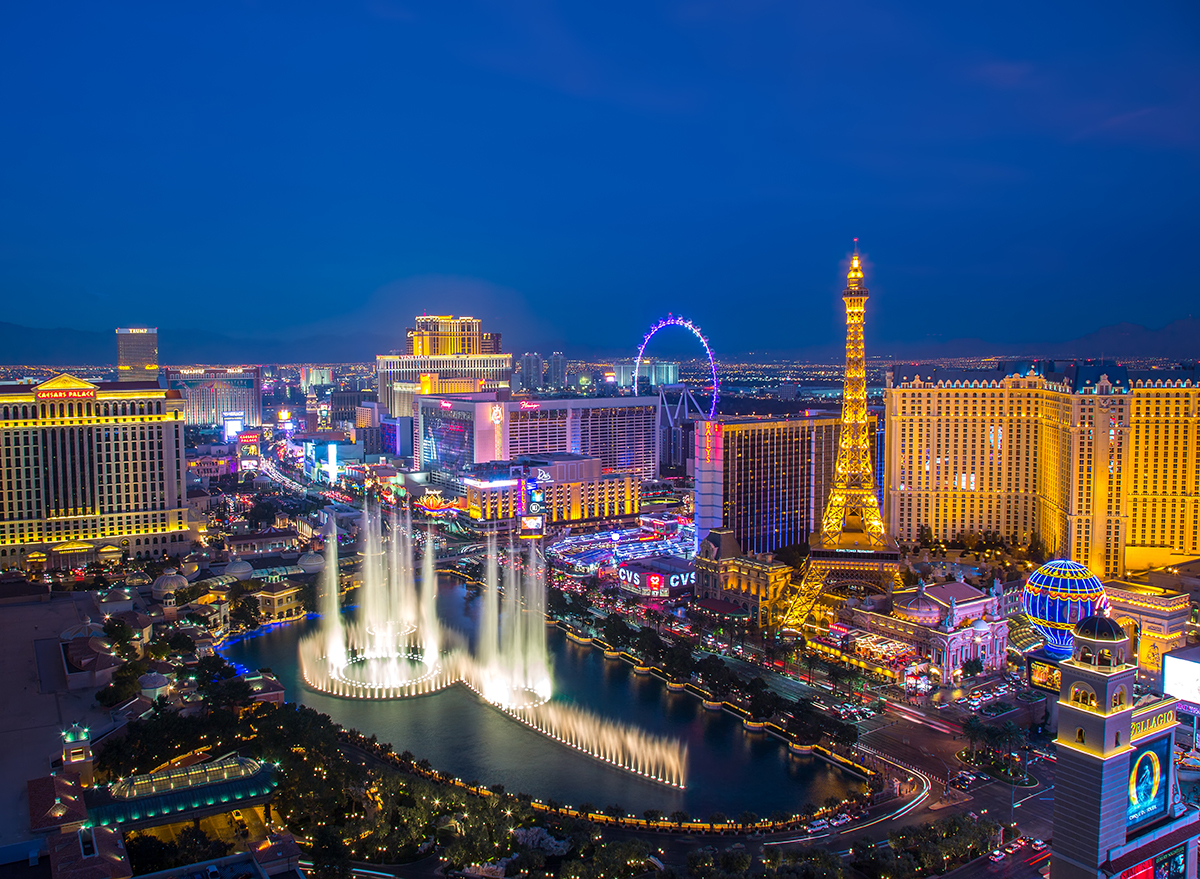 Whether you're a resident of Las Vegas or you're planning a vacation there, you've probably heard about the legendary buffet scene. It can feel like every casino has its own buffet, and there are seemingly endless options to choose from. We're here to help you find the best Las Vegas buffets for your needs.
If you're looking for seafood, curry, or even French cuisine, the Las Vegas buffet scene has you covered. In search of kid-friendly stations to keep the little ones occupied? There are options for that, too. Here are 25 of the best buffets in Las Vegas, along with what to order and look out for while you're there.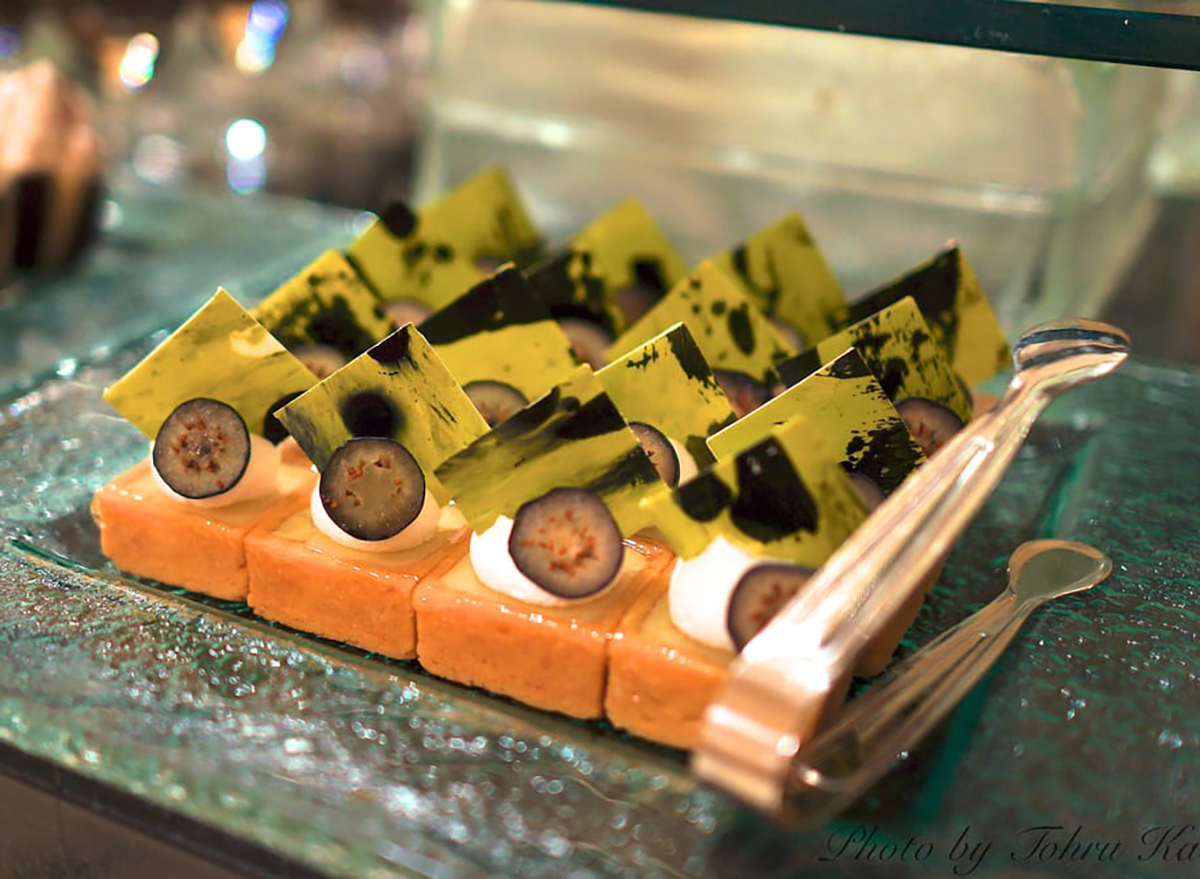 3645 South Las Vegas Boulevard, Las Vegas, NV 89109
Located inside Bally's Hotel and Casino, the Sterling Brunch has been an indulgent tradition for more than 30 years. The restaurant has undergone a makeover to create a modern aesthetic near the casino floor. The best for a splurge, the Sterling Brunch will take a bite out of your pocketbook at $85 per person.
The endless flowing Champagne, Gruyere popovers, caviar, Alaska King Crab, lobster tail, prime rib, filet mignon, and chocolate-covered strawberries are only available on Sundays, and reservations book at least a month in advance.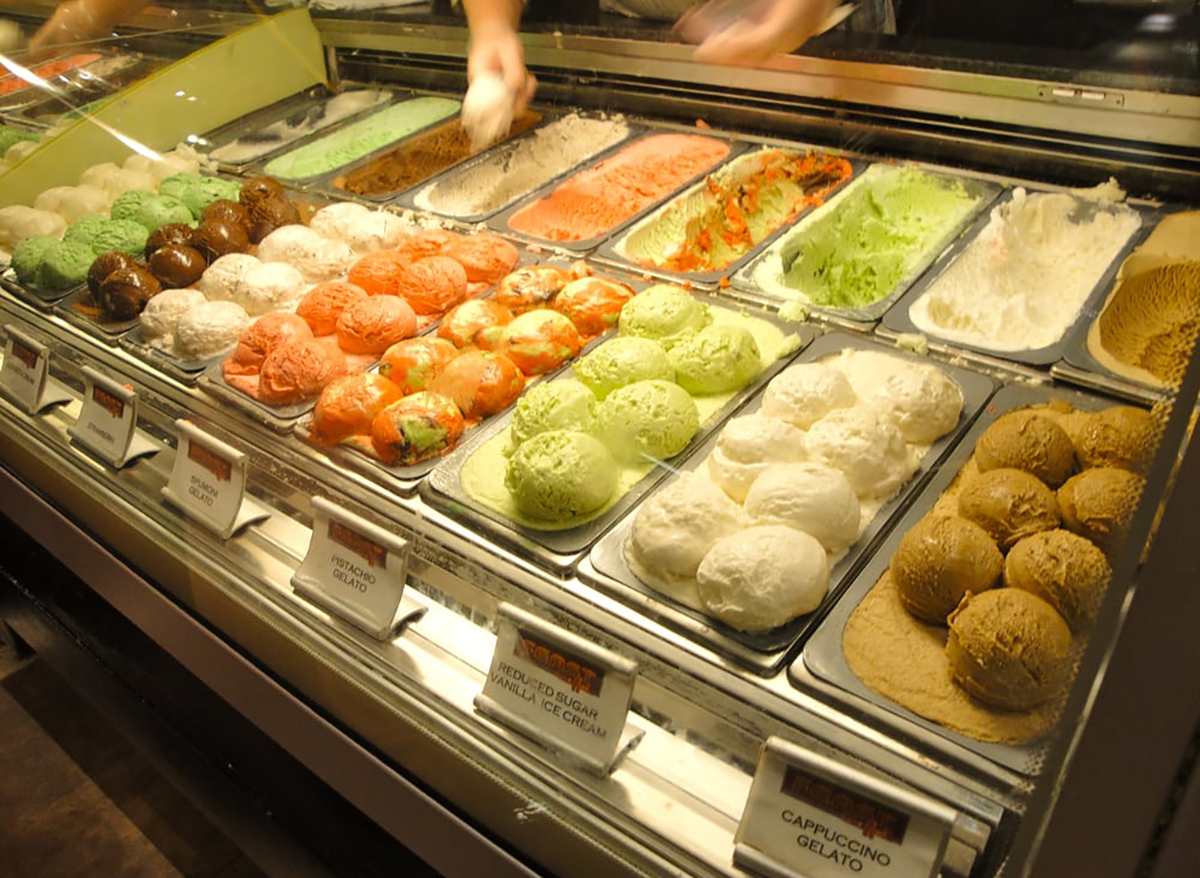 11011 West Charleston Boulevard, Las Vegas, NV 89135
The Feast Buffet at the Red Rock Casino, Resort & Spa offers diners the opportunity to eat around the world with multicultural menu offerings. There is something for every appetite.
The menu changes but offers a good bit of variety, including peel-and-eat shrimp, Kalbi ribs, giblet gravy, hand-rolled sushi, and desserts like crème brûlée and gelato. A solid option for a group of varied appetites off the strip, the Feast Buffet is also a good value at $27.99 for adults and $16.99 for children.
3708 Las Vegas Boulevard South, Las Vegas, NV 89109
Wicked Spoon does a great job of feeding the masses inside of The Cosmopolitan Resort and still keeping the food interesting and innovative. Try the egg frittata served in a Mason jar, make your own pho, or try the mini poke bowls, artisanal sausage, bone marrow, and wild boar Bolognese.
Despite the meat on the menu, Wicked Spoon is also a great buffet for vegans. The staff is able to let plant-based eaters know their best options from the likes of sushi, hummus, vegetable gyoza, delicious salads, and puddings.
4321 West Flamingo Road, Las Vegas, NV 89103
"A.Y.C.E." stands for "all you can eat," and the American buffet at The Palms takes that seriously. The wood-burning grills and smoker create tasty brisket and chicken options.
A good selection of seafood is also available, including ceviche, clams, and mahi-mahi. There are quite a few healthy options on the buffet, zucchini noodles, a large salad bar, and fresh-pressed juice, making this a good choice for guests looking to avoid a food hangover.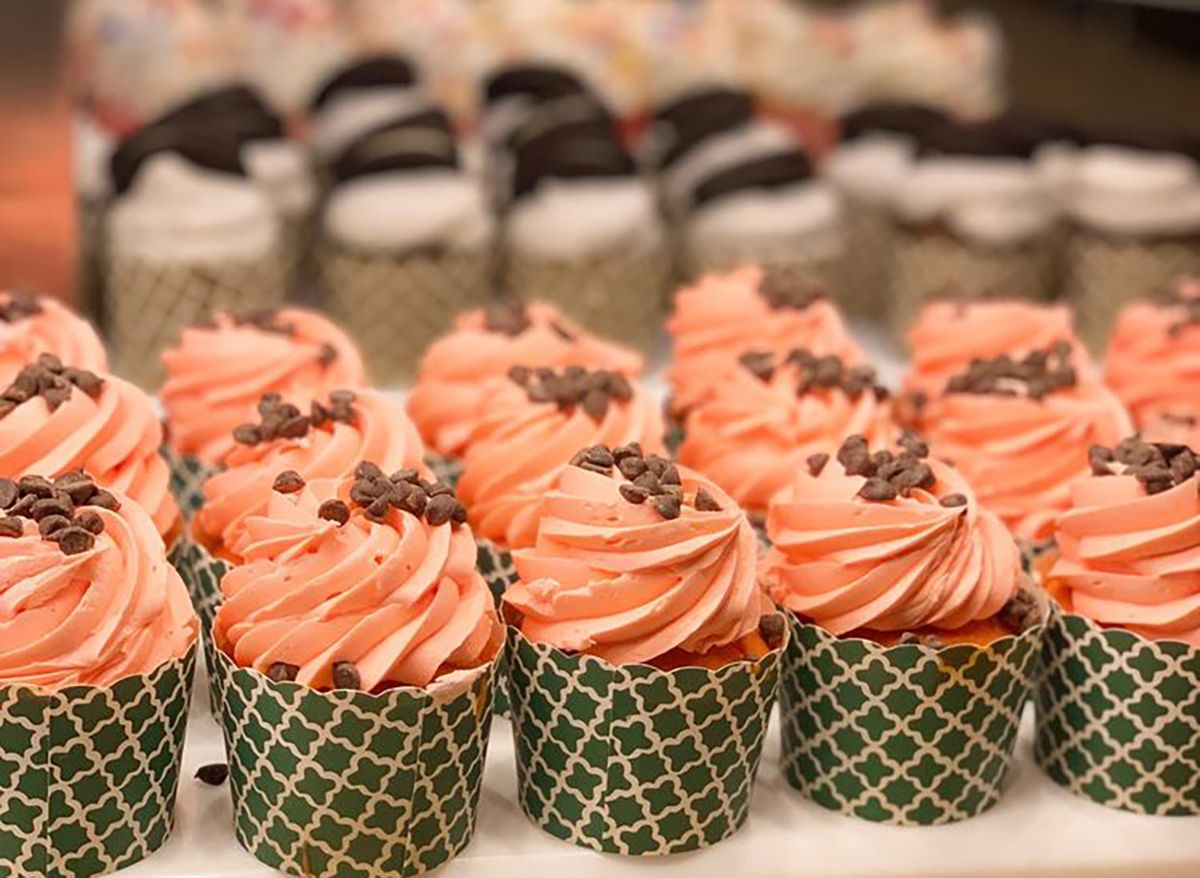 3570 South Las Vegas Boulevard, Las Vegas, NV 89109
Bacchanal continues the iconic indulgence that Caesar's Palace is known to provide on the Las Vegas strip. We recommend the truffle deviled eggs, lump crab avocado toast, and green applewood smoked wagyu.
There are absolutely endless choices on the dessert bar, too. There's a gelato bar full of unique flavor combinations, and on any given day, diners can find matcha cream cake, red bean cream puffs, chocolate mousse, strawberry and rose cupcakes, bananas foster, Froot Loops treat pops, sugar-free options, and a selection of fresh fruit. That list doesn't even start to cover the copious amounts of dessert available, making this buffet the best choice for those with a sweet tooth.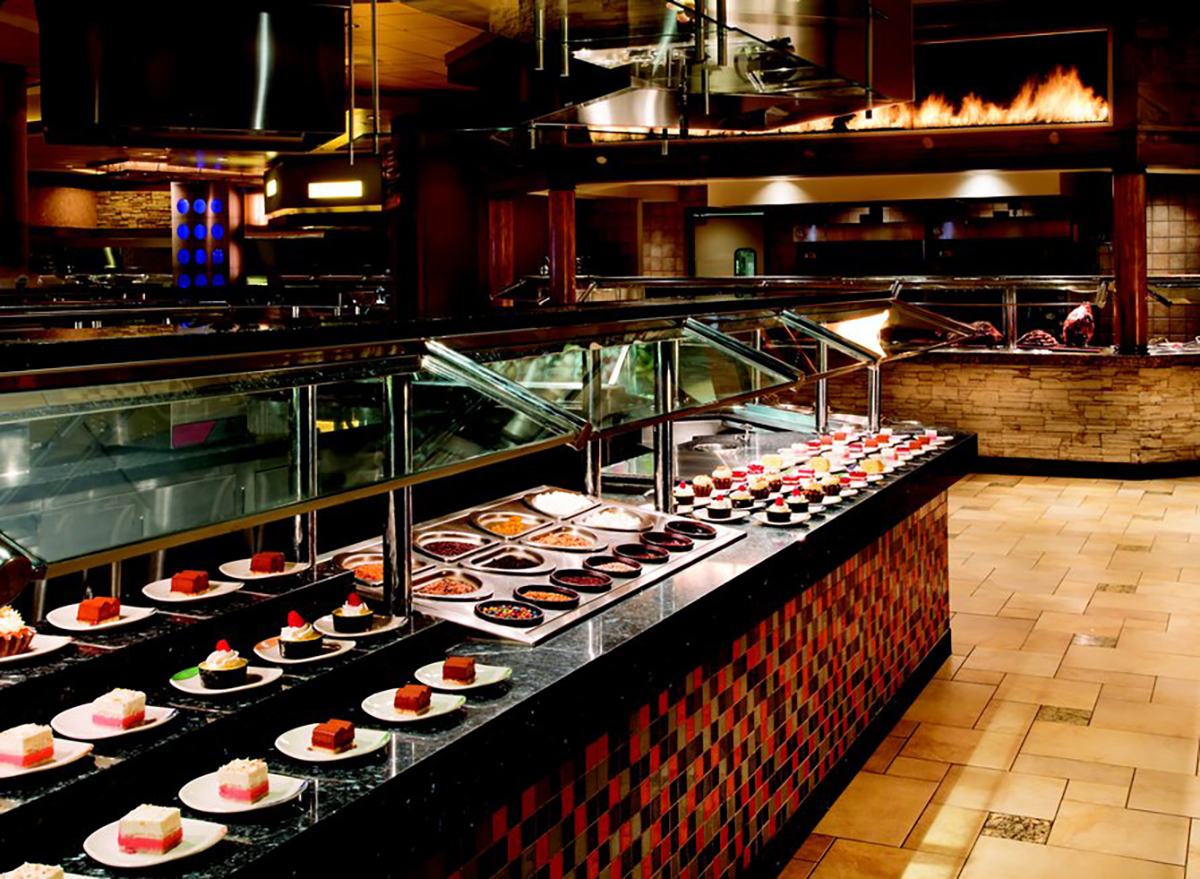 3700 West Flamingo Road Las Vegas, NV 89103
Far from the typical buffet that serves from big dishes, the 200-plus options at Rio's Carnival World Buffet are prepared right before the customer's eyes, ensuring fresh options.
Offering Mexican, Italian, American, and Asian-style dishes, Carnival has enough to satisfy most appetites. If drinks rate highest in importance, they also offer "all you can drink beer or wine" for just $13.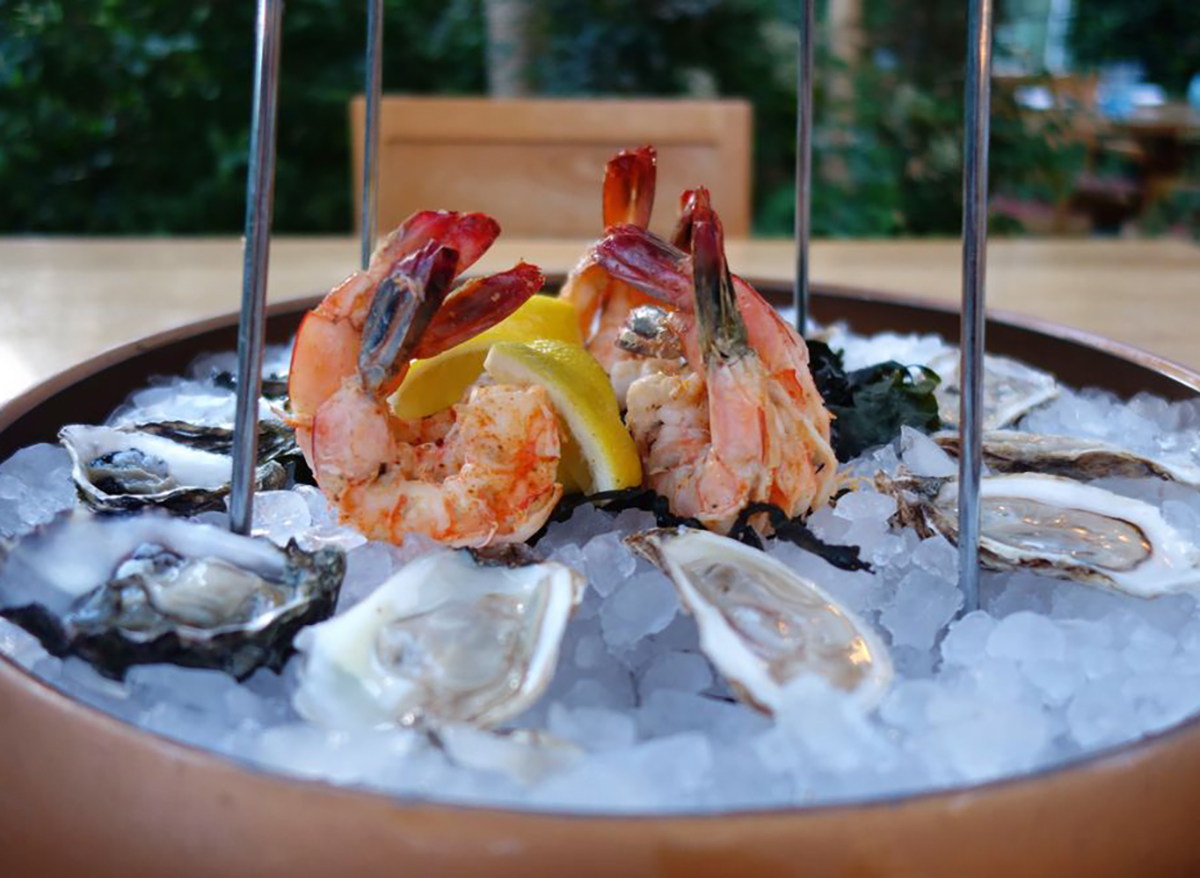 3730 Las Vegas Boulevard South, Las Vegas, NV 89109
Fresh California coastal cuisine is offered at Aria's innovative buffet restaurant, Herringbone. Created with a social atmosphere in mind, this buffet makes a great escape for those looking for a break from the typical Las Vegas hustle and bustle. Look for the buffalo octopus, duck fat fries, or fresh cocktails like the Banana Smash, which features banana whiskey flavored with ginger, lemon, and rosemary.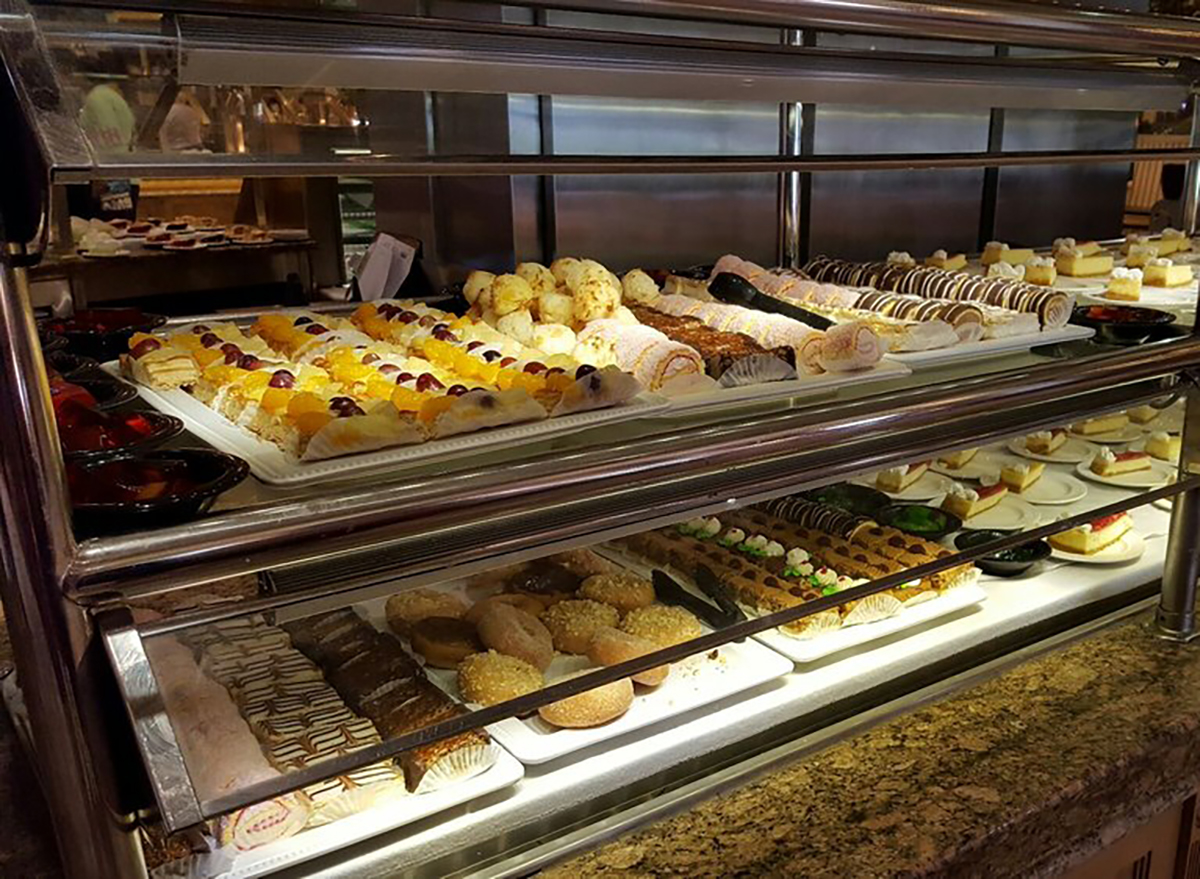 200 North Main Street, Las Vegas, NV 89101
Garden Court offers themed nights at Main Street Casino downtown, so it's a great choice if you have a particular food craving. Friday is seafood night, prime rib and scampi are served on Tuesdays, and Saturday and Sunday have a special Champagne brunch.
The buffet is also budget-friendly, starting with price points below $20. Expect a variety of well-loved comfort foods, such as burgers, nachos, calamari, and pizza. There's even a late-night menu with crave-friendly ham and eggs and Southern-style French toast.
Mount Everest India's Cuisine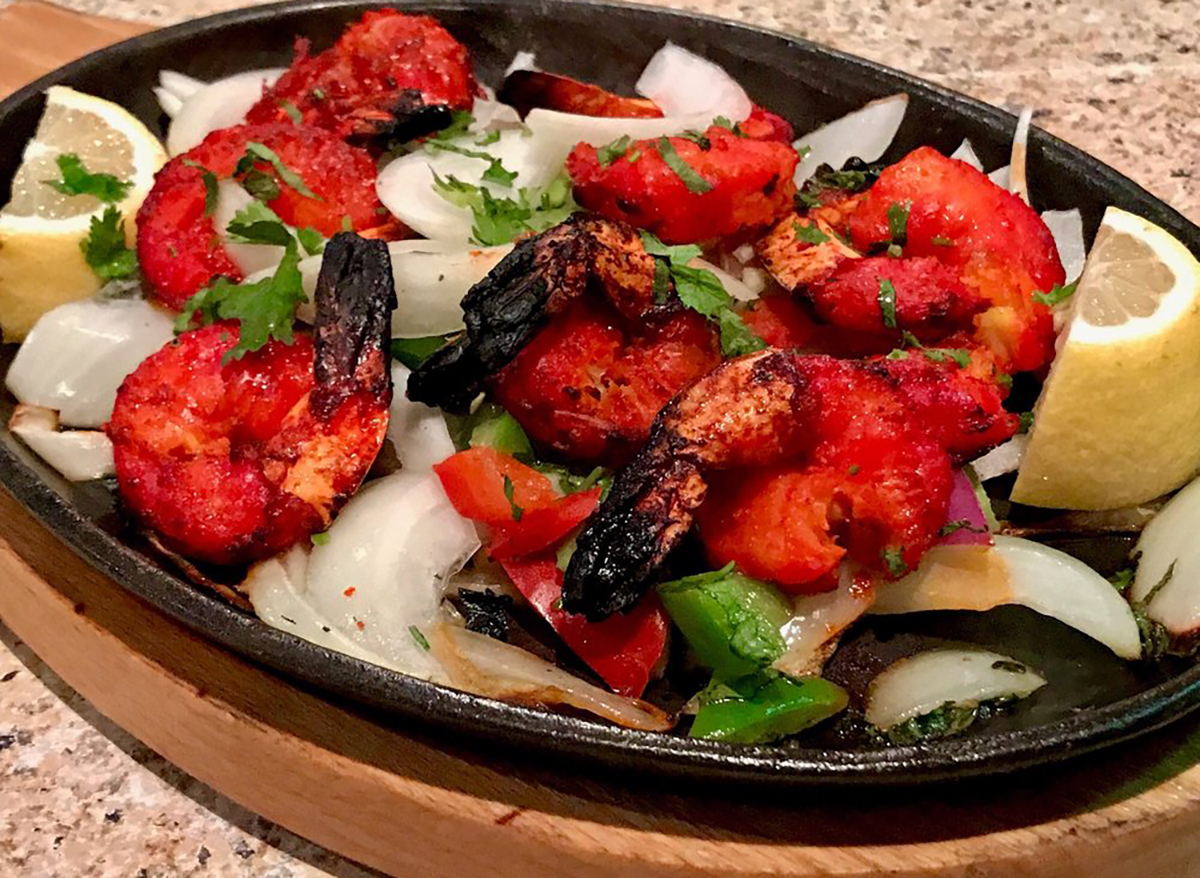 3641 West Sahara Avenue, Las Vegas, NV 89102
Between 11:00 a.m. and 3:00 p.m., this family-owned restaurant gives the savvy traveler an option for a buffet away from the big hotels. Naan, chicken tikka masala, shrimp vindaloo, and chicken tandoori all make an appearance quickly and conveniently for hungry eaters. An authentic way to sample all that Indian food has to offer, the buffet at Mount Everest India's Cuisine is fantastic for vegetarians, giving them lots of spicy options.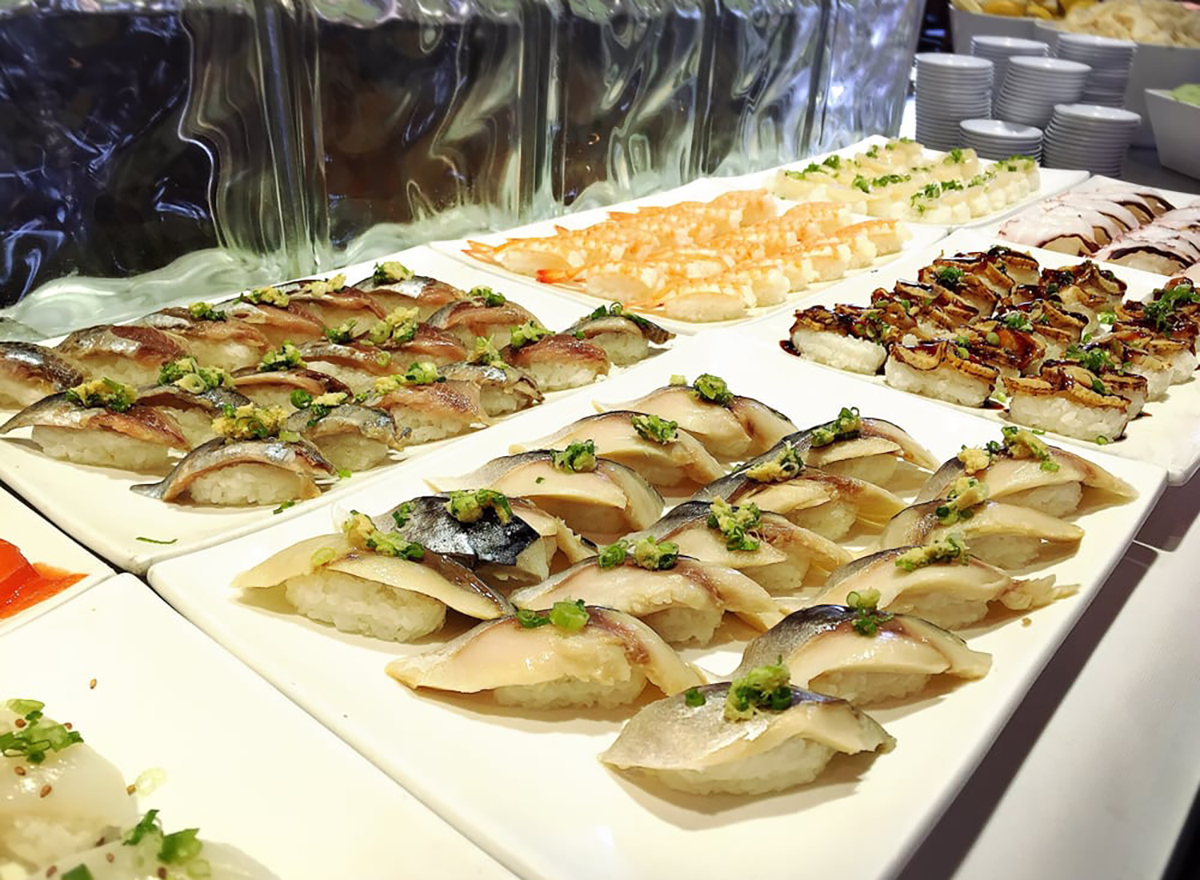 3965 South Decatur Boulevard, Suite 5, Las Vegas, NV 89103
Combining fresh, seasonal ingredients into creative, gourmet Japanese dishes, Makino is the go-to buffet for sushi and seafood in Las Vegas. Choose from hot dishes like buttery escolar steak and tonkatsu, or go straight for the rows of colorful sushi on the buffet. Diners usually don't have to wait and always leave satisfied.
3799 Las Vegas Boulevard South, Las Vegas, NV 89109
The MGM Grand Buffet believes in satiating their customers with a superabundance of American food, with all you can drink and all you can eat options available for diners.
This buffet can host big groups of visitors to the strip, accommodating them together rather than splitting up the group. The menu hosts the usuals, including prime rib, snow crab, and mac and cheese.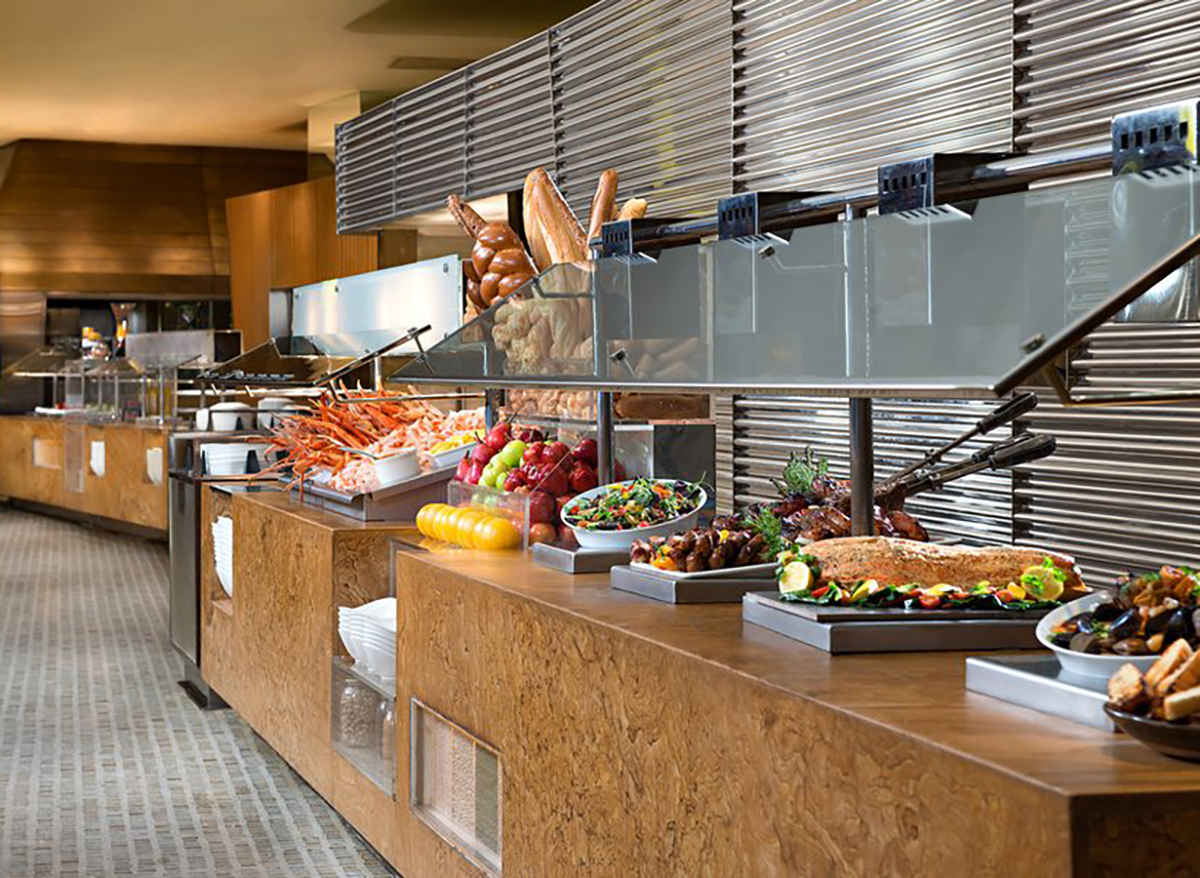 3400 Las Vegas Boulevard South, Las Vegas, NV 89109
Do you love Coca-Cola? Then this buffet is the right one for you. The Cravings Buffet in the Mirage has more than 150 flavors of Coke to pair with your Menudo, nopalitas salad, ribs with brown sugar, and honey-glazed salmon. The crab legs start flowing at 3:00 p.m., just in time to enjoy them before a show.
129 East Fremont Street, Las Vegas, NV 89101
At one of the oldest casinos in the city, the Golden Nugget Buffet has a menu full of the expected buffet dishes. They've got the steak, chicken, sausage, seafood, and sides down to a science. If diners don't want to risk a bad meal at a buffet that's a bit too ambitious, the Golden Nugget is a good, solid choice for tasty food.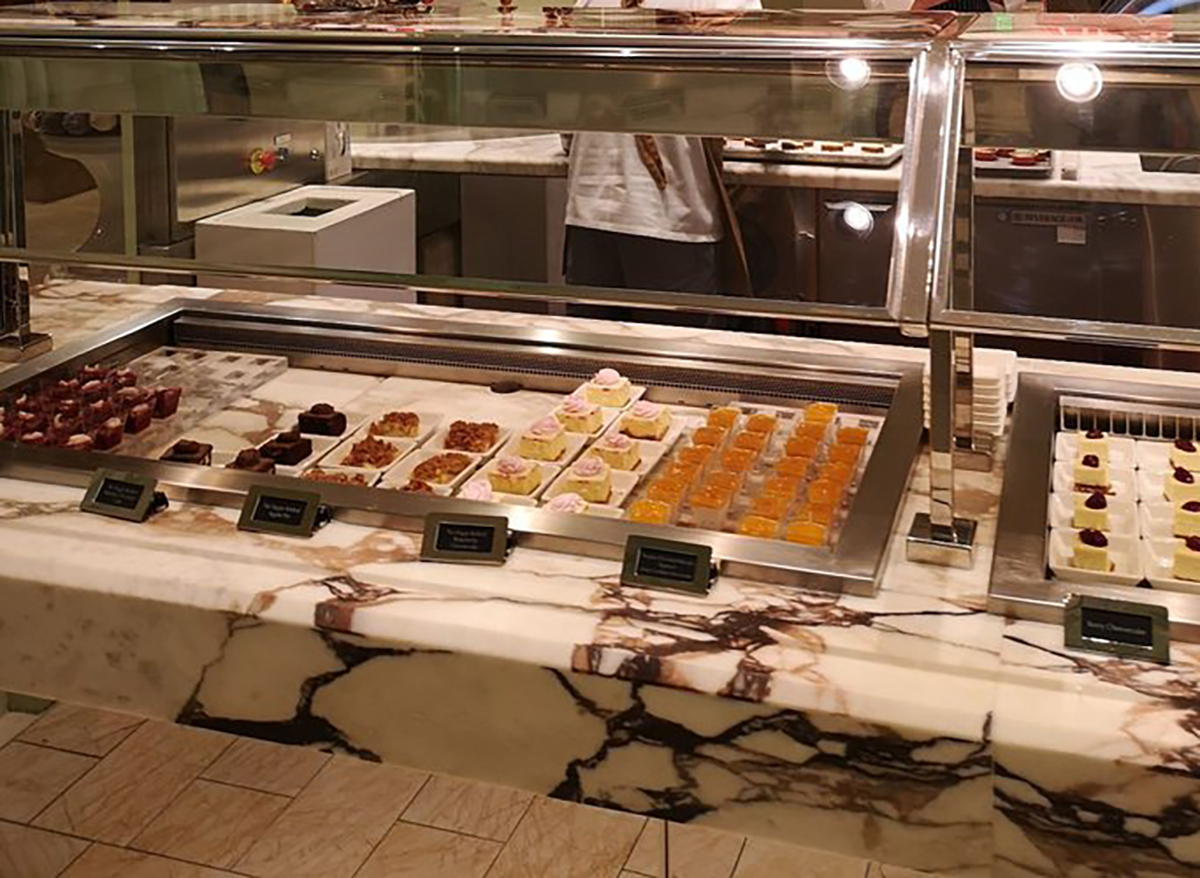 3131 Las Vegas Boulevard South, Las Vegas, NV 891096254a4d1642c605c54bf1cab17d50f1e
The Buffet at Wynn is dripping with colorful blooms, which are artfully arranged to give off the feeling that you are stepping into a riotous garden. The 120 gorgeous dishes are just as bright, and the 15 live cooking stations are covered with canopies. Eat some made-to-order crepes or pancakes, and you should try Frank Sinatra's family spaghetti and meatballs recipe, too.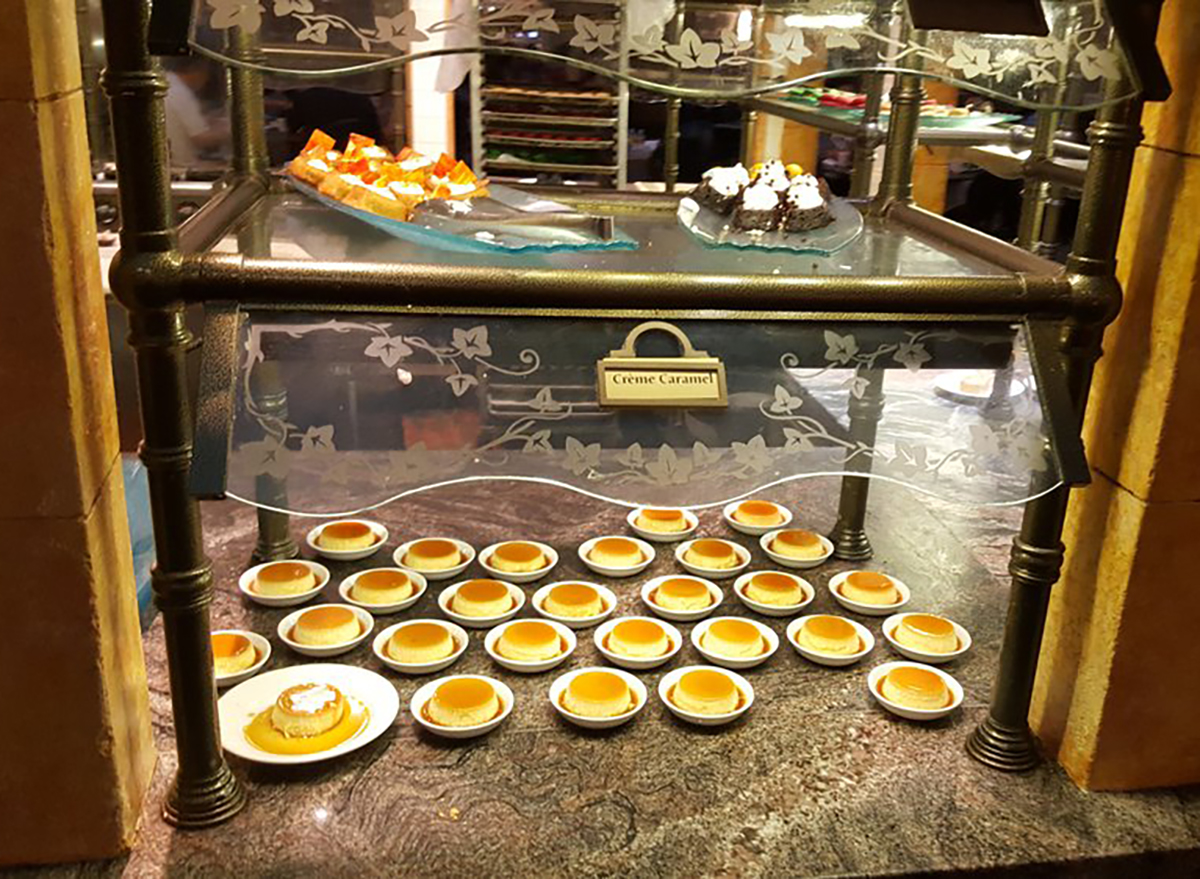 3655 Las Vegas Boulevard South, Las Vegas, NV 89109
One non-traditional buffet option is Le Village Buffet, located at Paris Las Vegas. The concept at Le Village Buffet is to introduce diners to the five provinces of France through delicious options from each of the regions.
The decor is a nod to village life as well, with charming flower vines and old-world signage. Enjoy crepes, crème brûlée, truffle macaroni and cheese, and rotisserie chicken at this French-inspired spot. This is the only buffet in town that accepts reservations on OpenTable, too, making it a great choice if you don't want to wait.
Seasons Live-Action Buffet
3333 Blue Diamond Road, Las Vegas, NV 89139
The best time and place for lobster is Friday night at the Seasons Live-Action Buffet. There may be a wait, but the staff will take a number and text when the table is ready, allowing some gambling time at the Silverton Casino, where the restaurant is located.
Customers are allowed two lobster tails every time they travel through the line, and they're allowed to come back as many times as they want. The Seasons buffet also has gluten-free options for dessert, which makes it a good option for diners with dietary restrictions.
5111 Boulder Highway, Las Vegas, NV 89122
Overlooking the indoor wonderland of Mystic Falls Park, the Firelight Buffet is the buffet with the best view. The restaurant offers a less-expensive menu for visitors to Las Vegas than many other restaurants do, too. Most price levels come in well under $20.
Getting a player's card for Sam's Town Hotel & Gambling Hall will discount the meal to under $15, too, which makes it pretty affordable to nosh on prime rib, chicken, and pasta.
3600 South Las Vegas Boulevard, Las Vegas, NV 89109
The Buffet at Bellagio is one of the best for a luxury menu, with a tasting of Ikura and Tobiko caviar served with fresh blinis next to Ahi tuna cones and fresh sushi. The buffet also offers legs of lamb, dim sum, and paella, all displayed beautifully. There's also a chef's table available, allowing the lucky to bypass the lines and go straight to the food.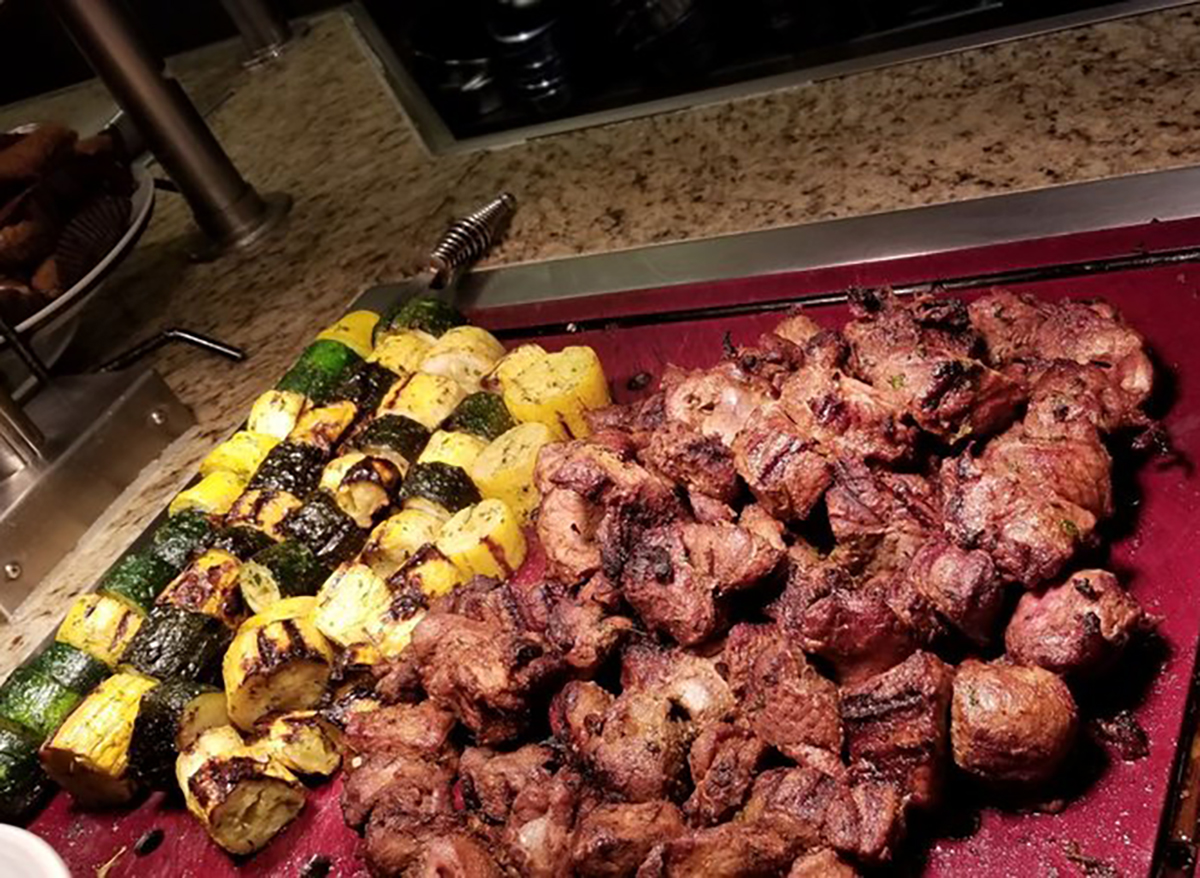 3667 Las Vegas Boulevard South, Las Vegas, NV 89109
Located inside Planet Hollywood, Spice Market Buffet offers cuisine from around the world. The menu has sole, chicken, and cauliflower curries, a baked potato bar, and stone-fired pizza. The highlight of the dessert area is the cotton candy machine spinning threads of sugar for guest's enjoyment. With a large Middle Eastern/Mediterranean station, this buffet is the best stop for cuisine choices that reflect the Northeast Africa and Southwest Asia region.
3327 South Las Vegas Boulevard, Las Vegas, NV 89109
Buddy Valastro, aka the star of TLC's Cake Boss, has opened a homemade Italian and American restaurant at the Venetian, offering an "express lunch" or buffet heavy on Italian comfort food.
In addition to the adult menu, the buffet at Buddy V's Ristorante offers interactive stations for the kids and a pretty extensive list of child-friendly choices at family brunch on Saturday and Sunday, plus bottomless beverages for parents, making this buffet the best option for families. One thing's for sure: The dessert will be fantastic.
3850 South Las Vegas Boulevard, Las Vegas, NV 89109
The Excalibur will sell you a wristband and let you come and go all day, eating when you feel hungry. And there are plenty of choices, too. Stations are available for Latin food as well as American and Asian cuisine, and there are roasted turkey and kielbasa sausage available at a chef-assisted carving table.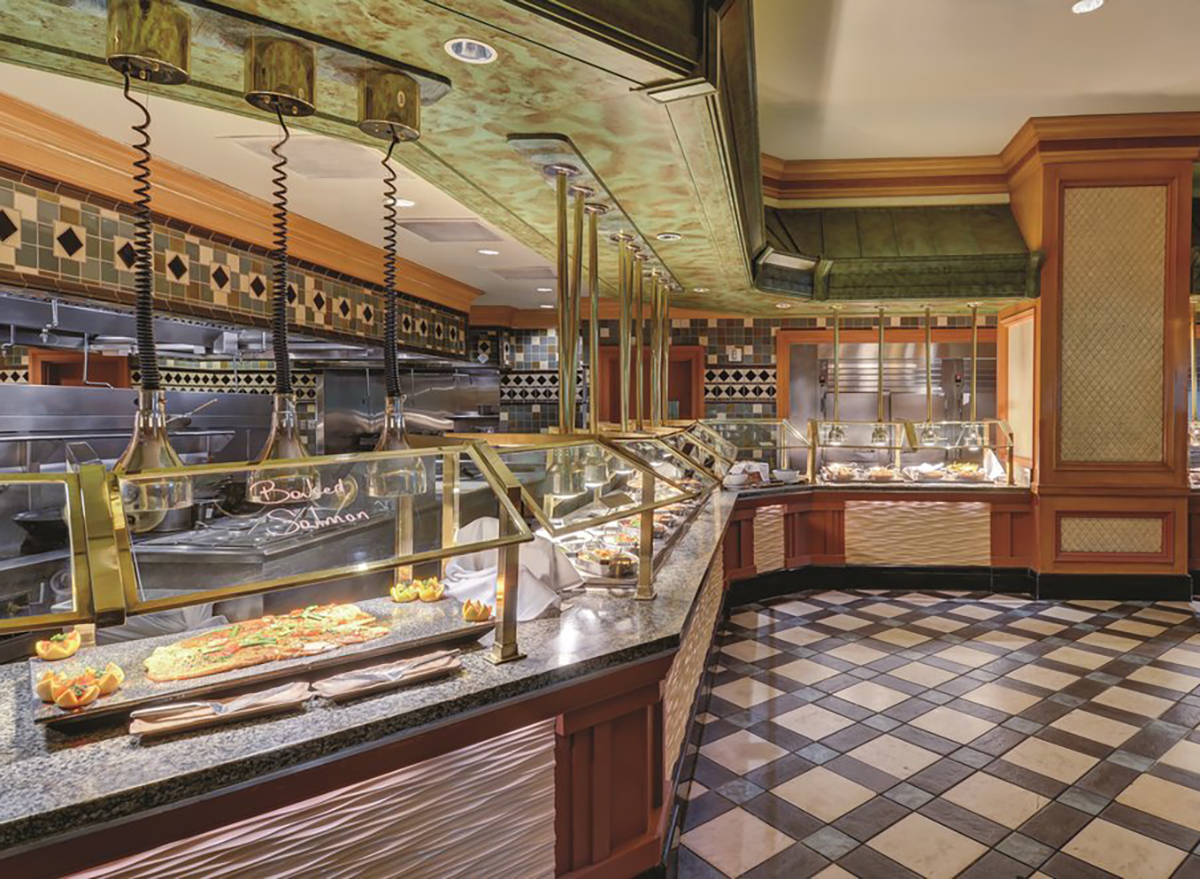 3950 South Las Vegas Boulevard Las Vegas, NV 89109
The food at Bayside Buffet is always changing, and the feel in the restaurant is tropical, with a great view of the garden. The restaurant also has snow crab for dinner, which is never a bad choice.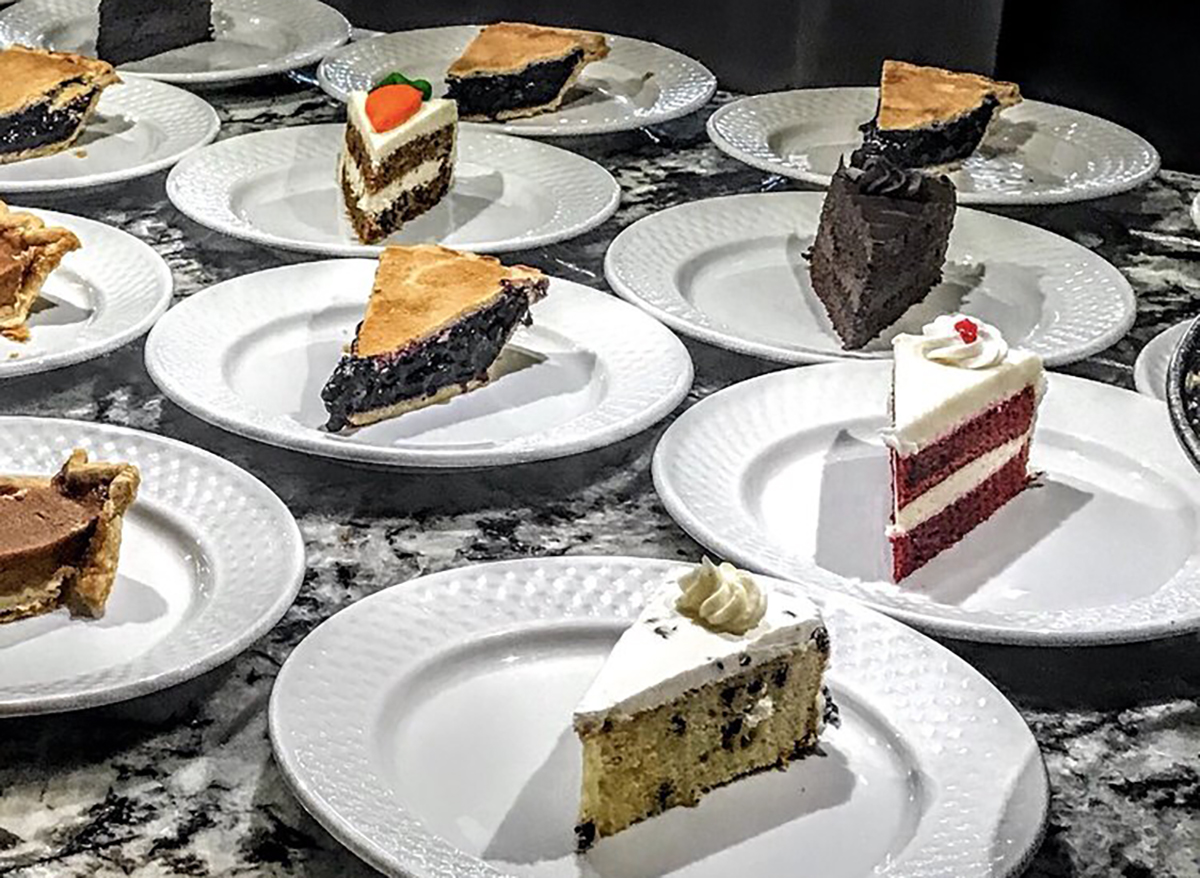 4500 West Tropicana Avenue, Las Vegas, NV 89103
The Orleans Hotel and Casino's buffet option, Medley Buffet has a consistently friendly staff and tons of food possibilities. Tacos al pastor, mountains of crawfish, beef ribs, and roast duck are served in generous portions. The crepe station makes a quality dessert from fresh fruit, chocolate, and whipped cream.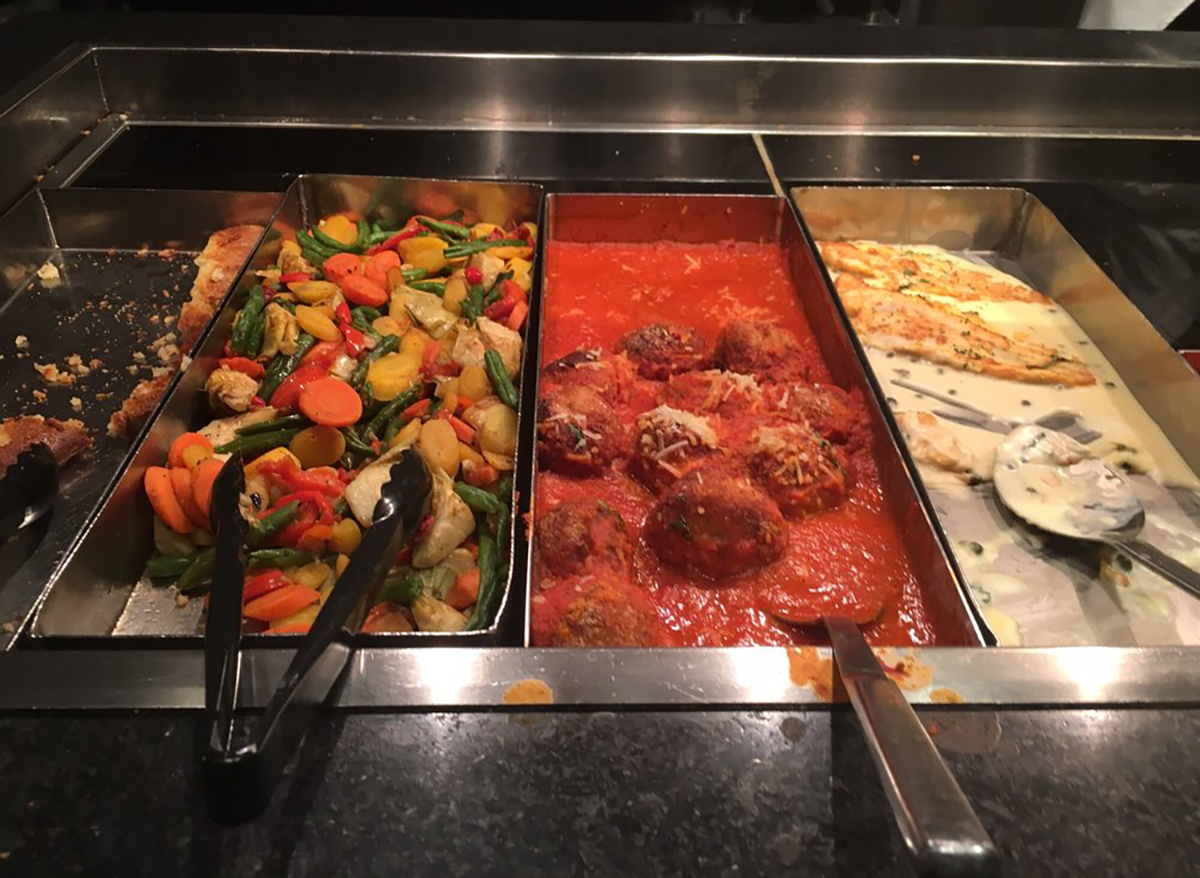 3300 South Las Vegas Boulevard, Las Vegas, NV 89109
The Corner Market Buffet at Treasure Island is upping the buffet game, offering farmer's market salads, protein bowls, beef bulgogi, and pork belly porchetta. This buffet is trying to update their choices while still offering the usual dishes, making this the best buffet option for foodies looking for some variety.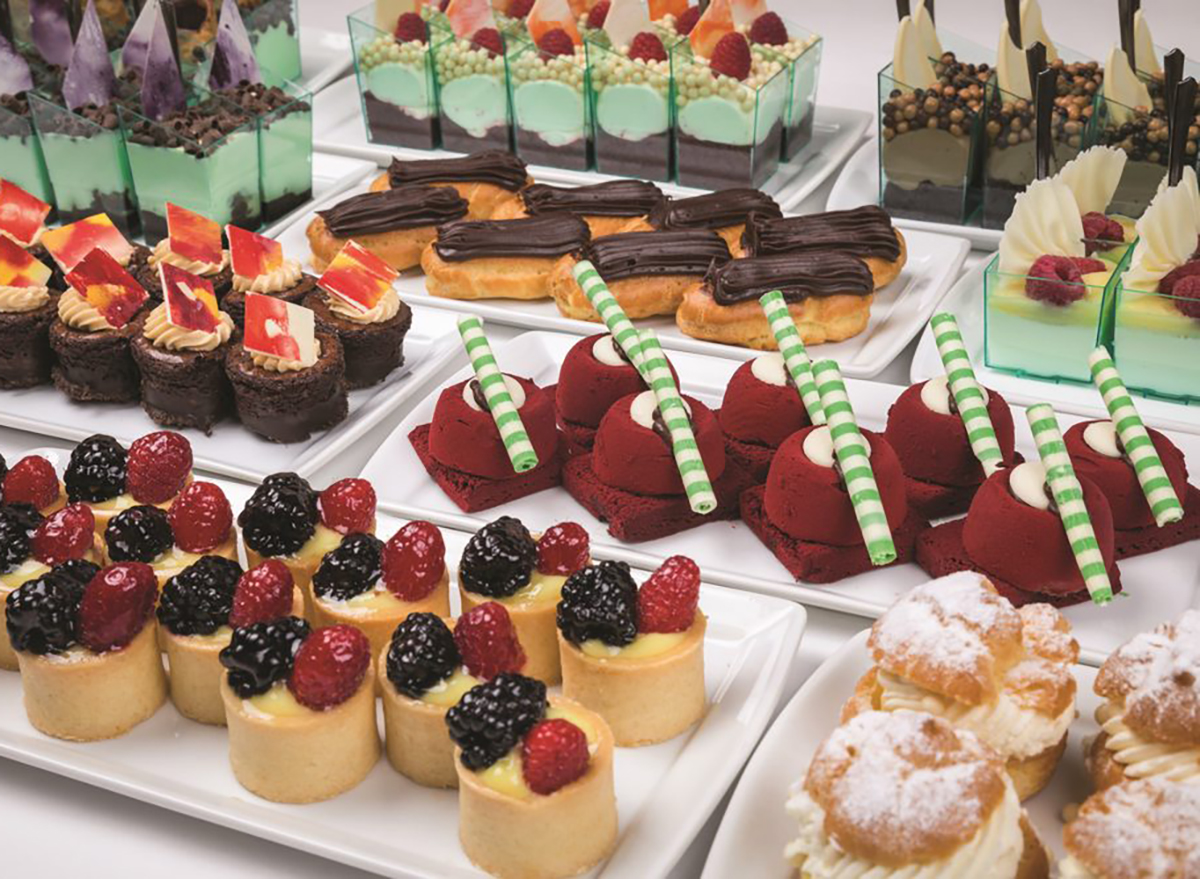 3900 Las Vegas Boulevard South, Las Vegas, NV 89109
Walking down from the casino, visitors to the Buffet at Luxor are treated to a quiet Egyptian-themed oasis and a relatively peaceful and roomy space to have breakfast, lunch, or dinner. Luxor's buffet boasts the biggest salad bar on the strip—it's almost 30 feet long!
Get chilled shrimp, hummus, kale and quinoa, sweet potato salad, or a selection of greens. There's also a soft-serve ice cream machine, complete with rainbow sprinkles. The hotel offers a pass for all-day eating and a break from the action when needed.
Wherever you decide to eat in Las Vegas, there are plenty of buffet options to keep you full all day long.