Here's How Long You Actually Need to Cook Your Turkey, Say Chefs
Roast the perfect bird this Thanksgiving thanks to these expert-approved tips.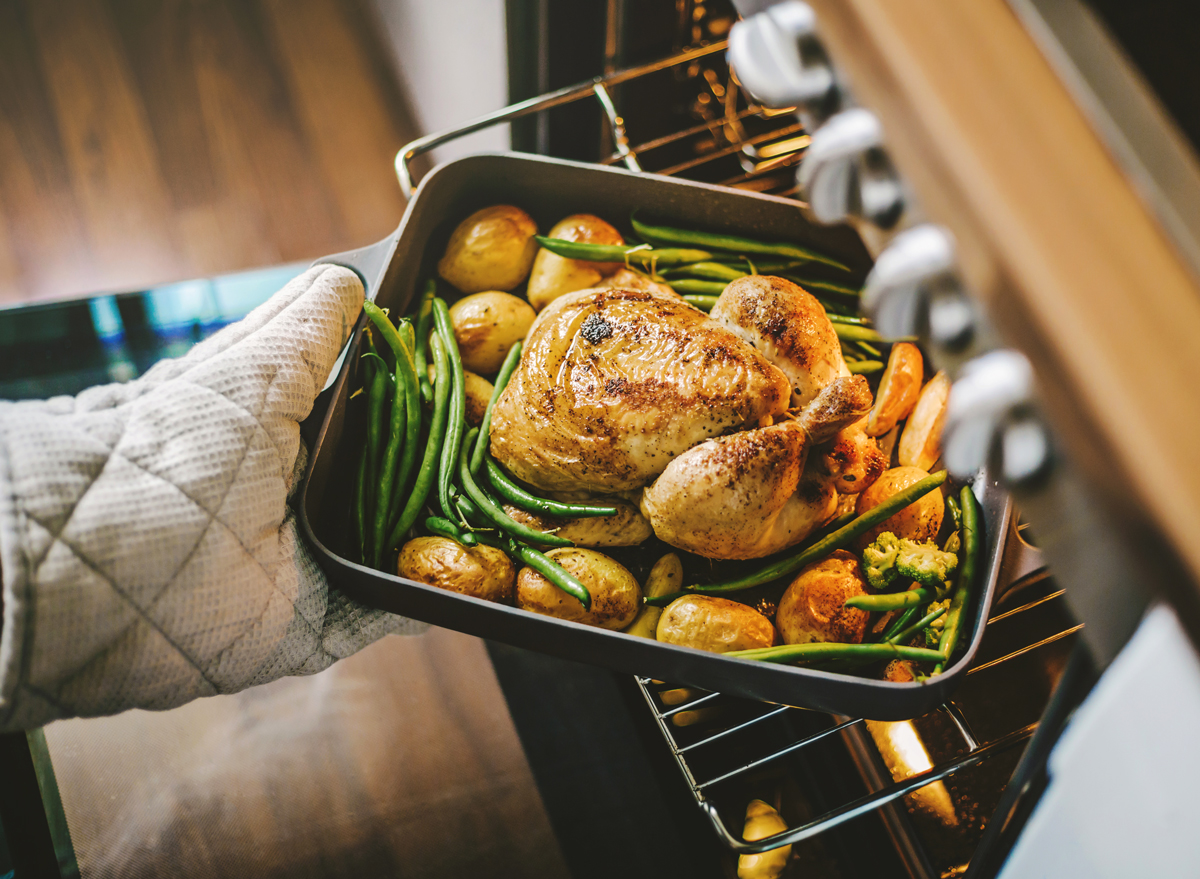 If you think roasting a turkey on Thanksgiving requires a 4 a.m. wake-up call and letting the bird take up oven space all day long, well, think again. A perfectly juicy, moist bird actually doesn't need an entire day in the oven for a proper roasting—just a few good hours and some rest time on the counter.
But how long do you actually need to cook a turkey so you don't overcook—or undercook—the bird? We asked award-winning chefs and experts to share the exact time and temperature you should roast your turkey this Thanksgiving. Here's what they said, and then be sure to also keep these 17 Major Ways You're Cooking a Turkey Wrong in mind!
First: the prep work
For a flavorful turkey, Chef D'Andre Carter, Owner of Soul & Smoke in Chicago says that placing it in a brining solution 24 hours before cooking can result in a juicy, robust roasted bird.
When Thanksgiving day arrives, Chef Carter says to "rinse and dry the turkey thoroughly before rubbing it with softened compound butter. Make sure the butter covers the entire turkey including the cavity and also massage some between the skin and breast meat."
The proper roasting time for a turkey
As for how long to roast the turkey Chef Rob Levitt, Head Butcher of Publican Quality Meats, says "a [typical] 14-16 pound turkey should take about 2 1/2 to 3 hours at most in the oven."6254a4d1642c605c54bf1cab17d50f1e
While expert opinions will vary on the exact temperature for roasting your turkey, many typically suggest spending the first 45 minutes or an hour roasting the turkey at a high temperature (such as 450 degrees) and then decreasing the temperature to 350 degrees for the remainder of the roast.
How to know when a turkey is done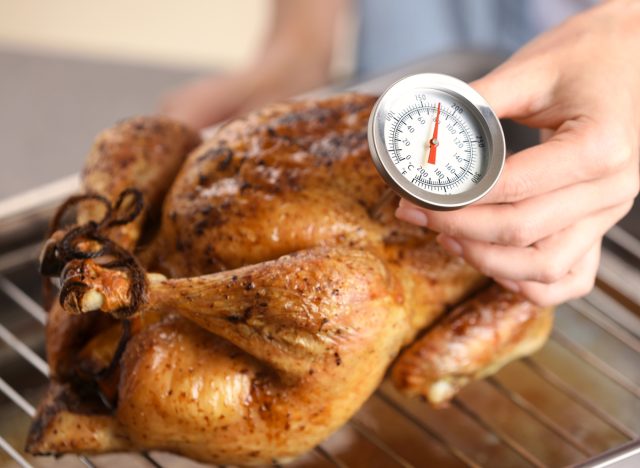 The United States Department of Agriculture states that all poultry—including turkey—should be cooked to 165 degrees before consuming it. However, it's important to keep in mind that a turkey will continue to roast after it is removed from the oven.
The bird will continue to stay hot at a high temperature, giving it more cooking time on the counter. That's why Chef Carter recommends removing the turkey when the thigh meat reads 155 degrees. This will ensure that the turkey won't overcook while it sits on the counter for 30 minutes before carving. An overcooked bird will result in a dry and chewy texture.
Experts also recommend not covering the bird with aluminum foil when you take it out of the oven to rest. The foil will capture the heat and create a mini "oven" on the counter, cooking the turkey even more.
Not every turkey will cook the same
While a typical white turkey will roast within two or three hours, other types of turkey varieties will actually cook at various times.
For example, a "bronze" turkey is a slow-growing breed which is aged for six months before harvesting—twice as long as the traditional 12 weeks given to a white turkey. This timeline gives the bronze turkey more time to develop intramuscular fat, which helps to develop a richer flavor and texture, and a quicker cook time as a result.
"A slow-growing bronze breed will cook quicker than a fast-growing commercial breed, simply because it has more intramuscular fat that conducts the heat through the bird quicker," says Paul Kelly, Managing Director of KellyBronze. "Just how quick will depend on how mature the turkey is," he adds, also mentioning that a bronze turkey could take half the amount of time to cook compared to a white.
Because there are multiple factors at play, your best bet for making sure your turkey is cooked properly is to grab a meat thermometer and check that thigh meat temperature!