20 Ways to Cut 200 Calories From Your Fast Food Order
By making these quick and easy swaps, you're saving yourself extra calories, sodium, and fat.
The bad news: 92 percent of restaurant meals contain more calories than we need to maintain our weight, says a study published in the Journal of Academy of Nutrition and Dietetics. The good news: Even dietitians who scour this research daily turn to fast food sometimes. "In a utopian world, we'd all cook from scratch at home using ingredients grown from the backyard garden. But life is messy, things get busy, and sometimes a quick pit-stop through the drive-thru is necessary to get from point A to B," says Caroline Weeks, RD, a clinical registered dietitian in Des Moines, Iowa.
In other words, fast food doesn't need to be off-limits. True to the Eat This Not That philosophy, it's all about making smart swaps when you do indulge so those indulgences don't add bulge. Here are 20 expert-approved trades (including a "good" and a "better" health upgrade for 20 menu items) that will cut calories from some of the most common fast food dishes. How many of the 100 most popular fast food items have you tried?
Taco Bell Breakfast Sausage Crunchwrap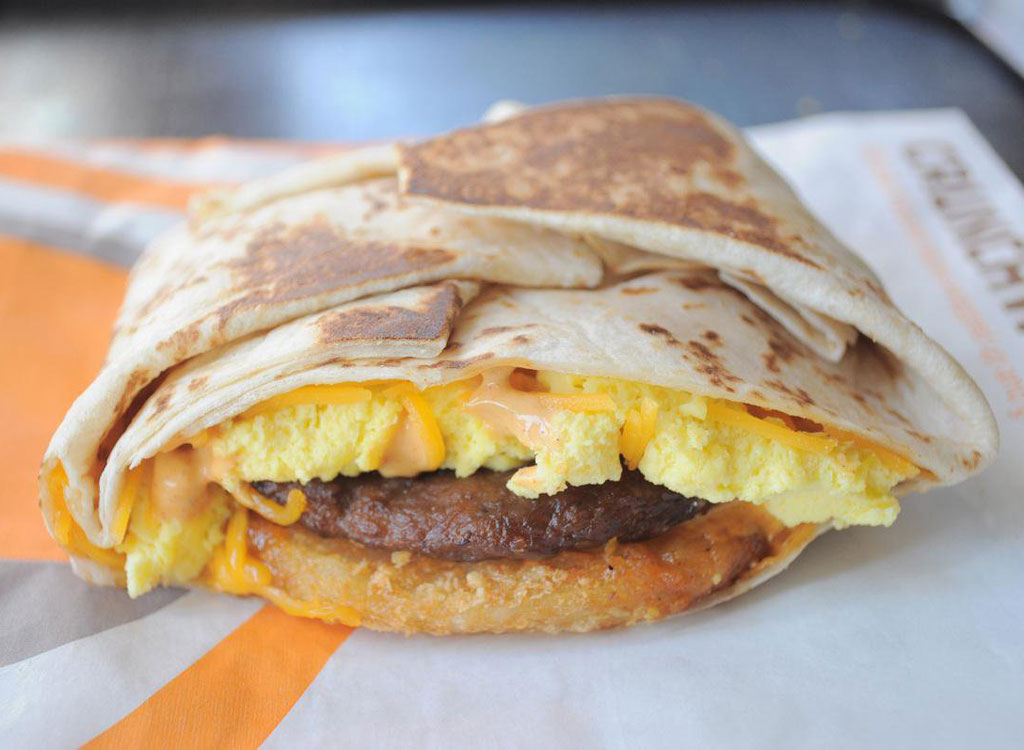 Calories trimmed: 190
Surrender the spuds. Order the Breakfast Sausage Quesadilla instead, and you'll bite into all the same breakfast goodies except for the carb-heavy hashbrowns. For more healthy choices, see our report: The Best & Worst Menu Items at Taco Bell.
Chick-Fil-A Fried Spicy Deluxe Sandwich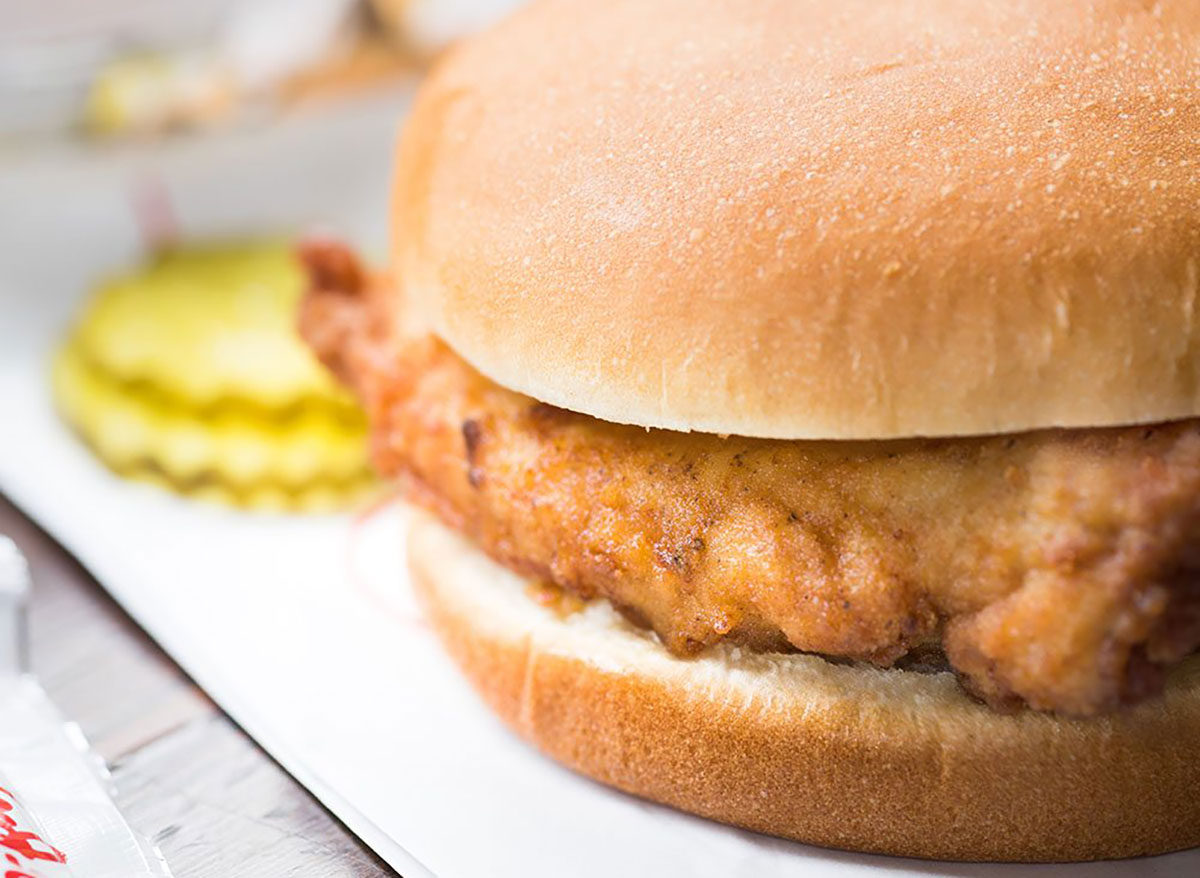 Calories trimmed: 130
Bypass the breading. Stick to chargrilled chicken—plenty flavorful as a result of a well-seasoned marinade—when its an option, says Adrienne Raimo, RD, a holistic health and wellness coach at One Bite Wellness in Columbus, OH. It will almost always result in a calorie savings of 100 or more, not to mention slashing the saturated fat content of your meal.
To save an additional 80 calories, cut the cheese. You don't need to stick to the "diet" menu to make a wiser choice, says Raimo. Start with itty-bitty changes and you'll still be satisfied. "Opt for no cheese or creamy dressings, mayonnaise, or other calorie-rich condiments on top of your meal choice. You'll barely notice the difference while still avoiding some extra calories."
Chipotle Carnitas Burrito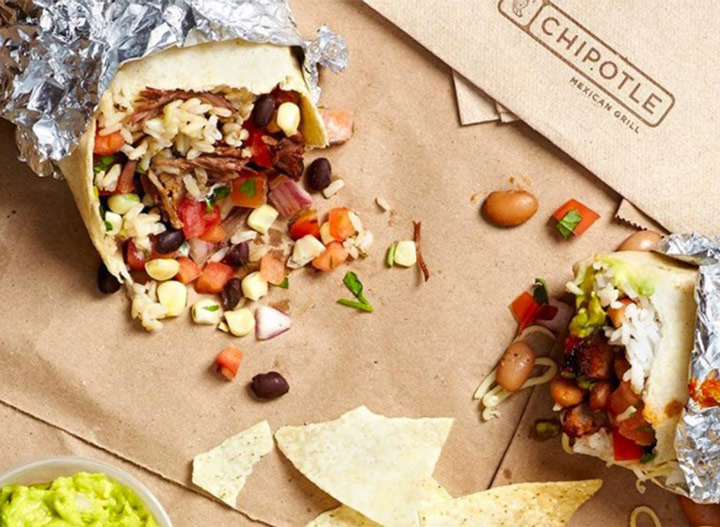 Calories trimmed: 320
Get your burrito in a bowl, and you'll save yourself more than just 200 calories. "My go-to order on a busy night is a burrito bowl with hot salsa, brown rice, black beans, fajita vegetables, cheese, and guacamole," Weeks says. "It's chock full of veggies and fiber, just without all the empty tortilla carbs." The brown rice provides plenty of whole-grain energy to fuel you through the rest of the day.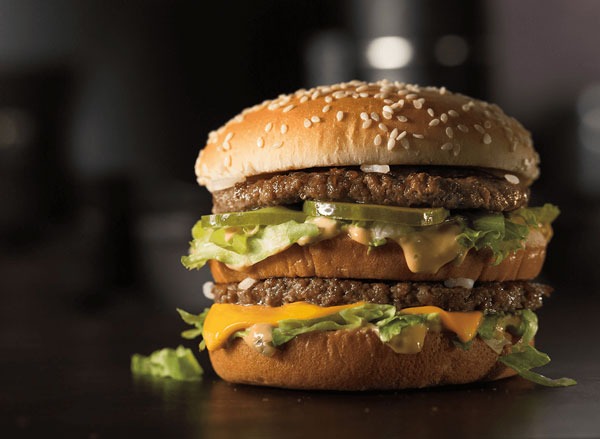 Calories trimmed: 100
Made with mustard instead of creamy special sauce, and sans middle bun, order a Double Cheeseburger instead. It still delivers the same 25 grams of protein as the Big Mac since it's constructed with the same double stack of beef patties.
Hardee's/Carl's Jr. Large Crispy Curls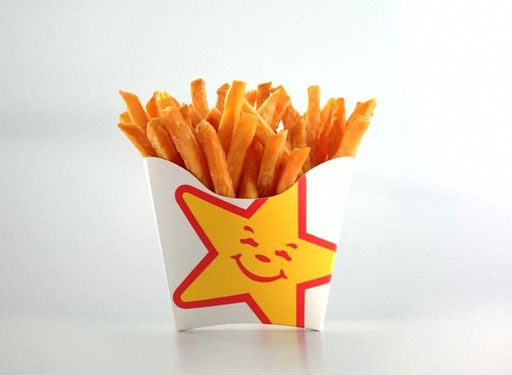 Calories trimmed: 210
Stick with a small order of curly fries to keep the crunch but not all the calories. "One of the easiest ways to cut 200 or more calories from your fast food order is to just say 'no' to supersizing or going large for your order. The amount of calories saved by not having the extra ounces of sugary soda and extra fat from the fries is an easy win for your waistline (and your wallet)," Raimo says.
Jason's Deli Black Bean Taco Salad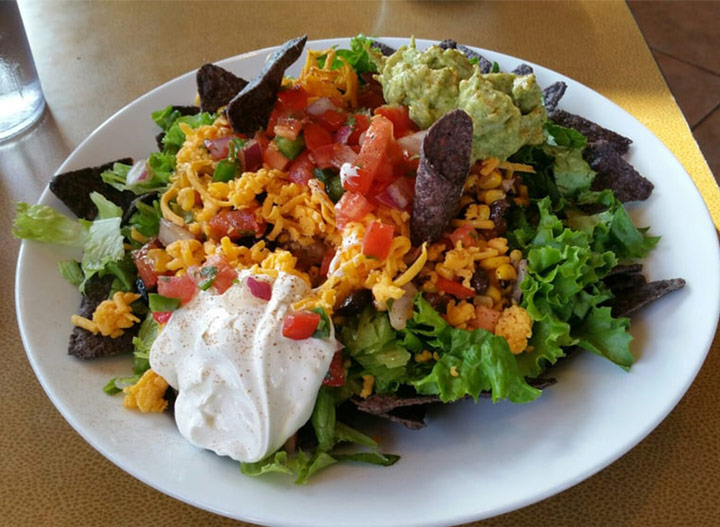 Calories trimmed: 190
Trade a tortilla for two slices of bread. This swap isn't always going to be the lighter choice, but compared to the multigrain bread, Jason's wraps have 40 fewer calories. Ask for the Spinach Veggie Wrap, stuffed with mushrooms, spinach, guac and more for a 400-calorie deli fix.
Culver's 3-piece North Atlantic Cod Dinner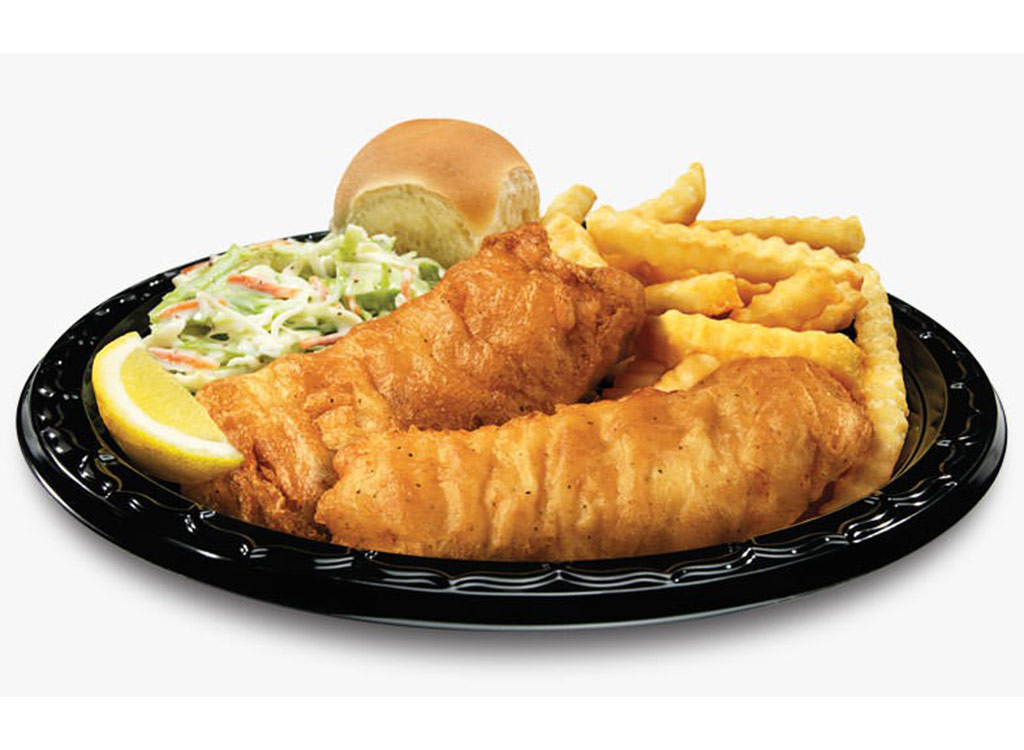 Calories trimmed: 835
Grilled salmon and seared scallops are almost always slim selections, but the North Atlantic Cod fried basket is far from it. The name sounds fairly harmless, but the plate itself is piled high with three pieces of battered fish, crinkle-cut fries, mayo-dressed slaw and a white bread roll. The Chopped Steak Dinner—with green beans and mashed potatoes—slashes 62 grams of fat and almost half the calories.
KFC Nashville Hot Extra Crispy Chicken Breast
Calories trimmed: 420
Think you're making a savvy choice by asking for chicken breast? Think again. Once it's coated in crispy batter and doused in oodles of oil, spicy sauce, you're looking at one piece with 60 grams of fat and 1,530 milligrams of sodium. Go for a classic Spicy Chicken Breast instead for less than half the calories and 430 milligrams less of salt. And, be sure to skip the dipping sauces.
Subway 6-inch Double Meat Spicy Italian Sandwich on Italian Bread

Calories trimmed: 160
Try the same toppings on a salad instead of on a roll for an even lighter choice. "Layer on a couple slices of deli meat, then load on the non-starchy veggies," Weeks says. And for an even smarter protein choice for your salad bowl, go for turkey breakfast instead of pepperoni and salami—it's just 110 calories altogether before adding the dressing. If you want to save more calories (250, to be exact), stick to single meat if you must go for the Spicy Italian.
Pizza Hut 2 slices of 14-inch Hand-Tossed Meat Lover's Pizza
Calories trimmed: 300 calories
Stick with one meat. Garnish your pie with ham and pineapple (instead of pepperoni, two types of sausage, beef, ham and bacon—whew!) and your ticker will be as happy as your waistline. This topping twist subtracts hundreds of calories and 920 milligrams of sodium. RD pro tip: "Look online at the menu and choose beforehand, when perhaps you aren't hungry, and you'll be more likely to stick with your plan. If you're starving by the time you call or type in your order, you might make a less strong choice in a daze of hunger," Raimo says.
Noodles World Kitchen Regular Pad Thai
Calories trimmed: 460
Rice noodles, oil, and soy sauce are three key ingredients in pad Thai that make its calorie count so high.  Keep the Thai vibes by ordering a Regular Thai Green Curry instead. A handful of veggies makes the pasta go further and the sweet-savory mix of the pineapple and curry sauce will make each bite count.
Dairy Queen Large Chocolate Dipped Cone
Calories trimmed: 180
Ask for a medium dipped cone instead of a large. All those soft-serve swirls and swoops add up to a big calorie count. "The cone is usually low in calories, but the portion size and toppings are what add up really quickly," says Bonnie Taub-Dix, RD, creator of BetterThanDieting.com and author of Read It Before You Eat It: Taking You From Label to Table.
Jamba Juice Large Chocolate Moo'd Smoothie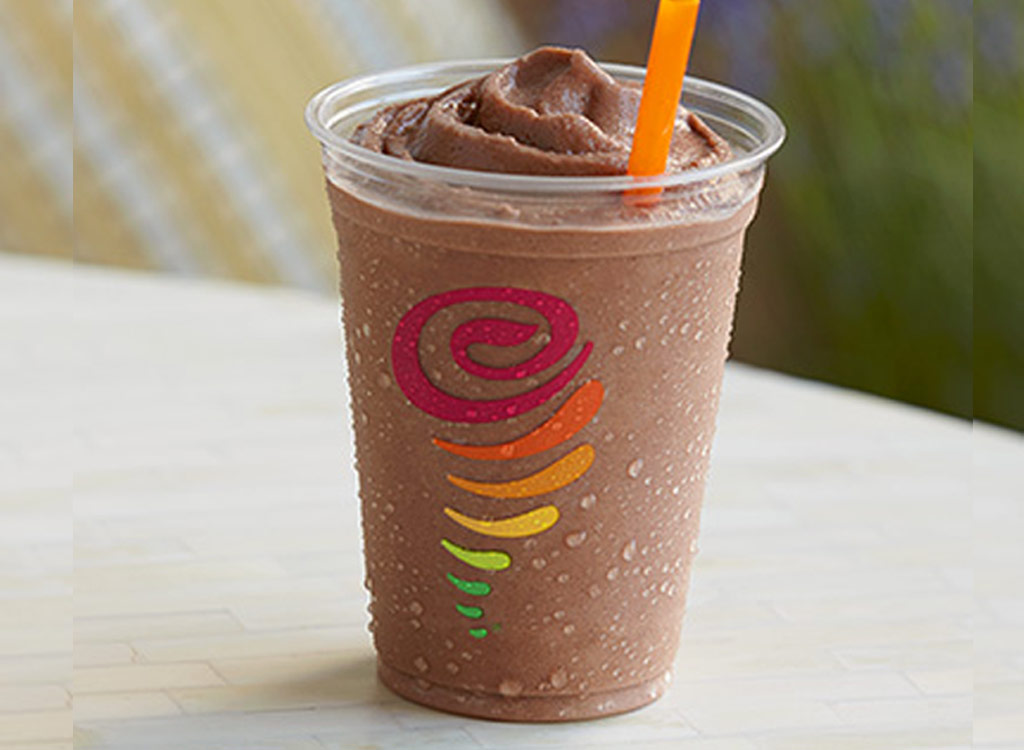 6254a4d1642c605c54bf1cab17d50f1e
Calories trimmed: 210
Trade the frozen yogurt-based Moo'd for a Large Chocolate Protein Smoothie (with milk, ice, frozen bananas and whey protein) for about a quarter cup less of sugar and 13 more grams of protein."Smoothies can be fabulous, but can also quickly offer an overload of calories when you blend in syrups, juices and fruit," Taub-Dix says. "Plus a drink will never fill you up unless it has protein."
Panera Bread Mac and Cheese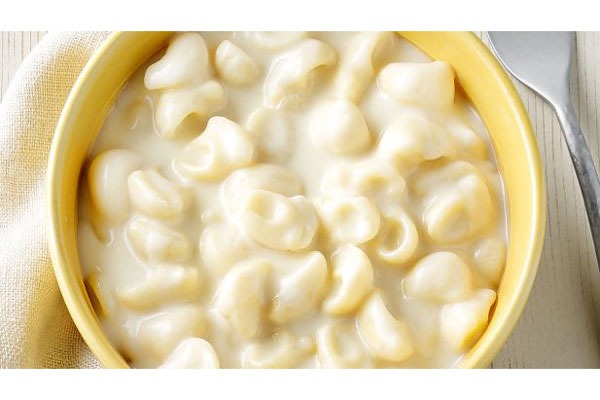 Calories trimmed: 560
The newer Soba Noodle Broth Bowl with Chicken, made with an umami-rich soy-miso base, has fewer than half the calories and one-sixth of the fat as the mac.
Starbucks Sausage, Cheddar and Egg Breakfast Sandwich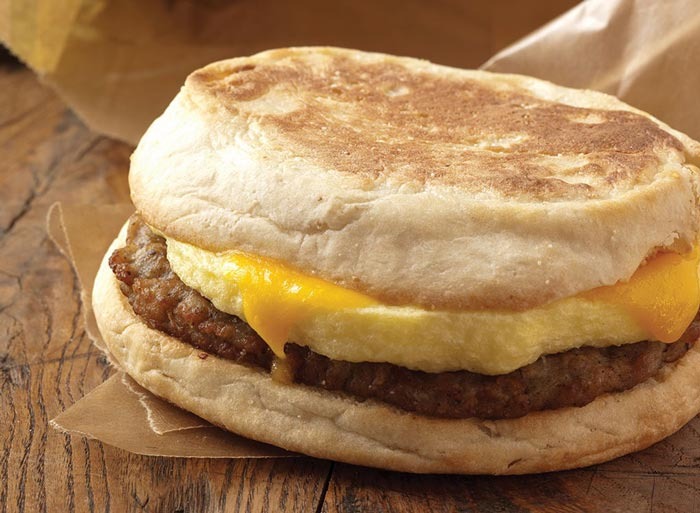 Calories trimmed: 210
Trim nine grams of carbs, 18 grams of fat and almost half the calories from your morning meal by opting for the Spinach, Feta, and Cage-Free Egg White Breakfast Wrap. In addition to all those body benefits, the tortilla treat also offers five more grams of fiber and nine more grams of protein than the sandwich so you'll stay satiated until lunch.
Boston Market Quarter White Rotisserie Chicken
Calories trimmed: 60
White meat rotisserie chicken sounds like a slim choice, but you can do a bit better. Just one word, "skinless," can subtract 60 calories and six grams of fat from your entree.
Popeyes Louisiana Kitchen Regular Onion Rings
Calories trimmed: 100
The mashed potatoes and gravy you'll find at almost all fast food chicken restaurants is a surprisingly skinny choice, like Popeyes' Mashed Potatoes with Cajun Gravy. A regular-sized order clocks in at just 110 calories and four grams of fat, saving you 100 calories if you opt for this over the rings.
Wendy's Caesar Chicken Salad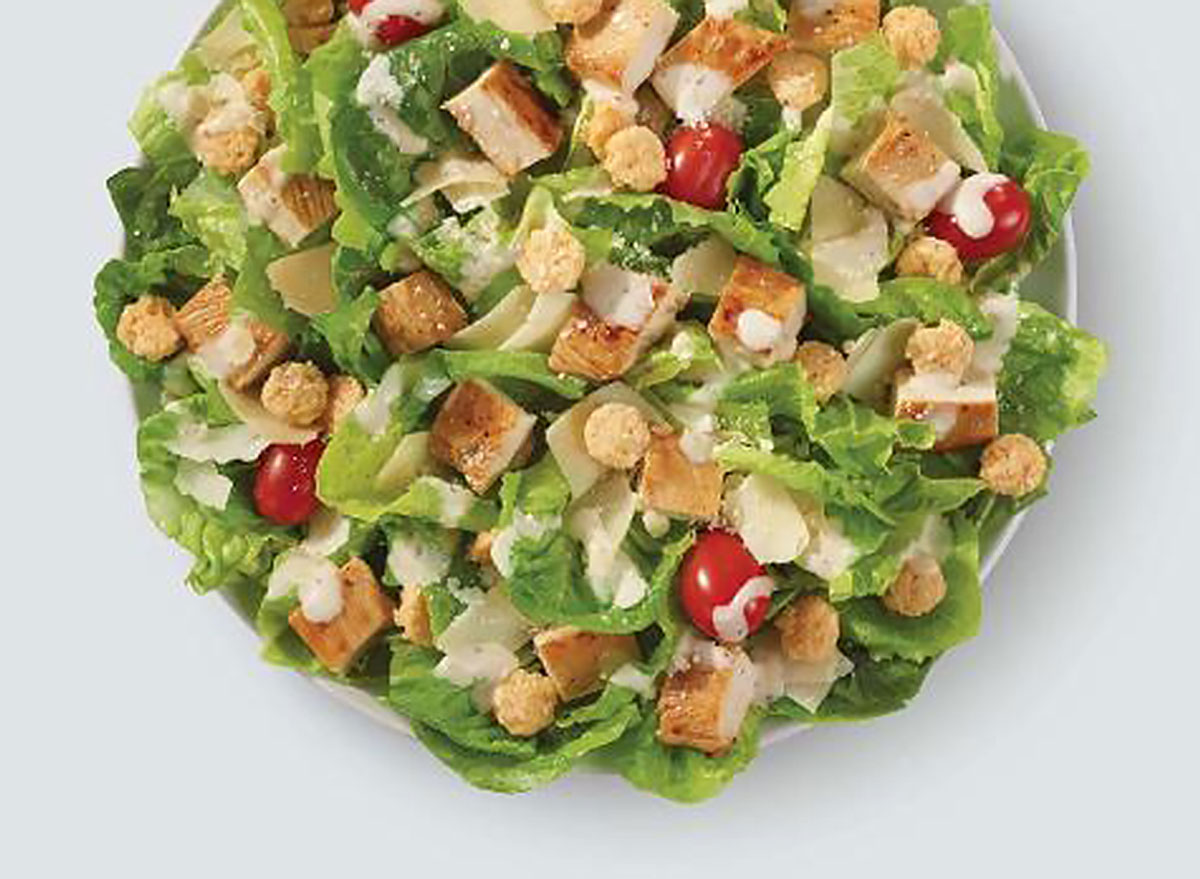 Calories trimmed: 120
Order the Southwest Avocado Chicken Salad to trade grilled for fried and scoop up avocado rather than additive-filled croutons. Yes, even with bacon, the Southwest stand-in has more than 100 fewer calories.
Panda Express Orange Chicken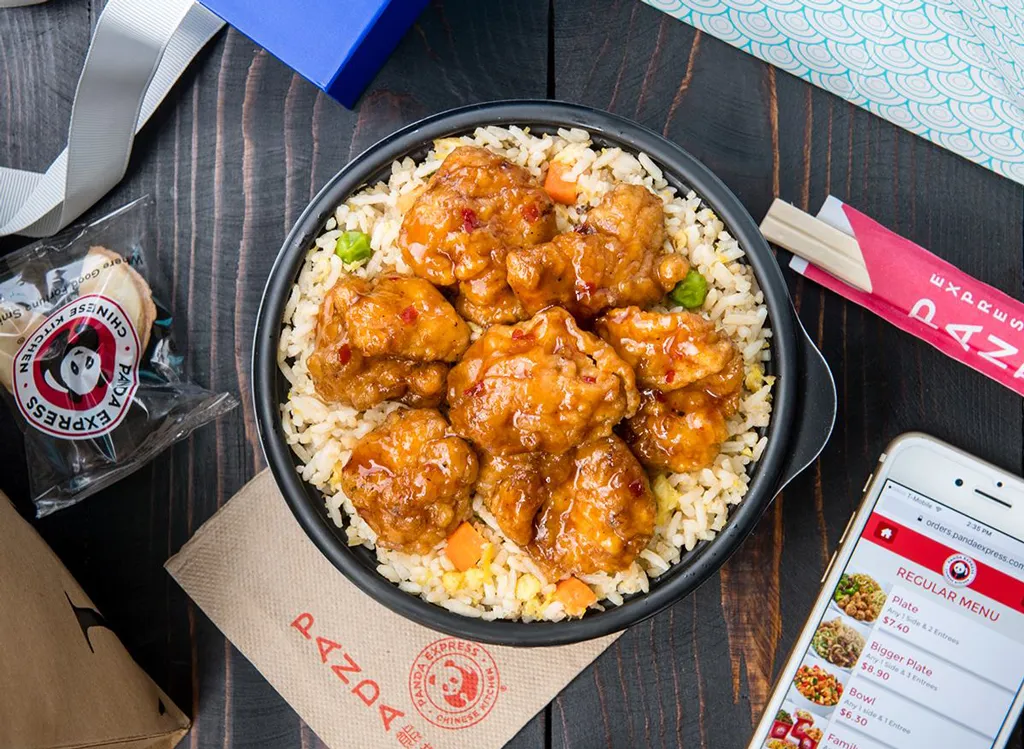 Calories trimmed: 180
Build your meal around the Shanghai Angus Steak for half the cholesterol, more veggies (green beans and mushrooms) and far fewer calories.
Calories trimmed: 70
You're going to have to get a different sauce for dunking than ranch if you want to cut calories. Dunk in BBQ sauce instead for a 40-calorie fix and zero extra fat. One serving of ranch sauce has 110 calories—nearly all from fat. To cut even more calories in your daily life, try these 30 Ordering Hacks to Cut Calories When Dining Out.
Karla Walsh
Karla Walsh is a freelance writer, editor and restaurant brand manager based in Des Moines, Iowa, where she reports on fitness trends, wellness research, psychology, and healthy recipes.
Read more about Karla