100 of the Most Popular Fast-Food Items You've Got to Try at Least Once
Here's what everyone else is ordering.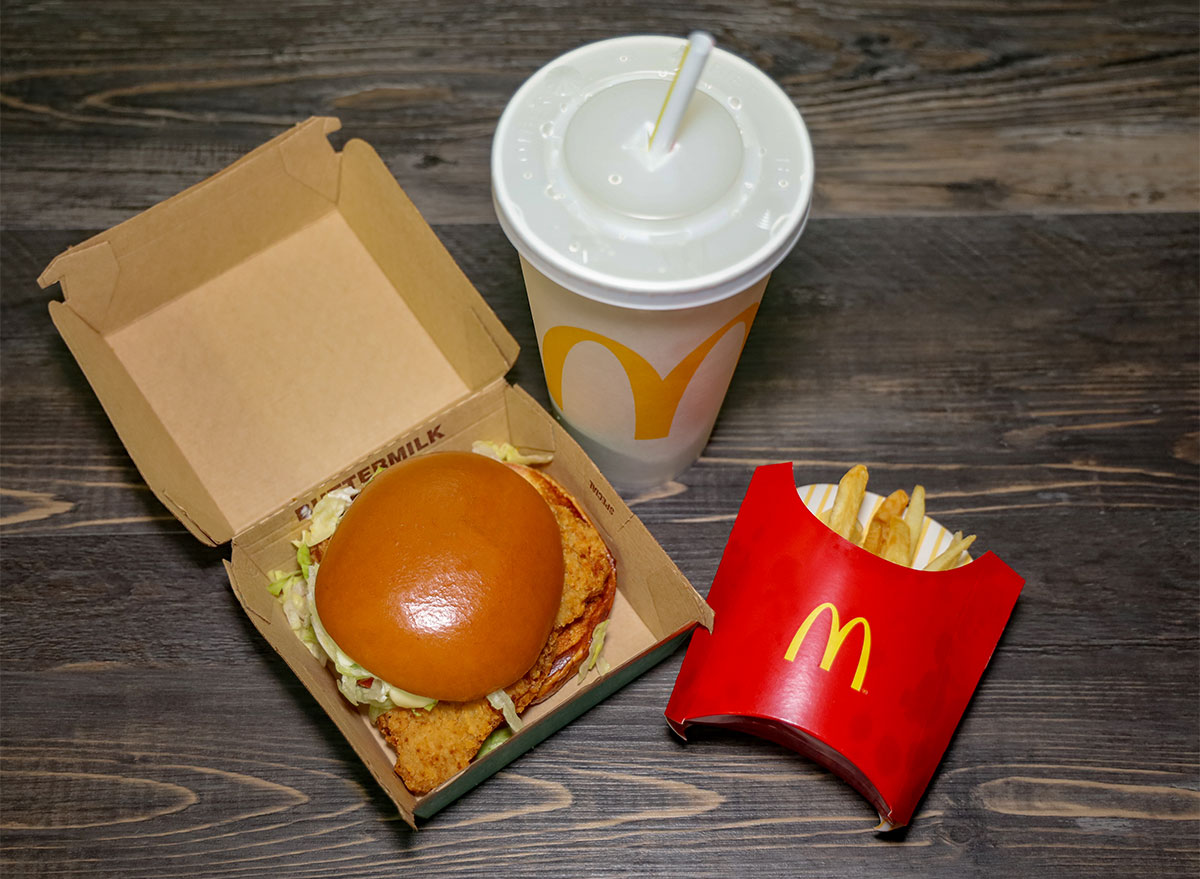 Sure, you've probably been to the McDonald's drive-thru at least once in your life. And you may have tried delicacies from Wendy's and Burger King, too. But have you tried every must-have fast-food item out there?
We've rounded up some of the most popular—and most delicious—fast-food items that everyone should try at least once (barring food restrictions, of course). Get ready for some major drive-thru inspiration.
Plus, be sure to skip the 8 Worst Fast-Food Burgers to Stay Away From Right Now.
Dairy Queen Chicken Strip Basket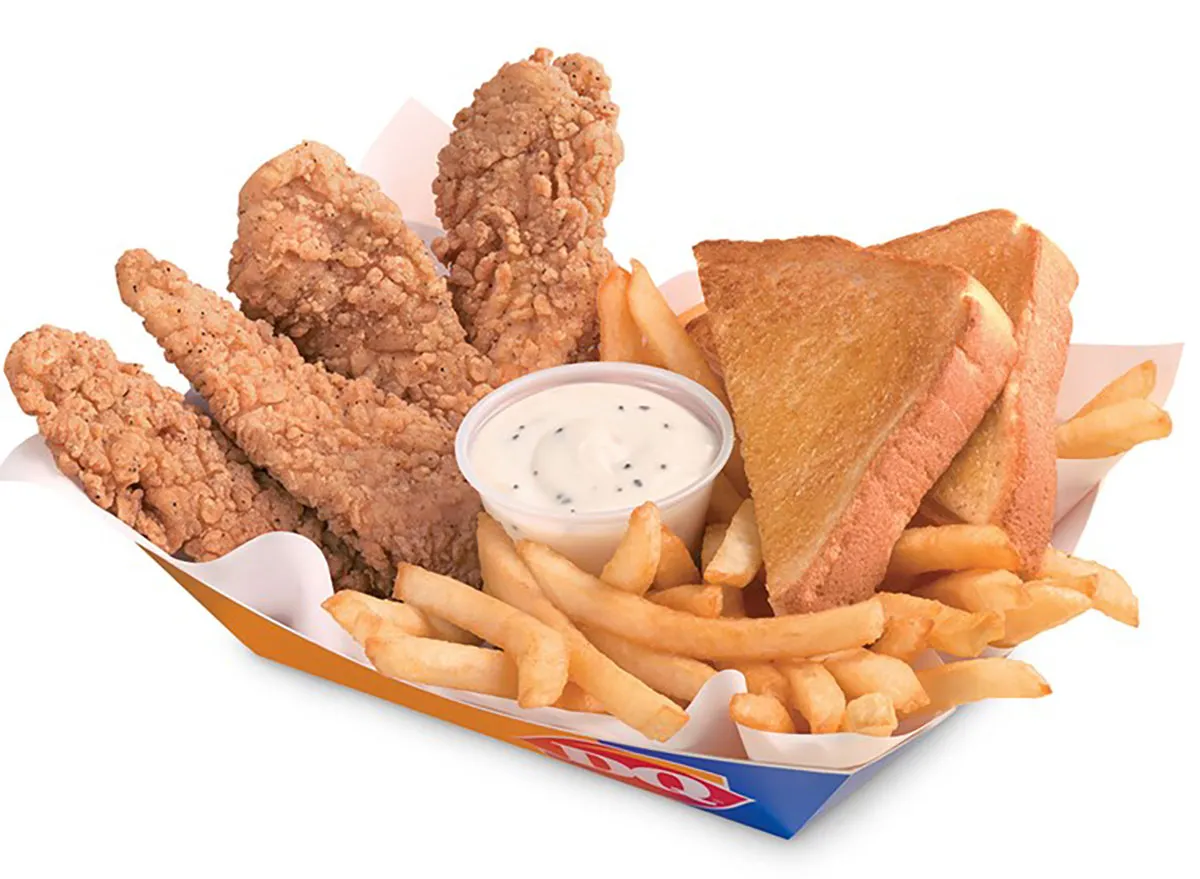 Dairy Queen does more than just Blizzards. The Chicken Strip Basket—chicken served with french fries, Texas toast, and a choice of sauce—is its signature meal.
Whether or not you tend to order these popular items, it's still fun to see what meals have caught your fellow diners' attention.
Panera Soup
Scan customer reviews posted on Panera's website, and you'll see that the soup is among the favorite choices of those visiting the fast-casual chain.
Hardee's Original Thickburger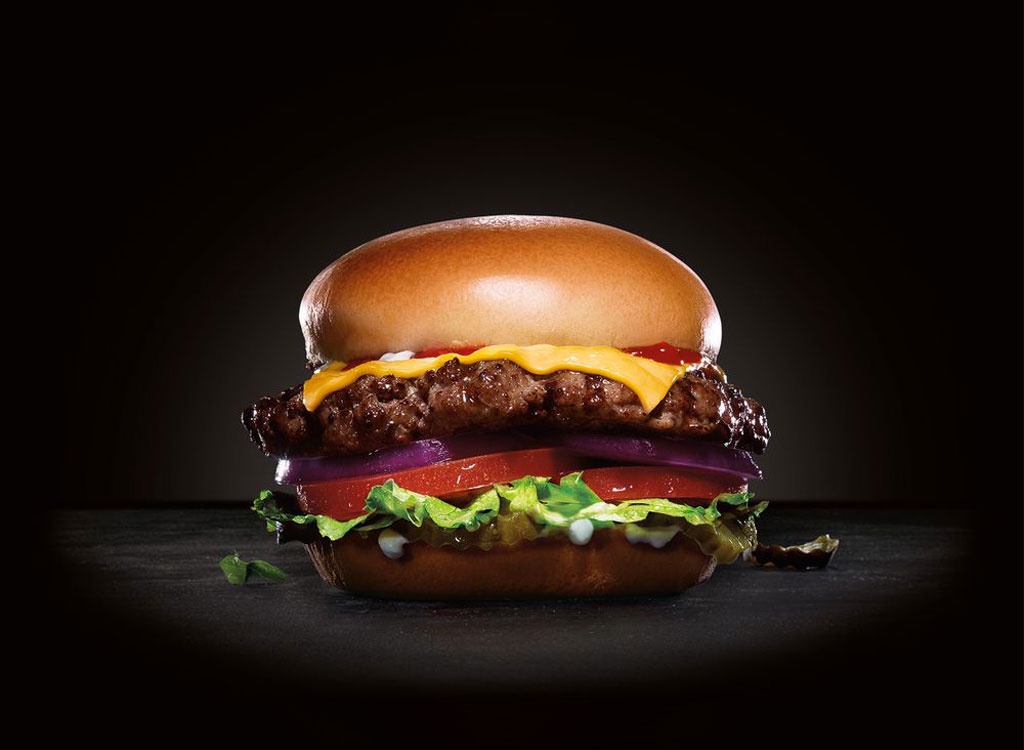 Hardee's Thickburgers are massive Black Angus beef burgers, piled with all the traditional fixings. You can order it in 1/4 pound, 1/3 pound, and 3/4 pound iterations, but the 1/3 pound Original is the most popular.
McDonald's Filet-O-Fish Sandwich
The Filet-O-Fish owes its popularity to being a solid alternative to a burger for non-beef-eaters, especially during Lent when there is a tremendous uptick in sales, as many people have given up eating meat on Fridays.
Little Caesars Crazy Bread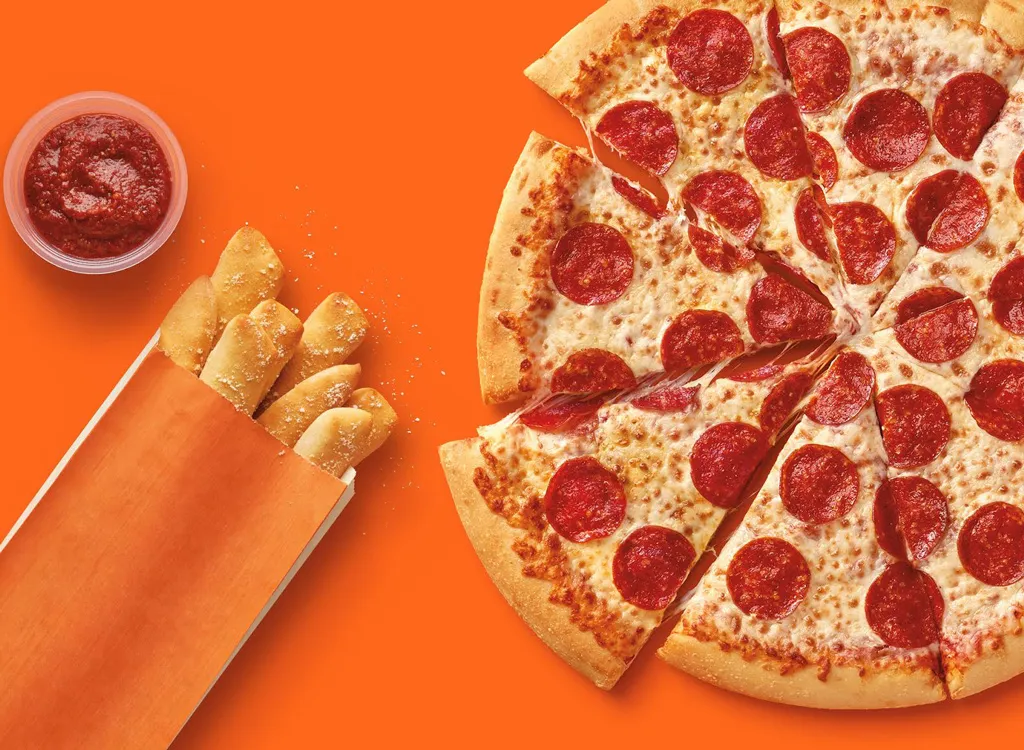 Little Caesars is best known for pizza, but coming in at a close second is Crazy Bread, its much-loved parmesan-encrusted garlic breadsticks.
KFC Extra Crispy Chicken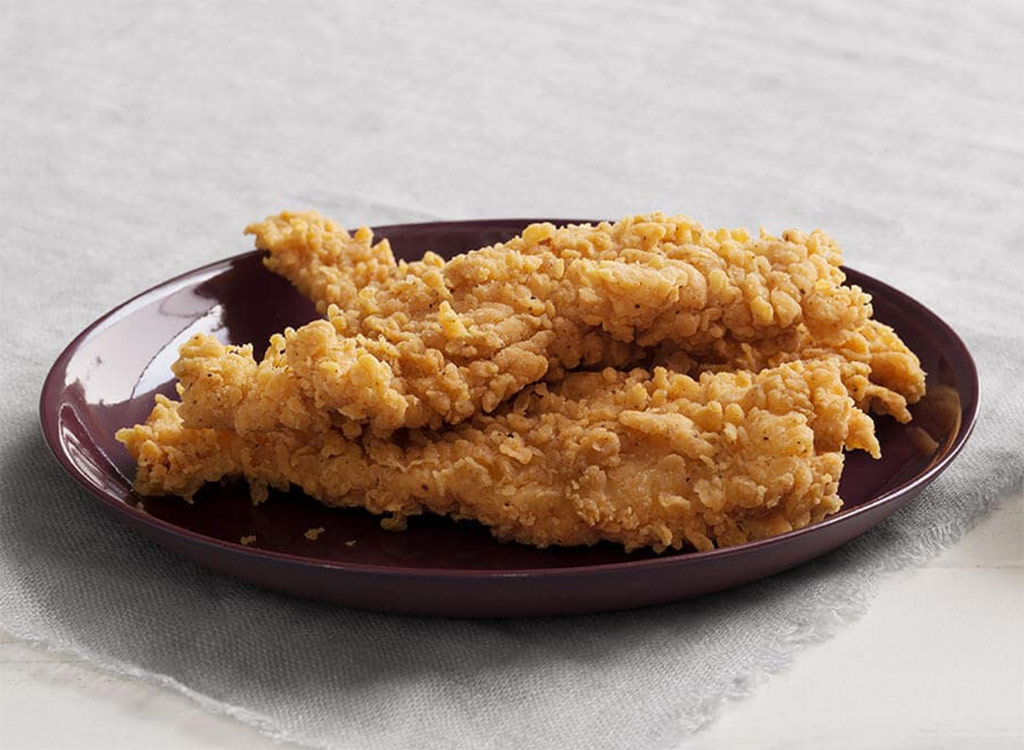 Much like the beloved original, but even more deeply fried? Of course, this is a must-try fast-food delicacy.
Craving something local? These are the 20 Best Fried Chicken Restaurants in America.
Culver's Wisconsin Cheese Curds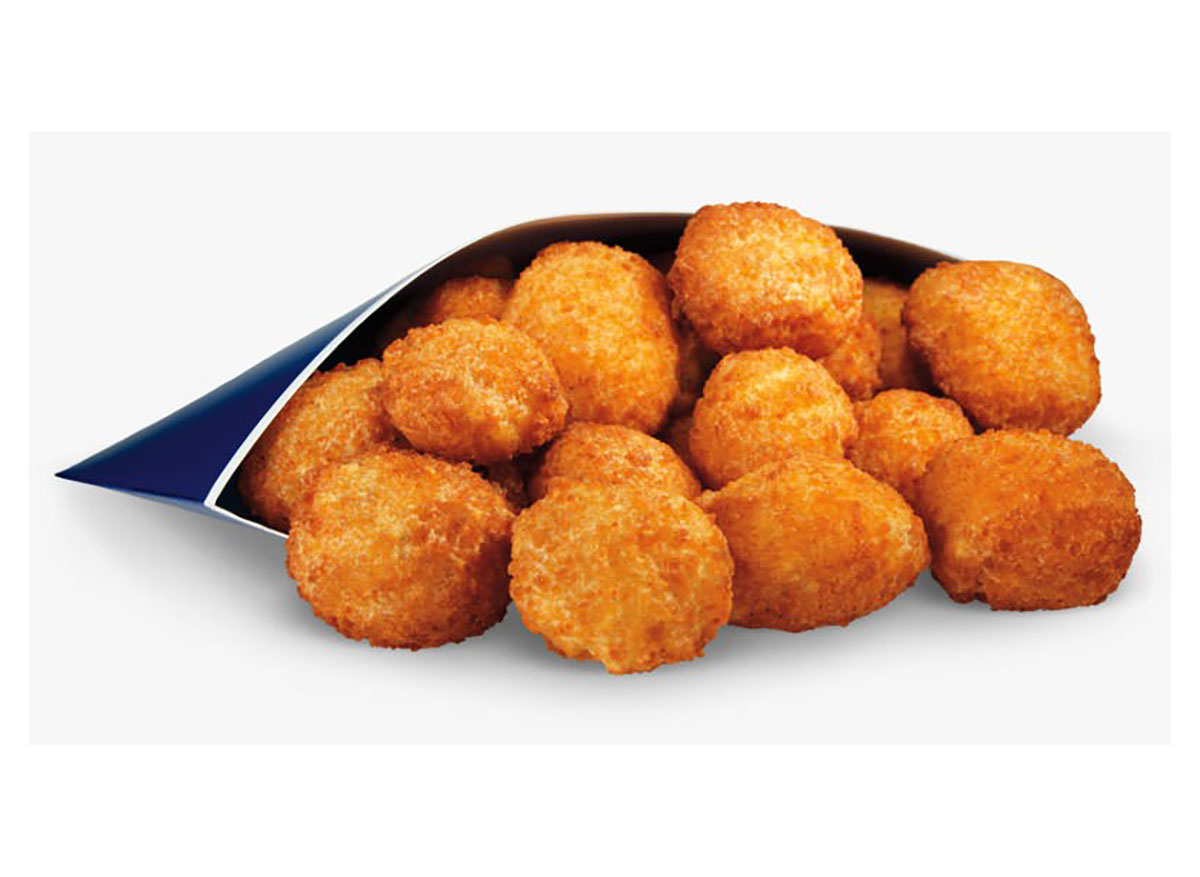 Culver's calls its Wisconsin Cheese Curds a "dairyland delicacy" and enthusiasts agree. If you need further convincing… just see what Culver's has to say about this cheesy treat.
Five Guys Fries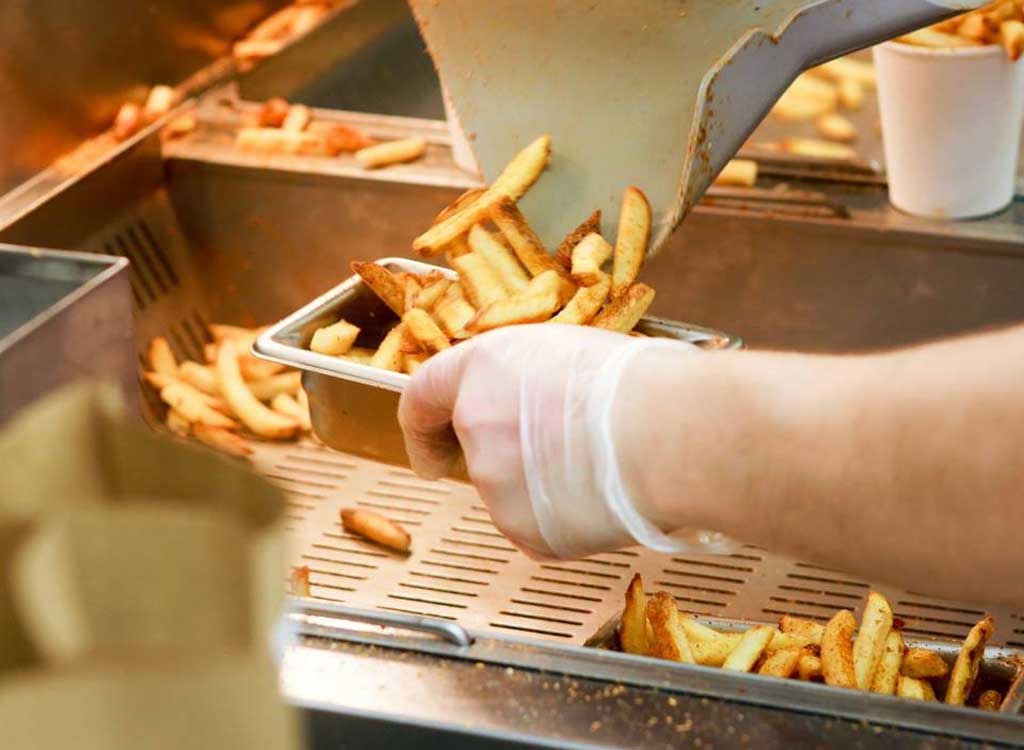 Five Guys is known for being "picky" about fries, only using Idaho potatoes, which are known for being particularly dense.
Wendy's Baked Potato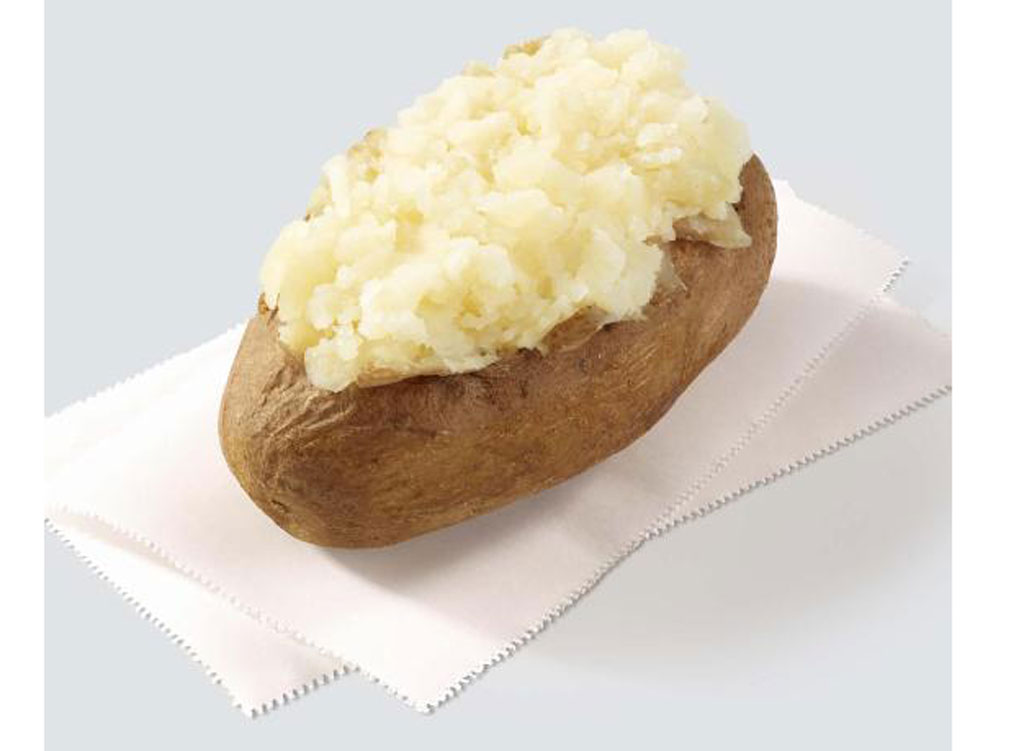 Wendy's is the only fast-food company in the U.S. that sells baked potatoes, which is surprising because America is traditionally a meat-and-potatoes kind of place. It likely owes part of its success to that novelty.
Long John Silver's Two-Piece Fish Meal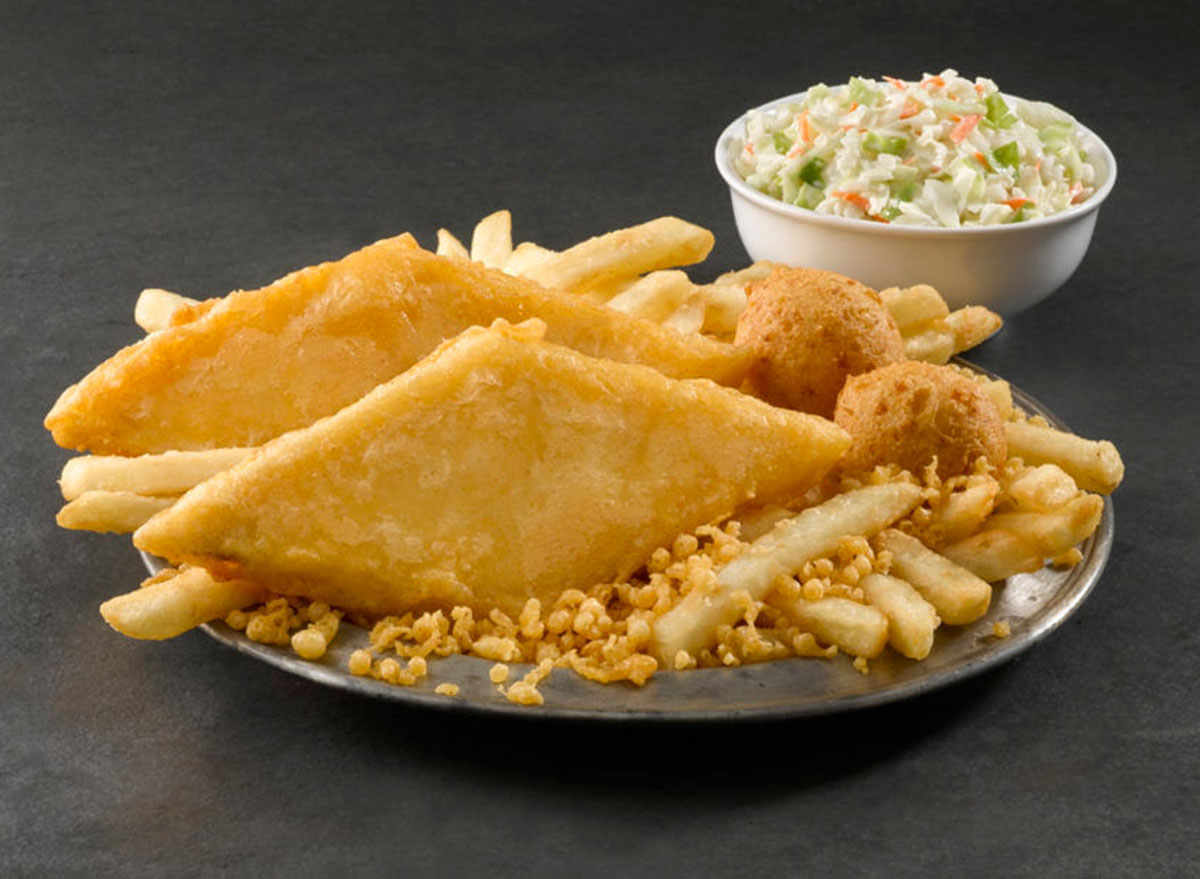 This fried combo features Alaskan Pollock, along with two sides and hushpuppies. If you're not into fried fish, some other popular items at the chain are the grilled salmon and shrimp tacos, along with a shrimp variety platter.
Burger King Chicken Fries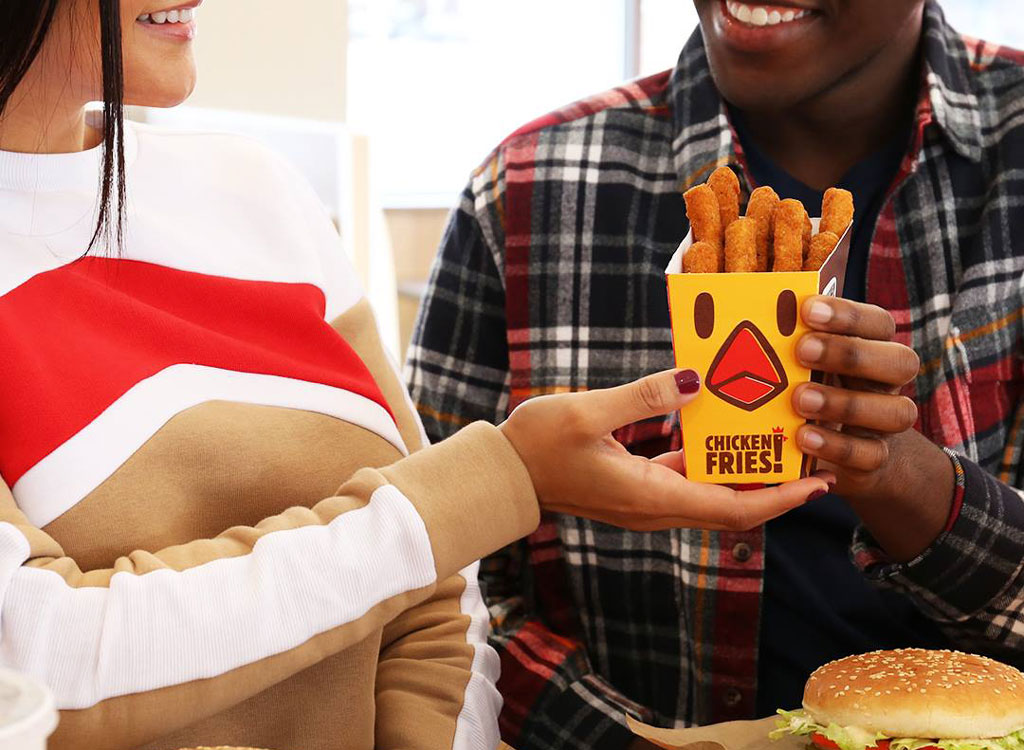 The Burger King Chicken Fries had a dramatic start. They were first offered as a novelty item in 2005, and according to USA Today, when they were pulled from the menu, fans started a Change.org petition and various social media campaigns to get them back in circulation. In 2014, Burger King decided to make them a permanent fixture on the menu.
Wondering whether you should try the Impossible Whopper at Burger King? Burger King's Impossible Whopper Is Good for a Plant-Based Version, But It Won't Win Over All Carnivores.
KFC Popcorn Chicken Nuggets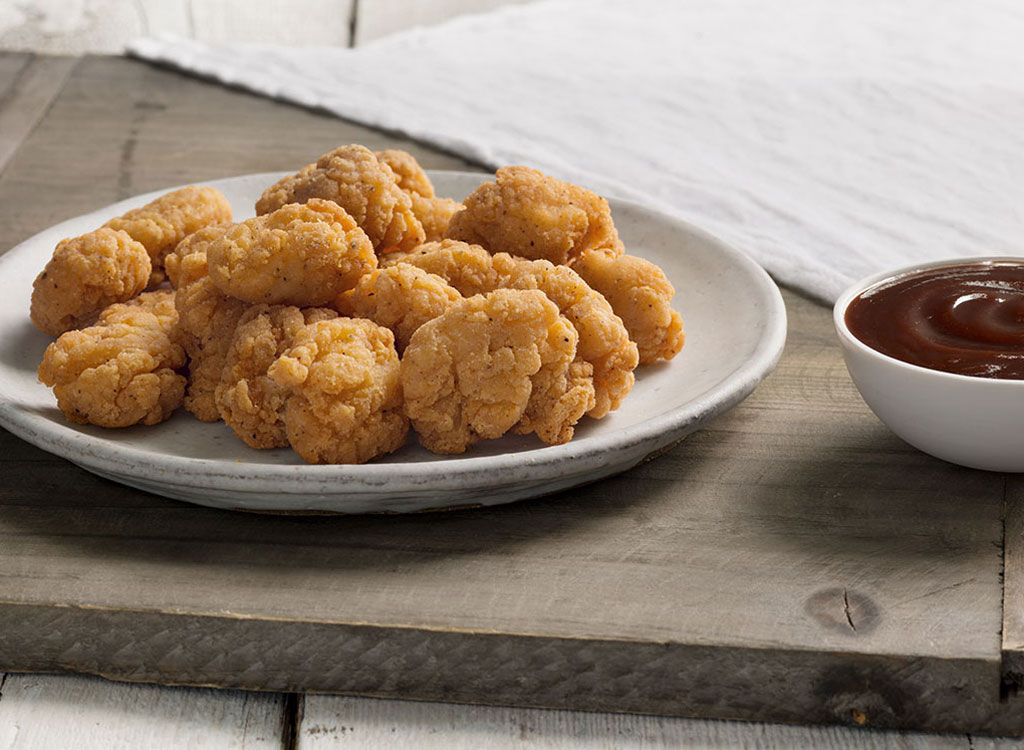 If you take one of the most popular fast-food recipes and make it conveniently bite-sized, ta-da! You have another hit on your hands.
Dunkin' Munchkins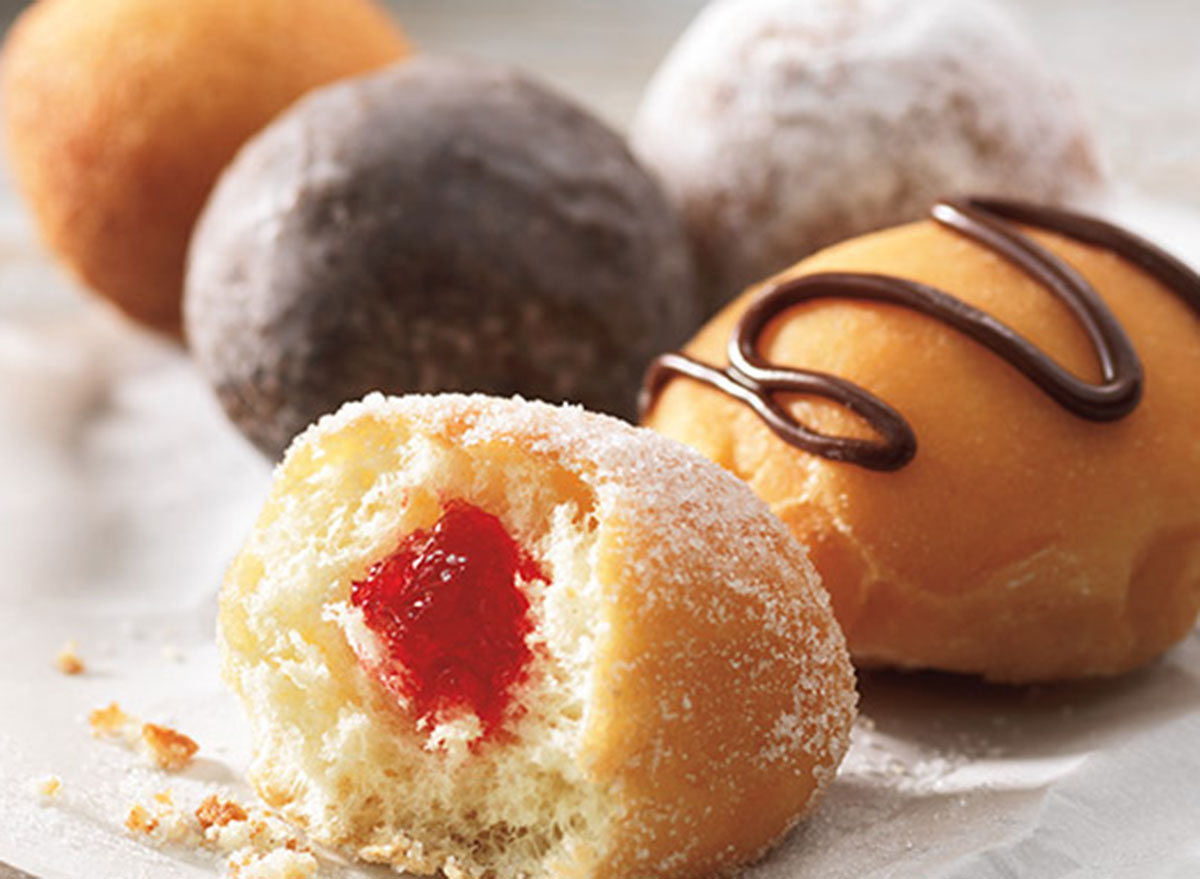 Who can resist Munchkins? They're tasty, cute, convenient for sharing and they're technically a healthier choice than if you'd eaten a whole donut. Did you know they're named after the Munchkins from The Wizard of Oz? If not, you need to read up on the 30 Things You Don't Know About Dunkin'.
Subway Cookies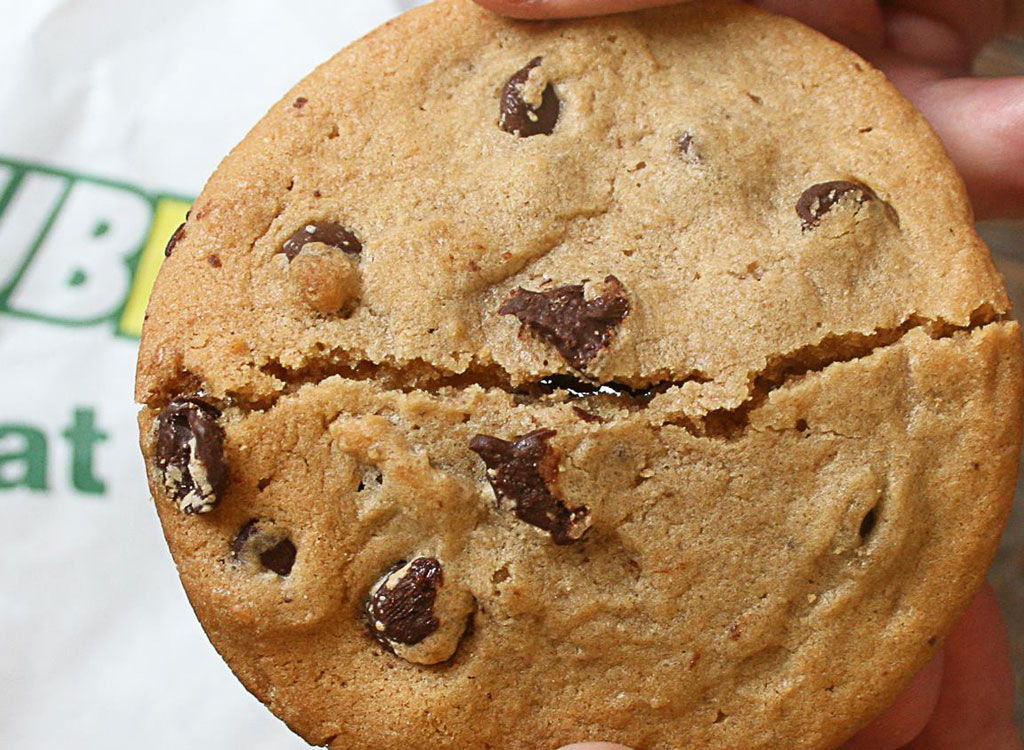 When you've chosen a healthier lunch (at least compared to the other fast-food options available), it feels perfectly valid to treat yourself to a little dessert. Perhaps that's why Subway cookies are so popular.
Chick-fil-A Iced Tea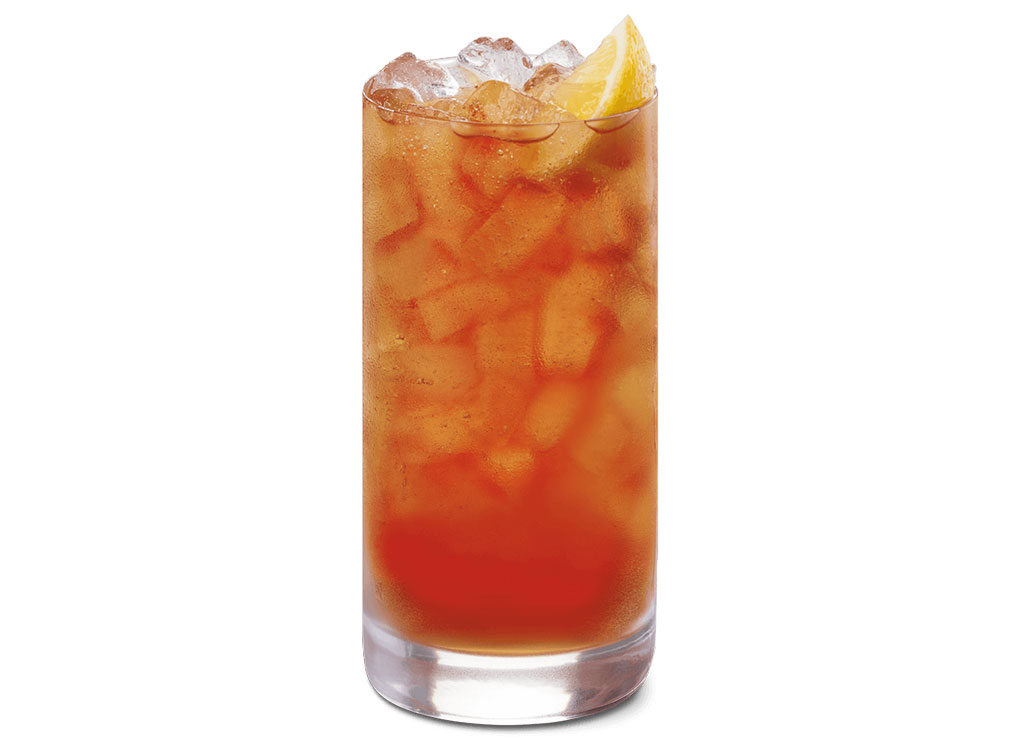 Chick-fil-A is so proud of the chain's iced tea that it details the beverage's 30-year history on its website. The chain hasn't changed the recipe since it joined the menu.
McDonald's Baked Apple Pie
Just as Wendy's has the Frosty, McDonald's has a signature dessert: the apple pie. The secret to its decades of success might just be its adaptability, as Eater points out.
Love McDonald's? Check out these 30 McDonald's Facts That Will Blow Your Mind.
Starbucks Macchiato
This foamy espresso concoction is a consistent favorite among Starbucks patrons and has been a mainstay on the menu for over three decades. The Caramel Macchiato is the most frequently ordered version today.
KFC Mashed Potatoes with Gravy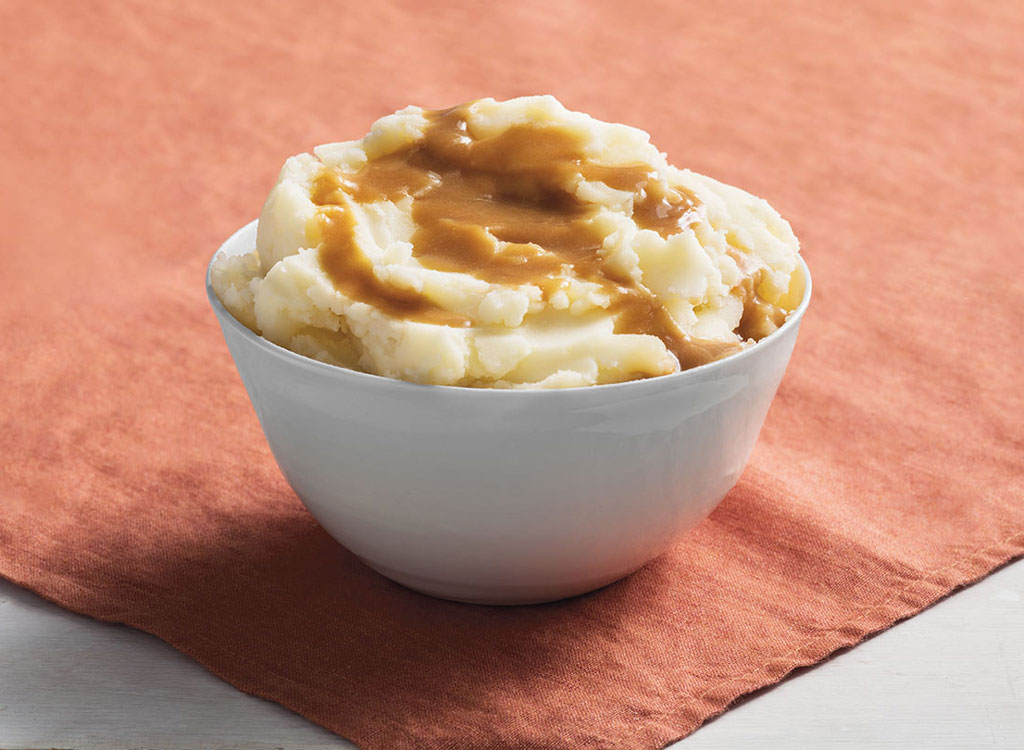 Just like French fries ride their burger's coattails to the top, KFC's mashed potatoes with gravy are flying high alongside its many chicken entrees.
Shake Shack SmokeShack Burger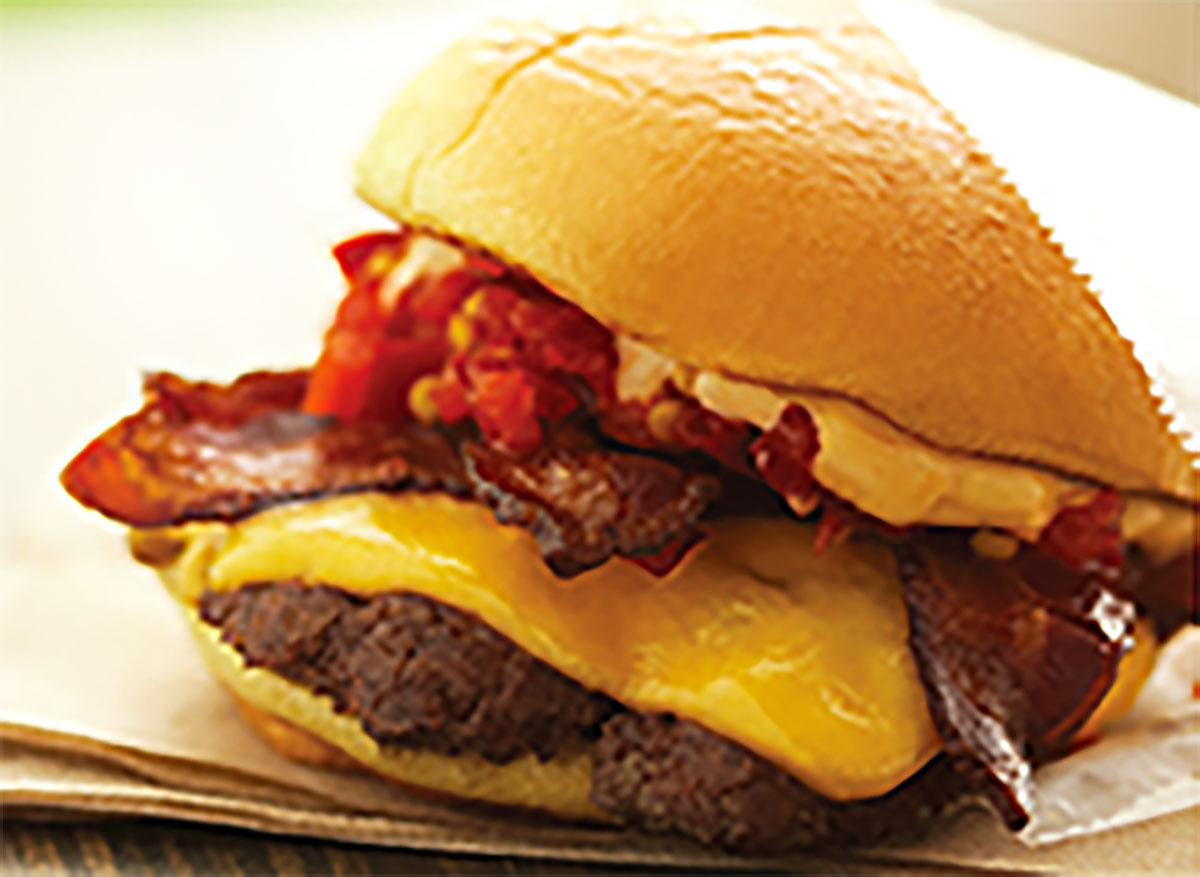 After maintaining a fairly consistent menu for years, Shake Shack debuted the SmokeShack Burger in 2012 to customers' wild approval. This came as no surprise because it's essentially Shake Shack's already popular cheeseburger with bacon on top.
Burger King French Fries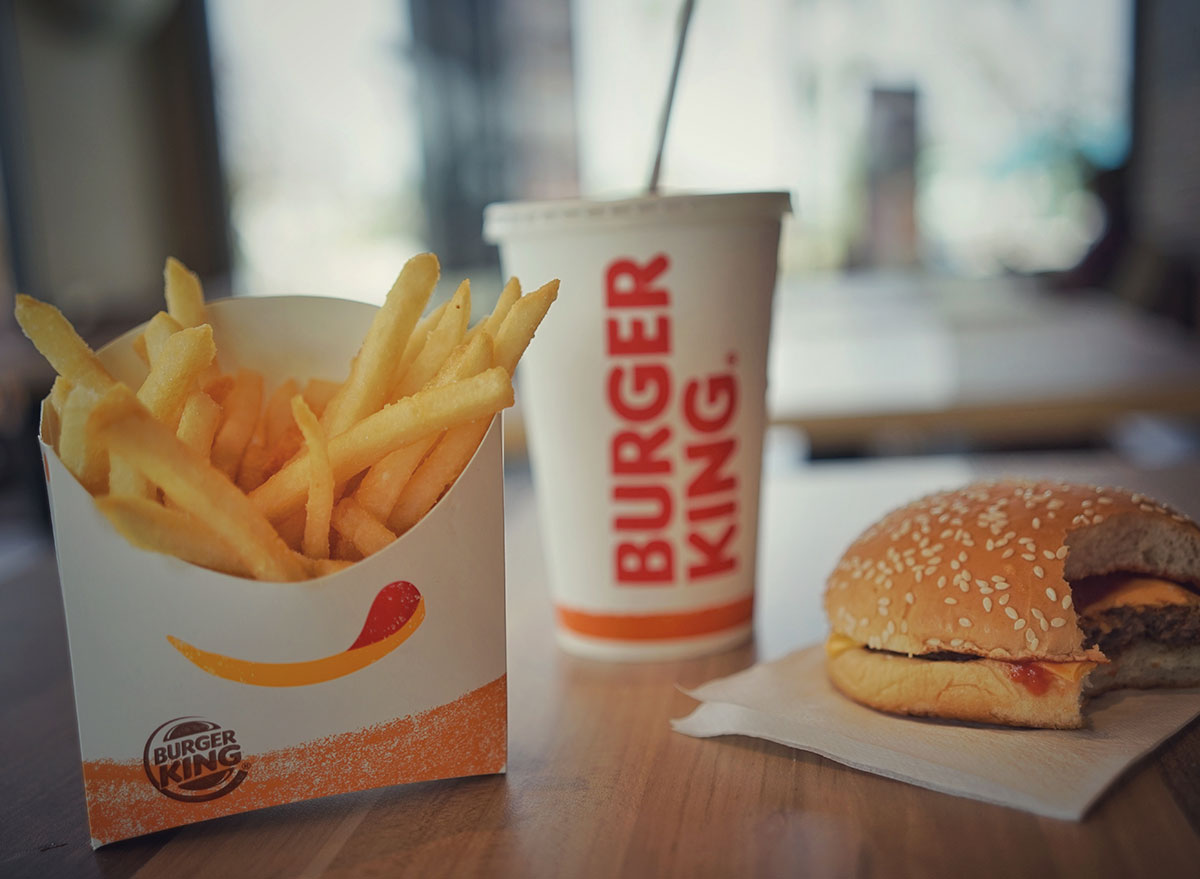 It's possible that all French fries, being a natural sidekick to burgers, are some of the most highly ordered items at any fast-food chain. That said, Burger King fries deserve their popularity based on merit.
Subway Chicken & Bacon Ranch Melt
According to Business Insider, the Subway Chicken Bacon Ranch Melt is one of Subway's most popular sandwiches.
Love Subway? Don't miss these 10 Best Subway Sandwich Tips.
Wendy's Chicken Nuggets
Not only are Wendy's Chicken Nuggets one of the most popular fast-food items, but according to Insider, a tweet about Wendy's Nuggets was also the most popular tweet of 2017. Now that's famous.
Taco Bell Chalupa Supreme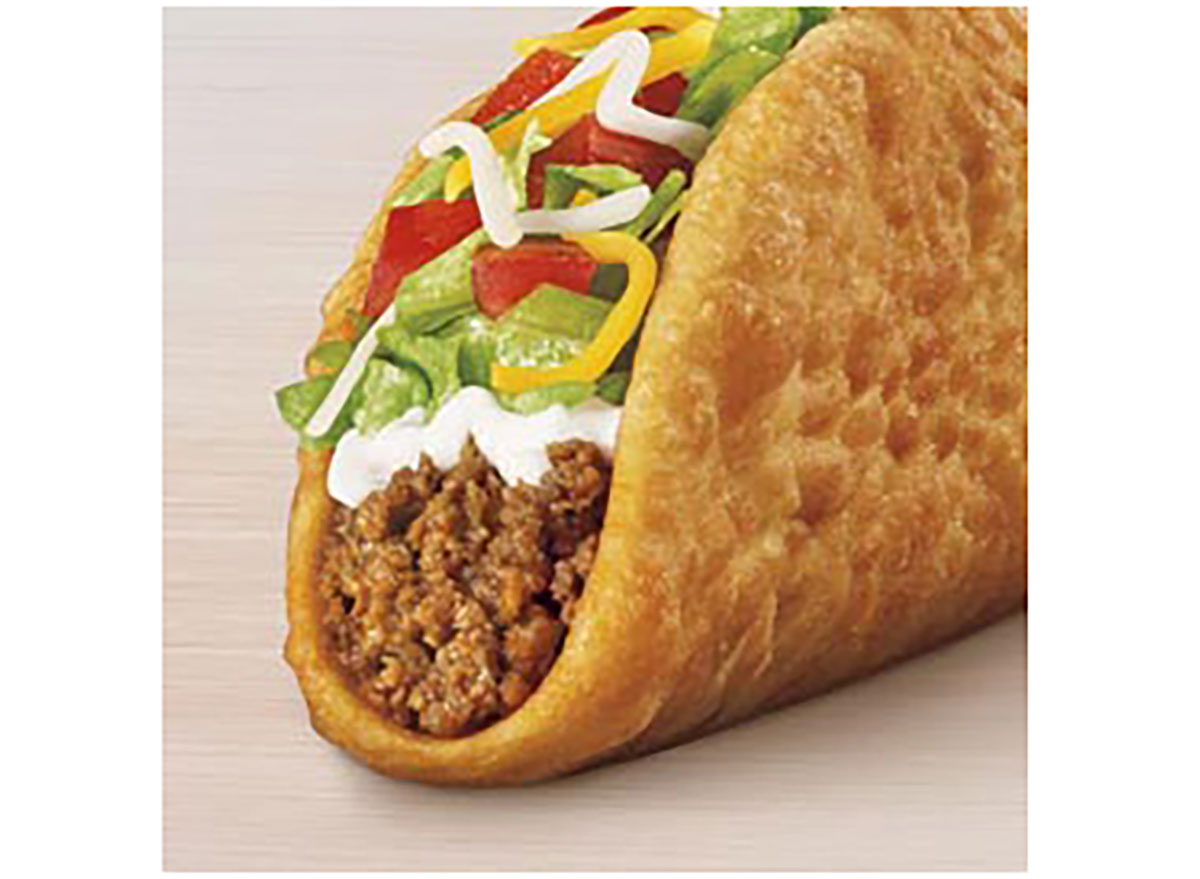 Before Taco Bell, many Americans had never heard of chalupas. Thanks for that, Taco Bell.
McDonald's Hash Browns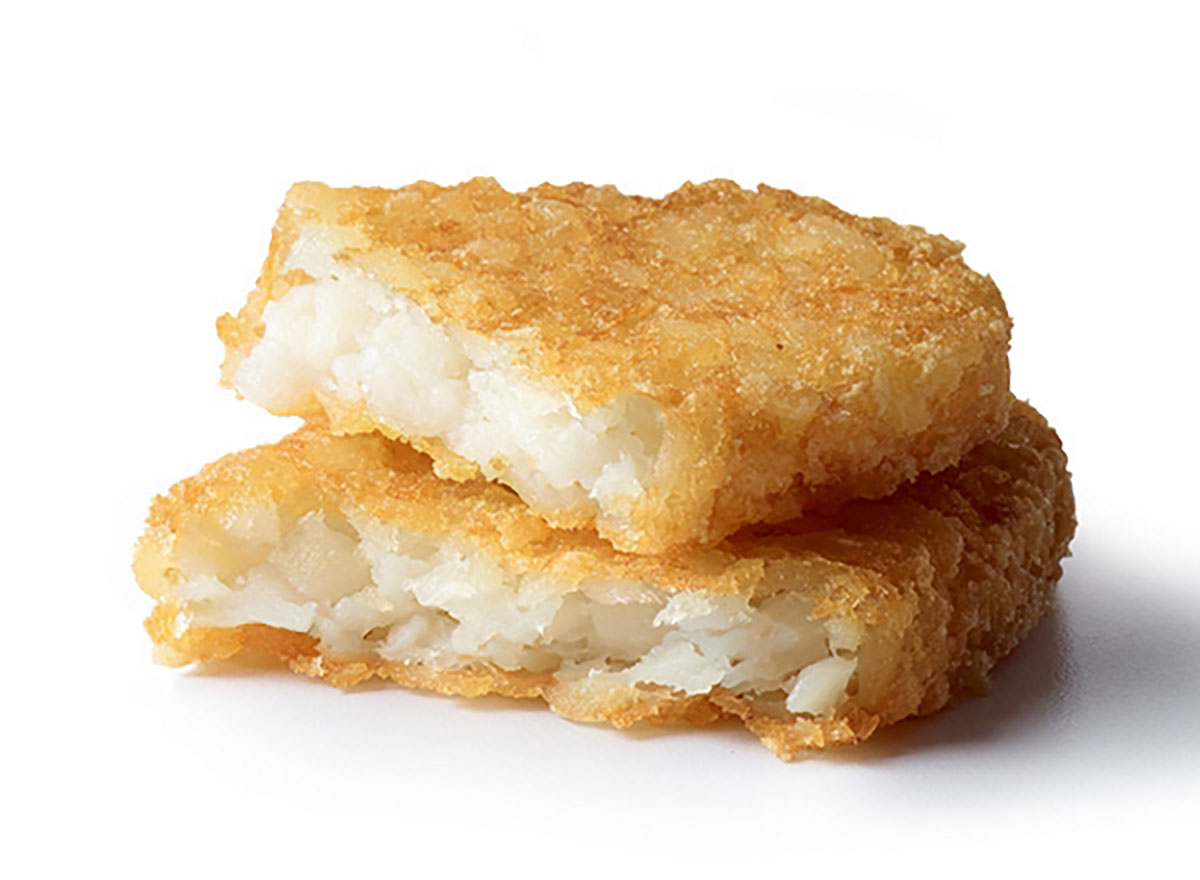 Sure, everyone knows that French fries are the star of the Mickey D's side dish menu. But McDonald's Hash Browns are a close second, and have the added advantage of being "breakfast friendly."
Panera Flatbreads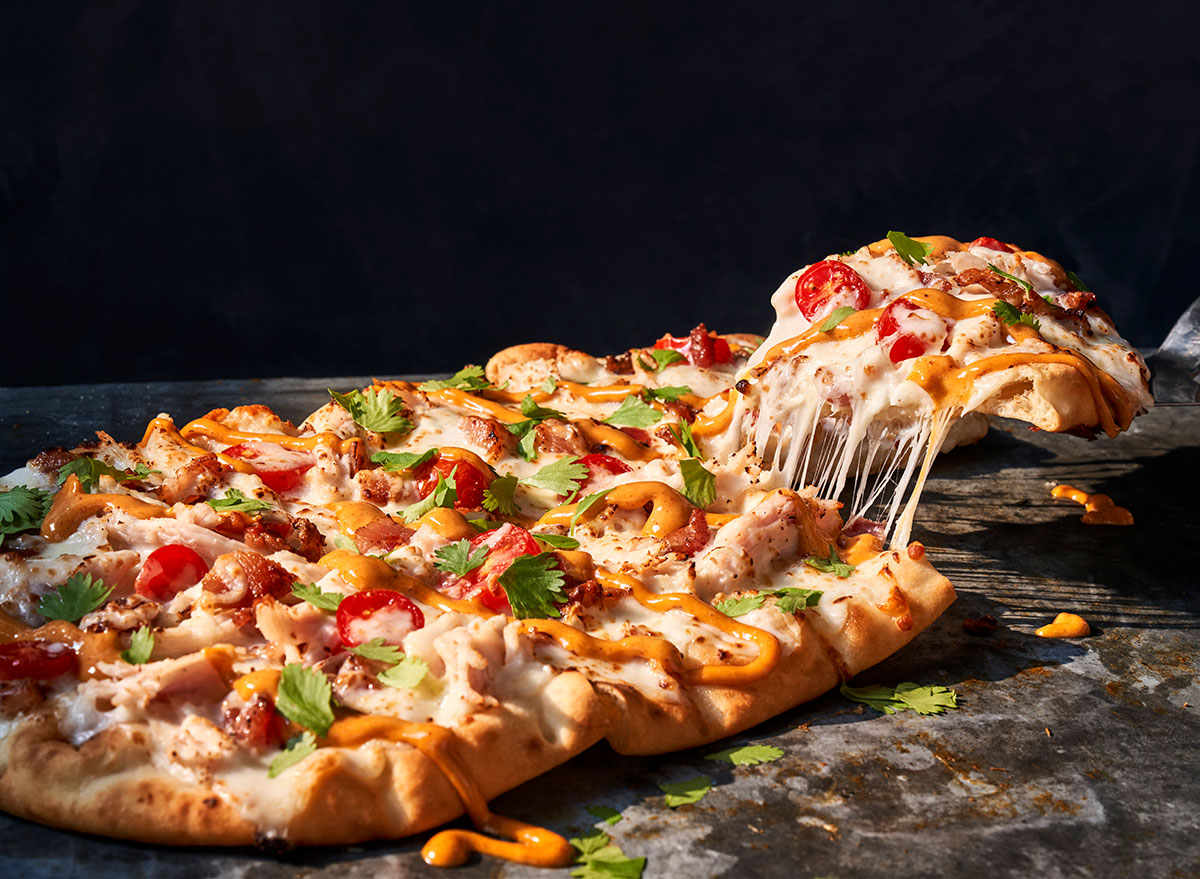 Panera started offering flatbread pizzas during the pandemic, and they've quickly become a fan-favorite menu option.
Whataburger Taquito with Cheese
According to Bon Appetit, Texans are down to ride or die for Whataburger. The Taquito with Cheese has, in particular, been called "a Texas tradition," but its popularity extends beyond the lone star state.
And if you're looking for more underrated dishes, don't miss The Most Underrated Dishes at All of America's Biggest Chains.
McDonald's Egg McMuffin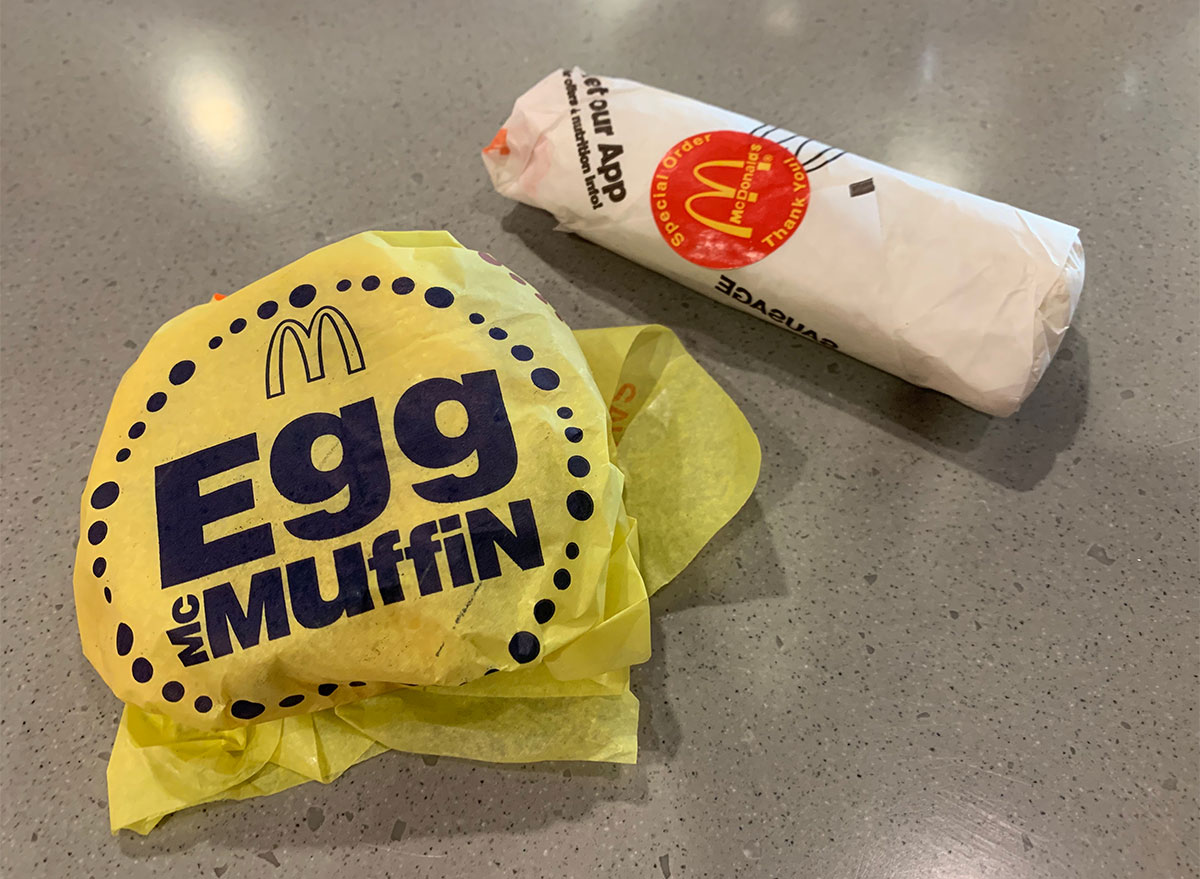 McDonald's Egg McMuffins—essentially bacon, egg, and cheese on an English muffin—have maintained their popularity since they were first introduced in 1972. They are one of the most iconic fast-food breakfast options.
Chick-fil-A Chicken Sandwich
The chicken sandwich may not be as popular as Chick-fil-A's nuggets, but it's up there.
Taco Bell Burrito Supreme
Taco Bell has crowned this burrito "The Supreme Ruler of the Burrito Empire," and it has many loyal subjects to prove it.
Starbucks Pumpkin Spice Latte
Nothing says fall like a Starbucks Pumpkin Spice Latte. No other chains have managed to claim an entire season as theirs. Now that's popular.

McDonald's Happy Meal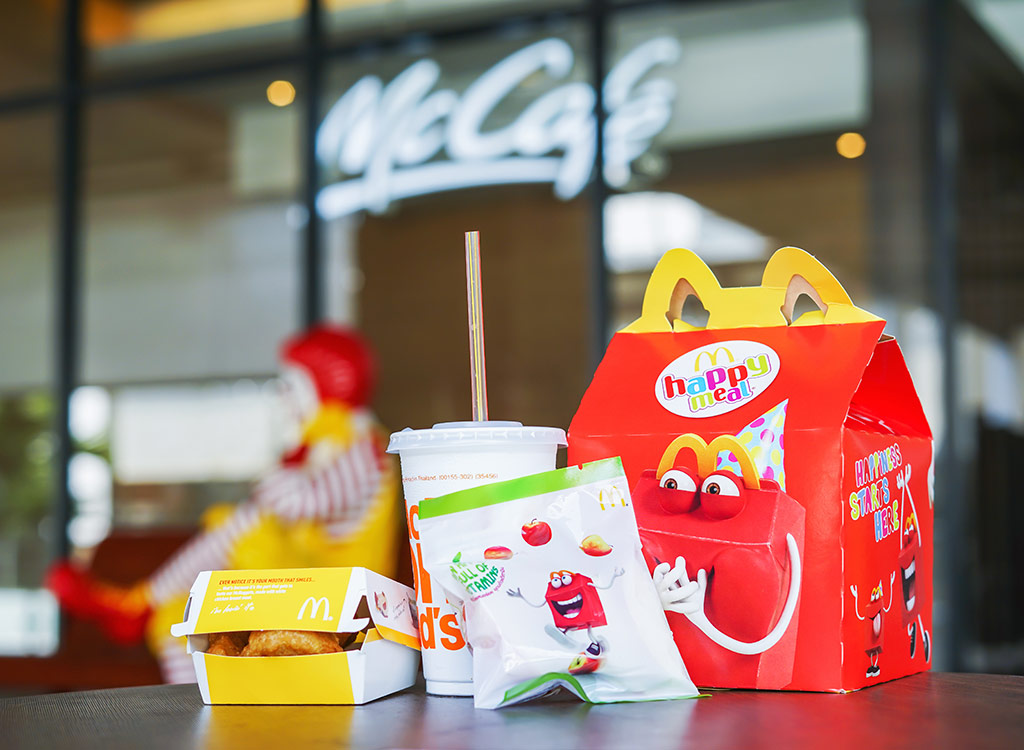 The McDonald's Happy Meal has been thriving since 1979, thanks to its kid-sized portions, colorful signature packaging, and of course, the collectible toys.
Feeling nostalgic? Here are 19 Old Happy Meal Toys That'll Bring You Back to Your Childhood.
Wendy's Frosty
The Frosty is considered the signature dessert at Wendy's, available in only two classic flavors: chocolate and vanilla. It's been going strong since 1969.
Tim Horton's Chocolate Doughnuts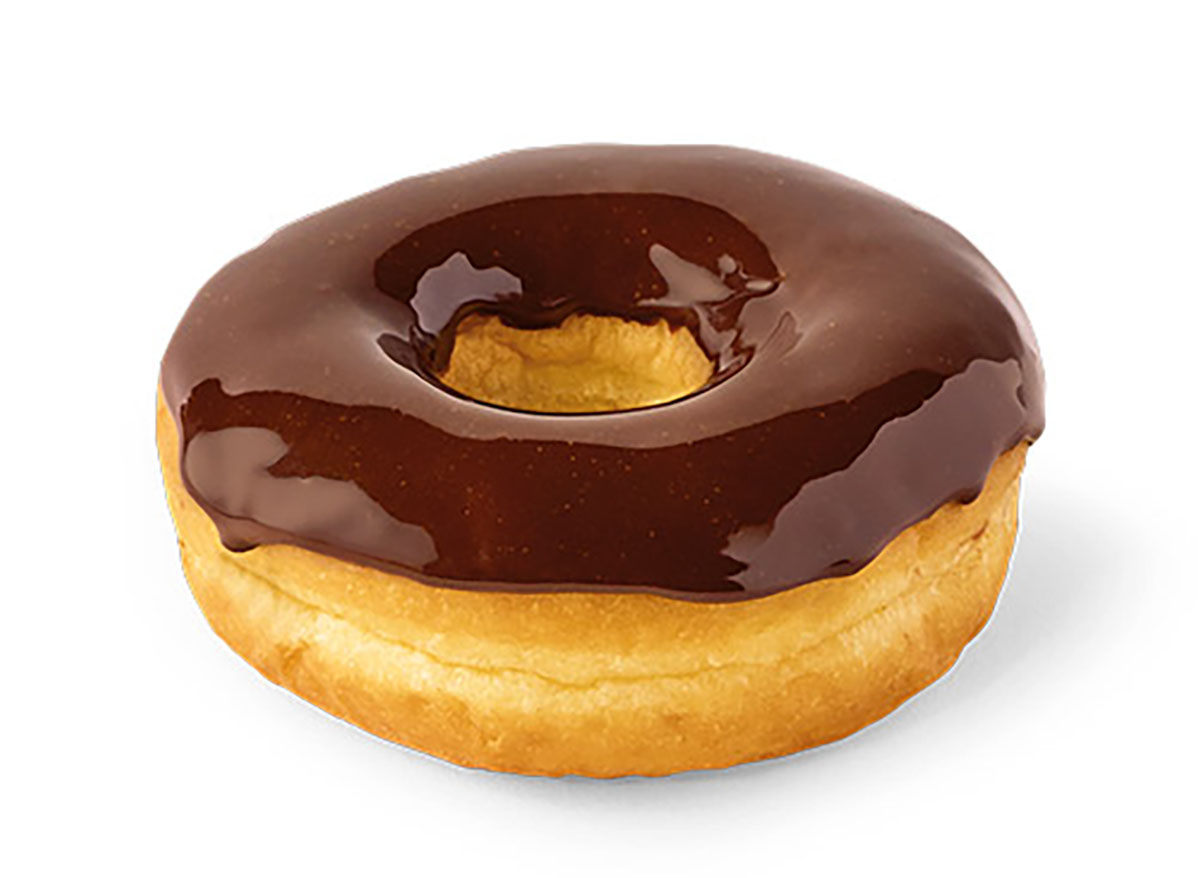 Beyond coffee and specialty beverages, Tim Horton's is famous for its doughnuts (they go well with Ice Capps after all). The classic Chocolate Dip and Boston Creme are two of the most popular flavors.6254a4d1642c605c54bf1cab17d50f1e
McDonald's Quarter Pounder with Cheese
The Quarter Pounder has been around since 1972, with little change. But, as USA Today reports, McDonald's vowed in 2017 to use higher quality beef in its Quarter Pounders to compete with fresh ingredient chains like Five Guys, Shake Shack, and their arch-nemesis, Wendy's. It's no wonder the Quarter Pounder Deluxe won our McDonald's burger taste test.
Qdoba Grilled Adobo Chicken Bowl
The grilled adobo chicken bowl, complete with queso, guacamole, vegetables, jalapenos, and pico de gallo, is Qdoba's most popular item.
Chopt Mexican Caesar Salad
At this salad chain, the Mexican Caesar is the most popular choice, a Chopt rep told us. Other popular salads include the Palm Beach salad and the Kebab Cobb.
Want to know more about your salad options? Here are The Best & Worst Fast-Food Salads—Ranked.
McAlister's Deli Club Sandwich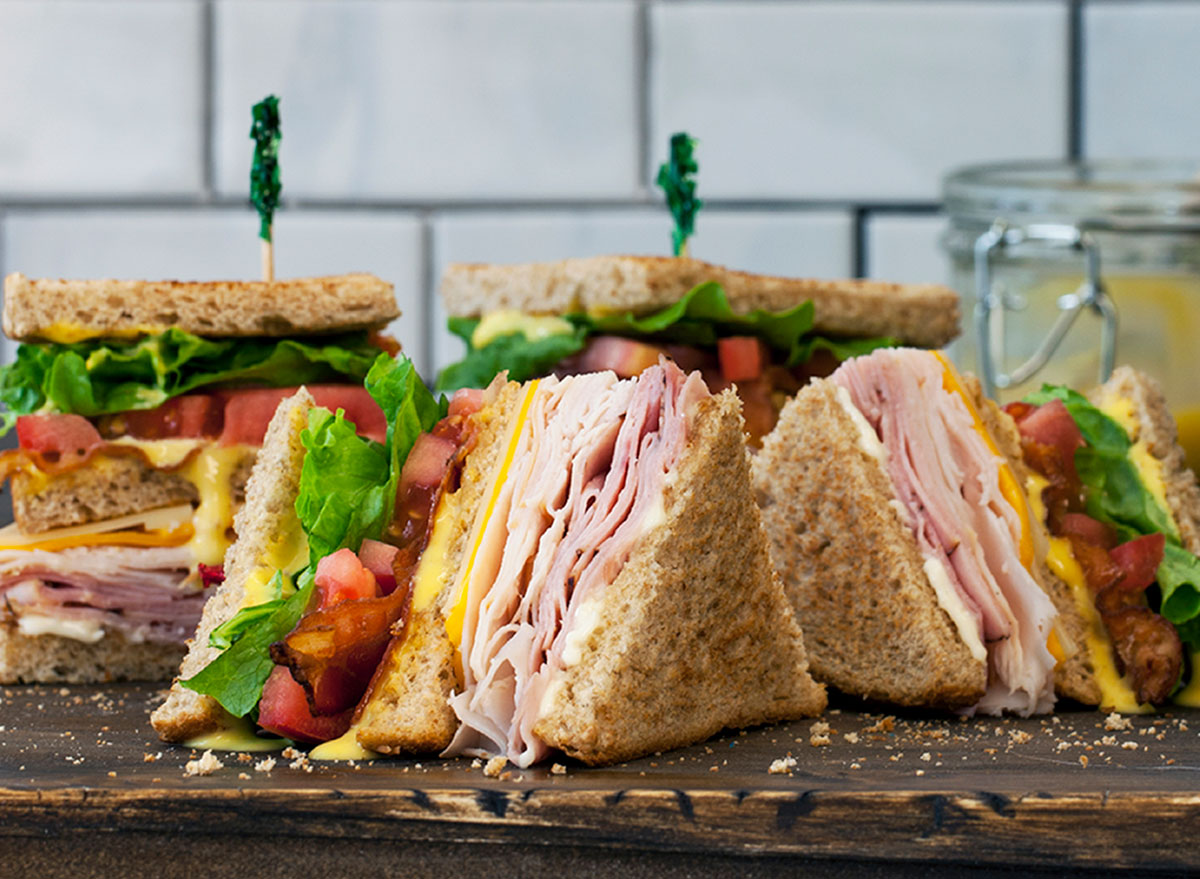 The McAlister's Deli club sandwich, complete with turkey, bacon, and ham, is one of its most popular items. Of course, the sweet tea is super popular, too—you'll need something to wash that sandwich down with!
Chipotle Chicken Burrito Bowl with Black Beans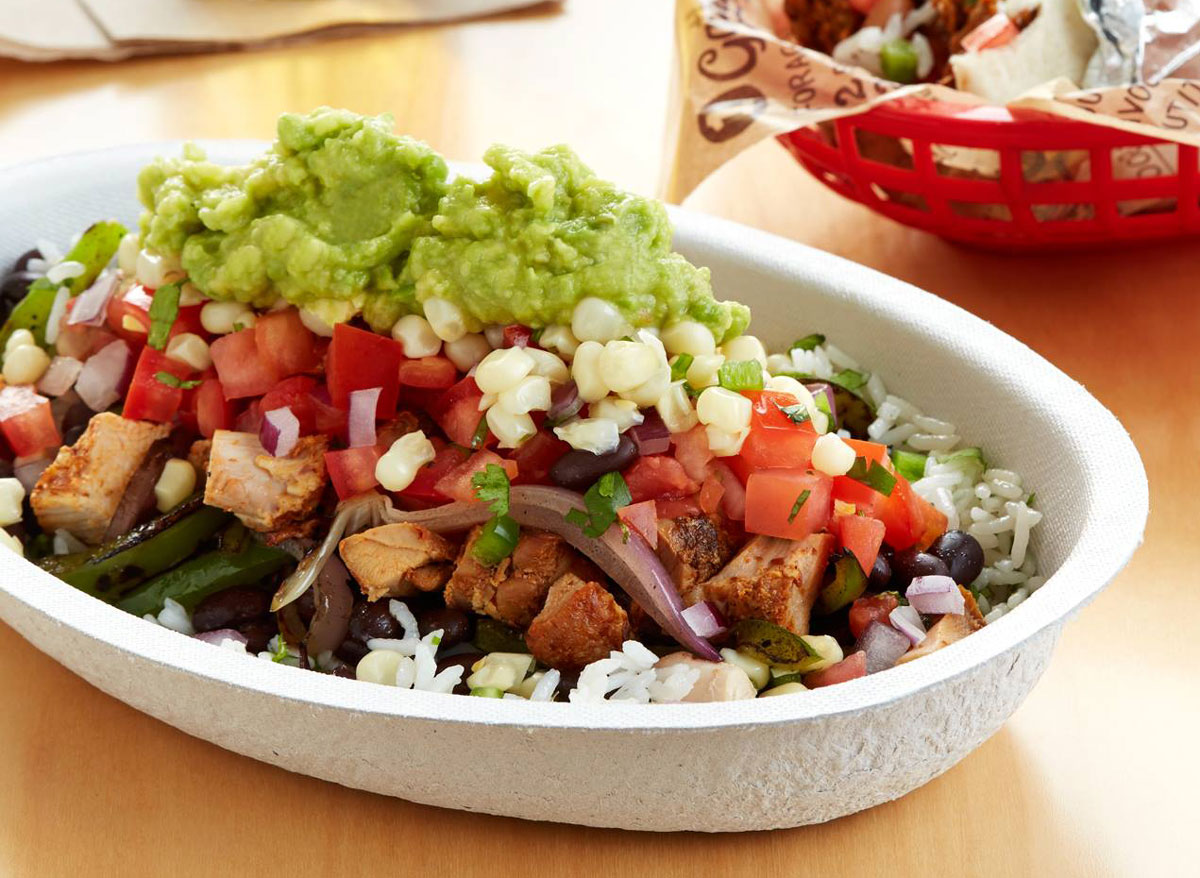 Chipotle, like Shake Shack, built its business on being a fast-casual restaurant without a fast-food reputation. The chicken burrito bowl, complete with white rice and black beans, is its most-ordered item, according to a Chipotle rep.
Wingstop Lemon Pepper Wings
"Our most popular and hero wing flavor is Lemon Pepper," a Wingstop rep told us. "And fans RAVE about our fries and handmade ranch, both prepared in every restaurant every single day."
Original Chop Shop Teriyaki Chicken Protein Bowl
According to a rep for the company, the teriyaki chicken protein bowl is the most popular choice at this chain. The teriyaki chicken bowl features chicken with teriyaki sauce, sesame seeds, Brussels sprouts, and avocado.
Noodles World Kitchen Zucchini and Asparagus with Lemon Sauce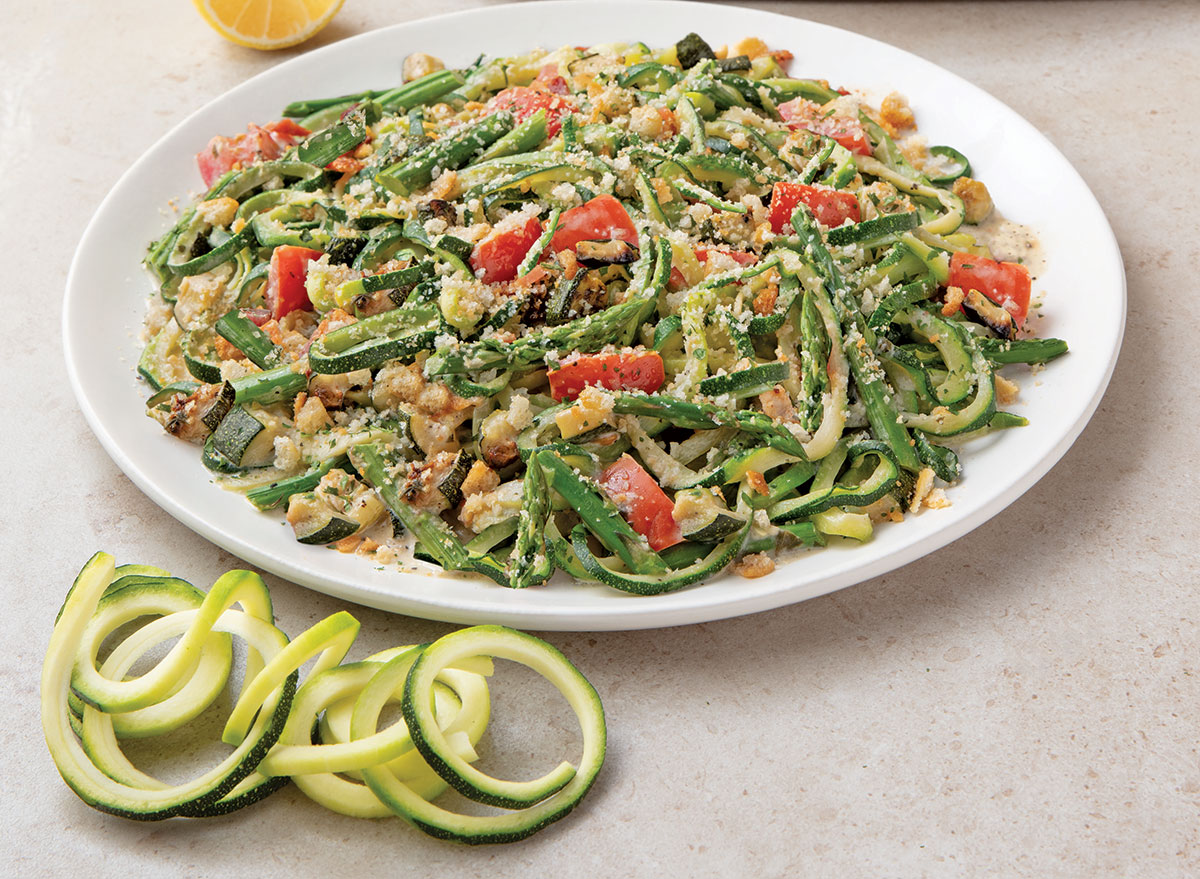 "One of our most popular dishes this summer is our seasonal Zucchini & Asparagus with Lemon Sauce, which features zucchini noodles and asparagus in a lemon cream sauce, Roma tomatoes, and roasted zucchini, all finished with breadcrumbs and parsley," a Noodles rep said.
And if you're curious, here's The Secret Reason Why Different Shaped Pastas Taste Differently.
Boston Market Rotisserie Chicken
Boston Market is famous for its rotisserie chicken, which is also its most-served item.
"The best-selling dish on the Boston Market menu is—without question – its farm-fresh, never frozen, all-natural rotisserie chicken," a Boston Market rep said. "They're so popular, in fact, that Boston Market sells more than 21 million whole rotisserie chickens featuring a total of 530,000 pounds of seasoning each year!"
Pei Wei Asian Kitchen Kung Pao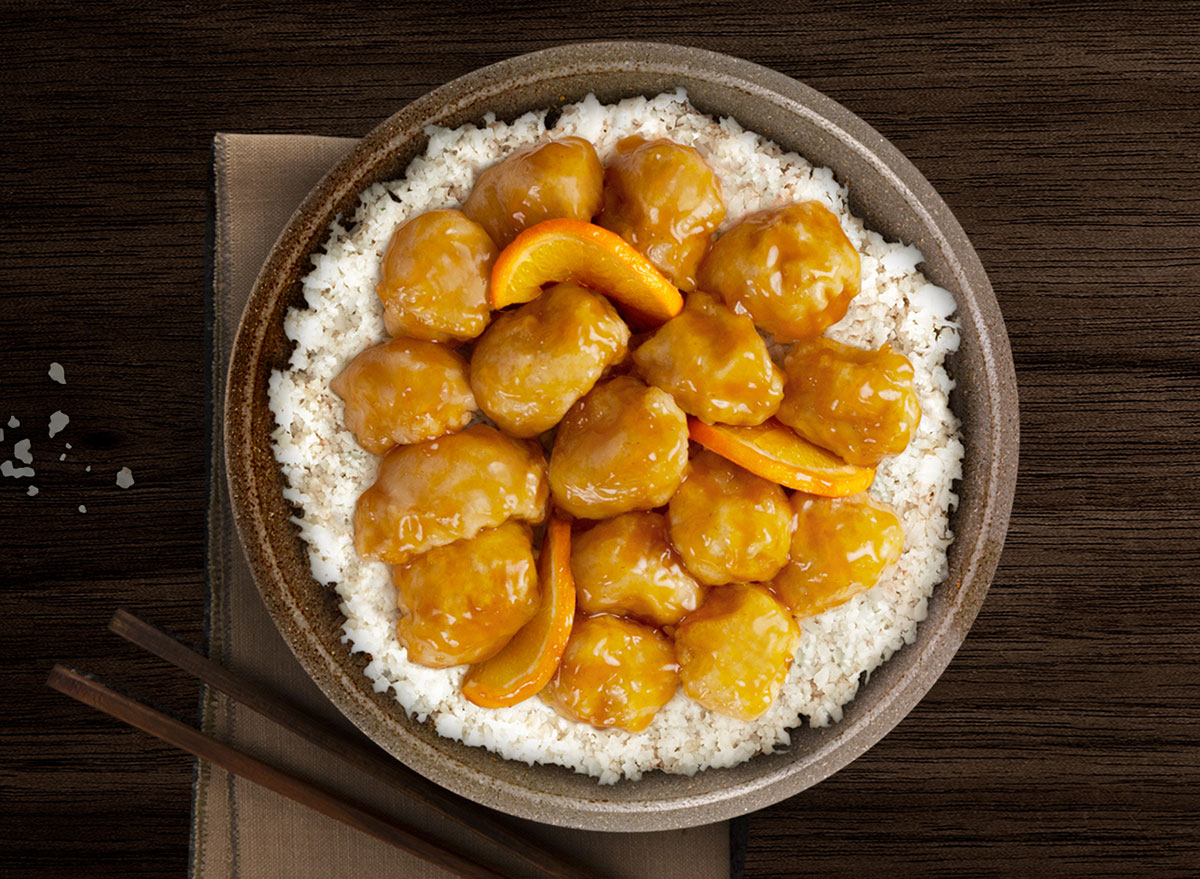 In addition to the Wei Better Orange Chicken, the Kung Pao chicken is a popular Pei Wei order. The medium-spicy dish comes with snap peas, carrots, garlic, and scallions, topped off with peanuts.
Fazoli's Meatball Slider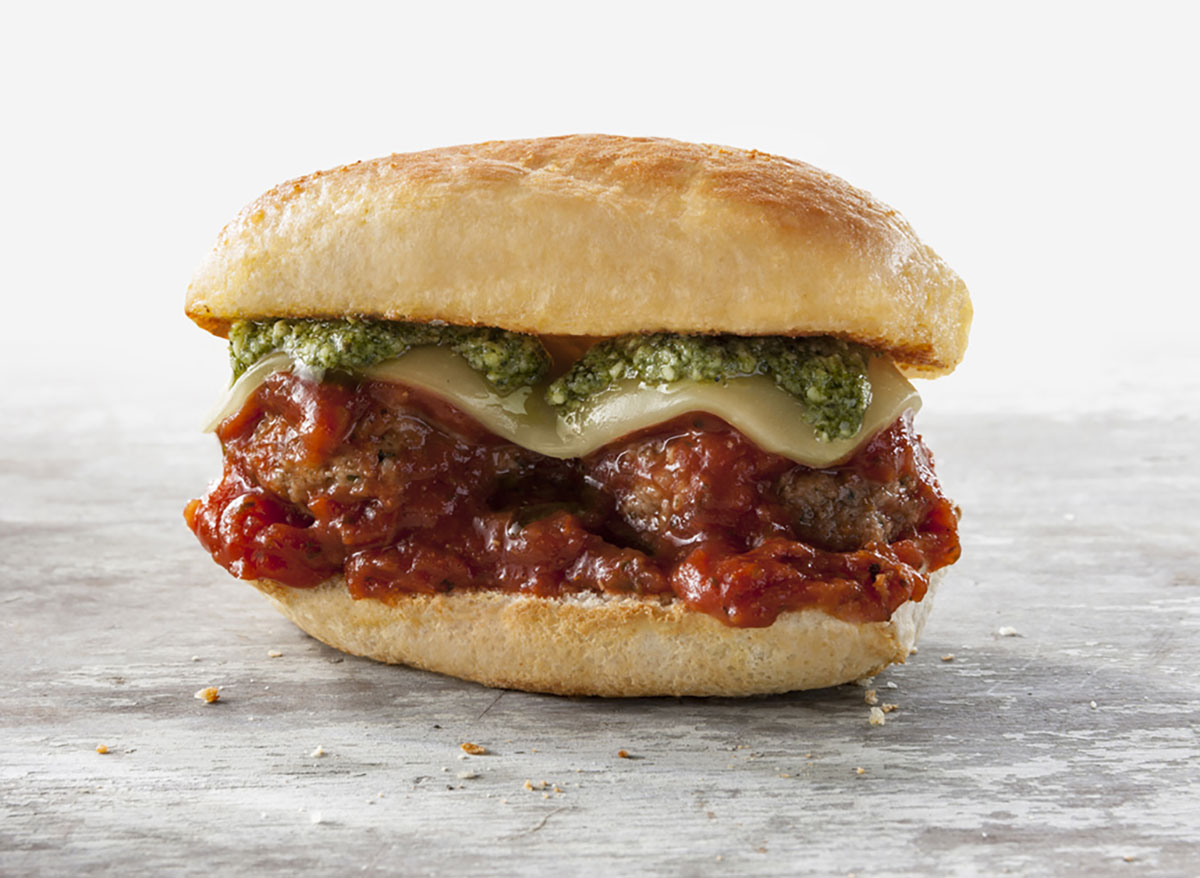 This fast-casual American-Italian chain makes some very interesting concoctions. According to a Fazoli's rep, the smashed meatball slider—made with breadsticks as the bun—is a popular choice.
Moe's Southwest Grill Homewrecker Burrito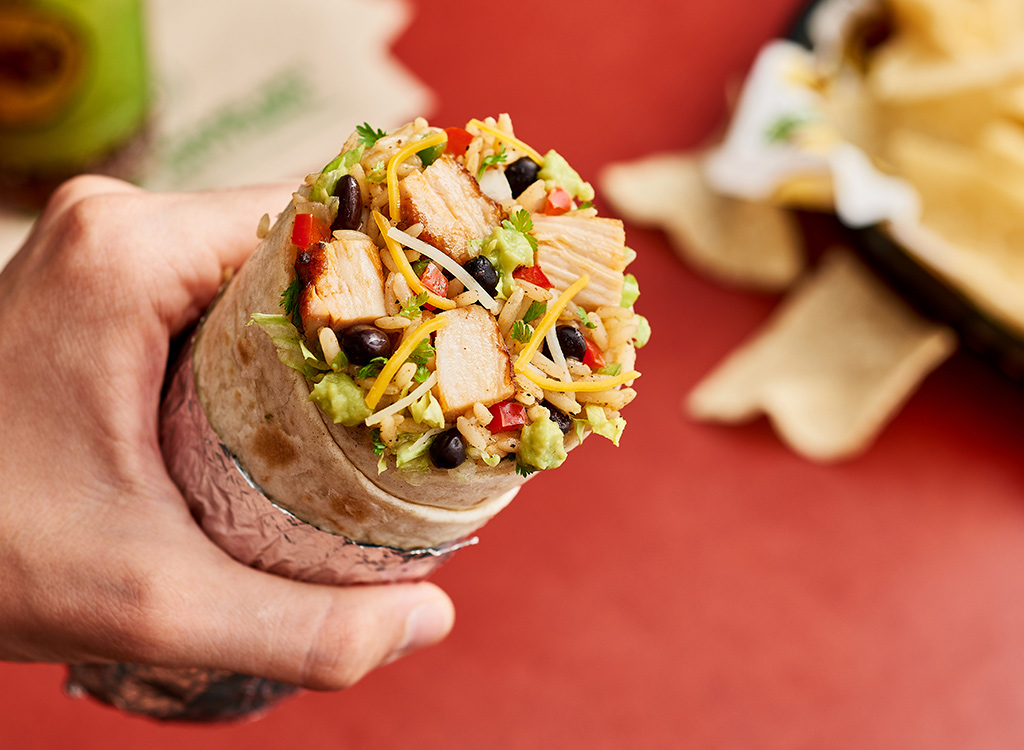 It shouldn't come as a surprise that Moe's burritos, including the Homewrecker and the Joey Bag of Donuts, reign supreme at the chain known for its warm welcomes.
For customers following certain diets, meanwhile, the burrito bowls are also popular. "Those are especially favored by folks on special diets like keto/low carb/vegan or vegetarian because they can be easily customized," a Moe's rep said.
Noodles World Kitchen Penne Rosa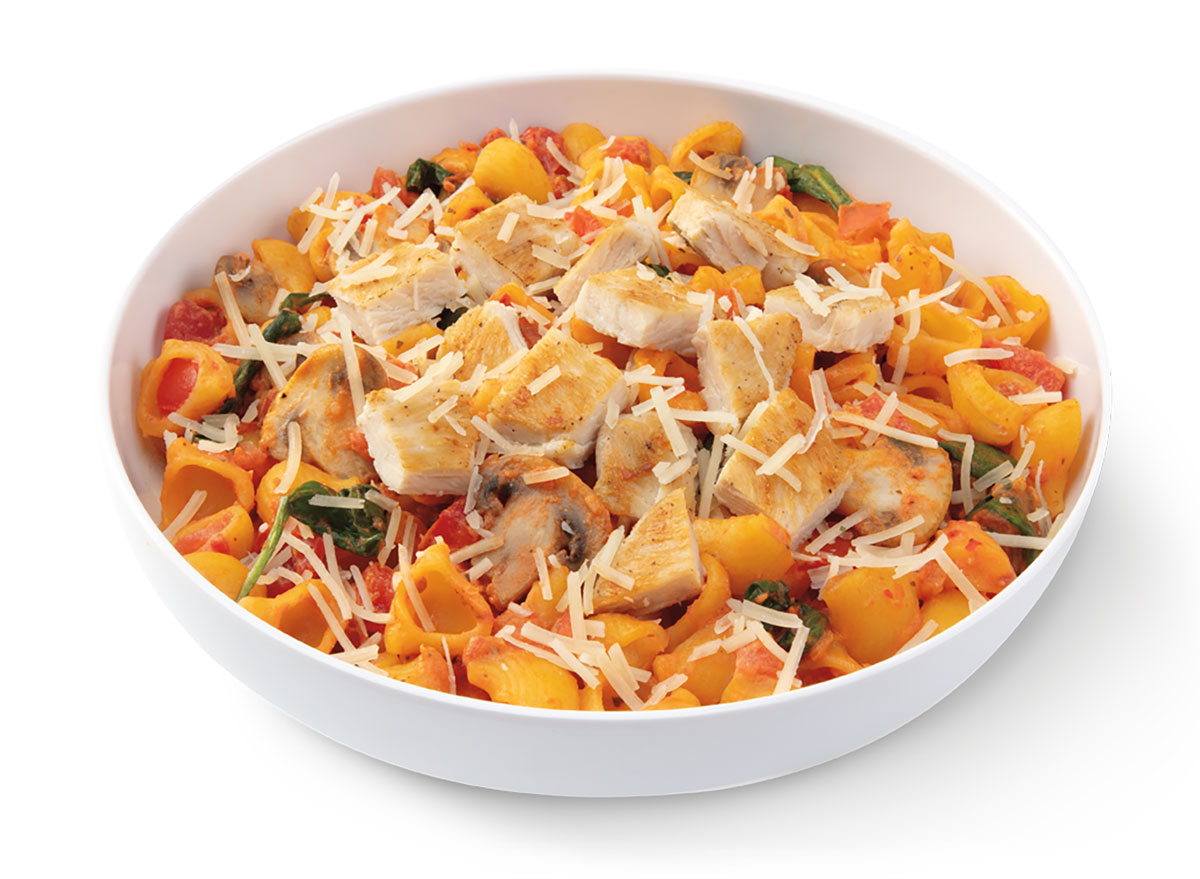 "The dish is composed of a spicy tomato cream sauce, pipette shells, grilled chicken, mushrooms, tomato, spinach, and parmesan. Zoodles can also be substituted into this dish or any other dish on our menu," a Noodles rep explained to us.
Prefer cooking homemade noodles? This Is the Easiest, Cheapest Pasta Dish You Can Make at Home.
Yard House Poke Nachos
The American chain puts a spin on the poke bowl, and these nachos are a top seller at the restaurant, a rep told us. The nachos include wonton chips with tuna, avocado, cilantro, peppers, green onions, sesame seeds, and nori strips, as well as several sauces.
Pei Wei Asian Kitchen Wei Better Orange Chicken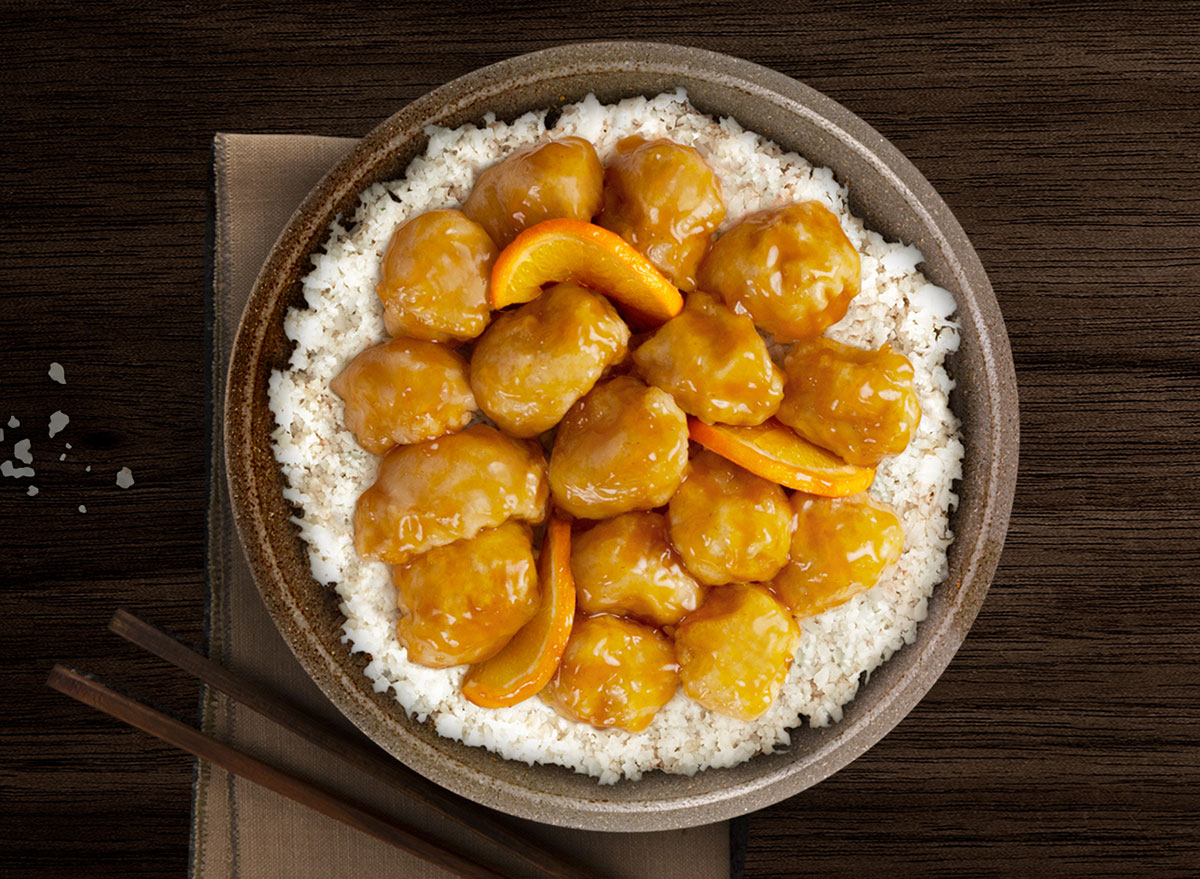 According to a rep for the company, Wei Better Orange Chicken is one of the most popular items at the chain. The dish is served with rice, but if you're looking for a low-carb meal, Pei Wei recently added cauliflower rice to its menu, too.
Noodles World Kitchen Wisconsin Mac & Cheese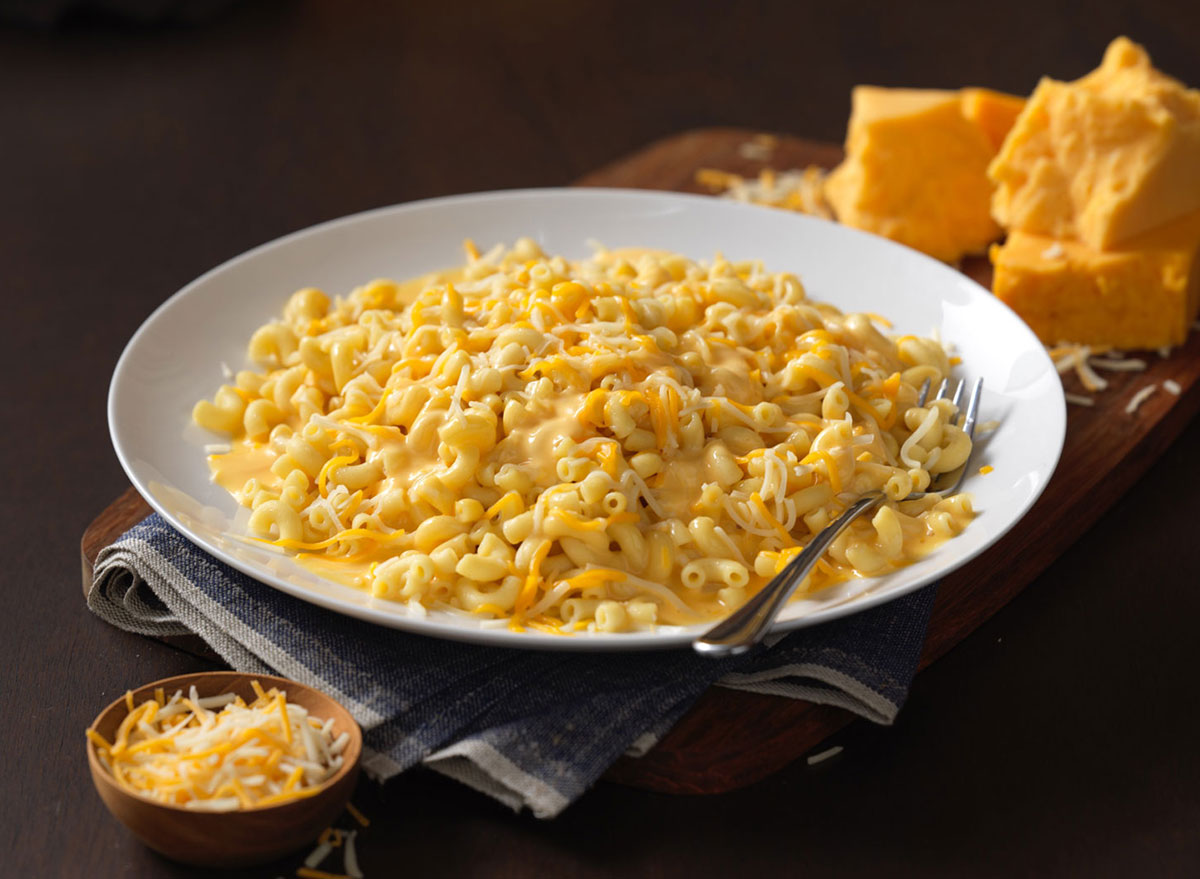 "Our best-selling dish on the menu is our Wisconsin Mac & Cheese," a Noodles rep told EatThis.com. "We serve more than 10 million bowls every year, and now with the addition of zucchini noodles, guests have a healthier way to enjoy this dish without sacrificing the cheesy flavor they love. Better yet, a serving of zucchini noodles has 90% fewer carbs and calories than a serving of elbow noodles, making Zoodles a great way to enjoy this dish." Whether you want original noodles or zucchini noodles, you can't go wrong with this popular pick.
Panera Mac and Cheese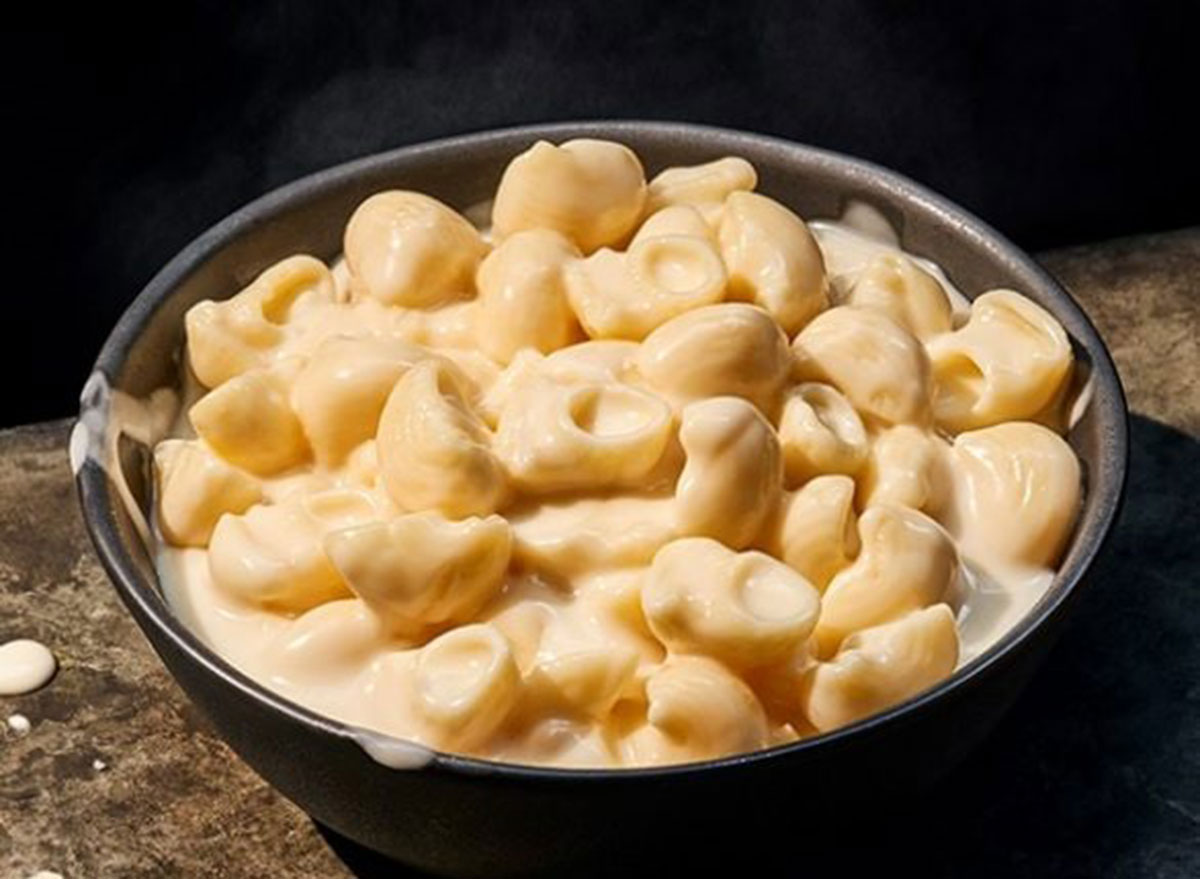 Panera doesn't share its sales numbers, but a rep shared with us that the chain's mac and cheese is one of the "top picks at the moment."
Other popular Panera items include the soup and the Green Goddess Cobb salad.
Five Guys Chocolate Milkshake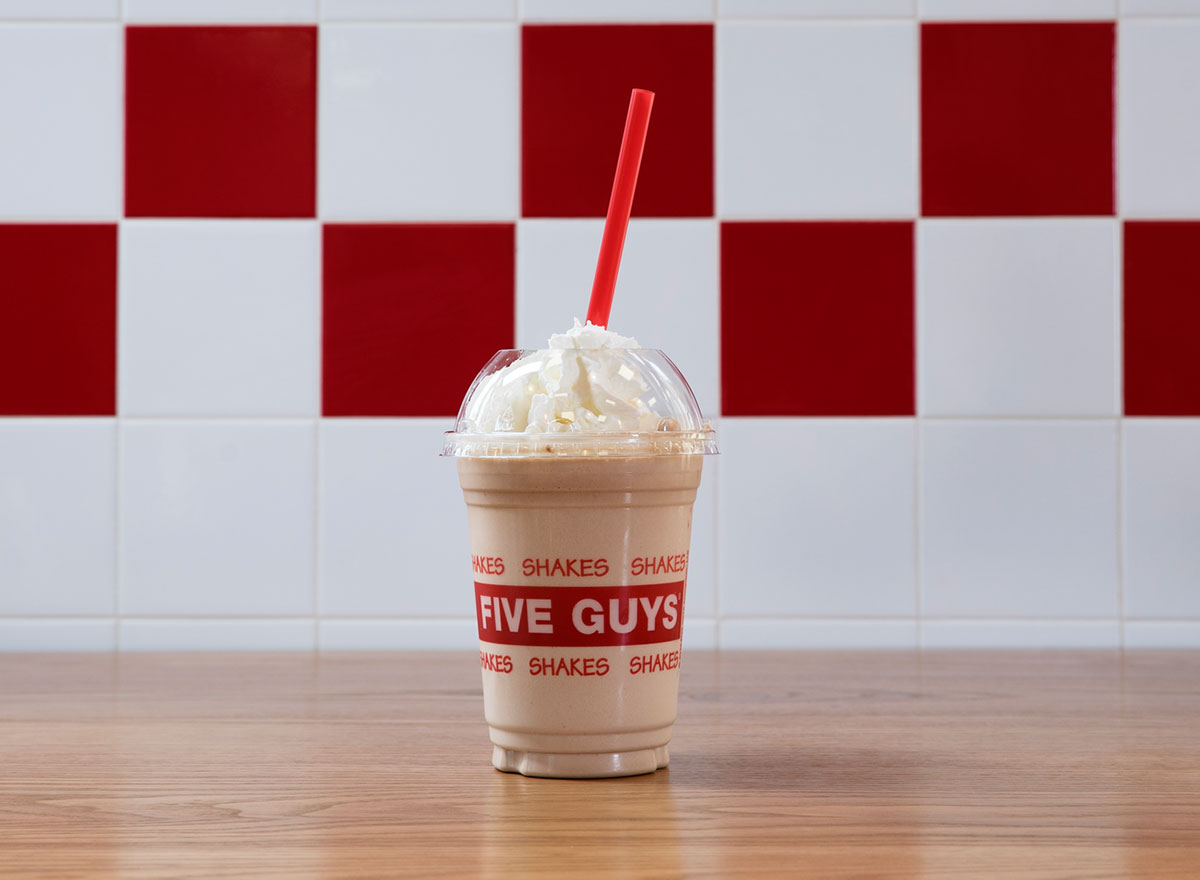 The second most-ordered item at Five Guys is the chocolate milkshake. Other popular Five Guys milkshake flavors are Oreo cookie flavor, vanilla, strawberry, peanut butter, and salted caramel, according to a rep for the chain.
Not sure where to head for a fast-food milkshake? We Taste-Tested Chocolate Milkshakes from 5 Franchise Restaurants—This One Was the Best.
Chick-fil-A Chicken Nuggets
After waffle fries, Chick-fil-A's nuggets are its third-most-popular item. Yep, they're even more popular than the chicken sandwich!
Pizza Hut Meat Lover's Pizza
Pizza Hut confirmed that the Pepperoni Pizza was the most popular order with a Facebook post in 2012, but the most common trend in the comments was a defense of the Meat Lover's Pizza as a close second fan favorite.
Taco Bell Nacho Fries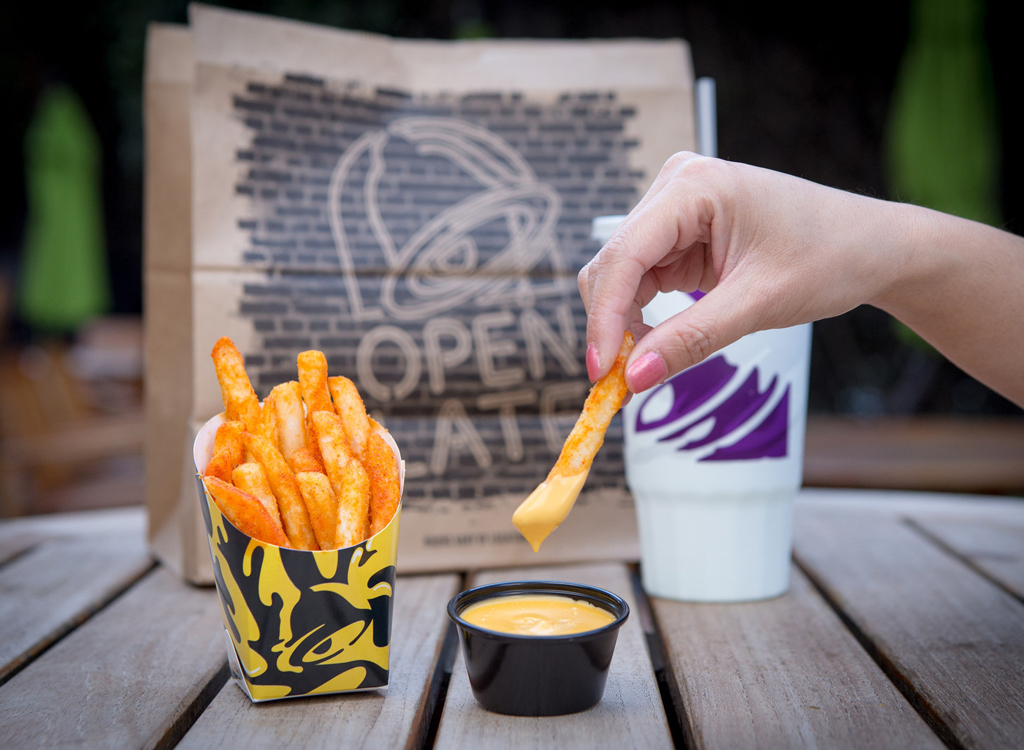 Taco Bell's Nacho Fries have come and gone multiple times over the years, and they aren't currently available at the fast-food chain. But that doesn't mean they aren't popular! Fans love when these dippable, seasoned fries return to the menu.
This side reached legendary status when it became the best-selling new product launch in the chain restaurant's history, selling more than 53 million orders within the first five weeks it was available.
Auntie Anne's Pretzel Nuggets
For customers who want something easier (and more fun) to eat than the original pretzels, Auntie Anne's pretzel nuggets are a popular choice.
Arby's Curly Fries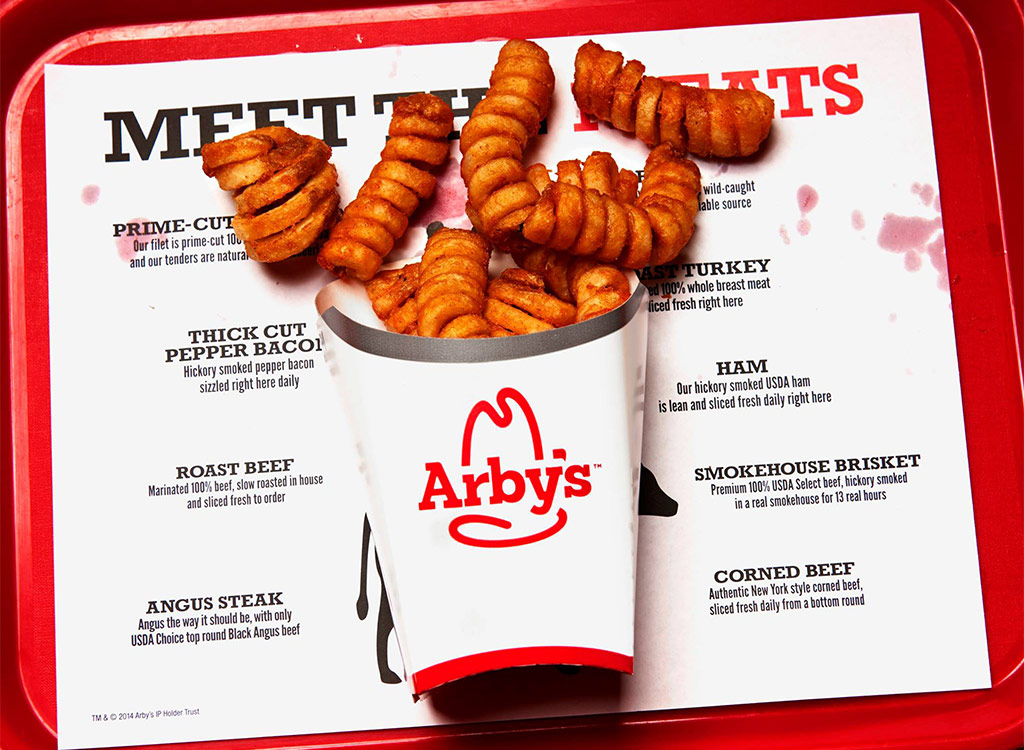 After the classic roast beef, Arby's sells plenty of curly fries, making them its second-most-popular item.
And if you're making homemade fries, try this Best-Ever Oven-Baked French Fries Recipe.
Potbelly A Wreck Sandwich
Potbelly's signature sandwich, A Wreck, is also its most popular one. Loaded high with ham, turkey, roast beef, and salami, this is a true carnivore's delight.
Del Taco Crunchy Del Taco
The original Del Taco is still the chain's most popular item. Recently, though, Del Taco also added a Beyond Meat taco to its mix.
Panda Express Kung Pao Chicken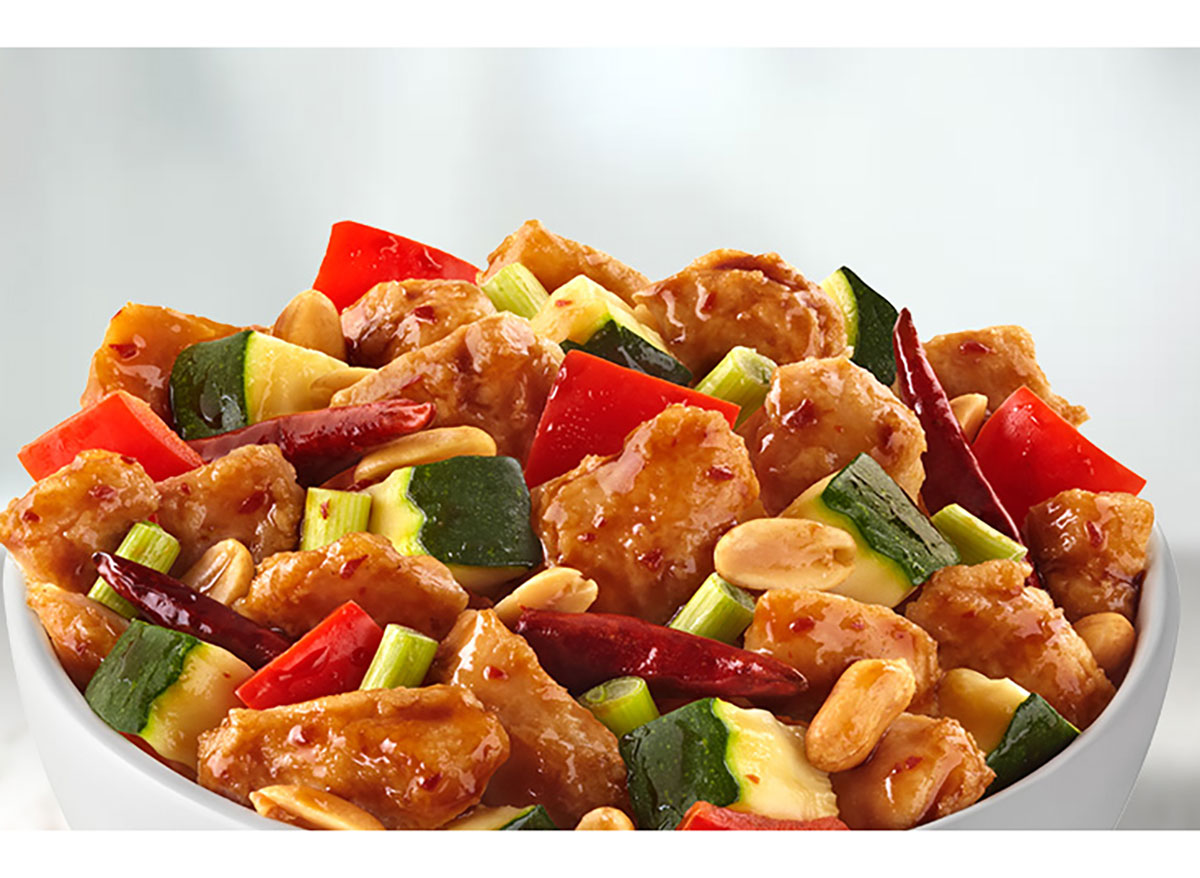 This spicy stir-fry dish is a Panda Express classic. Unlike most fast-food chains that keep their secrets to success under lock and key, Panda Express has graciously released its signature recipe to appease its insatiable fans.
Pizza Hut Pepperoni Pizza
By now, you're probably thinking, "What? Another pepperoni pizza?" Yes, but this is the single most popular one at Pizza Hut, too, so there's no getting around it.
Krispy Kreme Original Glazed Doughnuts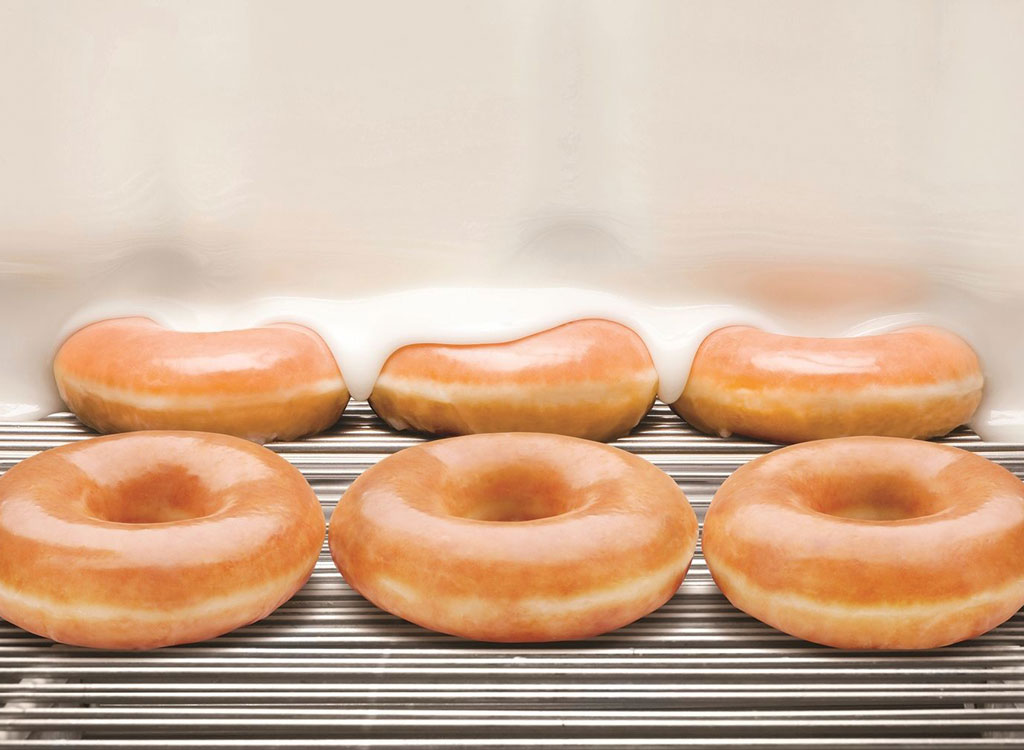 If Dunkin' might be trying to pivot away from the doughnut world, Krispy Kreme will gladly hold down the fort. They've been making their Original Glazed Doughnuts since 1945, and the recipe hasn't changed, due to its runaway success.
Dunkin' Boston Creme Donut
Dunkin' may be more in the beverage business these days, but people still love them for their doughnuts, too. The Boston Creme Donut sits atop a wide range of "best of" ranking lists for both its flavor and its sales rates, even internationally.
Tim Hortons Double Double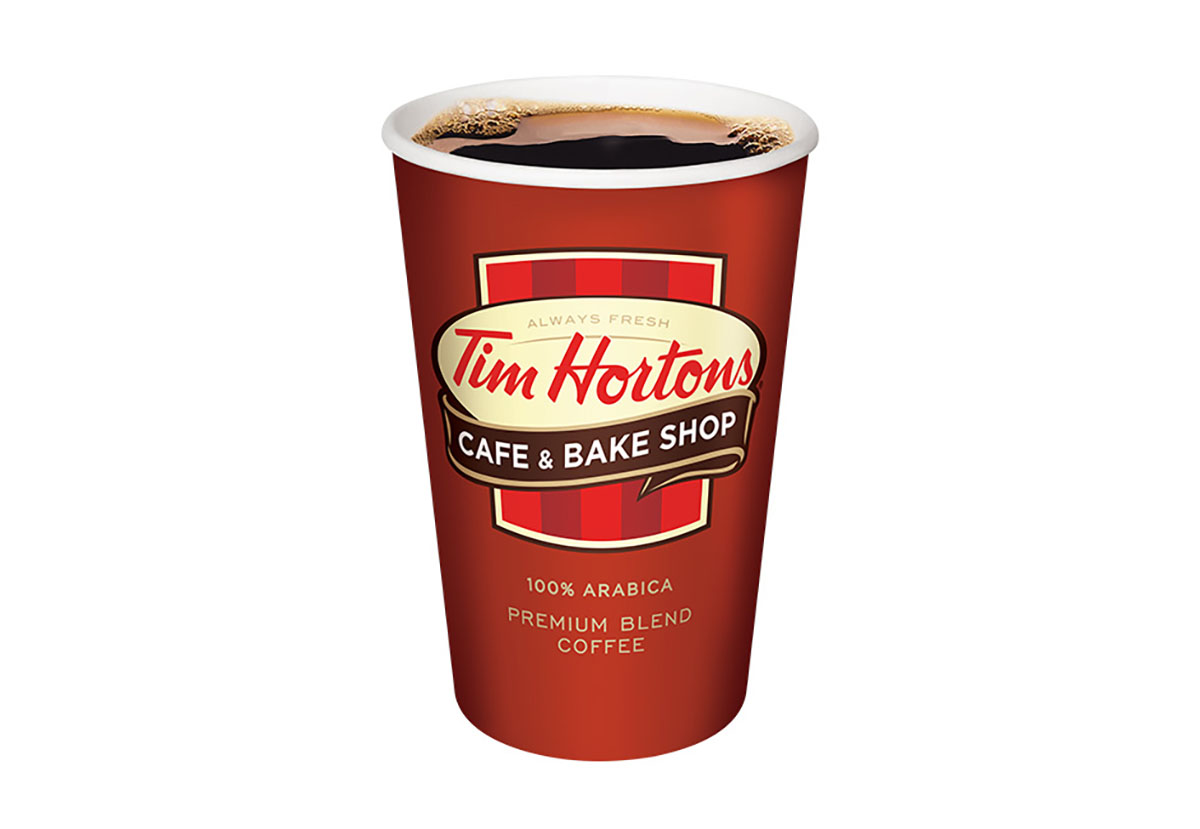 Tim Horton's fills a similar space to Dunkin', serving coffee, baked goods, and a range of sandwiches and snacks. It's not officially on the menu, but ordering a "Double Double" coffee from Tim's is hands-down one of the most popular items on the menu. (Double Double means two creams and two sugars in your coffee.) Not only was this confirmed in a 2012 tweet by the brand, but its popularity could also be gauged by the fact that the specific order was added to the Canadian Oxford Dictionary in 2004.
Popeyes Biscuits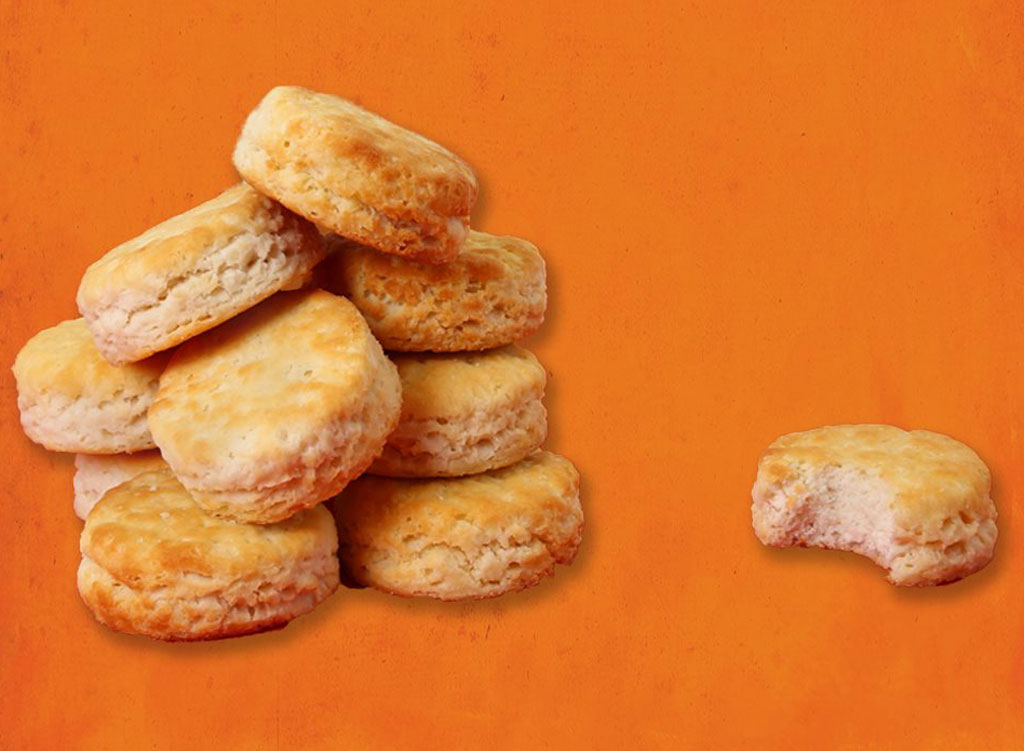 Few fast food items have inspired more copycat recipes than the Popeyes Biscuits. They're delicious and pretty simple to make!
Dairy Queen Blizzard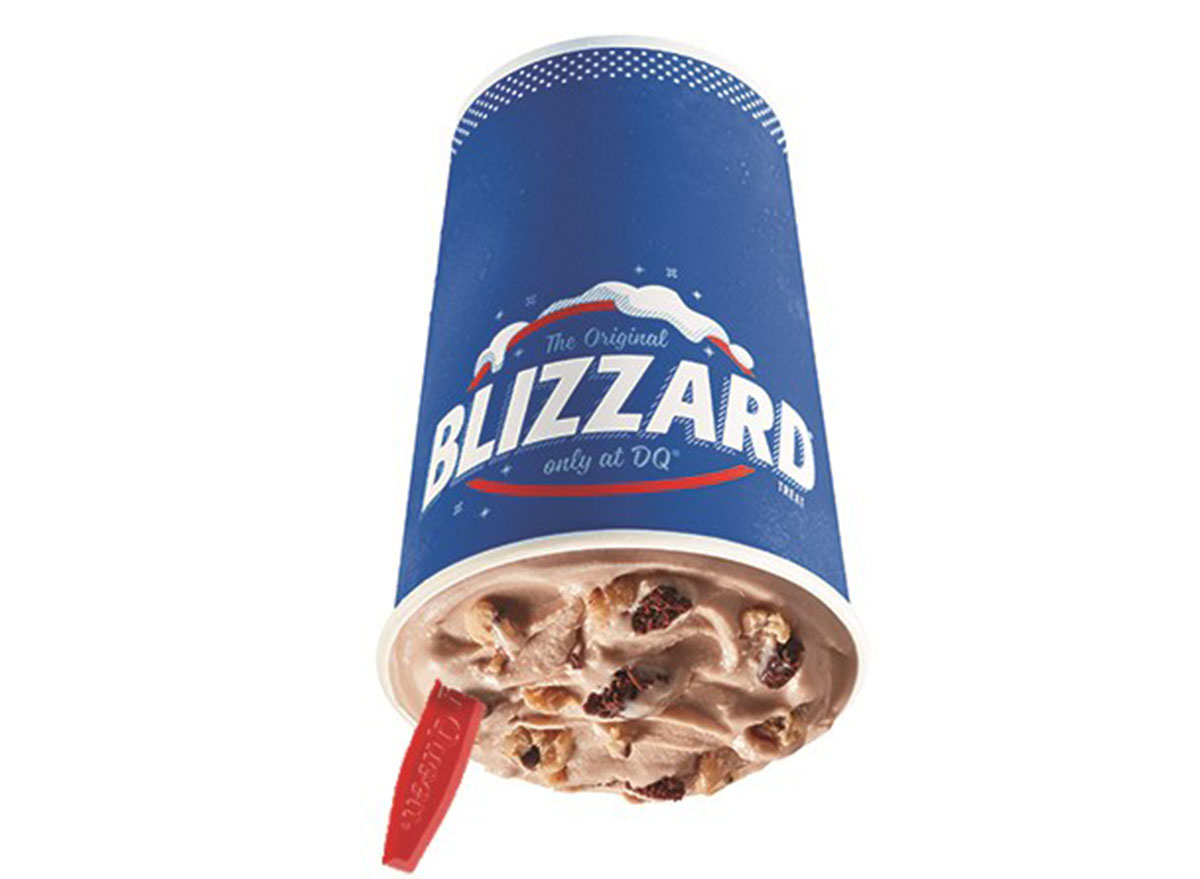 As its name suggests, Dairy Queen is famous for its frozen dairy treats. The Blizzard is its most popular iteration, and the chain maximizes its popularity by announcing new promotional Blizzards each month.
Checkers Seasoned Fries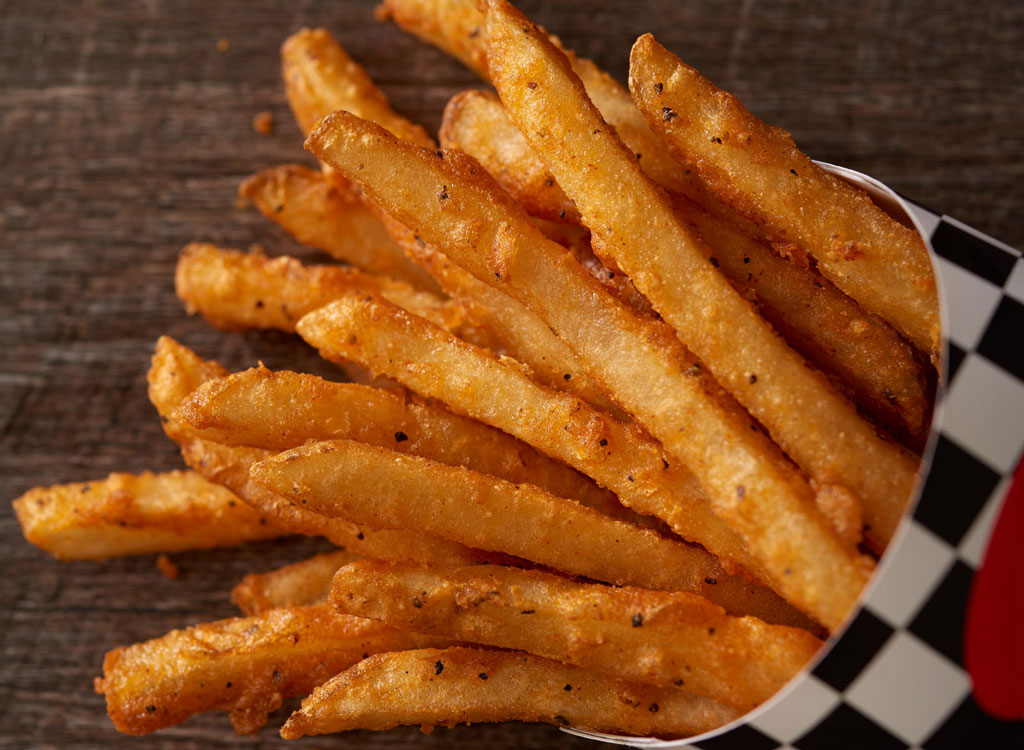 There aren't many burger chains where a good portion of the crowd is in it for the fries. But in Checkers' words, this is the menu item that "put Checkers on the map."
Have leftover fries? Here's The Best Way to Reheat Fries So They're Never Soggy.
KFC Original Recipe Chicken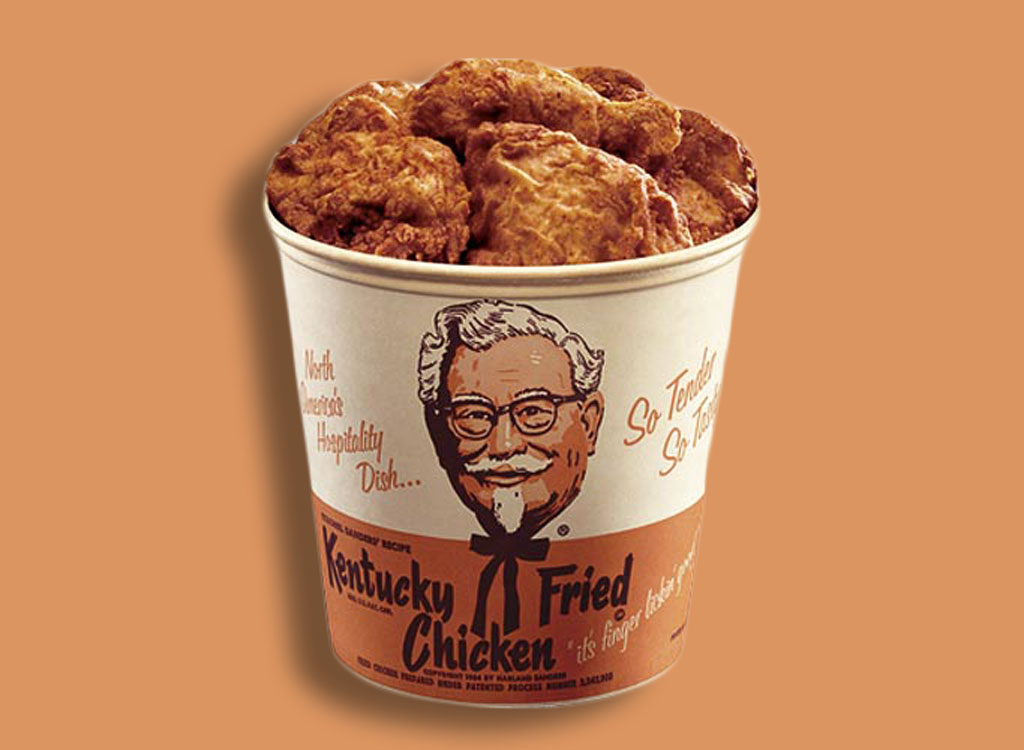 KFC's Original Recipe Chicken is famous for its secret 11 herbs and spices, and also for launching the brand into fast food superstardom.
Burger King Whopper Sandwich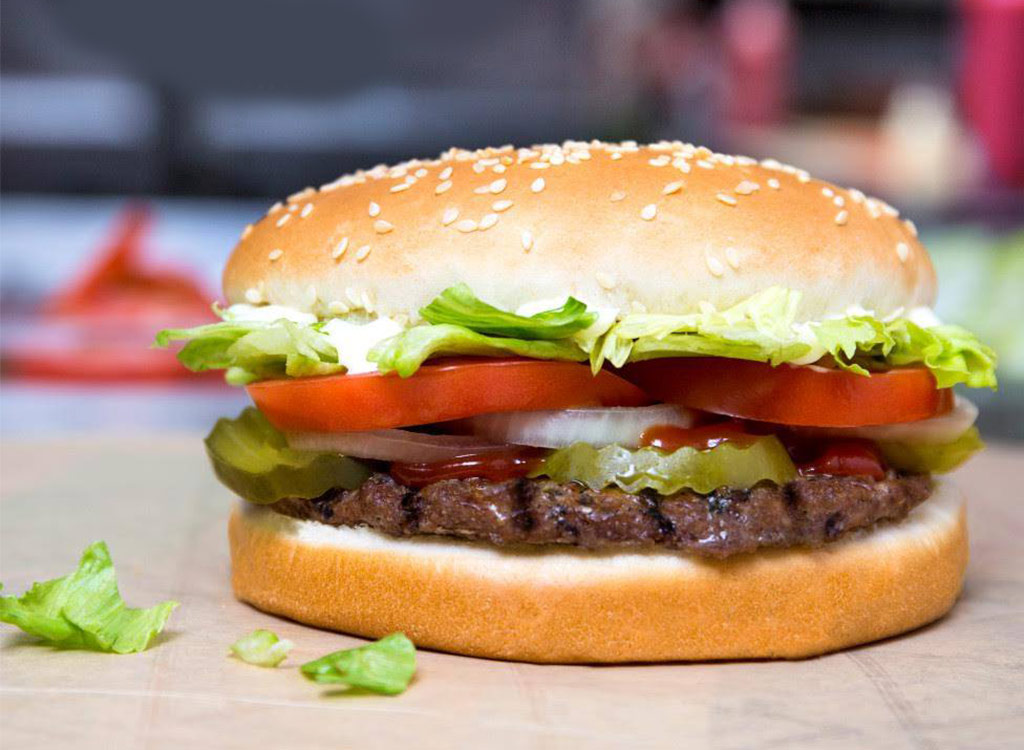 Burger King advertises the Whopper as "America's Favorite Burger," and there's no doubting its iconic status. More than 11 million customers walk through Burger King's doors each day, many of them in pursuit of the famous burger.
Little Caesars Pepperoni Pizza
Pepperoni is America's favorite topping, so it's no surprise that it's Little Caesars Pizza's most popular order. But perhaps the strongest draw for customers is the price point, at just $5 per pie.
Sonic Cherry Limeade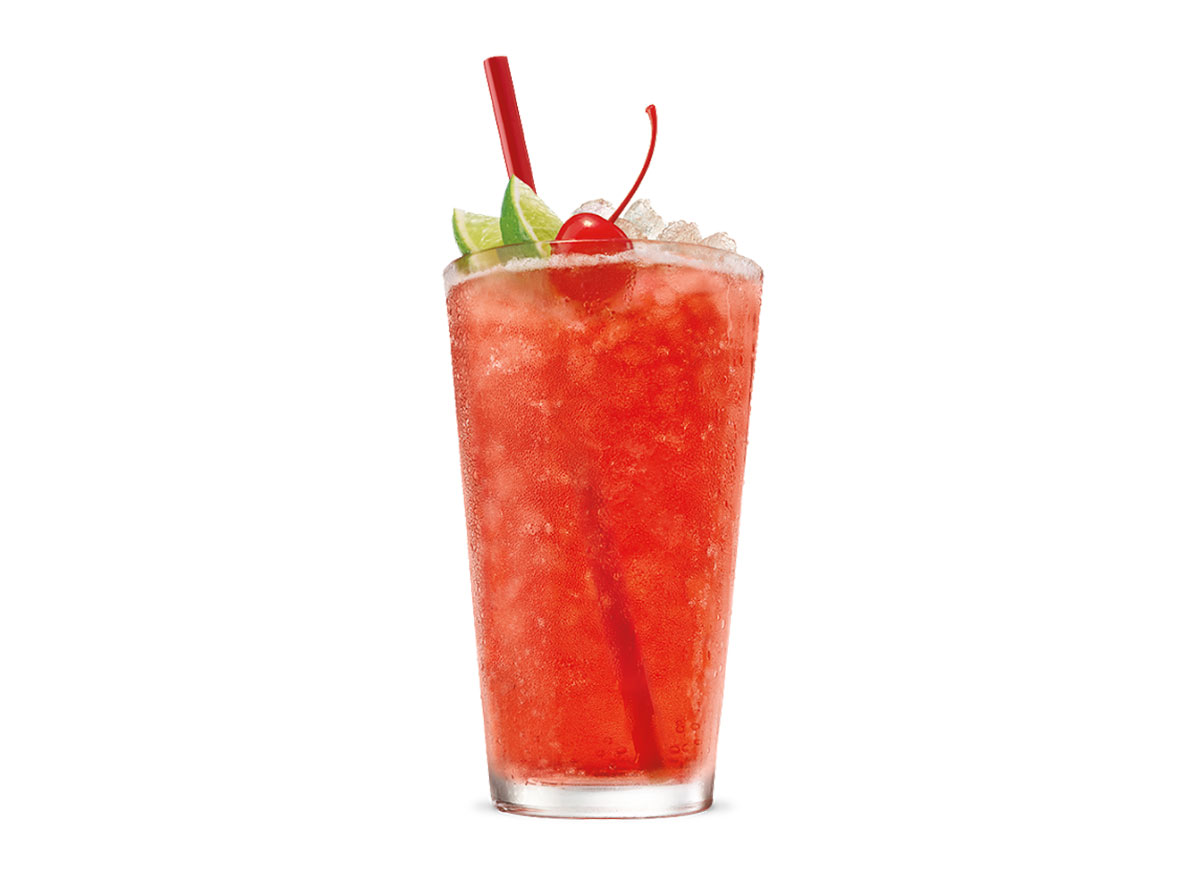 Sonic cleverly holds a daily Happy Hour that features half-priced drinks, and people show up on schedule for the Cherry Limeade.
White Castle Sliders
White Castle has been serving sliders since 1916, when the restaurant became America's first fast-food burger chain. Today, they remain the most popular item on the menu.
Read more: We Tried the White Castle Impossible Slider. Here's Our Review.
Panda Express Orange Chicken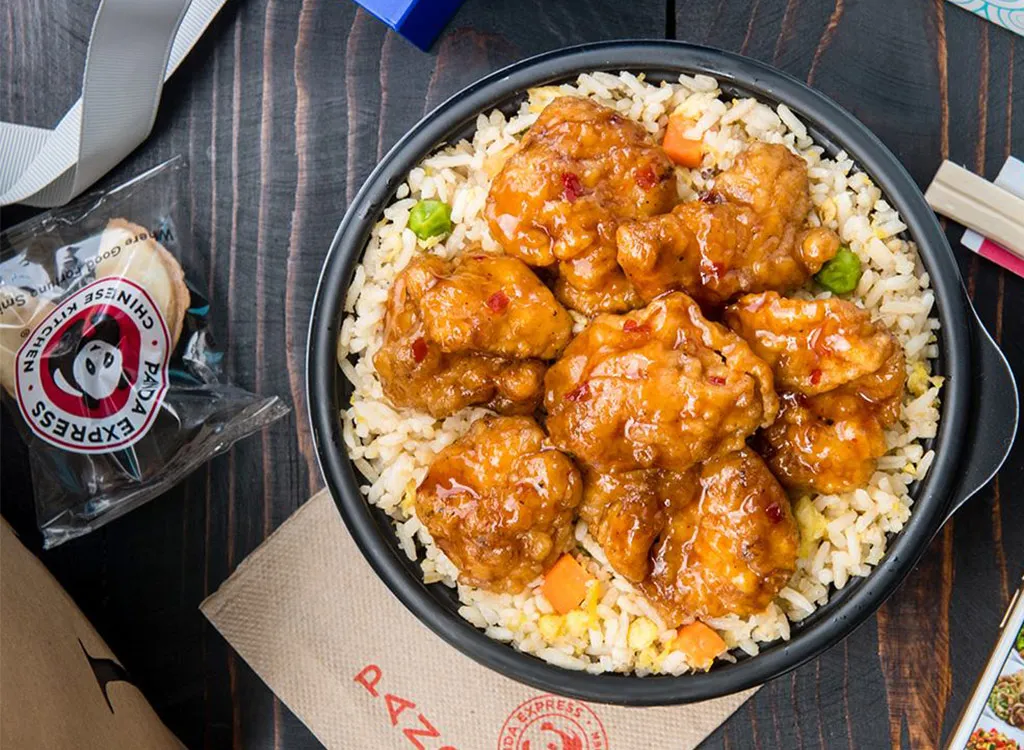 The Panda Express website refers to the orange chicken as its "most beloved dish."
Taco John's Potato Oles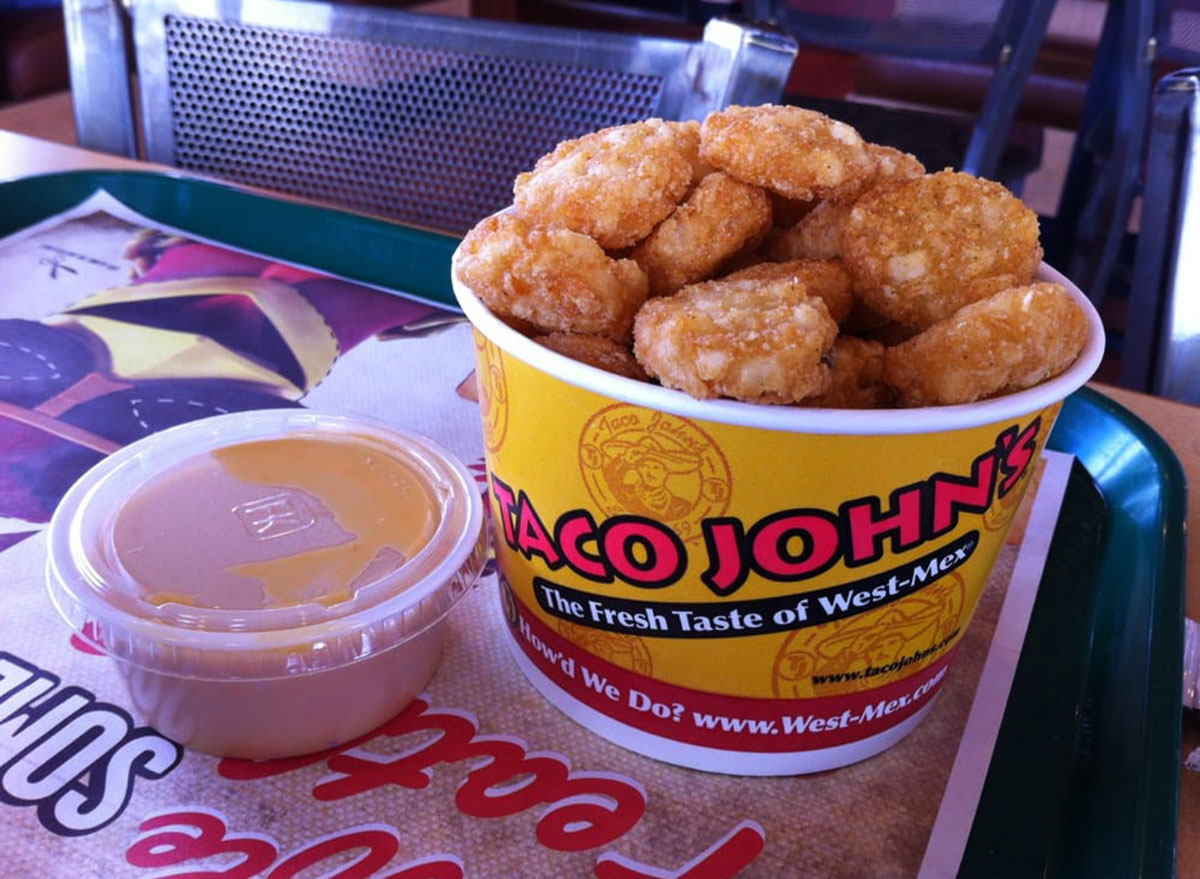 While the chain certainly sells plenty of tacos, these potato rounds are a perennial favorite. Fried potatoes, dipped in cheese… what's not to love?
Dunkin' Coffee
Forget the donuts! Rebranded as just Dunkin' in 2018, the chain made it clear they're all about focusing on their beverages. But don't worry—the franchise sells 2.9 billion donuts and Munchkins globally each year, so the sweet treats aren't going anywhere.
Dog Haus T-Mex Hot Dog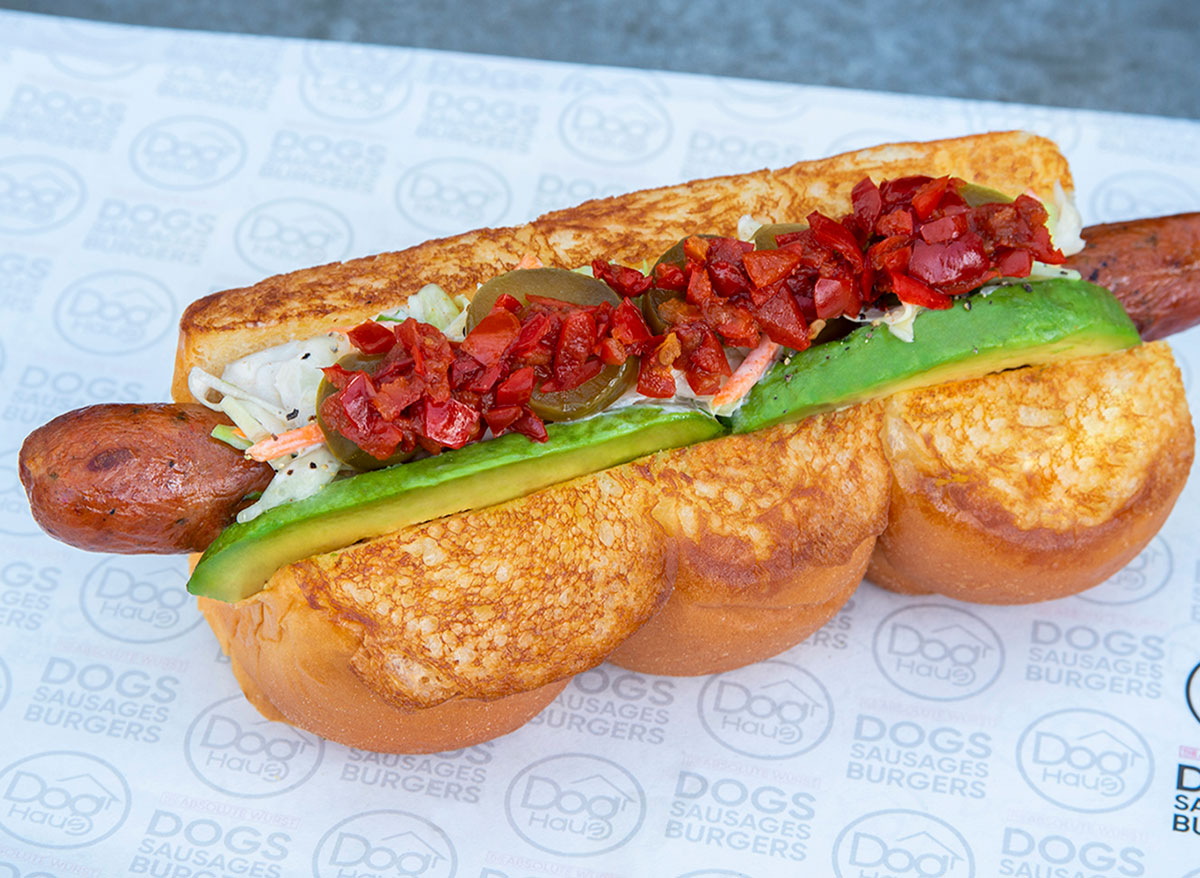 The Tex-Mex inspired hot dog was a limited-time item at first, but fans loved it so much that it's now a part of the Dog Haus menu and a top seller at that.
Taco Bell Nacho Cheese Doritos Locos Tacos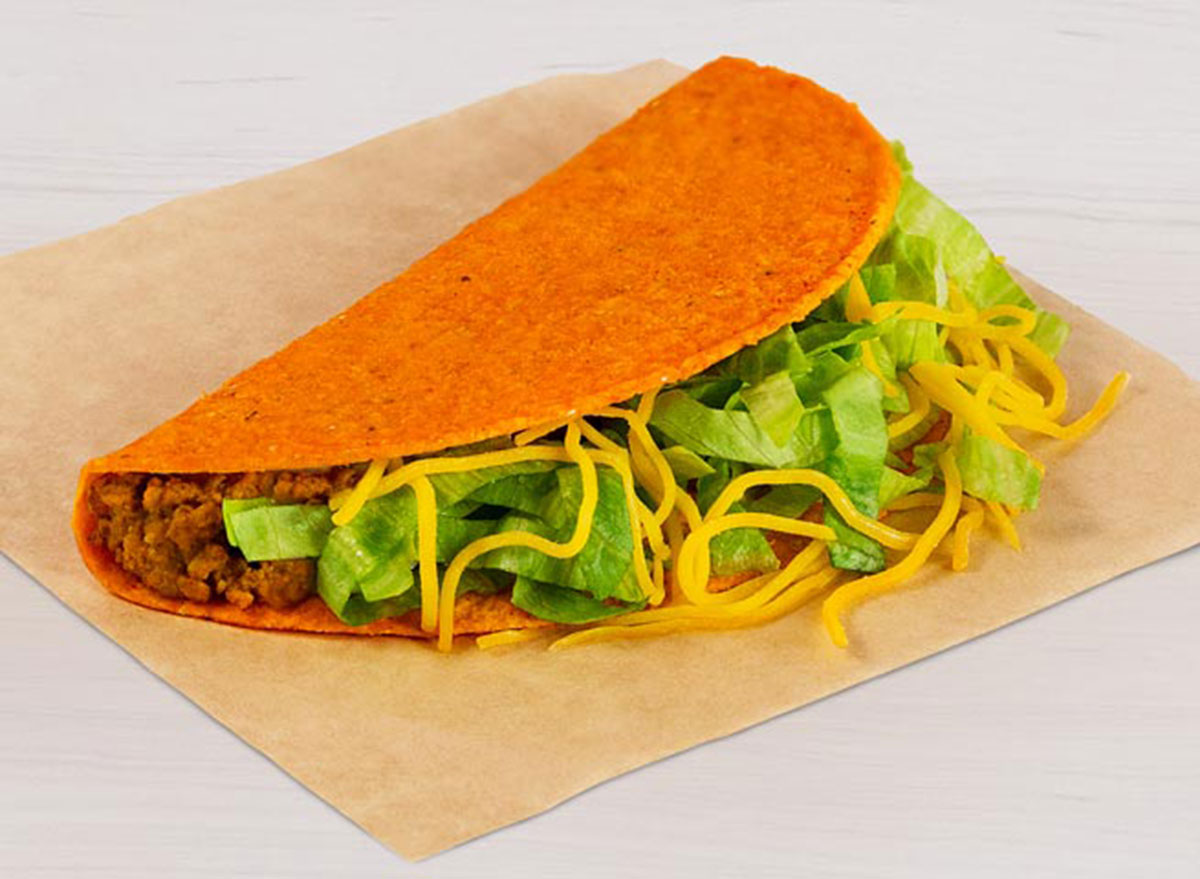 What happens when you combine a top-selling chip brand with a top-selling taco chain? Pure sales magic.
Read more: Taco Bell Is Adding 21 Items to Its Dollar Menu, Including the Double Stacked Taco
Jack in the Box Tacos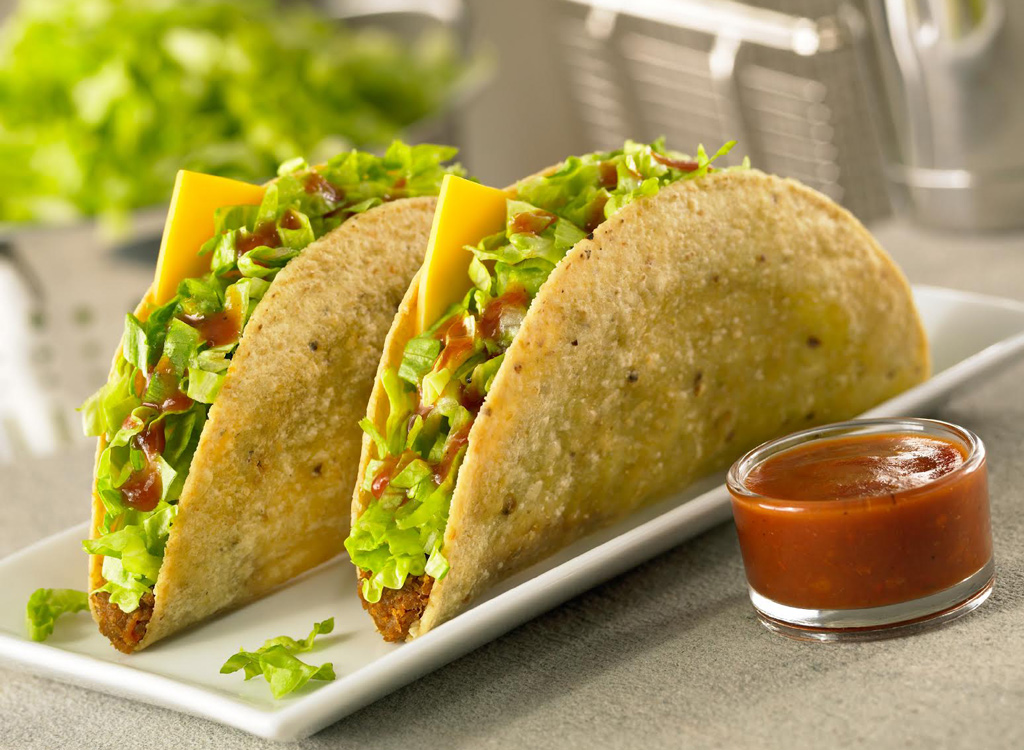 Tacos may not be the first thing to come to mind when you think of Jack in the Box, but Fortune reported that the chain sells more than 554 million of them per year, making tacos the chain's best-selling item.
Taco Bell Soft Taco
These are the second most frequently ordered Taco Bell items, just after the Crunchy Taco. Like their crunchy counterpart, soft tacos serve as an inexpensive add-on item that can piggyback onto any larger meal.
Chick-fil-A Soft Drink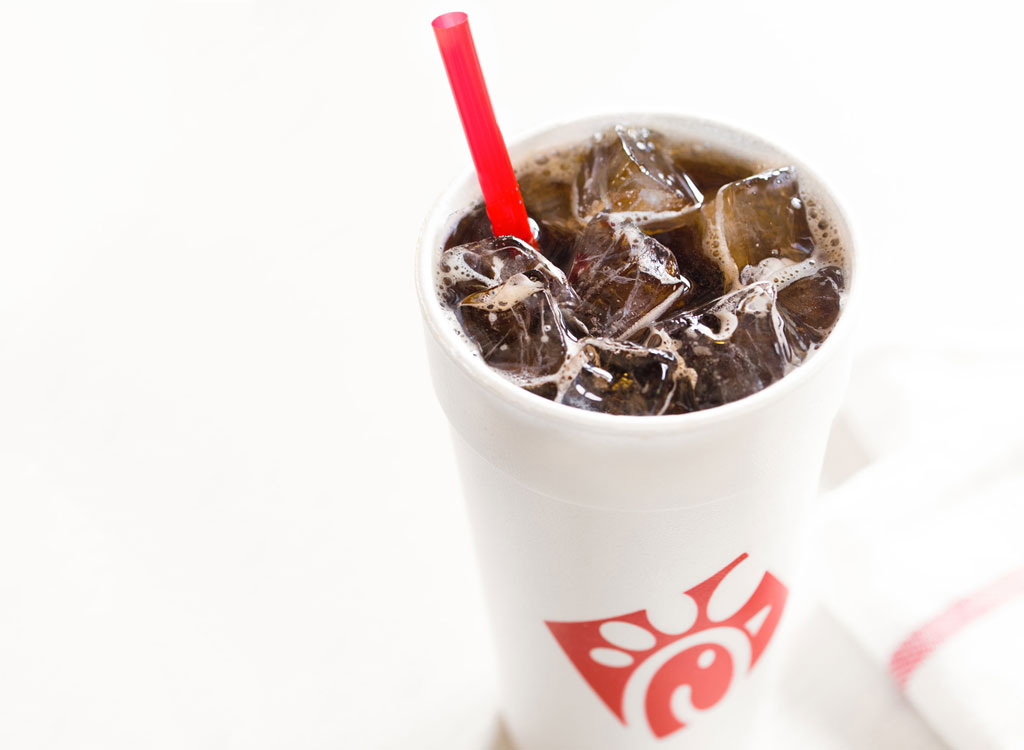 Chick-fil-A pointed out that this is their second most popular item. But come to think of it, soft drinks are probably toward the top of most chains' popularity rankings.
Church's Chicken Honey Butter Biscuits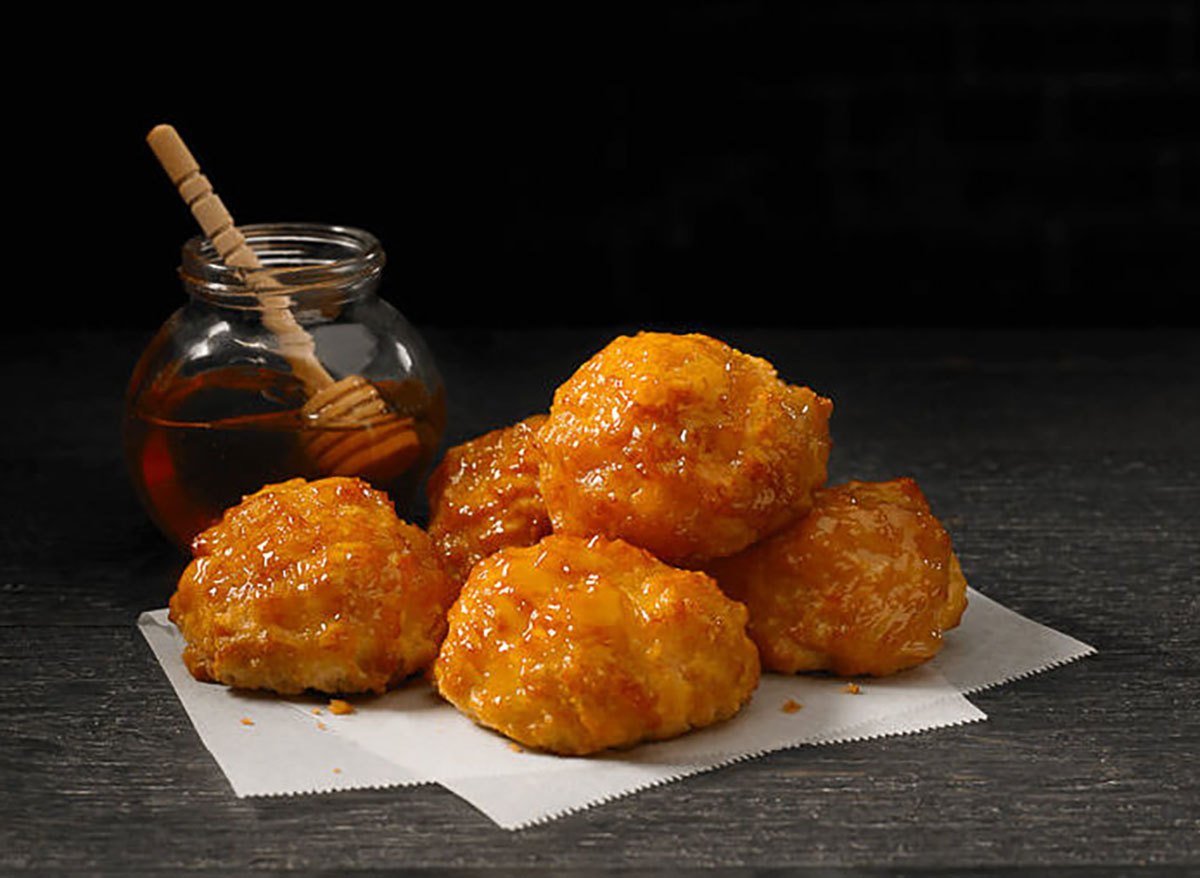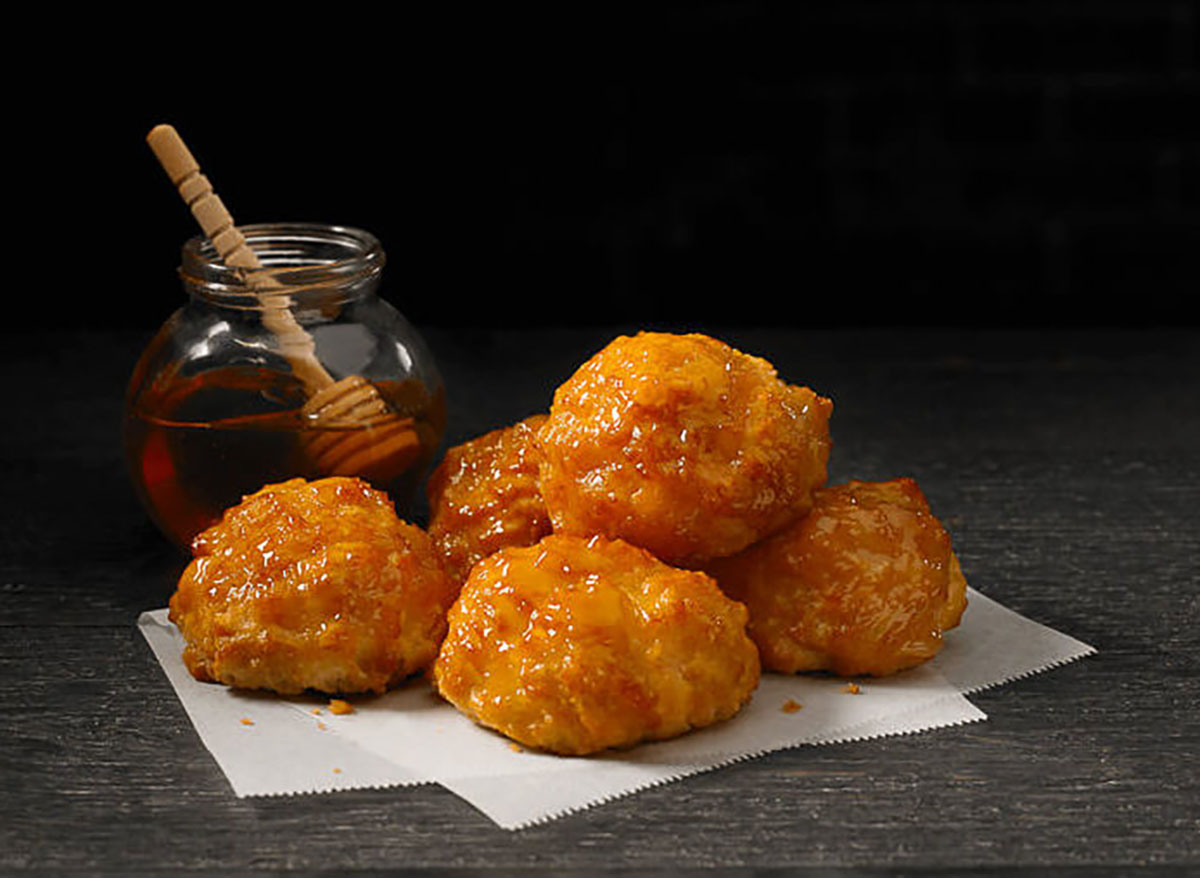 Church's Chicken has two clear menu stars: the Hand-Battered Fried Chicken and the Honey Butter Biscuits. The biscuits break the tie for inspiring the most at-home recreations of the recipe.
Domino's Pepperoni Pizza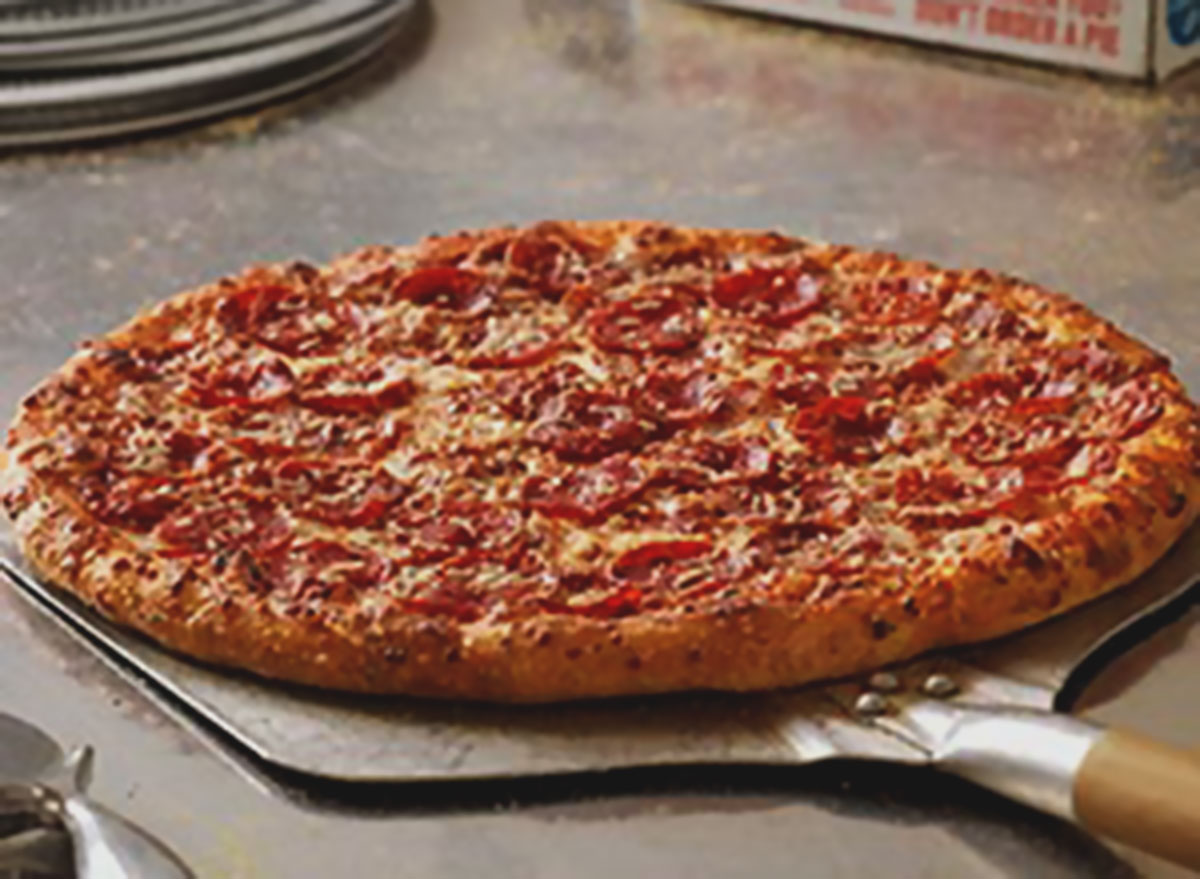 According to QSR, Domino's pepperoni pizza is easily the most delivered item on the menu.
And if you're a true pizza lover, check out these 50 Mouthwatering Facts About Pizza.
Auntie Anne's Original Pretzel
You can't mess with a classic, which is why the original pretzel continues to be one of Auntie Anne's best-selling items, according to a company rep.
Culver's ButterBurger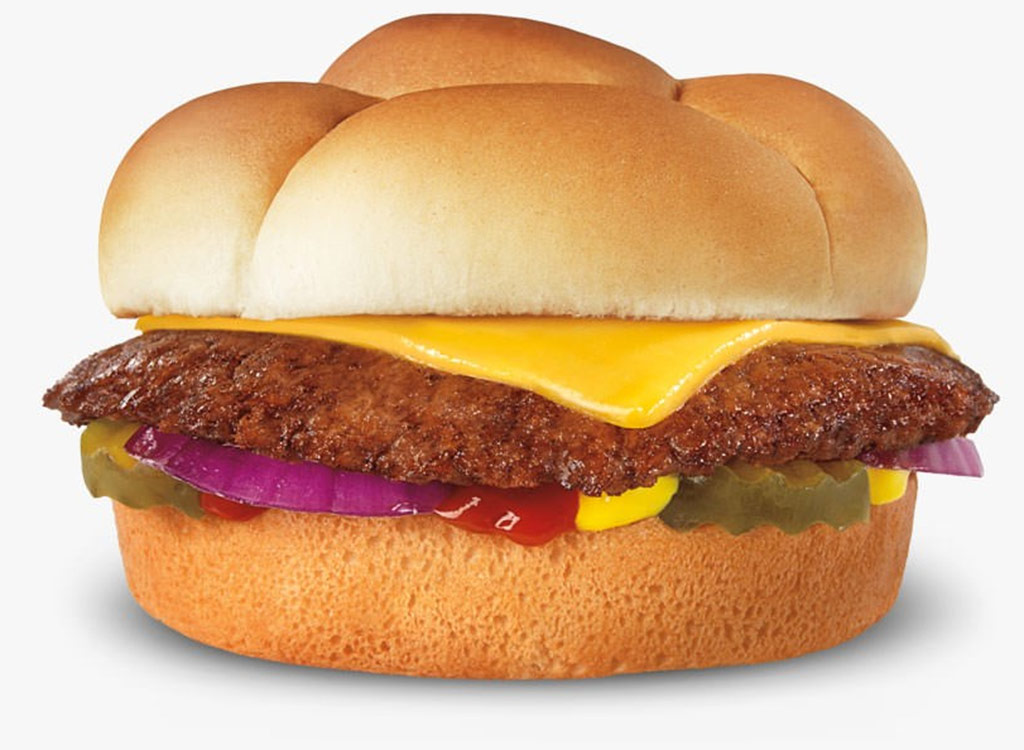 Ask anyone what Culver's is famous for, and they'll tell you: It's the ButterBurger. The fast-food chain has nicknamed it "The Original," and affectionately references the ButterBurger as having "started it all."
Zaxby's Chicken Finger Plate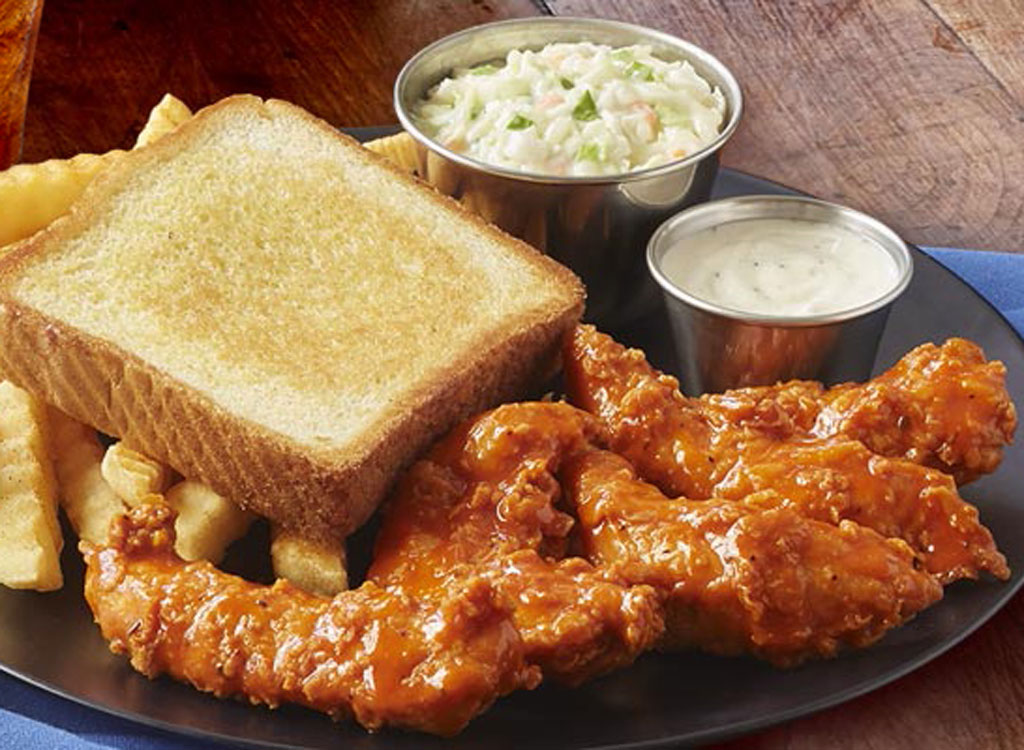 Zaxby's Chicken Finger Plate—both in Original and Buffalo Chicken—is listed as one of its most-ordered items on the company's website.
In-N-Out Double Double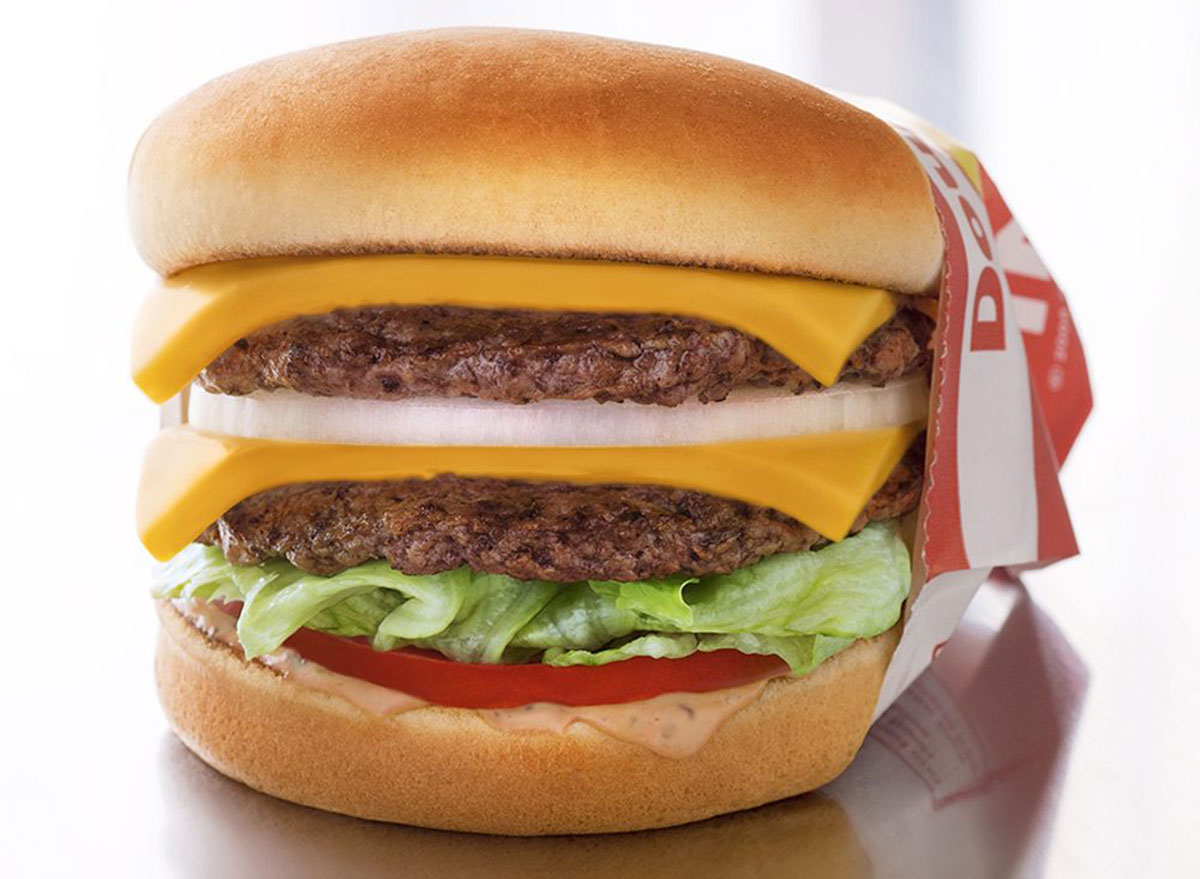 The Double Double has been on In-N-Out's menu since 1963, initially costing only 63 cents. The price has gone up of course, but not much by today's standards. For $3.65, you can still get that same crowd-pleasing burger and taste the official flavor of Los Angeles for yourself.
Raising Cane's Chicken Fingers
Raising Cane's doesn't have a huge menu, so it's no surprise that these crunchy chicken pieces are a top seller at the chain.
Love chicken? We Tested 10 Fast Food Chicken Sandwiches, and This is the Best!
Kilwin's Mint Chocolate Chip Ice Cream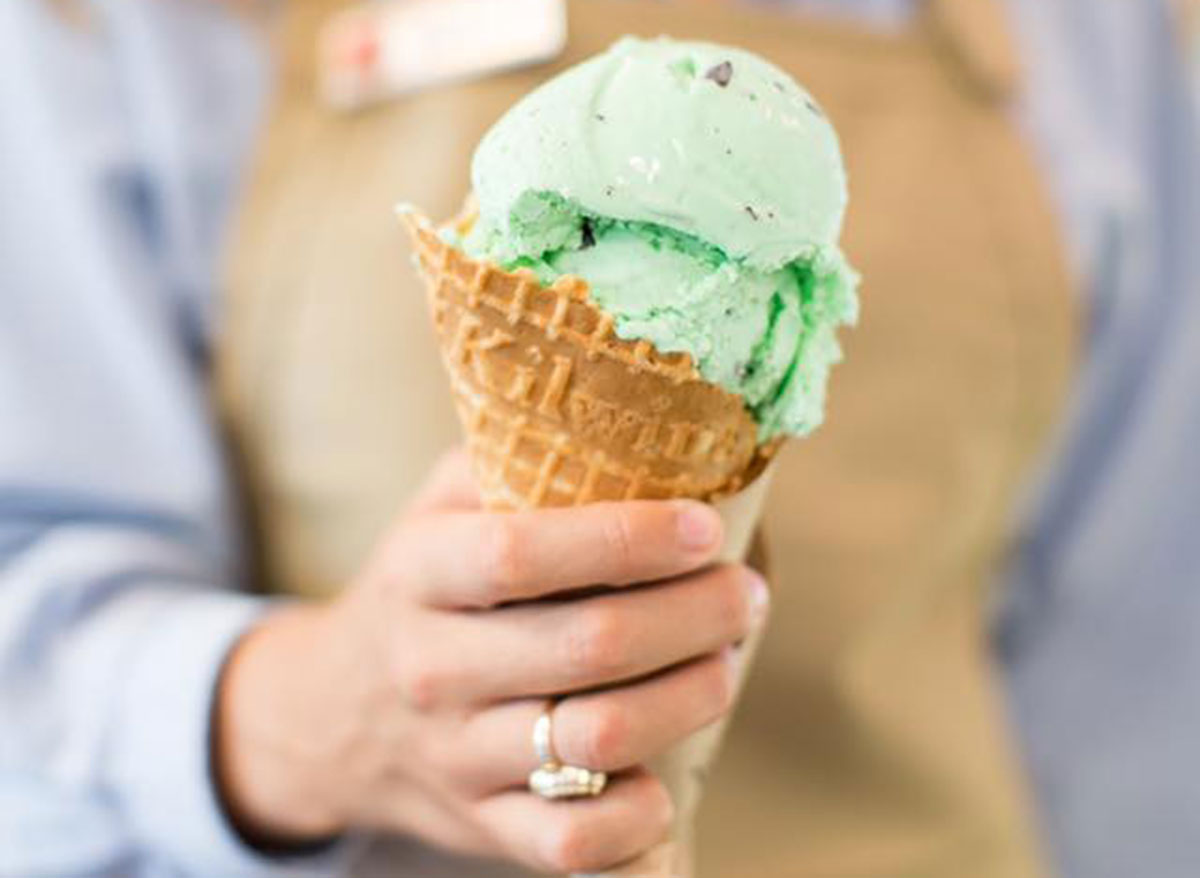 A Kilwin's rep provided us with a list of its most popular ice cream flavors, with mint chocolate chip making one of the top cuts. Other popular flavors included toasted coconut, sea salt caramel, cookies and cream, and chocolate chip cookie dough. And, of course, chocolate and vanilla are on the best-seller list, too.
Hardee's Biscuits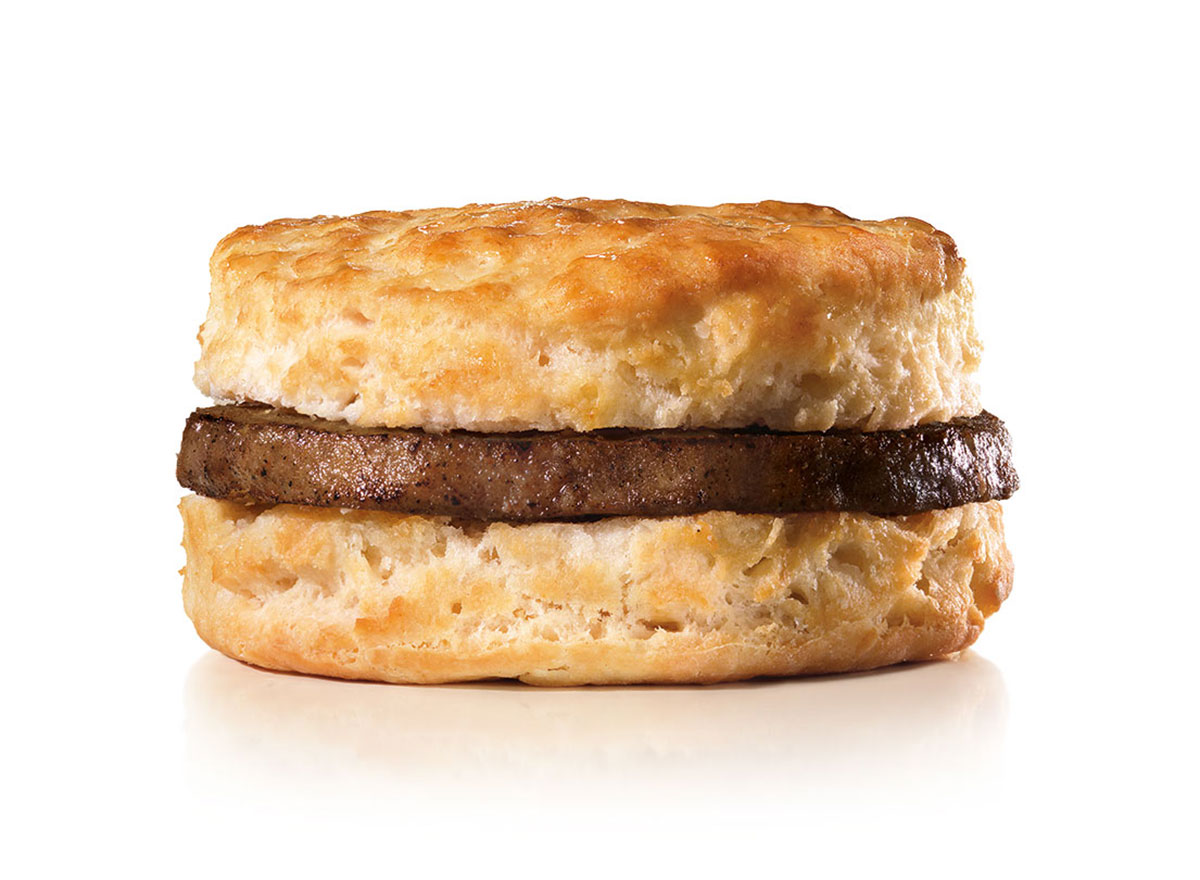 "Hardee's most popular menu options are our Made From Scratch biscuits," a Hardee's rep told us. "We sell more than 236 million per year!"
Whataburger No. 1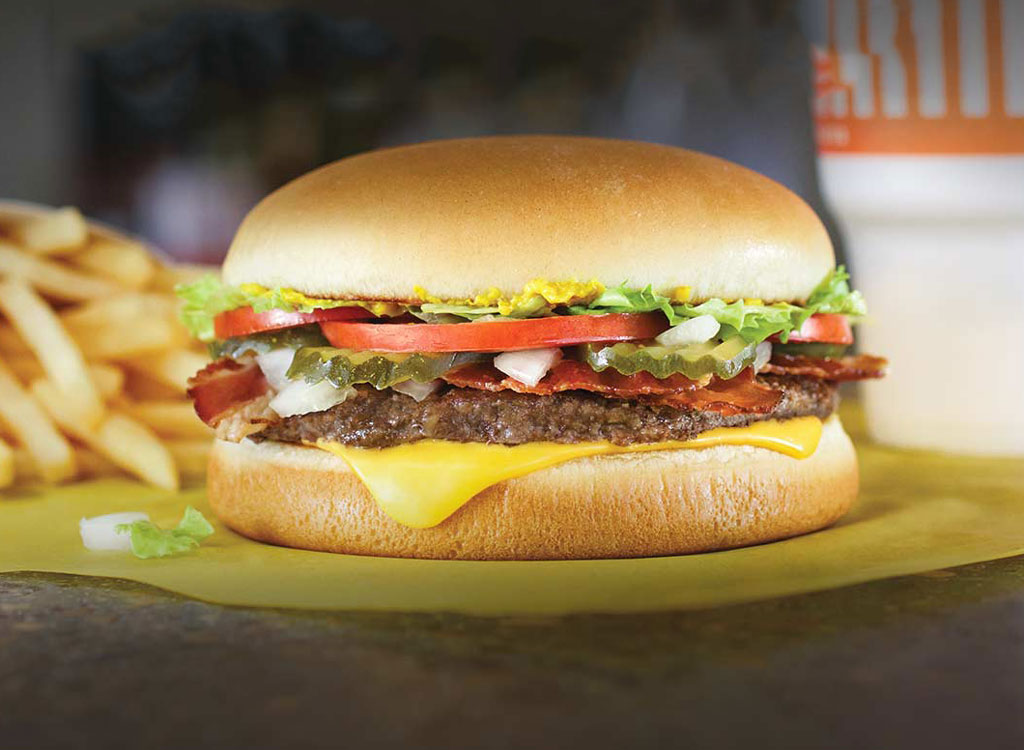 More than 50 years after Whataburger's founding, its original creation is still its most popular, a rep said. Fans love the No. 1 Whataburger, served on the chain's famous five-inch buns.
Taco Bell Crunchy Taco
According to Thrillist, the Taco Bell Crunchy Taco is its most frequently ordered item, despite its apparent simplicity. If it ain't broke, as they say…
RELATED: The Best Taco in Every State,

Subway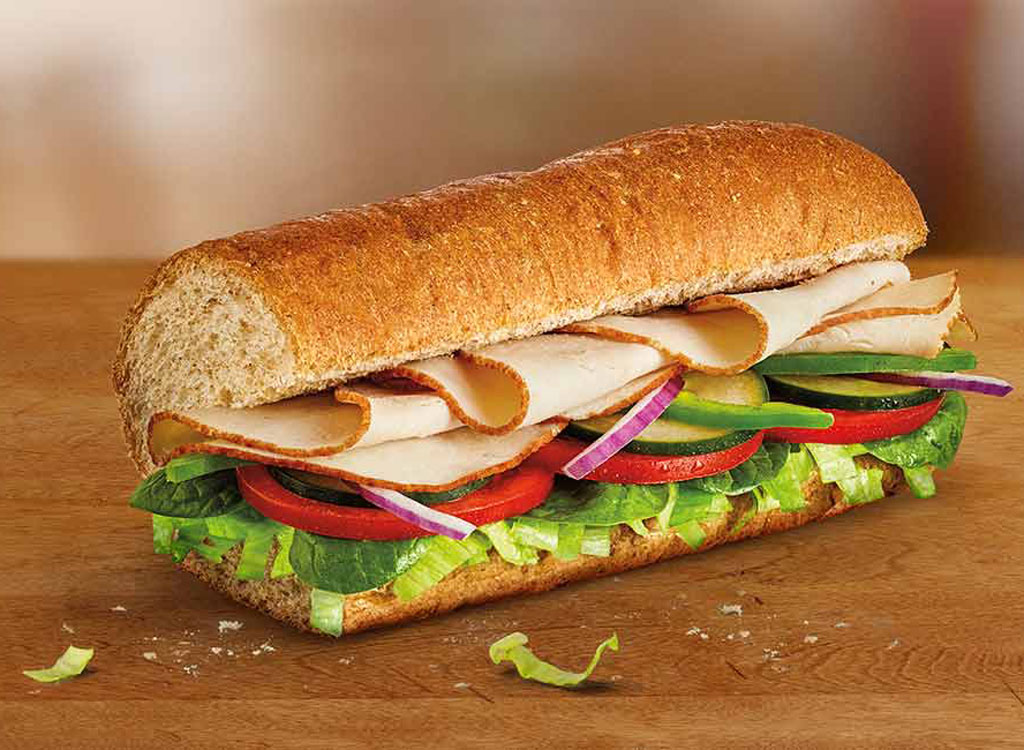 Subway's turkey sub is its most popular sandwich, according to a rep for the chain. Specifically, the most common order is a footlong turkey sub with a bag of chips on the side.
Papa John's Pepperoni Pizza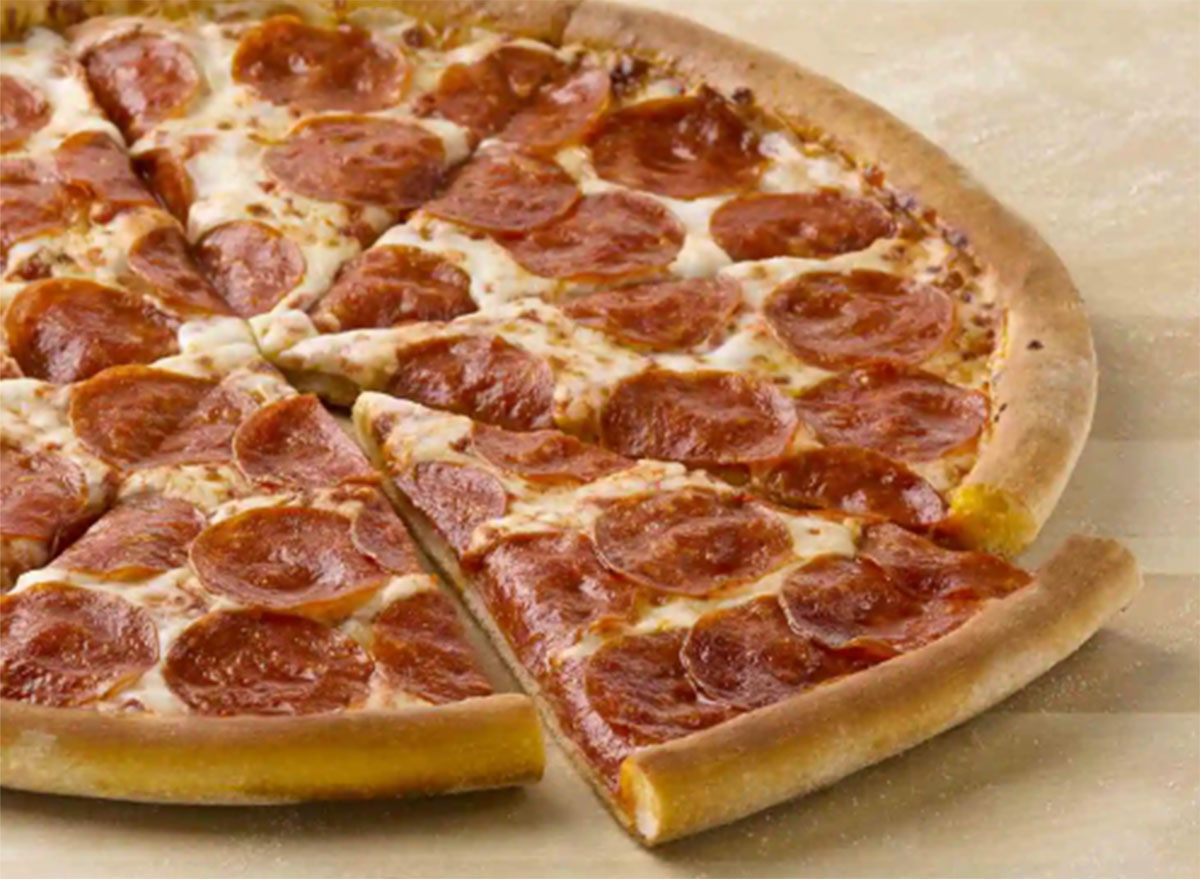 A rep for the pizza chain confirmed that pepperoni pizza is its most popular item.
Prefer to eat somewhere local? This Is the Best Slice of Pizza in Every State.
Firehouse Subs Hook & Ladder Sandwich
The Hook & Ladder sandwich reigns supreme, a Firehouse Subs rep confirmed via email. Featuring both ham and turkey, along with plenty of veggies and Monterey Jack cheese, this will satisfy all your hunger cravings.
Smashburger Classic Smash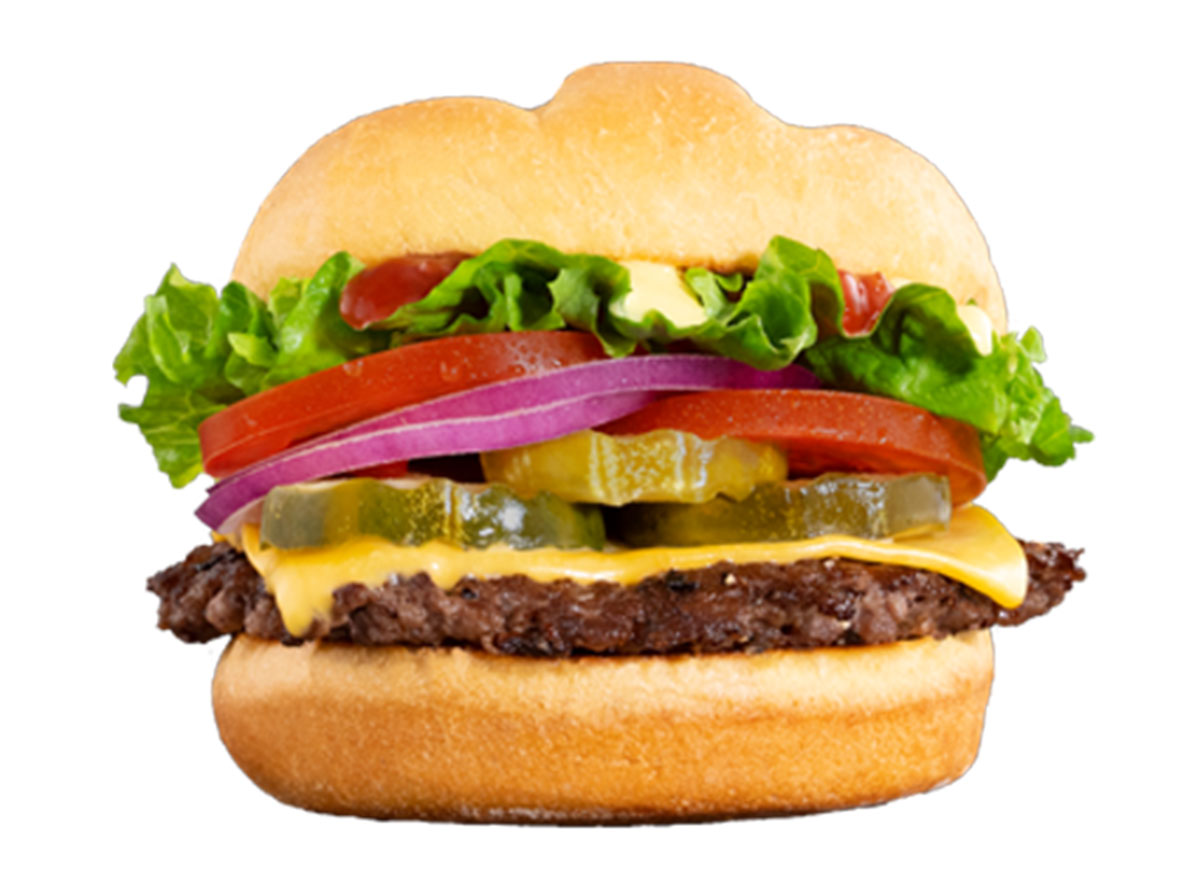 The most popular menu item at the Colorado-founded chain is the Classic Smash. It features seared, juicy beef and is topped with lettuce, tomato, onion, pickles, American cheese, ketchup, and Smash Sauce on an egg bun.
Wondering how Smashburger stacks up to its competitors? We Taste-Tested Cheeseburgers from 7 Major Fast-Food Restaurants—Here's Our Favorite.

Arby's Classic Roast Beef Sandwich
Arby's most popular item is the Classic Roast Beef sandwich, a rep told us. Its second-most-popular item? Those delicious curly fries.
Chick-fil-A Waffle Fries
If you've stopped by Chick-fil-A for fries without getting a sandwich, you're in good company. According to the Chicken Wire, Chick-fil-A's blog, waffle fries were the most popular item in 2018.
Love fries? We Tasted the Fries at 7 Major Fast-Food Chains. This Was the Clear Winner.
Five Guys Cheeseburger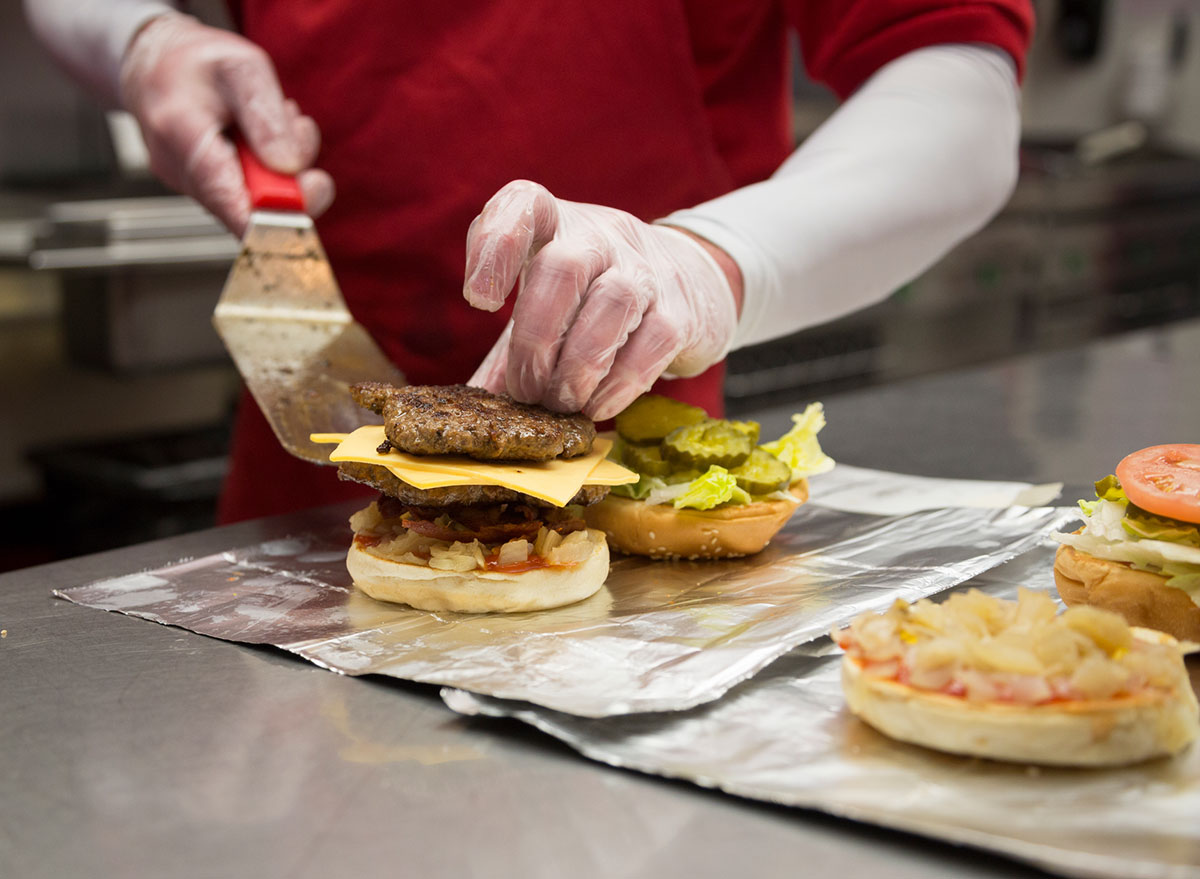 Five Guys has burgers in its full restaurant name, Five Guys Burgers and Fries. So as you'd expect, its most popular item is the two-patty cheeseburger. "For Five Guys Burgers, we allow 100% customization, and all of our toppings are free," a Five Guys rep told EatThis.com. "So the most popular toppings are #1 lettuce, followed by ketchup."
Wendy's Dave's Single
According to a Wendy's rep, Dave's Single is a best-seller. Made with a "quarter-pound of fresh, never frozen beef," as Wendy's proudly boasts, this burger truly hits the spot when you have a fast-food craving.
Whatever you do, don't fall for these 50 Fast Food 'Facts' That Aren't True.
Popeyes Chicken Sandwich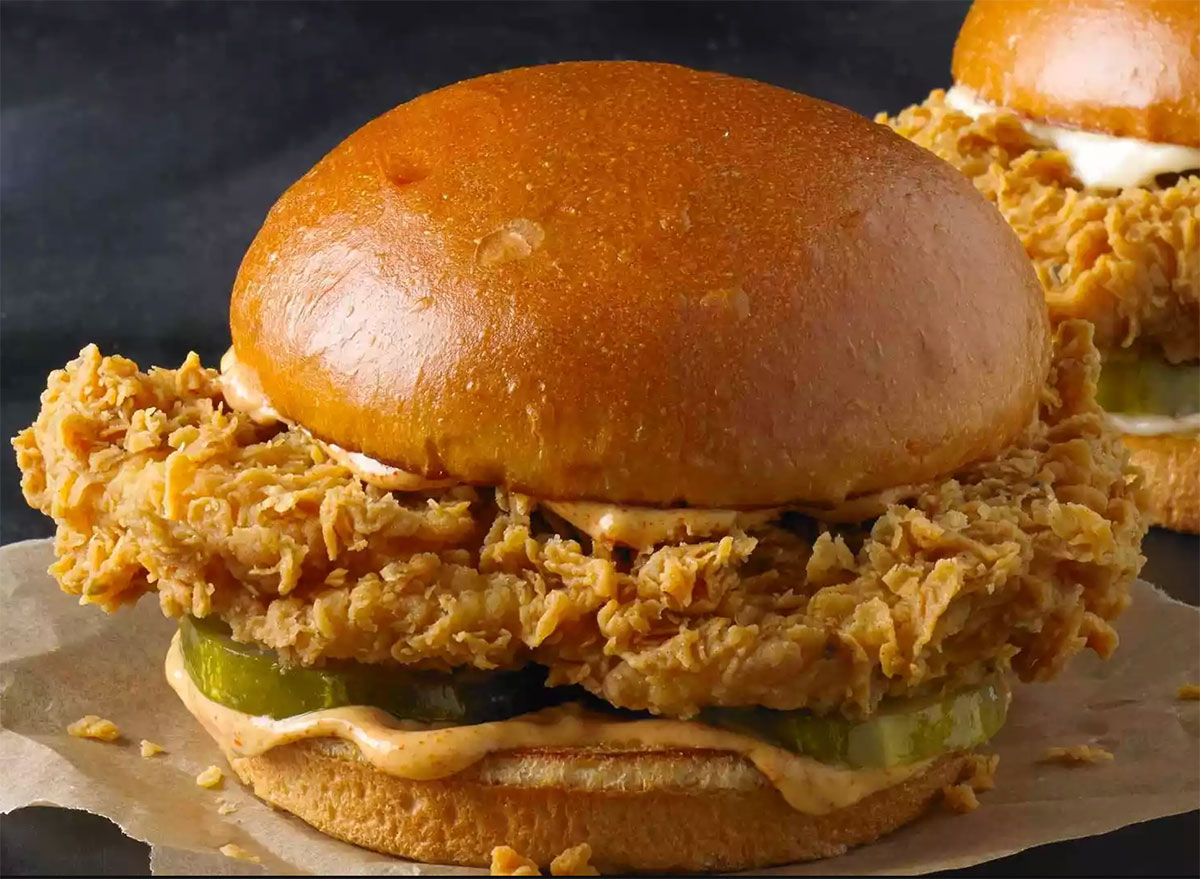 If you haven't tried the Popeyes chicken sandwich, what are you waiting for? There's a reason it became an instant classic among fast-food fans—it's worth the hype.
McDonald's French Fries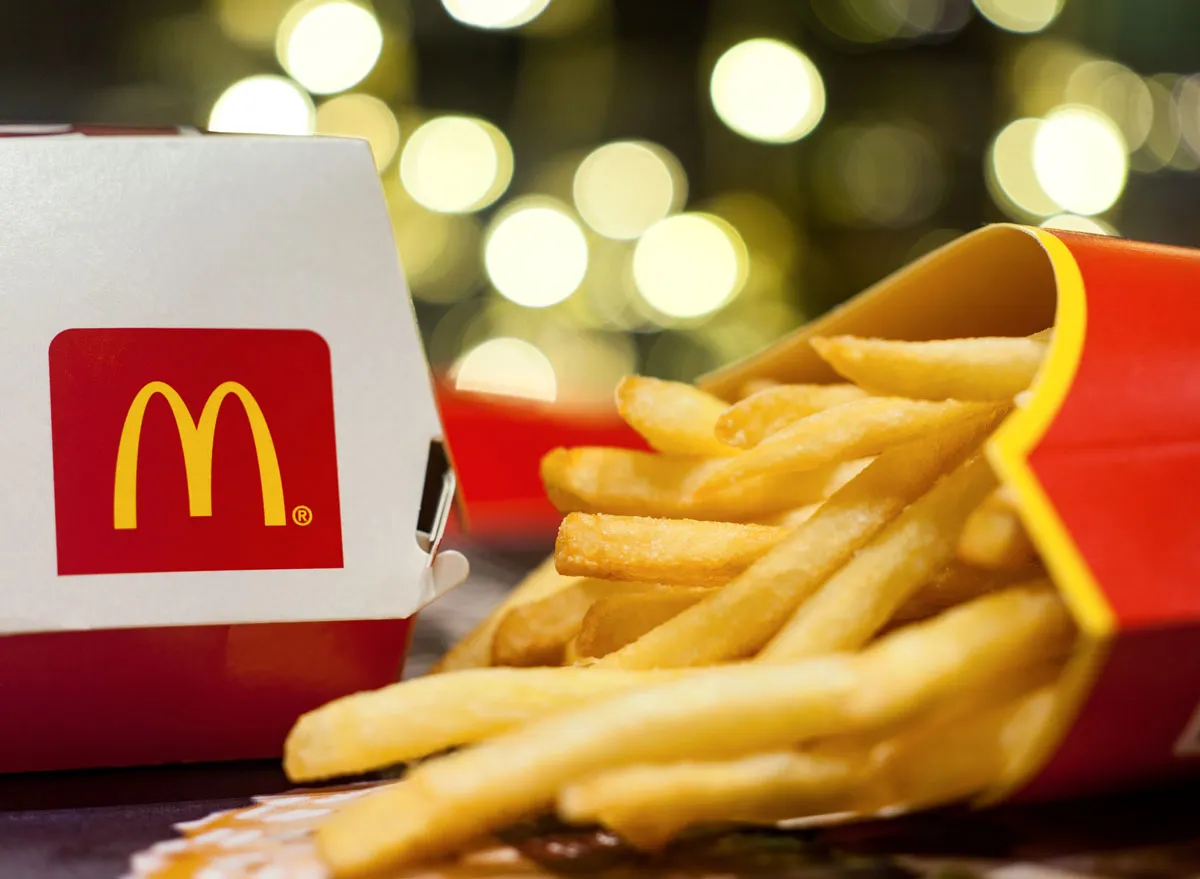 McDonald's French fries are their own economy. According to Fox News, 7% of all potatoes grown in the United States become McDonald's fries. McDonald's doesn't share its sales numbers, but fries seem to be a consistent best-seller at the chain.
For even more about this fast-food classic, check out these 15 Crazy Facts About McDonald's Fries You Never Knew.
Read more about your favorite chains: