The Best and Worst Pizza Toppings For Weight Loss
Pizza doesn't have to be a twice-a-year treat. Upgrade your pie game with these better-for-you toppings.
There are some things that just go together: Brunch on Sundays, girls' night out on Saturdays, and pizza on lazy Friday nights. One of the reasons why pizza is such a hit among, like, everyone is because it makes for a delicious meal that doesn't break the bank. However, it doesn't have to break your belt either. When crafted the right way, pizza can be a metabolism-revving lunch rather than the vice that's responsible for your weight gain.
Before you take a drive to your local pizzeria, make sure you've read up on the best and worst toppings out there. And if you want healthy recipes, supermarket shopping guides, and essential nutrition tips at your fingertips, subscribe to the new Eat This, Not That! magazine now! For a limited time, you can save 50 percent off the cover price—click here!
First, the Worst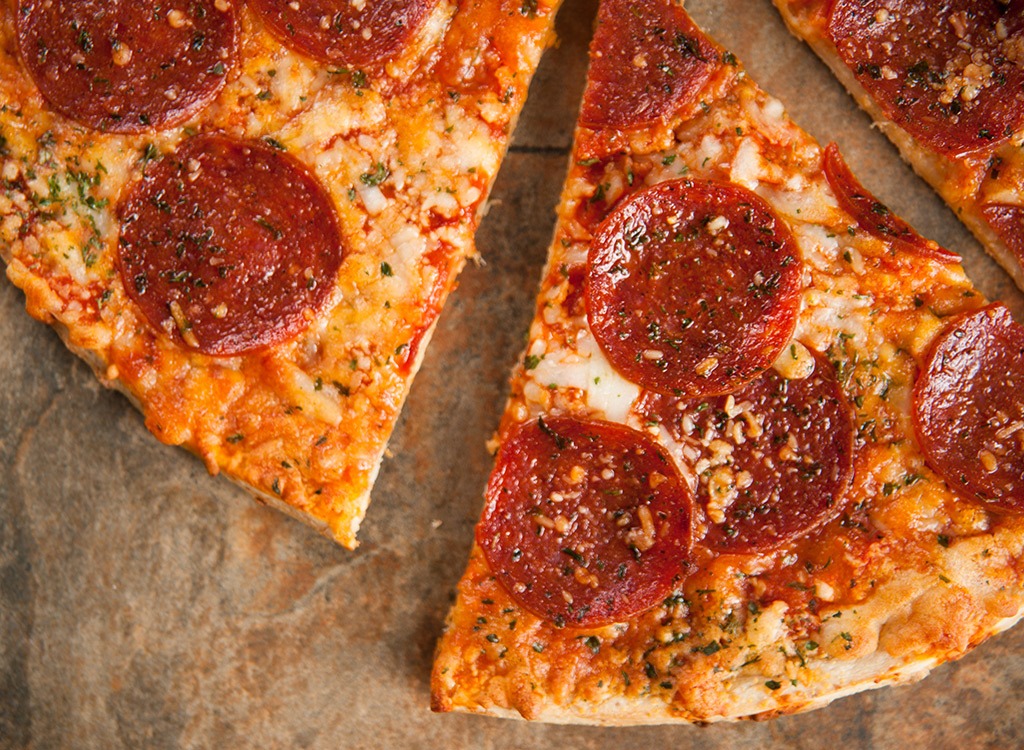 Pepperoni is one of the most popular pizza toppings in the country, but it shouldn't be the one you decide to order in for yourself. Pepperoni is extremely high in sodium, with two medium slices of Domino's Ultimate Pepperoni pizza clocking in at 1,300 milligrams! The Centers for Disease Control and Prevention (CDC) states that most Americans consume way too much sodium—almost a thousand more milligrams than recommended—and it's not hard to see how. Not only does excess sodium bloat you, one study found that it can also trigger hunger. Ditch pepperoni pizza on the regular and indulge in a better-for-you pie.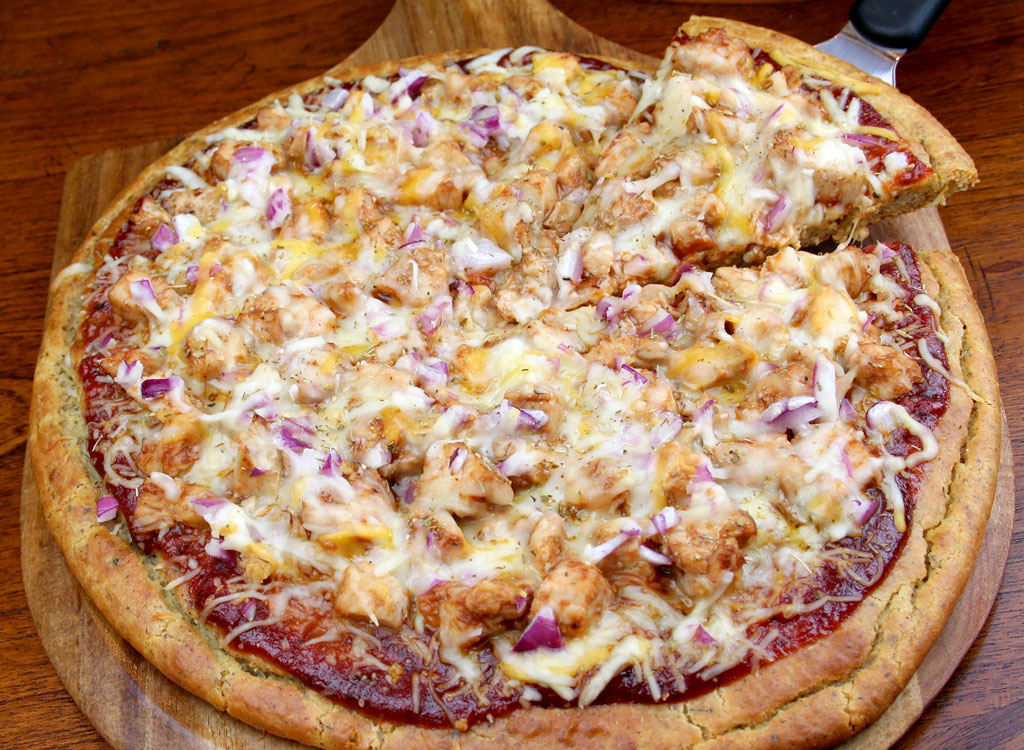 Anything can be unhealthy when it's drowned in sauce, particularly barbecue sauce. Take Pizza Hut's BBQ Chicken pizza for example. The first ingredient in their barbecue sauce is high-fructose corn syrup—an added sugar known to cause weight gain—lending one large Original Pan slice a whopping 7 grams of sugar. Looking to cut down on the sweet stuff without making too many sacrifices? Check out The 14-Day No Sugar Diet now!
There is a huge debate about whether pineapple even belongs on pizza, and in our professional opinion, it does not—but not for the reason you may think. Pineapple might seem like a fresh, healthy topping, but the reality is that most shops—like Dominos and Papa John's—keep their fruit canned with added sugar. A whole can of Dole pineapple tidbits has almost 70 grams of sugar, so imagine what goes on your pizza. If you're still hankering for something sweet, stick to forking into fresh pineapple as a post-meal dessert.
Alfredo sauce is high in sodium and high in fat, so ordering it as the base for your pizza will hike up your pie's calorie count in an instant. At Domino's, just about a half tablespoon of the alfredo sauce counts for 25 calories while red pizza sauce only has 10 calories per nearly a full tablespoon. While you're avoiding alfredo at the pizza shop, steer clear of these 15 Unhealthiest Sauces in the Grocery Store.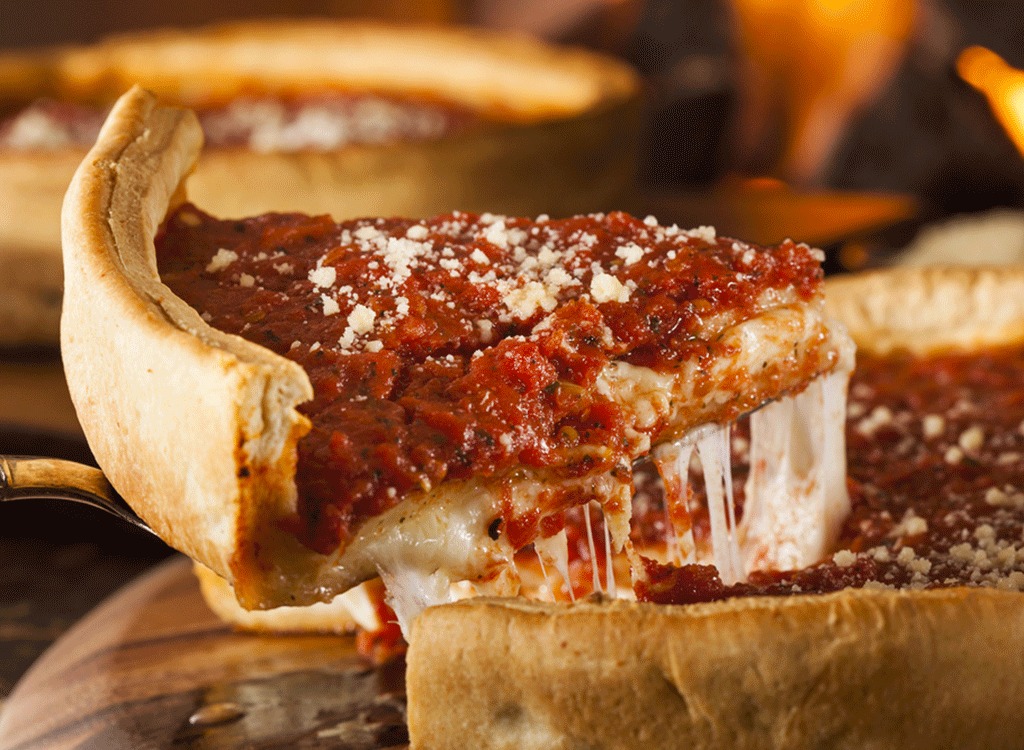 How your pizza is made is just as important as what you put on top of it, and a deep dish pizza is a dive off the deep end when it comes to your diet. Deep dish pizza adds more layers of toppings inside the pizza, and if those toppings are already unhealthy, they're even worse under piles of more cheese and grease. Avoid the added fat and empty carbs, and stick to ordering thin-crust pizza.
Now… the Best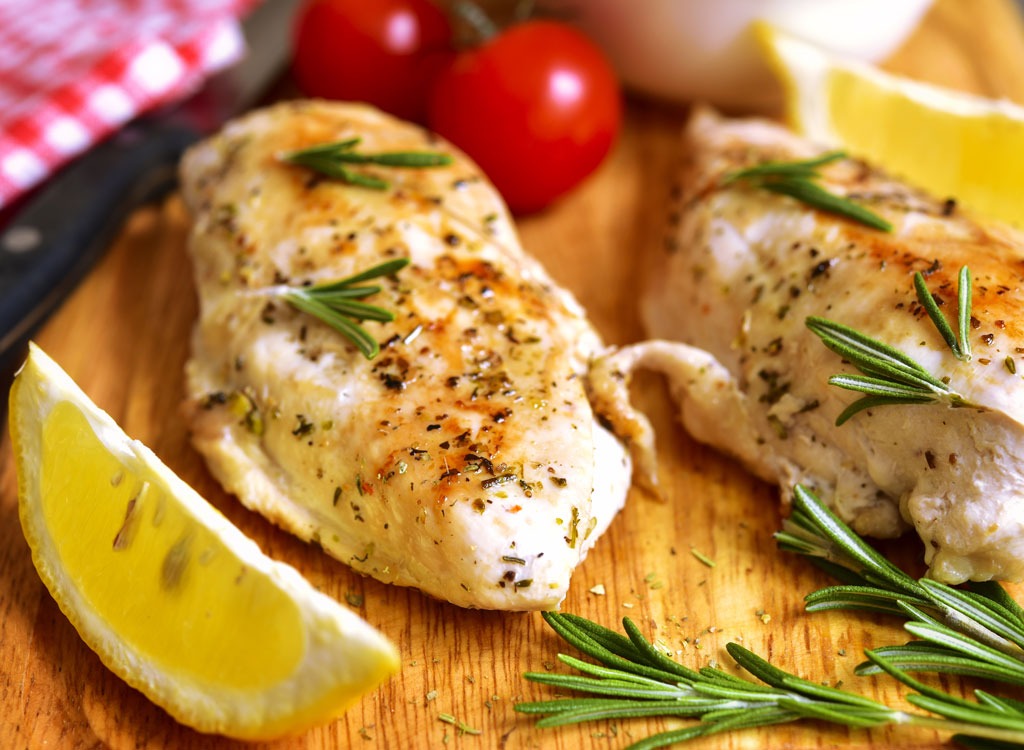 6254a4d1642c605c54bf1cab17d50f1e
Chicken can be healthy when it's not covered in sugary, fattening sauce. It is high in protein, which helps you build muscle and maintain it, revving your weight loss. Pair the lean protein with one of the other ingredients below for a balanced and delicious meal.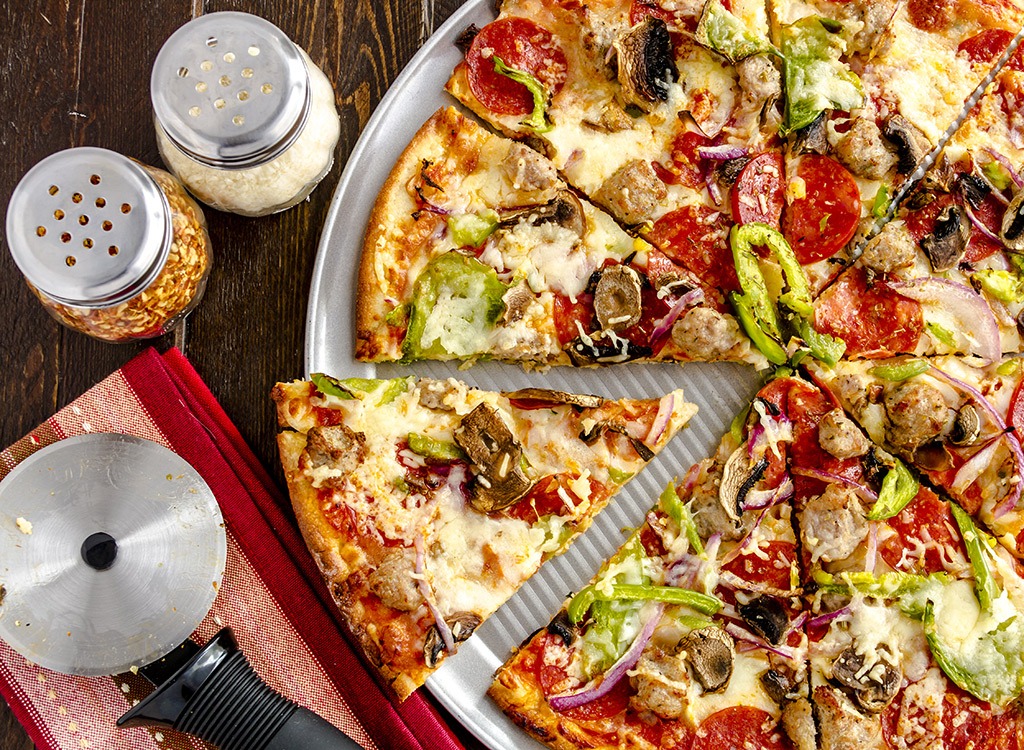 One of the best things you can add to your pizza is fresh vegetables, and chances are you're not eating enough of them anyway. According to the CDC, less than 10 percent of adults are eating the recommended amount of vegetables. Whether it's insoluble fiber-rich asparagus, calcium-filled broccoli, or sweet peppers full of antioxidants, you really can't go wrong by adding these on your pizza. Why not toss a handful of arugula over your pie for a healthy dose of vitamin K? Better yet, build your base with cauliflower crust for even more benefits.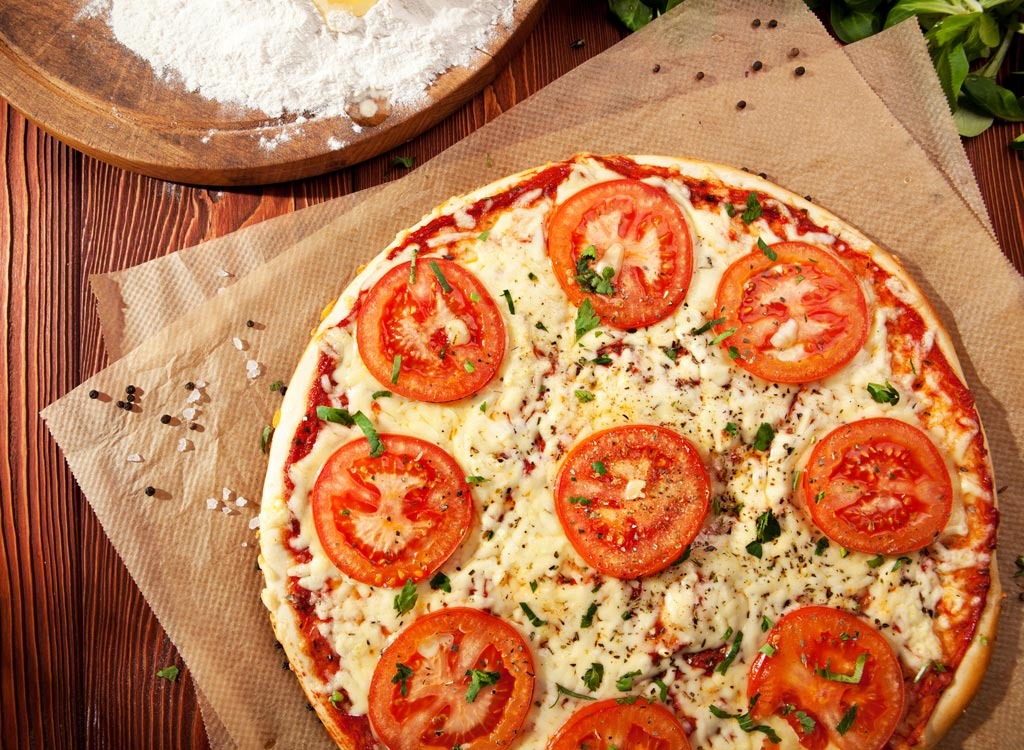 Tomatoes are a great way to get more nutrients on top of your pizza. They are rich in antioxidants including lycopene as well as vitamin B and potassium, which has been proven to lower your risk of high blood pressure as well as reduce cholesterol. They're also one of the best summer foods to help you lose weight.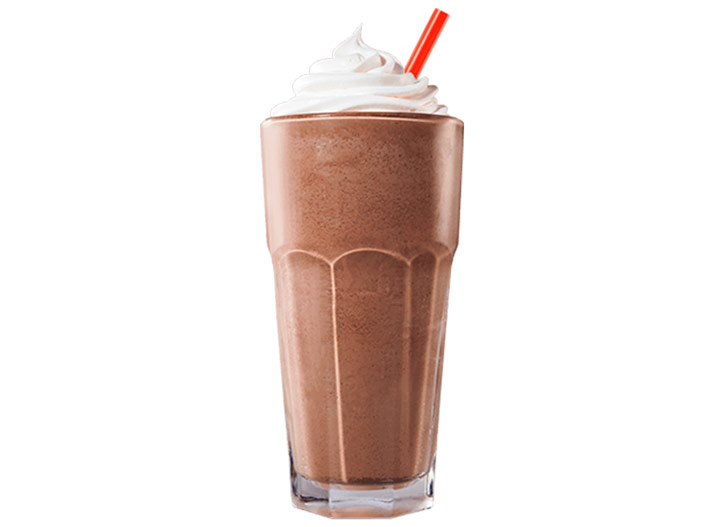 Sprinkling jalapenos, chilis, or serranos onto your pizza will not only add spice to your life, it will ignite your metabolism, too! Hot peppers have capsaicin in them, which gives them the heat to melt fat away. One study shows that capsaicin can actually help prevent high-fat-diet-induced obesity by burning stored fat. Sign us up!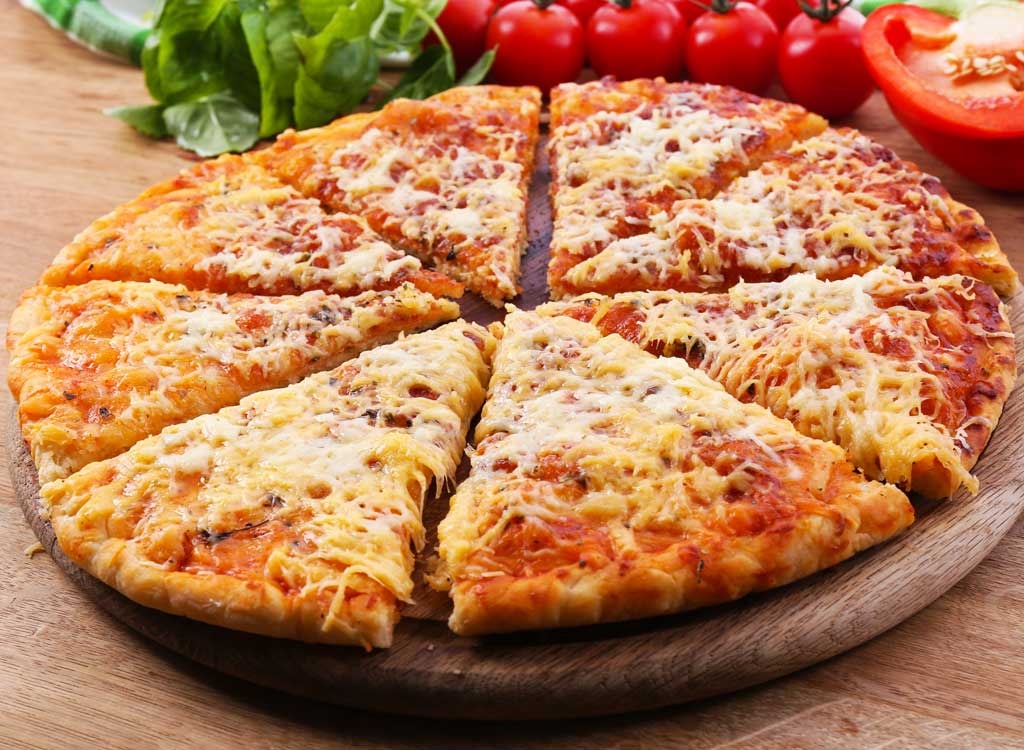 Cheese has a low glycemic index level, meaning your body digests it slower, keeping you fuller for longer. And if you add other toppings with low GI levels—such as mushrooms or bell peppers—you'll be fuller even longer! If you're making your pizza at home, keep in mind that not all cheese is created equal. For more healthful and delicious ideas that can slim down your waistline in no time, grab a copy of The Super Metabolism Diet.