How to Make an Inexpensive Steak Taste Expensive
Chefs share their advice for how to make any cheap cut of steak taste restaurant-worthy.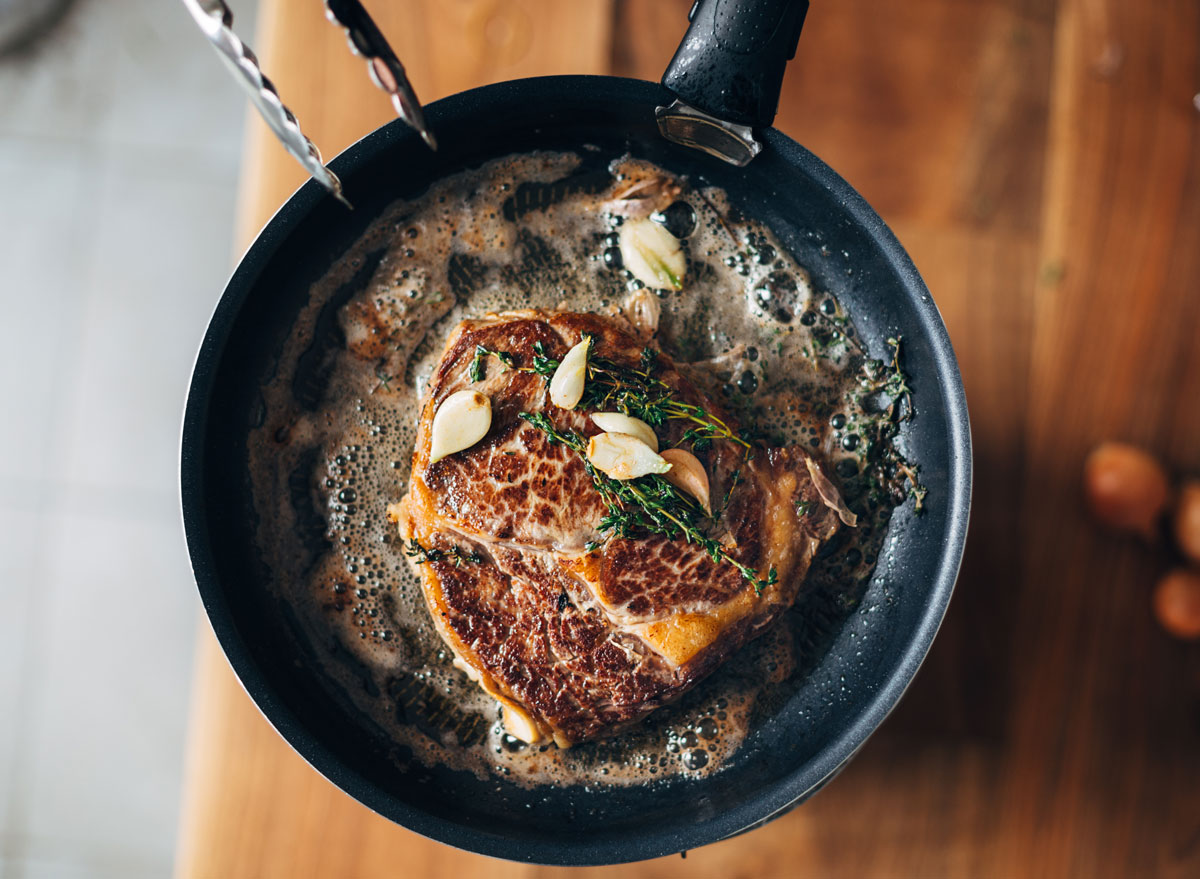 There's something so satisfying about treating yourself to your own home-cooked piece of steak prepared exactly to your liking—when you get it just right, it can feel like an enormous win. Everyone deserves the taste of a steak cooked to perfection in their own home, but unfortunately, some of the most flavorful cuts of steak will make your wallet feel a little too empty. This is why we talked with professional chefs about their best tips and tricks for making a cheaper cut of steak taste expensive.
The most expensive cuts of steak include options like wagyu, filet mignon, beef tenderloin, and porterhouse, but they cost a pretty penny—especially if you're buying for the whole family. The more inexpensive cuts to buy, such as flank, eye of round, or skirt steak can still taste delicious, but it may take a little more maneuvering to get the flavors to come out.
Read on to learn more about some of the best affordable cuts of steak to buy, as well as a handful of easy and effective tips that chefs recommend for turning your cheap steak into a restaurant-quality experience. Read on, and for more tips, check out The Absolute Best Way To Cook Steak on the Grill.
Affordable cuts of steak to buy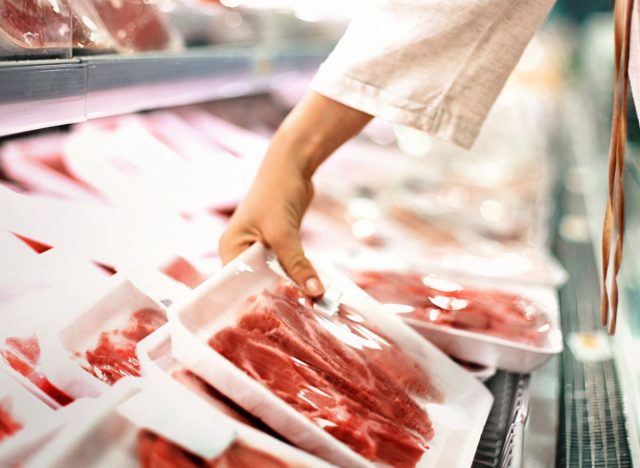 Every cut of steak brings its own pros and cons, but the following cheap cuts are the best if you're looking for something more affordable that still tastes delicious when cooked properly.
Flat iron steak
"A great budget-friendly option is the flat iron steak," says Asim Choudhry, co-founder of The Halal Butchery. "It's taken from the shoulder area of the cow, and though it may not be as tender as a fillet mignon, it still has great flavor potential."
Cherie Gonzales, a chef with over 10 years of culinary experience, also believes that a flat iron steak is great for watching your budget. "With proper cooking techniques and a brief resting period to allow the juices to redistribute, this cut becomes tender, juicy, and bursting with flavor."
Hanger steak
Another deliciously affordable cut of steak is a hanger steak, which is also known as the "butcher's cut." According to Gonzales, "this cut comes from the diaphragm muscle and boasts robust beefy flavors, and is a prime example of a flavorful and affordable option." She adds, "When cooked to medium-rare or medium doneness and thinly sliced against the grain, it offers a tender and melt-in-your-mouth experience that rivals more expensive cuts."
Prime skirt steak
Skirt steak is a thin cut that you'll often see in dishes like fajitas and steak sandwiches, and even though it's thinner and cheaper than other cuts, it's still full of flavor.
"I like to use a prime skirt steak as a cut of meat at home because it is affordable and always tastes delicious if cooked the right way," says Laurent Tourondel, executive chef of LT Hospitality.
Tips for making cheap cuts of steak taste expensive
Just because you've purchased an inexpensive cut of steak doesn't mean you'll sacrifice on flavor. We asked the experts for tips that will help you make the best steak you've cooked at home.
Following these chef-recommended tips will help you embrace your steak-cooking skills and get the outcome you desire. "By incorporating these techniques, even those on a budget can savor a restaurant-worthy steak at home," says Gonzales. "It's all about understanding the characteristics of different cuts, applying the right cooking methods, and allowing your creativity to shine through in seasoning and presentation."
Top with an herbed compound butter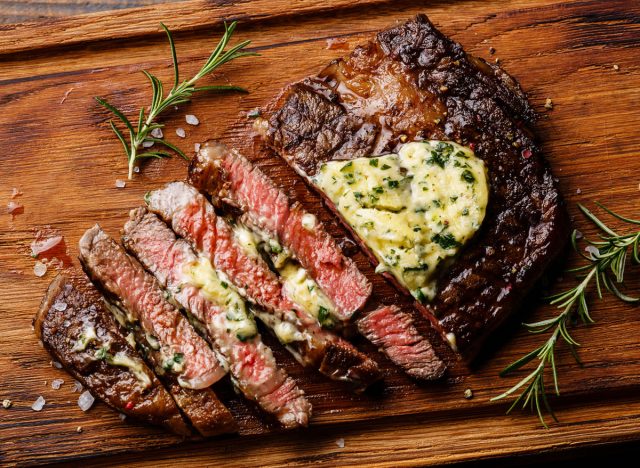 One of the easiest tricks for ramping up your steak experience is to make sure you're adding butter–especially if you can get your hands on herbed butter.
"Herbed butter is classic, inexpensive to make or buy and adds one more sophisticated element to any steak dish," says Max Tucci, author of the cookbook The Delmonico Way, Sublime Entertaining & Legendary Recipes from the Restaurant that Made New York.
Chef Michael Tashman, CEO and Founder of Churn Foods adds, "It's all about the buttery sauce! A nice touch to elevate any cut is to finish with a flavor-boosting sauce, and one of my favorite quick sauces is a pan sauce. This consists of stock, garlic, shallot, red wine, shallot, and a healthy amount of [compound] butter."
Make a red wine butter sauce
Another way of using butter to boost your steak is to make a Bordelaise sauce. "The sauce is made with ingredients such as dry red wine, butter, shallots, and sauce demi-glace," says Tucci. "I always serve Bordelaise sauce on my Delmonico cut steaks. It gives an elegant, sophisticated feel to any cut of steak and heightens the dining experience." He also adds, "A great tip is to purchase an inexpensive bottle of red wine for your sauce, even an eight-dollar bottle will do the trick to make your steaks feel more expensive."
Use a classic salt and pepper seasoning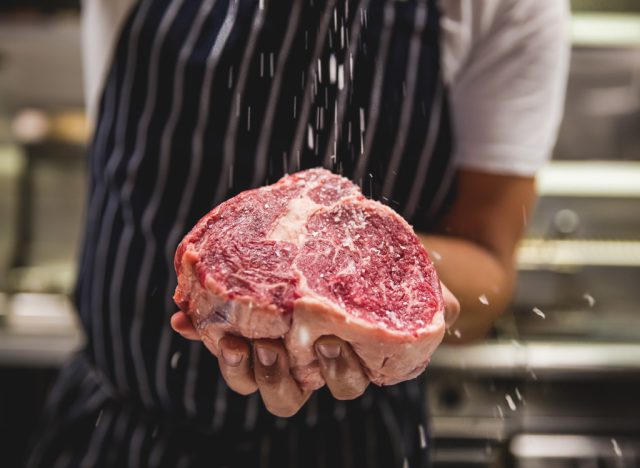 One thing that is often overlooked is the simple—yet significant—step of seasoning your steak before you cook it, and this can often be done with just salt and pepper.
"A generous amount of kosher salt and freshly ground black pepper applied just before cooking can enhance the natural flavors and create a savory crust on your steak," says Gonzales. "Experimenting with additional seasonings like garlic powder, smoked paprika, or herbs like rosemary or thyme can further elevate the taste profile as well."
Use garlic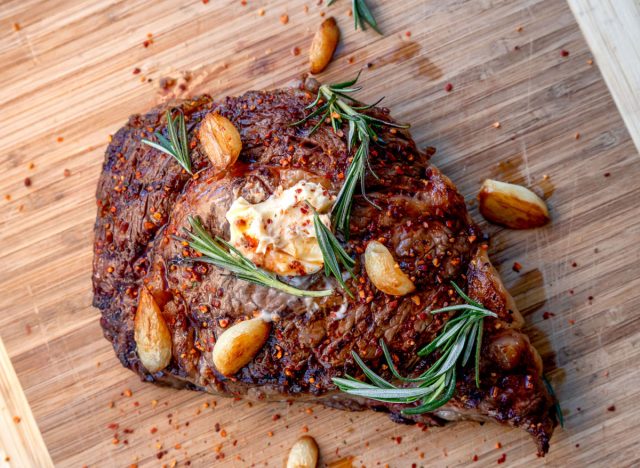 A bit of a lesser-known trick is to embrace the use of garlic after your steak is cooked by rubbing it with a clove of garlic once at your desired temperature," says Tourondel. "This easy tip packs a punch of flavor.6254a4d1642c605c54bf1cab17d50f1e
This certainly doesn't have to take the place of your seasoning or use of herbed butter, and combining methods to your desired effect can help bring out the best flavors and make your cheaper steak taste like steakhouse quality.
Embrace a good marinade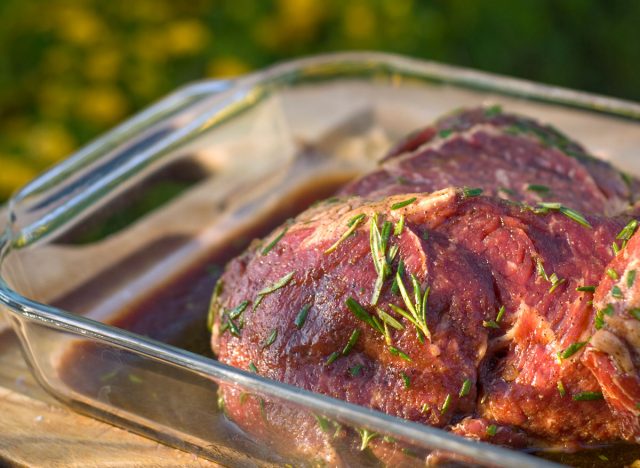 It may sound like a no-brainer, but one of the best ways to get a flavorful steak is to marinate it properly. What you use and how you do it will vary slightly based on the cut of steak.
"If you have a tougher cut of steak, like a round steak or a chuck steak, a flavorful marinade can work wonders in tenderizing and enhancing the taste," says Choudry. "For marinades, try mixing together olive oil, balsamic vinegar, minced garlic, Dijon mustard, and some herbs and spices of your choice. Let the steak soak in the marinade for at least a couple of hours, or even overnight."