Instant Pot Creamy Chicken with Spinach
Make this easy main dish when serving a crowd, or meal prep it for your week ahead!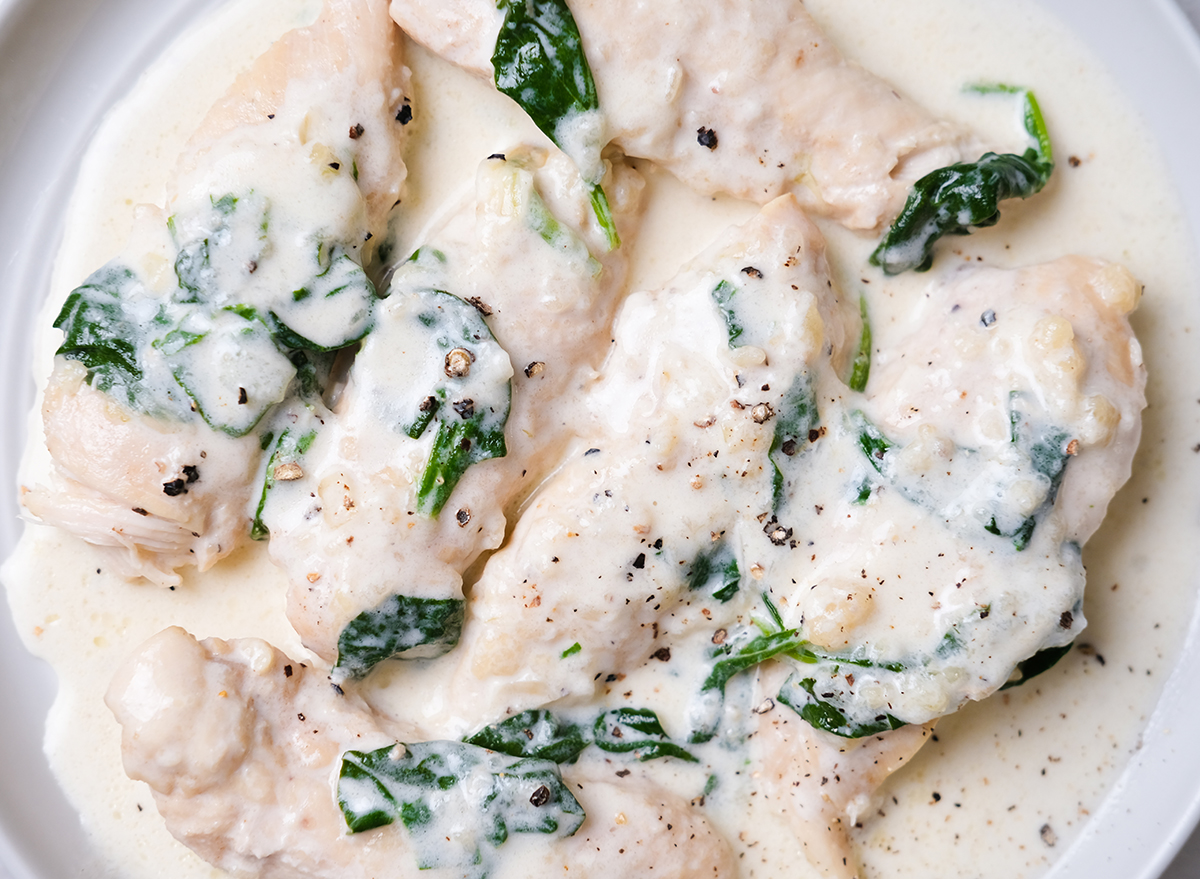 When you have to cook for more than four people, finding a main dish that's easy (and quick) to throw together can be rather challenging. Sure, you could bake some kind of casserole. But if you're looking for a meal that can appease all kinds of diets—keto, low-carb, gluten-free, you name it—this Instant Pot creamy chicken recipe is one that will not disappoint. Made with two whole pounds of chicken, you can easily have dinner on the table for up to eight people in under 30 minutes.
This Instant Pot creamy chicken will go well with all kinds of dinner sides. For a low-carb option, serve this creamy chicken with some extra vegetables like cauliflower rice and parmesan-roasted broccoli. For a balanced meal, enjoy this chicken with our oven-baked fries and roasted carrots.
Makes 8 servings
Ingredients
2 Tbsp butter
1 onion, diced
2 garlic cloves, minced
1/2 cup chicken broth
2 lb. chicken tenderloins
1 cup heavy cream
2 cups spinach, loosely packed
1/2 cup shaved parmesan cheese
How to Make It
Turn on the Saute feature of the Instant Pot. Once warm, add in the butter, diced onions, and minced garlic cloves. Cook for 2 minutes.
Pour in the chicken broth and add in the chicken tenderloins.
Cook on high pressure (Manual or Pressure Cook) for 7 minutes.
When the timer goes off, let the Instant Pot naturally depressurize for 10 minutes. Then release the rest of the pressure.
Remove the chicken to a plate using tongs. Switch the Instant Pot back to the Saute feature and add in the heavy cream and the shaved parmesan cheese. Stir until the cheese has completely melted and mixed in.
Add in the spinach and cook for one more minute.
Place the chicken back in the Instant Pot. Coat the chicken with cheese sauce, then serve.