A Simple, Delicious Roasted Carrots Recipe
Trust us, you're going to want to eat your vegetables this way all the time.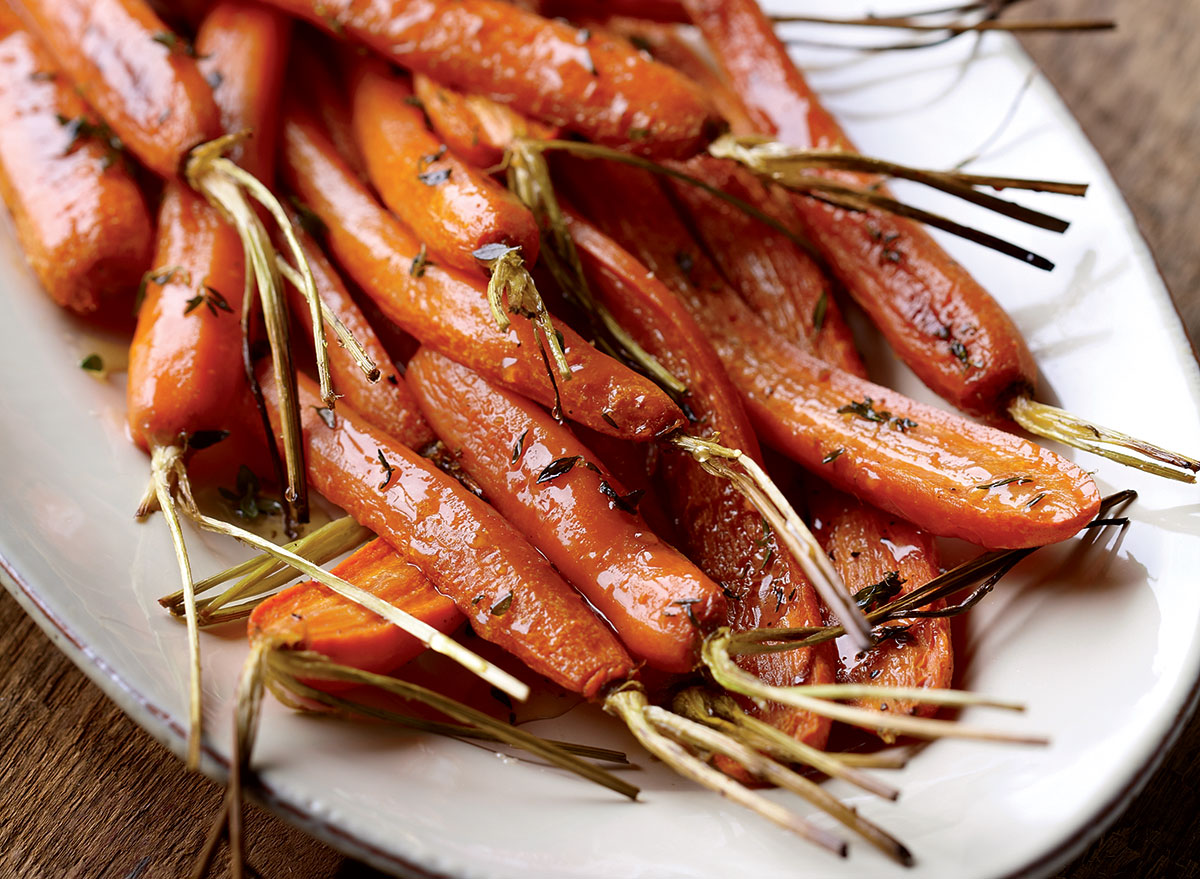 Everyone knows that it's a particularly difficult task to get young children to eat their vegetables, but what about enticing grown adults to pick up a carrot or two after a long day? OK, we admit it, sometimes it's not the most appetizing thing on the menu, or even at the grocery store, especially after a particularly exhausting or stressful day. But here in this simple and easy to make roasted carrots recipe, we provide you with a deliciously flavorful way to make your vegetables a bit more enticing.
Anytime you roast something, it teases out the inherent sweetness. You're probably picturing a sweet and juicy roast beef, but it turns out, the same principle works especially well in vegetables. As you roast a given vegetable, its water content slowly starts to evaporate, and in turn, its natural sugars become more concentrated, making for something considerably more enjoyable (and mouthwatering, for that matter) to eat than, say, a raw carrot.
And roasted carrots, in particular, go well with so very many different meals: salads, butternut squash soup, to scoop up some homemade hummus instead of using greasy chips, or even better yet, you can have your roasted carrots as a side to your equally roasted beef. Or keep it vegetarian and pair it with your favorite tofu recipe. The possibilities are endless!
Nutrition: 110 calories, 3.5 g fat (0.5 g saturated), 285 mg sodium
Serves 4
You'll Need
8 medium-size carrots, tops removed, peeled
1 Tbsp olive oil
2 Tbsp honey
1⁄2 Tbsp fresh thyme leaves (optional)
Salt and pepper to taste
How to Make It
Preheat oven to 400°F.
Toss carrots with olive oil, honey, thyme leaves (if using), and a generous amount of salt and pepper.
Spread out on a baking sheet and cook in the oven until brown on the outside and tender all the way through, about 35 minutes.
Eat This Tip
We might not have had to tell you this, but you can roast other vegetables, too. Beets, in particular, are a great choice, as they absorb the seasoning very well, but you can roast squash, broccoli florets, potatoes, eggplant, and anything your heart desires. Try a few things, take a few chances; you might learn to love vegetables in a whole new way, and better yet, you might be able to convince a kid or two to love them, too!
Love this recipe? Subscribe to our Eat This, Not That! magazine for even more at-home cooking and healthy eating ideas.