Jackfruit: What to Know About the Plant-Based Meat Replacement
Jackfruit is packed with nutrients, and it's a common meat substitute.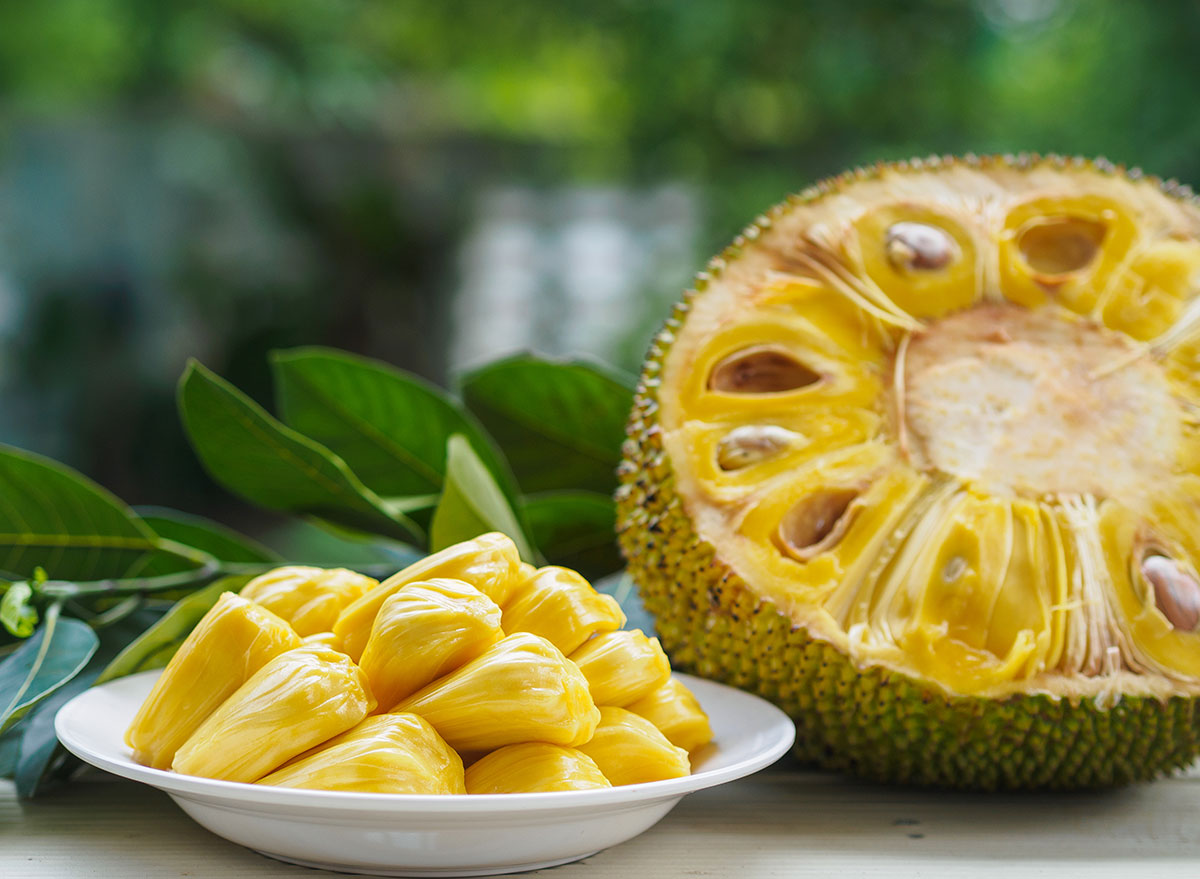 The world of meat substitutes has expanded rapidly in recent years, with various options made to fit the various meals you're looking to recreate sans meat.
One item you won't find hanging around tofu and the likes is jackfruit, a massive produce item with a green horned exterior, which may leave you a bit puzzled at first. You'll likely be seeing it popping up on menus more as we approach 2020, so it's time to get to know this meat replacement.
What is jackfruit?
This species of fruit hails from the same family as breadfruit, fig, and mulberry. The plant originated in southwest India, but it is now grown in southeast Asia, other parts of India, Thailand, Africa, and more.6254a4d1642c605c54bf1cab17d50f1e
Even though the jackfruit has seen recent popularity in the United States in vegan and plant-based cuisine, it has been around for quite some time, especially in Asian dishes.
"I was first introduced to jackfruit as a fruit sold on the sidewalks in Chinatown and added it into sweet Chinese soups," says chef Jenny Dorsey, executive director of Studio ATAO, a nonprofit culinary studio. "I've seen it take on a life of its own in the alt-meat space, which is so funny because it centers the 'rise' of jackfruit on a primarily white audience when it's been used abundantly in Asian cuisines for a long time."
When is jackfruit in season?
Jackfruit is typically ripe from March to June or from April to September, depending on the region where it is grown. Some off-season crops can grow between September and December, too.
One jackfruit tree can typically yield 100 to 200 fruits annually, with the average fruit weighing between 10 and 25 pounds each. Some of the fruits can even weigh up to 100 pounds!
What does jackfruit taste like?
When unripe, jackfruit has a neutral flavor and can work well in savory dishes. Because the flavor is relatively plain, it can easily soak up other seasonings and spices for cooking. When eaten ripe and raw, the taste is very sweet and similar to that of fruits like mangos, bananas, and pineapples. And rumor has it that the complex sweet flavor of Juicy Fruit gum hails from this horned fruit!
What are the health benefits of jackfruit?
Jackfruit is packed with B vitamins, vitamin B6 in particular. Vitamin B6, also known as pyridoxine, allows your body to store and use energy from consumed carbohydrates and protein. It's also a great source of potassium, and it contains fiber and protein to help you feel full.
This water-dense fruit is also able to keep your skin looking and feeling moisturized, while antioxidants can slow down the aging process. Additional benefits of jackfruit include strengthening your bones, helping maintain your blood pressure, and improving your digestion.
What's the nutrition breakdown of jackfruit?
Ariane Resnick, CNC, special diet chef and food writer, says the fruit is "high in assorted vitamins and minerals, contains some fiber, and has more protein than the average fruit."
One cup of cubed, raw jackfruit contains almost three grams of protein. In comparison to other fruits, bananas have 1.64 grams of protein in the same serving size, while apples have even less protein per serving. Jackfruit's higher protein content makes it a great meat replacement in vegetarian and vegan meals.
What are some creative ways to use jackfruit?
Typically, jackfruit is used as a replacement for shredded or pulled meats in a variety of plant-based dishes. "Jackfruit performs well in stews," Resnick says. "It also works as a filling for tacos or enchiladas and can take the place of chicken in casseroles."
When ripe, you can also enjoy jackfruit as a treat on its own. "I like to use it as both an alt meat (smoked and braised) as well as eaten raw or in sweet coconut milk," Dorsey says. However you decide to eat it, this just might become one of your new favorite fruits.
If you're not quite ready to prepare it yourself at home, you can pick up the pre-seasoned pork imposter in a local grocery store near you. You can also boil down or roast the jackfruit seeds to enjoy as a snack, as they have a taste similar to chestnuts and macadamia nuts.
Where can you find jackfruit?
Now that your interest has been piqued, where can you find this unique fruit? Luckily, many stores are beginning to carry it.
"Ripe jackfruit is sold fresh in Asian groceries (and some specialty/health food stores) and is available dried as well," Resnick says. "Unripe jackfruit is available canned; that is the most common way it is eaten nowadays, and cans are available at groceries like Trader Joe's." While you're at TJ's, pick up these pre-made frozen jackfruit cakes, too.
Jacqueline Weiss
Jacqueline is a blogger and writer, passionate about making healthy eating and cooking accessible to all.
Read more about Jacqueline