22 Foods Pretending to Be Other Foods
Chips, pasta, and jerky made of fruits, vegetables, and legumes? Yes, it's a thing.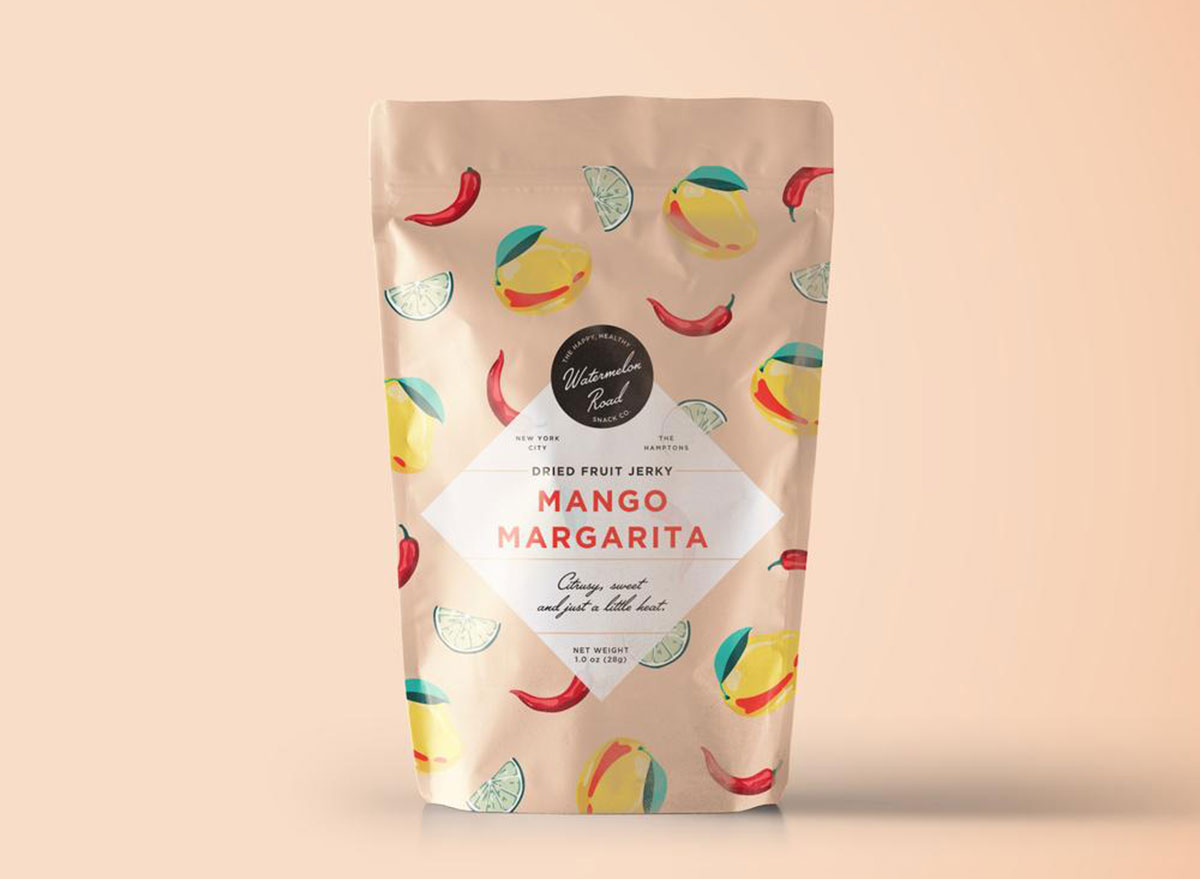 By now, you've probably heard of cauliflower rice and zucchini noodles as substitutes for some of the carbs we all know and love. But did you know that you could have what looks like a barbecue pork sandwich that's actually made up of a little-known shreddable fruit that gives it a meatier texture? That's right: jackfruit is the new pulled pork. It may sound radical, but trust us on this one. If you're in the mood for some indulgent foods that may lack nutritional value, there's a way to still satisfy your craving and get some healthy vitamins and nutrients in your body, too. The secret is to find the healthier, alternative foods that are just as delicious (if not more so).
Here are 22 healthy foods that you can substitute in for the far less healthy options you're used to.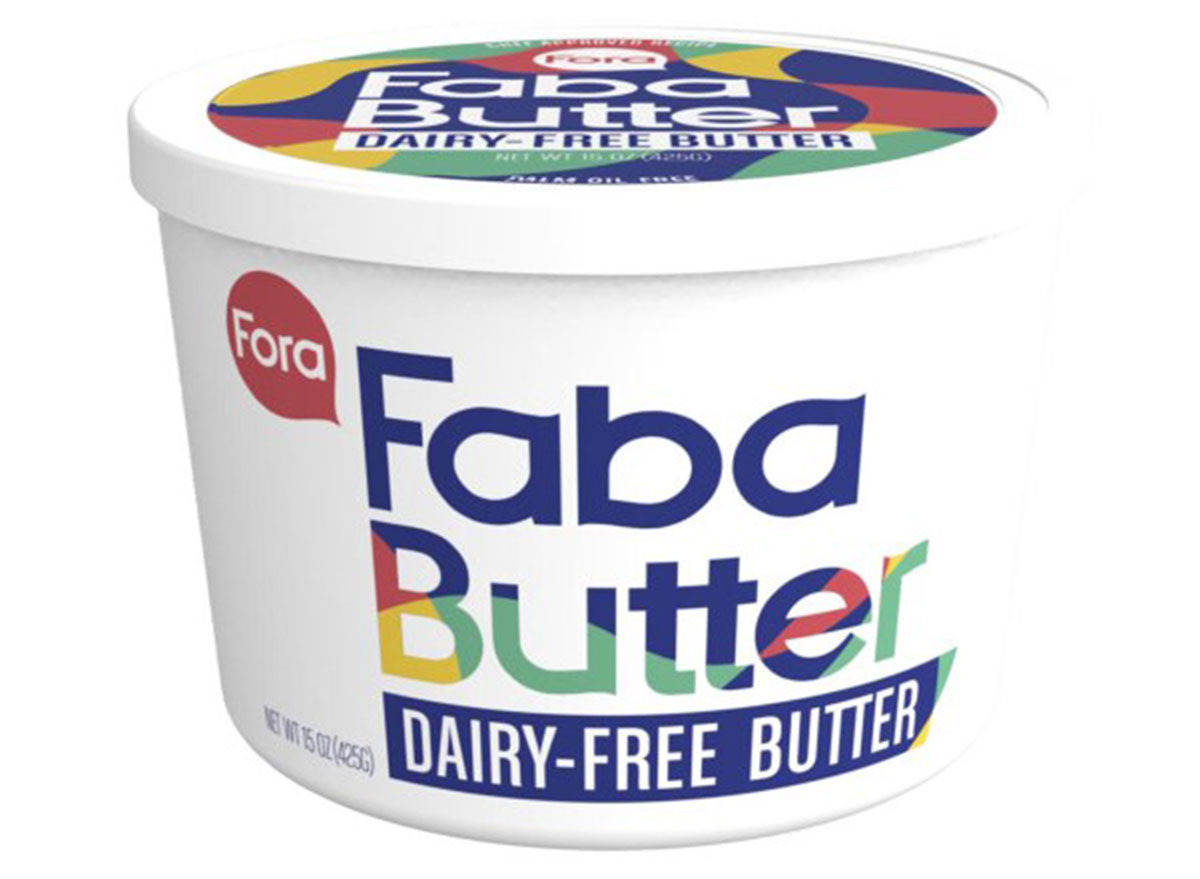 Have you heard of Aquafaba? It's the actual name of the liquid in a can of chickpeas and it's used as a butter substitute. Not only is it significantly lower in fat, but those who identify as vegan can also indulge in it too. Fora's FabaButter is made from chickpea liquid, coconut cream, sunflower oil, and nutritional yeast.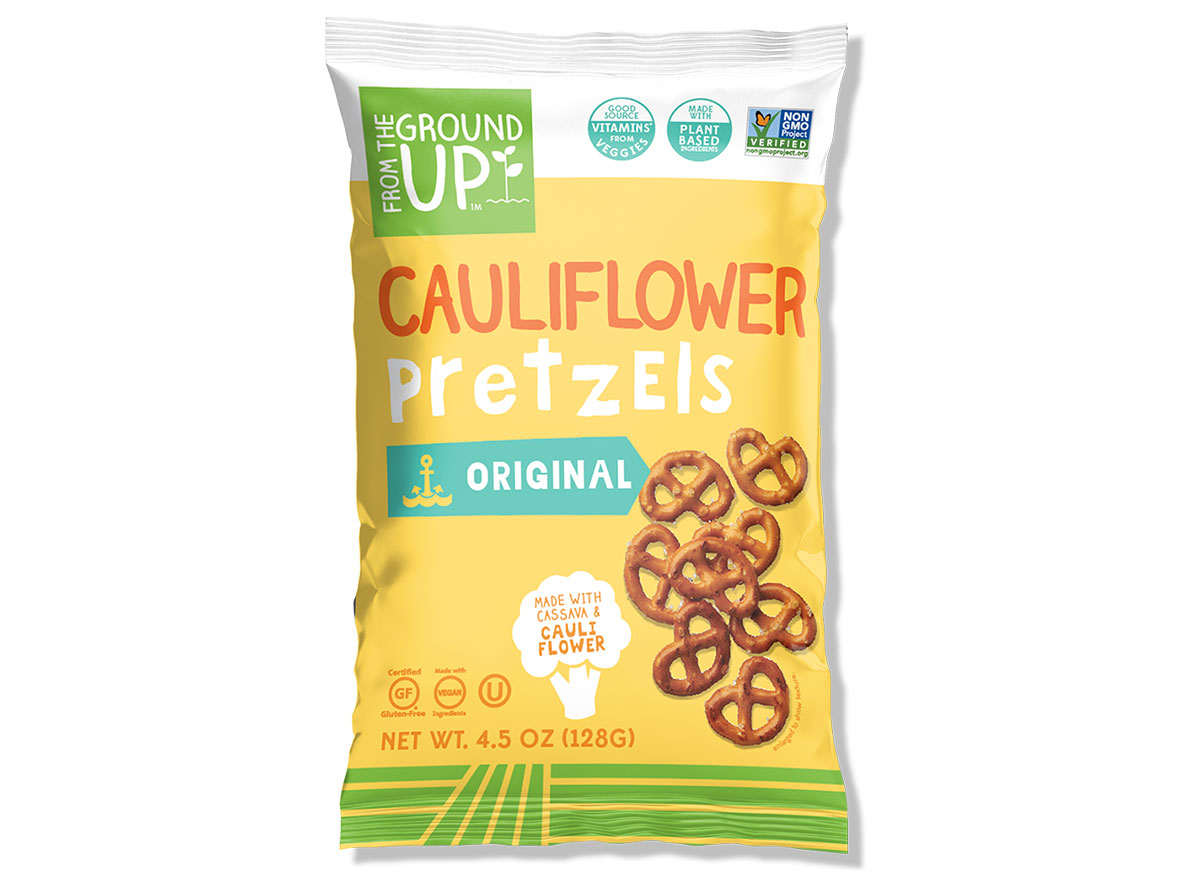 $20.76 (6-pack), SHOP IT HERE
Who would have thought that cauliflower could take on the form of a pretzel? From The Ground Up had this ingenious idea! The base of the pretzel is made from a mixture of cassava (a starchy root vegetable) and cauliflower flour. A veggie-packed powder blend of spinach, broccoli, carrots, tomatoes, beets, and shiitake mushrooms is also swirled into these little crunchy twists.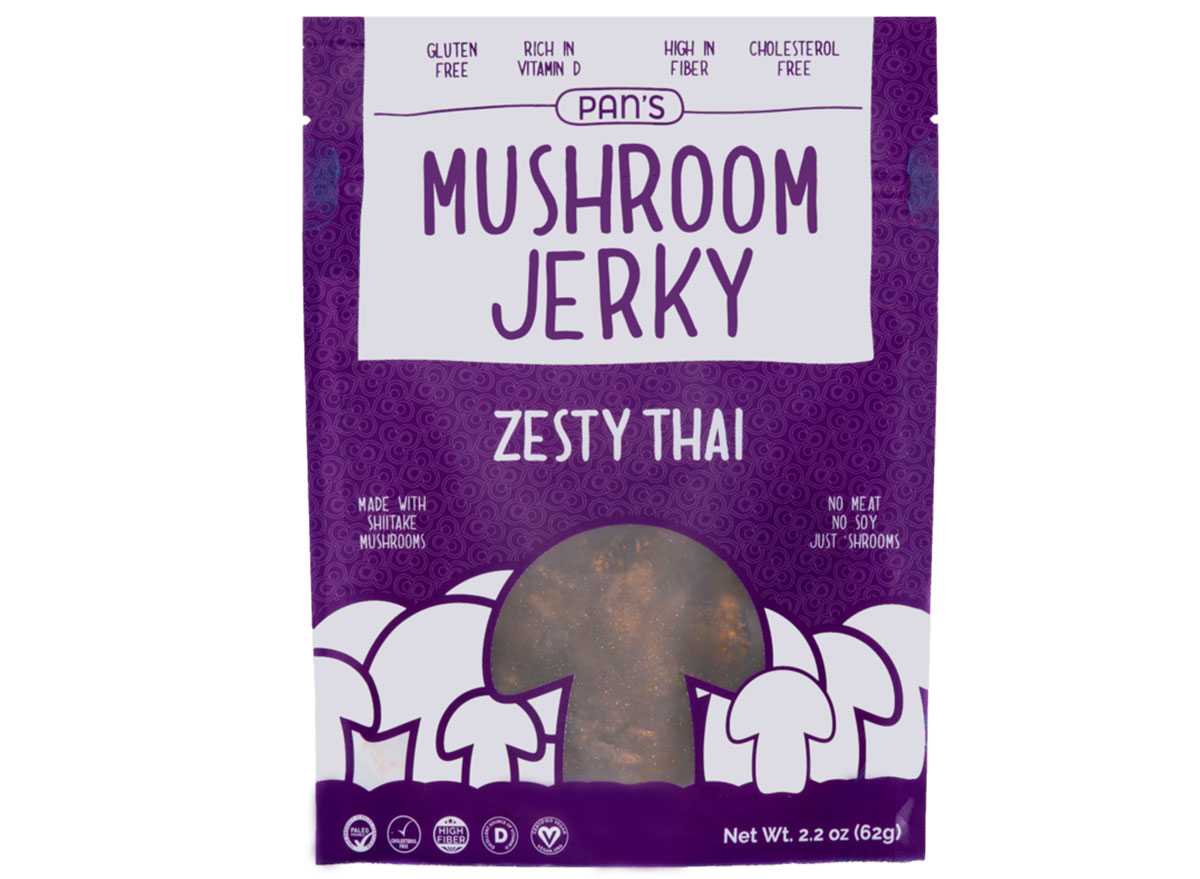 $9.00, SHOP IT HERE
This is a fun savory meat-less jerky we bet you haven't seen before. Dried organic shiitake mushrooms are tossed with avocado oil, organic coconut sugar, Himalayan pink salt, and organic chia seeds. The Zesty Thai variety is the most popular flavor, according to the Pan's Mushroom Jerky website, and is seasoned with cayenne, garlic, and coriander just to name a few of the spices that give the vegan-friendly jerky some heat.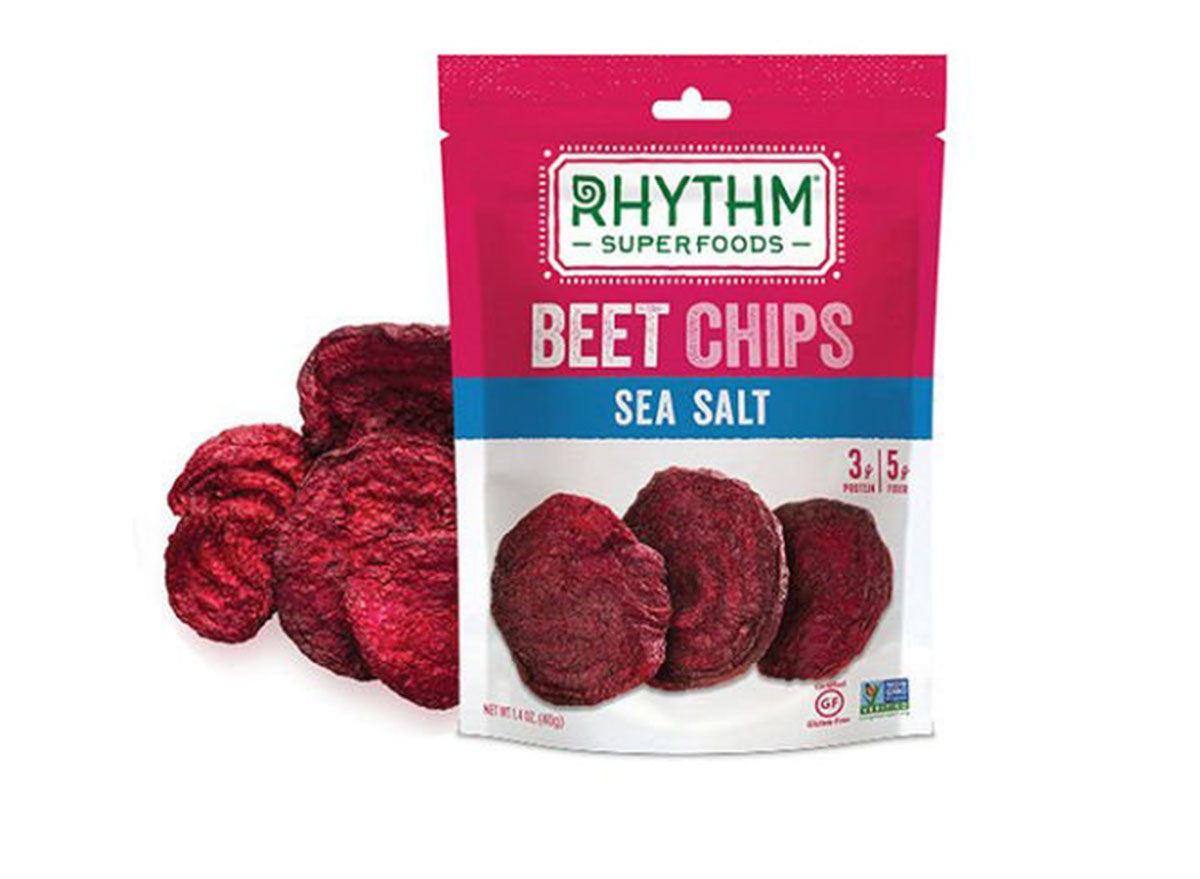 $6.29 (2-pack), SHOP IT HERE
Sure, you've heard of sweet potato chips, but that's nothing compared to this beet-based crunchy snack. Rhythm is just one company that transforms the beet into a light, yet very flavorful, chip. What makes Rhythm stand out from other brands though is their method of making the chip: The beet is dehydrated rather than fried in oil. For more healthy plant-based food knowledge, check out What's The Difference Between Vegan and Vegetarian?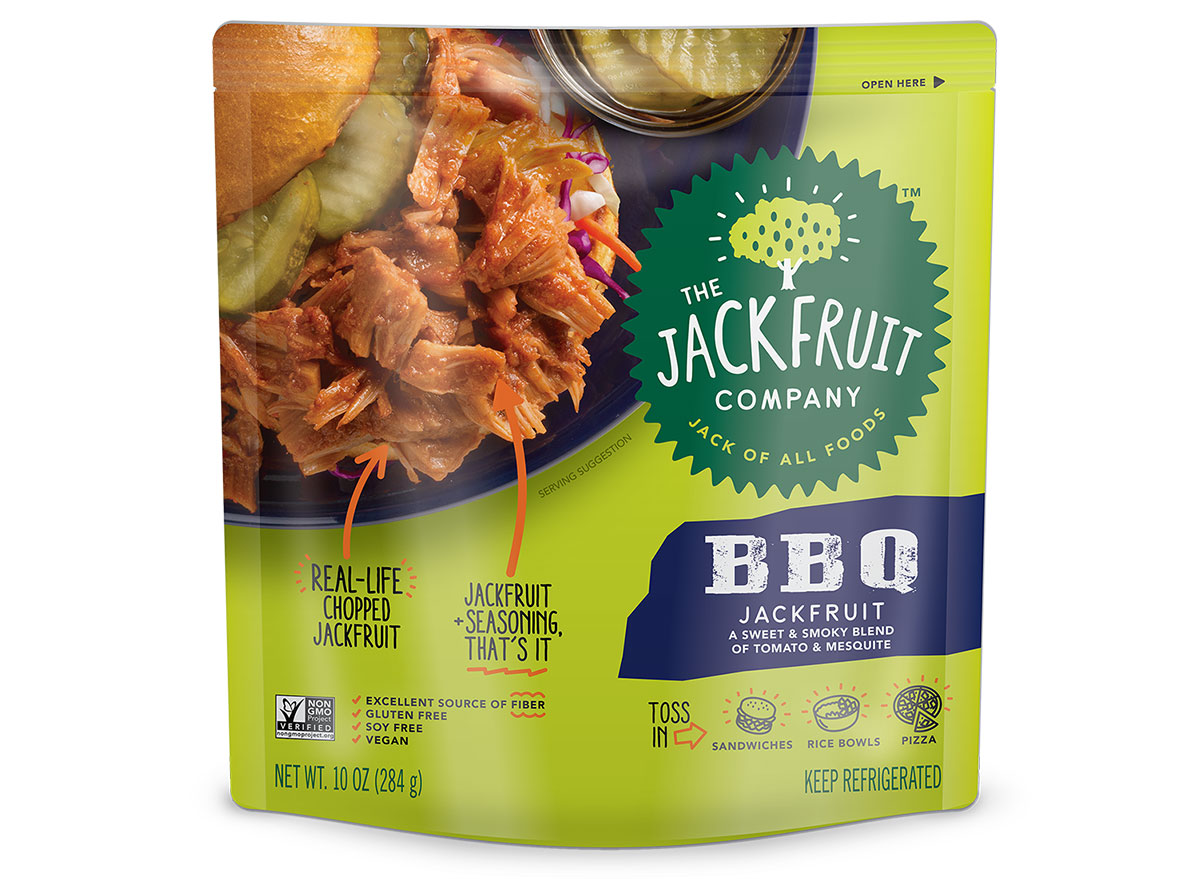 Calling all vegetarians and vegans: This product is right up your alley! The Jackfruit Company has developed a meatless alternative to barbecue pork. As the company name suggests, this pork imposter is made from hearty slices of jackfruit. To the surprise of many, the texture of the fruit mirrors that of tender pork. Each packet contains about two and a half servings of the jackfruit and some sweet and smoky seasoning. One serving only costs you 110 calories and 370 milligrams of sodium, much less than the traditional pork variety. Not to mention, there are 0 milligrams of cholesterol in this "pork."
$12.66 (2-pack), SHOP IT HERE
Banza's chickpea pasta challenges everything you thought you knew about pasta. There is a distinctive difference between the texture and flavor of these noodles compared to its more familiar flour counterpart. The chickpeas not only give the pasta a prominent legume taste, but they also give it a tougher, chewier consistency. That's because of the legume's high protein content. Two ounces of this pasta provides you with 14 grams of protein, which is more than a quarter of your daily needs.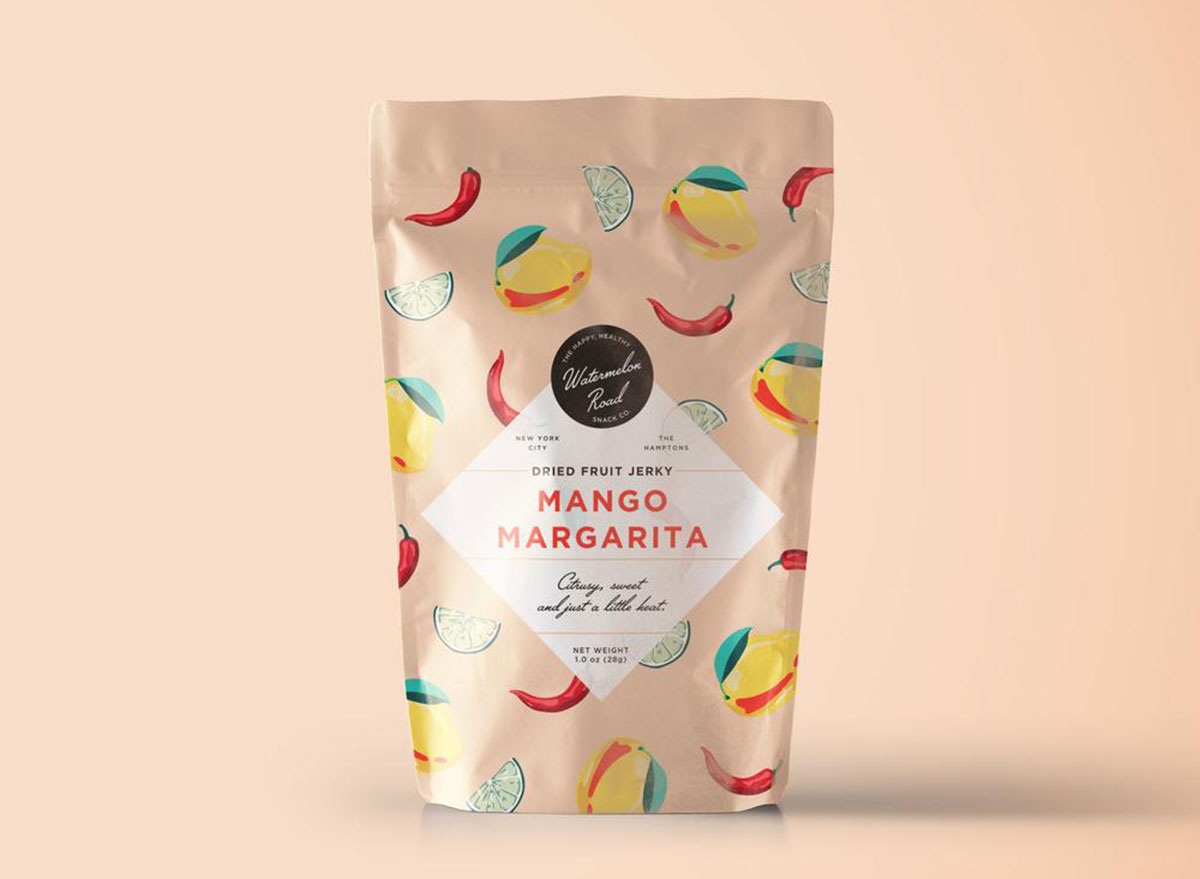 $24.00 (4-pack), SHOP IT HERE
Watermelon Road takes the beef out of jerky and instead swaps in fruit! This female-led vegan fruit jerky company is just one of several brands out there selling this hot health food product. The company sells four different fruit jerkies: Mango Margarita, Pineapple Mojito, Apple Pie, and Watermelon Lemonade. Other health brands like Sakara Life also offer watermelon jerky.
$18.95 (2 bottles: 1 Original, 1 Golden), SHOP IT HERE
Tomato ketchup is so, well, been there done that. Standard ketchup can be chock-full of added sugar, which makes it a not-so-healthy item. Thankfully, the Beet Lady created a beet-based ketchup that has an impressively low sugar content, which is why it has one-third less the calories than its tomato sister.6254a4d1642c605c54bf1cab17d50f1e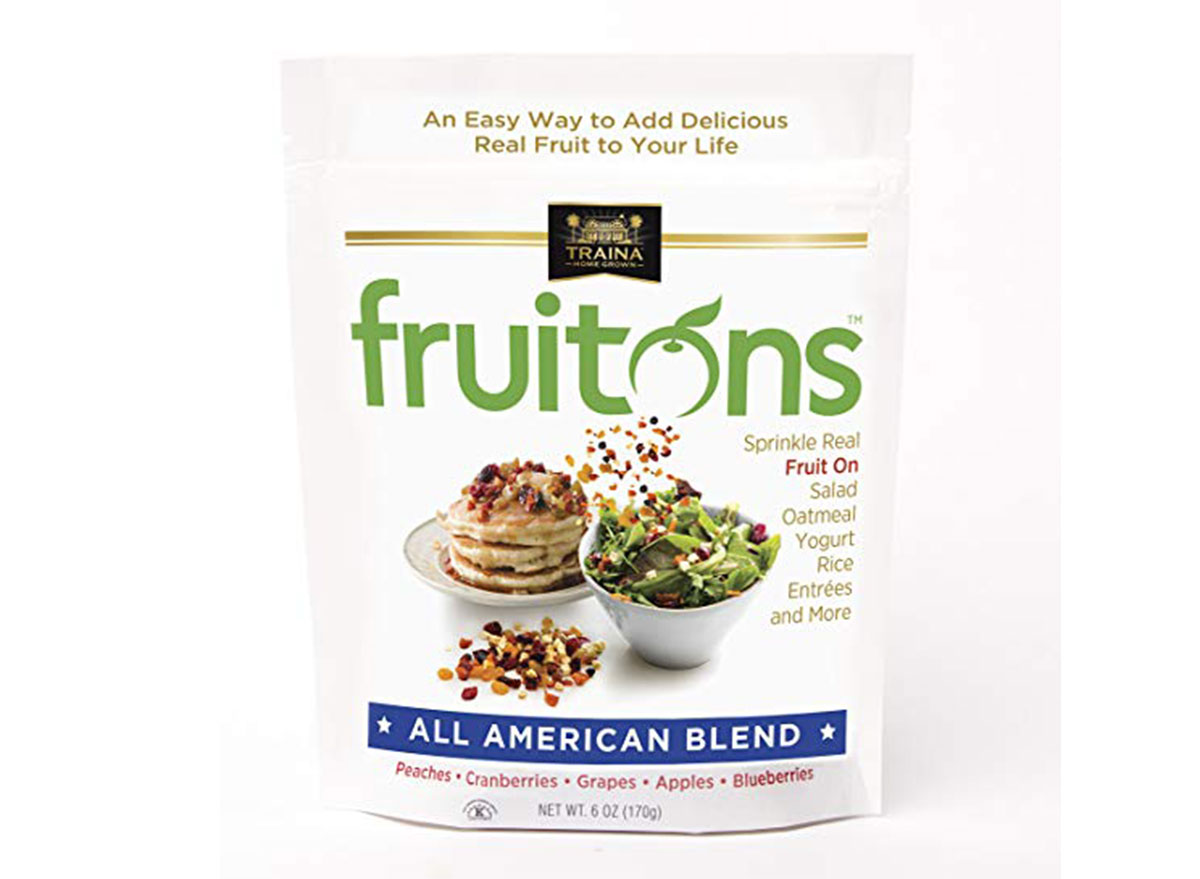 $10.95 (2-pack), SHOP IT HERE
Croutons are a great example of empty calories. They don't provide any nutritional benefits, and while they don't rack up an alarming amount of calories, they do cost you a few carbs. Traina came to the rescue and made fruitons! The hybrid between the fruit and crouton used to be made in that square bit-sized shape, but now they're sold in their natural "dried" form. In sprinkle-sized fashion, of course! You can toss fruitons in a salad, atop a bowl of oatmeal, or even swirl it into a yogurt parfait.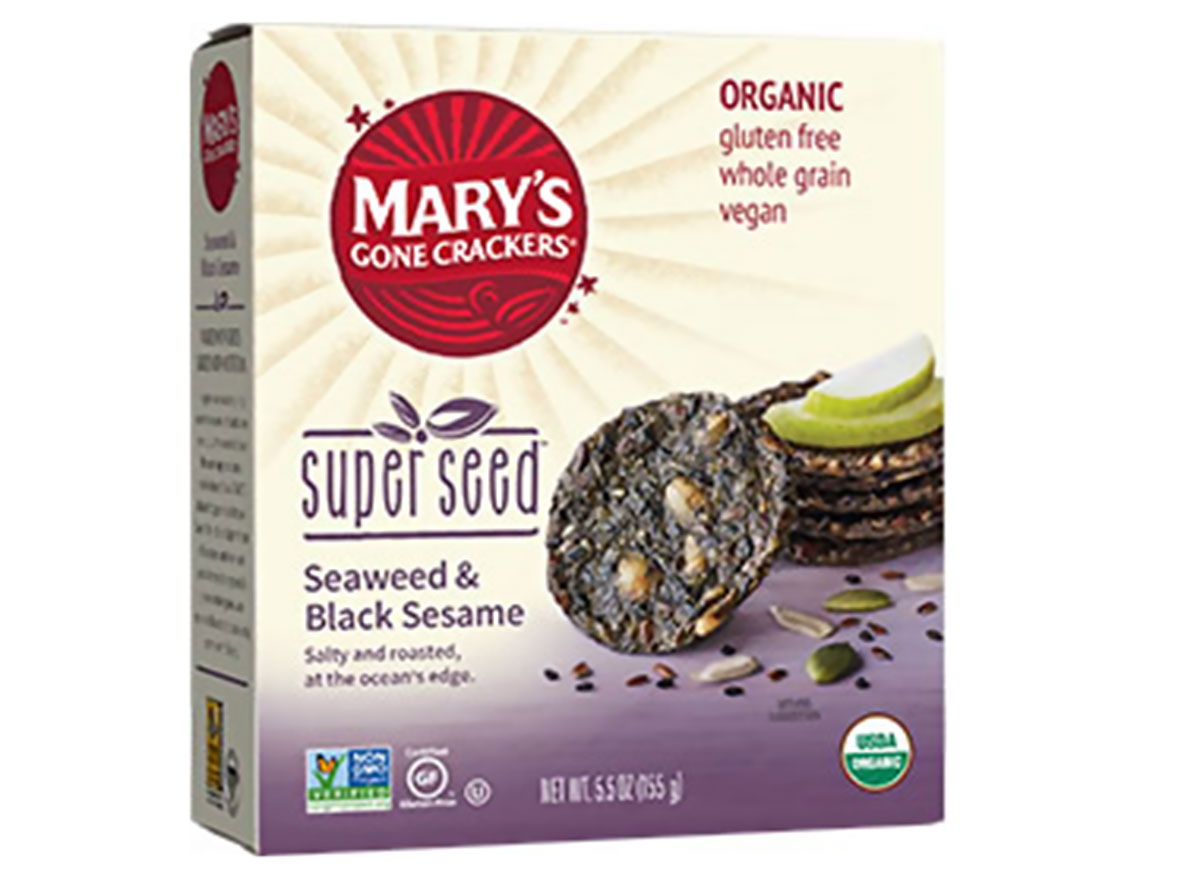 $4.59, SHOP IT HERE
You may be thinking, "Mary's Gone Crackers has truly gone off the deep end with this one" at first sight of these seaweed and black sesame treats. But let's stop that kind of judgment right in its tracks because these crackers are truly delicious! The foundation of the cracker is predominantly made of whole grain brown rice and quinoa, which gives each one its crisp texture. The seeds scattered within the seaweed-flavored cracker give the salty (yet healthy) snack an earthy essence.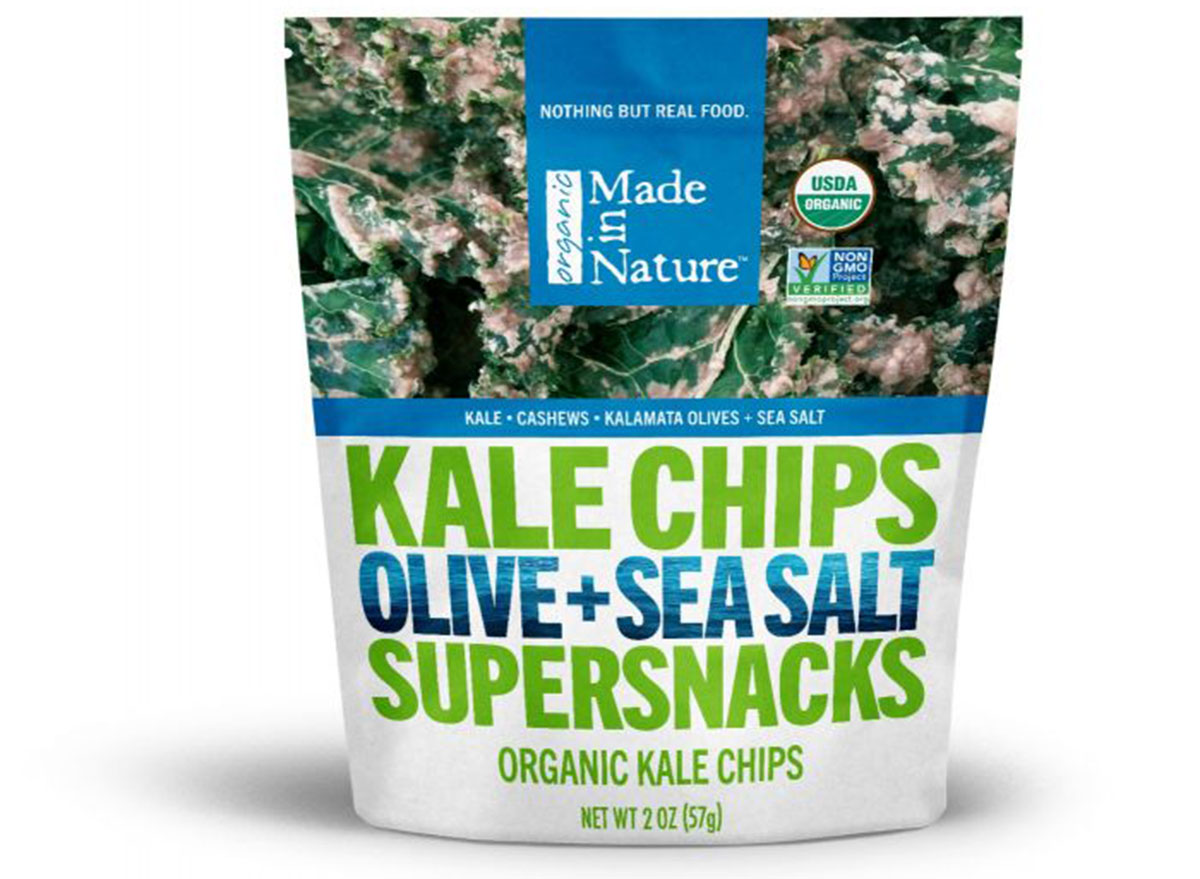 By now, we all know that kale is loaded in nutrients, especially vitamin K which aids in necessary blood clotting as well as bone health. But if you need a break from integrating it into your daily lunch salad, opt for the green stuff in the form of a crispy, Mediterranean-flavored snack, like this olive oil and sea salt flavor!
Swap out that carb-loaded bag of rice for a light veggie alternative! Green Giant offers 11 different riced veggie products, including riced cauliflower, broccoli, and kohlrabi.
Nutritional Yeast "Parmesan"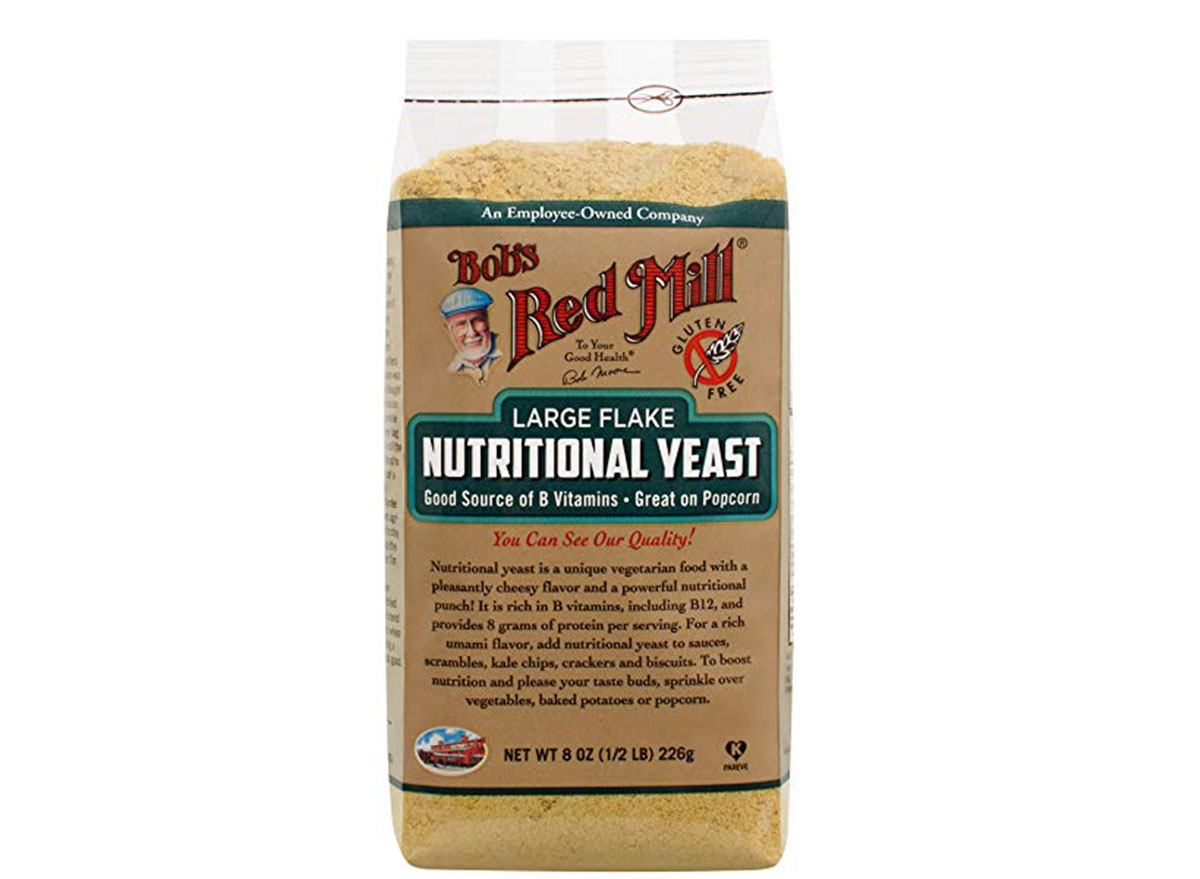 $9.45, SHOP IT HERE
For those that just cannot stomach cheese — or simply choose not to — nutritional yeast may be your new go-to cheese replacement. Nutritional yeast is basically yeast grown on molasses that is dried with heat after it's harvested, as the heat deactivates it. The product is rich in B vitamins and contains a large sugar molecule called beta-glucan, which may help lower bad cholesterol levels.
$37.99 (3-pack), SHOP IT HERE
As the bag suggests, these sweet potato toasts may just be "The Best Thing Since Sliced Bread." Especially for those on a quest to cut out carbs. Three slices of these sweet potato toasts amount to just 80 calories and 18 grams of carbs, much less than a standard piece of bread.
$68.96 (8 crusts), SHOP IT HERE
Caulipower's cauliflower pizza crust takes your love of pizza to a whole new (healthier) level. One serving only costs you 170 calories and 26 grams of carbs.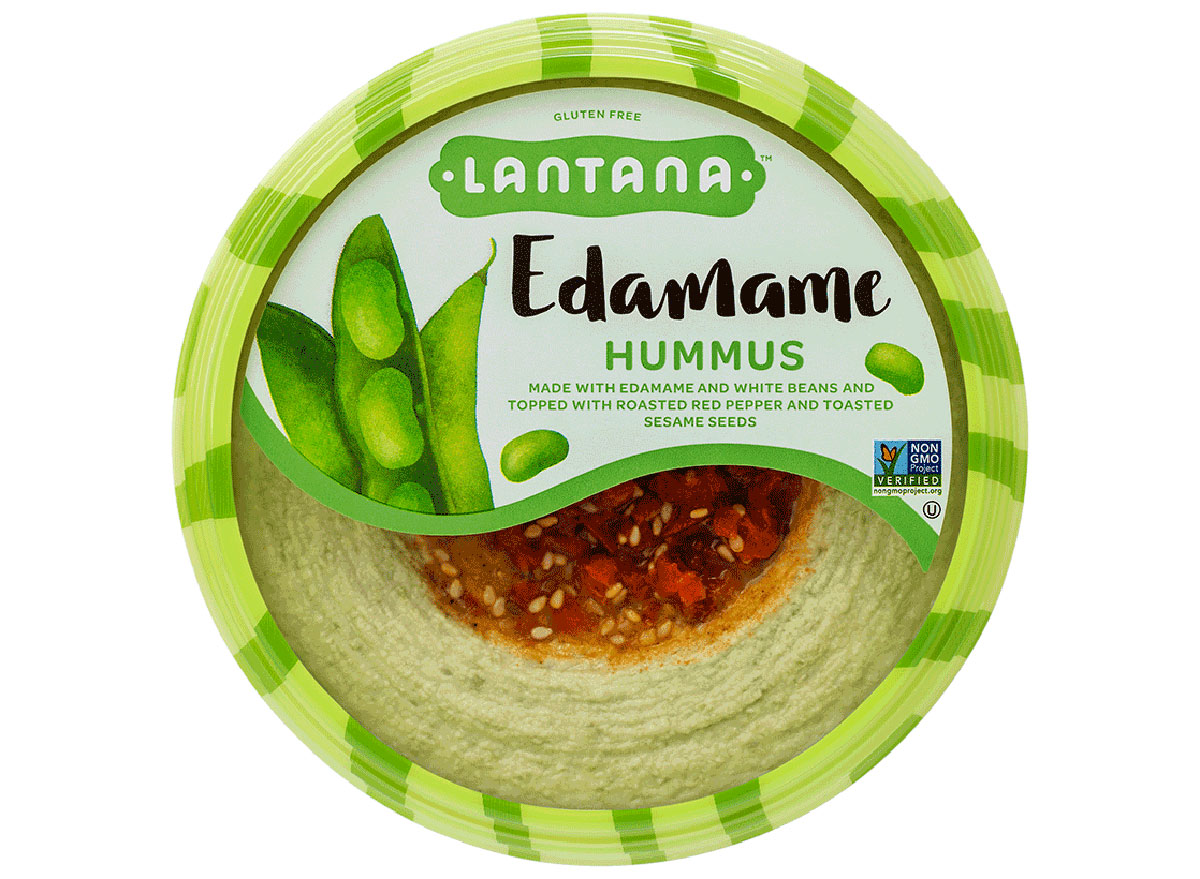 If you always thought edamame was just a bit too cumbersome to eat out of its shell, then this may be the product for you! Edamame is mixed with protein-packed white beans, roasted peppers, and sesame seeds to get this hummus-like dip.
$5.45, SHOP IT HERE
Who doesn't love it when their favorite veggie is turned into a chip? Must we say more? Give these okra chips a try!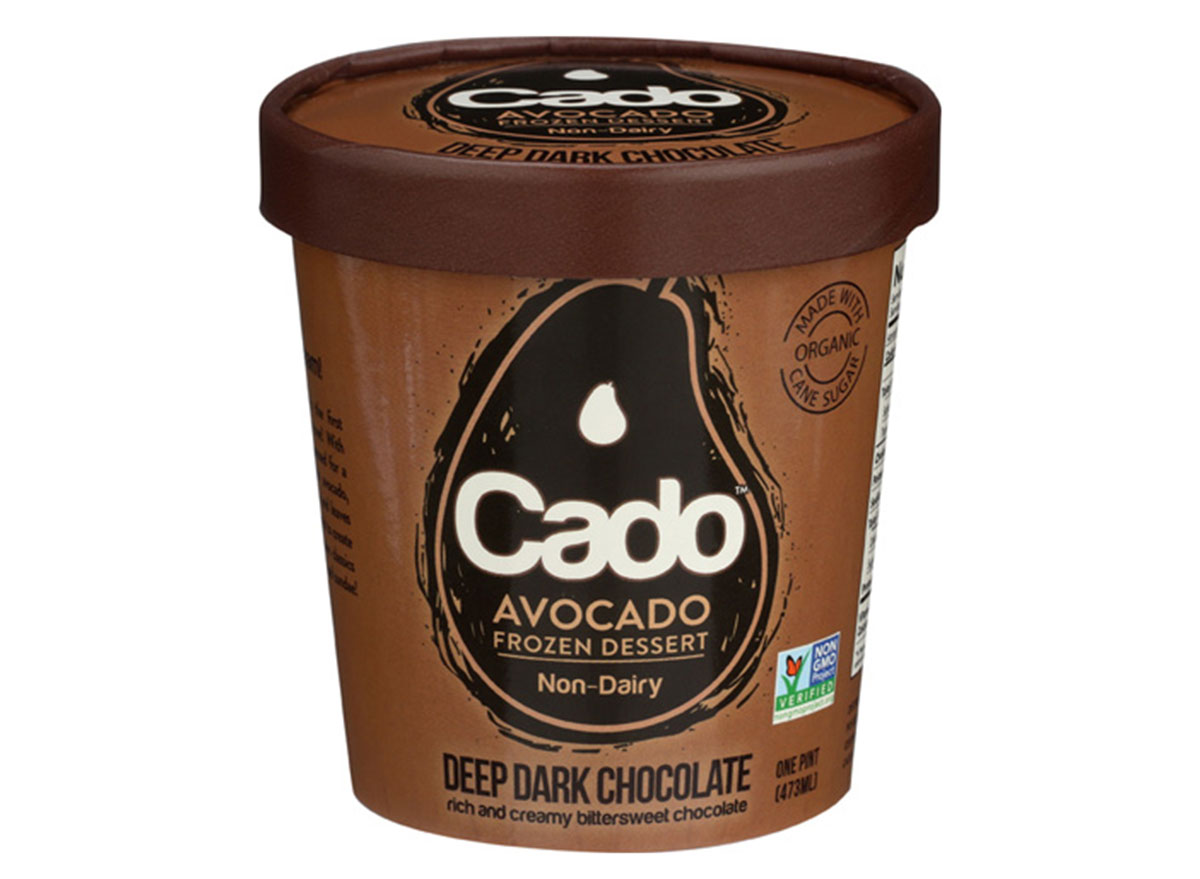 You scream, I scream, we all scream for…avocado ice cream? That's right, change that chant accordingly because Cado offers three flavors of organic avocado puree-based ice cream, and you're bound to enjoy at least one of them.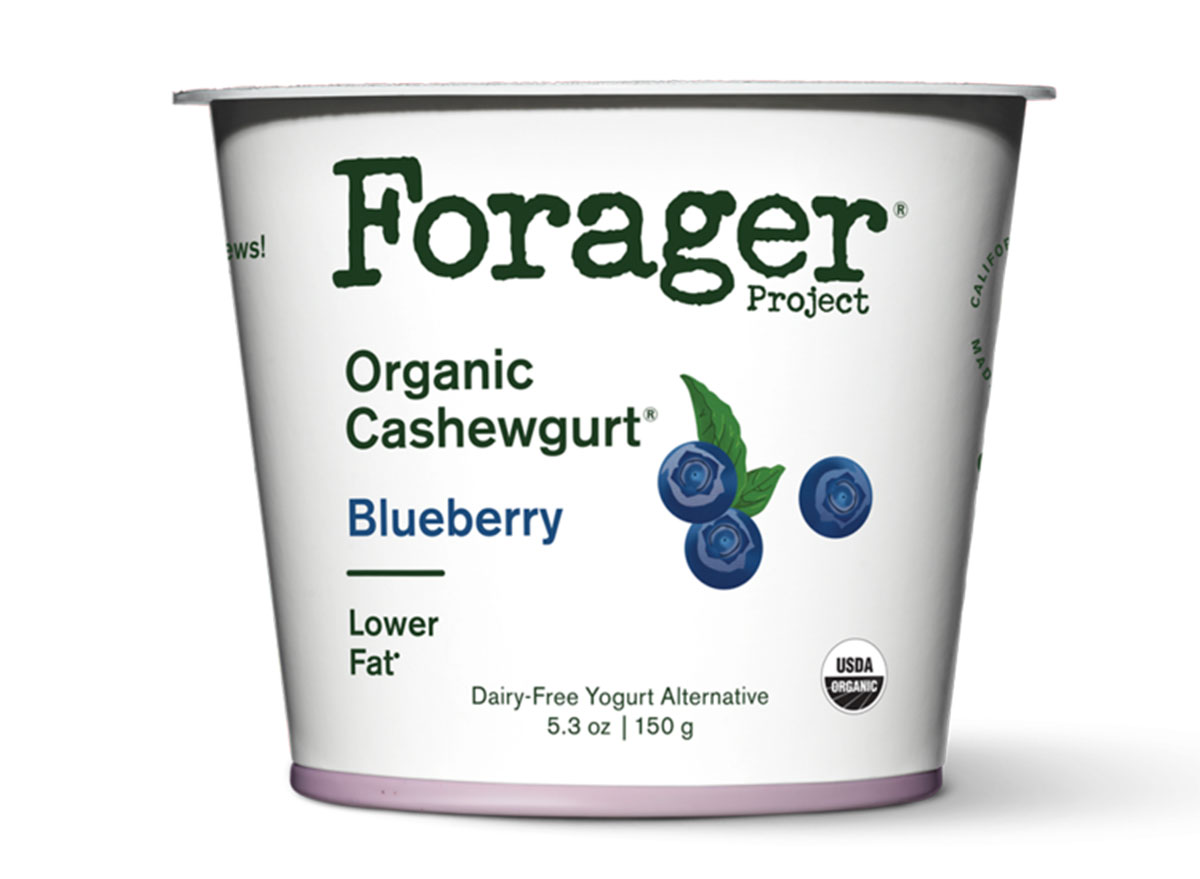 Just when you thought almond milk-based yogurt was on trend, wait till you try Forager Project's cashew-milk yogurt. Get your probiotic fix with this dairy-free cashewgurt!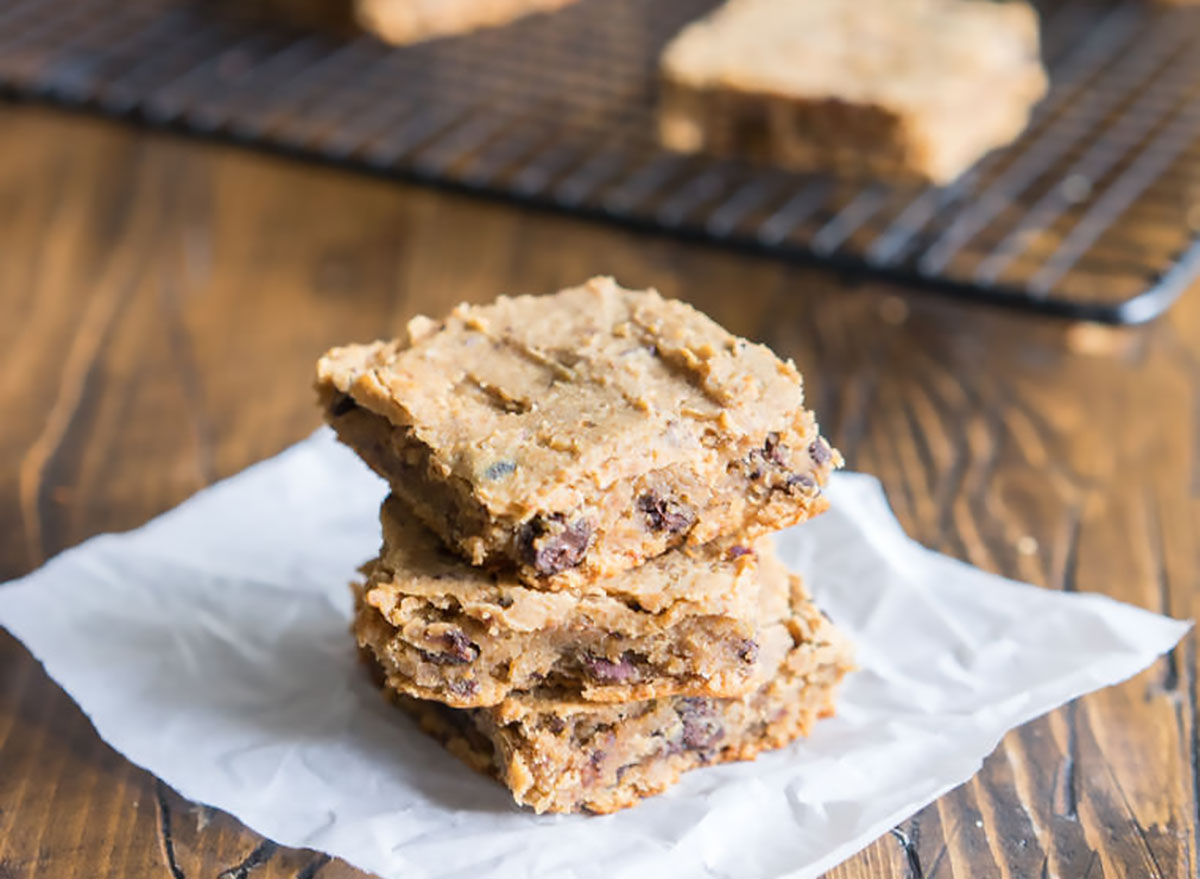 Vegan friends, stress no more! You can have your cookie dough and eat it too, thanks to chickpeas and flax eggs. What's a flax egg might you ask? Read on to find out! But before you do, check out the recipe for chickpea cookie dough bars from One Ingredient Chef.
Flaxseed meal, when mixed with water, makes a gooey consistency similar to that of an egg. It truly pretends to be an egg in various recipes. Those who have an egg allergy or choose to avoid eating animal by-products will appreciate this two-step recipe from Minimalist Baker.
Zucchini "Noodles" (Zoodles)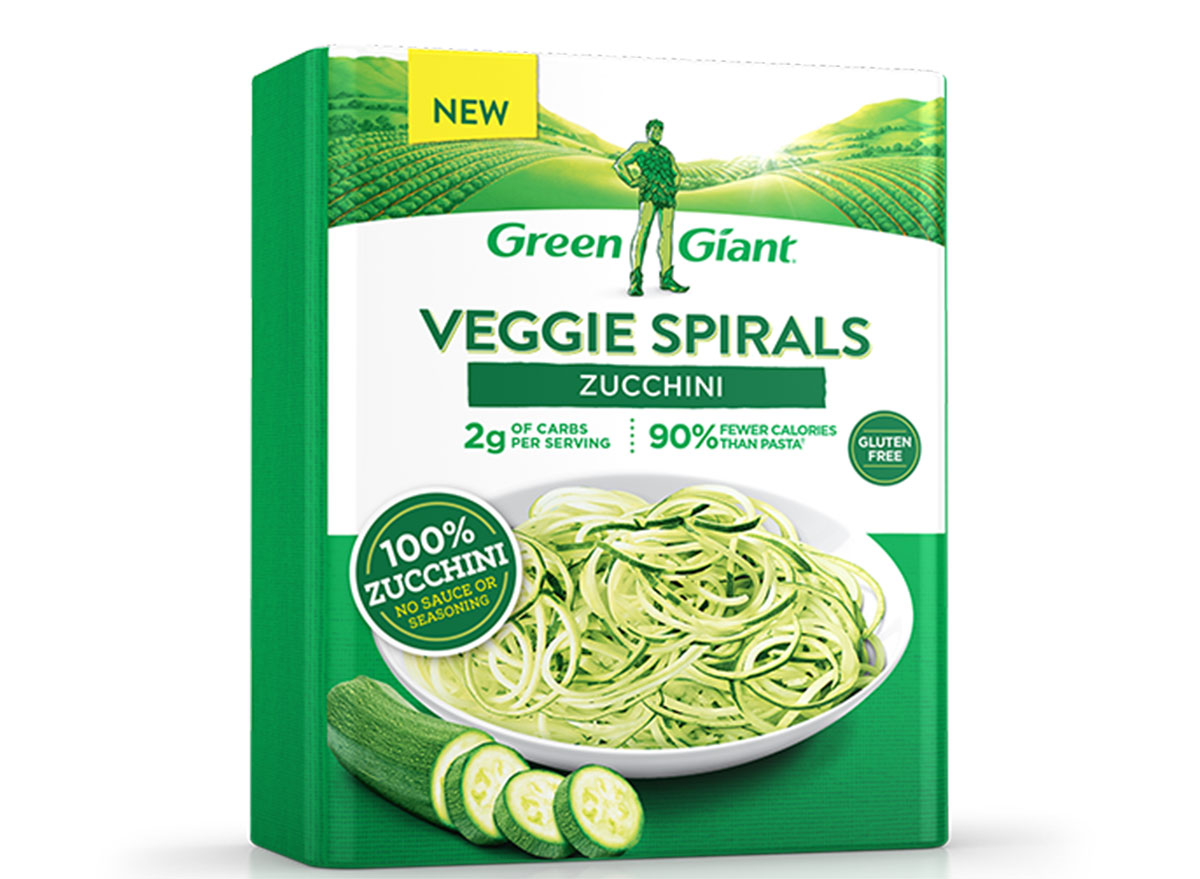 Of course, what list of foods pretending to be foods is complete without the addition of zoodles? Noodles made from vegetables are both low-in-carb and keto diet-friendly. Quite frankly, it also tastes relatively similar to its wheat and flour competitors when seasoned. Now, it's time to get eating.