30 Shocking Food Predictions for 2020
Here are the 2020 food trends you'll be seeing in the new year.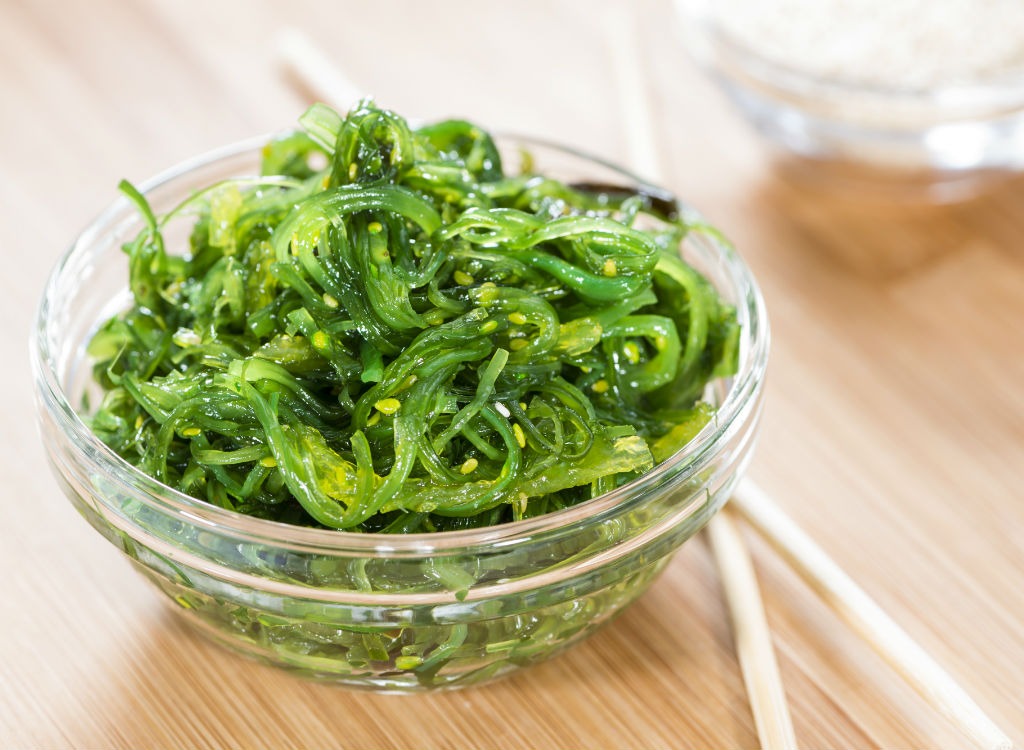 From cauliflower pizza crust and cheese tea to faux meat snacks and monster shakes, 2019 was packed with more than a few crazy food trends—some of which might be here to stay, while others, thankfully, will fade away (looking at you, hot dog ice cream). But a new year means new trends, and we're looking ahead to 2020 already. You might as well stay ahead of the curve, so you can stock up on these foods before they start flying off the shelves.
Given the surging popularity of the keto diet, it's no surprise that there's been an influx of snacks that are low in carbs and free of additives and preservatives. Additionally, as the plant-based diet gains steam, companies are introducing a diverse selection of products that focus on vegetables, fruit, grains, and other whole foods. And as more busy Americans adjust to flexible eating schedules, don't be surprised if you see an increasing variety of healthier grab-and-go options in the refrigerated section of the grocery store.
Those aren't the only shifts you can expect in 2020, though. Here are 30 more 2020 food trends to look out for in the coming year.
Health-conscious and adventurous bakers, rejoice: Whole Foods Market predicts that a slew of super unique fruit, vegetable, nut, and seed flours will be hitting the shelves in 2020. There is a wide range of products that leverage these alternative flours, like Organic Gemini Tigernut Flour, Enjoy Life Classic Chocolate Brownie Mix with Teff Flour, Tolerant Red Lentil Penne, and Pamela's Products Gluten-Free Pancake Mix.
Eating your vegetables in puff form
Good news if you're sick of kale chips: According to The Washington Post, the 2019 Summer Fancy Food show showcased a slew of new veggie-based snacking options—specifically, the puffy variety. For example, Biena has a line of chickpea puffs in a range of flavors, from vegan ranch to white cheddar. Vegan Rob's options include spinach puffs, cauliflower puffs, beet puffs, and Brussels sprout puffs, so you can conveniently sneak some vegetables in when a snack attack hits.
According to The DoorDash Dish, Mexican food was the most popular cuisine ordered in 2019, increasing by a whopping 314 percent compared to last year. Not only that, but burrito bowls were the most popular item. There's no reason to believe that trend will be slowing down anytime soon, and you can easily get on board by grabbing the Healthy Choice Simply Unwrapped Burrito Bowl, or, if you're on a meat-free diet, the Nature's Earthly Choice Plant-Based Protein Vegan Burrito Bowl.
Seed butters taking over from nut butters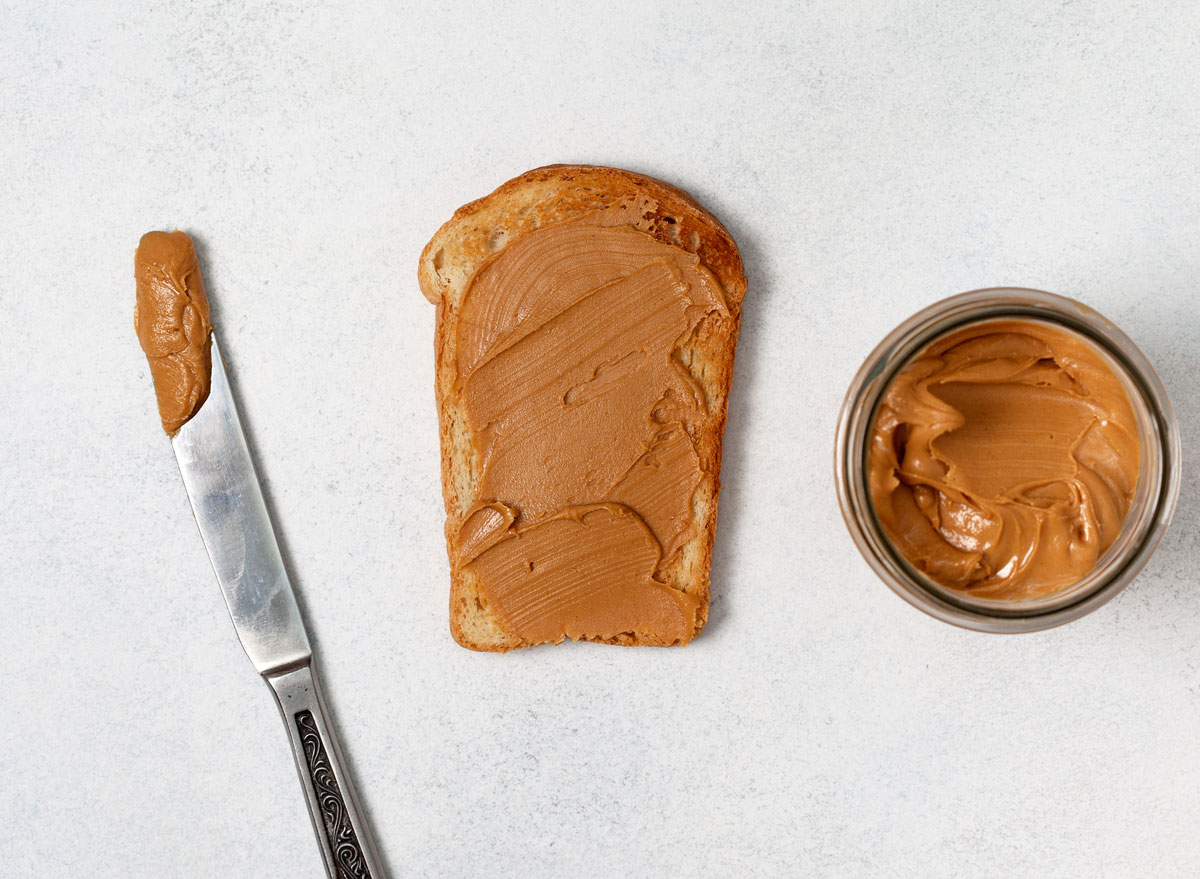 It's time to think beyond nut butter—seeds are slated to be the star of the show where these spreadable products are concerned. According to Whole Foods Market's food forecast for 2020, you can expect more unique options than the typical sunflower seed butter, too—like 88 Acres' Watermelon Seed Butter and Roasted Pumpkin Seed Butter. Whole Foods notes that another trend in this realm is an eco-friendly move toward either utilizing responsibly-sourced palm oil, or eliminating that ingredient altogether.
Traditional West African flavors will be making their way into more food products in 2020, according to Whole Foods Market's predictions. If you're on board with the trend, try Yolélé Fonio, a high-protein ancient grain that makes a stellar substitute for rice or quinoa, or the Kuli Kuli Superfood Energy Bar in Black Cherry, which is packed with half a cup of vegetables thanks to the tropical leafy green moringa.
Given the increasing popularity of high-protein diets like keto, it's no surprise that jerky has been stealing the spotlight in the snacking department. But as the plant-based diet gains steam, too, plant-based meat substitutes will become increasingly common—that is, according to Innova Market Insights'. In particular, mushrooms make a phenomenal vegetarian-friendly substitute because they have a notoriously meaty texture. If you're down to ditch the meat, try Pan's Mushroom Jerky—which, in addition to the original flavor, comes in Sea Salt & Pepper and Zesty Thai as well.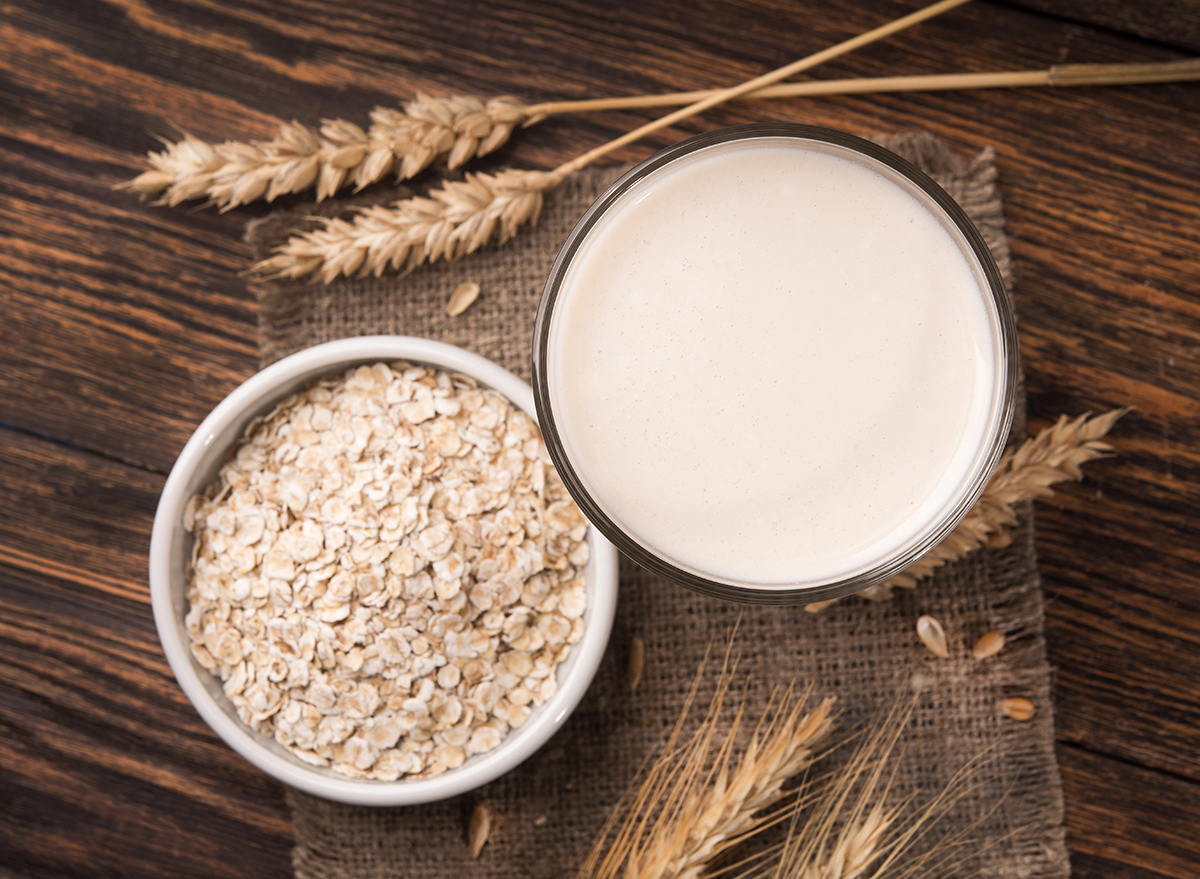 While almond milk and soy milk have long been the frontrunners in the plant-based milk realm, oat milk has become a go-to for people with soy and nut allergies — and for those who simply enjoy the thick consistency and sweet, earthy flavor. Food blogger Sues Anderson told Boston Magazine that she predicts you'll see more coffee products made with this dairy-free alternative. Ready to shake up your daily cup of java? Califia Farms makes a Barista Blend Oatmilk as well as a conveniently canned Oatmilk Nitro Draft Latte. Stok, meanwhile, offers a bottled Oat Milk Cold Brew, and So Delicious makes a Vanilla-Flavored Oat Milk Creamer.
Portable protein-based snacks that aren't bars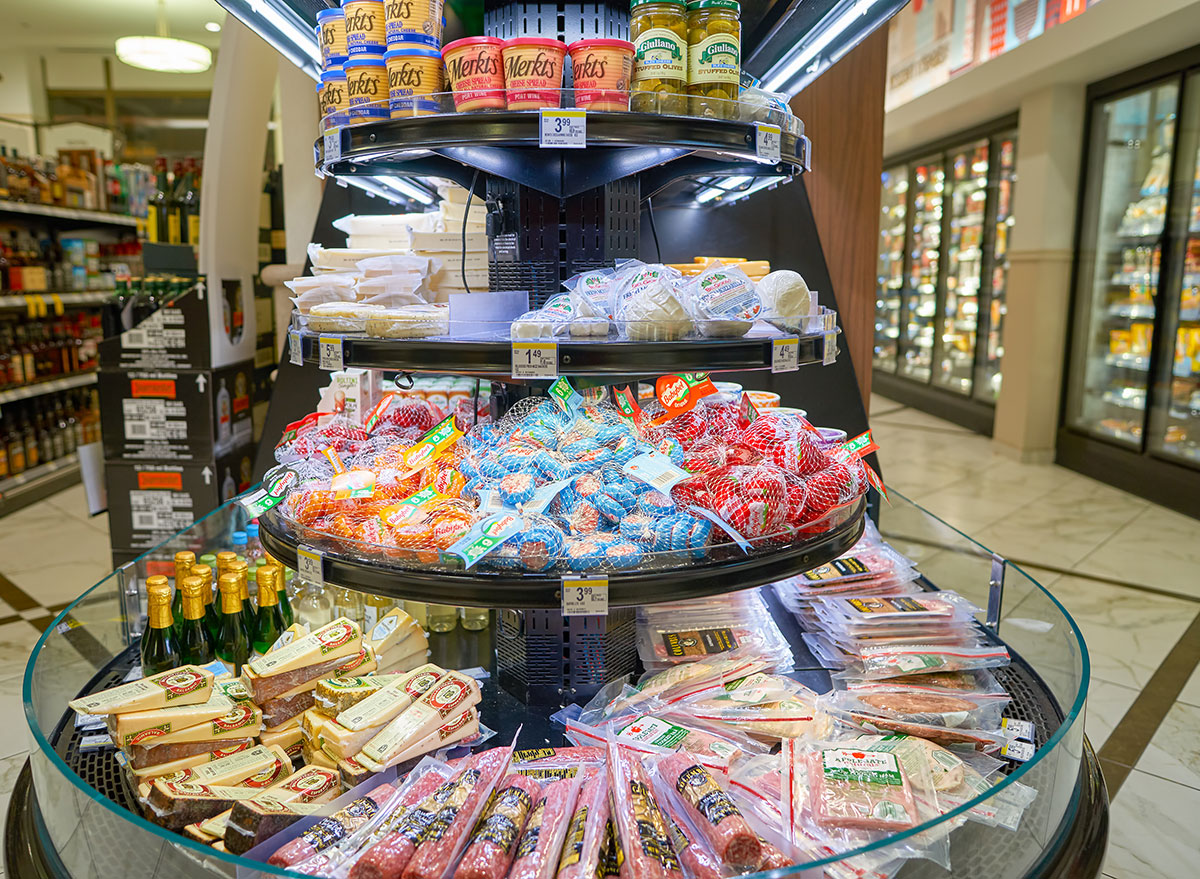 Good news if you're constantly on-the-go—and getting tired of energy bars: Whole Foods Market predicts that companies will be offering a wider variety of protein-packed snacks. Take a peek in the refrigerated section, and you'll find items like single-serve hummus and pita packs and pre-portioned charcuterie trays. For some quick, convenient fuel, look for products like the Oscar Meyer P3 Portable Protein Pack with turkey, cheddar, and sweet nut clusters, and the Hillshire Snacking Plate with hot calabrese salami, gouda, and toasted rounds.
Soy-free plant-based options
It used to be that soy was a staple for vegetarians and vegans, but as more people seek to cut down on their soy consumption, Whole Foods Market forecasts a surge of new soy-free protein powders, yogurts, condiments, and cheeses, among other products, that are suitable for those on a plant-based diet. Eager to skip the soy? Hot Dang Grain Burgers and Forager Project Cashewgurt are just a couple of vegan-friendly options that fit this trend.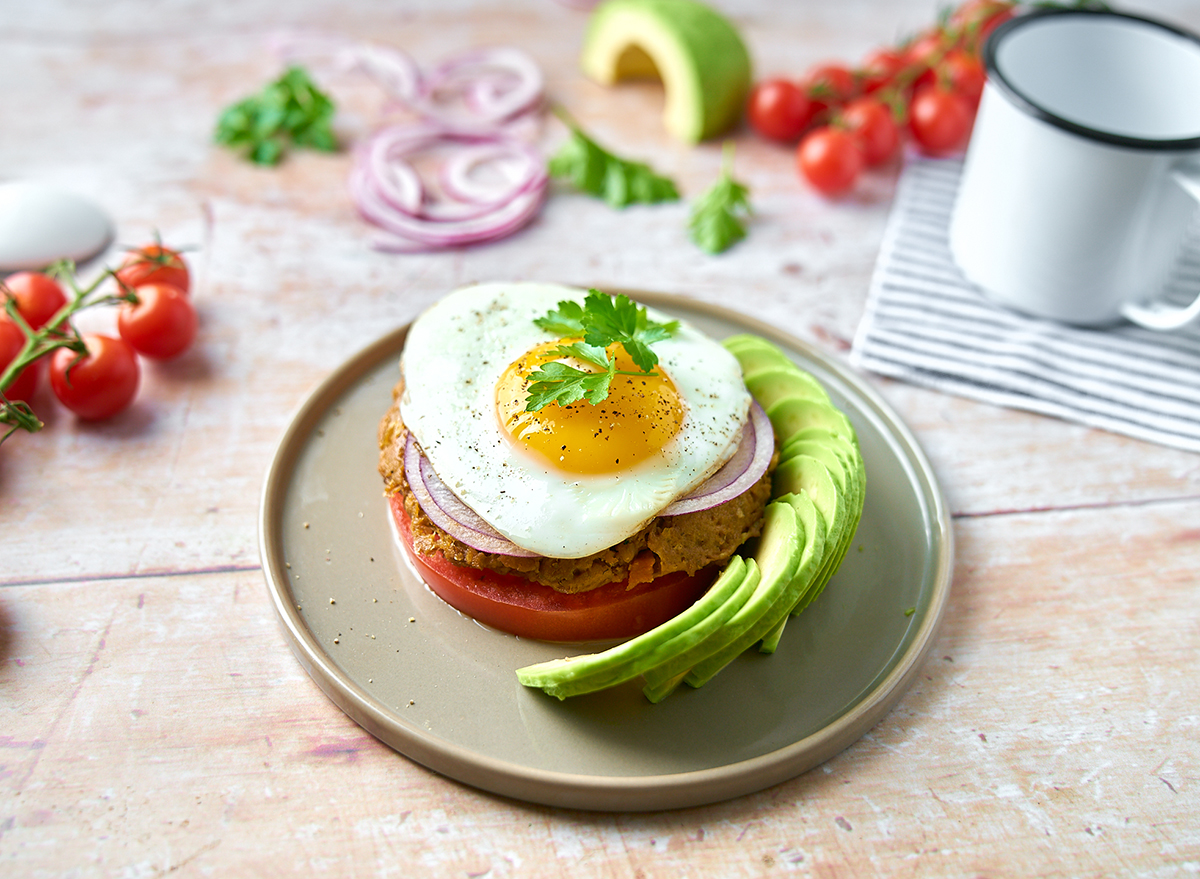 Gone are the days when you were either a meat-eater or a vegetarian. As more people try to strike a compromise by adopting a flexitarian diet, Innova Market Insights predicts that more food companies will offer hybrid items including both plant-based ingredients as well as animal-based proteins. Flexitarians will find a plethora of new products that capitalize on this trend— like Applegate's The Great Organic Beef & Mushroom Blended Burger and Turkey & Mushroom Blended Burger. These blends are perfect for the health-conscious carnivore who's looking to boost their veggie consumption without giving up meat entirely.
Cauliflower-based convenience foods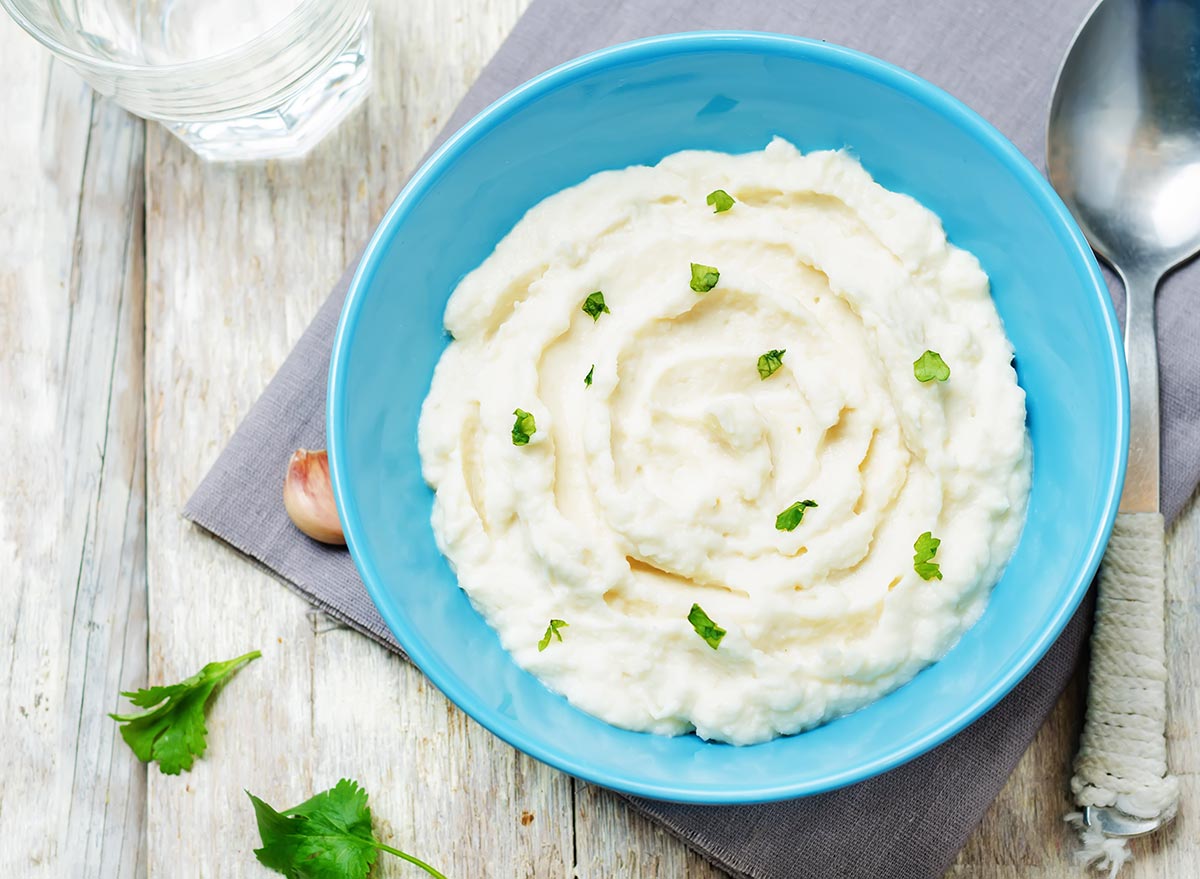 It's no secret that cauliflower has been the leading flour and rice substitute for those adhering to a Celiac disease or gluten-free diet. According to FreshDirect's food trend forecast for 2020, many food companies are catching on, which explains the slew of new cauliflower-based products—like Ark Foods Cauli Mac & Cheese and Green Giant Garlic & Herb Mashed Cauliflower.
Probiotic-infused foods and drinks
Considering that there's a growing awareness around the importance of gut health, it makes sense why FreshDirect's forecast for 2020 includes an increase in smoothies and snacks packed with probiotics—beyond the obviously trendy kombucha and kimchi. For a happier gut, reach for products like the Truth Bar (Prebiotic + Probiotic), which comes in several dessert-inspired flavors, and the Forager Project Banana & Date Dairy-Free Probiotic Smoothie.
Uncommon cheeses go mainstream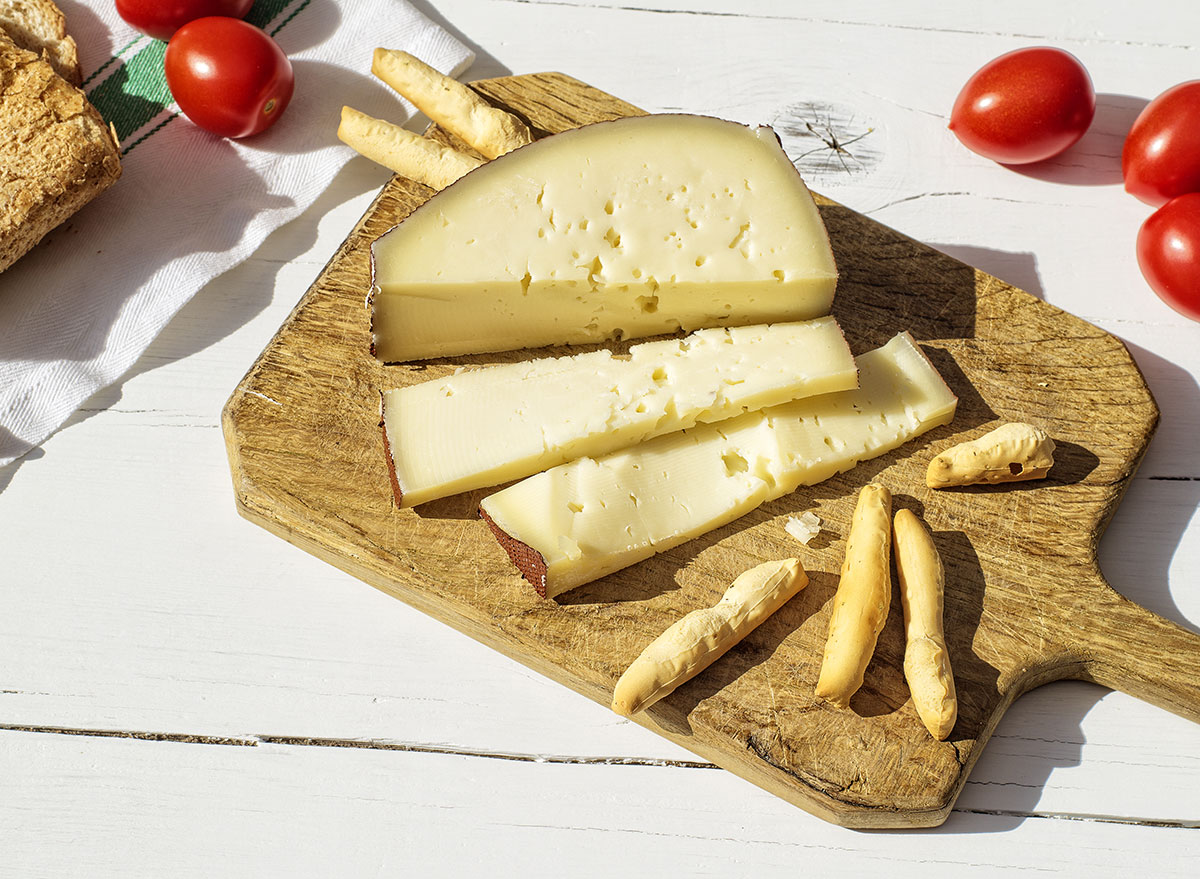 According to FreshDirect, high-quality, small-batch cheeses are likely to dominate the dairy world in the coming year. Because these cheeses are handmade, they often boast more complex, nuanced flavors. Whether you're looking for some fine fromage to add to your charcuterie board, to elevate a particular recipe, or to pair with crackers, you'll have no shortage of artisan options—such as Cypress Grove Humboldt Fog Goat Cheese and Cowgirl Creamery Triple Cream Mountain Tam.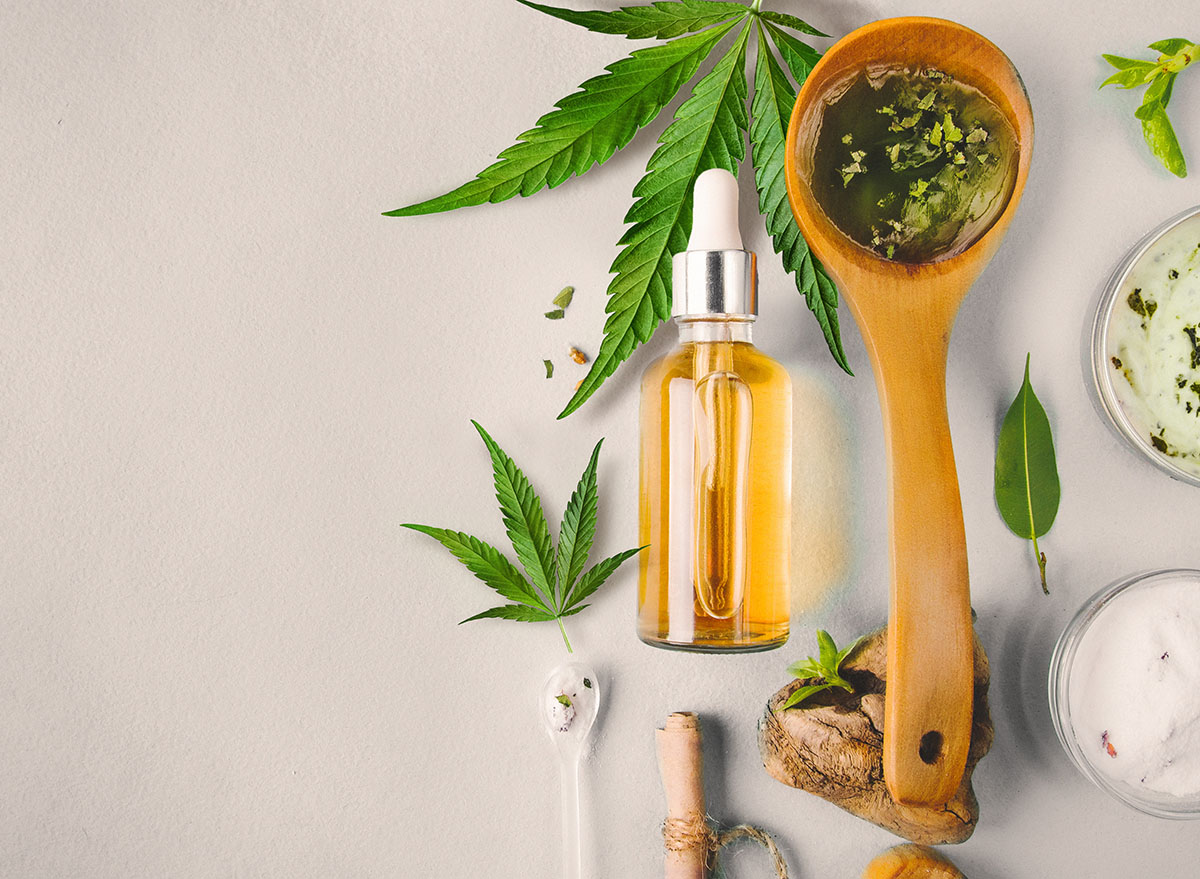 It's safe to say that 2019 was the year of CBD—the buzzy ingredient was popping up everywhere from instant coffee to sparkling water, among other products. A primary reason for this trend is the fact that there's a growing body of research around the physical and mental benefits of CBD, which has been used to treat everything from anxiety to chronic pain. Innova Market Insights predicts that in 2020, the interest in holistic health—and thus, functional foods—will grow. In particular, keep an eye out for adaptogen-laden products, like Moon Juice Adaptogenic Cosmic Matcha and Rebbl Ashwagandha Spicy Chai.
Coconut-based treats beyond coconut water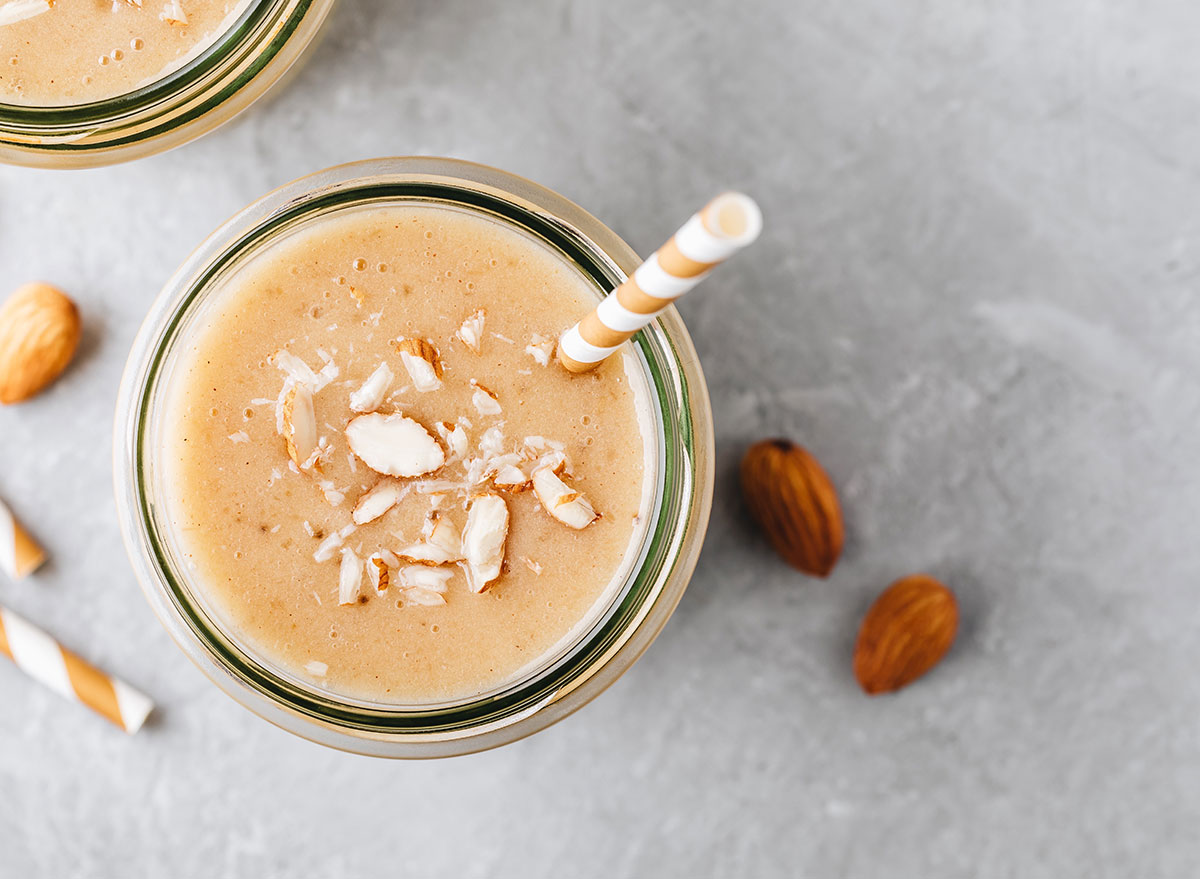 Coconut milk and coconut water have had their moment in the spotlight, but in 2020, you can expect to see a wave of new coconut-based snacks. Get your fix of the tropical fruit with items like Emmy's Organics Coconut Cookies (which are grain-free and gluten-free), InnoFoods Coconut Clusters, and Bare Snacks Natural Coconut Chips.
Jackfruit as a meat alternative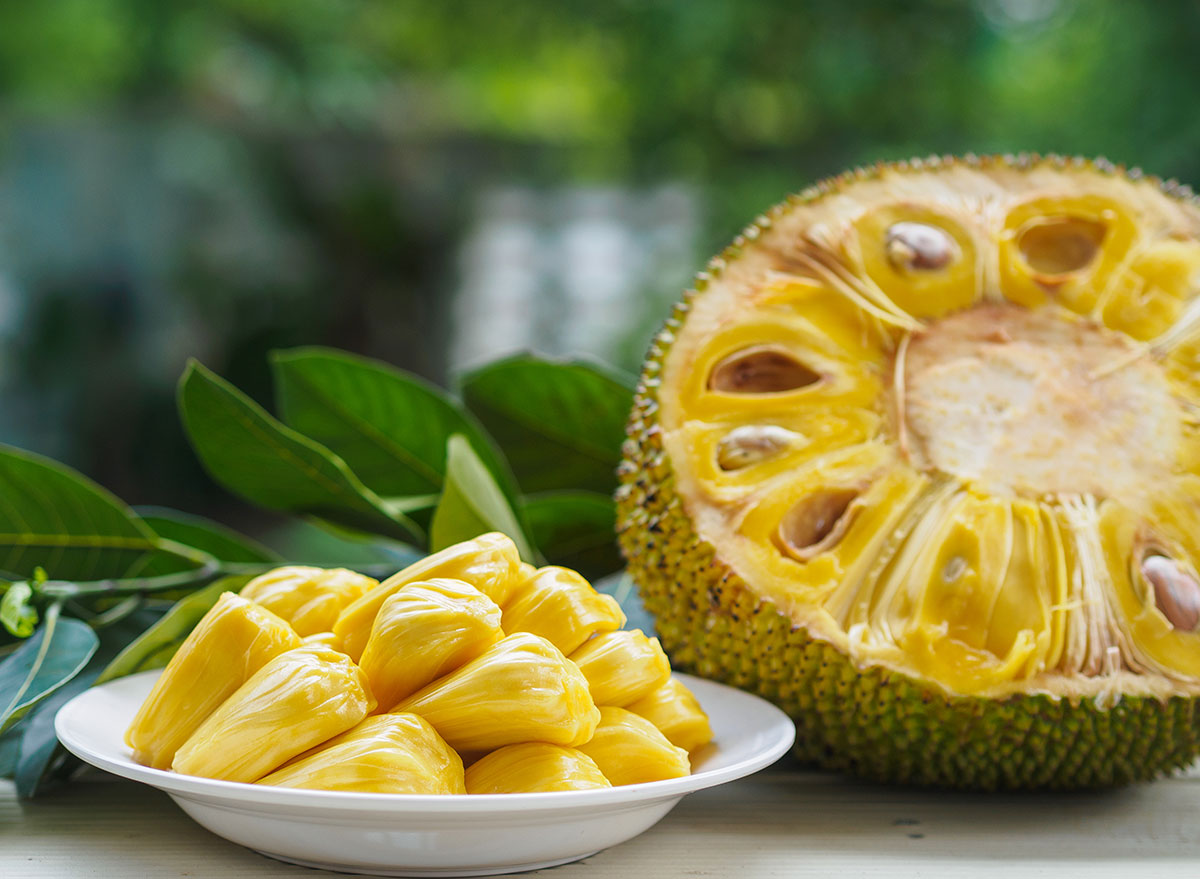 Move over, tempeh and tofu—there's a new meat substitute in town: jackfruit. According to Benchmark's report on Top Dining Trends for 2020, this southeast Asian fruit is gaining popularity not only because it's a phenomenal source of calcium, iron, and B vitamins, but also because the texture is remarkably similar to pulled pork. Skeptical? See for yourself what all the hype is about by picking up The Jackfruit Company Original BBQ Jackfruit or Tex-Mex Jackfruit.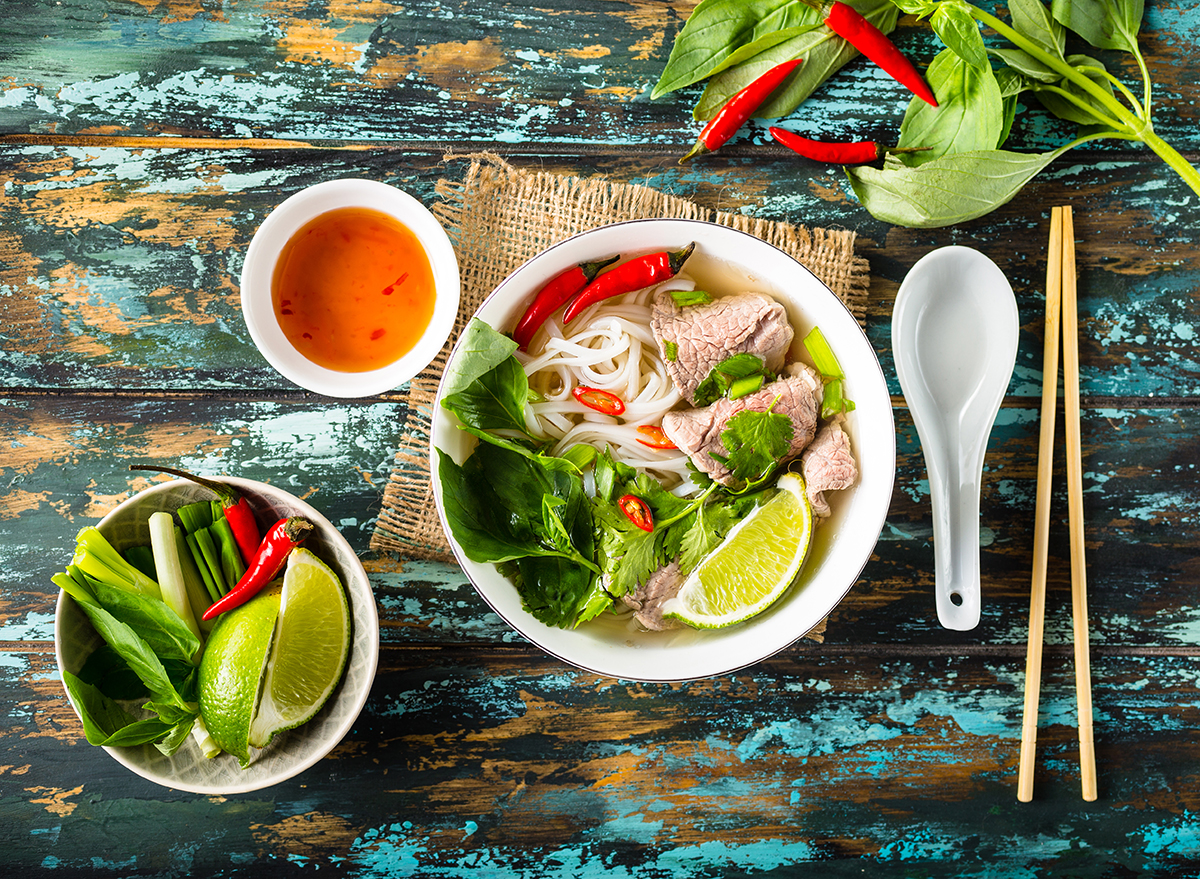 In case you hadn't noticed, Vietnamese street food is having a major moment right now—and it's only expected to intensify, according to THP's annual Flavour & Trend Forecast for 2020. In fact, you don't even have to leave your house to get in on this trend, thanks to a range of soups, frozen meals, and other items that are inspired by Vietnamese dishes and flavors—like Tilda Coconut Chilli & Lemon Grass Steamed Basmati Rice and Snapdragon's Vietnamese Pho Soup Bowl.
South American superfoods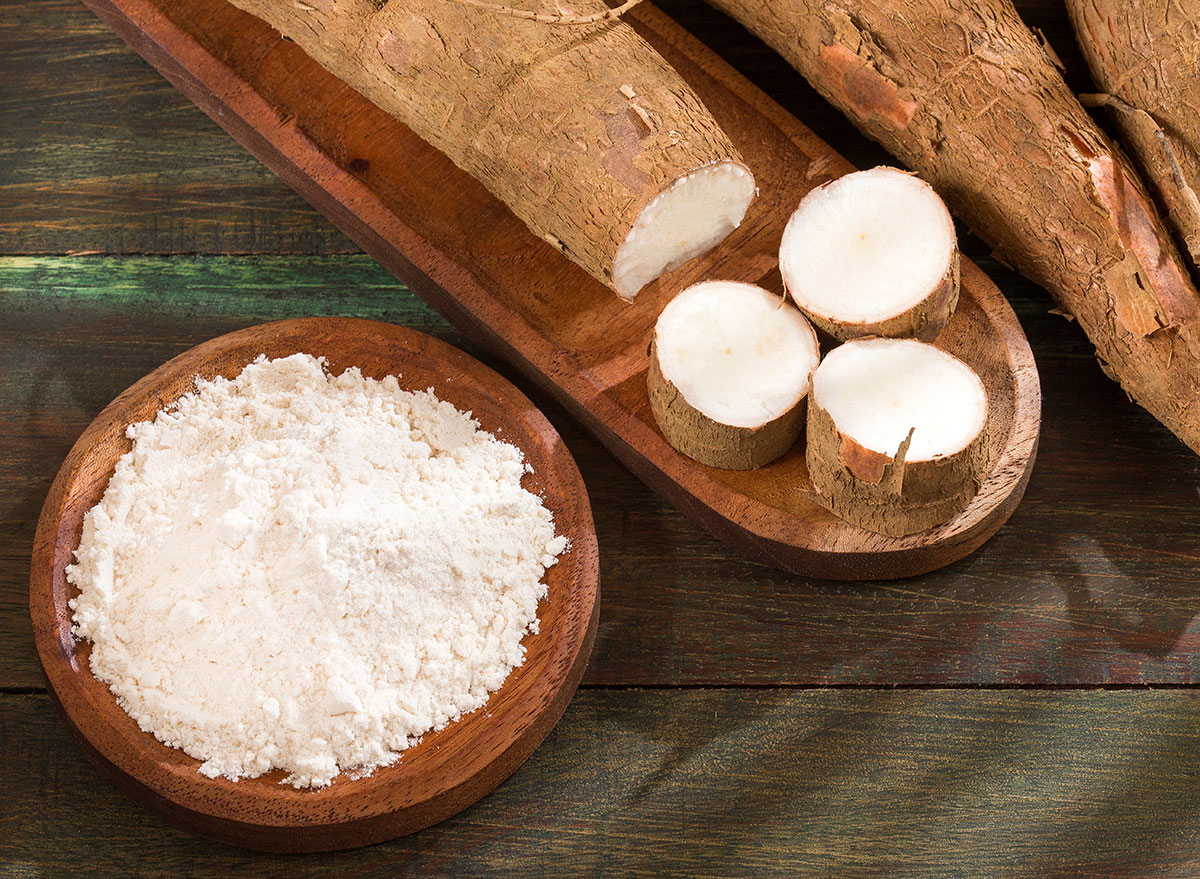 In its Flavour & Trend Forecast for 2020, THP noted that acaï has become mainstream in recent years, but other South American superfoods, like cassava, maracuya, and aguaje—will likely be gaining popularity in the coming year. Get in on the trend with Heaven & Earth Cassava Chips and Grain-Free Cassava Tortillas.
More customizable meal subscription boxes
It's easier than ever to cook restaurant-quality meals at home, thanks to a flood of new food delivery kits that offer all the ingredients and recipes you need to whip up fun dishes from your kitchen. And Allan Sherwin, a professor of culinary management at Michigan State University, told Insider that he predicts these subscription boxes will become even more common in 2020. There's certainly no shortage of options to meet any dietary needs or restrictions, from SunBasket's pescatarian, gluten-free, and diabetes-friendly plans, to Daily Harvest's organic, plant-powered plans, to Green Chef's keto and paleo plans.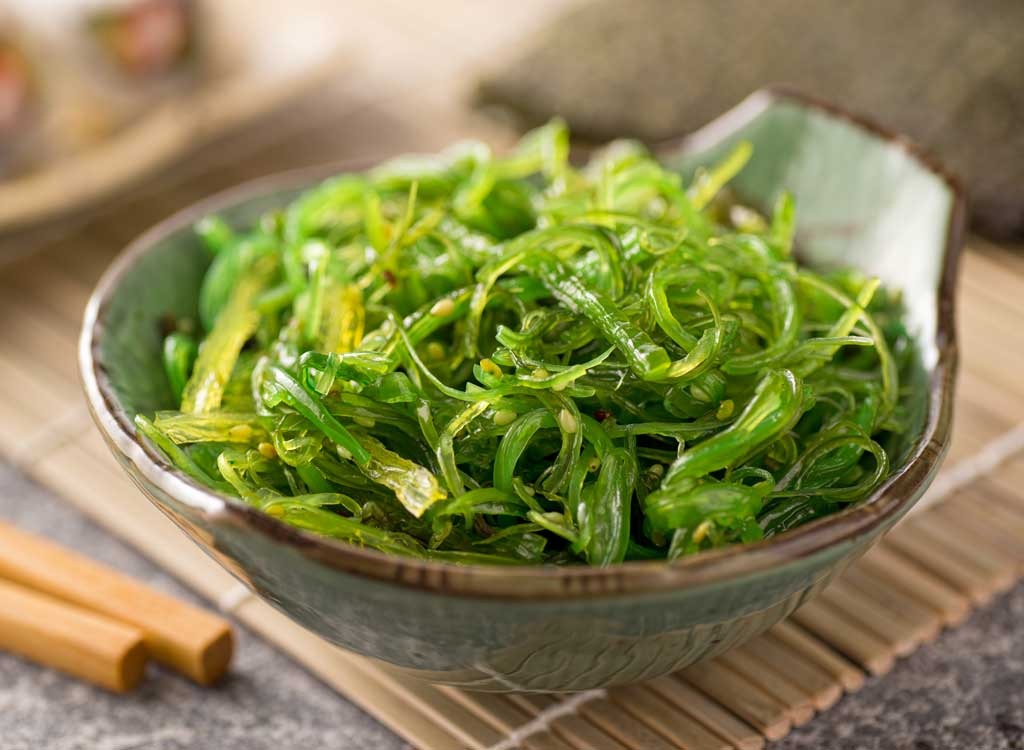 If you feel like you've been spotting kelp more frequently in the snack aisle, you're not imagining things. According to a new report from Technomic, this plant (among other previously overlooked greens) is primed to become even more popular in 2020—likely in no small part due to the fact that it's full of fiber and a spectacular source of vitamins, minerals, and essential amino acids. If you're eager to give this nutrient-rich veggie a shot, try Wickedly Prime Organic Roasted Seaweed Snacks, SeaSnax, and Sea Tangle Kelp Noodles.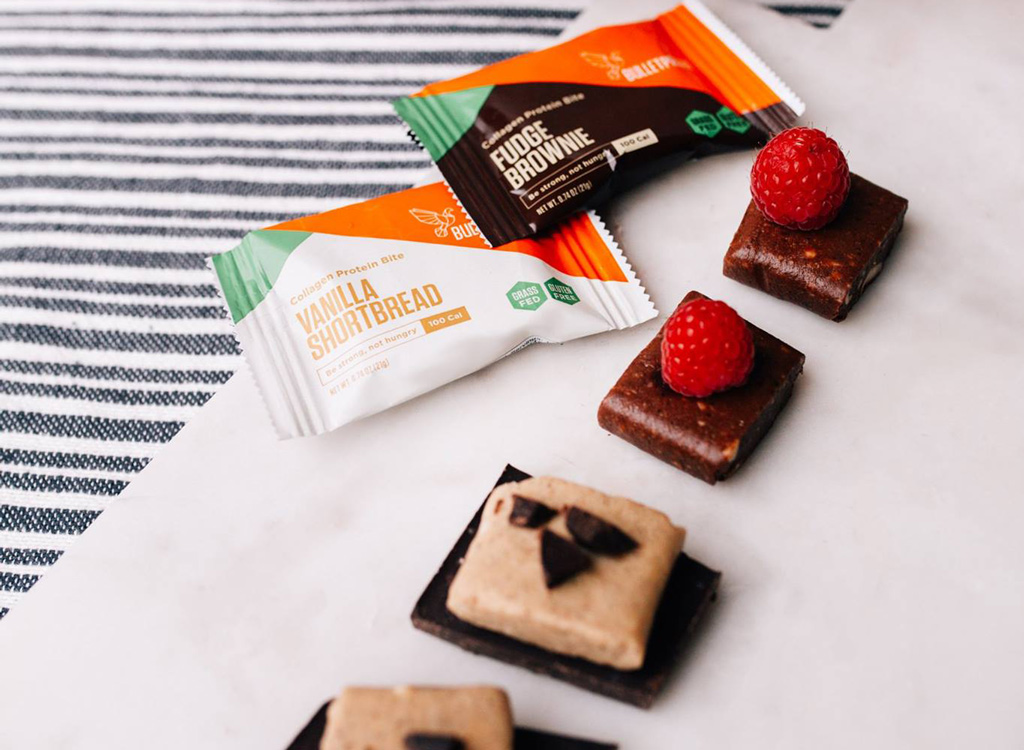 There's no denying that collagen has been making a splash in the skincare industry in recent years, and supplements and beauty products are no longer the only way to increase your intake of this complexion-enhancing protein. In fact, collagen-infused foods and beverages were one of the biggest trends at the Fancy Food Show this year. While the word is out on whether consuming these products will actually improve your skin, you can try out the trend for yourself with Vital Proteins Collagen Creamer, Bulletproof Collagen Protein Bars, and purely elizabeth Collagen Protein Oats.6254a4d1642c605c54bf1cab17d50f1e
Desserts with health benefits
Who says you can't have your cake and eat it, too? Michelle Buffardi, VP of Digital Editorial for the Food Network, told Forbes that health-conscious desserts—from protein-packed chocolate bars to ice creams made with vegetables—will continue to become increasingly common in the coming year. And with options like barkTHINS Dark Chocolate Blueberry With Quinoa Crunch and Culture Republick Light Ice Cream with probiotics, you can satisfy that sweet tooth with a side of health benefits.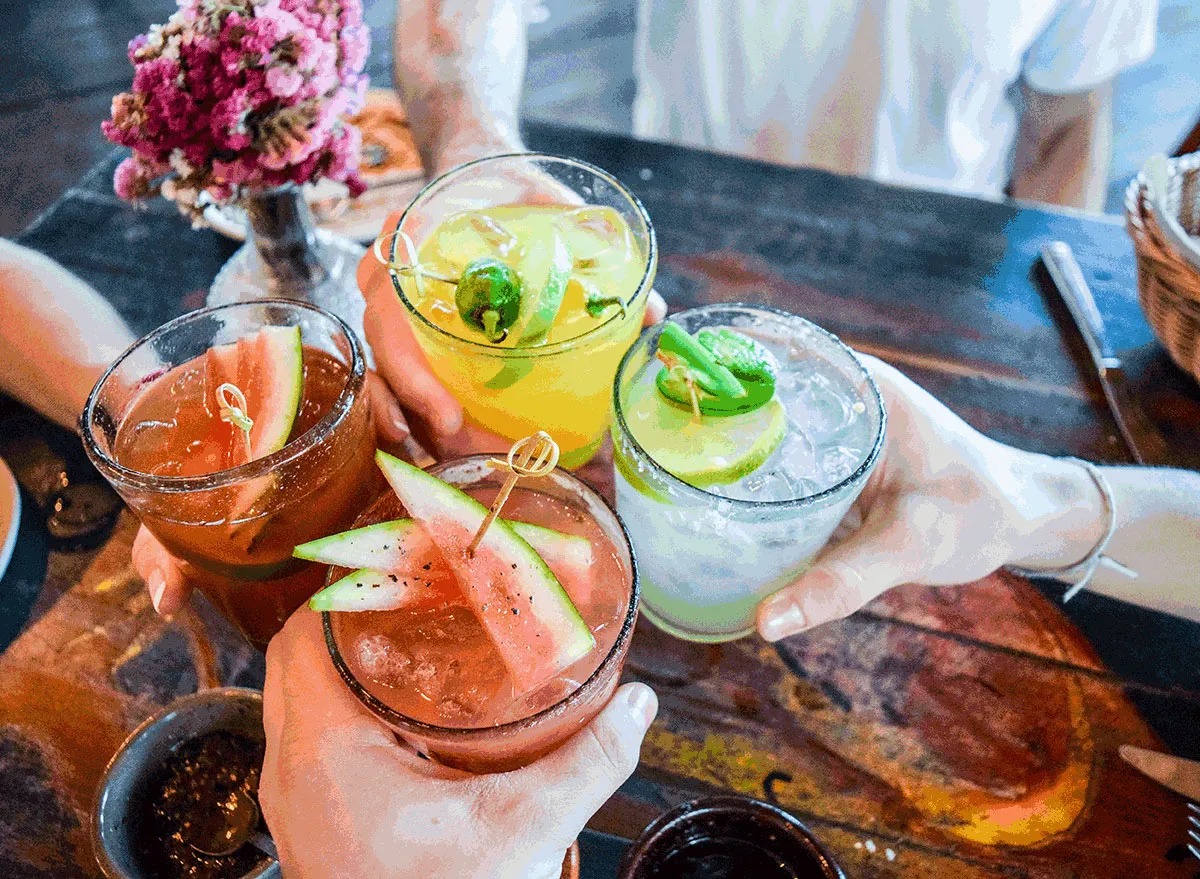 As more people adopt a sober-curious lifestyle, companies are responding by introducing an ever-growing selection of sophisticated nonalcoholic mocktails and other beverages—and according to Whole Foods Market's 2020 forecast, this trend shows no sign of slowing down. Craft beer lovers will appreciate Hoplark HopTeas, a line of hops-infused sparkling teas with zero alcohol, sugar, or calories. But if cocktails are more your speed, scope out Hella Cocktail Co.'s Bitters & Soda in a can, which the company describes as an "effervescent nonalcoholic negroni." Mingle Sparkling Mocktails come in a range of palate-pleasing flavors—all of which are surprisingly low in sugar—like Blackberry Hibiscus Bellini, Blood Orange Elderflower, and Cucumber Melon Mojito.
If you're searching for a popcorn alternative, consider popped lotus seeds (aka foxnuts) or water lily seeds, which, according to The Washington Post, had a prominent presence at the Summer Fancy Food Show. It's no surprise because these seeds are a surprisingly solid source of protein, calcium, and magnesium, and are full of antioxidants. Taali Water Lily Pops are available in a multitude of savory varieties, like Tangy Turmeric, Himalayan Pink Salt, and Sriracha Spice, while Lotus Pops offer sweet flavors such as Salted Caramel, Classic Chocolate, and Creamy Coconut.
Nostalgia continues to be a top factor in popular snacks and other foods, which explains why DoorDash predicted apple pie will be the top food on the rise for 2020. Prepare to give your taste buds a trip down memory lane with sweet treats and comfort foods in particular—like Breyers' line of Frozen Dairy Desserts in Girl Scout Cookie flavors. Some companies have begun adapting to modern diets by introducing healthier versions of their popular products—for example, there's now a gluten-free version of Pillsbury's Funfetti Cake & Cupcake Mix, so you can still indulge your sentimentality without compromising your needs.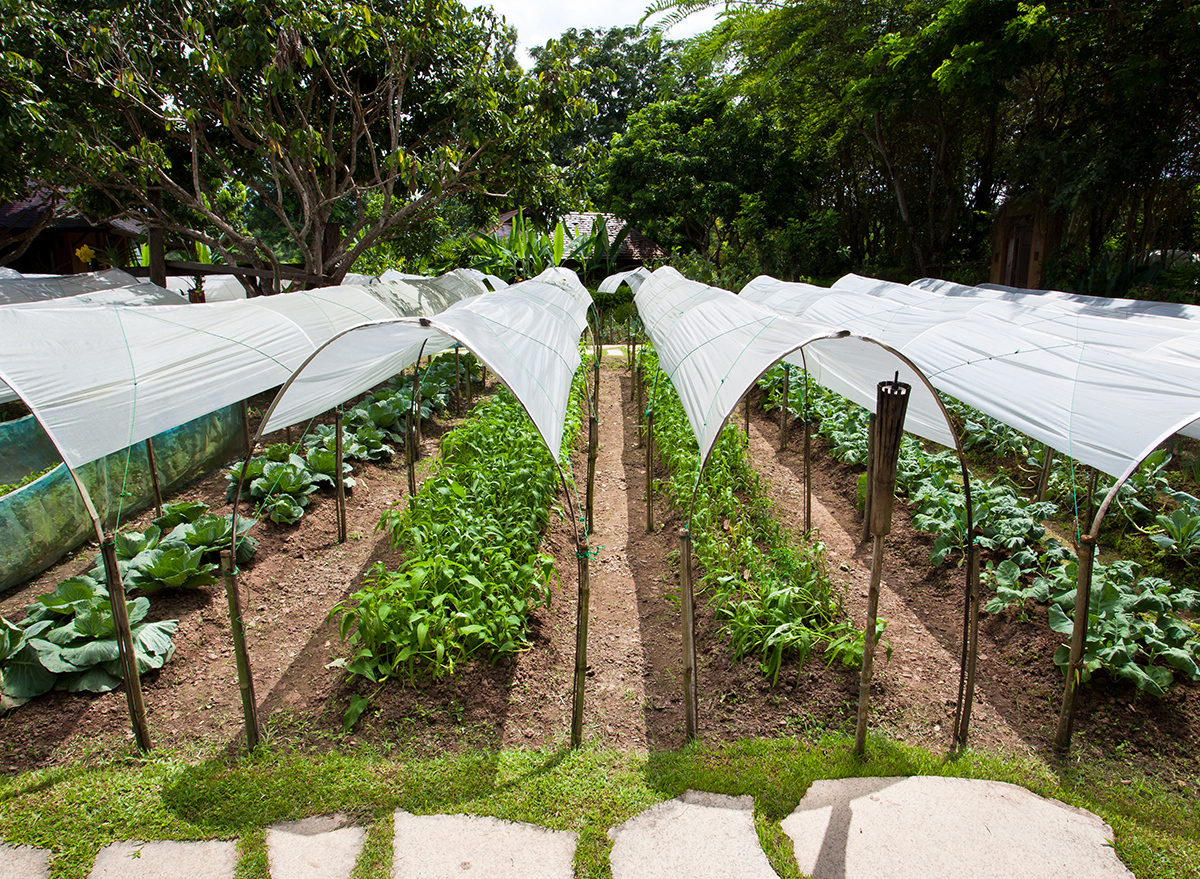 You may not have noticed, but according to Fresh Direct's in-house team of food specialists, many retailers and farmers alike have been working to improve soil quality by implementing more environmentally-friendly grazing practices that keep carbon trapped in the earth. You can support these efforts by shopping brands that have adopted these regenerative agriculture methods, such as White Oak Pastures Grass-Fed Ground Beef, Alter Eco Chocolate, and Maple Hill Creamery Organic Grassfed Yogurt.
Millet, amaranth, barley, and teff aren't just for grain bowls anymore—according to Forbes, Specialty Food Association President Phil Kafarakis predicts that low-sugar, high-protein snacks boasting ancient grains will be on the rise in 2020. Kracklin' Kamut, Celifood Quinoa Munch, and Newman's Own Organics Spelt Pretzels are all examples of the old foods getting new life.
Fruit, reimagined as syrups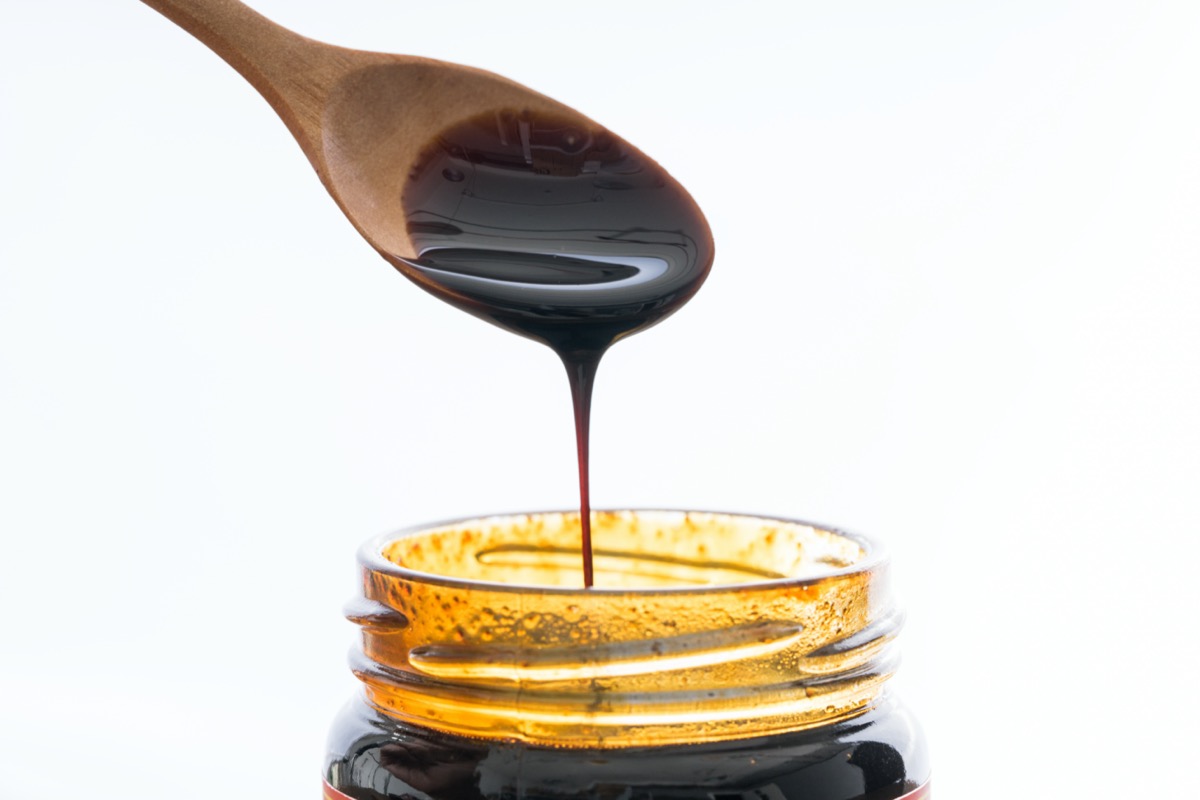 Get ready to embrace a number of new natural sweeteners beyond stevia, honey, and agave. Whole Foods Market reports that a wide array of syrups derived from fruit sources will become increasingly common in 2020. These fruit-based reductions can be used to flavor beverages, to create unique marinades and sauces, or as sugar substitutes in homemade desserts. Date Lady Organic Date Syrup works well for baking, while the keto-friendly Lakanto Maple-Flavored Sugar-Free Syrup (which is sweetened with monkfruit) provides the perfect topping for pancakes and oatmeal alike. D'vash Organics Sweet Potato Nectar is versatile enough to enhance sweet and savory dishes alike.
Refrigerated protein bars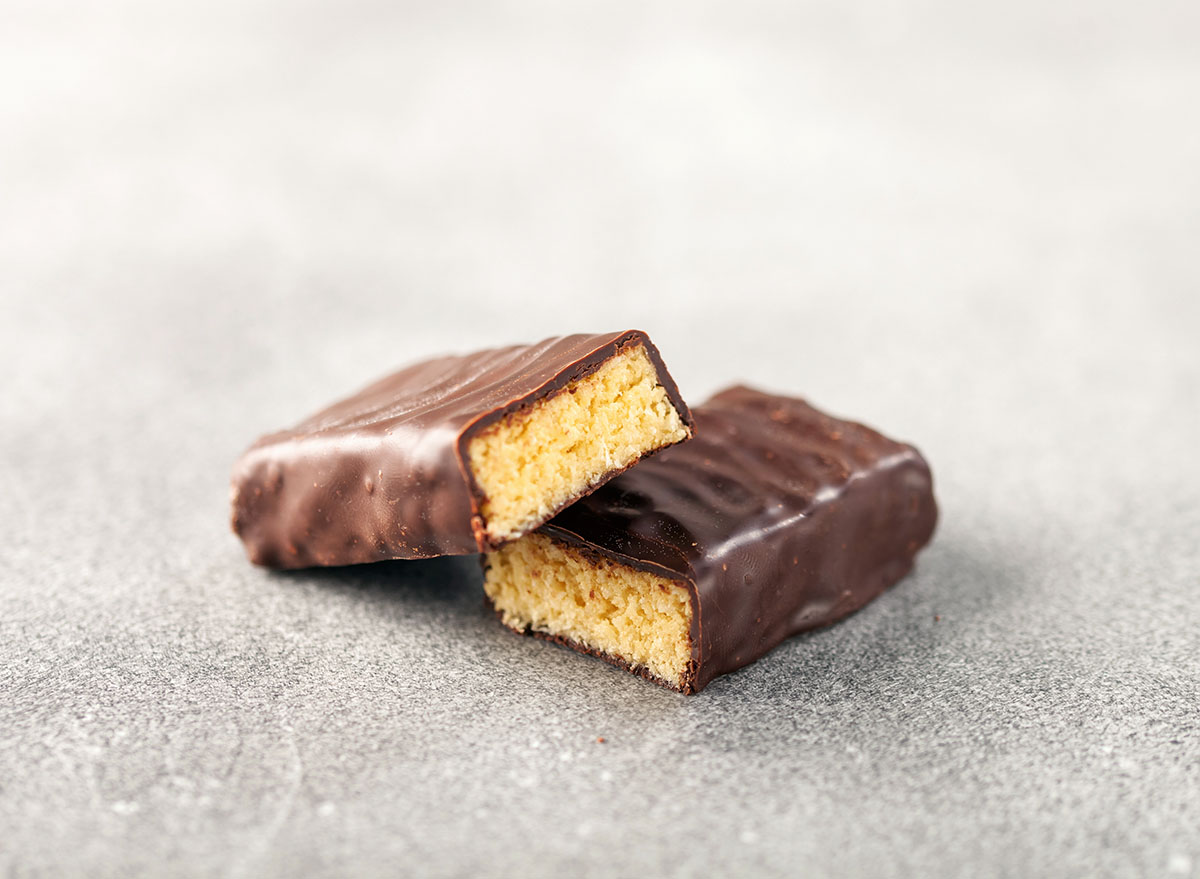 Next time you're scouring the aisles for energy bars at your local supermarket, note that not all your options are shelf-stable—and with good reason: they're made with whole-food ingredients and are free of preservatives. In fact, refrigerated nutrition bars were one of the top trending products at the 2019 National Association of Convenience Stores Show. Probar Live boasts 1 billion CFU of probiotics per bar, while Perfect Bar features 20 different organic superfoods and produce-packed Phyter Bars consist mainly of organic pureed vegetables and fruits.
Swap chia seeds for black seeds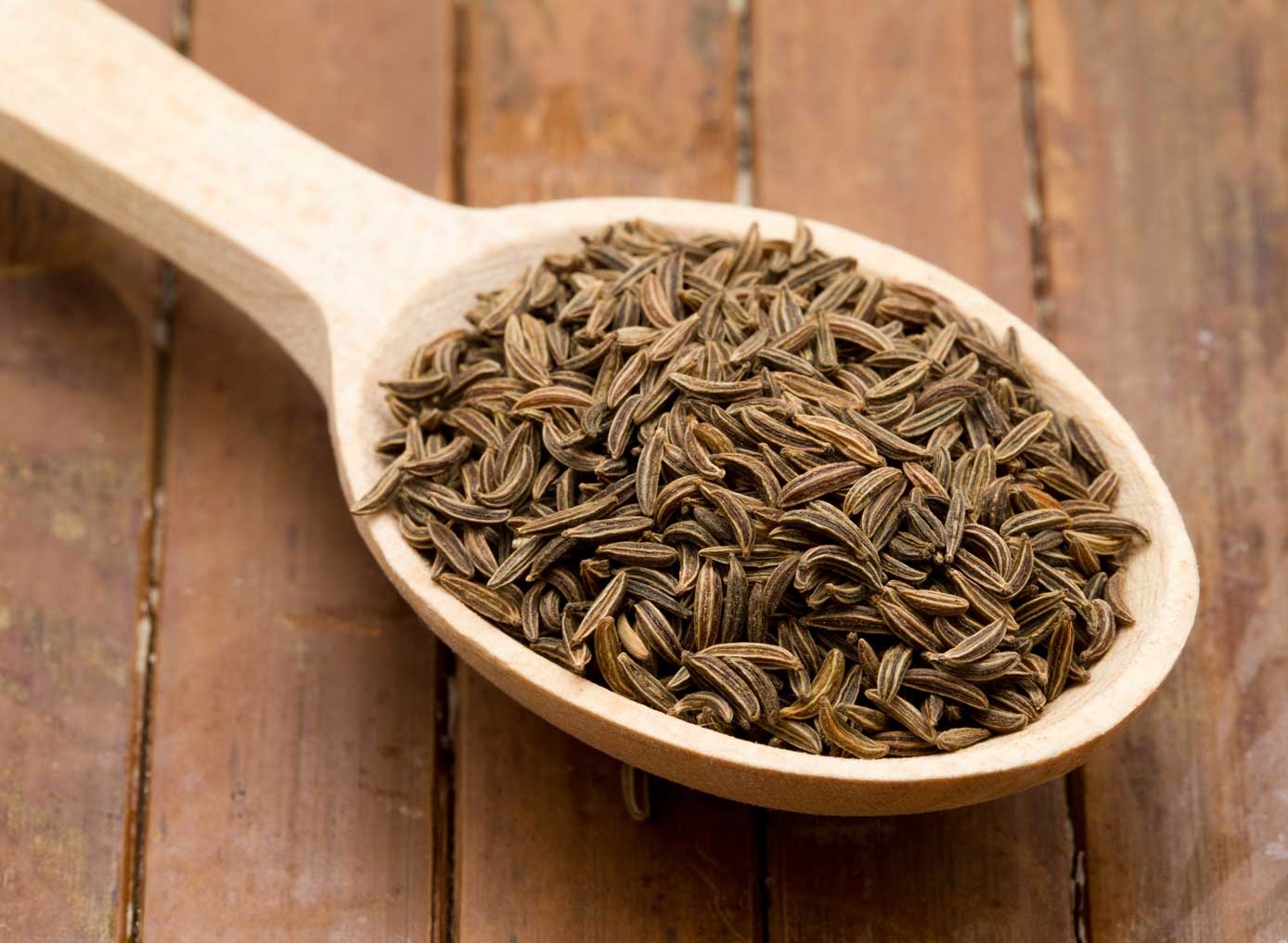 It's no secret that the trendiest superfoods are typically the ones boasting a high antioxidant content, and now, there's a new one to add to your grocery list: black seeds (also known as nigella sativa, black cumin, or black caraway). According to chef, author, and food industry expert Mareya Ibrahim, these peppery tasting seeds are primed to be one of the hottest food trends for 2020 because they have a high concentration of Thymoquinone, a cancer-fighting compound. Ibrahim predicts that in the coming year, black seeds will pop up in snacks, spice blends, and baked goods alike. In the meantime, MAJU's Cold-Pressed Black Seed Oil can be used in salad dressings and mixed into tea or coffee, and Terrasoul Superfoods Organic Black Cumin Seeds make a great garnish on yogurt, oats, or rice for some added crunch.
Rebecca Strong
Rebecca Strong is a Boston-based freelance health/wellness, lifestyle, and travel writer.
Read more about Rebecca