Calling all spice lovers: This flavorful jerk pork isn't for the faint-hearted.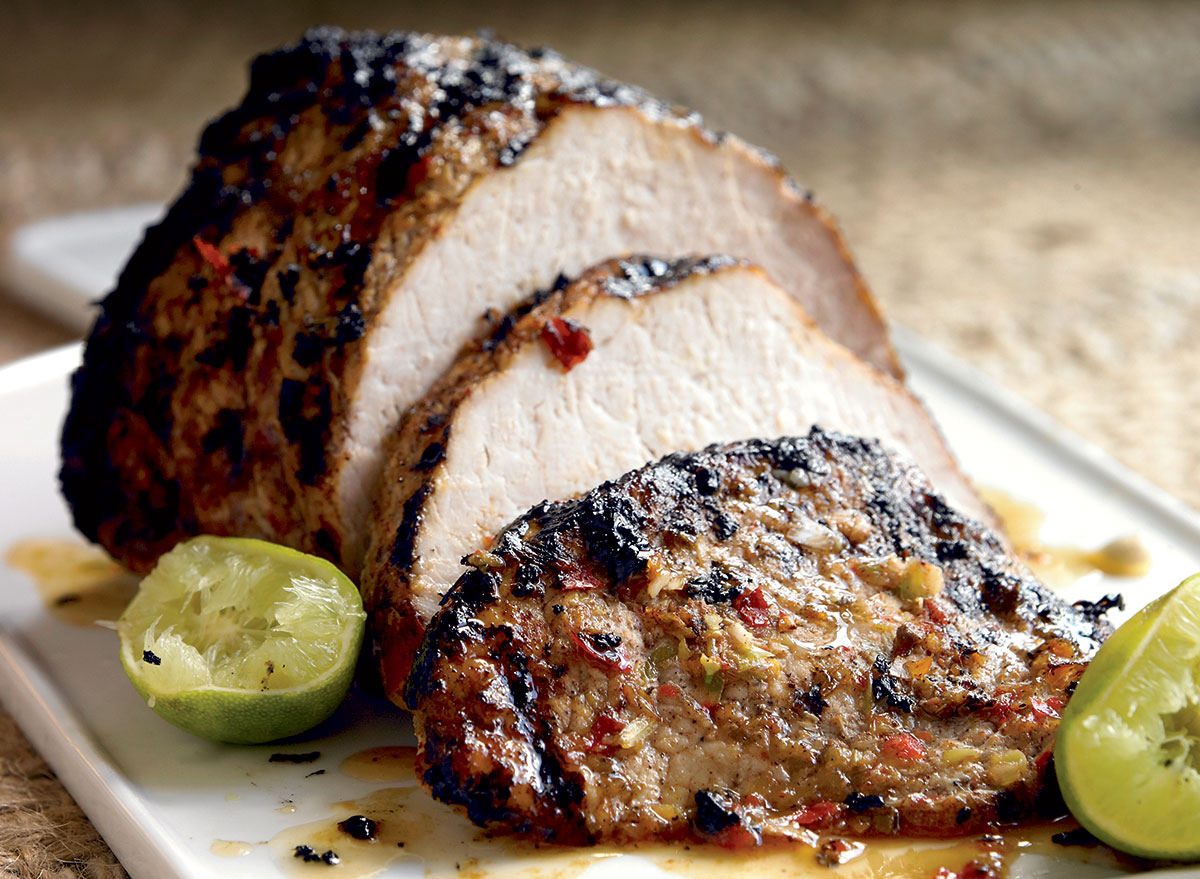 The supermarket is flooded with mediocre jerk marinades that lack the punch—the gutsiness—of real jerk cooking as done by the pit masters that pepper the Jamaican coastal communities. To get it right, one needs a small stash of fiery habanero or Scotch bonnet peppers, which, although they have become commonplace in supermarkets, still need to be treated with caution when prepping and eating.
To give you an idea of their power, a jalapeño is rated at 5,000 Scoville units (the accepted measurement for spiciness); a habanero rates at 350,000. Proceed with caution.
Nutrition: 240 calories, 11 g fat (2 g saturated), 510 mg sodium
Serves 4
You'll Need
2 habanero or Scotch bonnet peppers, stemmed and roughly chopped (Note: Either use gloves or limit exposure to skin by using tongs to help you handle the peppers.)
8 scallions, roughly chopped
Juice of 2 limes
2  Tbsp canola oil
3  cloves garlic, chopped
1 tsp allspice
1⁄4 tsp nutmeg
Salt and black pepper to taste
1 lb pork loin
How to Make It
Place the habaneros, scallions, lime juice, oil, garlic, allspice, nutmeg, and a good pinch of salt and pepper in a food processor.
Pulse until the mixture forms a paste with the consistency of pesto, adding a bit of water if it's too dry.
Place the pork (chicken drumsticks work great, too) in a sealable plastic bag, and pour the jerk marinade over it.
Squeeze out the air, seal the bag, and rub the pork around to make sure it's evenly coated.
Marinate in the refrigerator for at least 1 hour, but preferably overnight.
Preheat a grill.
Remove the pork from the marinade, and season with a bit more salt and pepper.
Grill, cooking on all sides, for about 10 minutes, until lightly charred and cooked through. (An internal thermometer inserted into the center of the pork will read 140°F.)
Eat This Tip
Leftover Love
This is the type of recipe you want to make a lot of, not just because its fiery bite is addictive right off the grill, but also because leftovers straight from the fridge make incredible dishes the next day. Toss hunks of cold pork with romaine, mango, shredded carrot, peanuts, and a simple vinaigrette. Or make a sandwich filling for the ages: Slice the pork thinly, then top with slowly caramelized onions, roasted peppers, and melted Swiss cheese. You won't have a boring desk lunch with these leftovers.