10 Secrets of America's Largest Grocery Store, Jungle Jim's
Explore Jungle Jim's, the famed store dubbed a "theme park for foodies."
Just over 20 miles north of Cincinnati lies a strange grocery spectacle, which doesn't quite fit in with the surrounding climate: the infamous Jungle Jim's.
If you're from Ohio, you're probably familiar with this otherworldly place and have maybe even visited once or twice. But, if you're not, let us paint a picture for you of the gargantuan store.
As you approach the Fairfield location from the road, the sheer magnitude of the parking lot, juxtaposed with the massive, more than 200,000-square-foot building, is enough to make you gasp in and of itself–compare that with the size of an average Costco at just about 150,000 square feet.
As you continue to slowly approach you'll pass a sea monster of epic proportions (specifically if you're arriving from the rear entrance) and you're unlikely to miss the store's fully functional monorail—which, at certain angles, appears to be emerging right from the front of the building. After exiting the safety of your vehicle and finally heading for the door, you will cautiously walk by a watering hole spotted with life-sized African animals. And, if you can believe it, all of that is nothing compared to what awaits you inside.
Jungle Jim's is a definite must-see if you're in the area, and what's more? There's even a second Jungle filled with even more surprises just a few cities away in Eastgate, Ohio. So, put your safari hat on to learn a little bit more about Jungle Jim's wild history and what you can expect from your adventure to the astounding, one-of-a-kind grocery store.
Jungle Jim's began on the side of the road.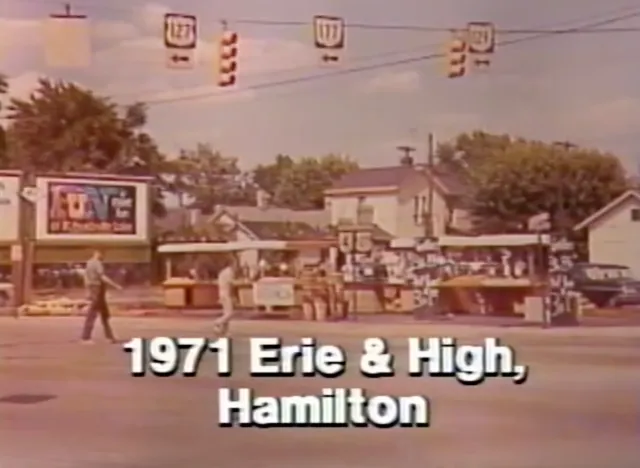 Jungle Jim was, in fact, a real person—full name: James O. Bonaminio—and his beginnings were quite humble. Born in 1949, the Ohio native was always an entrepreneurial spirit, growing up doing a range of odd jobs and selling anything he could get his hands on from pillows to purses. Eventually this hustle and drive landed him with a gold mine: a 45,000-pound bundle of potatoes rejected from a nearby chip factory which he was able to promptly and successfully sell off to local customers. From there his inventory expanded and he eventually outgrew the parking lot where he had been conducting his grocery business. In 1974, he stumbled upon the land in Fairfield, where the famous Jungle Jim's International Market (the first of two) stands today. The rest is history!
The Big Cheese is a main attraction.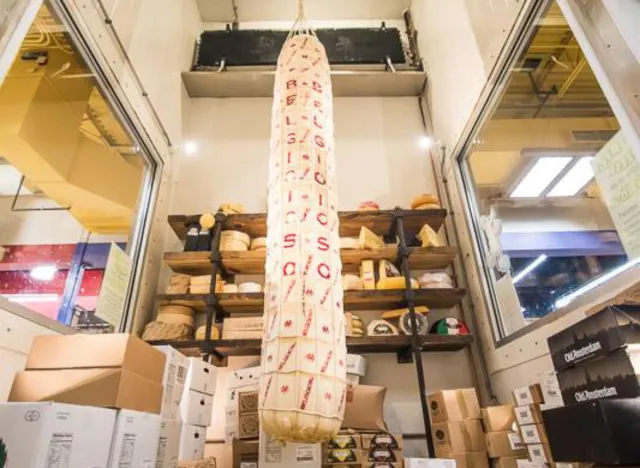 Not surprisingly, Jungle Jim's carries an abnormally large and diverse selection of cheeses—about 1,400 different kinds, to be exact, from 32 different countries. But, what gets cheese connoisseurs most excited is "The Big Cheese." The colossal hunk of provolone weighs in at anywhere from 700 to 850 pounds and is proudly suspended in the store's famed cheese room. This dairy marvel isn't just made to be gawked at either. Every 18 months, the cheese is taken down and cut (in a strictly professional sense of course). Then it's sliced and distributed to hungry customers. Make sure to hit the cheese section during your next visit to the Jungle and take a picture with the awe-inspiring monstrosity—oh, and don't forget to say "cheese!"
The store allows you to jet set around the world.
With the massive cheese selection included, Jungle Jim's total number of product SKUs sits at over 180,000, sourced from more than 75 countries. And, unlike at other, less entertaining grocery stores, you won't find products from different regions thrown thoughtlessly into one lone "international" aisle. No, the Jungle turns it into a full-blown tour-of-the-world kind of experience. Each continent and country is clearly represented and is awarded its own style and feel. In the European region, each country is even given its own little unique storefront, each decorated appropriately. So, with no passport required, shoppers can browse for tzatziki in Greece before swiftly jetting off to India in search of samosas.6254a4d1642c605c54bf1cab17d50f1e
You can learn to cook at the grocery store.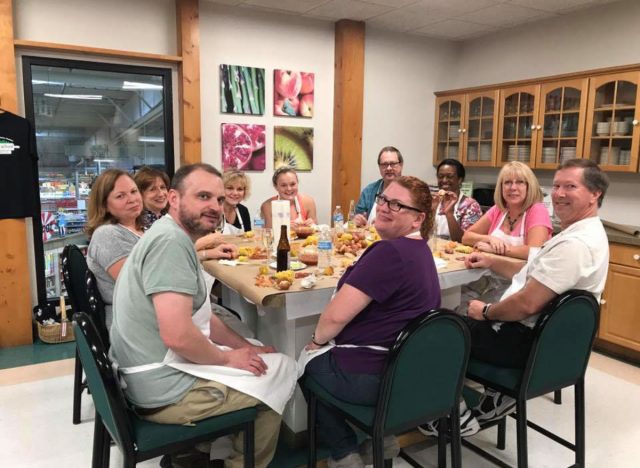 Not only can you pick up everything you need for a quality and delicious meal at Jungle Jim's, you can also learn how to make it–all right inside the store's walls. The flagship Fairfield location offers both hands-on and demonstration classes at its Cooking School year-round. Beginners and more seasoned cooks alike can join forces in the kitchen to create tasty dishes from slow-roasted salmon to shrimp scampi. Classes typically last around two hours and some even come complete with beer and wine tastings that perfectly complement the food. You can check out the market's endless list of specialty recipes online as well, if you're more of a teach-yourself kind of chef.
The Jungle Jim's monorail was borrowed from a nearby amusement park.
All aboard for a quick tour of the Jungle! Jungle Jim's iconic monorail is most often the first detail people notice as they approach the supermarket and one of the main reasons behind the store's nickname as a "theme park of food." But, what many might not know is that Jungle Jim's actually purchased the equipment from Kings Island—a nearby amusement park and fellow Cincinnati-area attraction. This plan was put in motion in 1998, after the closure of the park's wildlife preserve (seems fitting) and the monorail has stayed put ever since. It is fully functional, although most days you will likely see it sitting stagnant at the front of the store. This is because it is often reserved for use only during special events.
The bathrooms are a must-see.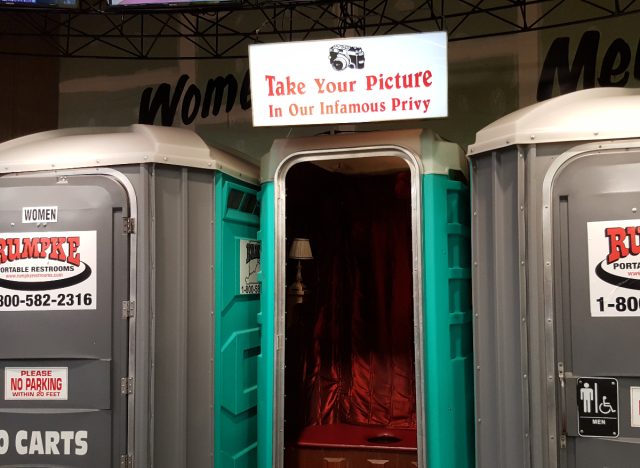 At most grocery stores, customers avoid using the questionable public restrooms at all costs. But, at Jungle Jim's, shoppers seek out the one-of-a-kind experience. As you approach the lavatory you will see what appears to be two Rumpke brand port-a-potties standing tall at the entrance—one for men and another for women. But, remember to not judge a book by its cover. Upon pulling open the handle and stepping inside you will be more than pleasantly surprised at the modern and clean washrooms that await. These rarities have even won a few awards over the years. We admit we've never been more excited to take a trip to the loo!
Familiar faces will appear as you peruse the aisles.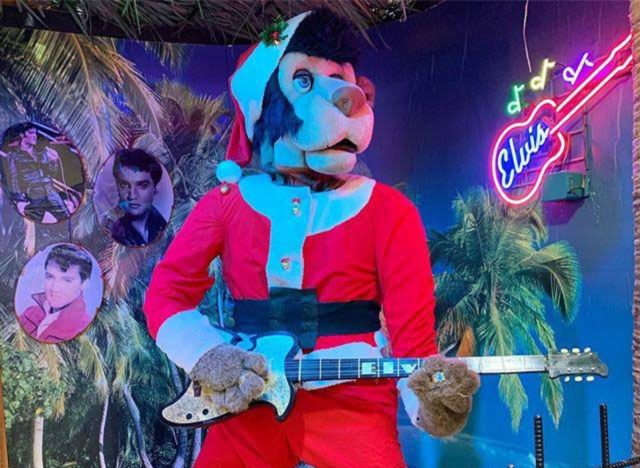 You'll run into plenty of friendly faces as you shop—and we're not talking about the store's employees. First, as you enter the Fairfield location, you'll notice the threshold is guarded by a tall ear of corn and his lively and smiley friend in the shape of a stick of butter. As you continue on, you'll run into a swinging Campbell's Soup Can and later be serenaded by a well-dressed Lion Elvis as you satisfy your sweet tooth in the candy section. Then, just when you think there are no surprises left in store (literally), you'll discover the greatest musical group to ever exist: The General Mills Cereal Bowl Band featuring Trix Rabbit on the keyboard, Lucky the Leprechaun strumming a guitar, and Cheerios' Buzz the Bee providing the beat on the drums. The Jungle Jim's Eastgate store additionally has its own star-studded lineup that appear like Easter eggs throughout the building.
The Jungle is known for its wild, never-before-seen foods.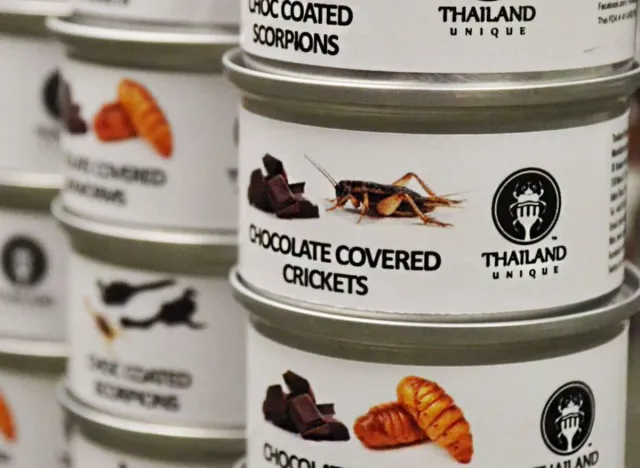 If you're in the mood for something truly exotic that you can't get anywhere else, you've come to the right place. Jim's collection of strange—and sometimes icky—foods are a major draw and part of what keeps customers coming back to the Jungle. In the soda aisle, shoppers can find fizzy flavors like Buffalo Wing or Grass. Candy and chocolate-covered bugs are another specialty. And, in terms of protein, there are plenty of options that will certainly test your taste buds from ground camel to canned eel. You can also try rare fresh produce options like grapples (grape-flavored apples), cactus leaves, pink pineapple, or an R1-6 Durian—a type of sweet and creamy fruit typically found only in Vietnam.
You can celebrate your big day at Jungle Jim's.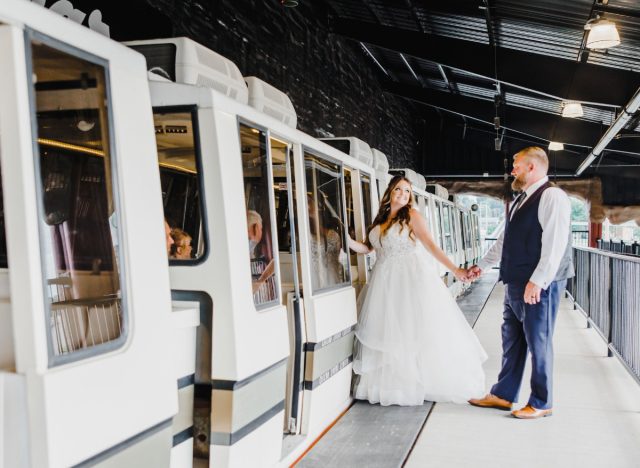 If standard wedding venues sound like a snooze, Jungle Jim's will gladly host a more adventurous ceremony and reception for you and your significant other! The Fairfield location's Oscar Event Center, situated right above the mammoth-sized supermarket, is ready to serve parties and events of all sizes. The space is like a whole new world compared to the grocery, however, with a much more rustic yet upscale kind of atmosphere. Areas such as the Main Hall, Lounge, Pub, and Outdoor Terrace are all available for use. Plus, one of the best parts is that couples and their guests can also hop on the monorail to travel between the Event Center and the recently-added Oscar Station for more amusement and double the venue options for an unforgettable wedding day.
When they say fresh fish, they really mean it.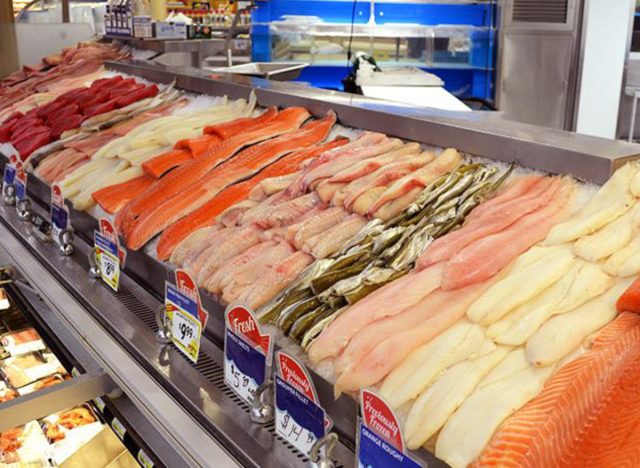 You may see one small tank filled with a few lonely lobsters at other grocery stores. But, at Jungle Jim's, you get essentially a full aquarium of fish options which you can select to take home–that's just about as fresh as you can get! The store also receives over 1,000 pounds of live lobsters each week and has one of the most extensive selections of seafood in the state. So, if you're a seafood lover, just keep swimming, swimming to Jungle Jim's.