4 Best Keto Ice Cream Brands to Satisfy Your Sweet Tooth
Keto diet followers don't have to swear off the sweet stuff anymore.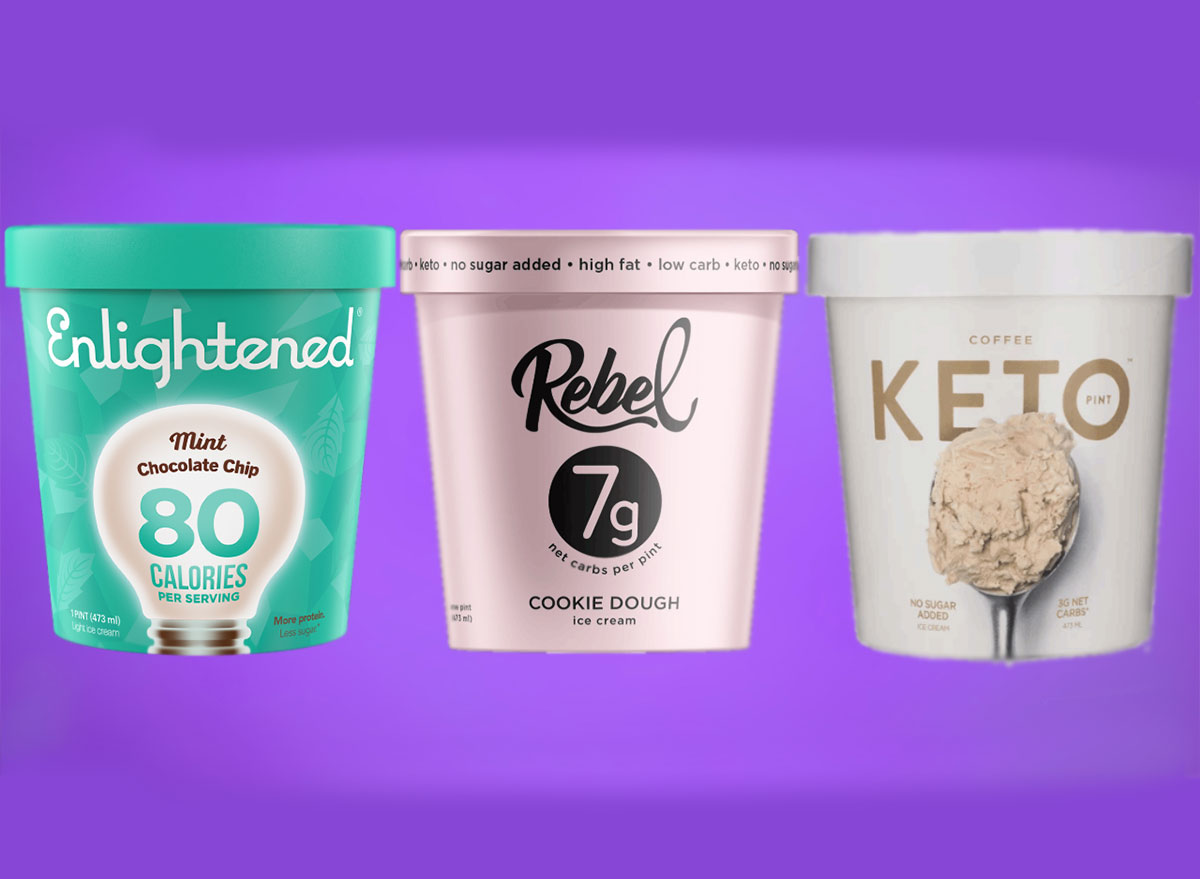 This post contains affiliate links. If you use these links to buy something, we may earn a commission.
When you're on a diet as strict as keto, you should be prepared to give up some of your favorite foods. On the keto diet, specifically, you have to part ways with your favorite carb-heavy meals such as pizza, as well as sweet treats, too. And yes, that includes ice cream. Luckily, those following the fat-blasting diet actually don't have to completely say goodbye to ice cream after all. There are four keto ice cream brands that have recently caught our attention, and we think you'll love these low-carb ice creams.
What makes keto ice cream keto?
As you're probably already aware of, you have to cut back on carbs and sugar on the keto diet. That's obviously a problem with ice cream because 1) milk has naturally-occurring sugars, and 2) ice cream is sweetened with sugar. So how exactly do keto ice creams attain that coveted keto-friendly designation?
high fiber: Keto is all about net carbs, which is the total amount of carbs your body actually digests. You calculate net carbs by subtracting dietary fiber from total carbohydrates. To decrease the net carb count of ice cream, these keto ice cream brands add fiber to their pints.
sugar alternatives: All of these keto-friendly ice creams are sweetened with various non-nutritive sugar alternatives such as stevia, monk fruit, vegetable glycerin, and erythritol. Because your body doesn't process these alternatives as sugar, they won't mess with the fast-blasting process of ketosis. Erythritol, in particular, is an important ingredient in keto ice cream. Your body does not process erythritol at all, so you can subtract the grams of erythritol along with fiber from total carbohydrates to lower the net carb count.
less milk: It's in the name: cream. Ice cream is typically made with milk and cream, which is a problem for keto dieters because milk is high in carbs. Because of this, keto ice cream can't use milk in large quantities. Instead, you'll see more water in the ingredients, which is obviously lower in carbs. Some brands use ultra-filtered milk, which is naturally lower in carbs and sugar. To get the same creamy taste you love, brands will bolster their pints with milk protein concentrate, which has essentially zero carbs.
The best keto ice cream brands
Read on to learn about the only 4 keto ice cream brands worth buying.
Per 1/2 cup of Mint Chocolate Chunk
: 180 calories, 16 g fat (11 g saturated fat, 0 g trans fat), 35 mg sodium, 11 g carbs (2 g fiber, <1 g sugar), 2 g protein
Flavors (7): coffee & cream, mint chocolate chunk, chocolate peanut butter, chocolate glazed donut, butter pecan, peanut butter fudge, and red velvet
Net carbs: 1 gram
Enlightened is already known for its low-calorie and low-carb ice creams, and the brand just recently launched a keto collection featuring seven delicious flavors. We've tried every option, so trust us when we say they're delicious!
One serving of this refreshing ice cream will only cost you 1 gram net carbs and will supply you with 24 percent of the recommended daily allowance of fat and 55 percent of saturated fat. The first ingredient in this ice cream is cream which makes for a very smooth and rich treat. There's a notable difference in the way it tastes compared to normal ice cream, but Enlightened manages to create an equally tasty product without all of the added sugar. Sugar alcohols, such as erythritol, vegetable glycerin, and even monk fruit help to mimic the sweetness that you'd find in typical ice cream.
Enlightened also sells keto-friendly ice cream bars in the following flavors: mint chocolate chip, peanut butter chocolate chip, dark chocolate, and marshmallow peanut butter.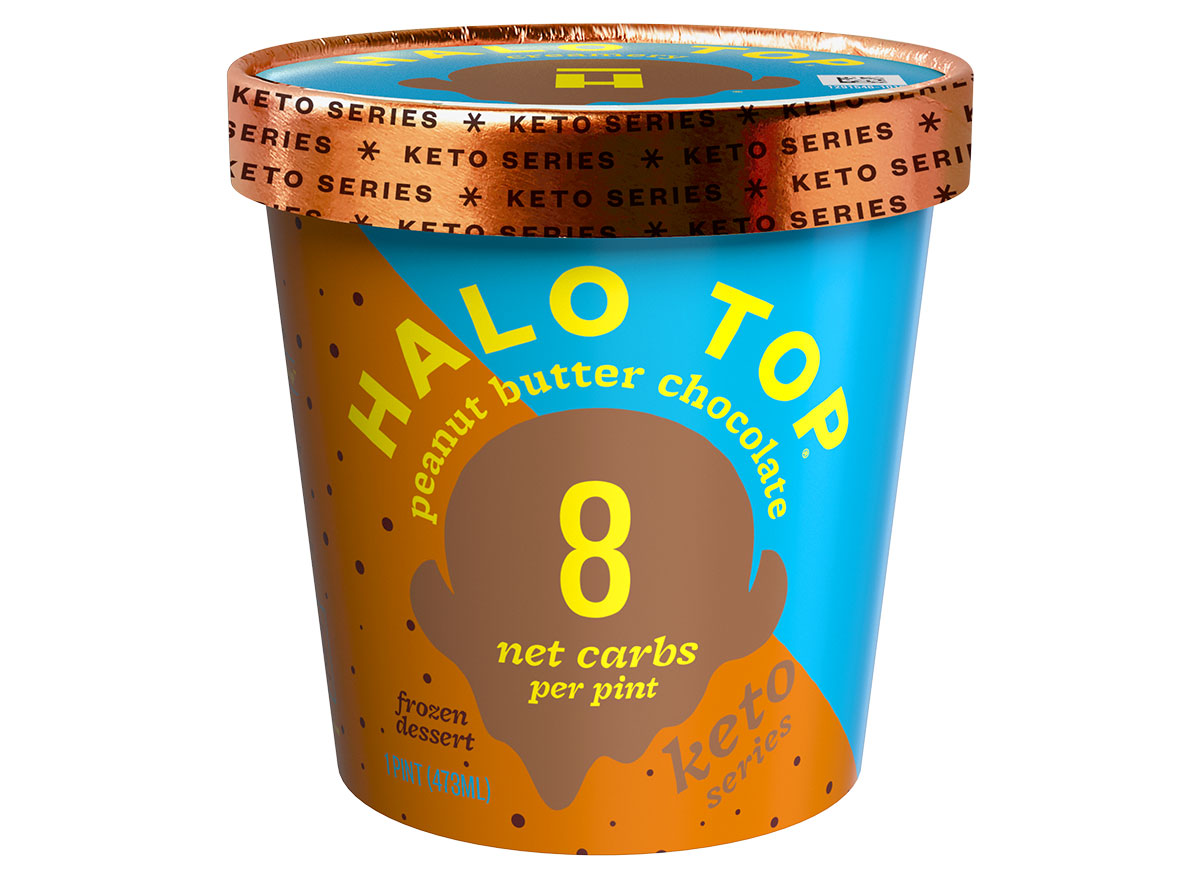 Per 2/3 cup of Peanut Butter Chocolate
: 210 calories, 18 g fat (8 g saturated fat, 0 g trans fat), 170 mg sodium, 15 g carbs (4 g fiber, 2 g sugar), 7 g protein
Flavors (7): banana cream pie, berry swirl, caramel butter pecan, chocolate cheesecake, jelly donut, peanut butter chocolate, white chocolaty macadamia
Net carbs: 5 to 10 grams, depending on the flavor
Halo Top's keto ice cream uses an ultra-filtered skim milk base to keep their carb count low. This keto series isn't as low in net carbs as Enlightened's version, but Halo Top still keeps the line lower than 10 grams. Each serving typically contains 10-18 grams of fat (12-23% DV) and 6 to 8 grams of saturated fat (30-40% DV).
The advantage Halo Top earns over the competition is that it delivers the greatest amount of protein per serving, ranging between 6 and 7 grams.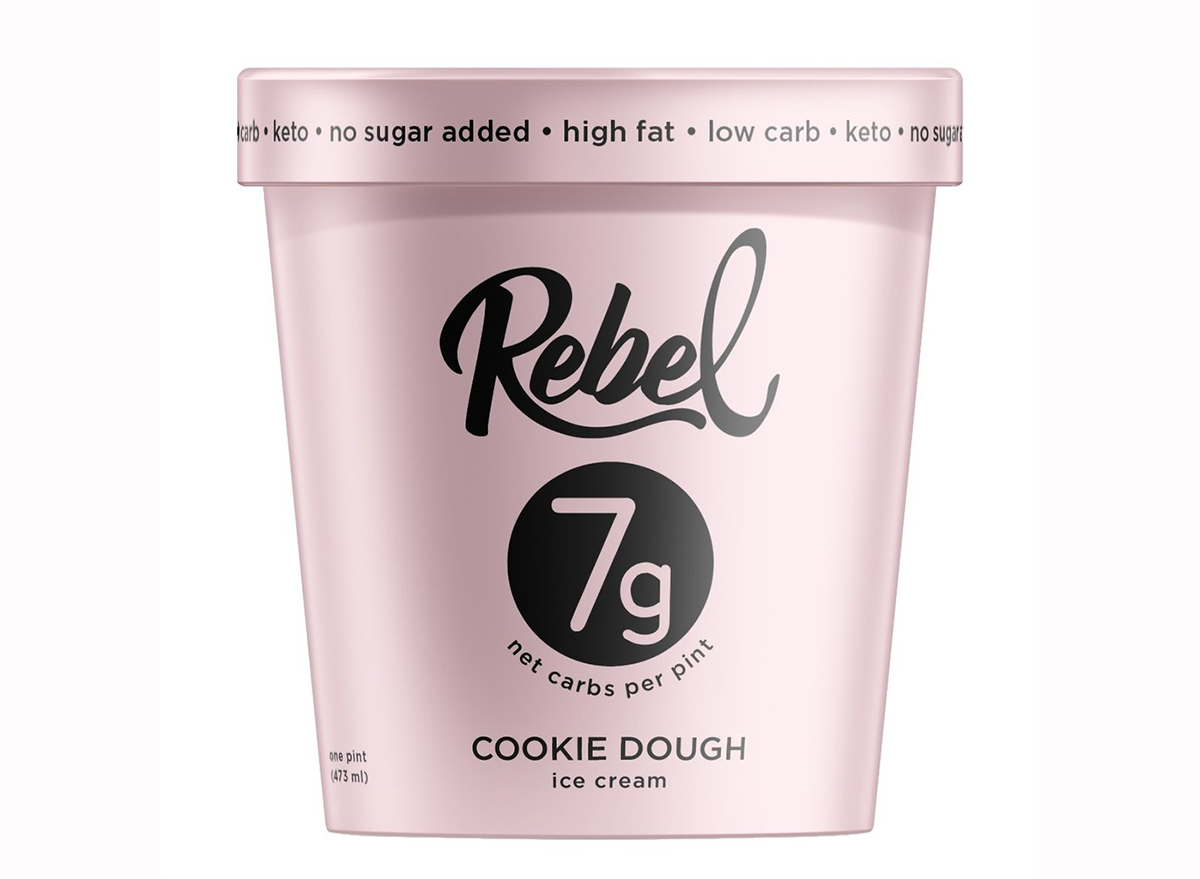 Per 1/2 cup of Cookie Dough
: 170 calories, 16 g fat (9 g saturated fat, 0 g trans fat), 40 mg sodium, 40 g carbs (3 g fiber, 0 g sugar), 3 g protein
Flavors (12): cookie dough, vanilla, chocolate, strawberry, cookies and cream, mint chip, peanut butter fudge, coconut almond swirl, salted caramel, black raspberry, cherry chip, and triple chocolate6254a4d1642c605c54bf1cab17d50f1e
Net carbs: 4 to 8 grams, depending on the flavor
Let's be honest, if you're on the keto diet, you're pretty much a rebel already, right? This brand is so rebellious that it concocted a low-carb cookie dough ice cream using ingredients like almond flour and erythritol. This keto ice cream brand comes in an assortment of classic and fun flavors, so you'll definitely want to try them all!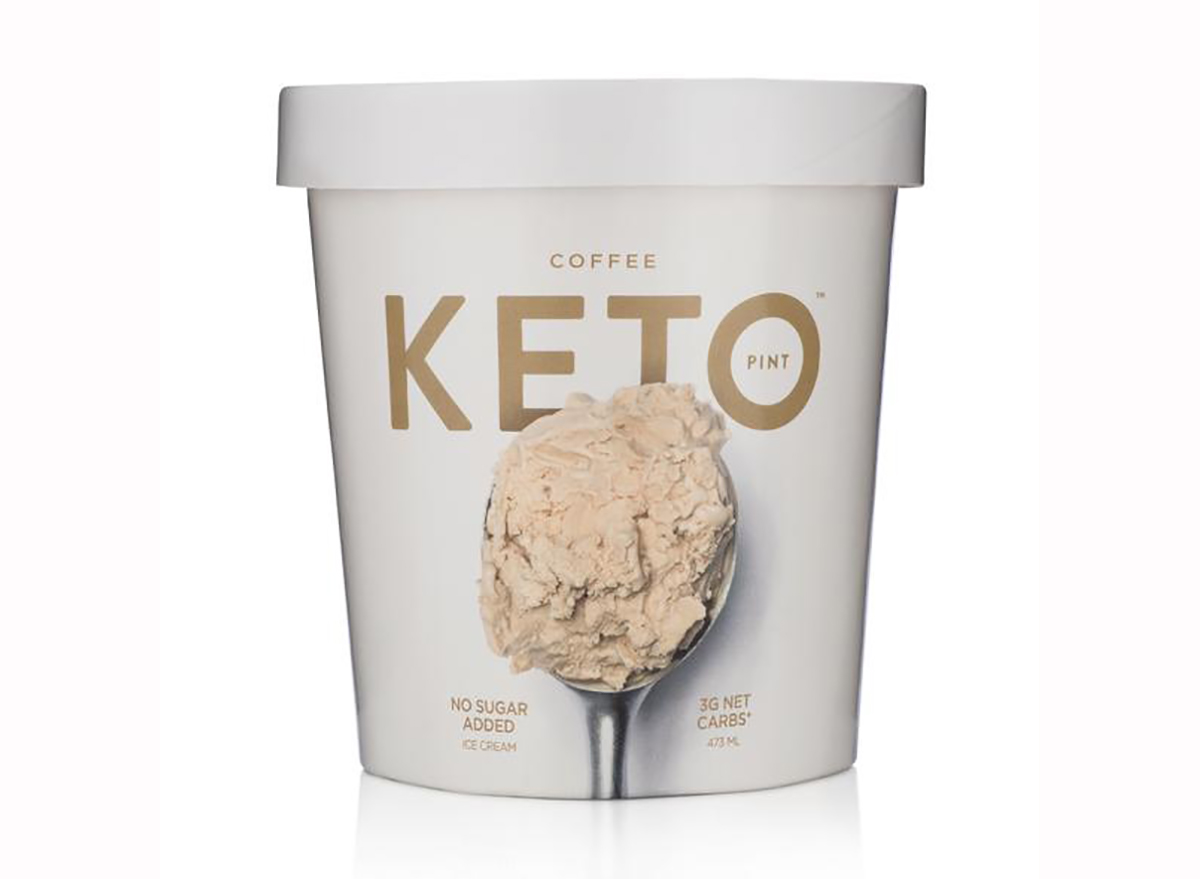 Per 1/2 cup of Coffee
: 150 calories, 12 g fat (8 g saturated fat, 0 g trans fat), 50 mg sodium, 10 g carbs (2 g fiber, 2 g sugar), 4 g protein
Flavors (6): coffee, sea salt caramel, chocolate, peanut butter cup, mint chip, and strawberry
Net carbs: 3 grams
This is another great keto ice cream option. This flavor of keto ice cream is made primarily of cream, whole milk, and Colombian coffee. KETO pint has some keto ice cream flavors with the highest total carb counts because they use whole milk. But, they make up for it by using high amounts of erythritol to lower the net carbs.