15 Amazing Weight Loss Tips from Kim Kardashian's Nutritionist
Whether you need to ditch the baby weight or just want to lose 10 pounds, these tips from Kim's nutrition guru can help!
Just three weeks after giving birth to her first child, Luna, Chrissy Teigen posted an Instagram of herself making breakfast—in a crop top of all things. You couldn't spot an ounce of fat on her stomach if you tried. But even though Kim Kardashian West is a household name, she's no Chrissy Teigen; her post-baby weight loss battles are similar to that of the average woman's.
The mom of two has been hitting the gym and dieting since the birth of her son, Saint, to get back down to her pre-baby weight. And with the help of Colette Heimowitz, Atkins' Vice President of Nutrition Communication & Education, Kim has slowly but surely lost all of the baby weight over the past six months. But the 5′3″ reality star isn't stopping there. She will continue to follow the Atkins 40 Diet (followers can eat from all food groups so long as they don't exceed 40 net carbs per day, hence the name) until she drops another 12 pounds. Her reported goal is to hit 120 pounds, a number she hasn't seen on her scale since 2010.
Curious what Kim's daily diet looks like? Want to know how she fights off cravings for junk food? Looking for insider tips from the behind-the-scenes expert who has led the Queen of Reality TV to the flat belly finish line? We thought you might—which is why we sat down with Heimowitz and asked her all the diet and weight loss questions we knew you'd be dying to have answered. Read on to get in the know—and after you see how easy is it to follow in Kim's footsteps, be sure to read up on even more Kardashian slim down hacks in our exclusive report, 25 Best-Kept Kardashian Weight Loss Secrets!
START BY AXING SUGAR & STARCHES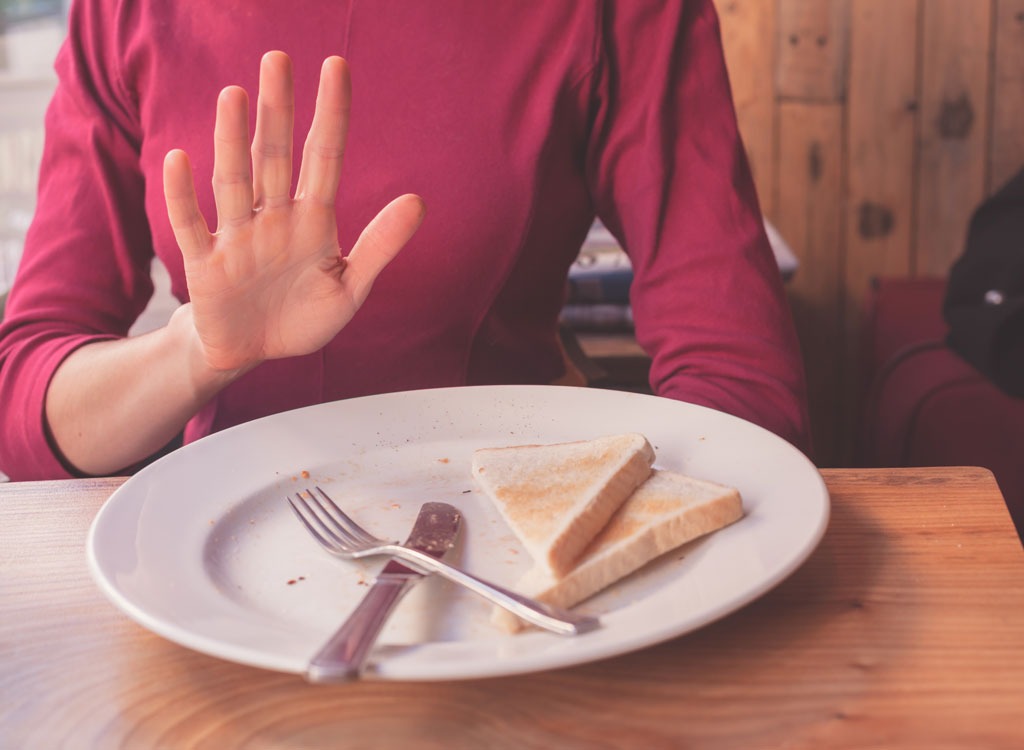 If the idea of dialing back on carbs is a daunting one, we totally get it—and so does Heimowitz. To start slimming down à la Kim K. without totally overhauling your diet, she recommends simply cutting back two things: 1.) starches from things like bread, pasta, and high sugar fruit and 2.) sugar from processed food like soda and desserts. And while Heimowitz says alternative sweeteners like stevia get the green light, she says to keep their use to a minimum, too. It's better to do without, but if you must have a sugar alternative, she recommends consuming no more than three coffee-shop-sized packets per day.
INCLUDE PROTEIN IN EVERY MEAL
The one diet rule Kim always follows? She always consumes "four to six ounces of protein at breakfast, lunch, and dinner," Heimowitz tells us. "The protein source can be eggs, beef, poultry, fish, or tofu and it can be lean or fatty; even marbled cuts of beef are fine on occasion. Not only does fat give food taste, it's filling so it can help you eat less."
SAVOR FOODS WITH NATURAL FATS
MAKE MEAL PREP SIMPLE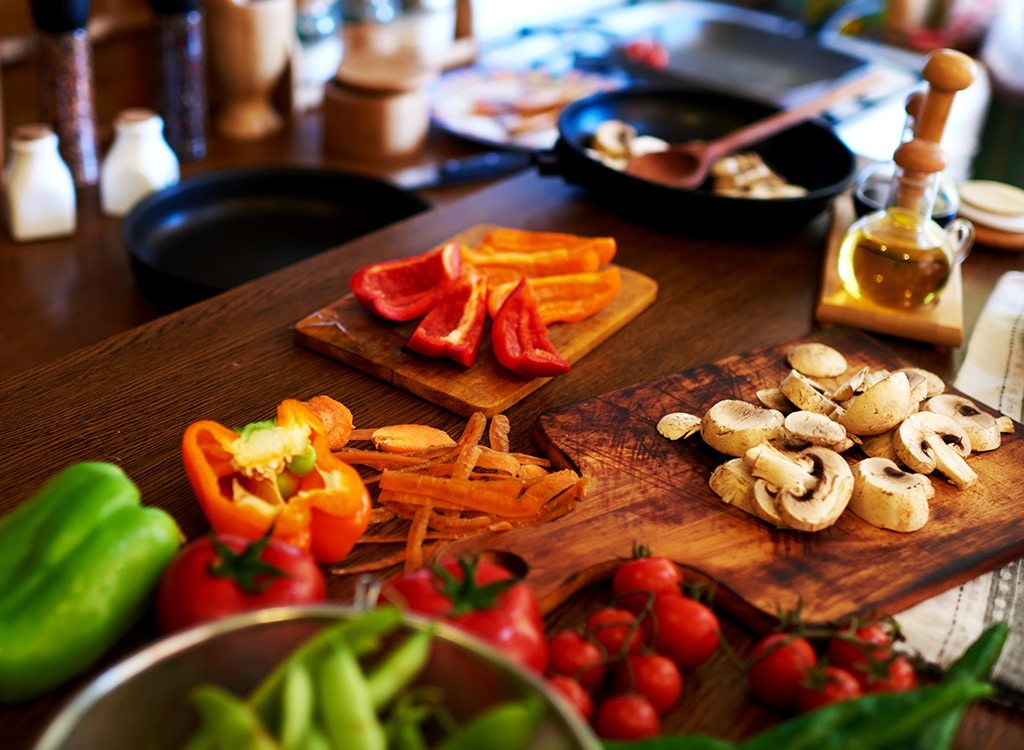 Anyone who's ever tried to lose weight and failed knows that food prep and meal planning are everything. And that's because the more organized you are, the less apt you are to fall victim to junk food traps and craving. When prepping for the week ahead, remember that Kim's diet centers around eating protein, vegetables, and healthy fats at each meal. That means you should be buying and cooking foods that will fit the nutritional bill at the beginning of each week. To keep things simple—but far from boring—it's best to make dishes that can easily mix and match in multiple ways. Here're a few examples:
Protens
•Eggs (to be made into omelets or hard boiled and eaten as a snack or salad protein)
•Chicken (bake up a big tray of poultry with mild seasoning so you can easily incorporate it into stir-fries, salads, zoodle dishes, or soups throughout the week. Of course, chicken can also simply be the main event on your plate)
•Flank steak (grill it up, and use add it to everything from salads to meat and veggie sautées)
Vegetables
•Baby spinach (for salads, smoothies, stir-fries, and omelets)
•Chop salad veggies like cucumbers, tomatoes, celery, carrots, peppers, onions, and broccoli so you can throw together a cold meal in minutes
•Roast a variety of veggies like brussels sprouts, zucchini, button mushroom, asparagus, and string beans (for soups, side dishes, omelets, salads, frittatas, quinoa bowls, and more)
Healthy Fats
•Cook your roasted veggies with olive oil and dried herbs
•Top your omelets, soups, and salads with avocado—or better yet, use it to make a creamy zoodle sauce
•Add peanut or almond butter to your protein shakes
•Use butter to prep your steak, omelets and frittatas
•Top salads with full-fat dressings and chopped nuts
•Add nuts like peanuts and almonds to Asian-inspired stir-fries and fruit and yogurt parfaits
Need even more ideas? Some of Kim's go-to meals include grilled salmon with asparagus and a side salad with creamy dressing and chicken breast with broccoli and a side salad with creamy dressing. While those may not seem like super filling meals, "with adequate protein, high fiber foods, and healthy fats like avocado, olive oil, and nuts, you have the perfect combination to stay satisfied," explains Heimowitz.
STICK TO SMART RESTAURANT STAPLES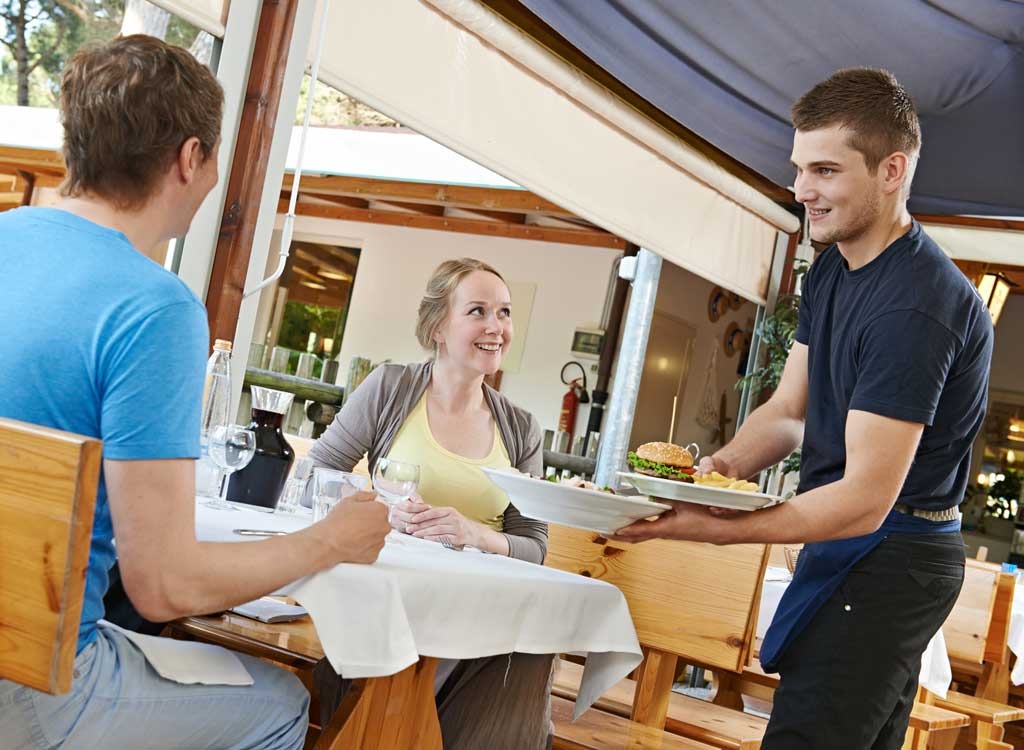 Think Kim never eats out? Think again. Instead of eating all her meals at home to ensure weight loss success, she simply sticks to Heimowitz's go-to restaurant orders: steak and Caesar salad (without croutons) with an unsweetened iced tea (we like green tea) or baked wild salmon and cooked vegetables. Easy and delish!
DITCH THE BUN
Next time you find yourself at the drive-thru, resist the urge to throw in the towel with your diet plan. Skip the fries and nuggets, which are filled with unhealthy fats and excess carbs, and instead, order a burger without the bun, or a salad topped with chicken or fish and a blue cheese dressing, suggests Heimowitz.
HAVE EGGS FOR BREAKFAST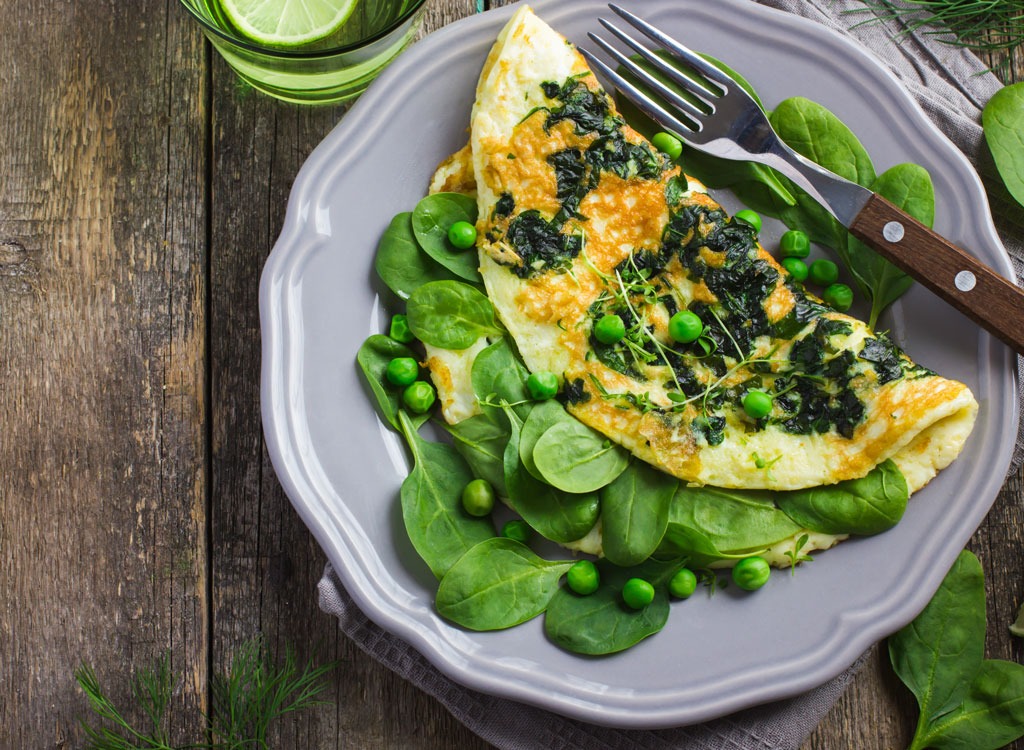 According to Heimowitz, Kim kicks off her day with a two egg omelet, stuffed with cheese and spinach on the reg. For the best flat belly results, eat the yolk. They're one of the most potent dietary sources of metabolism-boosting B vitamin choline, an essential nutrient used in the construction of all the body's cell membranes. Two eggs will give you half your day's worth. Sick of two-ingredient omelets? Check out these 25 Delicious Egg Recipes to Stay Skinny!
AND TWO SMART SNACKS PER DAY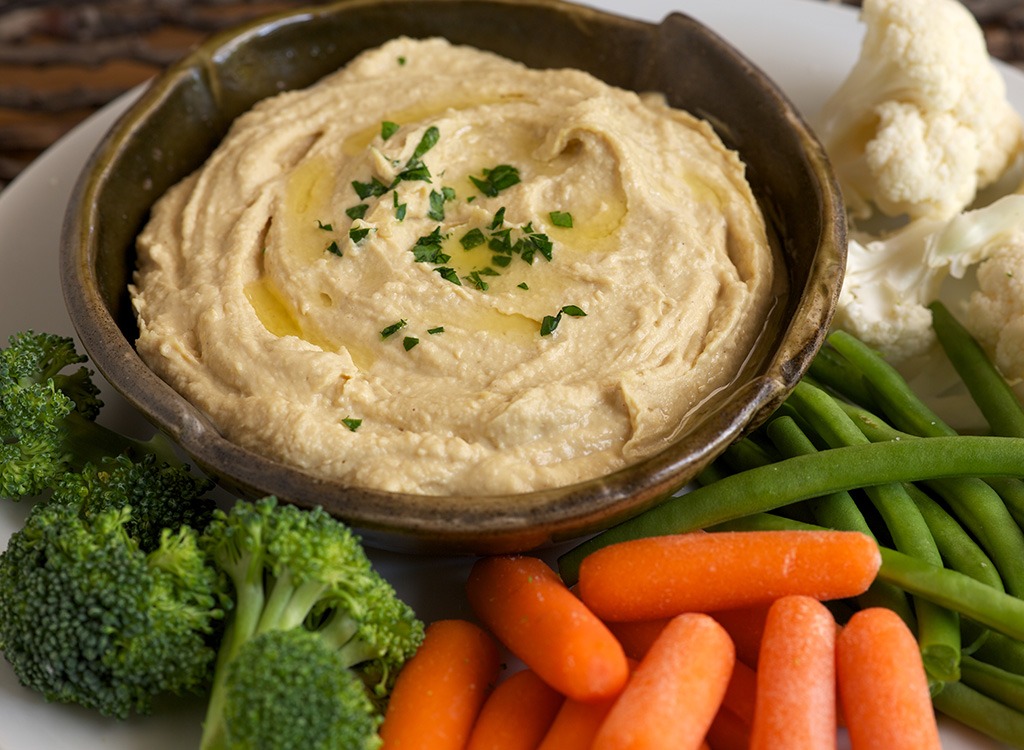 When hunger strikes, Heimowitz says it's important to be prepared with healthy noms. Some of Kim K.'s faves? Hummus with veggies (cucumber, red pepper, broccoli), cold-cut turkey and cheese roll-ups, and Greek yogurt with slivered almonds and blueberries. Aim for one morning snack and one in the afternoon to keep you blood sugar stable and your hunger under control.
OUTSMART CRAVINGS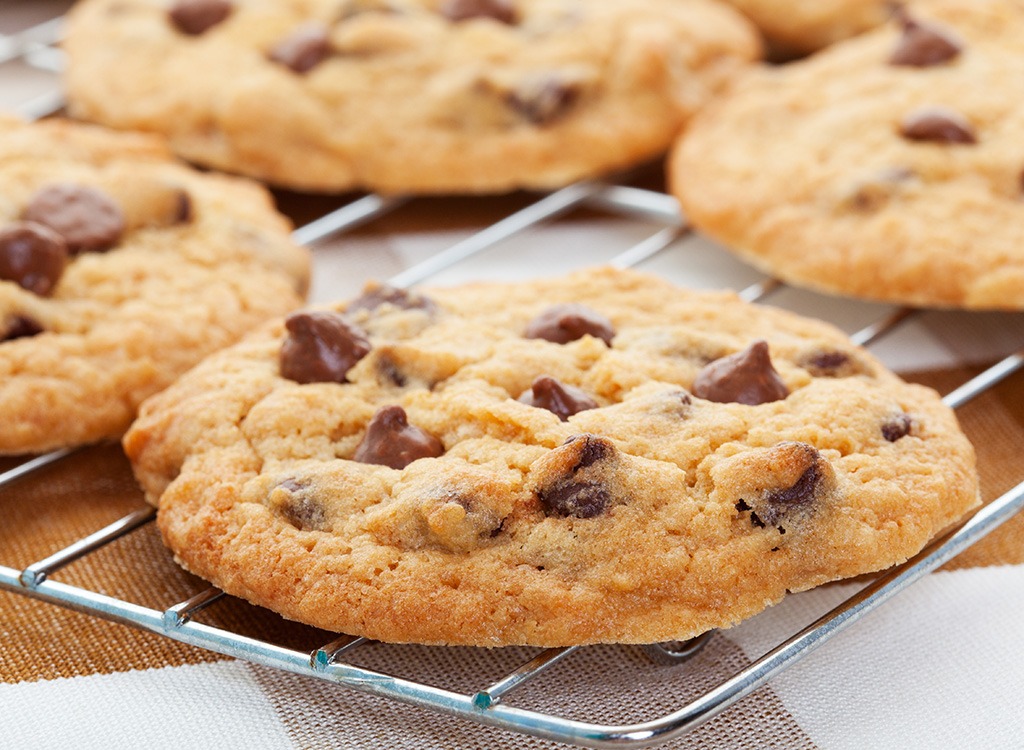 Just like us mere mortals, Kim gets sweet tooth cravings. And when she does, "she makes our low-carb dessert recipes or grabs an Atkins Endulge Treats Peanut Butter Cup. You get the sweet sensation without the sugar spike and without compromising your diet," notes Heimowitz. Not big into baking or packaged goods? Opt for berries and cream. "It's quick and easy to prepare yourself and most restaurants have it as an option, too."
STOP THE SLUMP BEFORE IT STARTS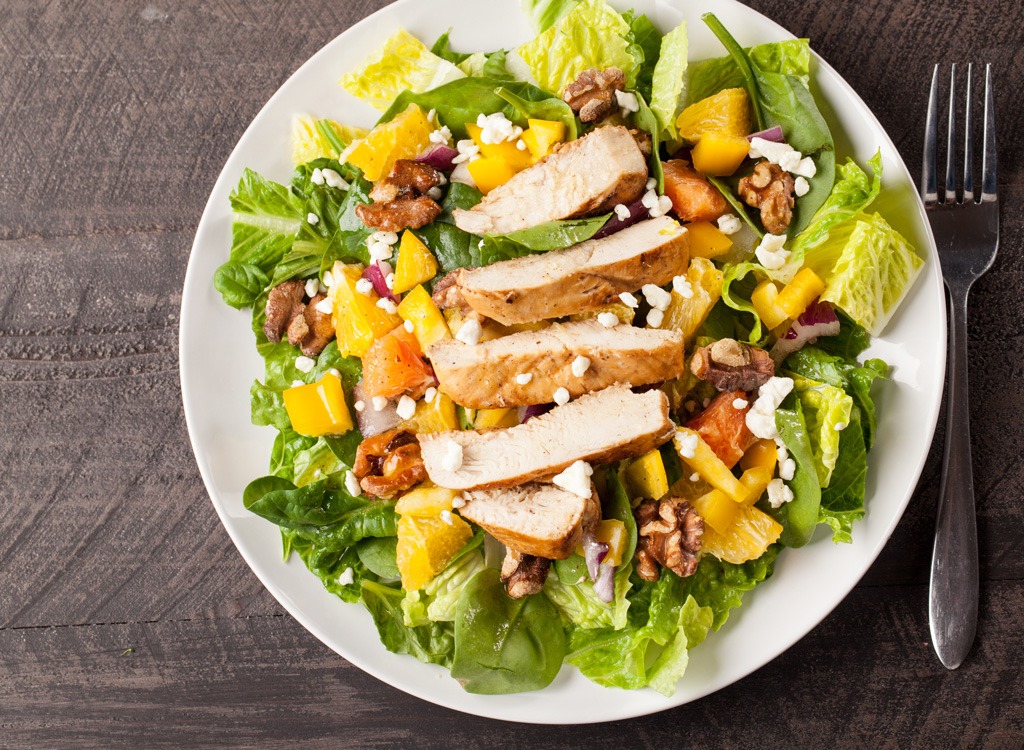 If carbs give us energy, the Atkins Diet must leave Kim feeling that 3 p.m. slump 24/7, right? Heimowitz assures us that that couldn't be further from the truth. "The afternoon slump is a result of a dip in blood sugar which only happens when you have a high carbohydrate meal for lunch. When you control carb consumption and consume adequate protein, high fiber carbohydrates, and healthy fats the slump will not happen—especially if you remember to have an afternoon snack." Be sure to follow Kim's lead and ditch those afternoon vending machine cravings.
MAKE SMART SWAPS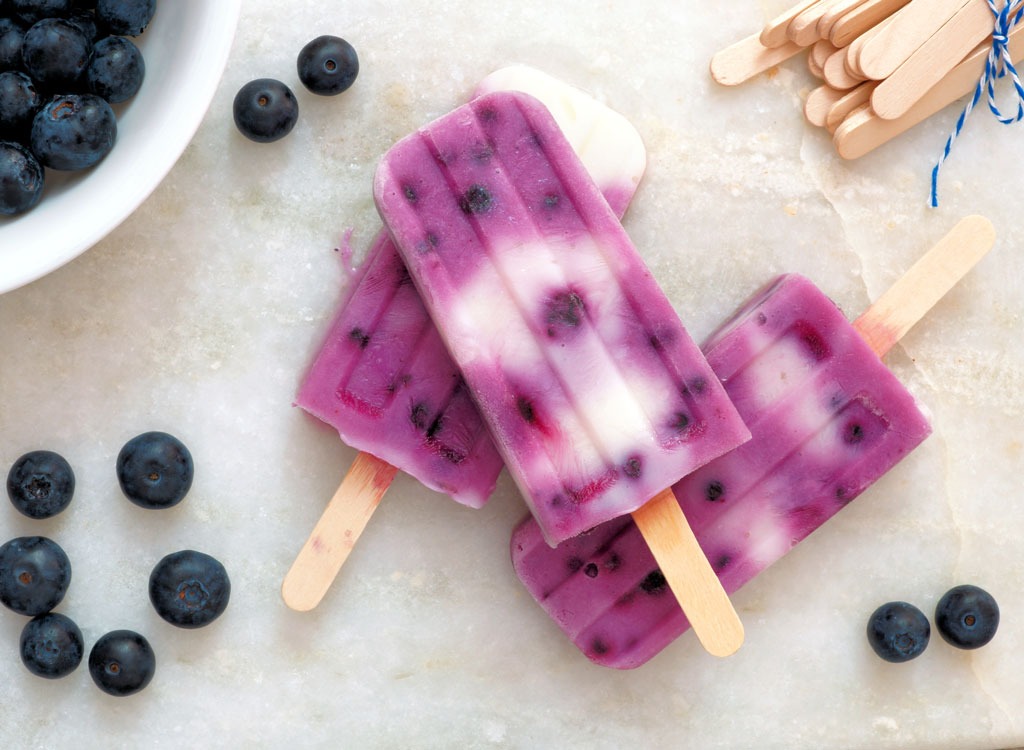 6254a4d1642c605c54bf1cab17d50f1e
Lose weight and keeping it off is all about consistency. That means not giving up the foods you crave and love, but instead, finding healthy alternatives for your go-to indulgences. "Trying to go without something you love is more likely to induce cravings for the real deal," explains Heimowitz. "If it's ice cream you're craving, opt for natural yogurt (with less than 8 grams of carbohydrates per 100 grams), mix it with fresh berries, and freeze it in ice cube or ice pop molds. If chocolate is your downfall, opt for an Atkins low-carb chocolate snack bars." A dark chocolate, no-sugar-added chocolate bar will also do the trick. We like Alter Eco Blackout. Three squares have just 144 calories, 3.6 grams of sugar, and 8.4 grams of carbs.
EAT VEGGIES & LOW SUGAR FRUITS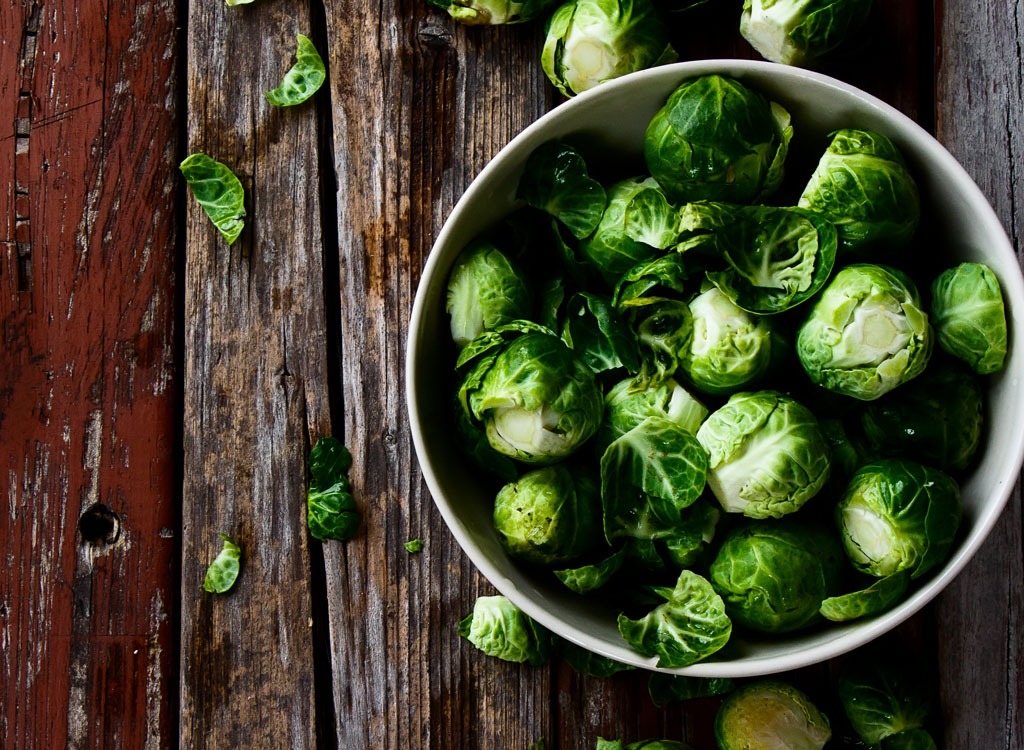 Low-carb fruits and veggies make up the bulk of Kim's diet. "Kim consumes at least 12 to 15 grams of carbohydrates in the form of low-carb vegetables each day," says Heimowitz. These include things like arugula, celery, bok choy, cucumber, mushrooms, peppers, radishes, and romaine lettuce. "Be sure to stock up on berries, cantaloupe, and cherries, too. These delicious fruits provide plenty of fiber, which plays a key role in blood sugar management, and, of course, regularity. Fiber also helps you feel full, and helps with weight loss and control."

DRINK UP
Water and other fluids like tea and coffee encourage the body to let go of water weight—plus water is just plain healthy. Aim for eight 8-ounce glasses each day, advises Heimowitz. Kim agrees. "You'd be surprised the difference drinking more water can make to your weight loss mission and workouts," says the reality TV star. Find H20 boring? Zest things up with these delicious 50 Best Detox Waters for Fat Burning and Weight Loss.
DON'T SHUN DAIRY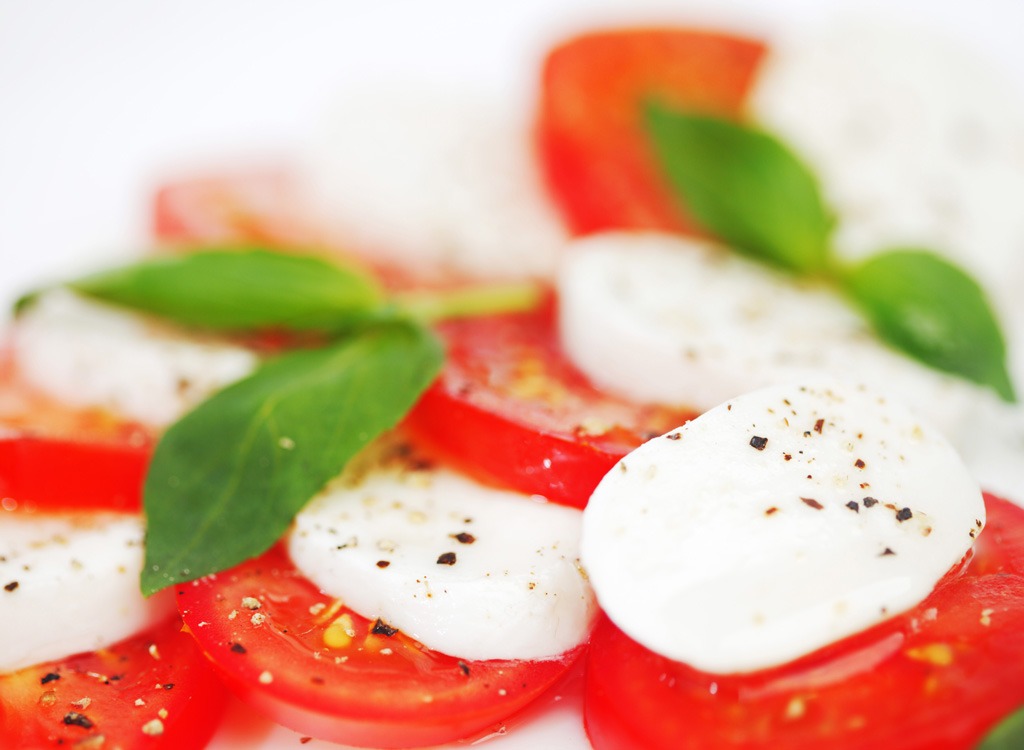 Sure, big sis Khloé gave up dairy and lost 11 pounds but Kim has a different approach to weight loss—and it doesn't involve shunning the cow. Heimowitz says that Kim's diet includes things like Greek yogurt and cheese, and even cream for coffee. "Dairy contains nutrients that aid bone health. And recent studies also show that three daily servings of dairy may help to lower blood pressure and body weight," explains Heimowitz.
DON'T FORGET ABOUT POST- WORKOUT NUTRITION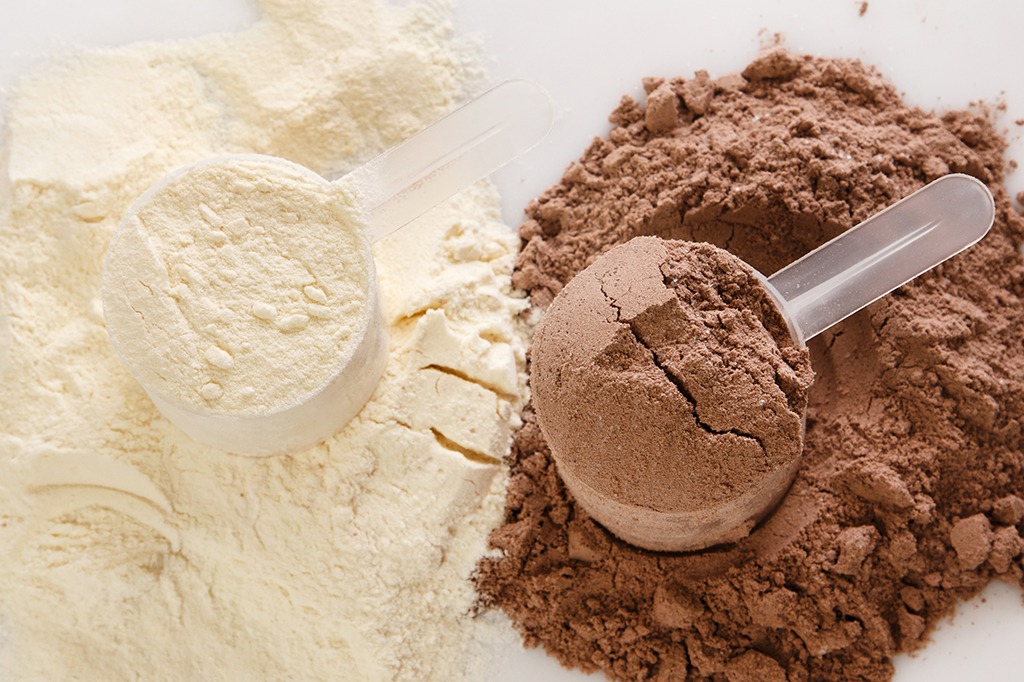 After a workout, many people assume they need some crazy big meal to refuel. The truth? Using your workout as an excuse to pig out will only stall your weight loss results. As long as you're consuming the nutrients you need—protein for muscle recovery and a bit of carbs to replenish energy—there's no need for any special products. "A normal meal comprised of protein, vegetables (which naturally contain some carbs), and healthy fats post workout is ideal," says Heimowitz. "The post workout meal will help you meet your calorie requirements and keep you fortified."
Photo credit: Ovidiu Hrubaru / Shutterstock.com & Tinseltown / Shutterstock.com
Eat This, Not That!
Inspired by The New York Times best-selling book series, Eat This, Not That! is a brand that's comprised of an award-winning team of journalists and board-certified experts, doctors, nutritionists, chefs, personal trainers, and dietitians who work together to bring you accurate, timely, informative, and actionable content on food, nutrition, dieting, weight loss, health, wellness, and more.
Read more about Eat This