Yes, You Can Still Eat KIND Bars and Lose Weight
Last week, the FDA published a letter claiming that KIND is falsely advertising the health benefits of its bars, sending ripples through the wellness community. Fans were shocked, articles called the bars "unhealthy" and more than a little confusion on the subject spread like wildfire.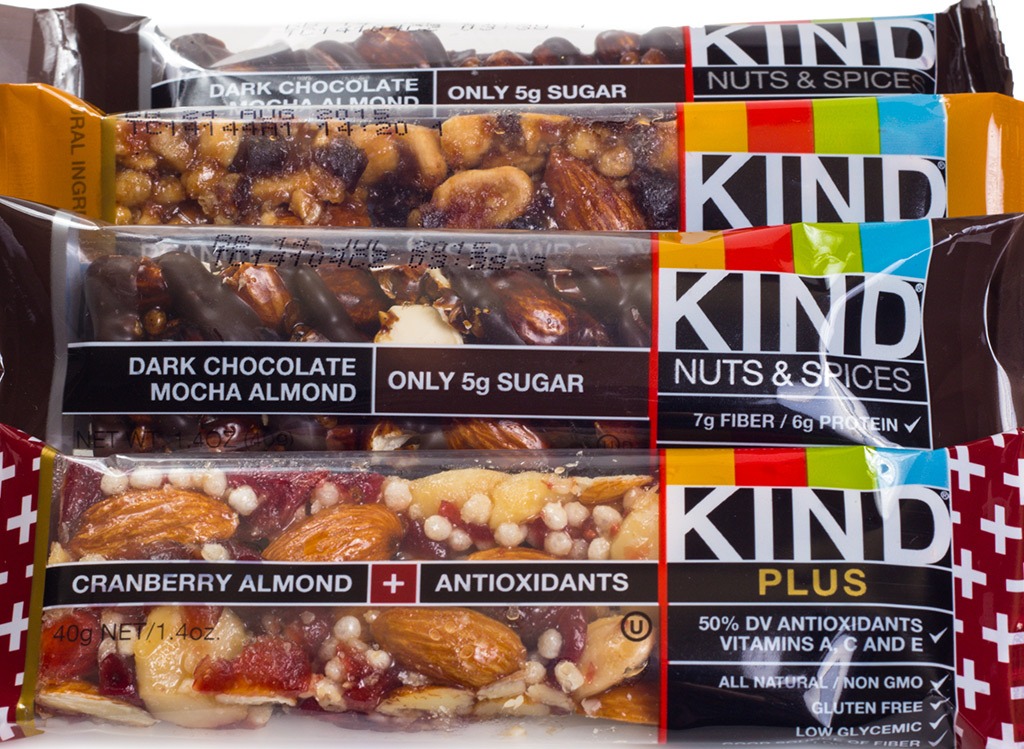 With all the digital discourse, it's hard to discern just how bad these snack bars are, and how, exactly, that should affect your munchie drawer. But before you toss out your stash of the bars and swear to never trust a company again, let's get a couple things straight: disputes between the FDA and food brands are commonplace, the FDA doesn't have a problem with a vast majority of the brand's bars, and there are still plenty of healthy options from KIND for when you need a grab-and-go snack. Only four of the KIND bars listed on their website as "healthy" (KIND Fruit & Nut Almond & Apricot, KIND Fruit & Nut Almond & Coconut, KIND Plus Peanut Butter Dark Chocolate + Protein, and KIND Plus Dark Chocolate Cherry Cashew + Antioxidants) are higher in saturated fat than the FDA recommends.6254a4d1642c605c54bf1cab17d50f1e
Big fan of the bars? Take a deep breath; you're going to be fine. We sat down with diet and nutrition expert Lisa Moskovitz, RD, CDN, who, despite being sensitive to the misleading potential of labels claiming foods are "healthy, " says she's "not too concerned with consumers choosing KIND bars over most other 'convenient and tasty' bars available on the market." So while it may be irresponsible for any company to label things "healthy" so freely, there are still ways to enjoy your precious bars.
KIND bars are, certainly, still better than many of the on-the-go alternatives, so keeping them in your bag for an emergency isn't a terrible idea, Lisa reminds us. "While the saturated fat content on some of the flavors can be up to 4 grams, it is still less than what the American Heart Association recommends, which is no more than 5-6% total calories from saturated fat." And, she continues, "While nuts and seeds (the main ingredients in these bars) do contain some saturated fats, they're also chock full of nutrients from heart-healthy fiber, MUFAS (mono-unsaturated fats), omega-3s, bone-building magnesium, calcium and energizing iron."
The key to enjoying KIND bars without wreaking havoc on your diet is to be a bit discerning. "My suggestion is to try to find a bar that has under 2 grams of saturated fat and less than 8 grams of sugar," she says. And while that's not always easy–some bars like the Dark Cherry Chocolate Cashew go as high as 14 grams of sugar–it's definitely doable. "Any bar from the new Strong & Kind bars have only 1.5 grams of saturated fat and 6 grams of sugar," Moskovitz adds. Another great option is the Nuts & Spices line, which have lower saturated fat and less than 5 grams of sugar per bar and have appeared in several of our snack roundups, including our list of the 10 Best-Ever Snacks for Weight Loss
Image: littleny / Shutterstock.com