10 Best & Worst Protein Bars at Costco, According to Dietitians
Not all protein bars are healthy. Find out which ones to add to your cart and which ones to skip next time you hit Costco.
The product recommendations in this post are recommendations by the writer and/or expert(s) interviewed and do not contain affiliate links. Meaning: If you use these links to buy something, we will not earn a commission.
In recent months and years, there's been a boom of protein bars popping up at Costco, and if you're trying to decide which is the healthiest option, it can make your head swirl. Even though protein bars may sound like a naturally healthy food, that's not always the case. Reading the nutrition facts panel and list of ingredients is essential if you want to make the best choice—but you need to know what to look for. 
When it comes to calories, a protein bar with around 200 calories (give or take a few) is a reasonable amount based on a 2,000-calorie diet. As for protein content, the better choices run between 12 to 20 grams or so. You'll also want to pay attention to the saturated fat and fiber. Some bars can have as little as 1 gram of saturated fat, but if you start going over 6 grams, that's a little excessive—especially if you're eating other sources of saturated fat throughout the day. If you can find a protein bar with some fiber, that's an added bonus and can also help keep you feeling fuller for longer.
Read on to discover five of the healthiest protein bar options you can find at Costco and five that dietitians recommend avoiding. Review this list below before your next trip to the warehouse club so you can make the best choice for you and your health goals.
The best protein bars at Costco
RX Bars (Variety Pack)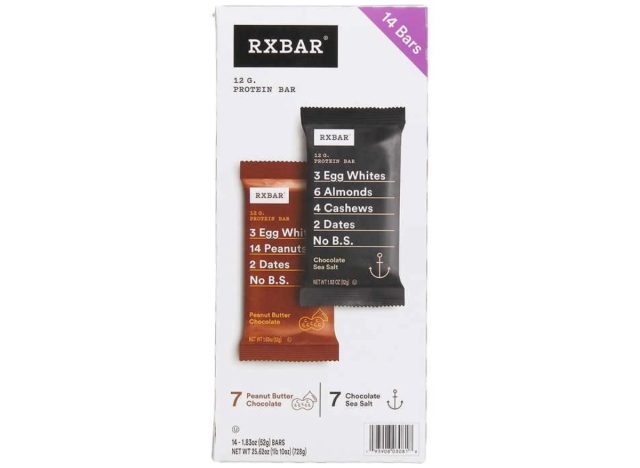 Per 1 chocolate sea salt bar
: 210 calories, 9 g fat (2 g saturated fat), 260 mg sodium, 23 g carbs (5 g fiber, 13 g sugar), 12 g protein
"When shopping for protein bars, I generally prioritize options that have a short list of recognizable, whole food ingredients, at least 3 grams of fiber per bar (given that the majority of adults don't meet their daily fiber needs), and as little added sugar as possible (preferably none)," says Malina Malkani, MS, RDN, CDN, owner of Malina Malkani Nutrition and author of Safe and Simple Food Allergy Prevention. "Rx Bars are a great example of no-added-sugar protein bars that are sweetened only with fruit, made with a balanced blend of whole foods that are low in saturated fat, and that offer 12 grams of protein per bar along with 3 grams of fiber."
Simply Protein Crispy Bars (Variety Pack)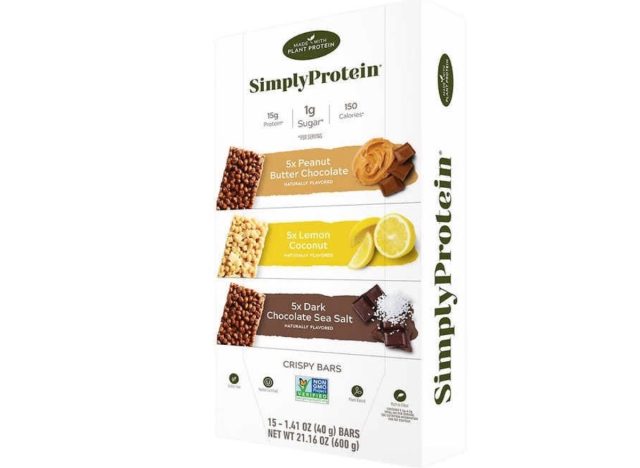 Per 1 peanut butter chocolate bar
: 150 calories, 4.5 g fat (1 g saturated fat), 280 mg sodium, 14 g carbs (7 g fiber, 1 g sugar), 15 g protein
Wan Na Chun, MPH, RD, CPT, of One Pot Wellness opts for these Simply Protein protein bars as they are high in protein, low in sugar, lower in calories, and gluten-free. "Each bar contains 15 grams of protein and only 2 to 3 grams of sugar, making them a great option for those looking to increase their protein intake without consuming too much sugar," explains Chun. "The bars are also high in fiber, with 7 grams per bar, which can help regulate digestion and lower cholesterol levels." Flavors in the variety pack include peanut butter chocolate, lemon coconut, and dark chocolate sea salt.6254a4d1642c605c54bf1cab17d50f1e
Kirkland Signature Chocolate Chip Cookie Dough Protein Bars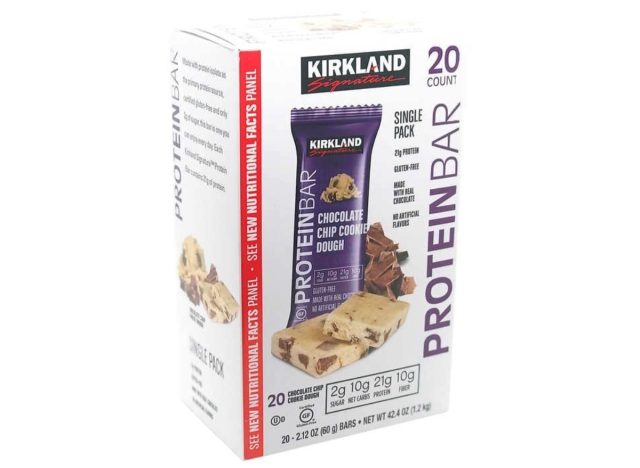 Per 1 bar
: 190 calories, 7 g fat (2.5 g saturated fat), 190 mg sodium, 22 g carbs (10 g fiber, 2 g sugar), 21 g protein
This delicious protein bar has less than 200 calories and only 2.5 grams of saturated fat says Kelly Springer, RD, MS, CDN, CEO of Kelly's Choice. Plus, Springer says, "It's not only a great source of protein with 21 grams, but also, it is a great source of my favorite F word—fiber!"
Ready Chocolate Peanut Butter & Sea Salt Protein Bar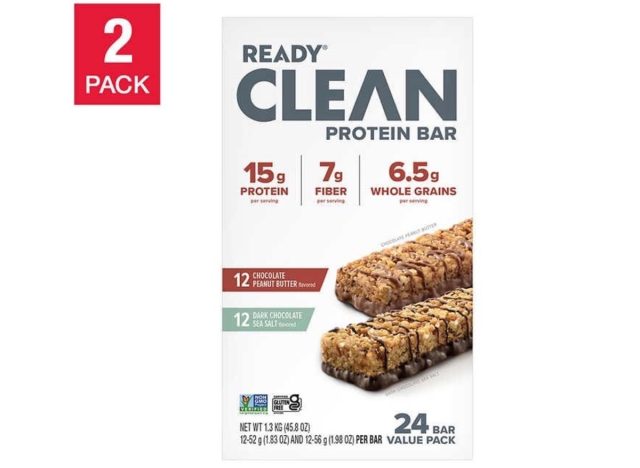 Per 1 bar
: 200 calories, 7 g fat (1.5 g saturated fat), 160 mg sodium, 23 g carbs (7 g fiber, 10 g sugar), 15 g protein
These gluten-free protein bars provide 15 grams of protein per bar. The saturated fat is very reasonable at 8% of the recommended daily maximum, plus it's high in fiber providing 25% of the recommended daily amount. These bars are also non-GMO project verified.
Pure Protein Bars (variety pack)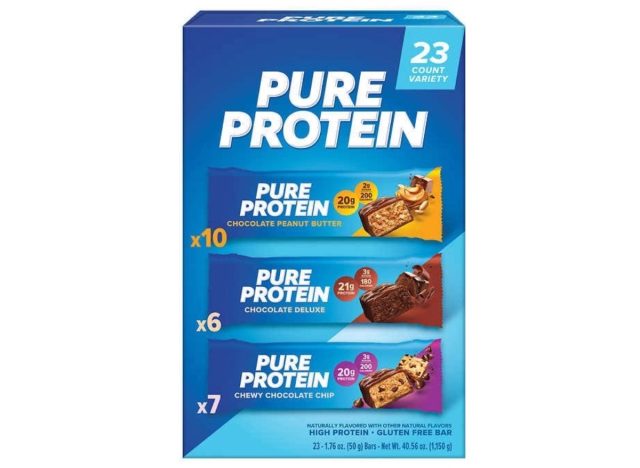 Per 1 chocolate peanut butter bar
: 200 calories, 7 g fat (3 g saturated fat), 200 mg sodium, 17 g carbs (1 g fiber, 2 g sugar), 20 g protein
This Pure Protein bar provides a whopping 20 grams of protein per bar. It's made with whey protein isolate and whey protein concentrate. The calories are reasonable for a protein bar, with a balance of a small amount of saturated fat and carbs. The only drawback is the lack of fiber, so make sure to include beans, peas, fruits, whole grains, and veggies in your other meals and snacks.
The worst protein bars at Costco
Power Crunch Strawberry Creme Bar
Per 1 bar
: 220 calories, 14 g fat (7 g saturated fat), 120 mg sodium, 11 g carbs (1 g fiber, 5 g sugar), 13 g protein
This Power Crunch bar offers 13 grams of protein per bar, but Malkani points out that with that protein comes 5 grams of added sugars, 7 grams of saturated fat, and only 1 gram of fiber. "This nutrient profile makes it difficult to achieve a dietary pattern that supports heart health (per the American Heart Association) by keeping saturated fat intake below about 13 grams per day, getting enough fiber, and limiting added sugars to 6% of calories or less," explains Malkani.
G2G Protein Bars (Variety Pack)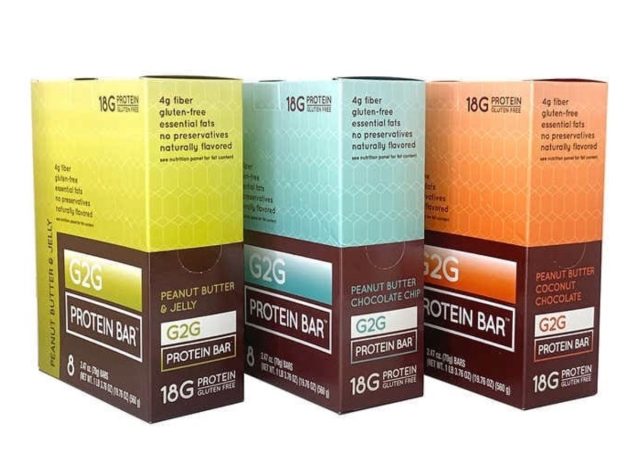 Per 1 peanut butter chocolate chip bar
: 300 calories, 14 g fat (4 g saturated fat), 85 mg sodium, 25 g carbs (4 g fiber, 15 g sugar), 18 g protein
Although this option from G2G has a good amount of protein, the calories are rather high for a mid-afternoon protein snack. Plus, the saturated fat is 20% of the daily recommended amount, and you can find many other protein bar options with less. In addition, the fiber isn't that high for that many calories!
Fit Crunch Peanut Butter & Jelly High Protein Baked Bar
Per 1 bar
: 210 calories, 11 g fat (7 g saturated fat), 220 mg sodium, 13 g carbs (2 g fiber, 1 g sugar), 16 g protein
There's certainly a good amount of protein in chef Robert Irvine's protein bar creation. However, there's also a whopping 30% of your daily recommended amount of artery-clogging saturated fat. If you are worried about heart disease or sticking to your recommended daily maximum of saturated fat, it'll be tough to keep that in check if this bar is part of your regular eating plan.
Clif White Chocolate Macadamia Nut Bar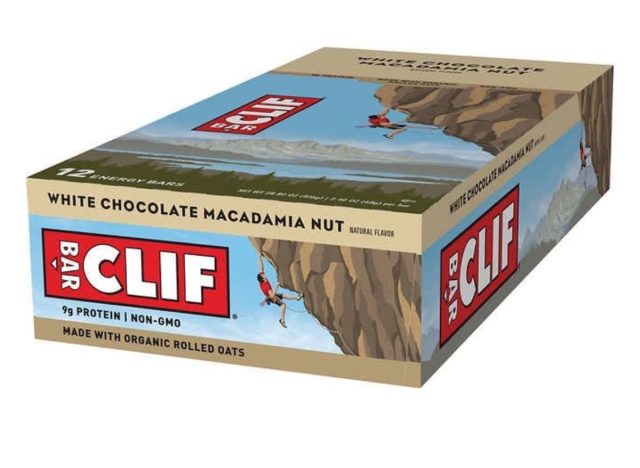 Per 1 bar
: 260 calories, 7 g fat (2 g saturated fat), 220 mg sodium, 42 g carbs (3 g fiber, 21 g sugar), 9 g protein
Chun names this Clif bar as a not-so-healthy choice as it's high in calories and sugar. It contains 260 calories and 21 grams of sugar—which Chun points out is as much sugar as in a Snickers bar. (Technically it's more! A Snickers bar contains 20 grams of sugar.) Chun recommends reading the nutrition label and ingredient list to make sure you're choosing the healthiest protein bar option.
Nature Valley Peanut Butter & Dark Chocolate Protein Bar
Per 1 bar
: 190 calories, 12 g fat (3.5 g saturated fat), 160 mg sodium, 15 g carbs (6 g fiber, 7 g sugar), 10 g protein
I love the Nature Valley brand, but if you're looking for protein in your bar, many of the other options are higher than the 10 grams in this one. The saturated fat is also higher than the better-for-you choices, so I would recommend opting for those before grabbing one of these.
Toby Amidor, MS, RD, CDN
Toby Amidor is an award winning dietitian and
Wall Street Journal
best-selling cookbook author who believes healthy and wholesome can also be appetizing and delicious.
Read more about Toby