Kourtney Kardashian's Vital Proteins Collaboration Is Here—See the Products
Her lifestyle site Poosh just welcomed two new collagen-based additions!
Every Kardashian-Jenner sister in the clan has her niche: Kim's apprenticing to be a lawyer, Khloe's dedicated to her fashion line, Kylie's running a billion-dollar makeup empire, Kendall's owning the catwalk, and Kourtney is making strides in the wellness space. Specifically, Kourtney recently launched Poosh, a one-stop wellness hub for fans and mommies alike to drop by and read up on all things fitness, health, and Kardashian-approved product recs. Up until now, the site has run as a blog, but as of May 1, Poosh's collab with Vital Proteins launches the lifestyle site into shopping territory.
Out of all the Kardashian sisters, Kourtney has always been pretty candid about her diet and exercise routines, and Vital Proteins' Collagen Peptides have been a staple in the eldest sister's morning regimen. During an interview with Ellen DeGeneres discussing the launch of Poosh and its first-ever collaboration with the collagen category leader, Kourtney said "[Vital Proteins] is something I take every single morning, that I've been taking for years." Kourtney also raved about Vital Proteins products in a blog post for Poosh that broke down her morning rituals, which, she says, drinking her collagen drink is a critical part of.
"I swear by my morning collagen drink—I never skip it," she writes. "I keep my favorite collagen powder in my bedroom and mix it with room-temperature water. I find that collagen gives my skin a glow and keeps my hair and nails healthy. This handy little drink keeps me full all morning and carries me through my workout."
Thus, partnering with Vital Proteins was "a natural fit," the mama of three expressed in a press release. The goal, she said, was to create two products comprised of "the best ingredients for your mind and body." The Vital Proteins x Poosh line highlights two must-have products: The Blueberry & Lemon Collagen Vibes and the Pink Moon Milk Collagen Latte.
Blueberry & Lemon Collagen Vibes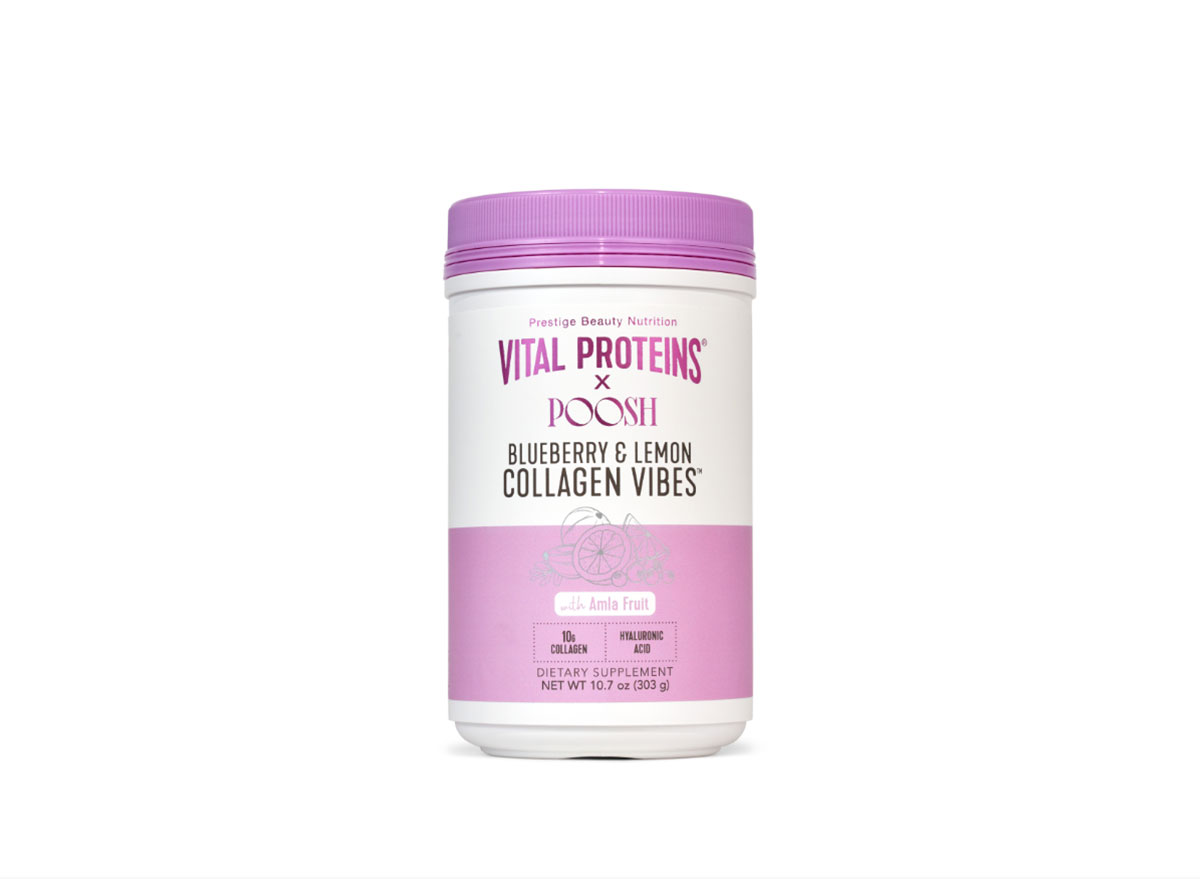 6254a4d1642c605c54bf1cab17d50f1e
Nutrition per 1 serving, 2 scoops (15 g)
: 60 calories, 56 mg sodium, 5 g carbs (3 g sugar), 9 g protein
The Blueberry & Lemon Collagen Vibes is a daytime sip, made from an organic blueberry fruit powder, organic lemon juice powder, and sweetened with natural monk fruit extract. One serving of two scoops yields 10 grams of collagen peptides, 120 mg of hyaluronic acid, and a slew of amino acids. The collagen powder acts as a beauty supplement to help keep your skin hydrated from the inside out and sustain its natural glow.
Pink Moon Milk Collagen Latte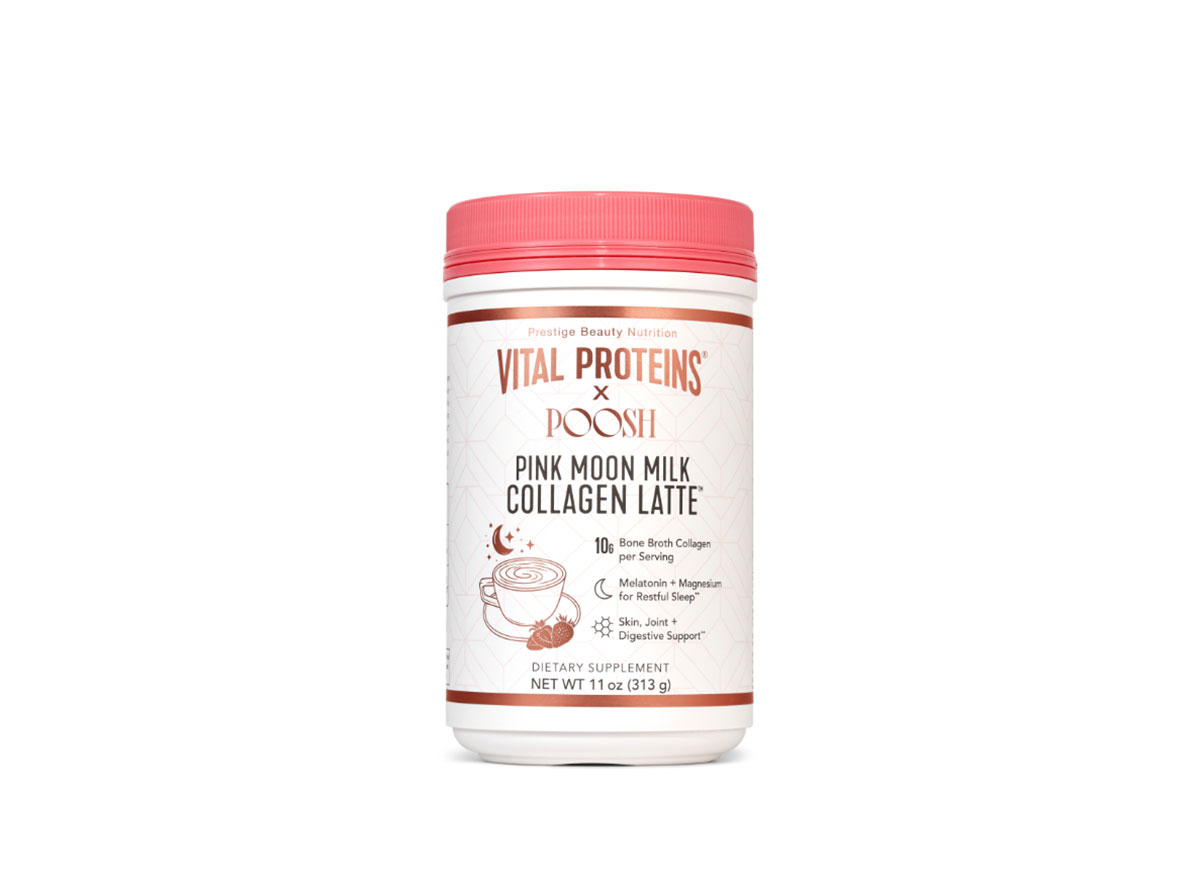 Nutrition per 1 serving, 2 scoops (22 g)
: 120 calories, 6 g fat (6 g saturated fat), 75 mg sodium, 5 g carbs (1 g sugar), 10 g protein
While Vital Proteins has dabbled in beauty supplements before (the brand offers three beauty collagen peptide blends, one capsule supplement, and a collagen shot), the Pink Moon Milk Collagen Latte formula is unlike anything fans have seen from Vital Proteins to date. The beverage is meant to be enjoyed hot before bed to aid in healthy digestion throughout the night, as well as restful sleep.
The ingredients list highlights organic coconut milk powder and organic beet root powder, which gives the beverage that Instagram-worthy pinkish tint. Organic acacia fiber promotes good bacteria in the body, while sleep-inducing elements like melatonin and magnesium, as well as the stress-relieving adaptogen ashwagandha, promote a state of calm. Just what you need after a long day, right? Plus, one serving of two scoops also yields 10 grams of Vital Proteins Bone Broth Collagen Peptides, which is both good for your gut and your skin.
Both the Blueberry & Lemon Collagen Vibes ($44) and Pink Moon Milk Collagen Latte ($49) will be available exclusively on Poosh starting May 1.