"Lazy" Trader Joe's Meals Are Going Viral for Being Low Effort & Delicious
The newest TikTok trend makes cooking easy—take a few finds from Trader Joe's, combine and enjoy.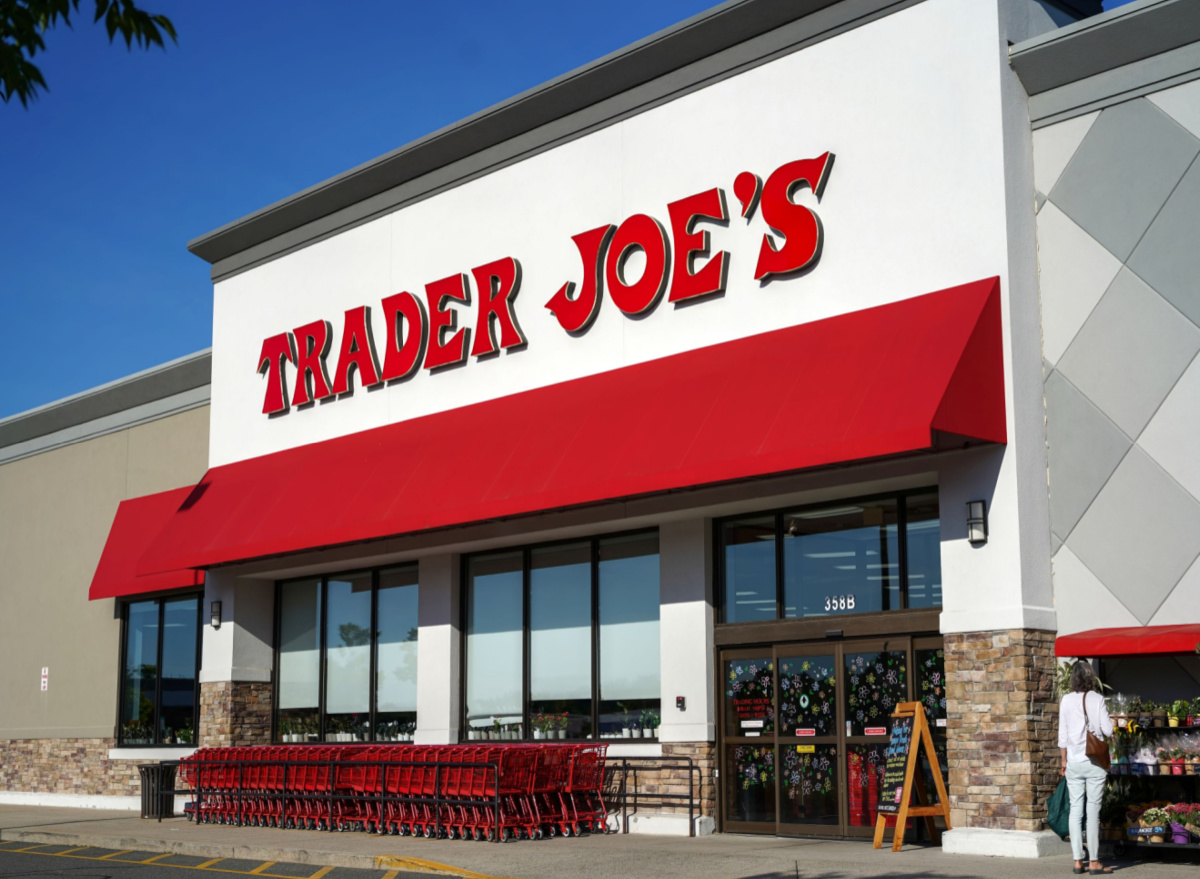 After an especially long day at work or school, it can be extremely tempting to pass up on a home-cooked dinner for something lower effort and less nutritious. Let's face it: some nights you just can't deny the pull of Hot Pockets and McDonald's burgers when you think about how easily and quickly you can get them on the dinner table.
If you're the type of person who falls into these weeknight slumps, but want to start cooking more delicious, wholesome meals without spending too long sweating over the stove, TikTok has got you covered. Some TikTok creators have made it their mission to develop minimal-effort, high-reward meal ideas using ingredients from a grocery chain that has grown increasingly popular on the platform: Trader Joe's.
Many of these "lazy" Trader Joe's meals, as some TikTokers call them, only require a few components and a solid 30 minutes or less of your time. In one February video that has received 7.2 million views, for example, creator Chris Petrellese shared a recipe for a creamy pasta dish that only requires the grocery chain's Organic Trofie Pasta, Tomato Basil Marinara Sauce, and vegan cream cheese.
The TikToker, who runs a series on lazy Trader Joe's meals, told Eat This, Not That! that his goal "is to create low-effort but flavor packed meals that don't take much time to prepare, and aren't too straining on your wallet."
"I know how hectic life can be, and how important it is to eat well," said the creator, whose TikTok handle is @consciouschris.
In another of Petrellese's video that has raked in more than 72,000 views, the same creator cooks up an impressive stir fry-type dish using the Korean Beefless Bulgogi, Stir Fried Garlicky Cabbage, frozen Organic Jasmine Rice, and Organic Sriracha & Roasted Garlic BBQ Sauce.
Fellow TikTok users who said they tried the recipe gave it excellent reviews and requested more lazy dinner ideas in the comments section of the video. "Just made this for dinner! So good and easy – thanks for the recommendation!!" raved one commenter.
A key trend among TikTok's lazy Trader Joe's meals is that they eliminate most of the cooking legwork by pairing a couple of the grocery chain's pre-cooked or prepared food items together.
In another video, @chicago.dietician simply heats up a couple frozen Trader Joe's Breaded Chicken Tenderloin Breasts, chops them up into bite-sized chunks, and uses them to top the Harvest Apple Salad Kit. Those two grocery items may not have been enough to write home about by themselves, but together, they make a quick meal packed with veggies and protein.
Another TikToker, @paigelindgren, promises that you can have a delicious and healthy dinner on the table in 10 minutes by sautéing Trader Joe's Kale Gnocchi, Sweet Italian Chicken Sausage, and spinach, and then mixing it all with a healthy dollop of the Vegan Kale, Cashew & Basil Pesto.
Some of the lazy recipes don't even require home cooks to take a pan out of the cupboard. A video that has accrued more than 32,000 likes shows TikToker @nutritionbykylie simply mixing together Trader Joe's Bruschetta Sauce, ready-to-eat Steamed Lentils, and crumbled feta cheese, and then serving the flavorful mixture with crackers and fresh veggies.6254a4d1642c605c54bf1cab17d50f1e
Fellow TikToker users were not only delighted by the taste of this meal, but also by the speed at which it came together. "Just made this and loved it," one commented on the video.
Even if these specific options don't turn out to be everyone's cup of tea, a quick search on TikTok can unearth seemingly endless easy dinner ideas that can hopefully make cooking on the nights where you'd rather do anything else just a little less taxing.
Zoe Strozewski
Zoe Strozewski is a News Writer for Eat This, Not That! A Chicago native who now lives in New Jersey, she graduated from Kean University in 2020 with a bachelor's degree in journalism.
Read more about Zoe