The 5 Healthiest McDonald's Burgers, According to a Dietitian
Craving a burger? Here's what you should order.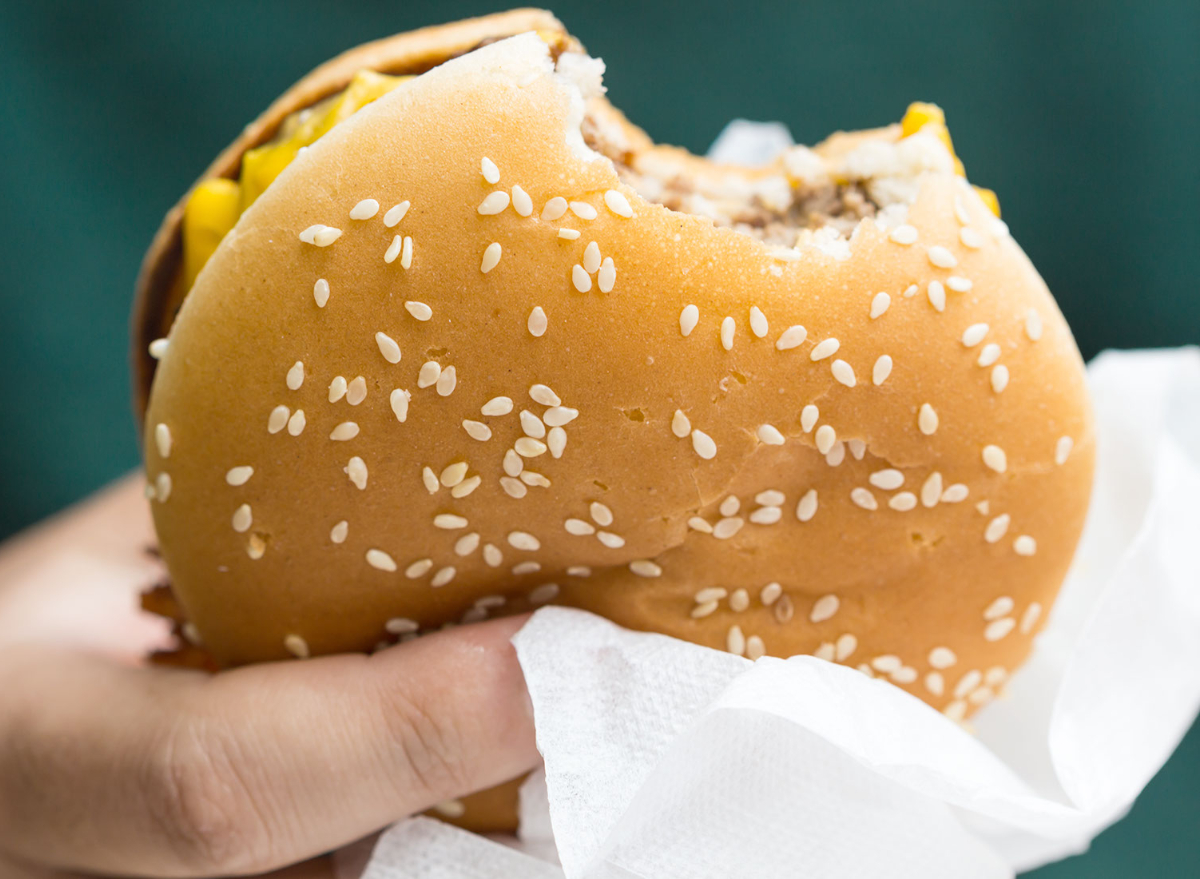 You know when you walk into a McDonald's or hit the drive-thru for a quick meal that you should be ordering something healthy. Maybe an Egg McMuffin with a side of apple slices, a small order of McNuggets, or one of these other healthy McDonald's orders. Yet while you know those are the meals that are better for your body, sometimes you're just really craving a greasy McDonald's burger. We get it! This is why we discussed the healthiest McDonald's burgers with a registered dietitian, so you know exactly what to order.
In order to determine which McDonald's burgers are the healthiest, we spoke with Amy Goodson, MS, RD, CSSD, LD, and author of The Sports Nutrition Playbook about which burgers would be the better ones to choose if you're craving it on the drive-thru line. While Goodson is clear that not all of these burgers would be considered the healthiest option at McDonald's in general, she did choose a few burgers that weren't as bad for you compared to the unhealthiest burgers at McDonald's. Read on to find out which burgers you should eye on the McDonald's menu, and for more healthy eating tips, check out this list of 21 Best Healthy Cooking Hacks of All Time.
Per 1 sandwich
: 250 calories, 9 g fat (3.5 g saturated fat), 510 mg sodium, 31 g carbs (1 g fiber, 6 g sugar), 12 g protein
"The hamburger tops the charts as the burger with the least calories and fat that McDonald's has to offer," says Goodson. "At 250 calories, 9 grams of fat, and 12 grams of protein, this could fit into almost anyone's meal plan without breaking their caloric bank. Plus, it's a decent blend of carbohydrates, protein, and fat. If you need a side item, apple slices are the healthiest partner."
Looking for more healthy meals at McD's? Here are 7 Healthiest McDonald's Orders, According to a Dietitian.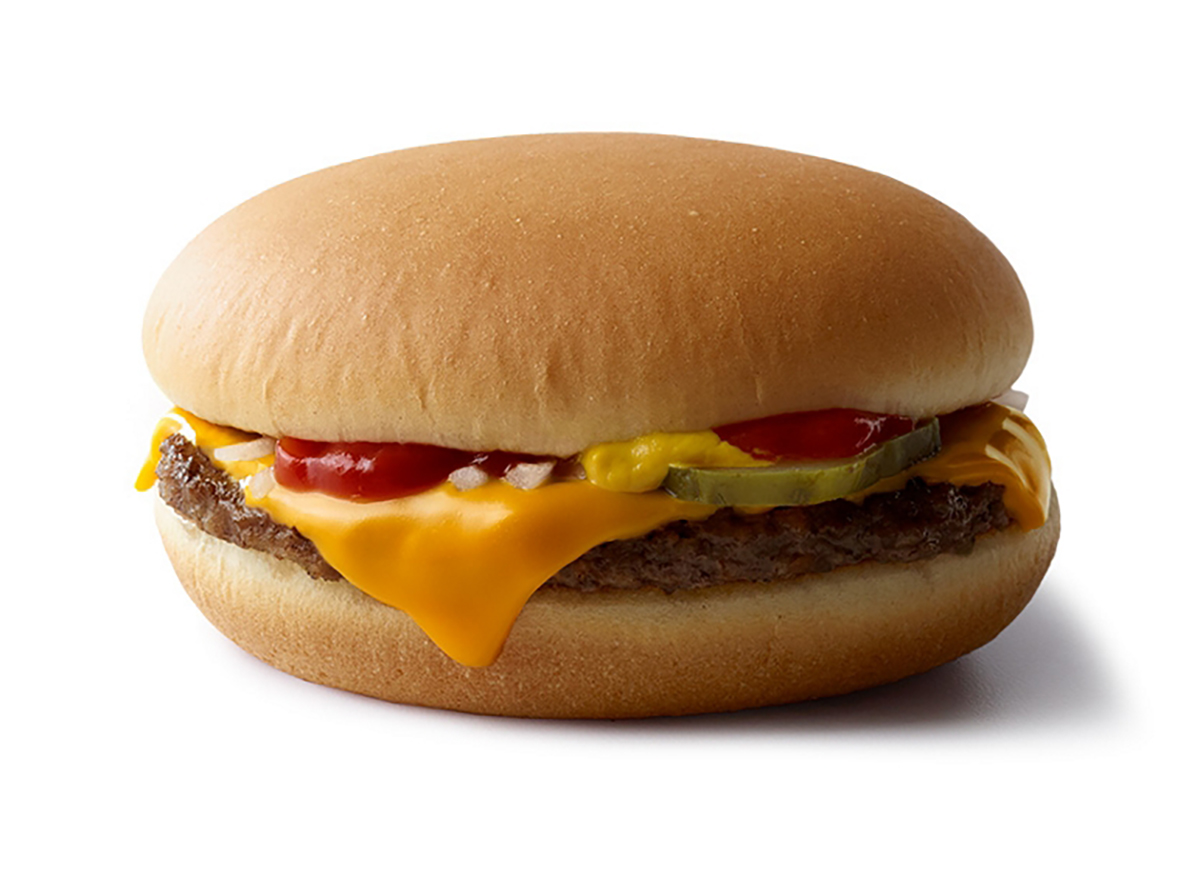 Per 1 sandwich
: 300 calories, 13 g fat (6 g saturated fat, 0.5 g trans fat), 720 mg sodium, 32 g carbs (2 g fiber, 7 g sugar), 15 g protein
"If cheese is your thing, then the McDonald's cheeseburger might be the choice for you," says Goodson. "With 300 calories, 13 grams of fat, and 15 grams of protein, it can be a calorically-conscious choice for the cheese-lovers out there. Similar to the hamburger, apple slices are the best pairing to go with this burger."6254a4d1642c605c54bf1cab17d50f1e
Speaking of cheese, Here's What Happens to Your Body If You Eat Cheese Every Day.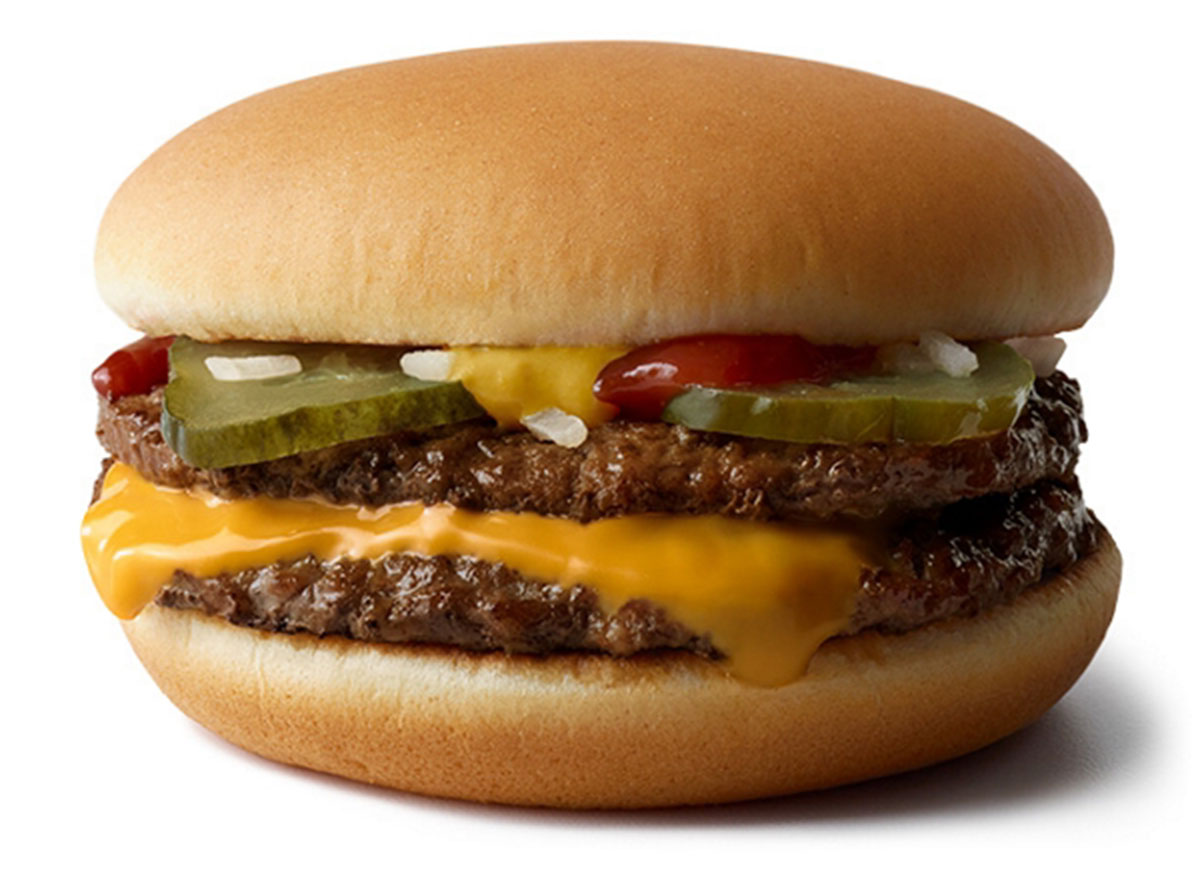 Per 1 sandwich
: 400 calories, 20 g fat (9 g saturated fat, 1 g trans fat), 920 mg sodium, 33 g carbs (2 g fiber, 7 g sugar), 22 g protein
"If you are looking to up your protein game and still stay in a fairly normal lunch/dinner calorie range, the McDouble can be a good choice," says Goodson. "With 22 grams of protein and 400 calories, it gives you an extra patty of meat to boost the protein and iron content of the burger. This could be a meal alone for many, but if you need a side, add apple slices. With 920 milligrams of sodium, the goal should be to surround this burger with sodium-free foods."
Looking for menu items lower in sodium? Check out our list of 19 Best Low-Sodium Fast Food Orders, According to Dietitians.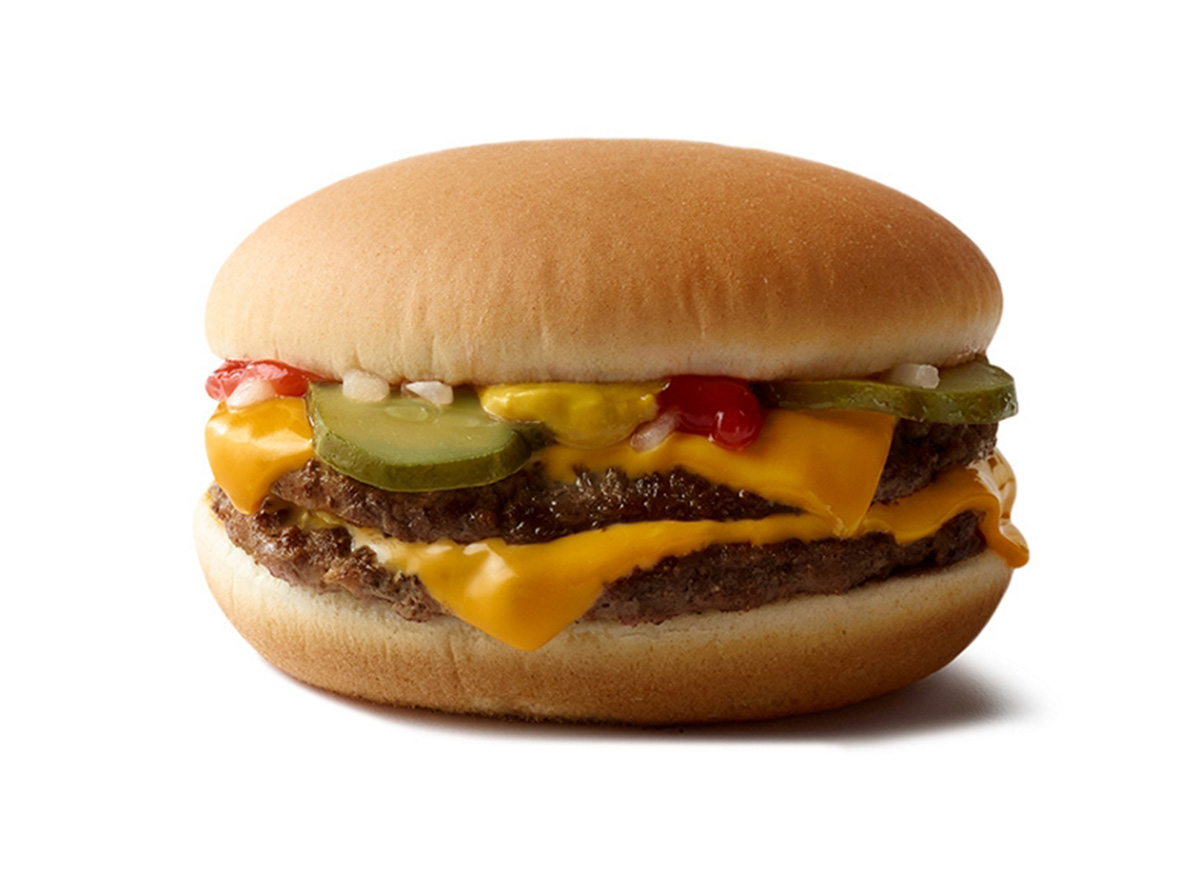 Per 1 sandwich
: 450 calories, 24 g fat (11 g saturated fat, 1.5 g trans fat), 1120 mg sodium, 34 g carbs (2 g fiber, 7 g sugar), 25 g protein
"Coming in close to the Quarter Pounder, the Double Cheeseburger wins the health game because, in comparison, it is lower in calories, total fat, and sodium," says Goodson. "With 450 calories and 25 grams of protein, it fits a fairly normal 'meal profile', but it is higher in saturated fat, total fat, and sodium compared to some of the smaller burgers, so likely have some water and call this a meal."
Quarter Pounder with Cheese Deluxe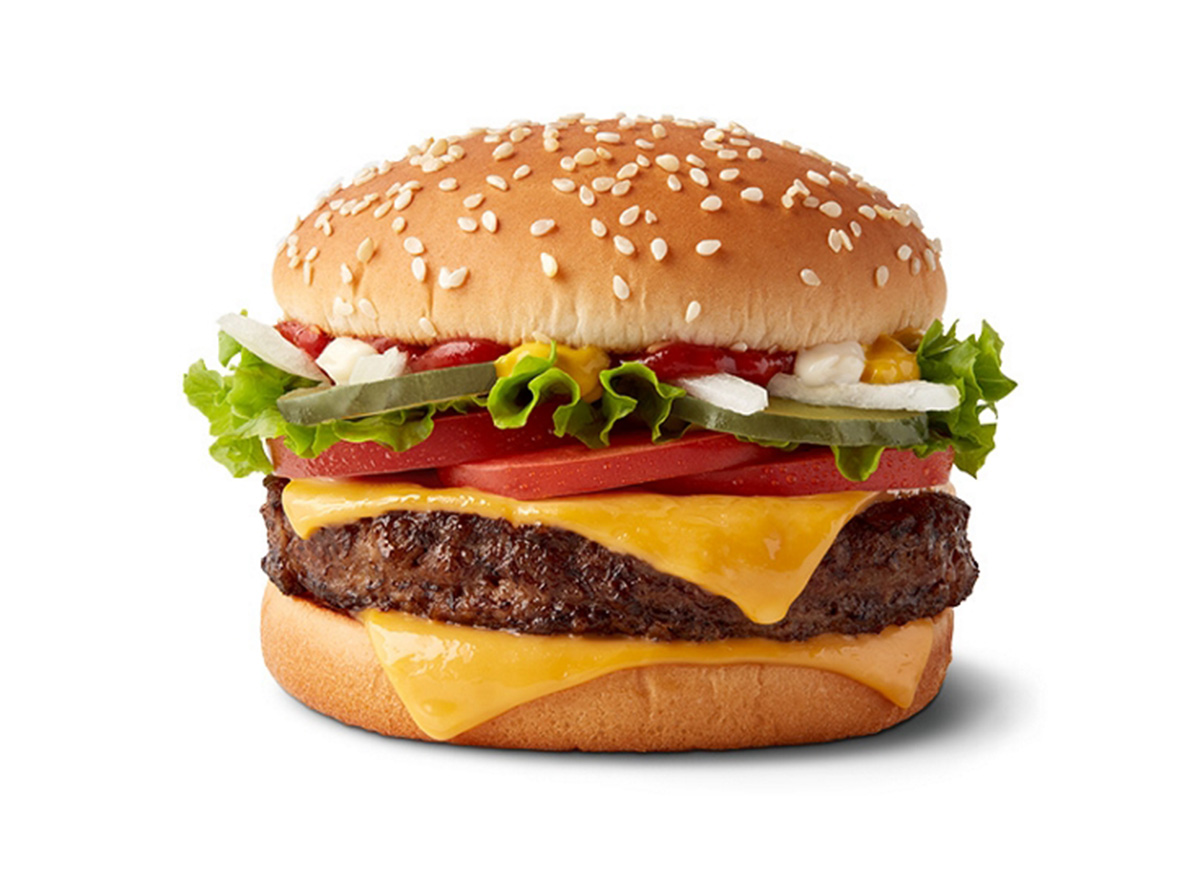 Per 1 sandwich
: 630 calories, 37 g fat (14 g saturated fat, 1.5 g trans fat), 1210 mg sodium, 44 g carbs (3 g fiber, 11 g sugar), 30 g protein
"While higher in calories than the regular Quarter Pounder, this burger boasts of crisp leaf lettuce and Roma tomato slices making it a win for veggies! This burger would be great for the heavy exerciser or young athlete who needs more calories and sodium at a meal," says Goodson. "With 30 grams of protein and 630 calories, it's definitely on the higher end for most average adults, but for those burning lots of calories, this can fit. Pair it with apples and water or even milk if you are trying to amp up your protein."
Not sure how many calories you should be eating? Here's How Many Calories A Week You Should Eat For Weight Loss.