Lorde Just Posted New Onion Ring Reviews on Her Secret Instagram Page
"I don't think they get enough credit for how delicious they are."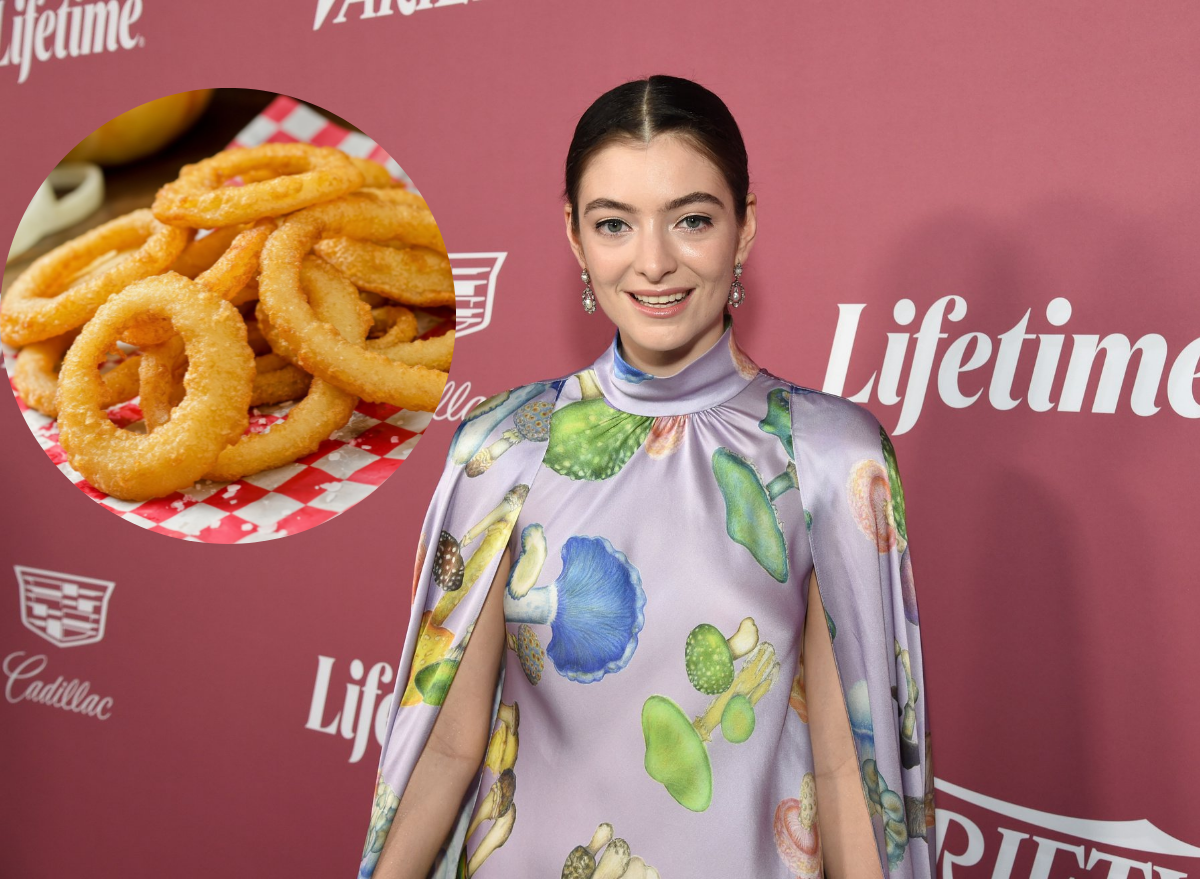 Did you know that Lorde has an Instagram account devoted to one thing: the quest for the perfect onion ring? Yes, that Lorde, the international superstar singer responsible for the mega-hit Royals. In 2017, rumor had it that the account @onionringsworldwide was hers, and she officially revealed that she was the creator of the account on The Tonight Show Starring Jimmy Fallon. She created it for fun while she was on tour, and never intended for it to become a sensation. "I completely didn't realize that it would be a thing," the singer told Fallon.
At the time of the interview, Lorde had removed the account because she felt that, "Now everyone knows about it. It would feel like something I'm doing to crave fame." But also believed her beloved onion rings deserved the love. "I don't think they get enough credit for how delicious they are."
In December 2020, the onion-ring/Lorde lovers of the world were overjoyed when the account popped back up with new reviews, as reported by Today.  "Don't call it a crumb back…" punned the caption of the first review back.
Since then, Lorde has returned every few months to drop some delicious onion-ring wisdom on the world, and we're happy to report that three new reviews have dropped this month—and the last one is even a bit shocking.
Read on to see Lorde's latest onion ring reviews. And next, go out and try these picks for The Best Chili in Every State.
Lorde's secrets for the perfect onion ring
When Lorde's secret account became known to the masses, she initially stopped ordering the rings because, as she writes, "it got embarrassing, you know? But it occurred to me that some things are too good to let the internet spoil." We're glad she came back to show us her favorite spots, but first, a few notes from her on what makes a killer onion ring. "A batter works better than a crumb," she said on The Tonight Show Starring Jimmy Fallon. "It's lighter." She also recommends that the onion be lightly picked before it's battered, "so it takes on a mild acidity."6254a4d1642c605c54bf1cab17d50f1e
Her first pickled onion ring
This review was the first to pop up in 2021. This onion ring looks to be Lorde's first experience with a pickled onion ring. "We're talking PICKLED onion rings which is a first for this reviewer. I totally vibe the concept— used to eat pickled onions out of the jar as a youngster." These are from the Hotel Ponsonby in Auckland. Lorde gives these rings a 4 out of 5 and notes that they could be "the best I've tried."
A brewery stop after a photoshoot
In September, Lorde found herself at a brewery in California called Humboldt Brewing Company where she found some onion rings that had a "nice crunch" but were "soft all the way through." She does note, however, that possible delirium from a few early mornings and "immersion in very cold water" could have altered her perception. Base on the photo she notes that the rings were "golden and glistening with a shattery coat so I'll give them a 3/5 just to be safe."
On October 3, Lorde returned to the world of onion ring reviews, with a golden brown number from the Phonecia Diner in Upstate New York where she was wowed by massive onion rings. "I could have worn one of these as a fascinator to a royal wedding," she says. In terms of taste, the onion rings were not very crispy but "large, sweet rounds of white onion encased in a well-seasoned, chewy batter." She gave the appetizer a 4 out of 5.
Delicious rings with a side of sublime chili
Lorde's next stop is somewhere in California at a place called Barney's Beanery. The restaurant has several locations across the Sunshine State, so the exact location she ate at is unknown. What is known is that she loved these onion rings, giving them a 4 out of 5, and praising the thick-cut ring with a "super crunchy crumb batter." The onion might have been a little too soft but the "incredible batter" seems to have made up for that. She also notes that the establishment served a great chili that was "sublime like the band."
Next up, Lorde shakes things up by reviewing the iconic salty snack, Funyuns, at the behest of her loyal readers. While the snack "didn't hold a candle to the real thing," Lorde states, "I wasn't mad. I love knowing that the humble ring, a treat that's flown under the radar for too long, has representation in the shelf-stable snacking aisle."
Watch Lorde's Instagram account for future onion ring reviews, and try some of the spots out for yourself!
Read more:
These Are Kate Hudson's Go-To Snacks for Weight Loss
What Celebrities Actually Order at McDonald's