The Unhealthiest Restaurant Orders in Every State
Keep an eye out for these unwholesome eateries on your next road trip.
When it comes to eating out, sometimes you need to indulge to satisfy that hard-to-hit craving. It is okay to indulge in the occasional extra-large burger, decadent dessert, or plate of French fries. However, some restaurants pack way more calories into their meals than you can even guess. Knowing which restaurants offer up the most unhealthy meals can keep you out of trouble, especially if you find yourself in the area and a craving hits.
By knowing which eatery in your area has a tendency to fill up their meals with salt, fat, carbs, and calories, you can think about healthier or alternatives or anticipate when you have to hit the gym extra hard. While this sounds easy on paper, identifying least healthy eatery in your area takes a lot of effort. Luckily, Eat This, Not That! narrowed down the list of restaurants in each state and discovered which restaurants pack in too much bang for your buck.
Read on to learn which eatery around you has the biggest impact on your health, and when you need to eat healthy next time you visit your favorite restaurant, scour the menu for The #1 Healthiest Menu Option at 80 Popular Restaurants.
ALABAMA: Mugshots Grill & Bar (Multiple Locations)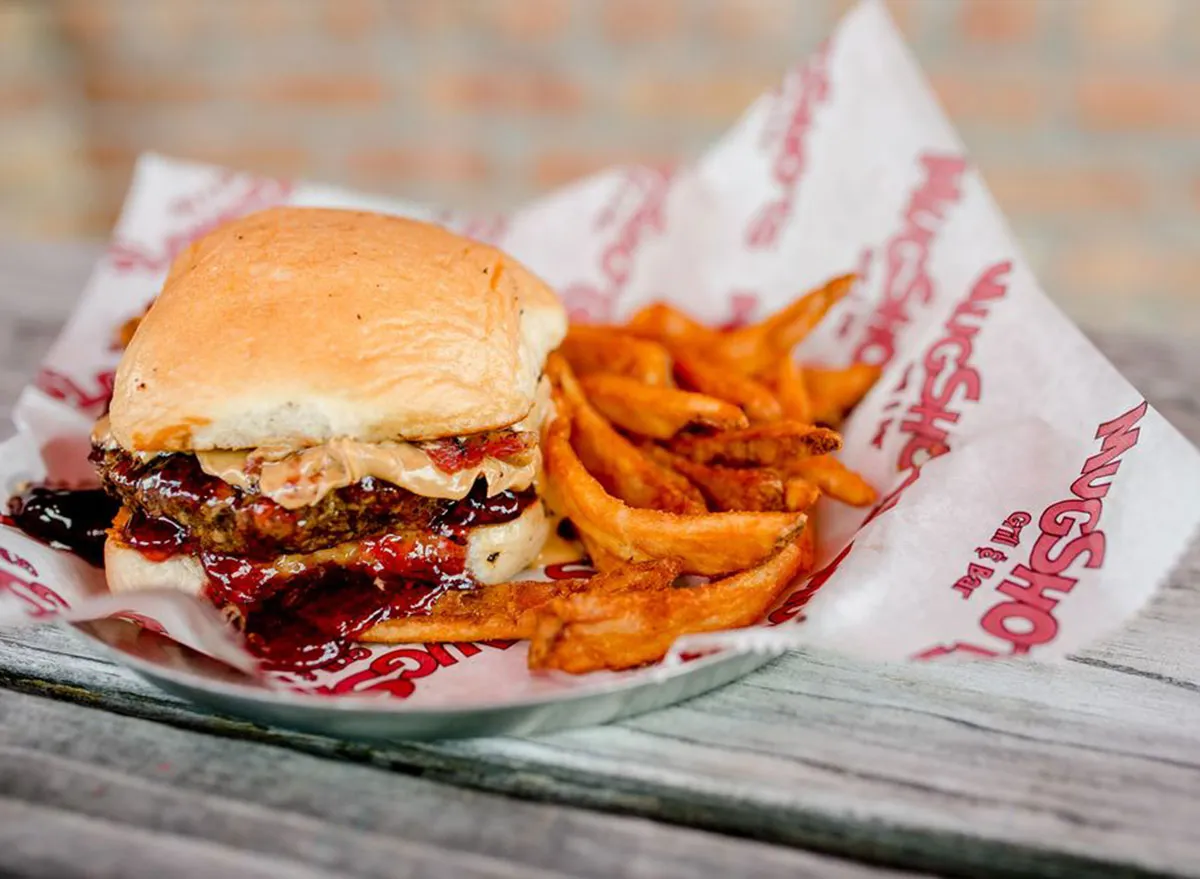 Mugshots has a heavy bar food menu loaded with burgers, like Anthony's Peanut Butter Burger that comes topped with the namesake spread. Also, steer clear of their namesake burger The Mugshot, which features three burger patties, six strips of bacon, and a variety of toppings including french fries and onion rings. On the plus side, if you finish it in 12 minutes it's free. Choose one of their salad or fish options for a healthier choice.
Sign up for our newsletter for more restaurant guides and food news. 
ALASKA: West Rib Pub and Grill in Talkeetna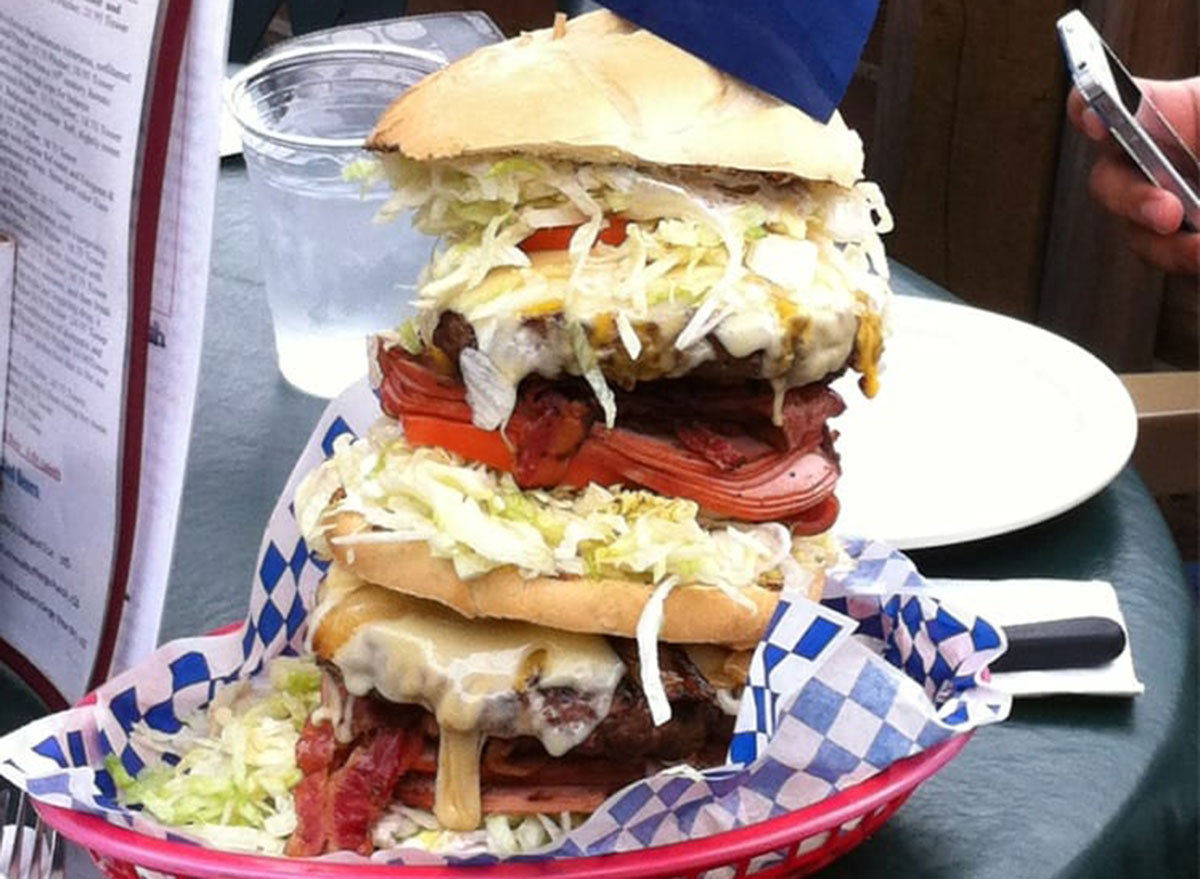 Talkeetna's West Rib Pub and Grill knows what it's about and keeps the burger options plentiful. Their claim to fame, Seward's Folly, comes loaded with 12 strips of bacon, 2 pounds of caribou meat, half a pound of smoked ham, and much more. With items like this, the pub and grill easily take the mantle of the unhealthiest restaurant in Alaska. Try one of their seasonal seafood entrees or salads for a lighter option.
ARIZONA: The Cheesecake Factory in Multiple Locations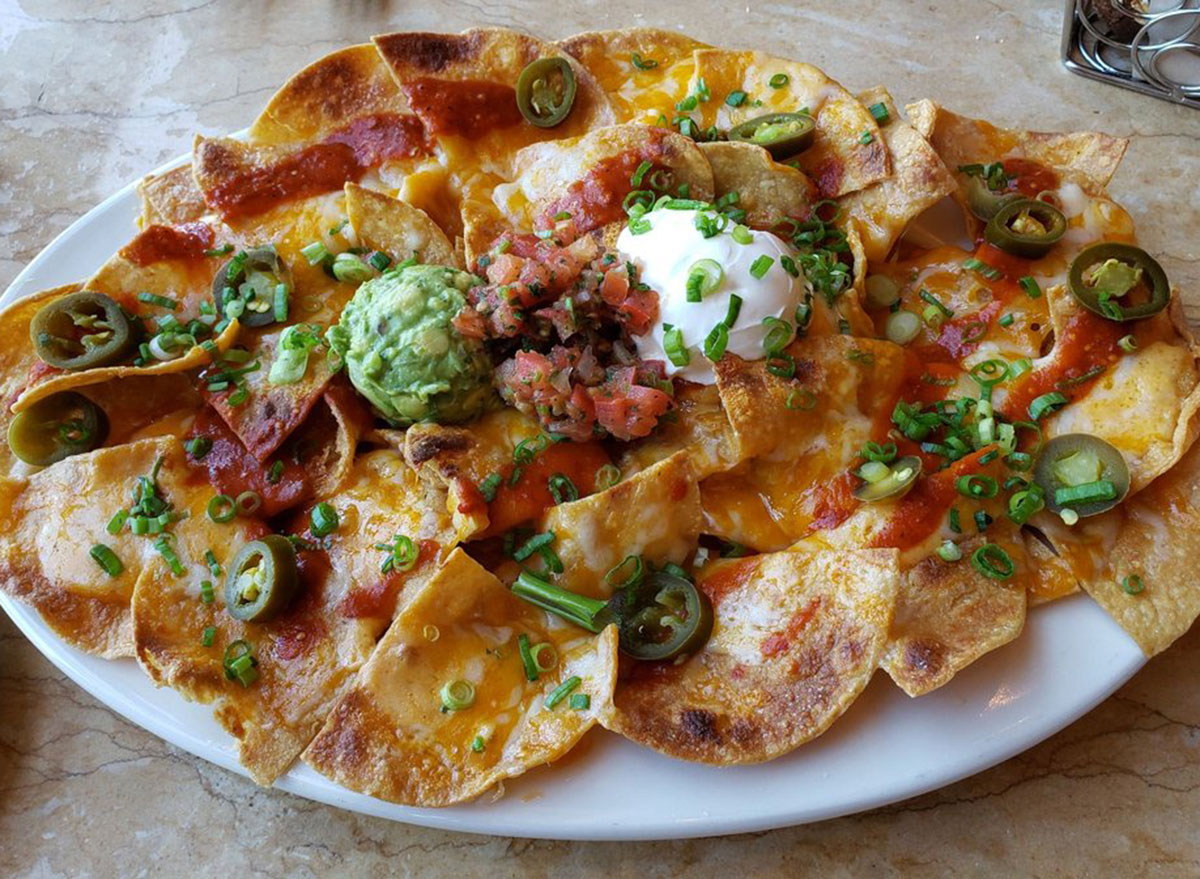 Sometimes local restaurants just can't compete with the fat, carbs, and salt loaded into the menus of chain restaurants. Out of all of Arizona's restaurants, no business can hold a candle to The Cheesecake Factory's items like the Factory Nachos with Spicy Chicken or their take on Fish and Chips. Avoid this supremely unhealthy restaurant at all costs if you visit the state. But if you do, here's the healthiest dessert to order at The Cheesecake Factory.
ARKANSAS: Ed Walker's Drive-In in Fort Smith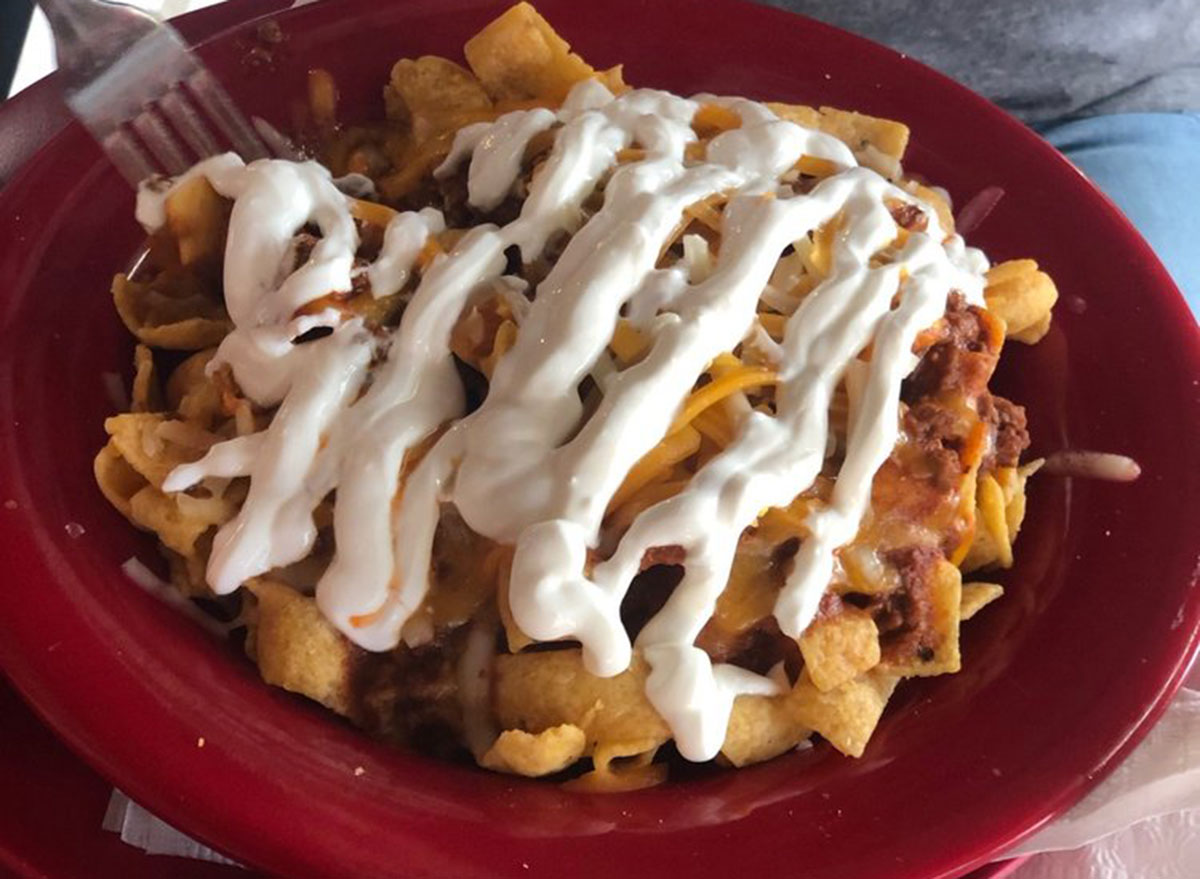 Arkansas' Ed Walker's Drive-In offers cheat-day meals like their Frito Chili Pie or their Nachos Supreme.
CALIFORNIA: Donut Friend in Los Angeles
If you have to watch your fat or carb intake, you most likely have to keep an eye out for donuts. This restaurant offers a variety of sweet takes on donuts, like the Yo La Mango or the Fudgegazi. While these pastries taste delicious, the menu can wreak havoc on anyone trying to watch their caloric intake. Have just one as a sweet treat.
RELATED: The Best Donut in Every State
COLORADO: Red Robin in Multiple Locations
Even the unhealthiest local eateries can't hold a candle to Red Robin when it comes to loading up their items with a ton of poor nutrition. The chain offers up heart-stopping burgers like the Southern Charm Burger or the Red-Eye Rambler, earning it a spot on this list. Make sure to eat local and avoid this incredibly unhealthy fast food joint. Be sure to consult our list of the worst fast-food burgers—ranked!
CONNECTICUT: Doogie's in Newington
Hot dog restaurants typically pack in a ton of salt and fat into their signature items, but Connecticut's Doogie's takes it to the next level, serving up two-foot-long hotdogs alongside fried fare like fish and chips and fried crab cakes. There's not a lot that isn't friend at this spot, so choose it for a cheat day.
RELATED: 60+ Healthy Fish Recipes Anyone Can Make 
DELAWARE: Outback Steakhouse in Multiple Locations
Delaware has some restaurants that can easily undo any diet, but none of them can compete with the amount of salt, fat, and carbs that Outback Steakhouse provides. The chain's Bloomin' Onion and Chicken Tender Platter and easily wreck any eating plan.
FLORIDA: Muchies 420 Cafe in Sarasota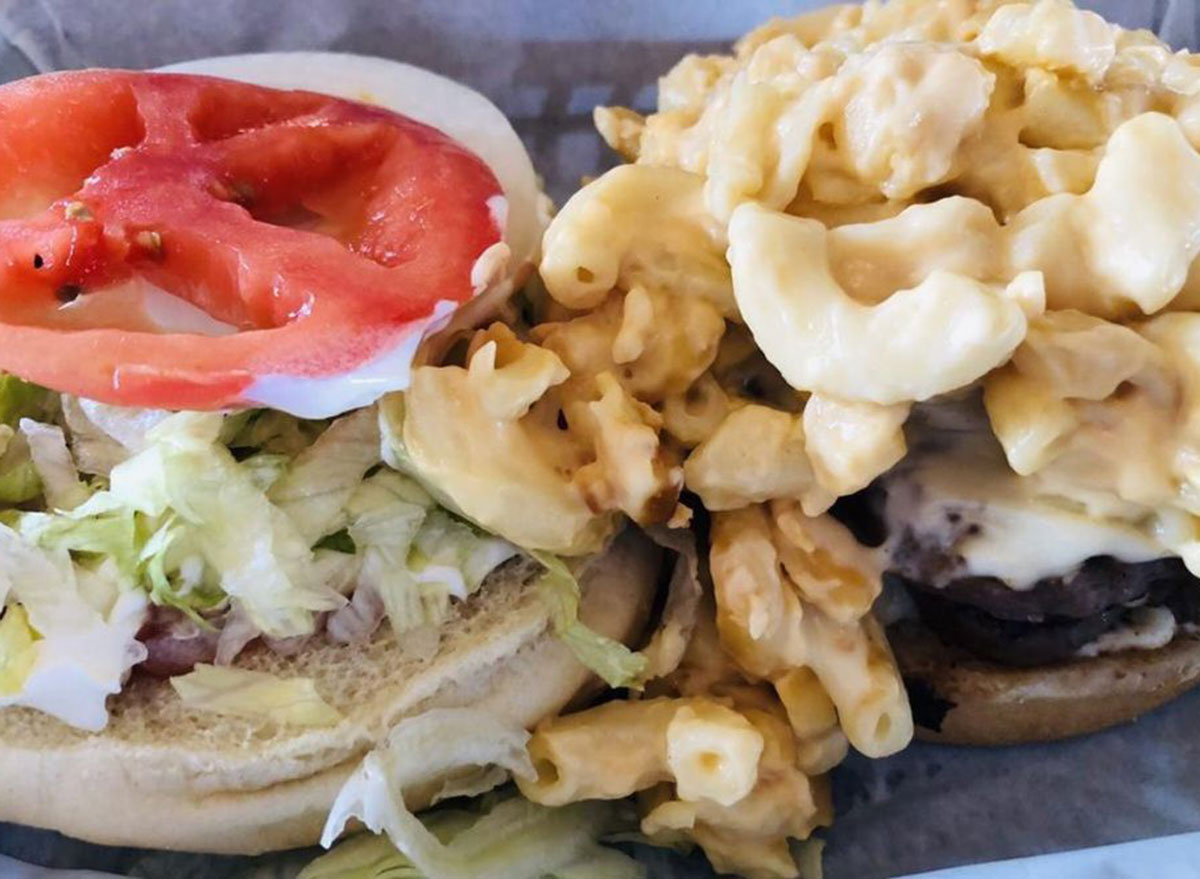 When it comes to eating unhealthy in Florida, you have your work cut out for you, but one locale rises above. Sarasota's Munchies 420 Cafe serves up a menu for anyone who got hit with strong cravings for unhealthy combos of fried chicken sandwiches loaded with melted cheese sauce or incredibly huge burgers. With a menu aimed at anyone facing late-night munchies, you know this restaurant won't pull any punches loading up their meals with carbs, salt, fat, and sugar. They do have salads if you want something fresh on the side.
GEORGIA: The Vortex in Atlanta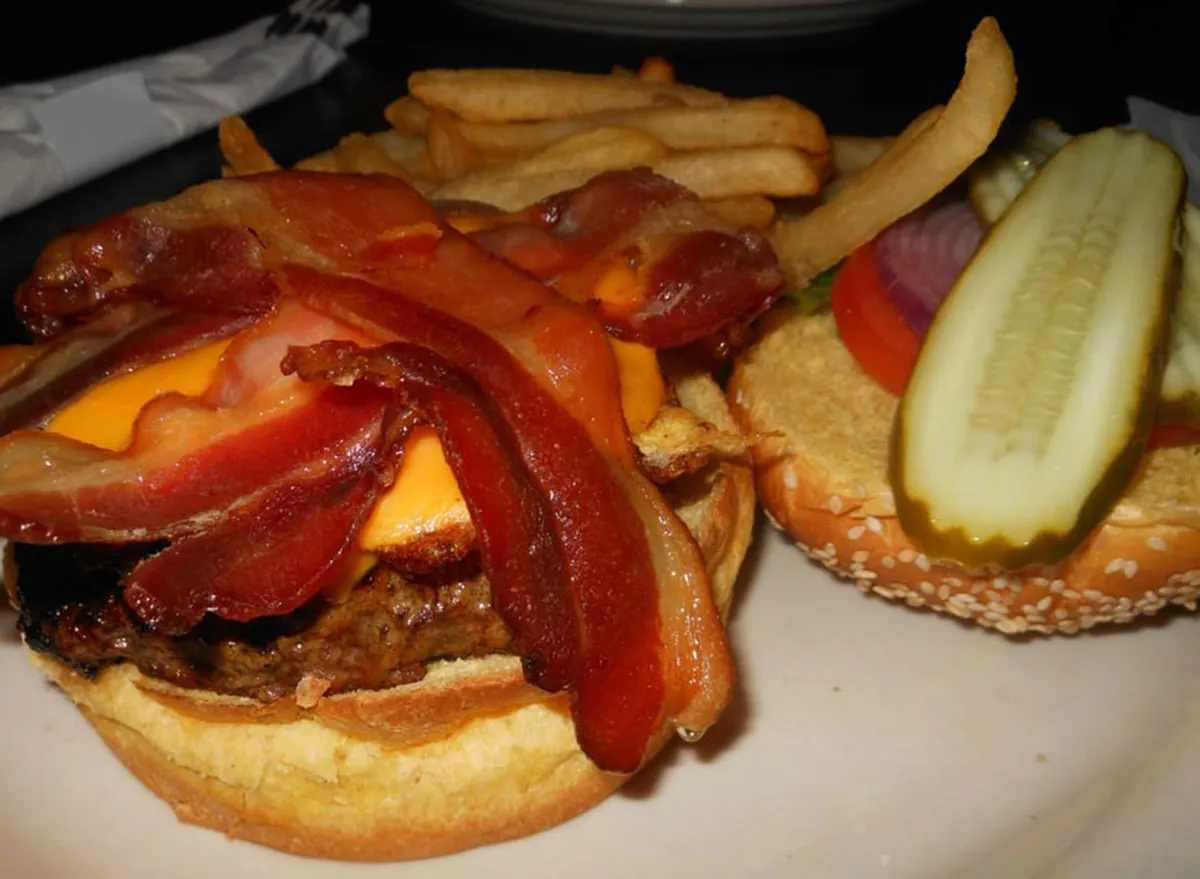 In a state filled with barbecue and fried food, one restaurant easily barges ahead with a menu that can make any dieter wince. Atlanta's The Vortex prides itself on serving up some incredibly dense burgers, with an entire category devoted to specialty Bypass Burgers that easily exceed 3,000 calories. Wow!
RELATED: 76 Fast-Food Burgers Ranked by Calories
HAWAII: M.A.C. 24/7 in Honolulu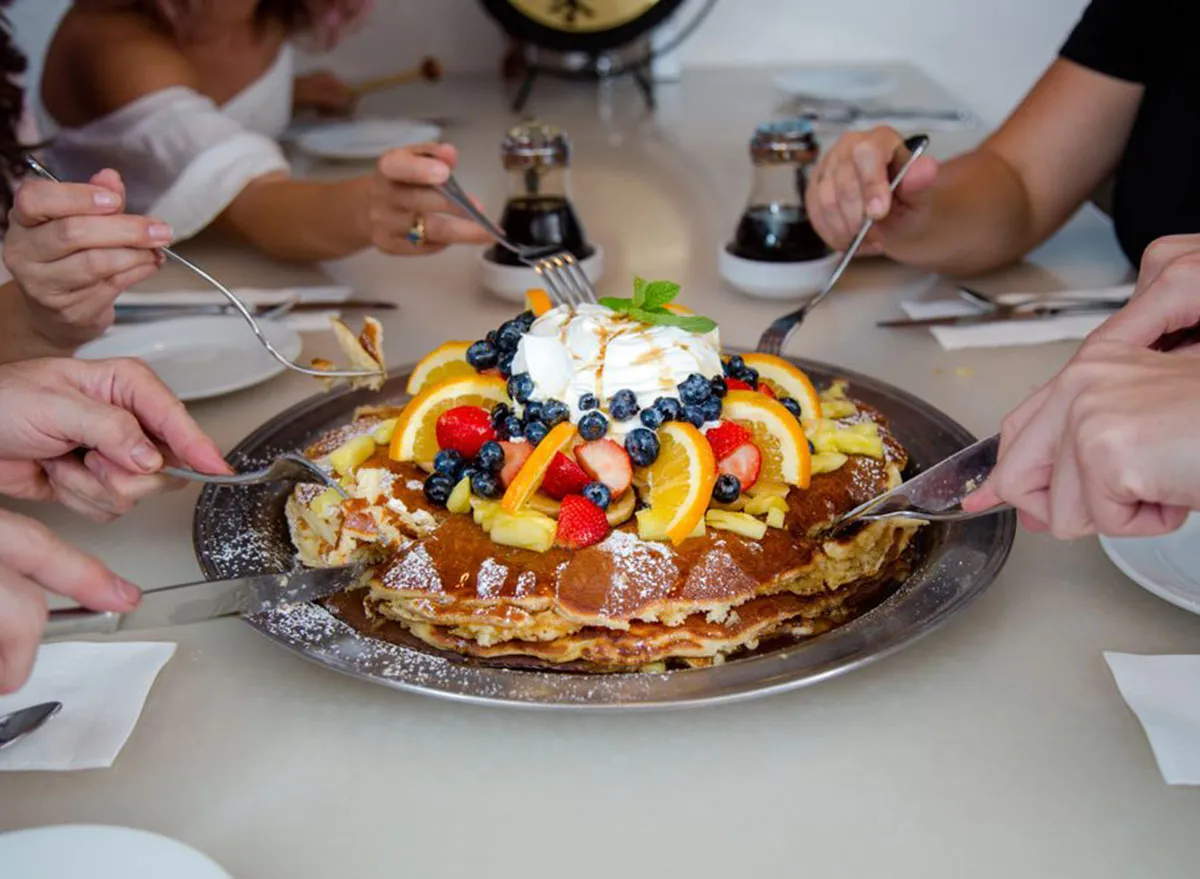 When it comes to loading up on food, few can do it like Hawaii's M.A.C. 24/7. This local eatery offers up a five-pound pancake meal, alongside traditional diner fare.
RELATED: 15 Most Outrageous Food Prodcuts That Failed
If you find yourself in Boise and really want to wreck your nutrition for the day, take a trip to Bacon, a restaurant that specializes in its namesake ingredient. Most of their food comes loaded with strips of bacon and you can even trays of the premium product to munch on by itself.
RELATED: The Best & Worst Bacon Brands—Ranked!
ILLINOIS: Pizzeria Uno in Multiple Locations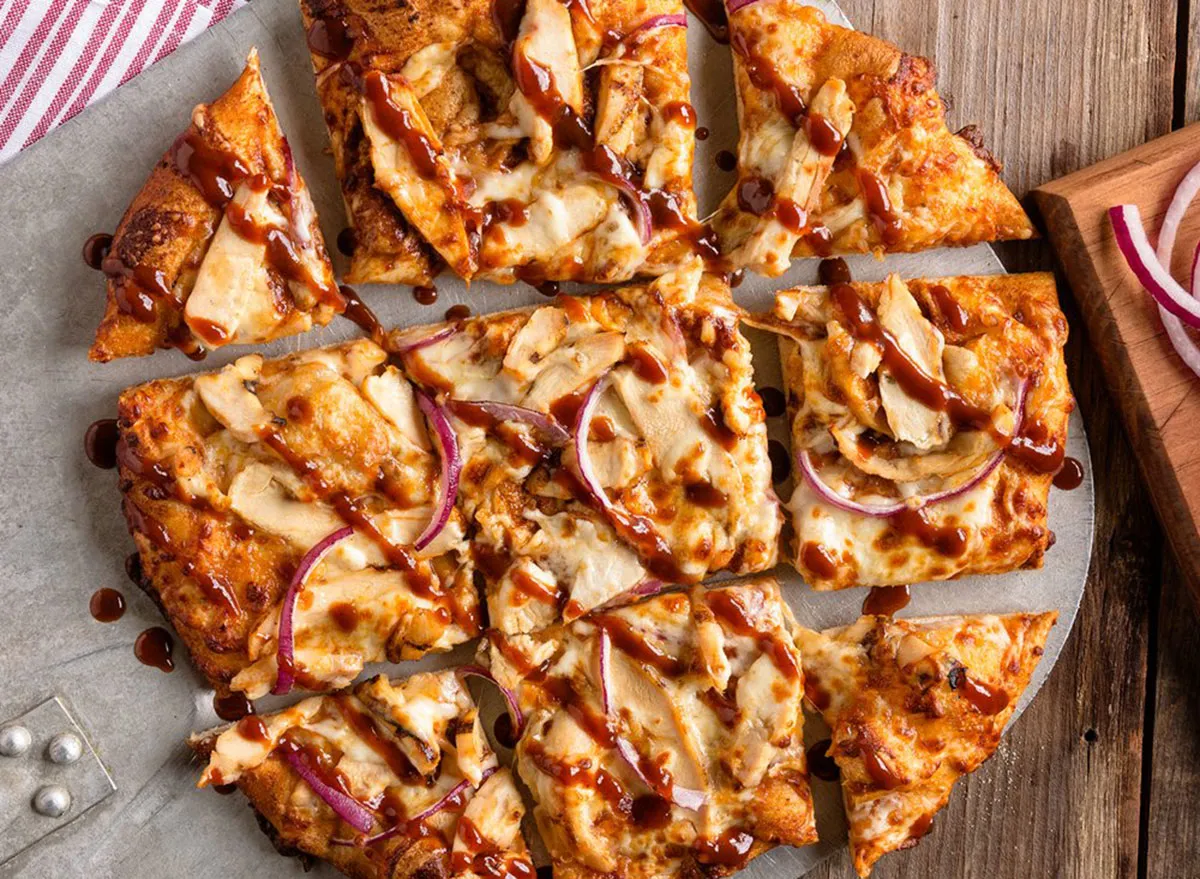 Illinois features some very dense food, but few local restaurants can compete with the calories found inside the pies at Pizzeria Uno. The chain has a personal pizza with more salt than 27 bags of potato chips, making it the unhealthiest option if you need a wholesome slice of pizza.
INDIANA: Best Bet Breakfast and Lunch in Noblesville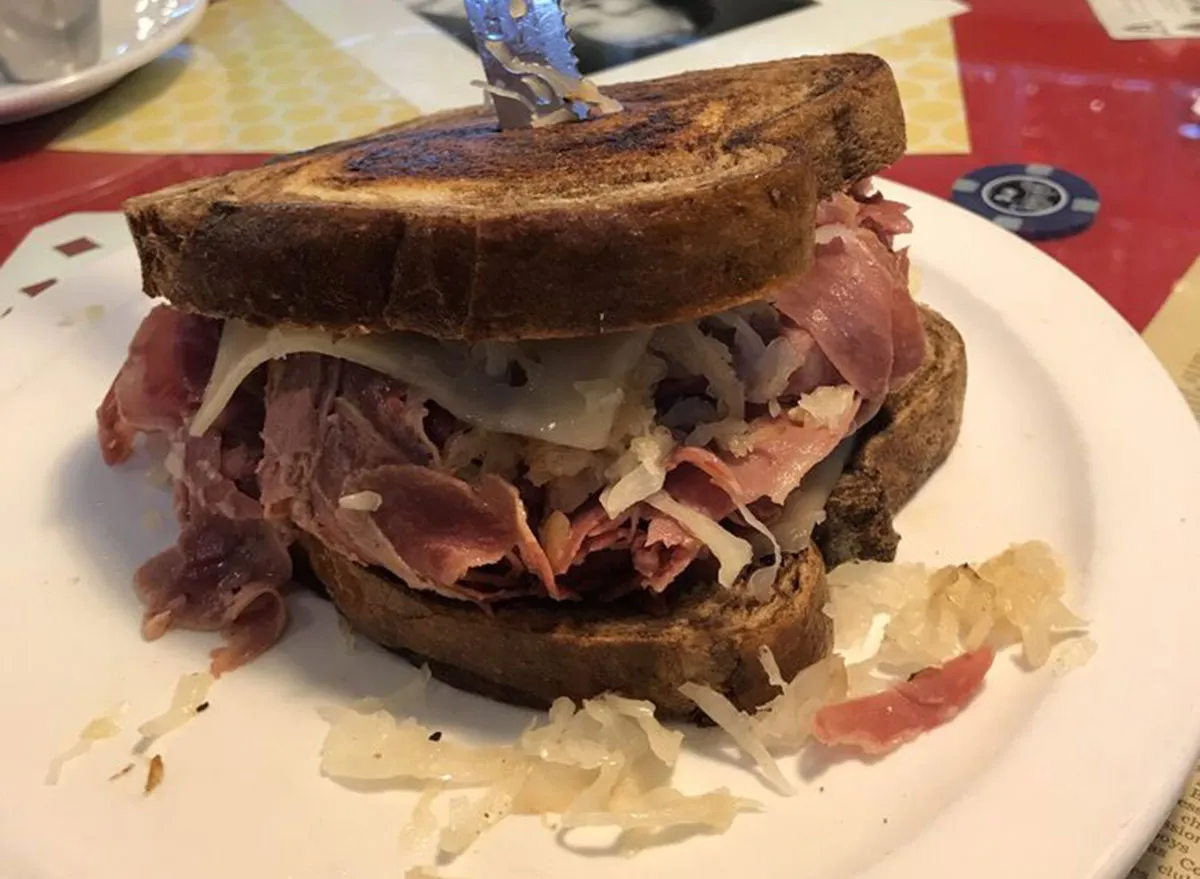 With an unassuming name, few travelers passing through Indiana would ever guess what lurks behind the doors of Best Bet Breakfast and Lunch. This eatery features loaded plates filled with multiple burritos, stacked biscuits, and gravy, and an entree called The All In that features almost every breakfast item on the menu. You can even order the DOUBLE DOG DARE YOU ALL IN CHALLENGE for an even bigger portion, and can top that off with gravy for another $2.
IOWA: Fong's Pizza – Multiple Locations
This fusion Asian-Pizza restaurant has a menu of over-topped pizzas like the Loaded Potato, with garlic butter, ground beef, bacon, red potatoes, cheddar, and mozzarella, served with a side of sour cream. It also has pizzas you won't find anywhere else, so make this a cheat day experience!
RELATED: The Best Pizza in Every State
KANSAS: Outback Steakhouse in Multiple Locations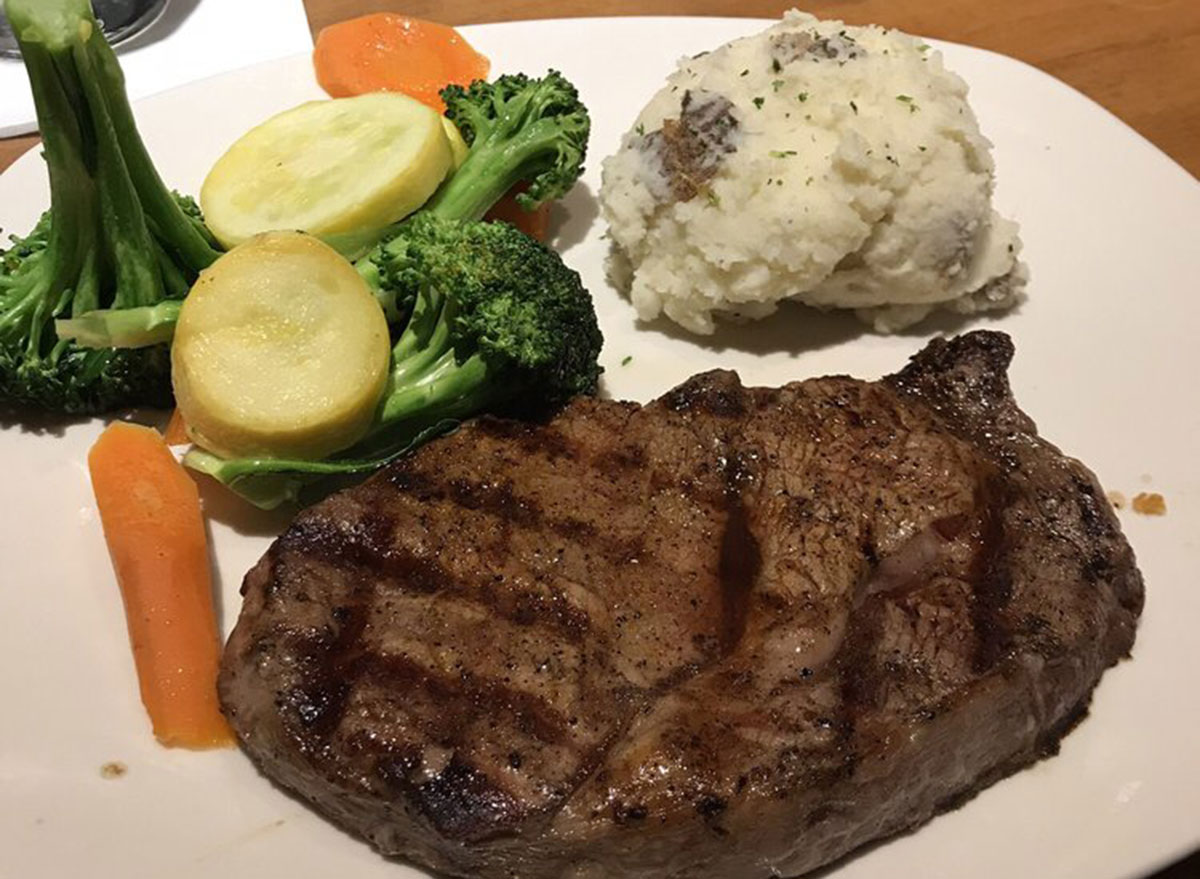 Kansas may have a ton of barbecue joints, but none of them can equal the poor nutrition found at Outback Steakhouse. This chain puts all the local restaurants to shame with how much salt and fat is packed into their Prime Rib or their signature burger.
KENTUCKY: 502 Café in Louisville
502 Café takes burritos to another level with their Que'rito. This behemoth is filled with mac n' cheese and topped with smoked brisket chili and sour cream.
LOUISIANA: Dat Dog in New Orleans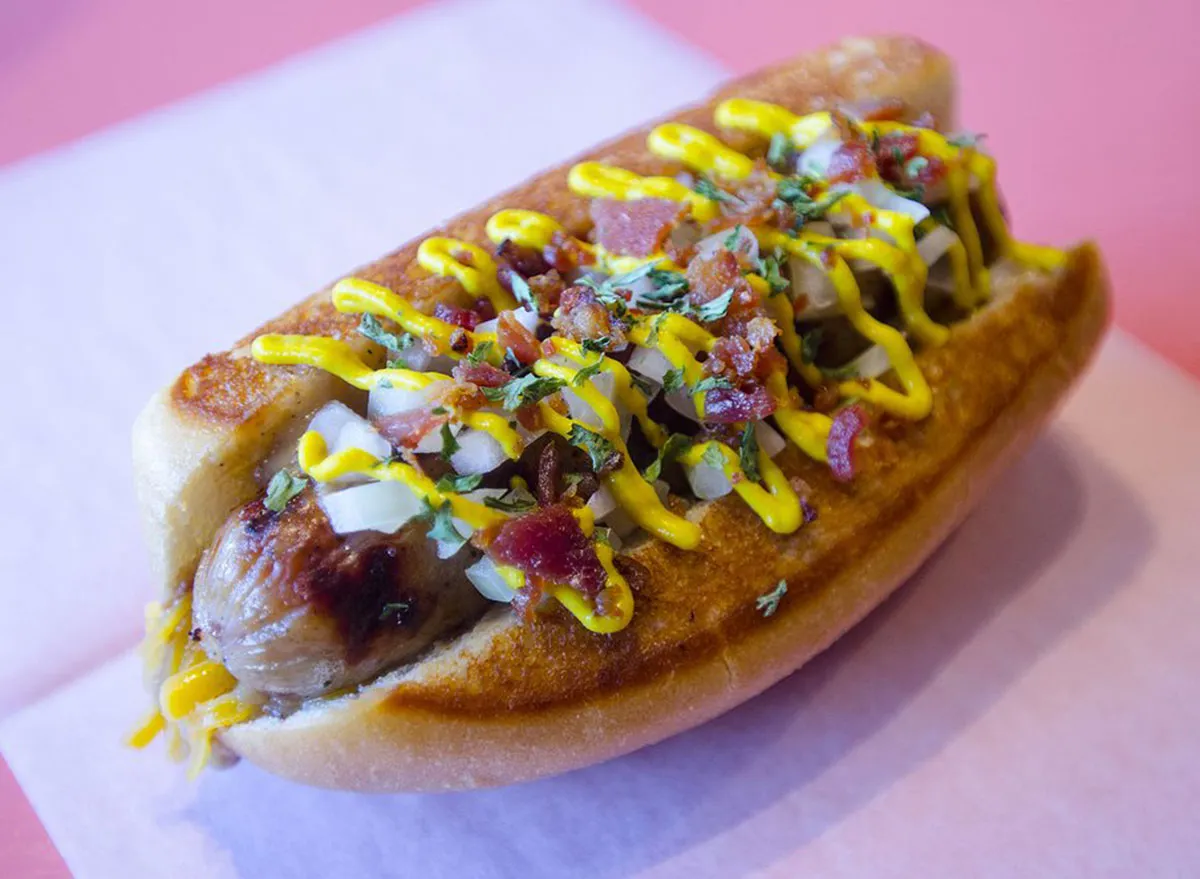 Louisiana has become synonymous with great food, but not all of it should get eaten every day. Dat Dog features a sodium-laden menu of specialty hot dogs, like the Guinness Dog or their Duck Sausage. Limit yourself to one and wash it down with a lot of water.
MAINE: Governor's Restaurant in Old Town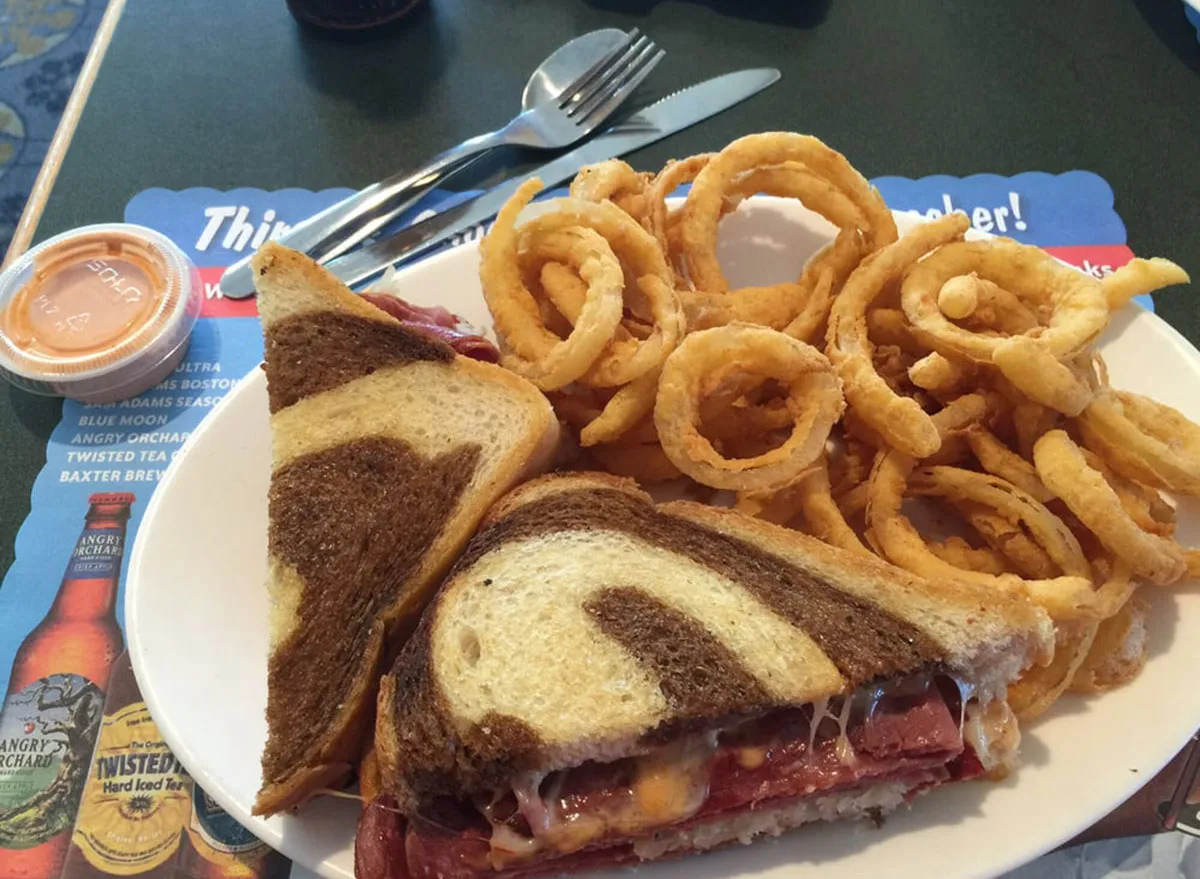 Maine has plenty of eateries featuring calorie-laden burgers and salty fried fish, but no one can compete with Governor's Restaurant's legendary Blue Plate Combos. These items feature meals like multiple burgers and multiple hot dogs and can easily push any eater over the brink. The restaurant has plenty of other healthier options to choose from.
RELATED:  The Best Hot Dog in Every State
MARYLAND: Pasta Mista in Baltimore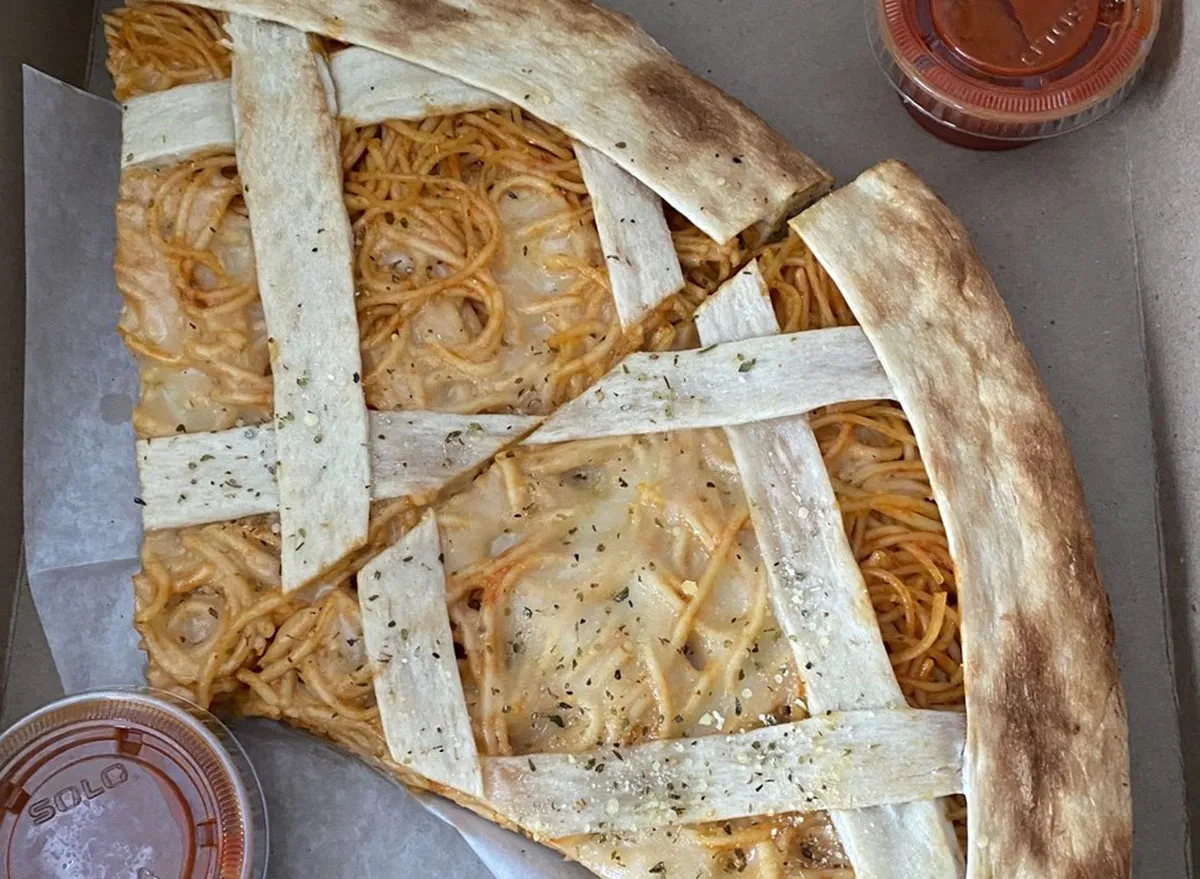 Pizza joints can easily find ways to overload their pies, but Pasta Mista takes it to a whole new level with signature creations, like their Spaghetti Pizza. This creation loads up a double crust with spaghetti and pasta sauce.
RELATED: The #1 Trick for Perfect Spaghetti
MASSACHUSETTS: Double Chin in Boston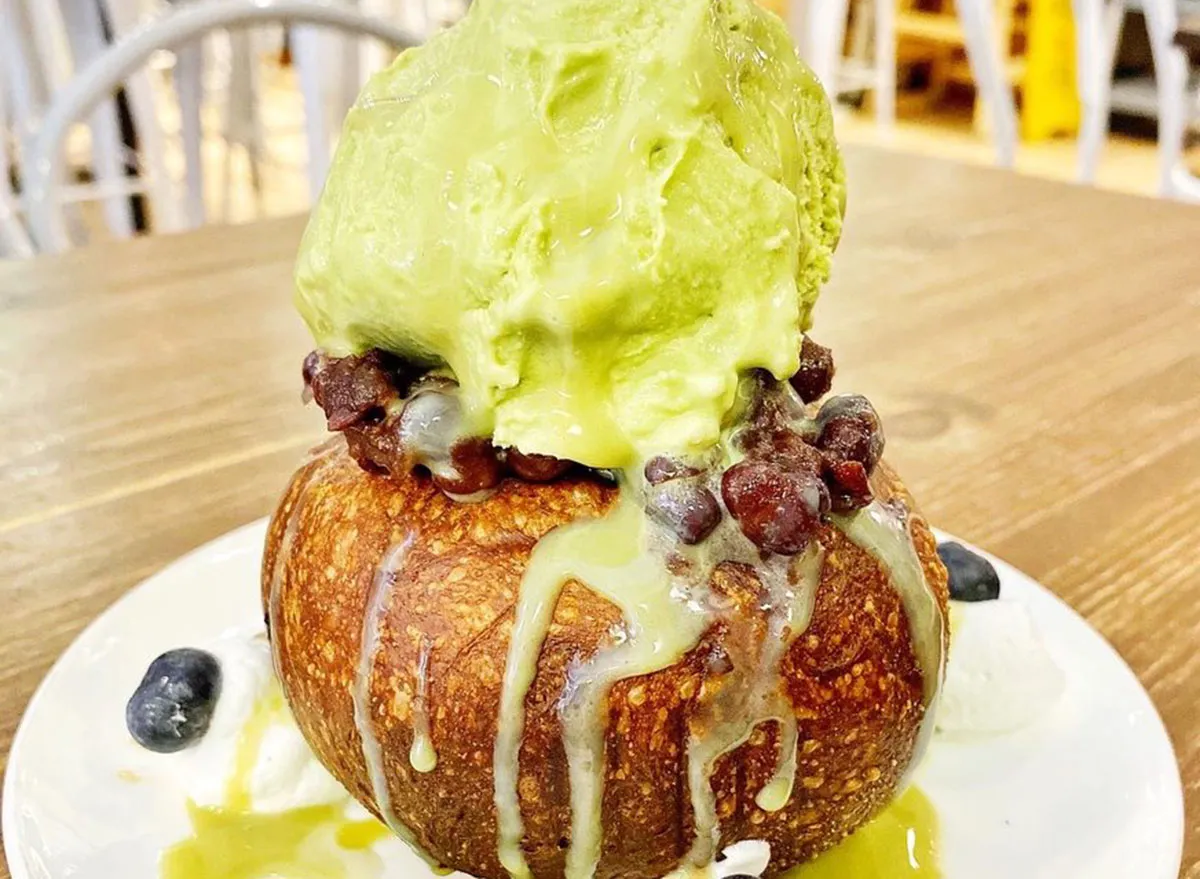 On the outside, this eatery seems innocuous, but one glance at the menu can change everything. They have some intense sweet offerings like a Salted Egg Yolk French Toast and multiple Donut Bombs with huge scoops of ice cream over massive donuts complete with syrup-filled syringes. They get major points for creativity, though!
RELATED: The Unhealthiest Restaurant Tacos—Ranked! 
MICHIGAN: Slows Bar B Q in Detroit
Barbecue restaurants often boast on serving up the most food, but Slows outdoes the competition, dishing out massive brisket sandwiches and halves of chicken doused with their signature sauce.
MINNESOTA: Tin Cup's in Saint Paul
Many restaurants across Minnesota feature a burger menu, but no one can match Tin Cup's Juicy Lucy menu, featuring cheese-stuffed patties loaded with tons of toppings. They also have a side that is essentially a mashed potato sundae topped with cheese sour cream, and gravy. Skip the eating challenge, which requires the diner to eat two Lucifer Lucy's and two pounds of french fries in under 45 minutes.
RELATED: 60+ Healthy Fish Recipes Anyone Can Make
MISSISSIPPI: Memphis Barbecue Company in Horn Lake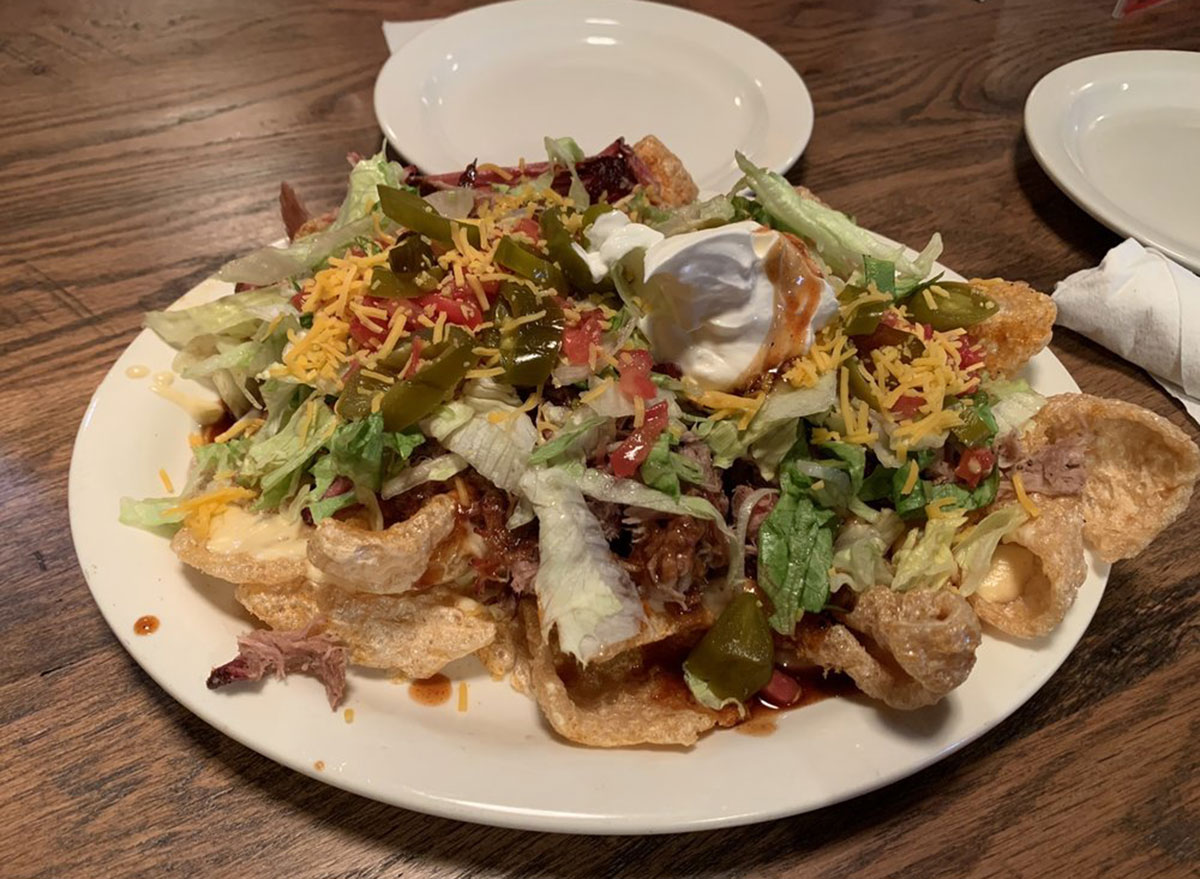 Barbecue joints don't often pull punches when it comes to loading up your plate with food, but Memphis Barbecue Company takes it to the next level with meals like the Donut Bacon Burger whcih uses donuts as buns. They also have a sandwich called the Memphis Pacemaker. We suggest you skip that one.
RELATED: The Best BBQ Cities in America
MISSOURI: Mama's On The Hill in Saint Louis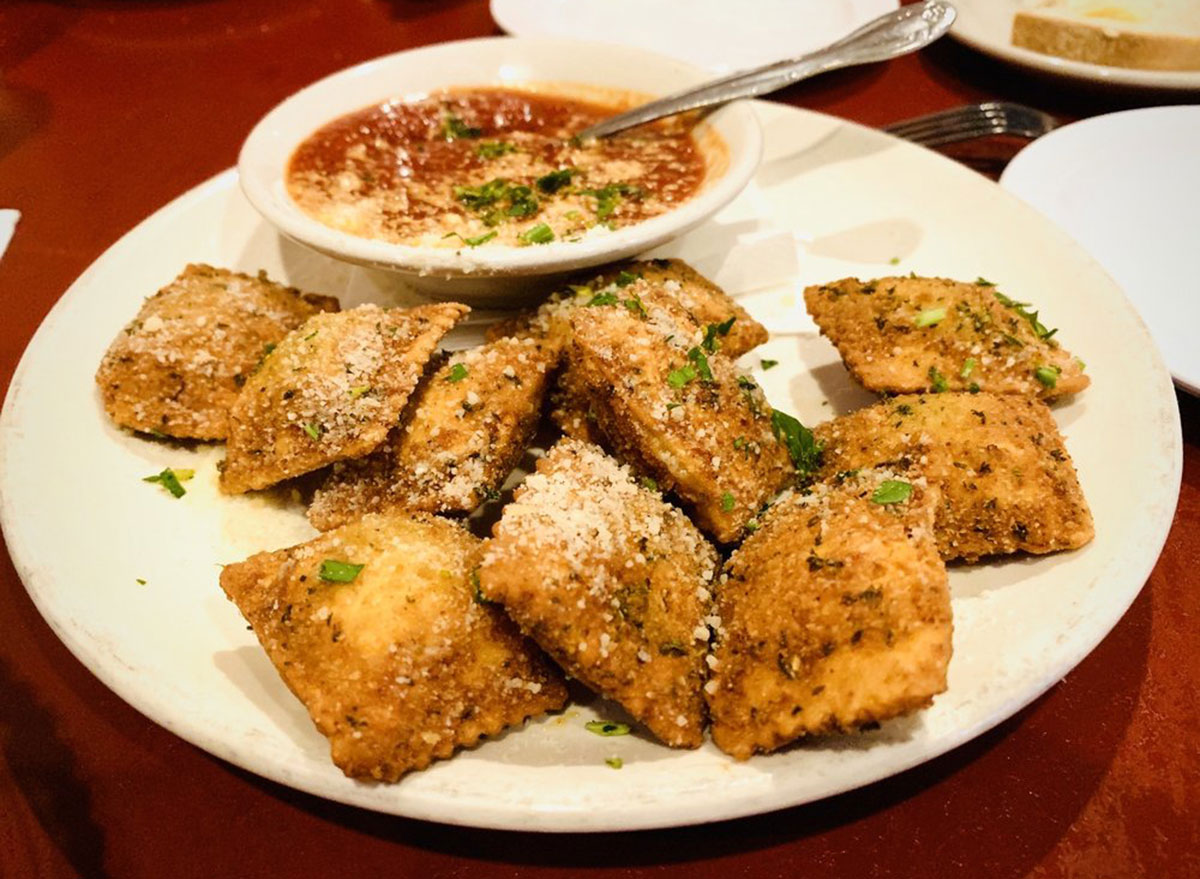 Missouri boasts a ton of comfort food joints like Mama's on the Hill. Watch what you order at this Italian joint because lots of the offerings are filled with cheese. This restaurant features hefty appetizers like the Stuffed French Loaf, which is an entire loaf of French bread stuffed with spinach-artichoke dip and topped with more cheese. Also, skip Mama's Pasta Challenge which features an insanely large meatball over marinara-topped pasta.
RELATED: The Worst Restaurant Appetizers in America
MONTANA: Trimbo's Pizza in Butte
Trimbo's Pizza makes this list because of the sheer size of their strombolis. With their largest topping in at 5 pounds, these items won't let you go home hungry, but you will definitely have to plan to hit the gym afterward.
NEBRASKA: Starsky's Grill in Omaha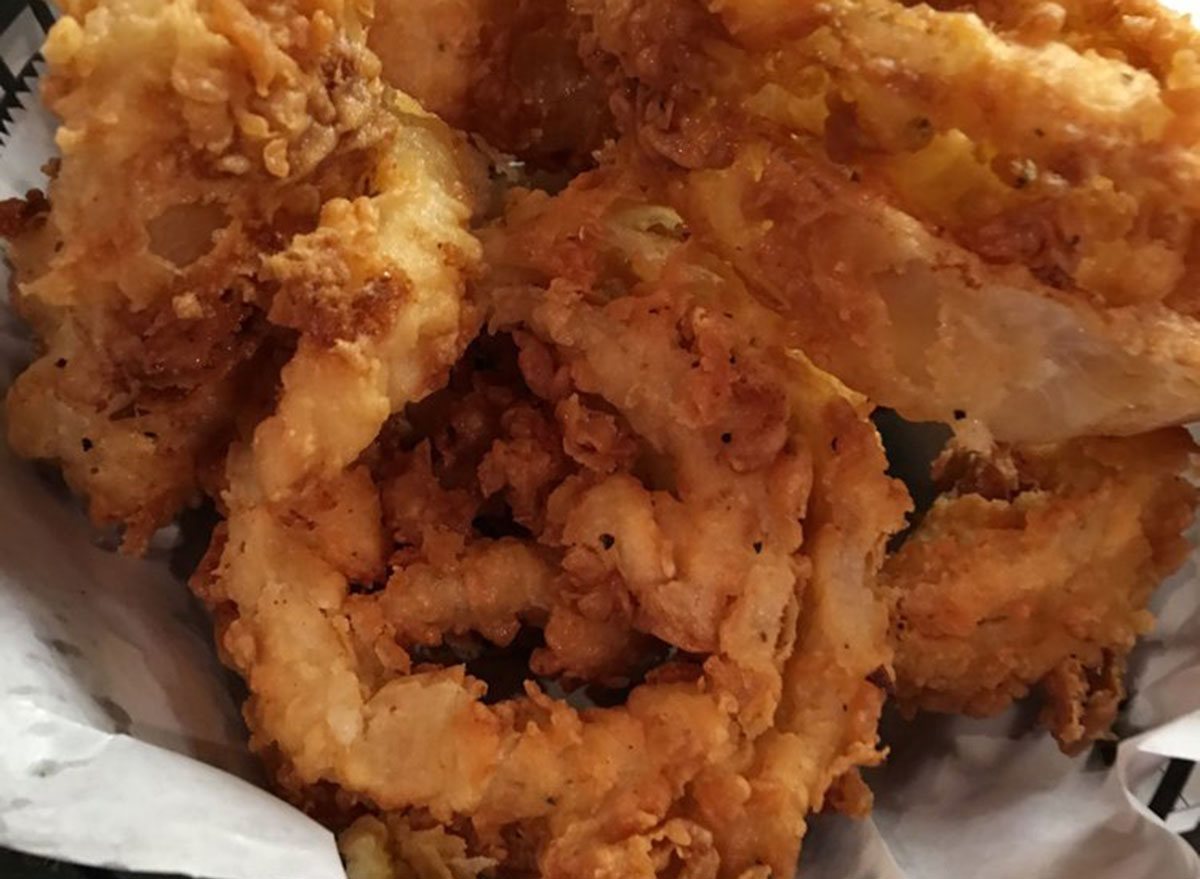 Omaha's Starsky's Grill hit a particular niche when they started offering their signature Irish nachos. These items come packed with ground beef, cheese, sour cream, and guacamole over fried potatoes instead of chips. Try one of their grille chicken sandwiches instead.
RELATED: The Best Nachos in Every State
NEVADA: Heart Attack Grill in Las Vegas
Few restaurants advertise how bad they are for you, but not every restaurant is like Nevada's Heart Attack Grill,. The business has set Guinness world records by offering a burger that comes in with over 9,000 calories and has a burger menu that proudly boasts of how many thousands of calories are found in each item.
RELATED: This Is How Many Calories You Should Eat a Week for Weight Loss
NEW HAMPSHIRE: KC's Rib Shack in Manchester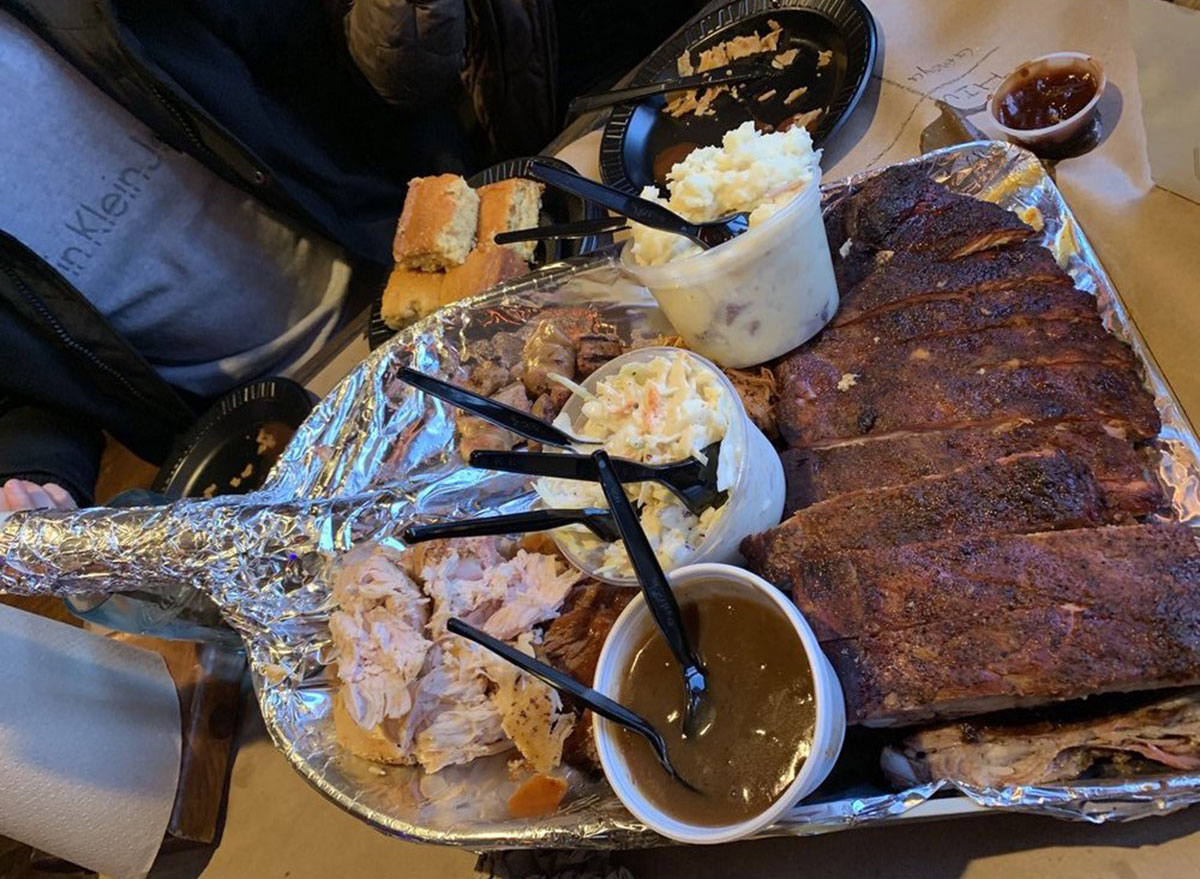 New Hampshire might not be synonymous with barbecue, but Manchester's KC's Rib Shack hopes that will change. While the menu boasts the typical unhealthy fare of burgers and massive portions of barbecue, the rib shack takes it to the next level with The Feedbag Shovel, a mix of pork and chicken that gets served to your table with a shovel.
NEW JERSEY: Tony Baloney's in Hoboken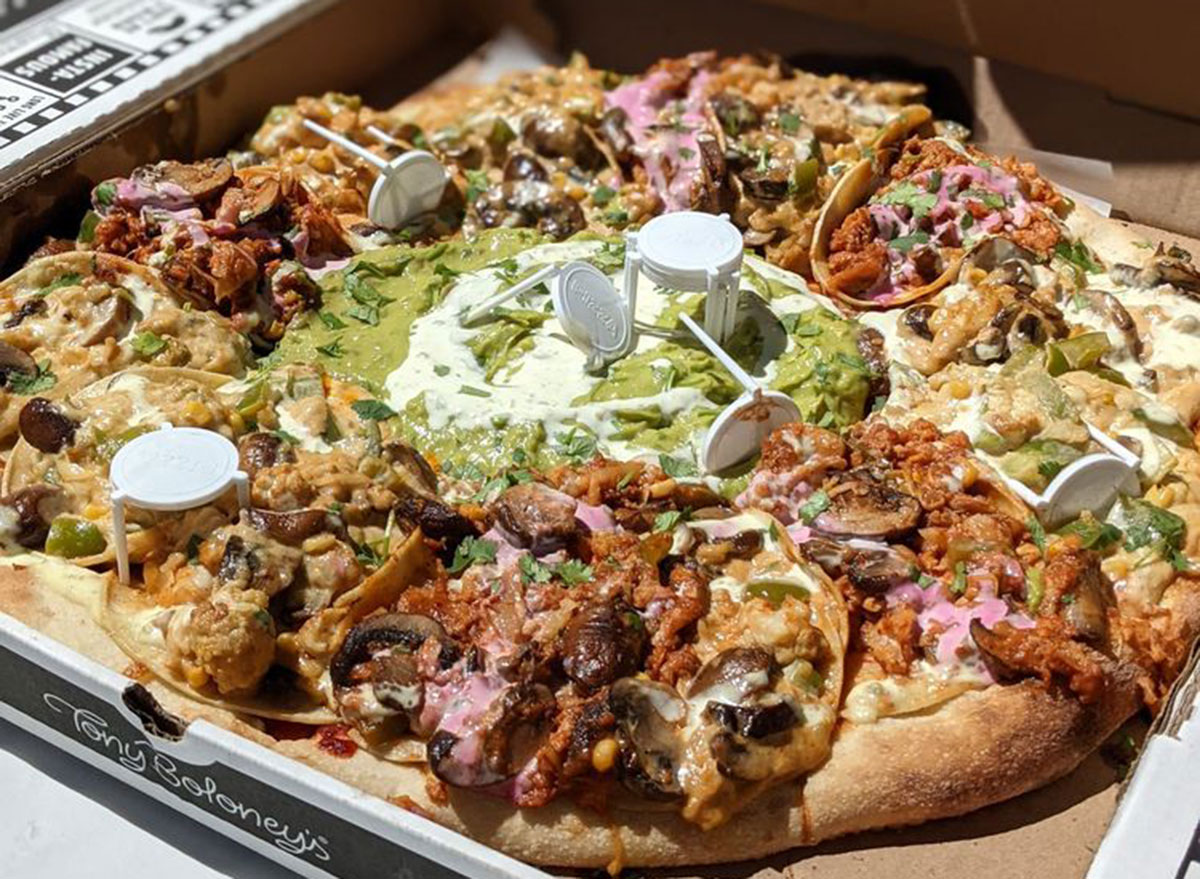 When you want to load up on fat and carbs, Tony Baloney's can't be beat. Tread lightly around their signature pizzas, like the Taco, Taco, Taco, which is topped with actual tacos, or the Casino Carnival, which has ten types of meat.
NEW MEXICO: Grandma Warner's K & I's Diner in Albuquerque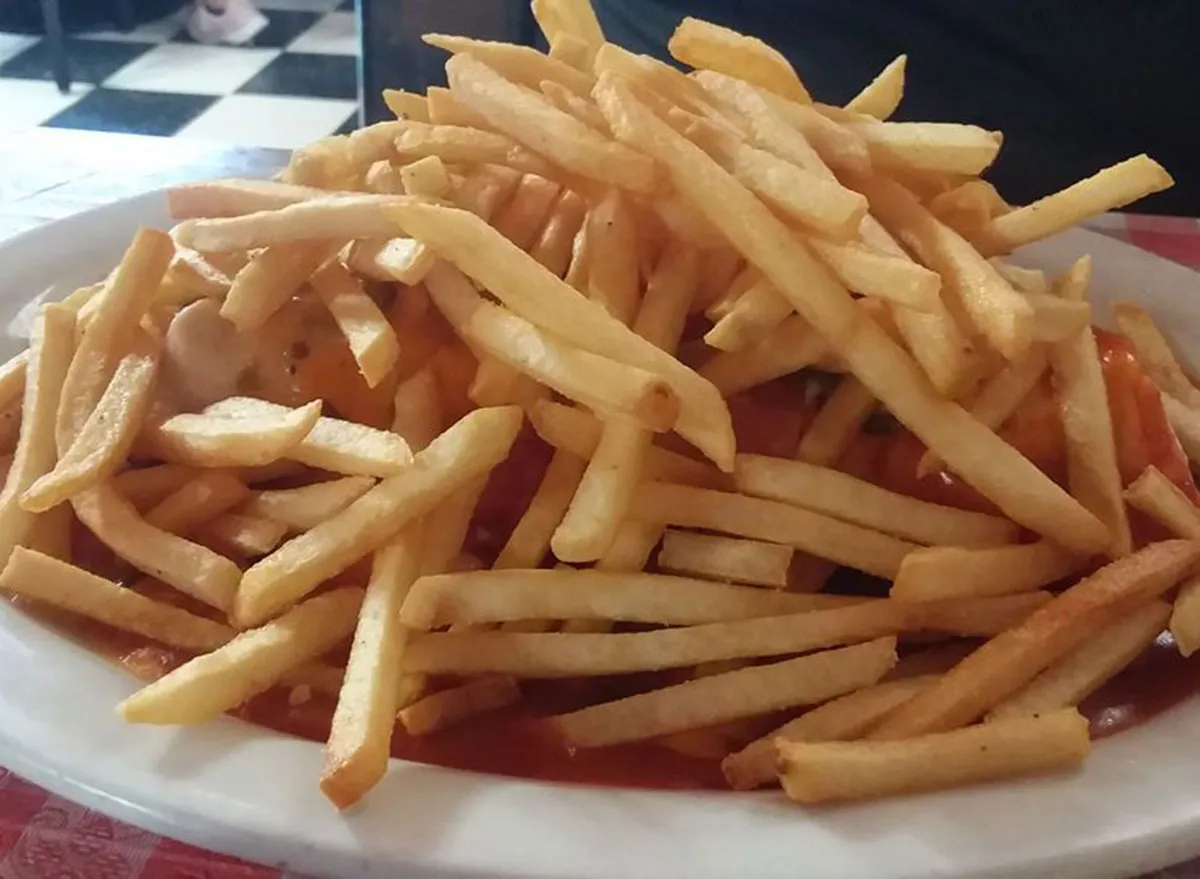 Grandma's Warner's K & I's Diner is home to The Travis, the biggest burrito you could ever imagine that comes served with a side of fries. It was even featured on the Food Network show Man V. Food.
NEW YORK: Nick Tahou Hots in Rochester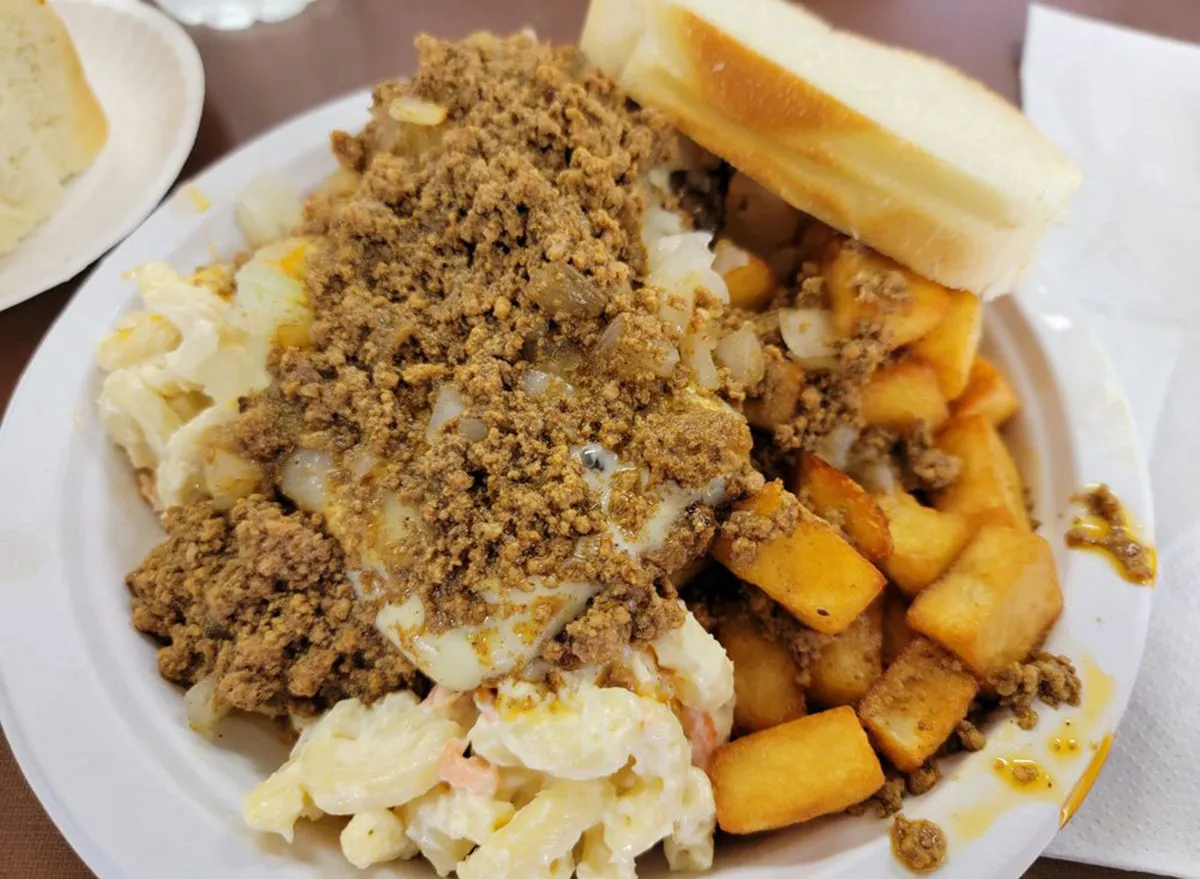 Anyone in Rochester may have already come face to face with the item that takes Nick Tahou Hots to the notorious unhealthiest restaurant level. The restaurant's Garbage Plate features a massive platter of macaroni salad, baked beans, french fries, and the choice of hot dogs or burgers loaded up onto a single plate.
RELATED: Unhealthiest Proteins for Weight Loss
NORTH CAROLINA: Wilmington's Best Burgers in Wilmington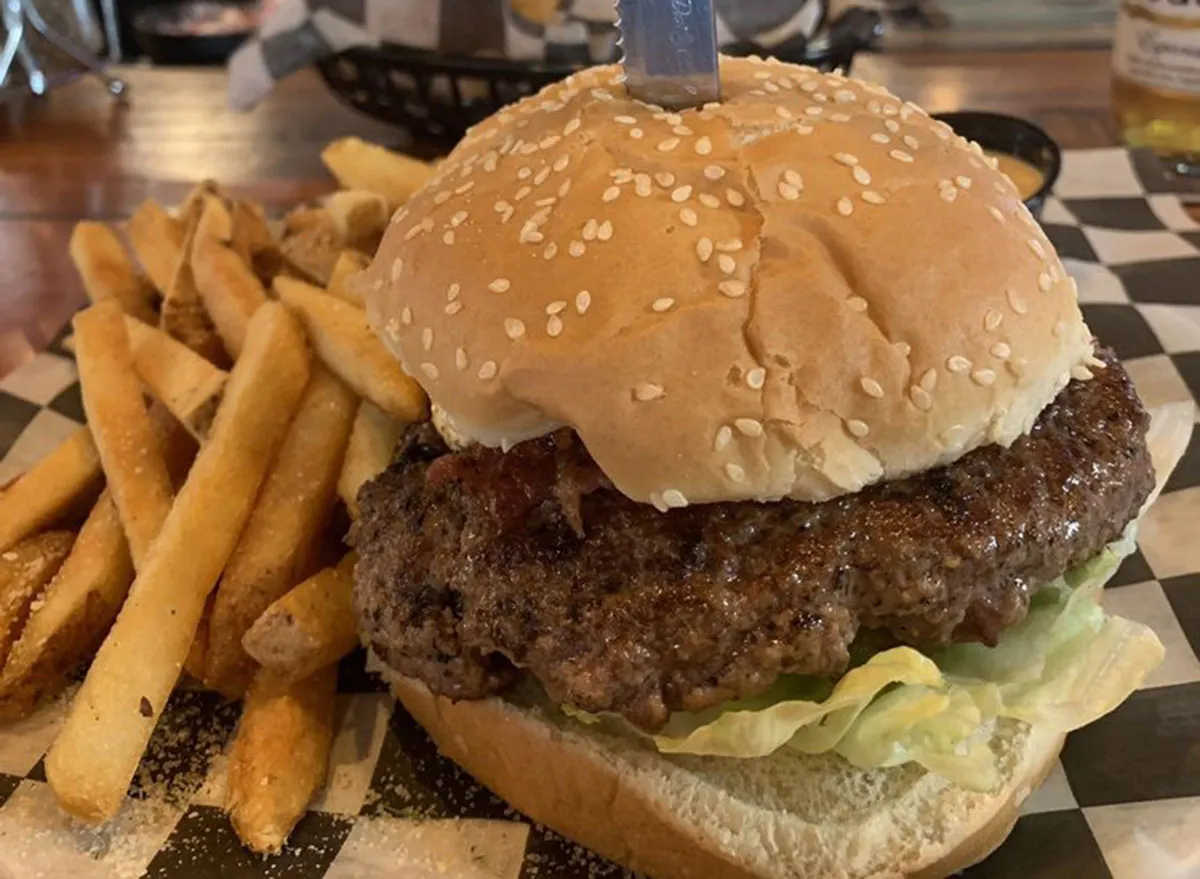 Wilmington's Best Burgers claims to have the ideal version of this popular sandwich but they also have massive portions and several deep-fried items. Their Trailer Park Burger comes loaded with fried green tomatoes, bacon, and a slew of other toppings. You can get it with an Impossible Burger, though!
NORTH DAKOTA: Mr and Mrs J's Restaurant in Cranford
This unassuming diner in North Dakota offers several calorie-packed skillets as well as the Pig Out Omelette, which features a dozen eggs, hashbrowns, and toast. Eggs are generally good for you, if you don't eat a dozen at a time, that is.
OHIO: Senate in Cincinnati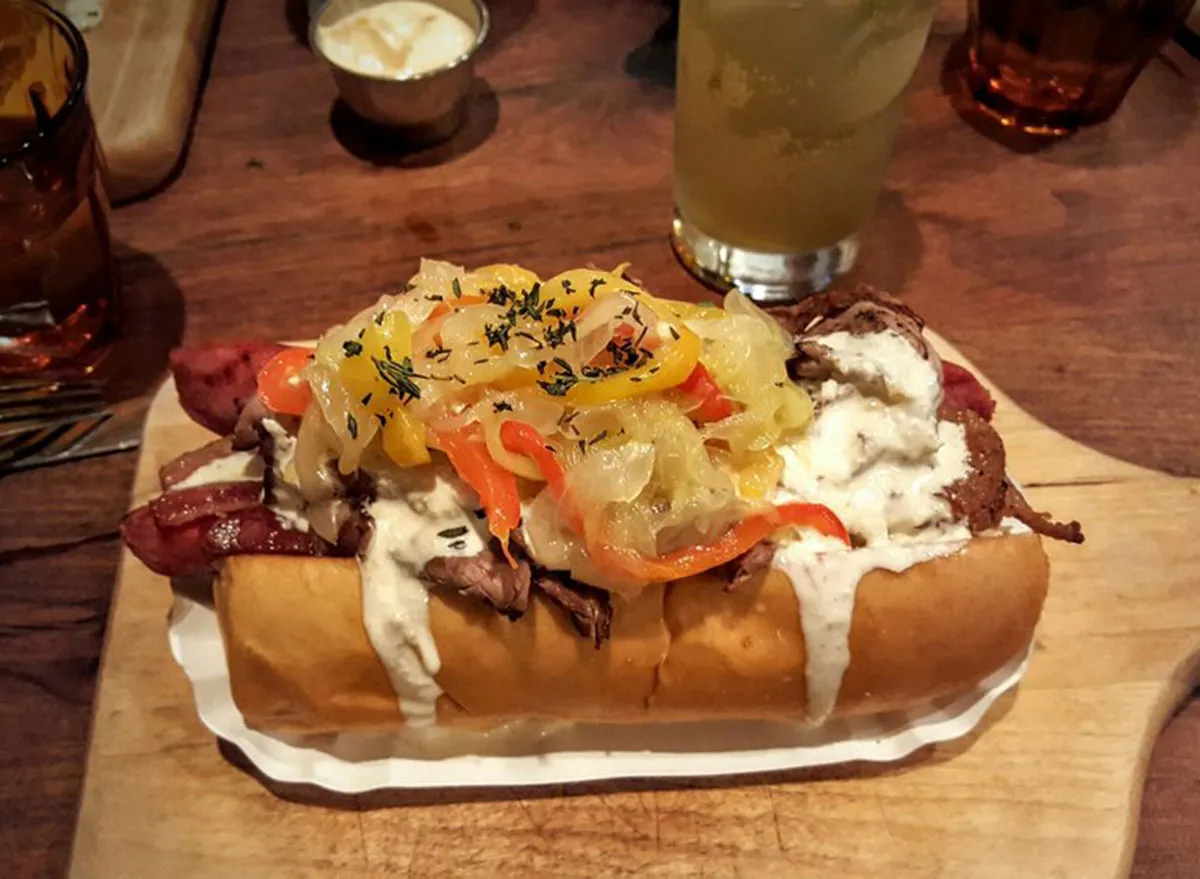 At Senate, you can start your meal off with poutine and follow it up with a slew of over-packed hot dogs, or pretzel beignets. If that didn't give you your fill of fat, you can even order roasted marrow bone. There are healthier items as Senate like the Tuna Tartar and My Wife's Salad.
OKLAHOMA: Arbuckle Mountain Fried Pies in Oklahoma City
Arbuckle Mountain Fried Pies features fried pies loaded with peanut butter and chocolate, sausage, egg, and cheese, and classic fillings like cherry or peach. Have one as a treat!
RELATED: 30 Healthy Baked Goods to Make at Home
OREGON: Voodoo Donuts (Multiple Locations)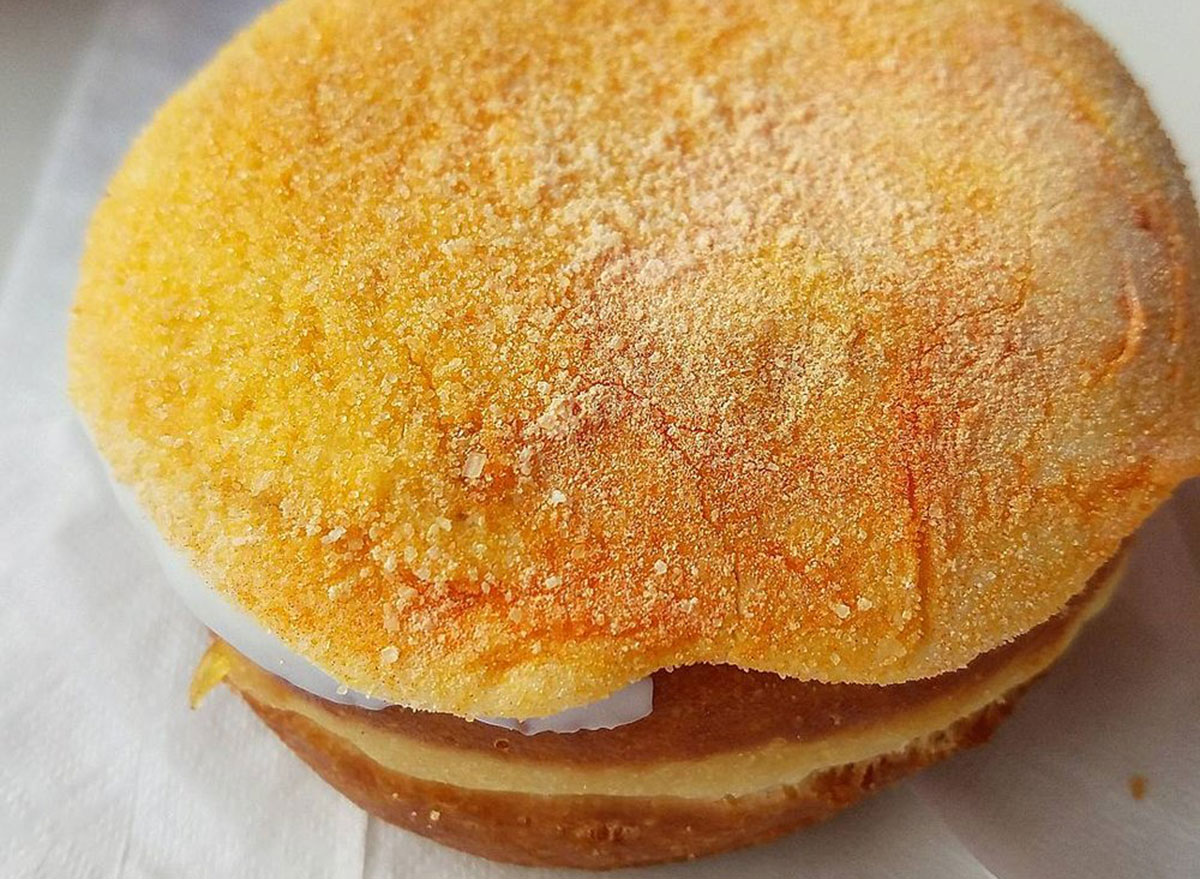 You expect any restaurant specializing in donuts to be on the higher calorie scale, and this iconic sweet spot takes sugar-packed pastries to the next level. Their signature desserts, like the Mango Tango or The Homer, should be a once-in-a-while treat.
PENNSYLVANIA: D's Six Pax and Dogz in Pittsburgh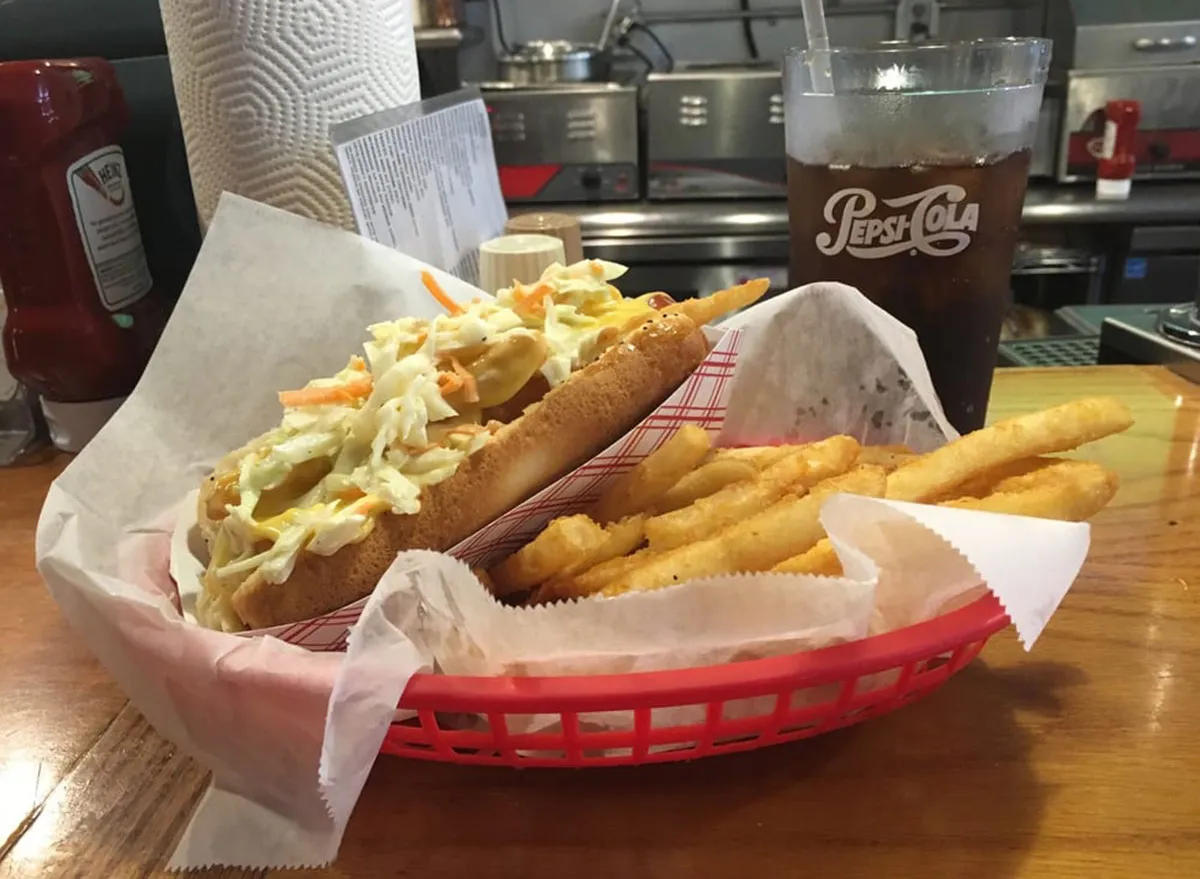 When you want to load up on salt, you can't beat a hot dog. D's Six Pax and Dogz raises the bar on delivering extra sodium straight to diners with menu items like their Big Ben dog that comes loaded with fries, cheese sauce, and coleslaw. If you like coleslaw, though, we've got an easy, healthy recipe to try.
RHODE ISLAND: Umelt in Providence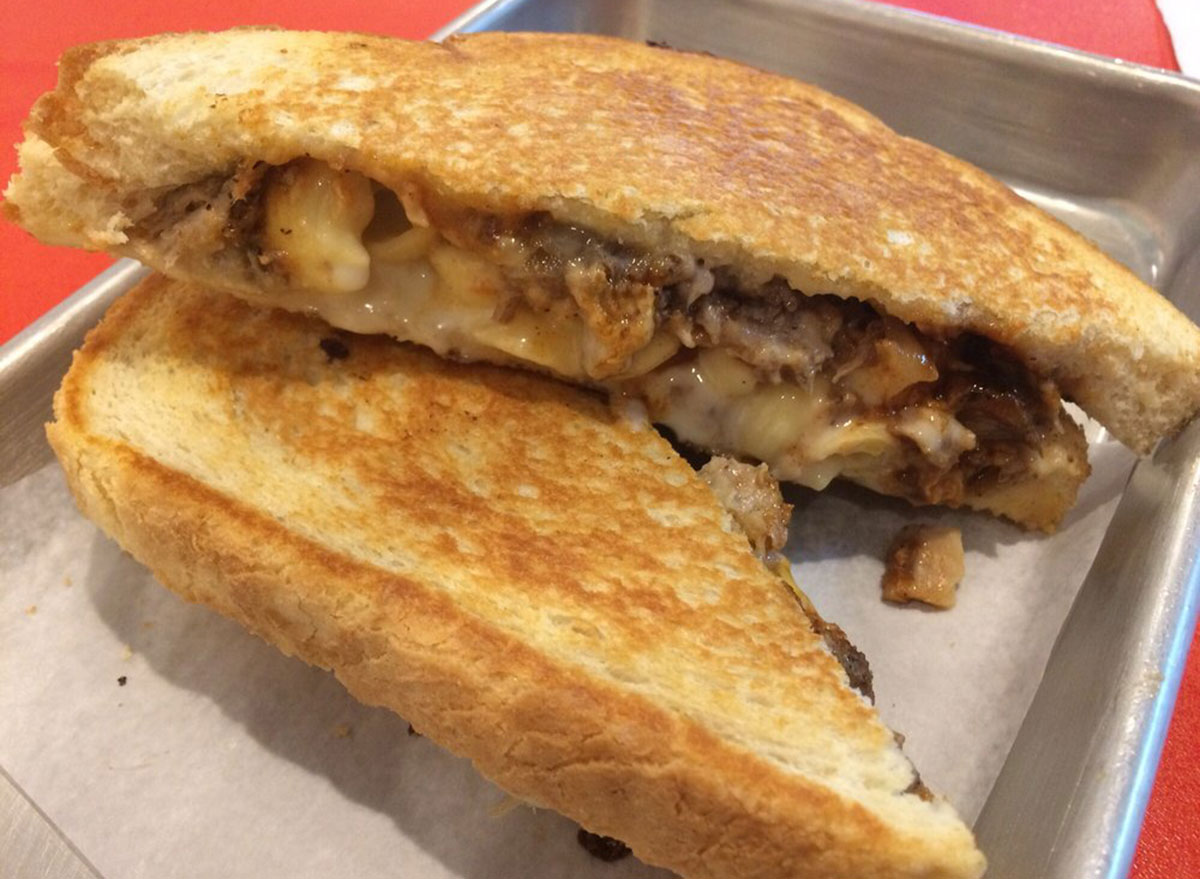 When cravings strike, it can be tempting to make your way to a restaurant known for its mac n' cheese or grilled melts. Rhode Island's Umelt features mac-n'-cheese grilled cheese sandwiches and massive bowls of cheesy pasta.
RELATED: The Best Grilled Cheese in Every State
SOUTH CAROLINA: Big Billy's Burger Joint in North Charleston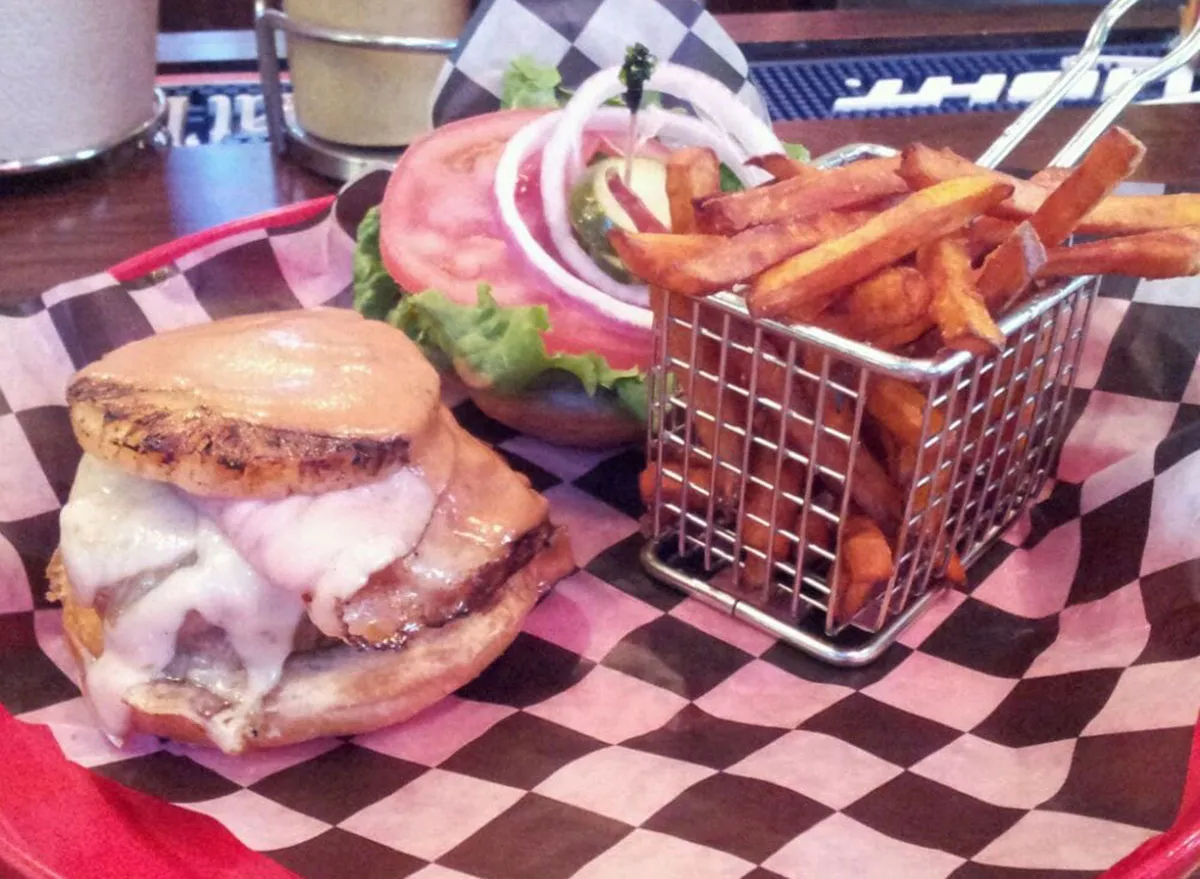 Big Billy's Burger Joint prides itself on burgers featuring three patties, or items like the 'I Wanna Lei Ya' Burger that comes topped with Black Forest ham and pineapple. They have lighter items like salads and wraps for the more health-conscious.
RELATED: The Best Fast-Food Burgers Under 300 Calories
SOUTH DAKOTA: Overtime Sports Bar and Grill in Sioux Falls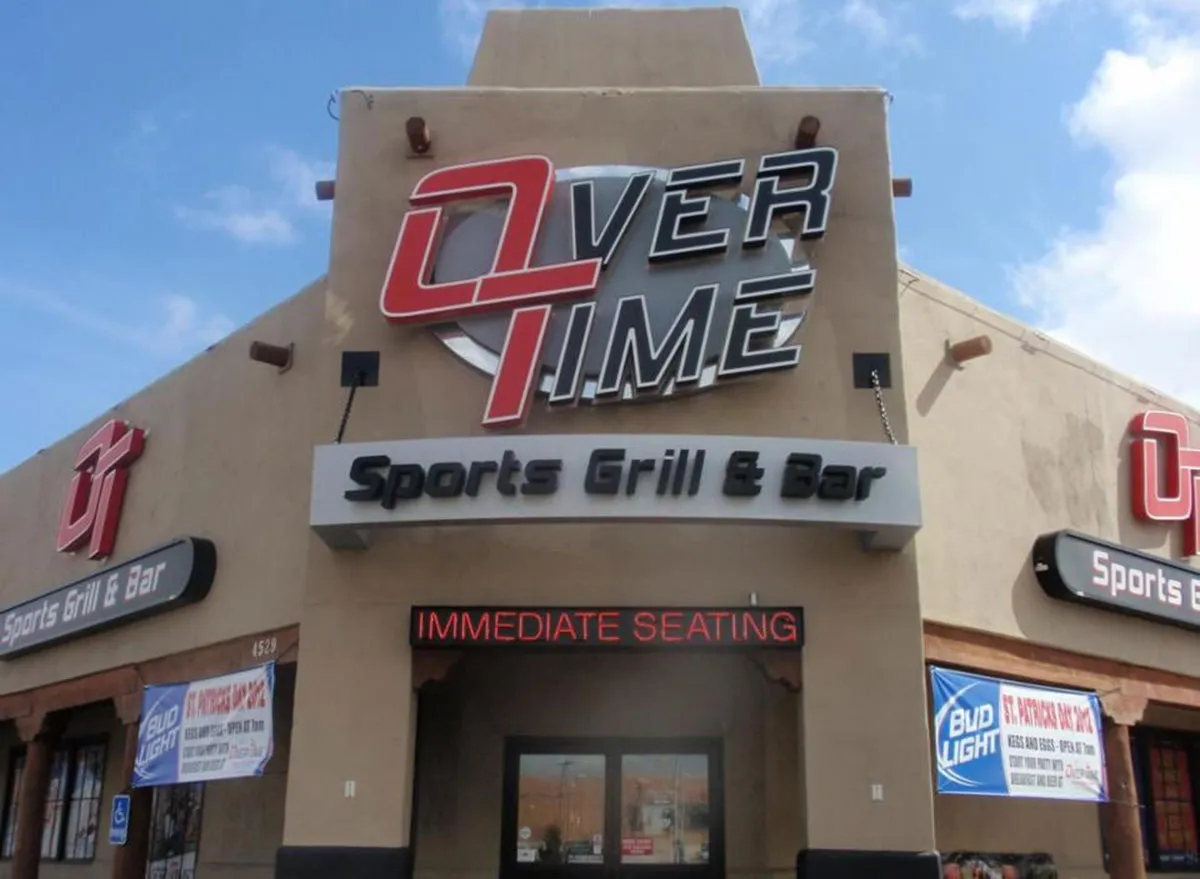 This restaurants' loaded tater tots can put even the greasiest chain to shame, while their cheese-heavy appetizer lineup can slow down anyone coming in to watch the game. Pick from their new Broasted Menu for chicken that is cooked with less fat and fewer calories.
TENNESSEE: The Grilled Cheeserie in Nashville
Nashville's The Grilled Cheeserie loads up their signature grilled cheeses with anything your heart desires, including fillings like pimento mac n' cheese, all the way to pulled chicken and blue cheese aioli. Split a grilled cheese with a friend and share one of their fresh salads.
TEXAS: The Big Texan in Amarillo
Everything is bigger in Texas, including the portion sizes and calorie counts. The Big Texan outdoes itself by serving up slabs of ribs, full orders of fried mountain oysters, 56-ounce bone-in ribeye steak, and loads of grilled meat.
RELATED: The Best Steak House in Every State
UTAH: Crown Burgers in Salt Lake City
Utah's Crown Burgers features a burger-centric menu that almost guarantees you grab one of their massive sandwiches, like the pastrami-topped Crown Burger, or a signature item like the Smothered Burrito.
VERMONT: Handy's Lunch in Burlington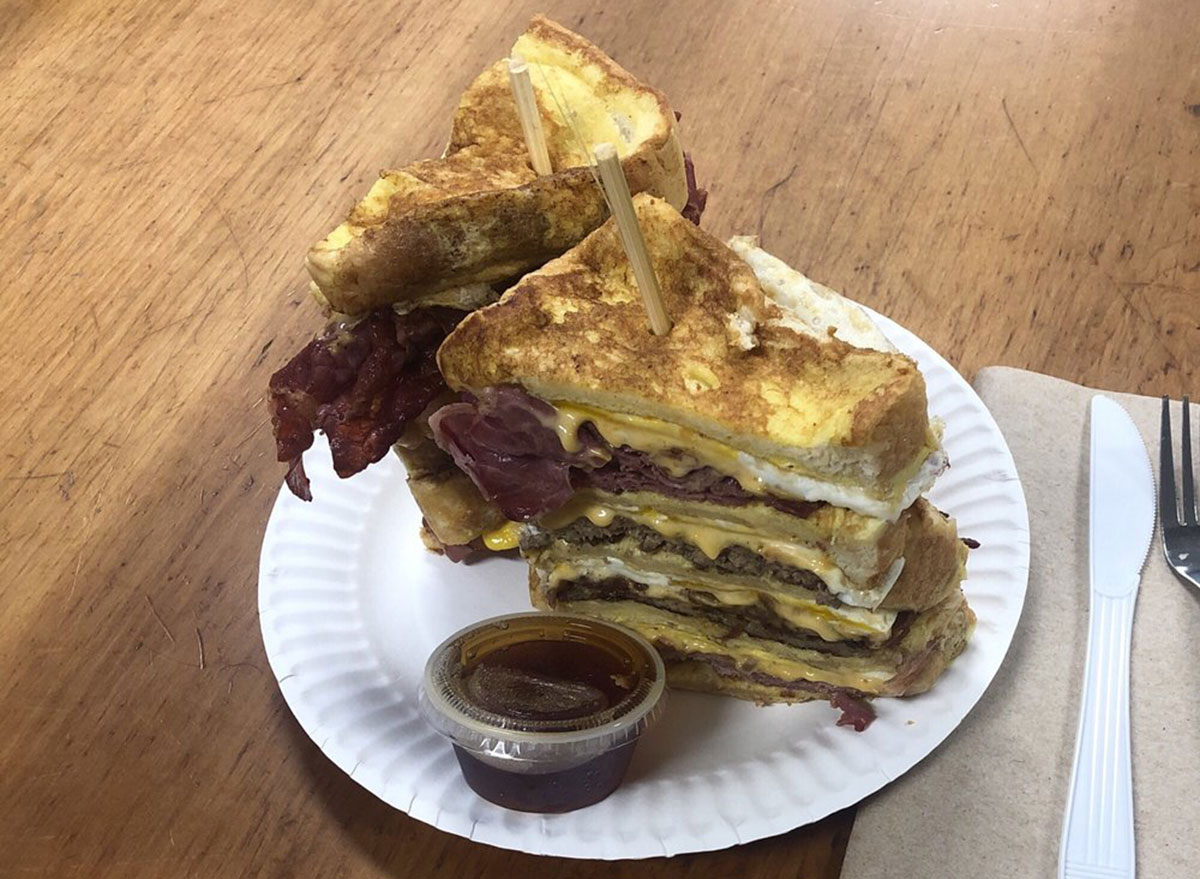 The eatery's signature Chuck Norris comes loaded with five layers of meat and cheese alongside a $16.75 price tag. If that can't get you planning your next gym trip, the lineup of sandwiches and burgers can easily do the trick.
VIRGINIA: Something Different in Urbanna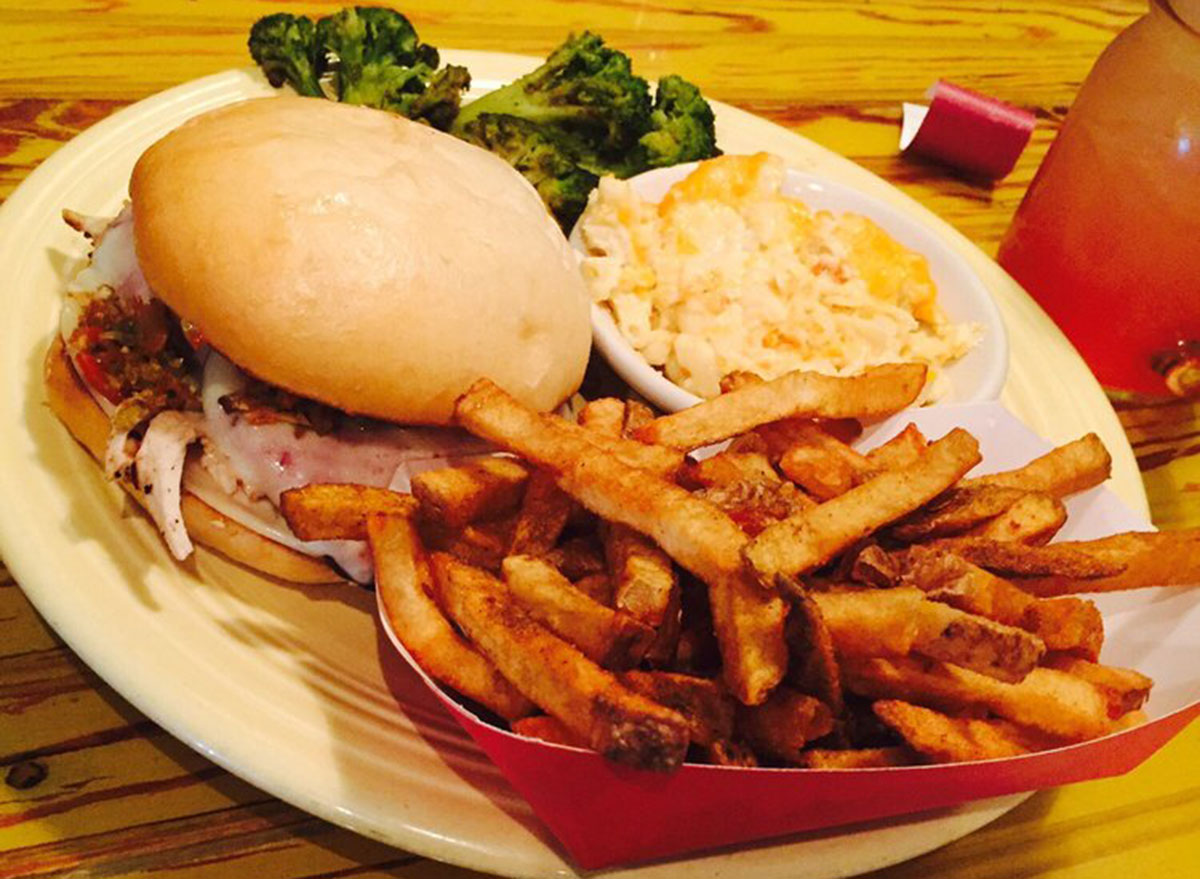 Virginia's Something Different rises above all other restaurants by making sure all of their food comes loaded with fat, as they fry almost all of their food in beef tallow. The eatery touts their "fine Neanderthal cuisine" and proudly only serves a single small green salad that comes in three sizes. This restaurant means business and actively strives to become the unhealthiest restaurant in Virginia. Luckily, they have succeeded.
RELATED: The Best Burger in Every State 
WASHINGTON: HardWok Cafe in Seattle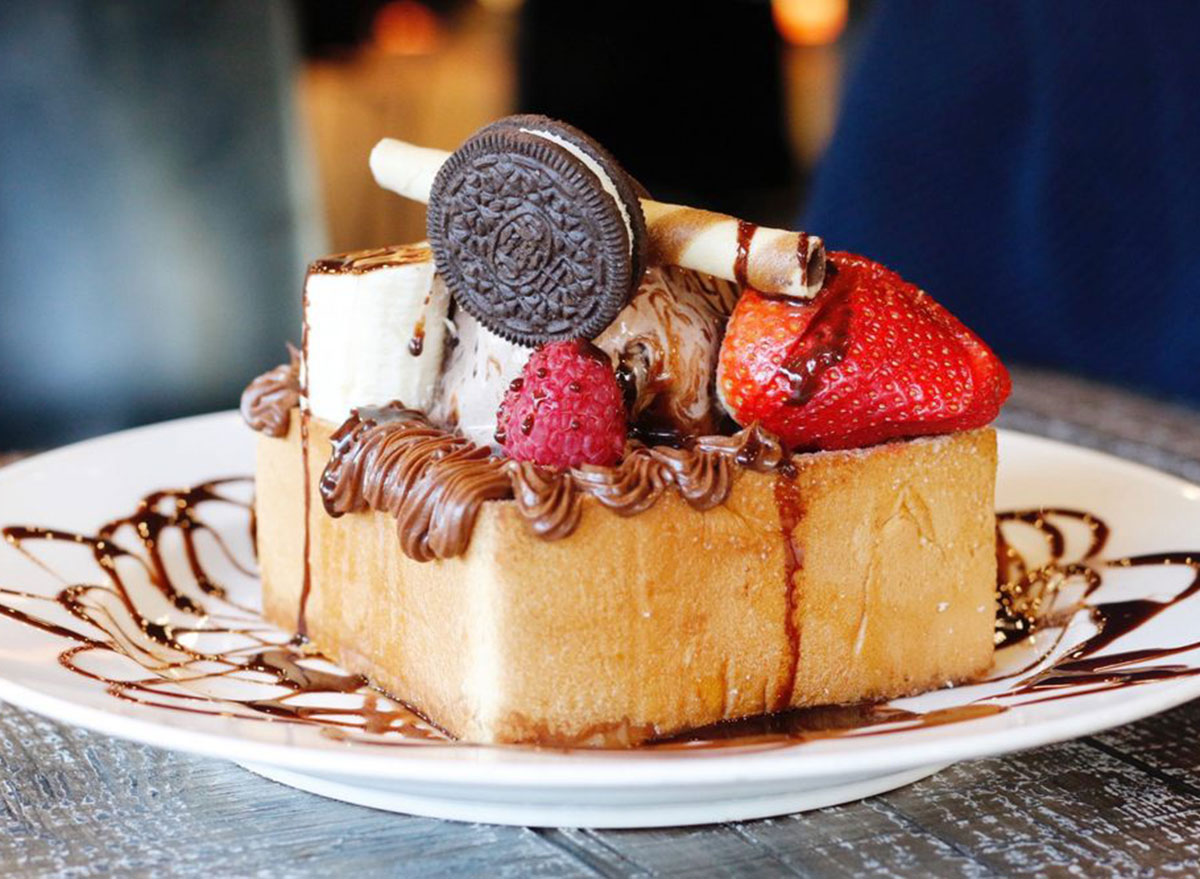 This quaint cafe in the heart of Seattle serves up massive Maple Cinnamon Toasts and Nutty Banana Toasts loaded with toppings, while also dishing out Creme Brulee and a White Chocolate Mousse.
RELATED: The Best French Toast in Every State
WEST VIRGINIA: Hillbilly Hot Dogs in Lesage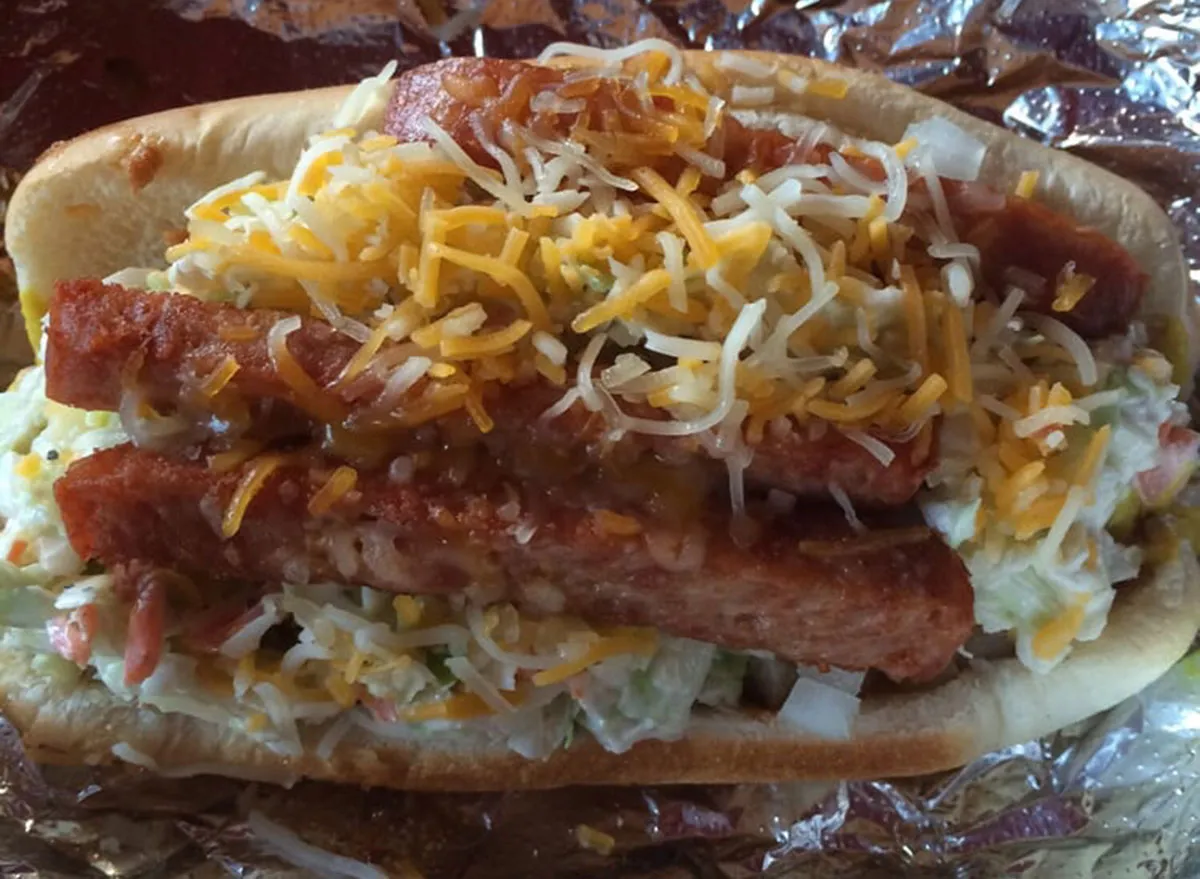 Hillbilly Hot Dogs is all about hot dogs. It features items like the signature Hillbilly Dog, which comes with a deep-fried hot dog, chili sauce, mustard, onions, and the Taco Dog, which gets drenched in cheese sauce, and topped with tortilla chips, salsa, sour cream, and more cheese.
WISCONSIN: Famous Dave's in Westbury
Famous Dave's earned its mantle thanks to its massive, portions of signature items like their All-American BBQ Feast or The Manhandler Sandwich that comes loaded with a ton of smoked meat.
WYOMING: Pinky G's Pizzeria in Gallatin Gateway
Pinky G's Pizzeria doesn't mince words with pizzas like The Fatty. It comes loaded with pulled pork, bacon, and spicy sausage. Their massive $14 calzones are delicious but cut one in half and save some for a future meal.
Read more:
The Unhealthiest Costco Food Orders, According to Dietitians
The Unhealthiest Coffee Drinks in America
10 Unhealthiest Food Brands on the Planet
Erich Barganier is a health and food writer.
Read more