The Best Nachos in Every State
See how restaurants make use of their local specialties to create unique, unforgettable plates of nachos.
There are few appetizers more popular than nachos. It's the ultimate sharable comfort dish, containing some of our favorite indulgent ingredients like melted cheese and creamy guacamole on a base of tortilla chips or some other crunchy snack.
Nachos are also a versatile dish, meaning the recipe can easily be adapted—for example, a number of nacho dishes that made this list use potato chips or fried plantains as a base instead of tortilla chips. Thanks to the versatility of nacho-making, restaurants can make excellent use of their local specialties to create unique, unforgettable nacho dishes (for example, the best nachos in Hawaii are served up at a sushi restaurant and made with spicy tuna on fried wontons).
​​Thanks to reviews and feedback from locals and tourists alike, as well as a look at some award-winning spots and nacho dishes, we put together a definitive list of the best spots to get nachos in every state across the U.S. And if you're in the mood for wings, check out: The Best Steakhouse in Every State.
ALABAMA: El Barrio in Birmingham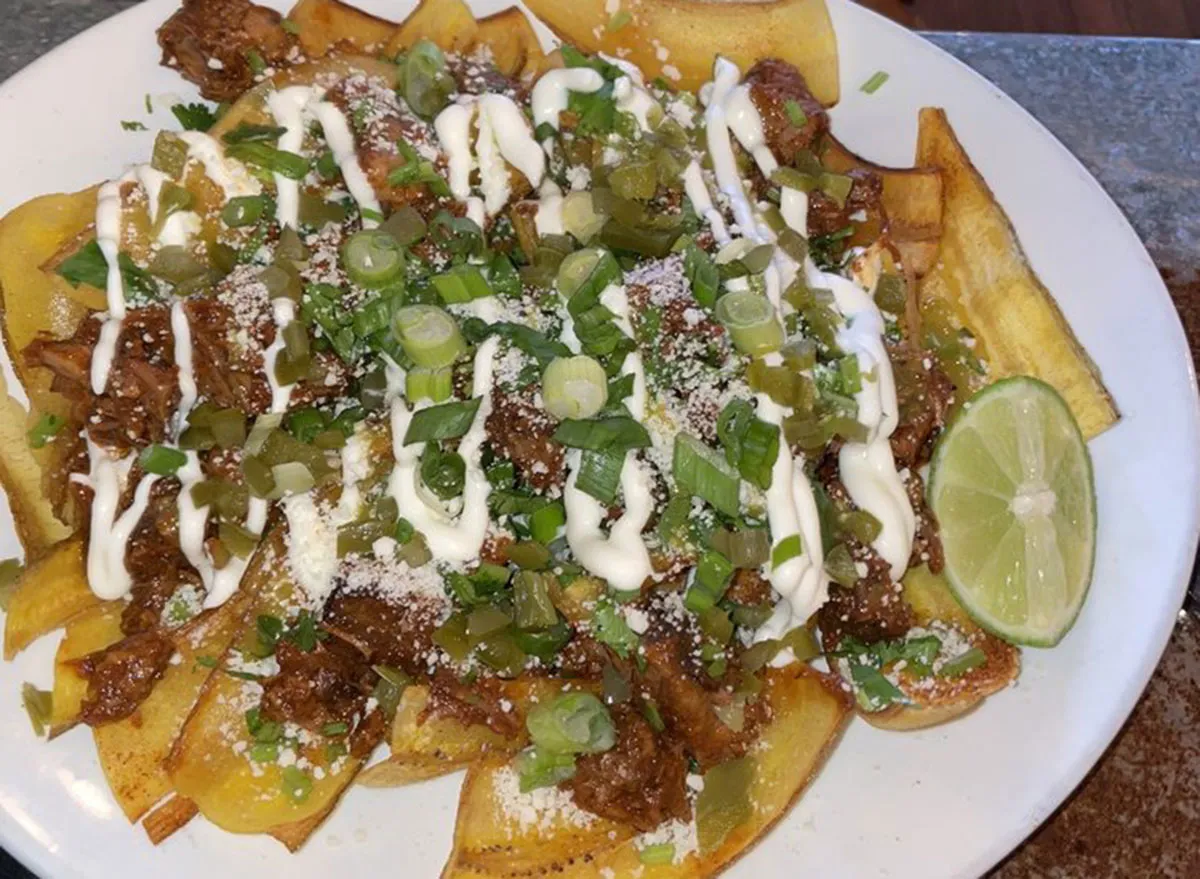 El Barrio's Plantain Nachos replace tortilla chips with plantains and reviewers say it totally works. The dish is made with plantain ribbons, roasted pork, pickled jalapeños, ancho chile, cotija, and lime crema.
"We can't eat here without getting the Plantain Nachos. It's our family favorite. So full of flavor and spice with the plantains as a bonus. Even our 7-year-old is obsessed with these plantains," wrote a regular at El Barrio.
ALASKA: Sitzmark Bar & Grill in Girdwood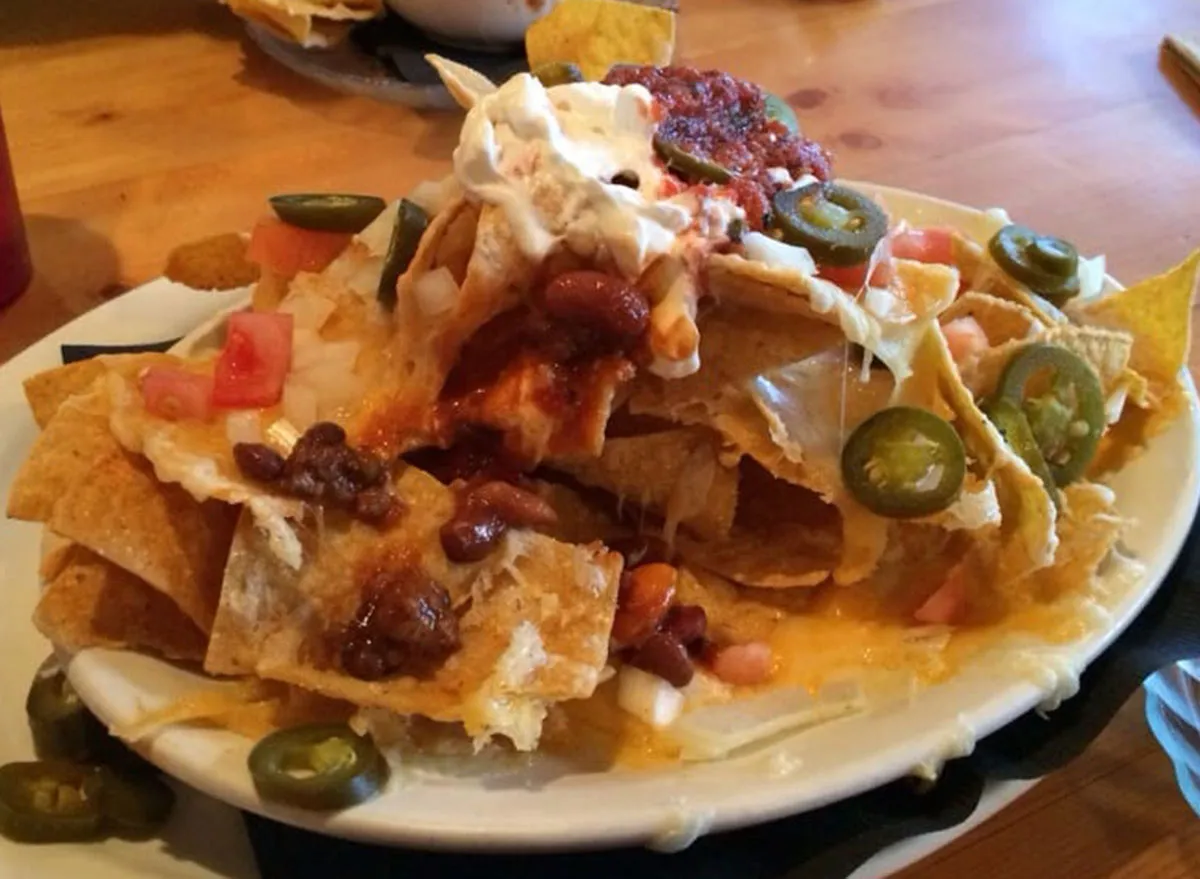 Sitzmark Bar & Grill is the perfect spot for aprés skiing (or any other mountain activity), food, and drinks. Listen to live music, enjoy mountain views, and order the North Face Nachos, which are made from corn tortilla chips, cheddar jack cheese, pico de gallo, jalapenos, black bean, and cheese sauce.
"Great great great food, delivered hot and fresh, even when crowded," wrote a reviewer. "Good service and attentive bartenders."
ARIZONA: Cup Cafe in Tucson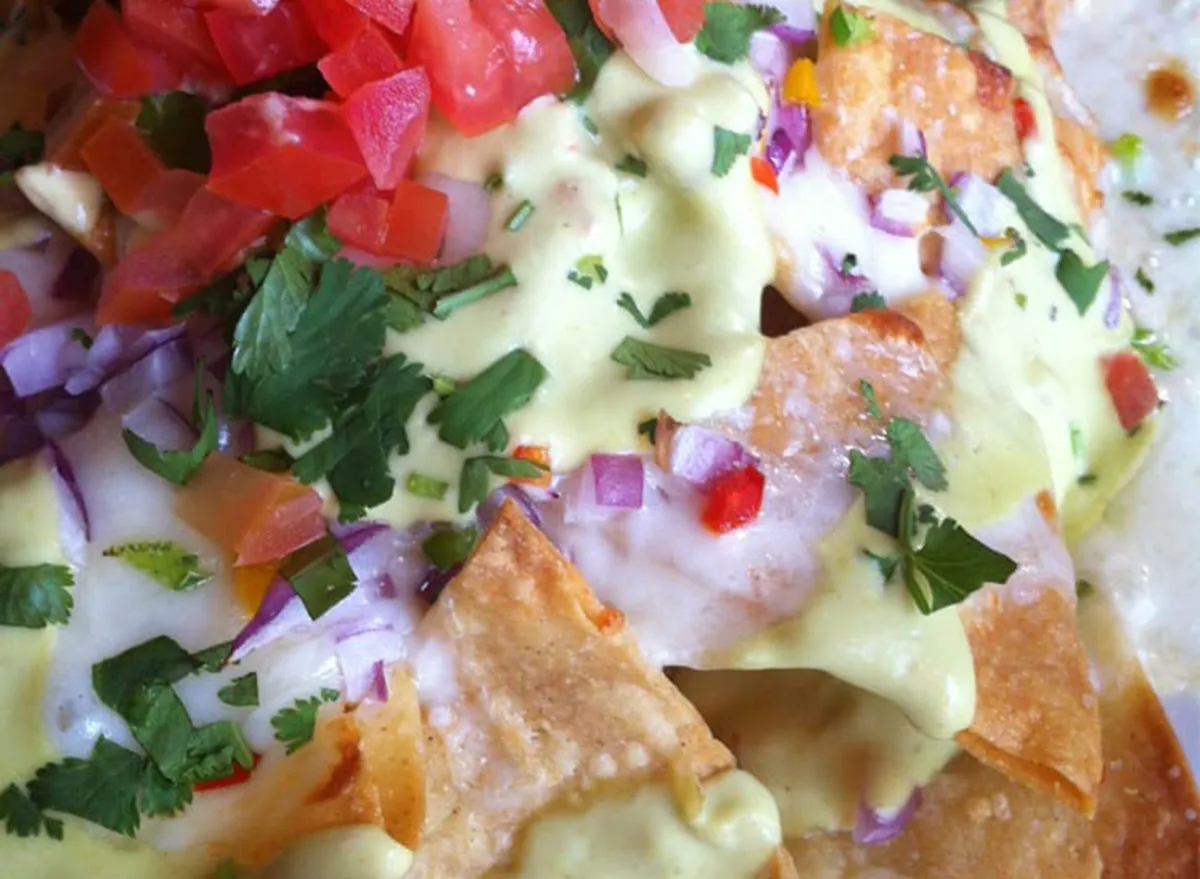 Housed in Hotel Congress, Cup Cafe has been serving up delicious food for over 100 years. A standout is the Picacho Nachos, made with layers of jack cheese, bean dip, chili con queso, pepper, onion, tomato, and salsa. Reviewers recommend ordering them with chorizo, which is locally sourced.
Reviewers describe the nachos as "delicious" and "flavorful," and recommend any dish made with the restaurant's popular chorizo.
ARKANSAS: The Fold: Botanas & Bar in Little Rock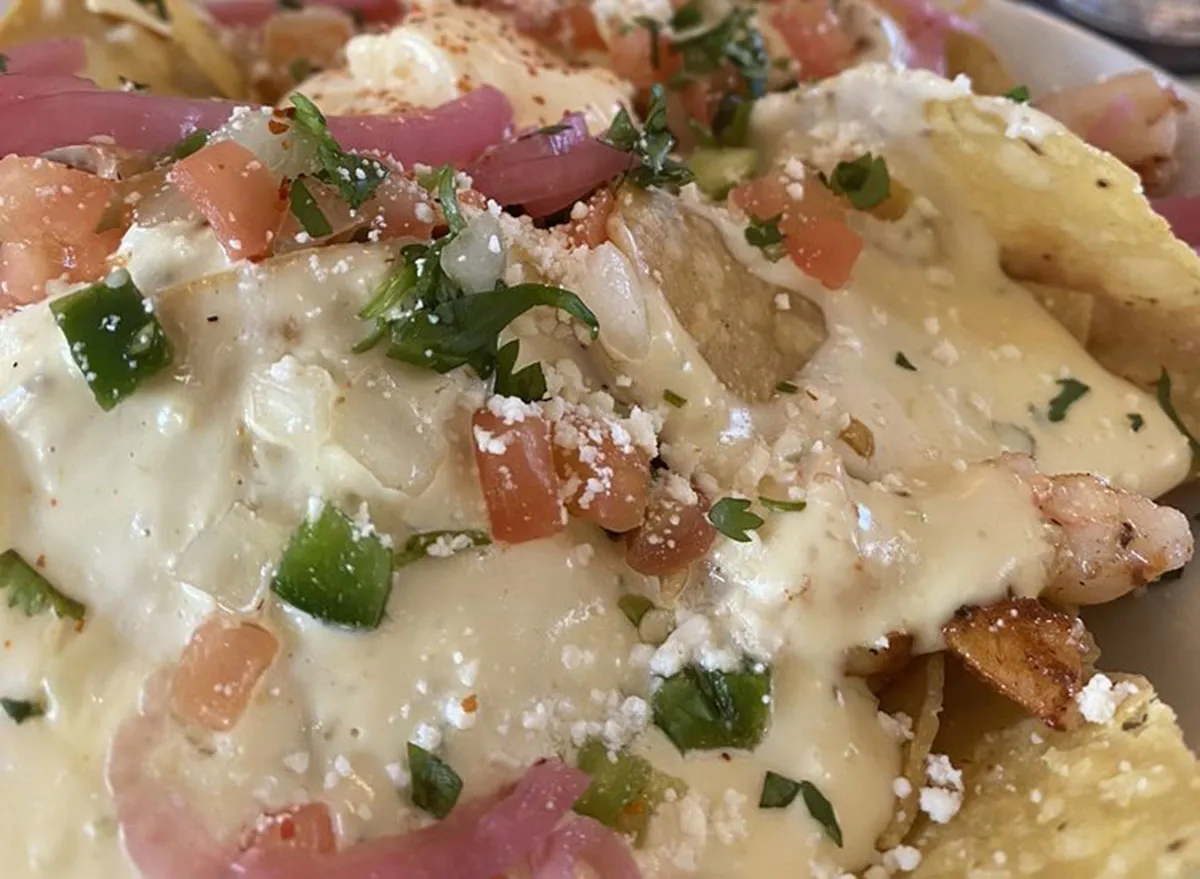 At The Fold: Botanas & Bar, enjoy the colorful patio seating and dig into an order of Bison Nachos. Made with black beans, habanero queso, pico de gallo, pickled onion, cilantro, and crema Mexicana, you have your choice of proteins (steak, shrimp, chicken, pork, and chorizo) but reviewers strongly recommend going with bison.
"This cute and cozy spot warmed our hearts (and bellies). The food and service surpassed expectations. YOU HAVE TO GET the bison burrito and nachos!" wrote a customer visiting from out of town.
CALIFORNIA: Bar Ama in Los Angeles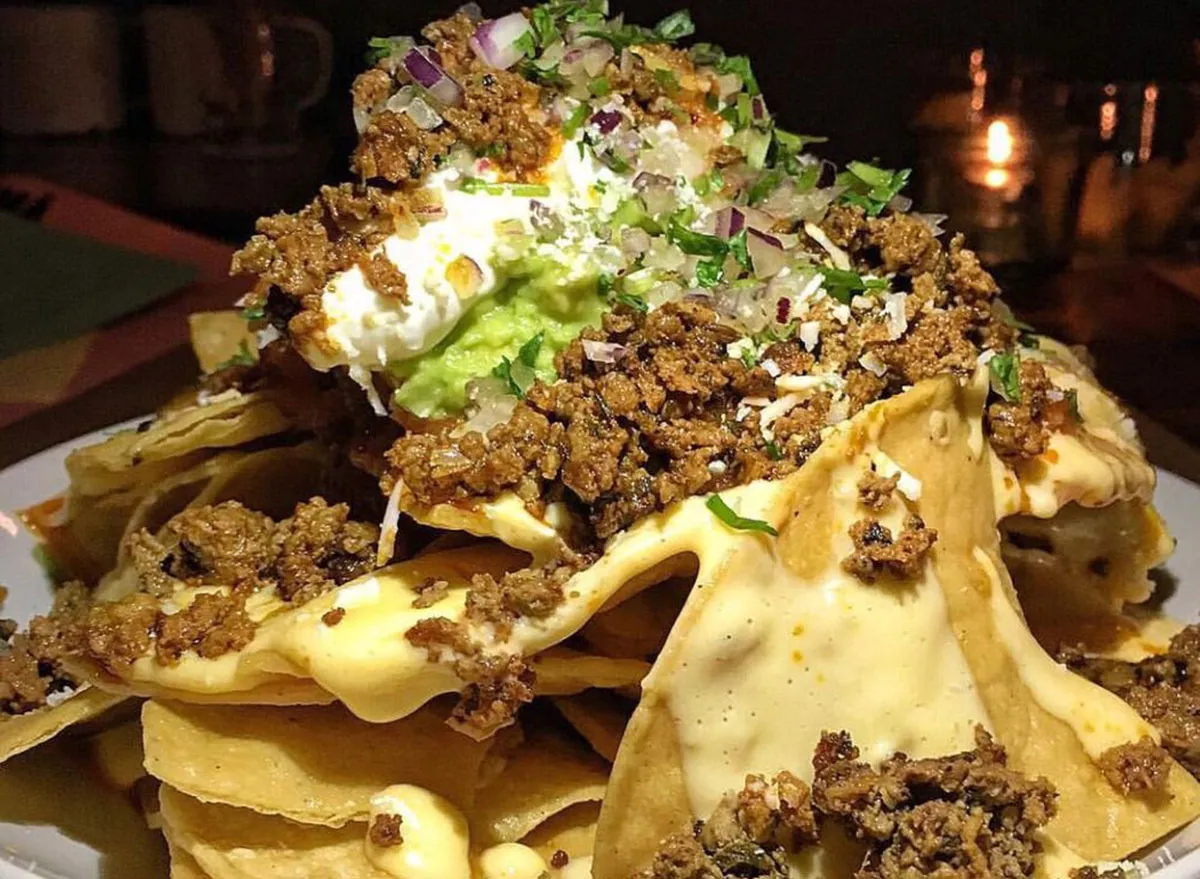 Bar Ama's "Super Nacho Hour" occurs every weekday from 5:30 pm to 7 pm, offering $5 micheladas and massive servings of nachos. The Super Nachos are made with tortilla chips, queso, salmorejo, crema, and avocado, and you can add on carne guisada, ranchero chicken, chicken picadillo, or soyrizo. There's also a vegan nacho option made with cashew poblano queso.
"I didn't think that I would find another reason to love this place even more, but that Nacho happy hour made me fall head over heels," wrote a customer who returned after a positive brunch experience. "I've always loved the chips here, super crunchy! Then when you get a giant pile of it with all the fixings… I'm in heaven. Chorizo, guacamole, queso, sour cream, ahhhh. I can't even with all of this goodness."
COLORADO: El Camino Community Tavern in Denver
When in Denver, getting the Green Chile Nachos at El Camino Community Tavern is a must. Made with thick-cut chips smothered with green chili and topped with black beans, melted cheese, crema, pickled jalapeños, pico, and cilantro, you can also add carnitas, chicken, chorizo, tempeh, steak, or shrimp.
"The Green Chili Nachos were bomb. Great food, service, decor, and vibe," wrote one reviewer, while others described the nachos as "on point" and praised the "light and airy" homemade chips.
CONNECTICUT: Archie Moore's Bar & Restaurant (Multiple Locations)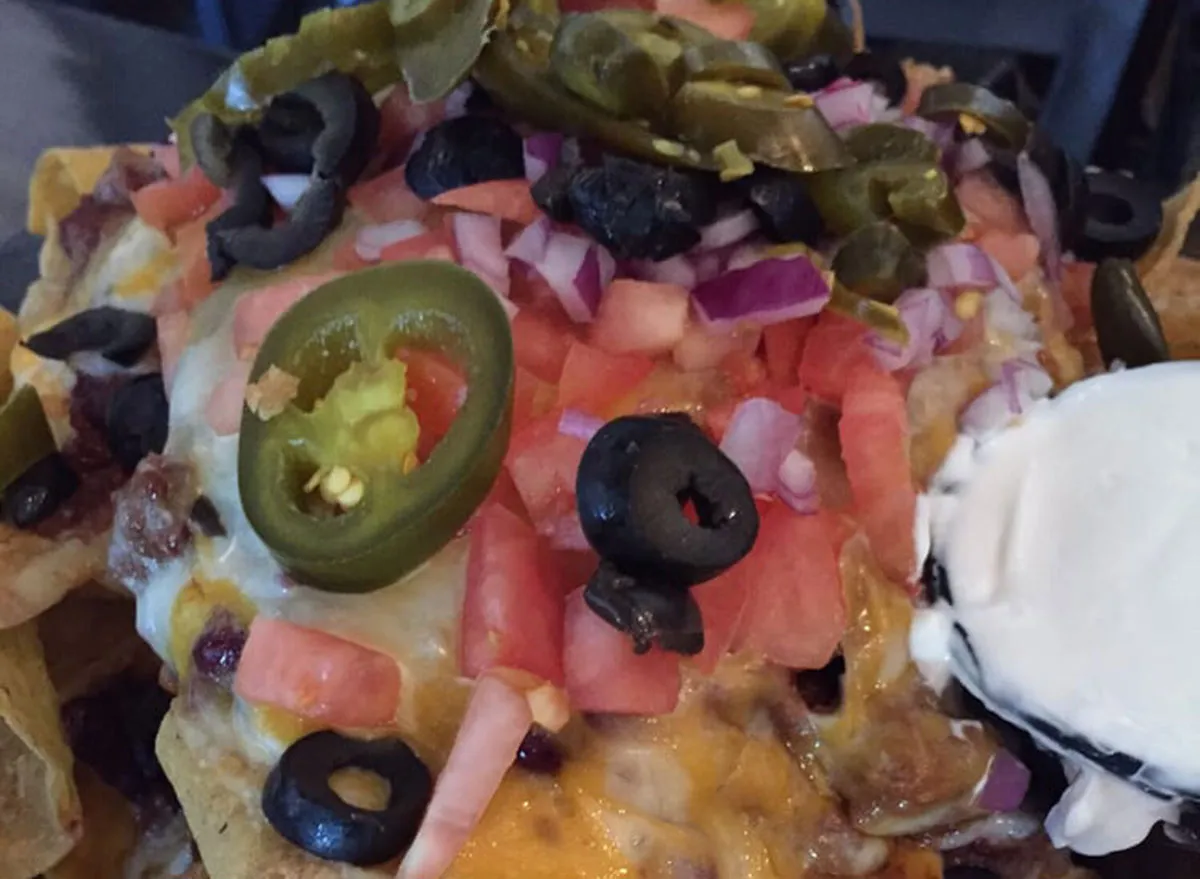 Archie Moore's has locations in New Haven, Wallingford, and Milford, all of which offer multiple nacho options. The Buffalo Chicken Nachos are a local favorite. They're topped with grilled chicken marinated in the restaurant's own buffalo wing sauce, tomatoes, and jalapenos, and served with salsa, sour cream, and blue cheese dressing.
"I've been to all of the 'best nachos spots' in the state and this place is definitely deserving of it," wrote a reviewer. "Fantastic nachos… Highly recommend if you're looking for good nachos!!"
DELAWARE: Deer Park Tavern in Newark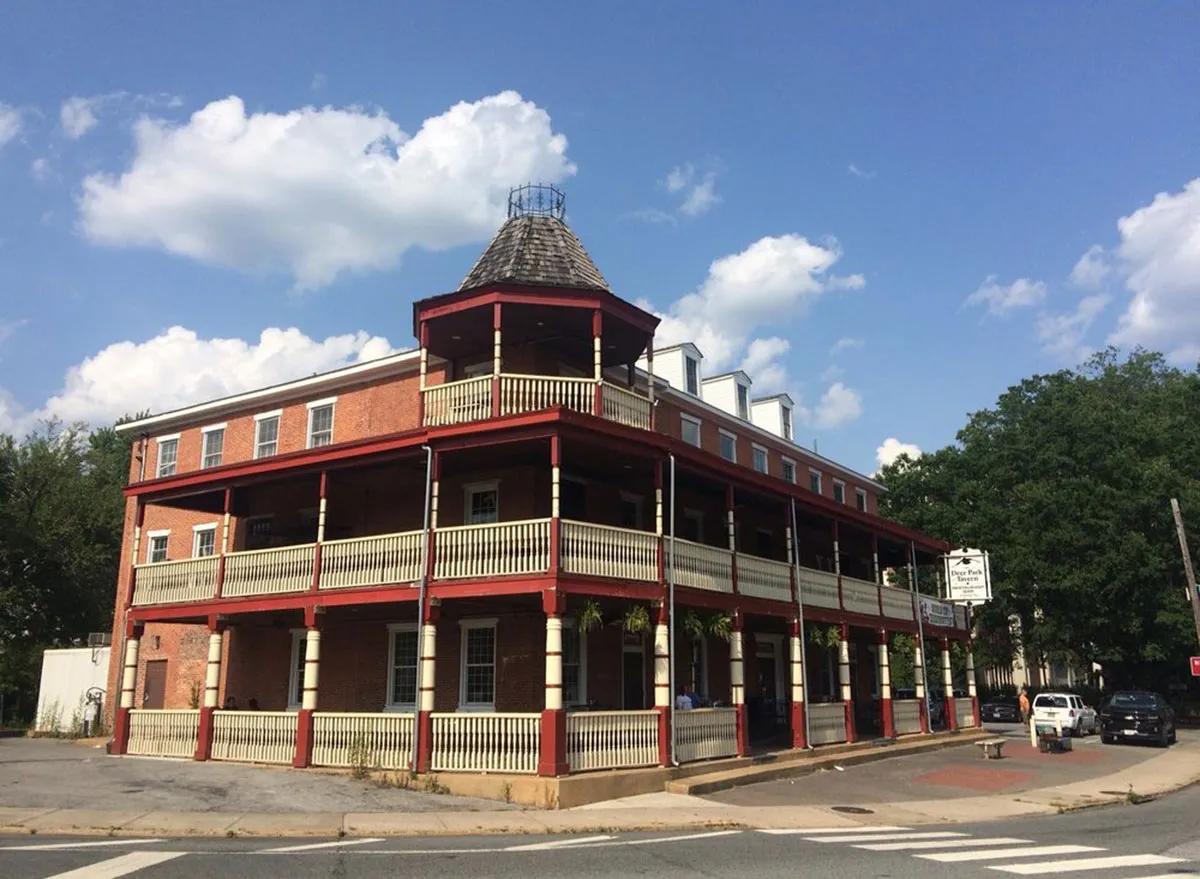 Deer Park Tavern's "Los Nachos Grande," made with chicken, chili, sour cream, jalapeno, lettuce, and tomato, are beloved by patrons of this local staple in Newark.
"I've never had a bad meal here. I usually come with friends to drink and eat nachos (which are incredible—ask for extra jalapenos) but have also had some pretty great full meals here," wrote a reviewer who is a regular at Deer Park Tavern.
FLORIDA: Sweet Liberty in Miami Beach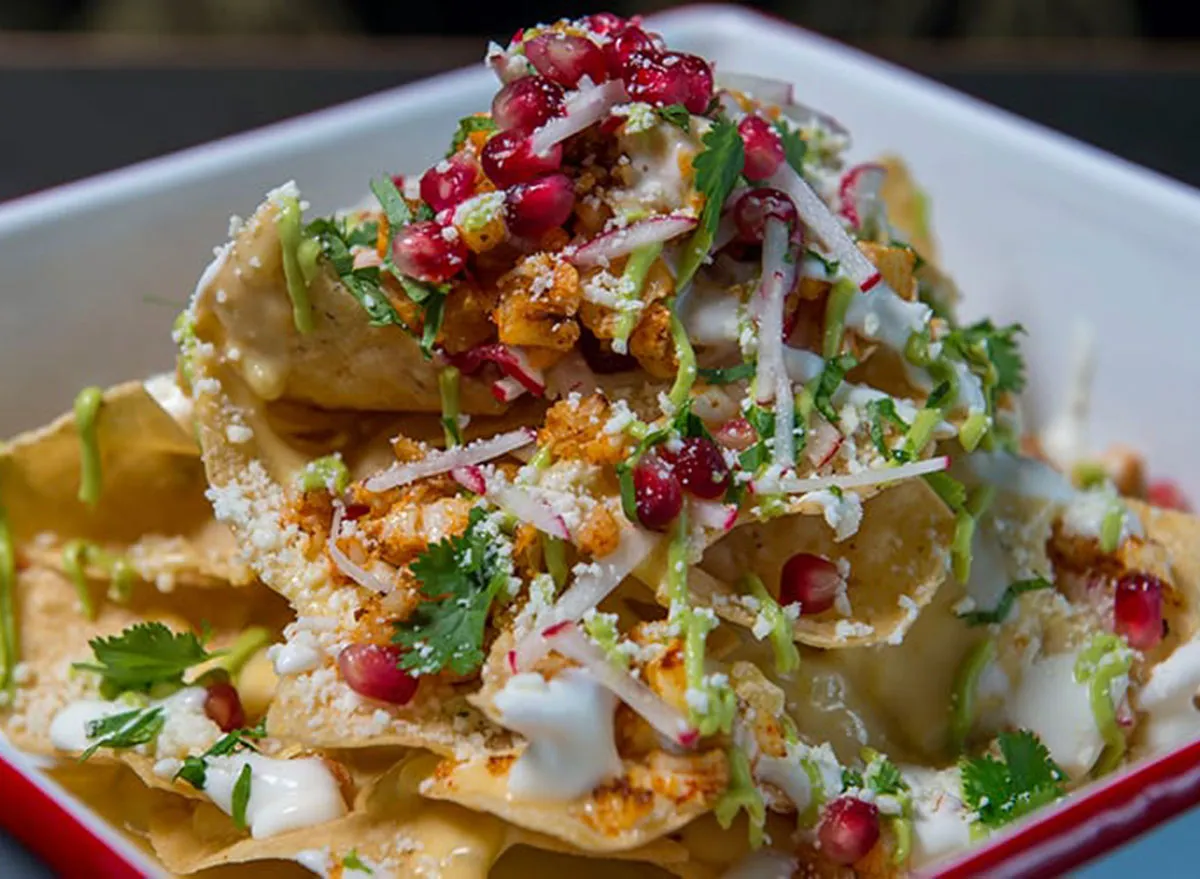 Sweet Liberty may be best known for its wide array of unique cocktails, but we all know not to drink on an empty stomach and the Vegetarian Cauliflower Nachos are a huge hit. Made with blended cheese, sauteed cauliflower, avocado crema, radishes, pickled jalapeno, and pomegranate seeds, you don't need to be a vegetarian to love these nachos (although there is an option to add grilled chicken).
"Recommendation: Nachos. They put cauliflower AND pomegranate seeds in them and it's just amazing," wrote a reviewer. "Also total unrelated side note that the cheese was hot (which isn't the case at most restaurants I order nachos at)!" Another said they "still dream of these [cauliflower nachos]."
GEORGIA: Hankook Taqueria in Atlanta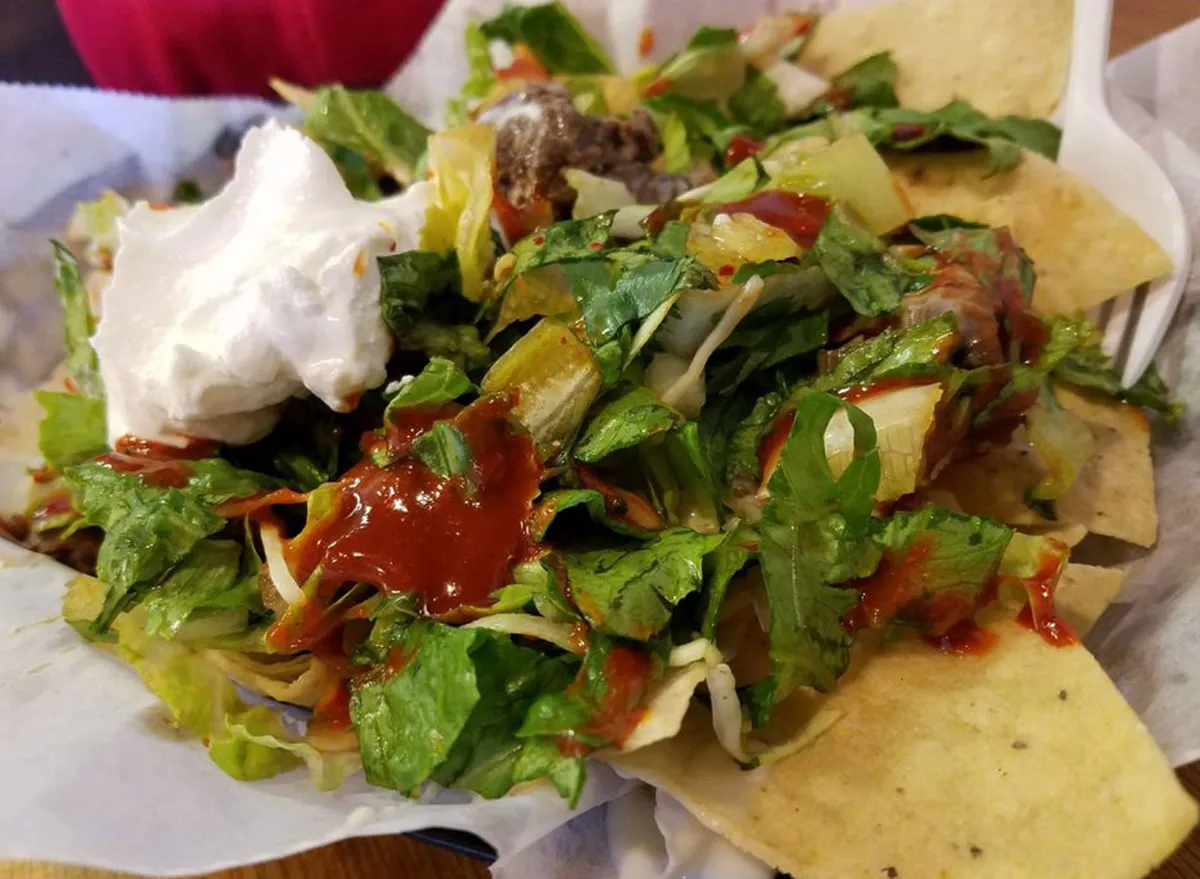 A Mexican and Korean fusion restaurant, Hankook Taqueria has been featured on Diners, Drive-ins, and Dives. They describe their nachos as a "mountain of flavor," made with corn chips, cheese, and their signature Tako salad, pickled jalapeños, and your choice of protein.
"These are unlike any nachos I have ever had, and they are hands down the best… These are the holy grail of nachos. I'm serious. Get them," wrote a reviewer, while another described them as "cheesy, saucy, meaty heaven."
HAWAII: Cuatro Restaurant in Kihei
When in Hawaii, take advantage of the amazing seafood. Cuatro Restaurant's Spicy Tuna Nachos are a fancy, award-winning twist on the dish. Spicy tuna on crispy wontons and topped with avocado relish, a drizzle of truffle aioli and cilantro pesto, and then finished with Latino Kochujang is the perfect marriage of flavors, according to those who have been lucky enough to try them.
"The spicy nachos might just change your life," wrote a reviewer, while another described them as "the BEST DAMN NACHOS I've had in my life."
RELATED: Eating This Spicy Food Can Help You Live Longer, Doctors Say 
IDAHO: Power House in Hailey
A bike shop and pub right outside Sun Valley, Power House uses cut-to-order fries as the base of their popular Idaho Nachos. The fries are smothered with chili, cheddar cheese, goat cheese, sour cream, and onions.
"Absolutely love this place…. The Idaho Nachos were delicious," wrote a reviewer visiting from out of town. "I highly recommend going here if you are in the area. The staff is very nice and the atmosphere is super laid back."
ILLINOIS: Little Goat Diner in Chicago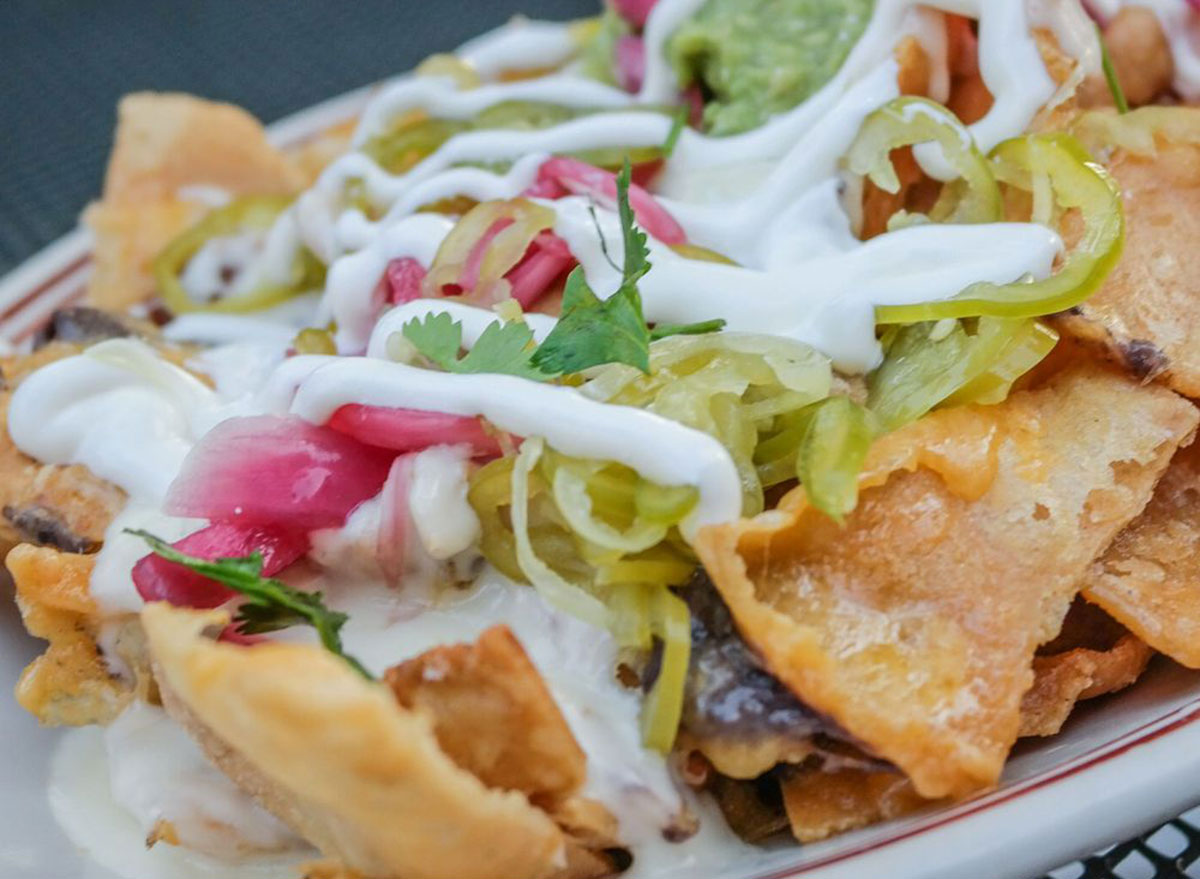 This popular Chicago diner has a nacho dish from heaven. Made with house masa chips, chorizo, pickled peppers, black beans, cheddar, sour cream, and avocado, reviewers can't get enough of Little Goat's "Machos Nachos."
"The nachos are some of the best in the country," wrote a regular customer. Another wrote that they'd sampled a number of things on the menu and all were great, "but the nachos are above all the best!"
INDIANA: La Margarita in Indianapolis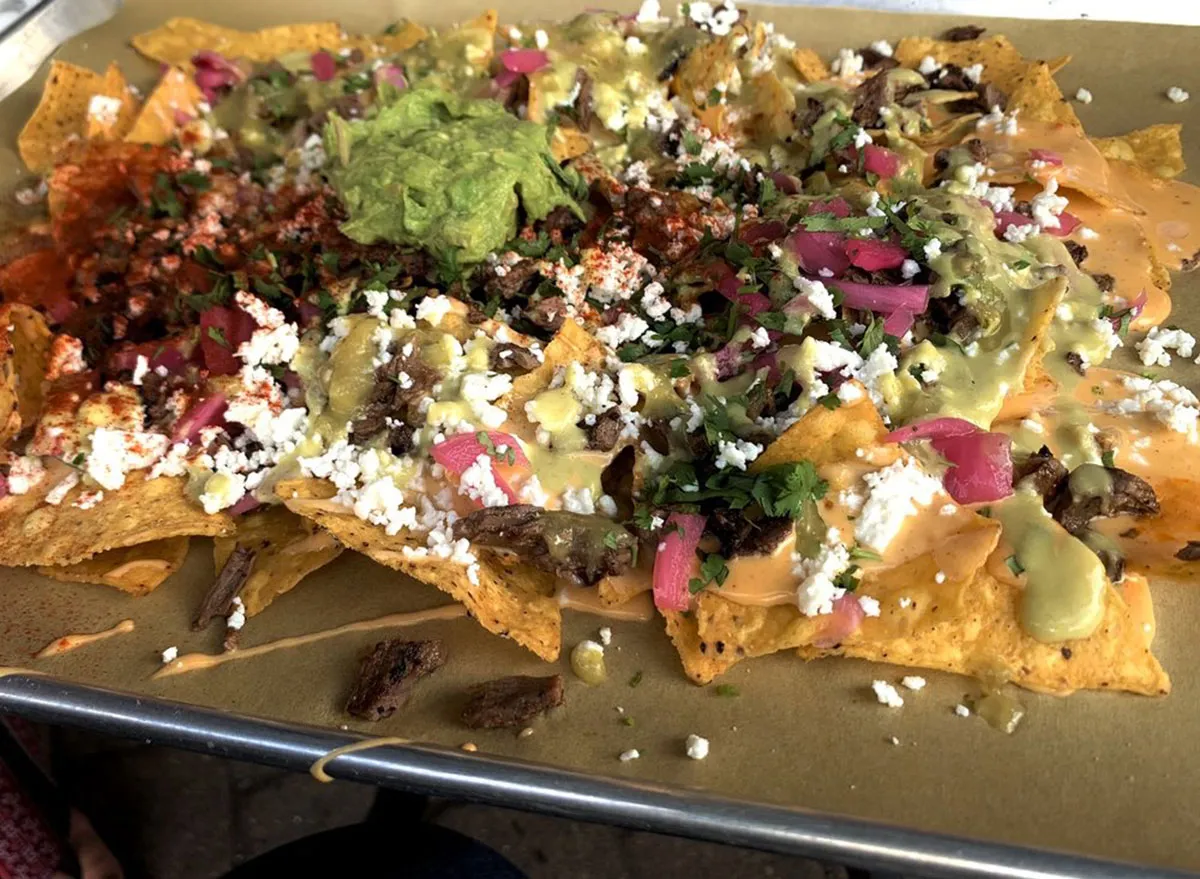 La Margarita has been an Indianapolis staple since it opened its doors in 1984. The nachos are made with both chicken and locally-made chorizo, along with pickled onions, serrano, cilantro, and guacamole. Reviewers say the two meats are a winning combination.
"We ordered the chicken and (Smoking Goose) chorizo nachos as an appetizer and they were perfect," wrote one customer. Great seasoning, ample amounts of meats. The perfect ratio of meat/chips/cheese as well which is commonly not found on nachos." Another described them as "perfectly made and a delicate balance of hot and flavor."
IOWA: University Library Cafe in Des Moines
University Library Cafe is a favorite among Drake University students and staff as well as locals. In addition to its wide variety of Iowa craft beers, the Library Nachos are a crowd-pleaser. Made with fresh flour tortillas, pinto beans, shredded cheddar cheese, Monterey cheese sauce, salsa, mild banana pepper rings, and sour cream, there's also the option to add cheeseburger, bacon, chicken, roast beef, or corn beef.
"The perfect place for some nachos! A treasure in the Des Moines," wrote a local reviewer. "The nachos are a favorite because they don't use traditional tortilla chips." Another described the nachos as "crazy good."
KANSAS: Johnny's Tavern (Multiple Locations)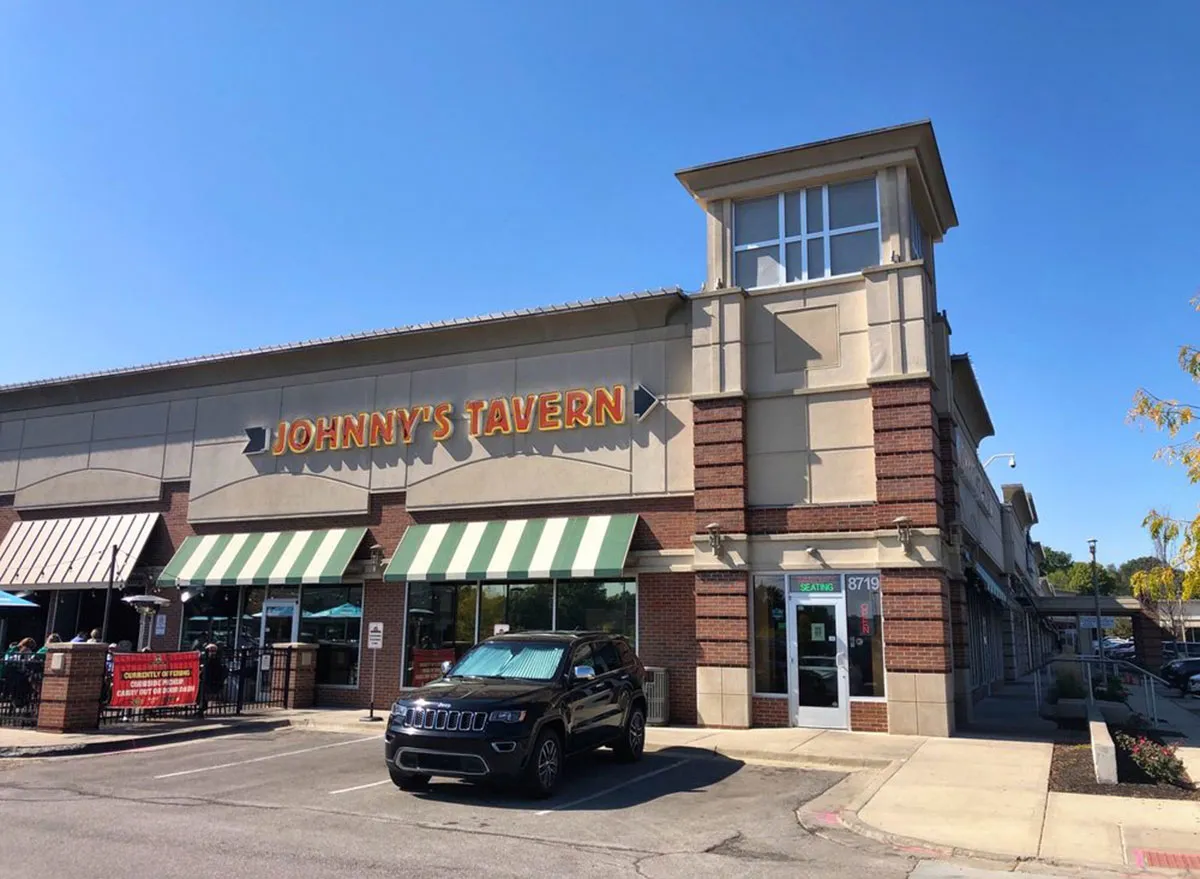 With multiple locations across the state, Johnny's Tavern is known for its Espi-Nachos. Made with espinaca cheese sauce and topped with pico, black beans, queso fresco, and black olives, the nachos have a nice mix of creamy and crunchy texture.
Reviewers described the nachos as "spectacular" and noted they have "the perfect amount of every topping."
KENTUCKY: The Pine Room in Prospect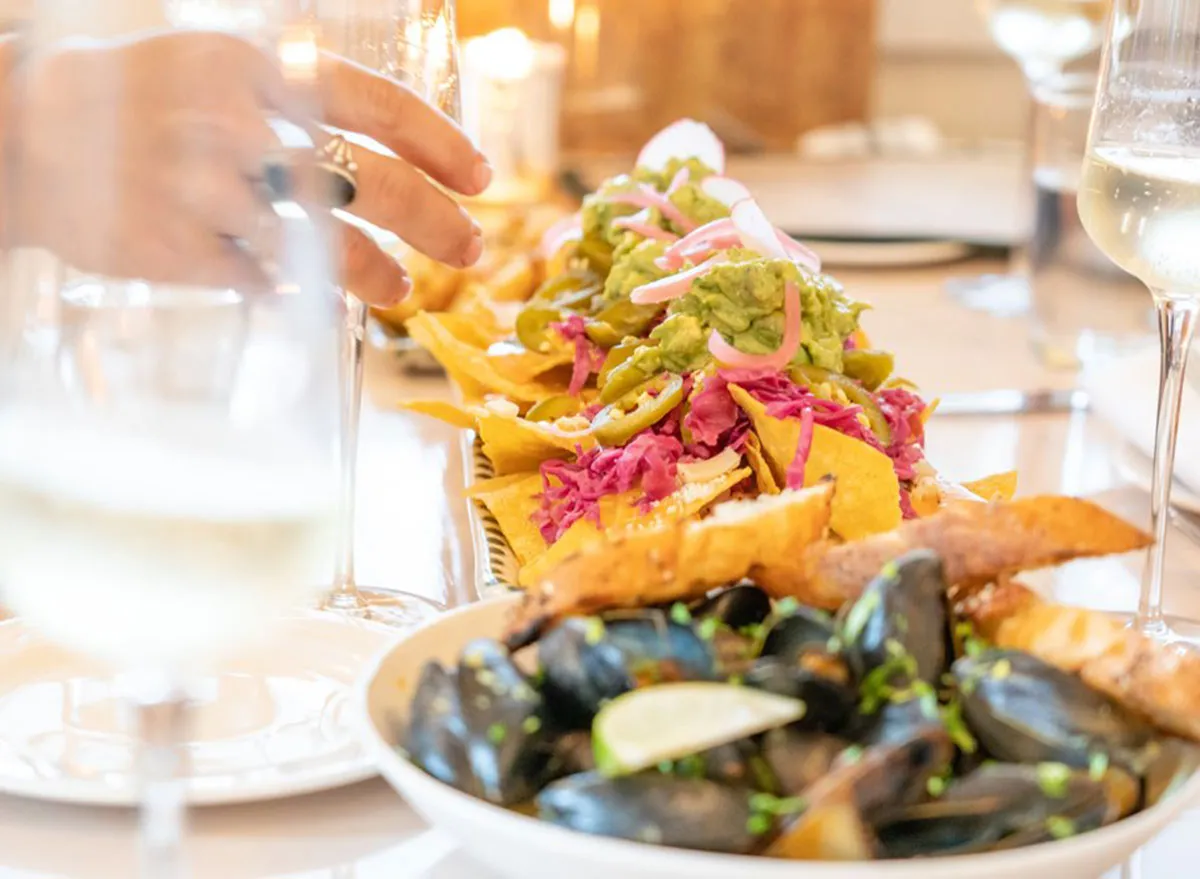 The Pine Room serves up its own unique, mouthwatering nacho recipe that includes fresh guacamole, queso, corn tortillas, grilled hearts of palm, cotija cheese, pickled jalapenos, green onions, pickled red cabbage, and your choice of protein.
"The table shared the nachos—some of the prettiest nachos I've ever seen with thinly sliced radish and pickled cabbage," wrote a reviewer. "Even my boyfriend, who is a very picky eater, said they were the best nachos he's ever had."
LOUISIANA: The Rum House in New Orleans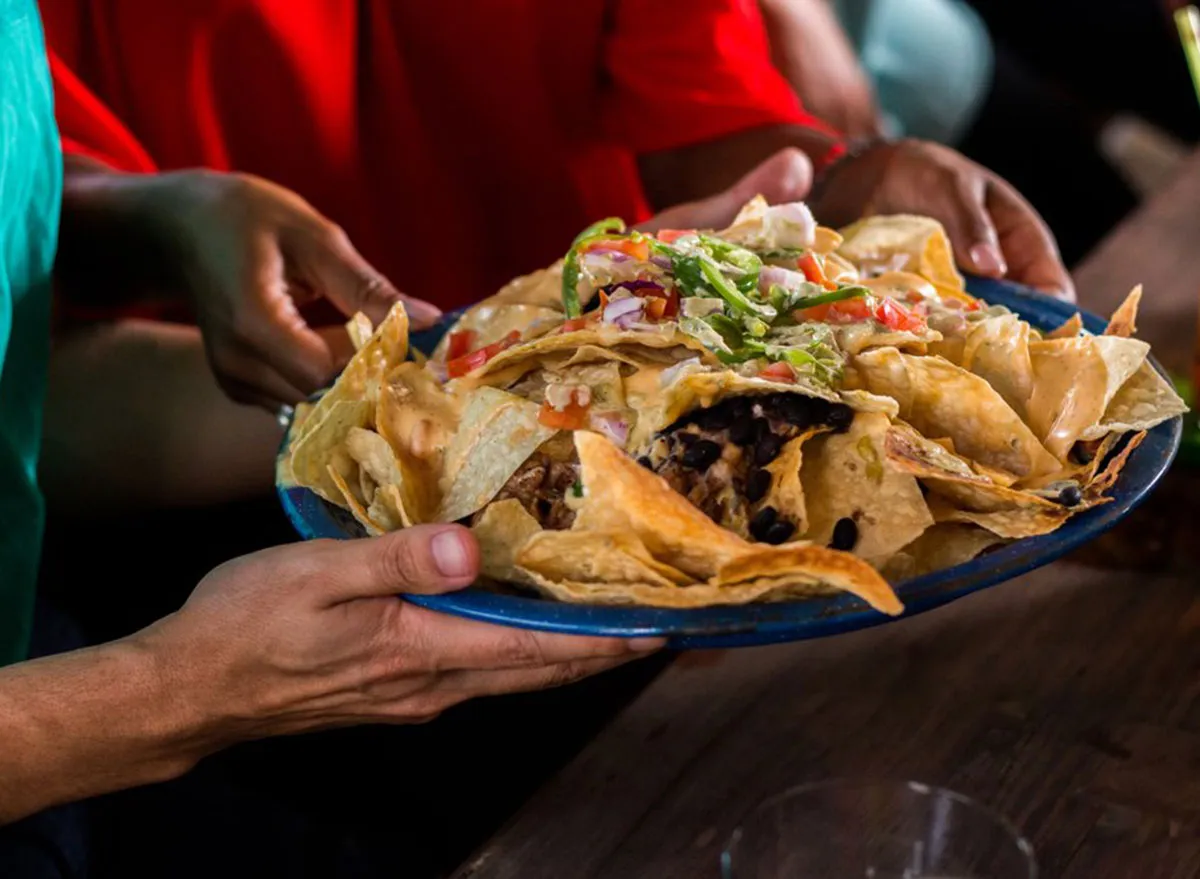 A popular cocktail bar in New Orleans, The Rum House also has excellent Caribbean-inspired food. The "Damn Good Nachos," made with pulled pork, black beans, jalapenos, tomatoes, red onion, lime cream, cilantro, and melted cheese, live up to their name.
"The nachos are an absolute must!" wrote a local reviewer who has ordered them multiple times. "The ingredients are so fresh and the pork that tops the nachos is out of this world!"
"One thing I would recommend to try is their nachos hands-down," wrote another customer who was visiting from out of town. "You can't get them like that anywhere else."
MAINE: Luchador Tacos in South Paris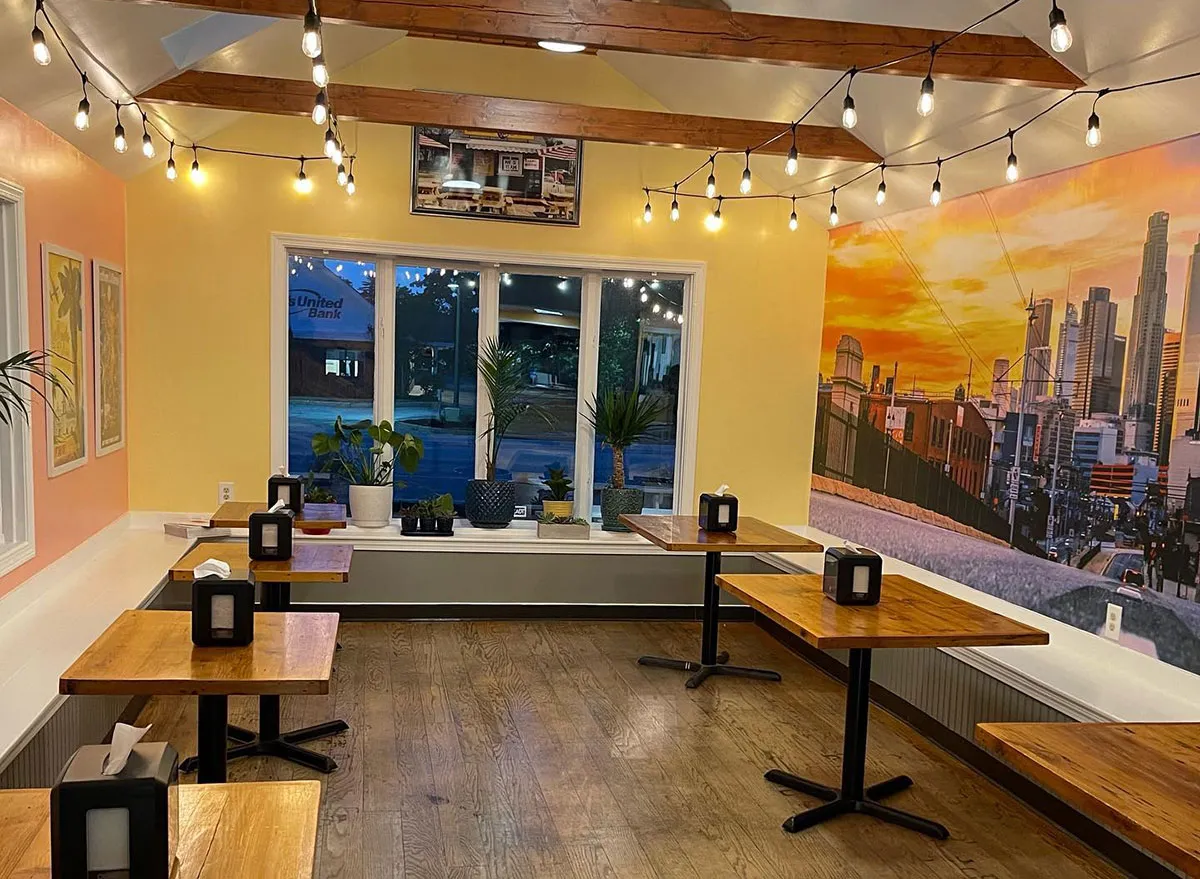 Luchador Tacos brings Los Angeles-style Mexican food to Maine thanks to chef and owner Katherine Mitchell, who relocated from L.A. The Luchador Nachos, which the Food Network named the Best Nachos in Maine, are made on a bed of tortilla chips, smothered with melted nacho cheese sauce, and topped with Luchador's house marinated and grilled steak. They're garnished with the restaurant's own roasted green tomatillo sauce and sour cream.
"Not only is the food delicious and fresh, the staff is beyond friendly. Love this place!! It is a must visit if you are in the area!" wrote one reviewer, while another described their food as "authentic, fresh and extremely delicious."
MARYLAND: Nacho Mama's in Baltimore
Nacho Mama's offers a wide selection of nacho options: Basic Nachos, Chicken Nachos, Blackened Chicken Nachos, Steak Nachos, and Crab Nachos. Unsurprisingly, the Crab Nachos are the most popular, with a number of regulars noting that they order them every time.
"Crab nachos are a must. Just get them," wrote one reviewer, while another described them as "THE BEST EVER!!!!"
MASSACHUSETTS: Sweet Cheeks Q in Boston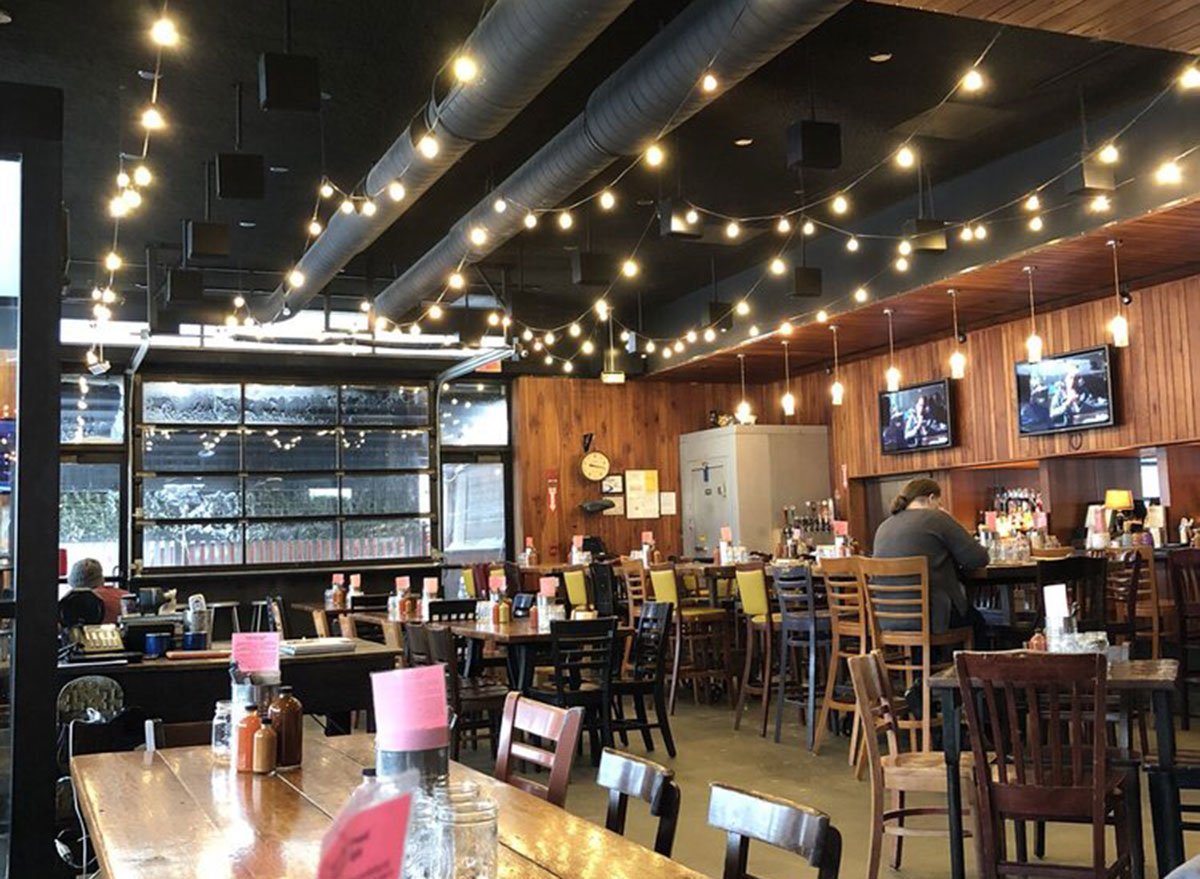 A five-minute walk from Fenway Park, Sweet Cheeks Q is a Boston staple that's beloved for its barbeque trays and its creative twist on nachos. Made with salt-and-pepper potatoes instead of tortilla chips, the nachos at Sweet Cheeks Q are piled with BBQ beans, jack and cheddar cheeses, sour cream, jalapenos, scallions, and your choice of the restaurant's excellent meats: pulled pork, pulled chicken, brisket, or pork belly.
"Bbq nachos are amazing!!" wrote one reviewer, while others praised the "incredible" nachos and customer service.
MICHIGAN: Ascension Brewing Company in Novi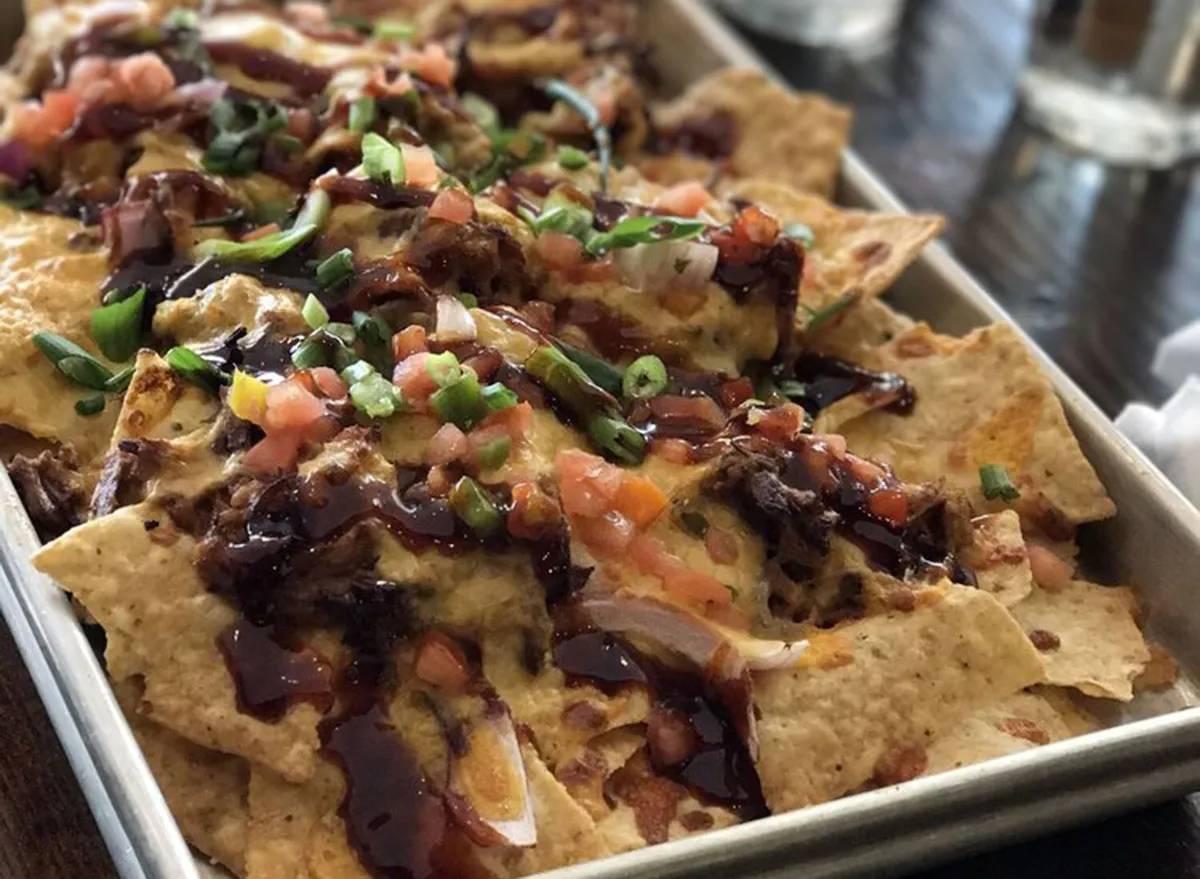 Ascension Brewing Company is a microbrewery that's the ideal spot to pair the perfect IPA with the brewery's signature "Mr. Piggins Brewery Nachos." They're made with tri-colored corn tortilla chips and piled high with 12-hour-cooked pulled pork, red onion, warm cheddar ale, shredded mozzarella, and topped off with pico de gallo and sriracha bourbon barbeque sauce.
"We got nachos which were amazing," wrote a reviewer. "They were so filling and I loved all the [toppings]. It had unique flavors that I wasn't expecting." Others described the nachos as "to die for."
MINNESOTA: El Taco Riendo in Minneapolis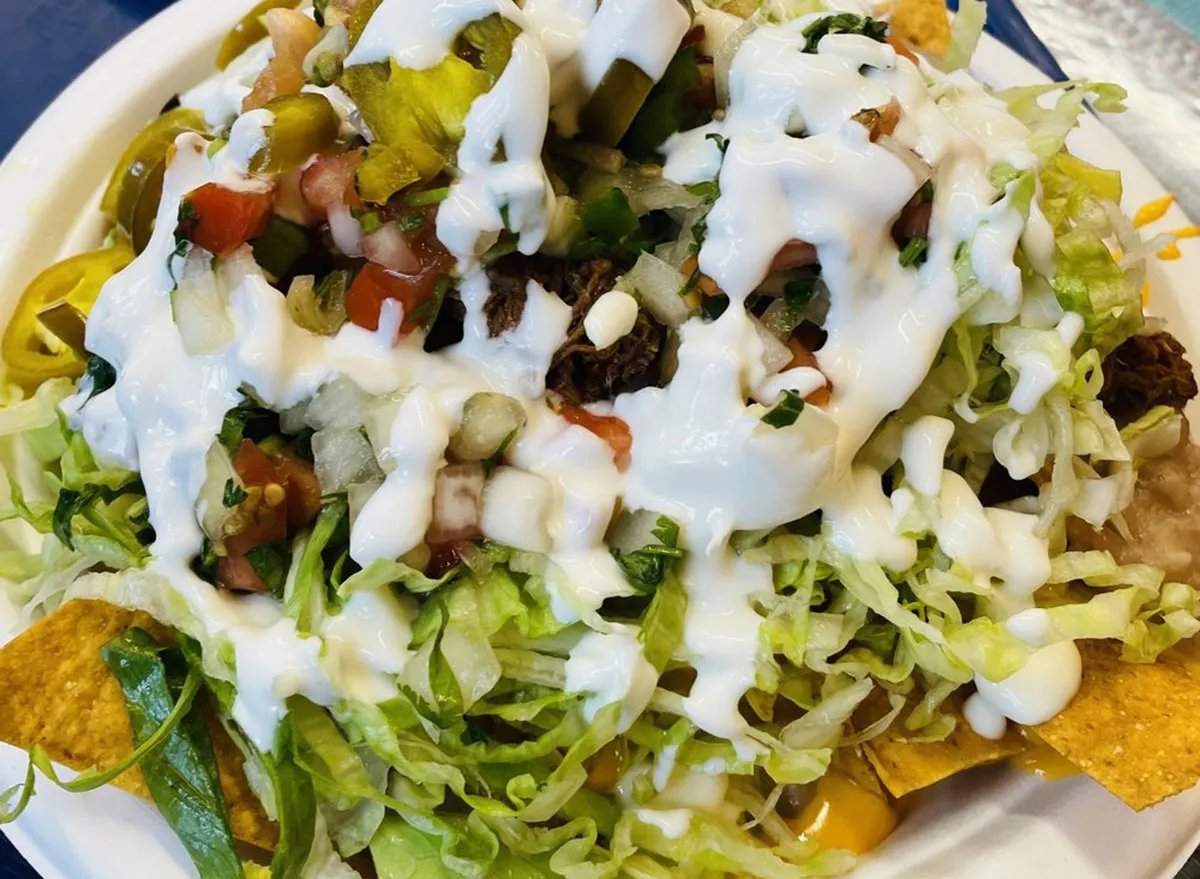 El Taco Riendo is known for its steak tacos, which are made with an amazing charbroiled steak along with pinto beans, pico de gallo, jalapenos, and cheddar sauce.
"[The nachos] were fantastic, the servers heaped on generous portions of meats and toppings," wrote a reviewer. Another happy customer who went to El Taco Riendo with their best friend said, "Hands down, we both decided, the best nachos ever!"
MISSISSIPPI: The Ole Biloxi Fillin' Station in Biloxi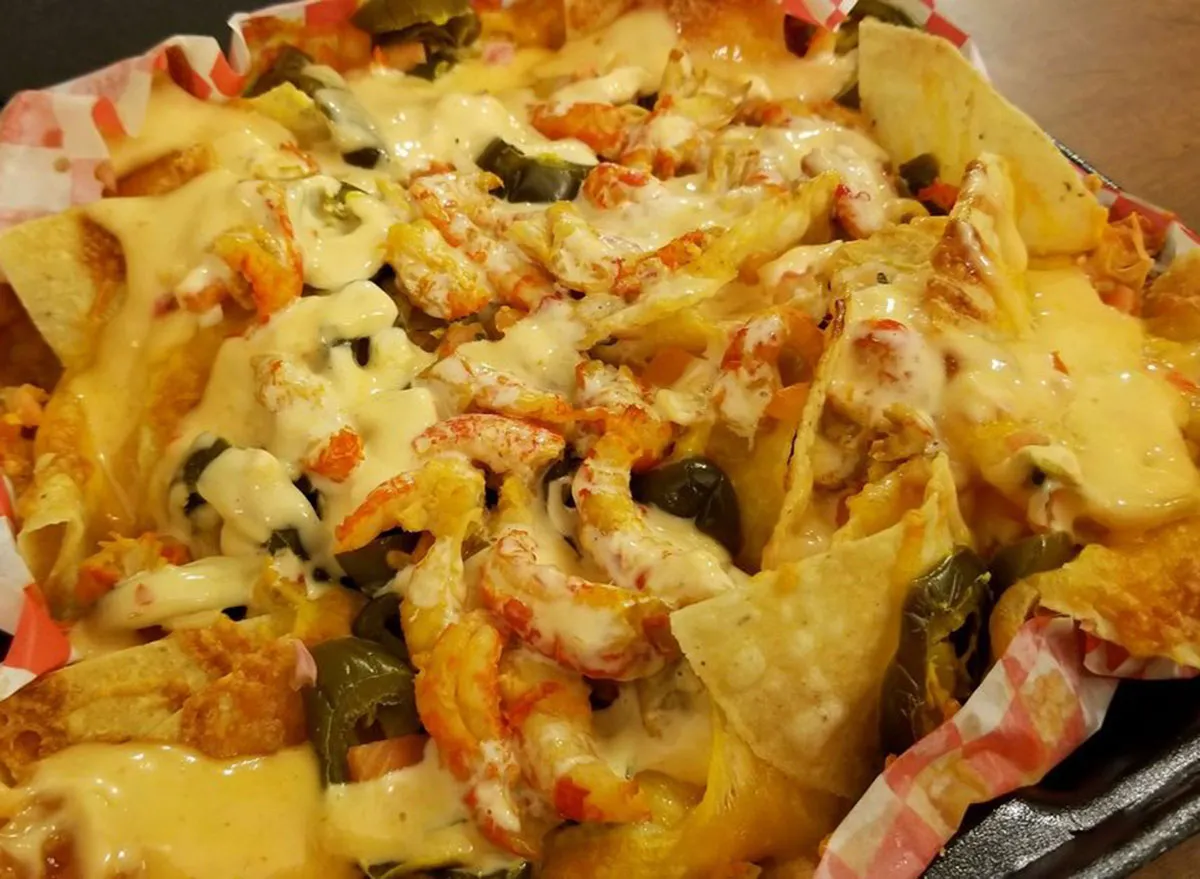 When in Mississippi, don't miss out on the Crawfish Nachos at The Ole Biloxi Fillin' Station. The super fresh crawfish paired with a sweet and spicy sauce is a winning marriage of flavors.
"I didn't know crawfish nachos were a thing and quickly found they are the best nachos," wrote a reviewer. "Great place and food and drinks." Others described the crawfish nachos as "really delicious," "incredible," and "the best."
MISSOURI: Gettin' Basted in Branson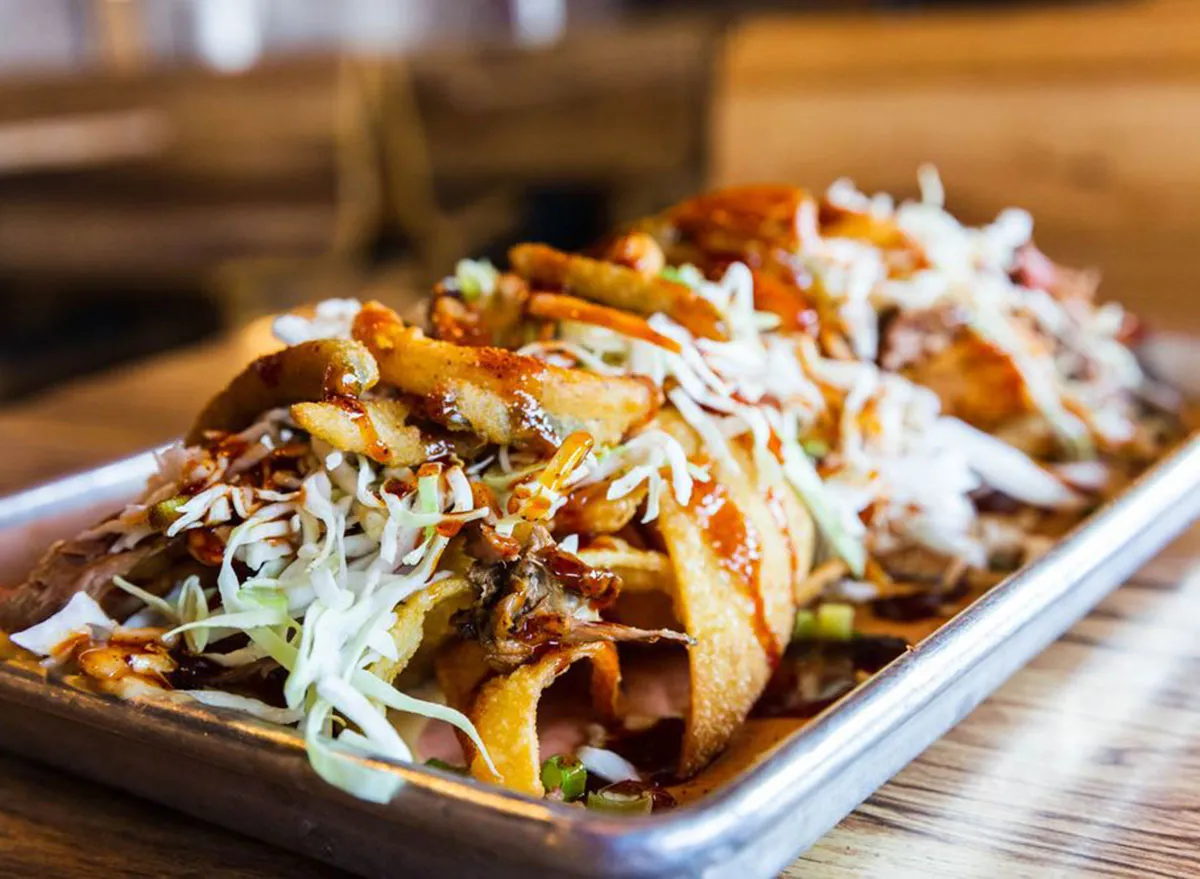 For a unique nacho option, head to Gettin' Basted. Crispy fried wontons are used instead of tortilla chips and topped with BBQ pulled pork, jack cheese, dry slaw, "onionpenos," and green onions.
"The nachos are a unique take and delicious," wrote one reviewer. Others agreed, writing that "Wonton chips were [a] delicious great twist."
MONTANA: The Desoto Grill in Kalispell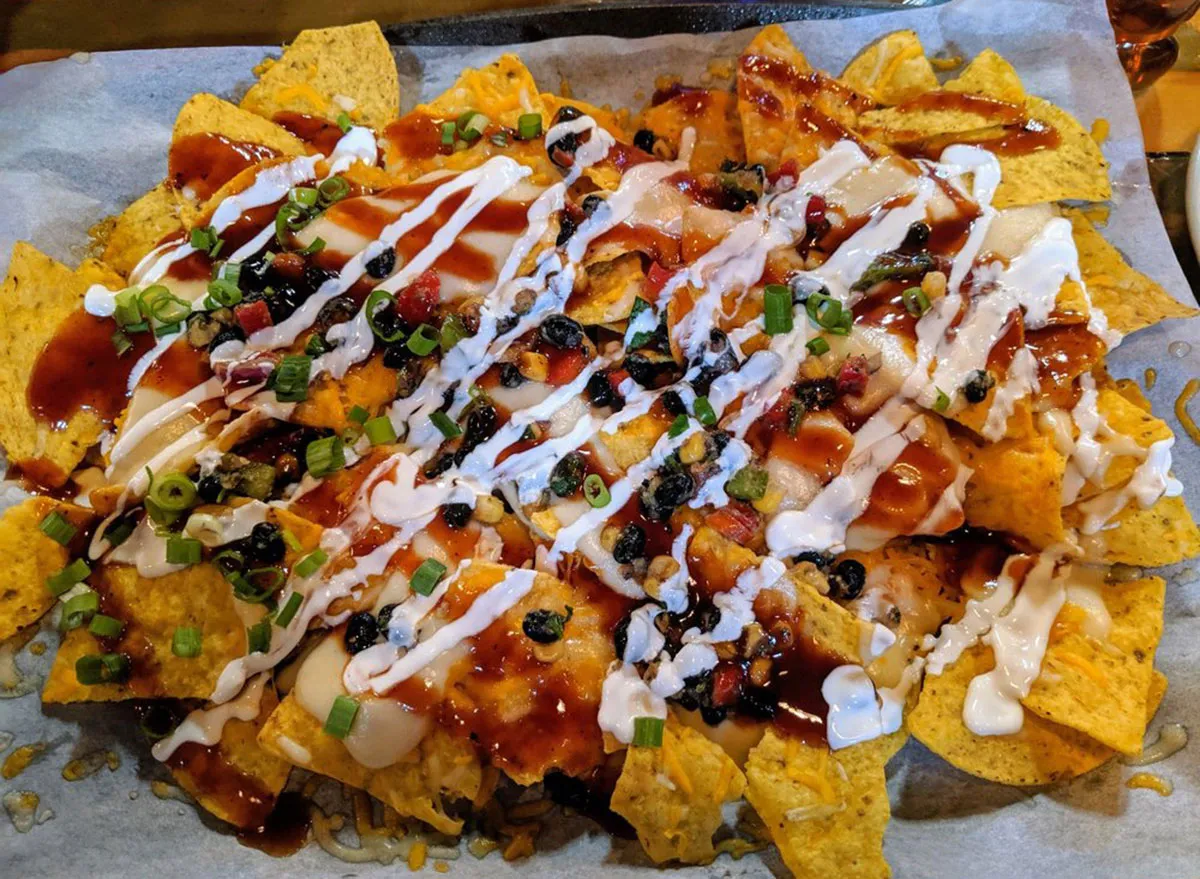 Owned and run by a husband and wife team, The DeSoto Grill is known for its house-smoked meats which are used to make dishes including sandwiches, stuff baked potatoes, and of course nachos. The Smokehouse Nachos are made with your choice of smoked beef brisket, pulled pork, or chicken, and piled high with extra sharp cheddar jack cheese, roasted corn, and black bean salsa, red onion, cilantro, sour cream, and drizzled with DeSoto's own housemade Q-sauce.
"We ordered the brisket nachos and they were fantastic, the mix of cheese, meat, and other toppings was perfection," wrote one reviewer, while others described them as "delicious" and "super good."
Another customer who ordered their nachos with pulled pork also described them as delicious, noting that "I am a pulled pork snob, and it met and surpassed all my expectations, they even had a mustard-based sauce."
NEBRASKA: Pa Mas Taqueria & Grill in Omaha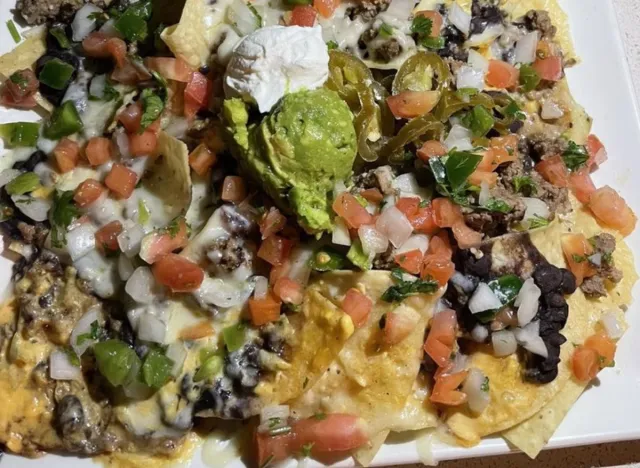 Pa Mas Taqueria & Grill's nachos are proof that traditional, simple recipes are still winners if they're made right. The nachos are made with flavorful meat options including pork and beef.
"We ordered beef nachos, big serving, tasted delicious…and well made," said one reviewer.
NEVADA: Nacho Daddy in Las Vegas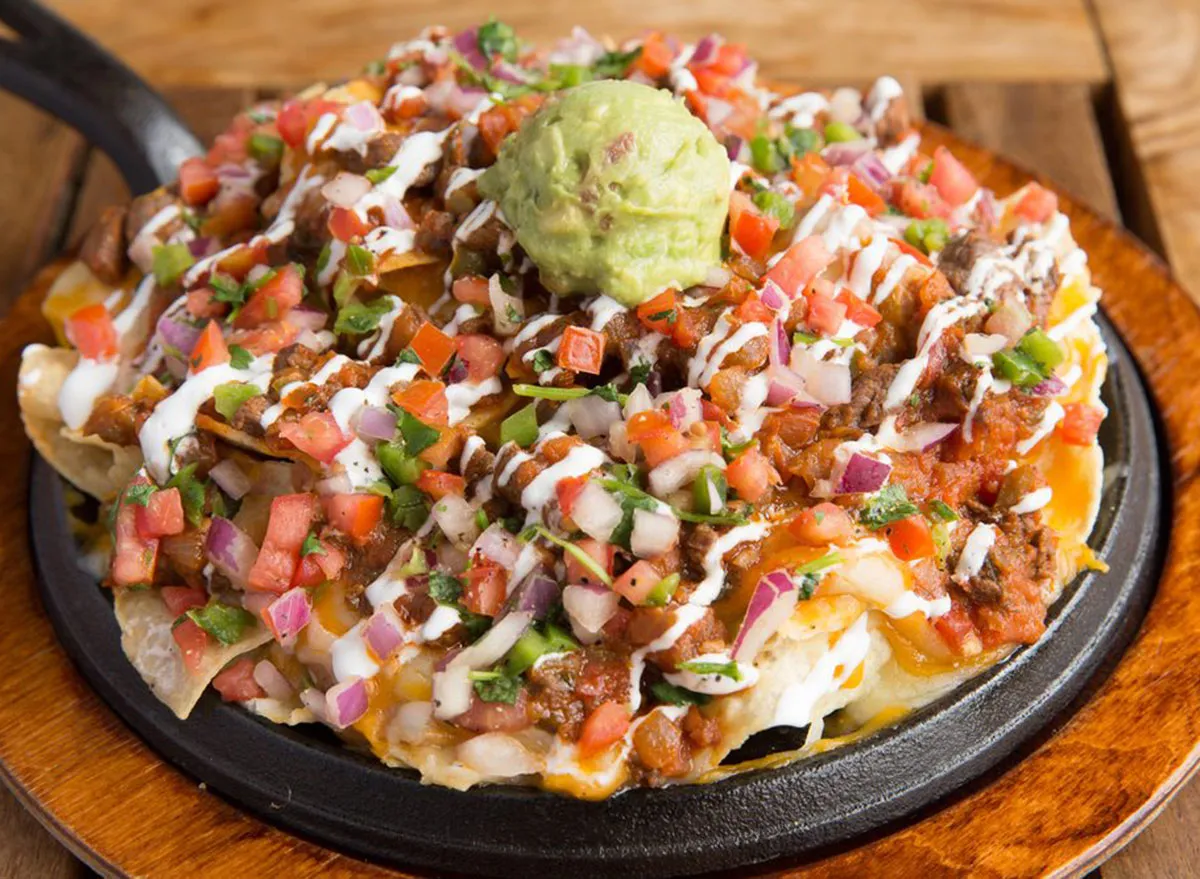 Nacho Daddy boasts "gourmet nachos" and has at least 10 different types of nachos on its menu, including Southern Fried Chicken Nachos, Enchilada Nachos, Buffalo Hot Nachos, and Golden Knights Nachos, named for Las Vegas's hockey team.
"The star of the show is obviously nachos. Extra points to the menu items. I haven't found crab and lobster nachos in a lot of spots. The nachos were freshly fried and served with buttered lobster/crab, hot sauce, jalapeno, and molten white cheese," wrote a reviewer. "Every bite was juicy and the nachos were wet yet crispy."
NEW HAMPSHIRE: Surf Restaurant in Nashua and Portsmouth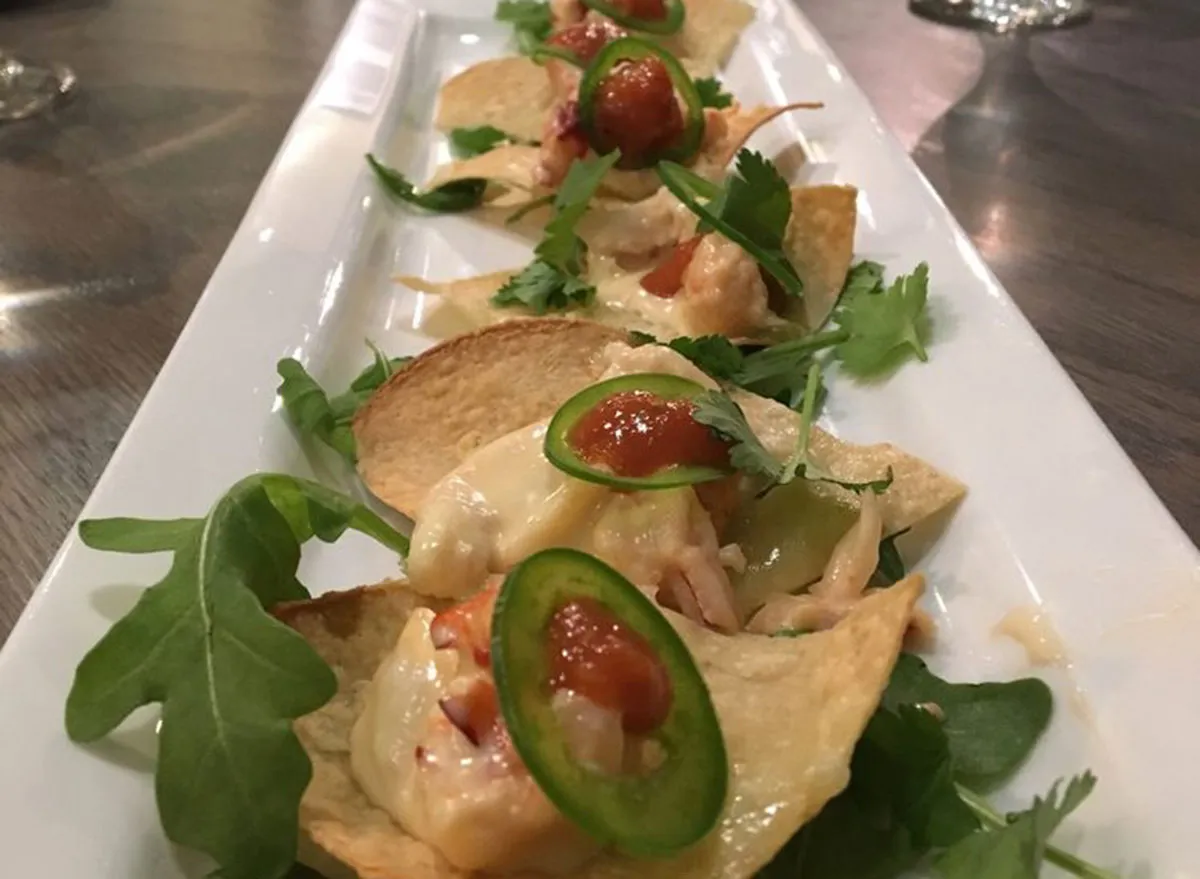 Surf Restaurant specializes in seafood, so it's no surprise that their nacho dishes include freshly-caught caught fish and shellfish, along with ingredients like cheddar, mango salsa, jalapeno, and brie. The Lobster Nachos are a major hit.
"We had the lobster nachos, a lobster roll and the Lobster Kristina. Amazing! According to the waitstaff all lobsters are females and they are so fresh and tasty," wrote a reviewer visiting from out of town. "We are used to the warm water lobsters, which are good but they do not taste like this. Even in Boston its hard to find lobster this fresh." Another praised the service, the views at the Portsmouth location and noted that "the lobster nachos are the bomb!"
NEW JERSEY: Tacoria (Multiple Locations)
When you want to get nachos in the Garden State, head to one of Tacoria's locations in Jersey City, Paramus, Morristown, Montclair, New Brunswick, or Princeton. The Viva La Nachos are made from hand-cut tortillas, black beans, salsa, cheese, crema, escabeche peppers, and your choice of protein (carne asada is a popular choice). If you're looking for dessert-style nachos, don't miss the Nutella Nachos, made from crispy tortilla chips and tossed in sugar, cinnamon, and drizzled with Nutella.6254a4d1642c605c54bf1cab17d50f1e
"My go to is a tray of their nachos. They are so reasonably priced and you get so much!" wrote a regular customer. "My favorite is the golden avocado nachos though I enjoyed the steak, chicken (which has a kick), and chorizo." Another noted that "the nachos were made with fresh thick cut chips that held together the ingredients very well. The ingredients were packed with flavor and made this entree very delicious."
NEW MEXICO: La Choza in Santa Fe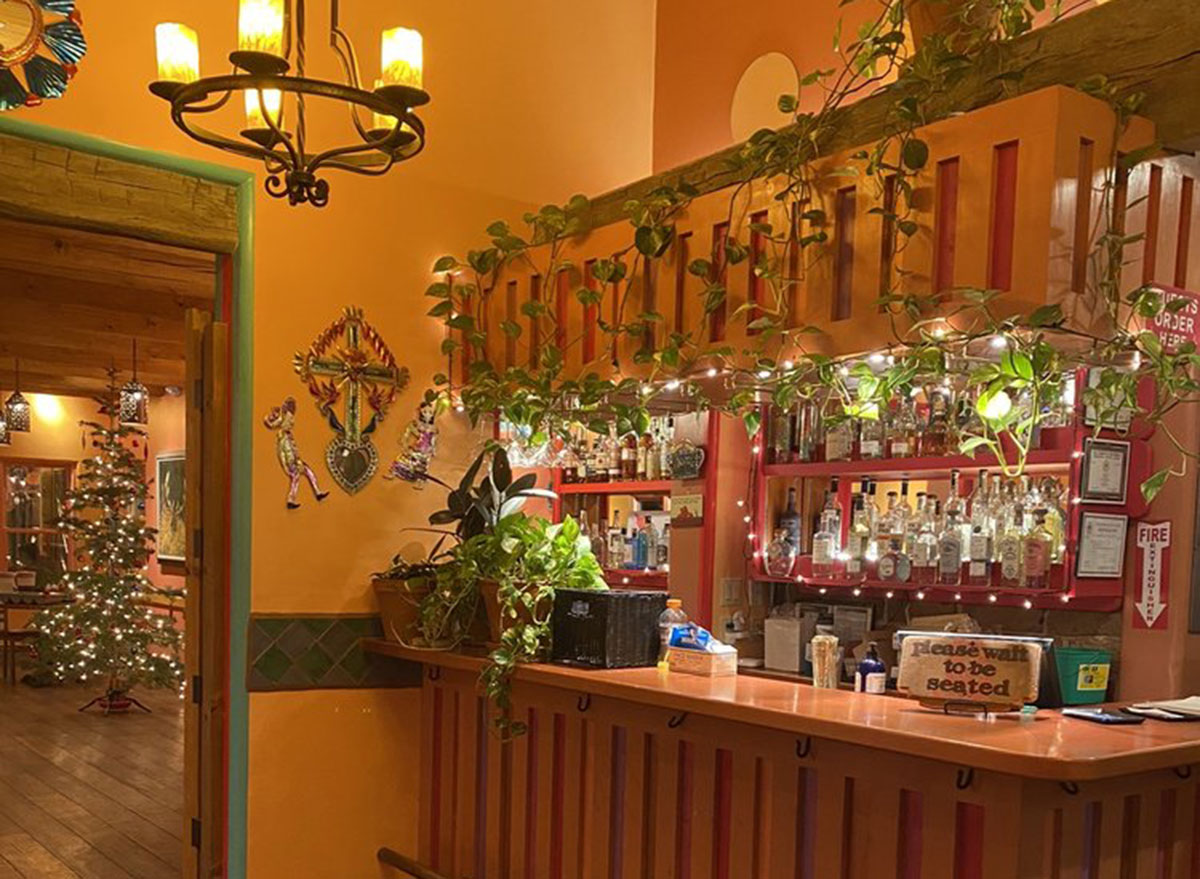 When in New Mexico, you can expect chiles in every dish and La Choza's nachos are no exception. Made with blue and yellow corn tortilla chips, pinto beans, cheese, and red or green chile (or both), they're served with guacamole, fresh jalapenos, and salsa, and your choice of chicken, beef, or veggies.
"Everything tasted so fresh, and even the nachos and salsa tasted special. LOVED the guacamole," wrote a reviewer from one out of town, while a repeat customer from New Mexico described the nachos as "the best I ever had in this town."
NEW YORK: Taqueria Diana in New York City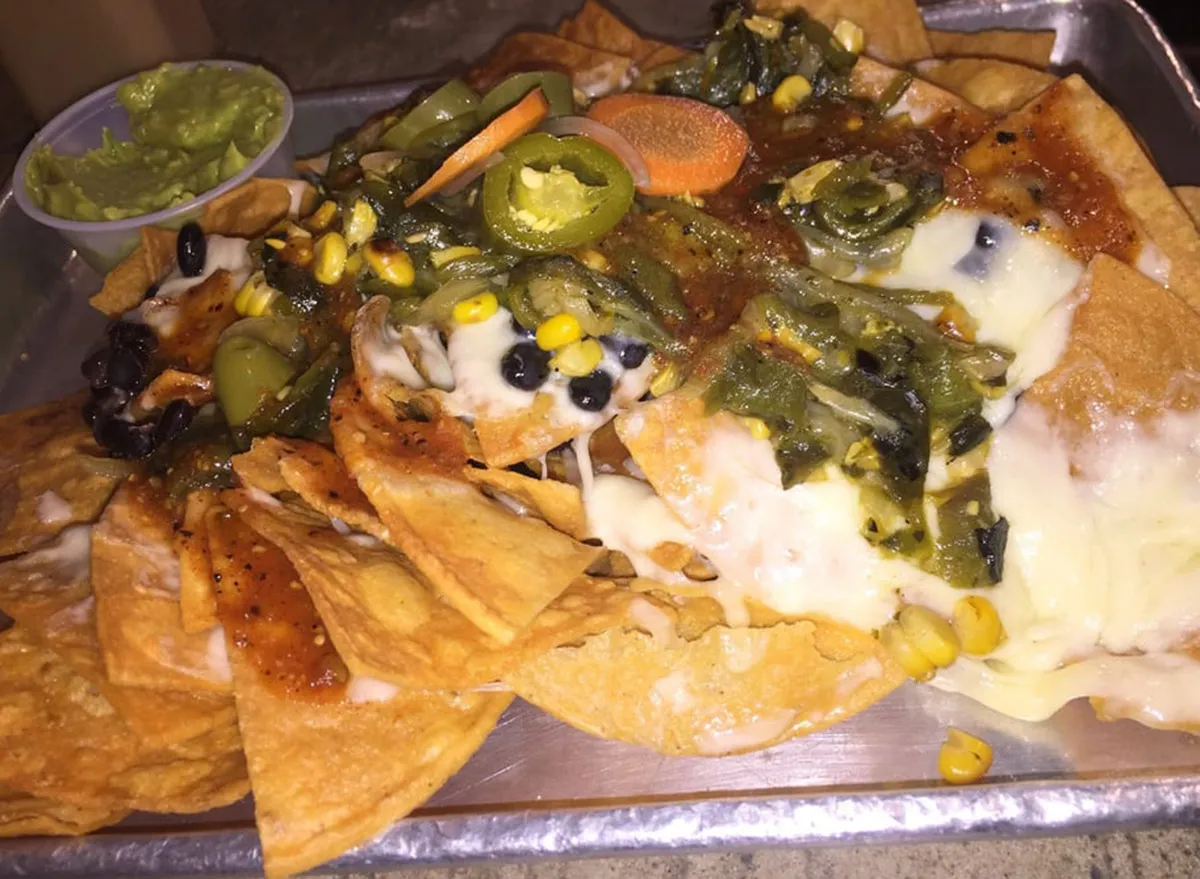 With two locations in Manhattan and a newly opened one in Brooklyn, Taqueria Diana promises "fresh, quality street food classics." The nacho ingredients are simple: fresh tortilla chips, beans, cheese, salsa, and protein options including chicken, al pastor, and carne asada. There are also vegetarian options such as rajas (poblano pepper strips).
"Ordered the nachos al pastor for delivery. Amazing! Huge portion, homemade tortilla chips, plenty of flavorful toppings and came perfectly packed," wrote a reviewer. "My hubby is Mexican-American and he loved it!"
Another customer confirmed that the vegetarian option is just as good: "Amazing vegetarian nachos!!! We were on the hunt for good nachos and this place delivered. I'm not normally a huge fan of nachos but these were the best I've ever had."
NORTH CAROLINA: Raleigh Times Bar in Raleigh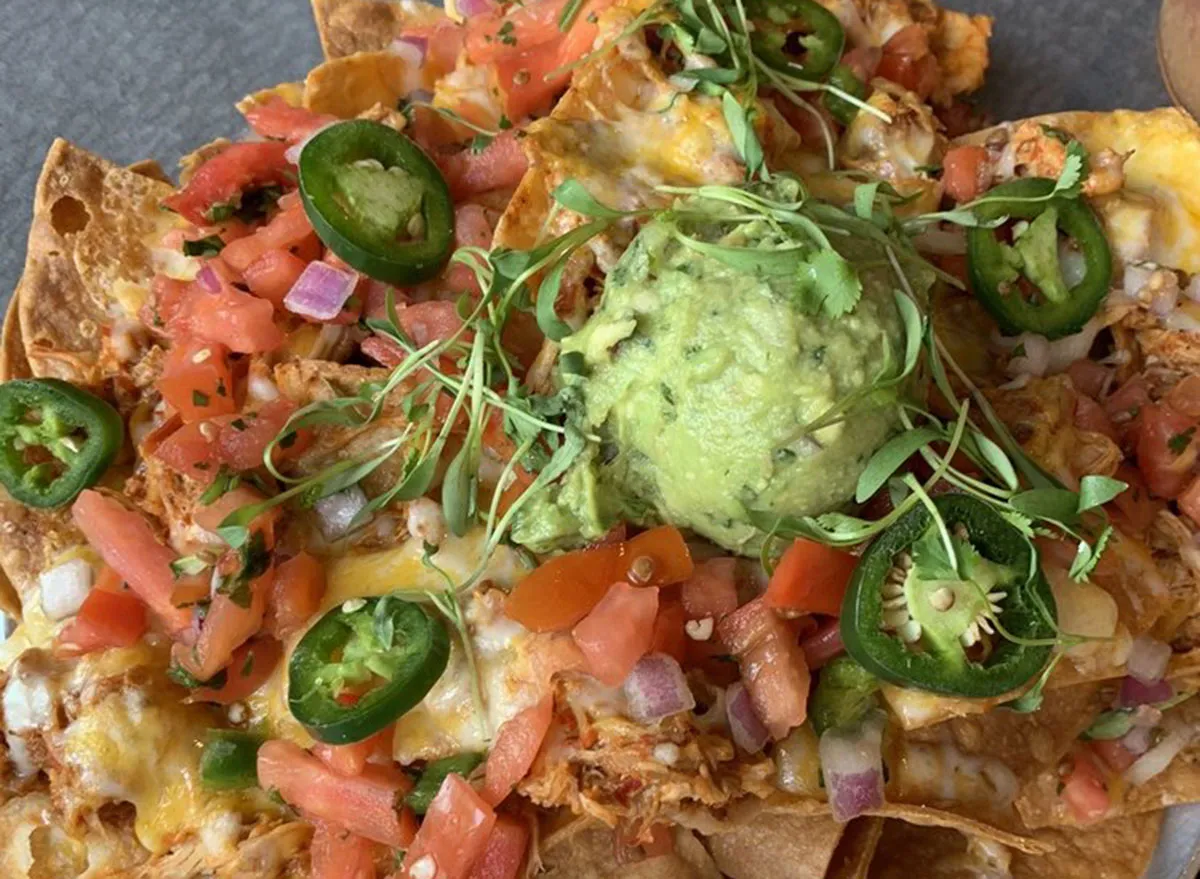 Located in the former headquarters of its namesake newspaper, Raleigh Times Bar is known for being a fun hangout spot where there's often live music. The Pit-Cooked BBQ Nachos are a magical collaboration with the bar's sister restaurant, The Pit. Made with fresh jalapeño, cilantro, cheddar, and jack cheese blend, pico de gallo, sour cream, and guacamole, you've got your choice of chicken tinga, black beans, and The Pit Authentic BBQ's Chopped Pork (Barbacoa or Al Pastor).
"LOVE their nachos. I always love some good nachos and this is one of my go-tos to get them. You can get different meat, I either get the pulled pork or chicken," wrote a reviewer who is a regular customer. "I am never disappointed with the nachos from here or the service."
NORTH DAKOTA: Blarney Stone Pub in Bismarck and West Fargo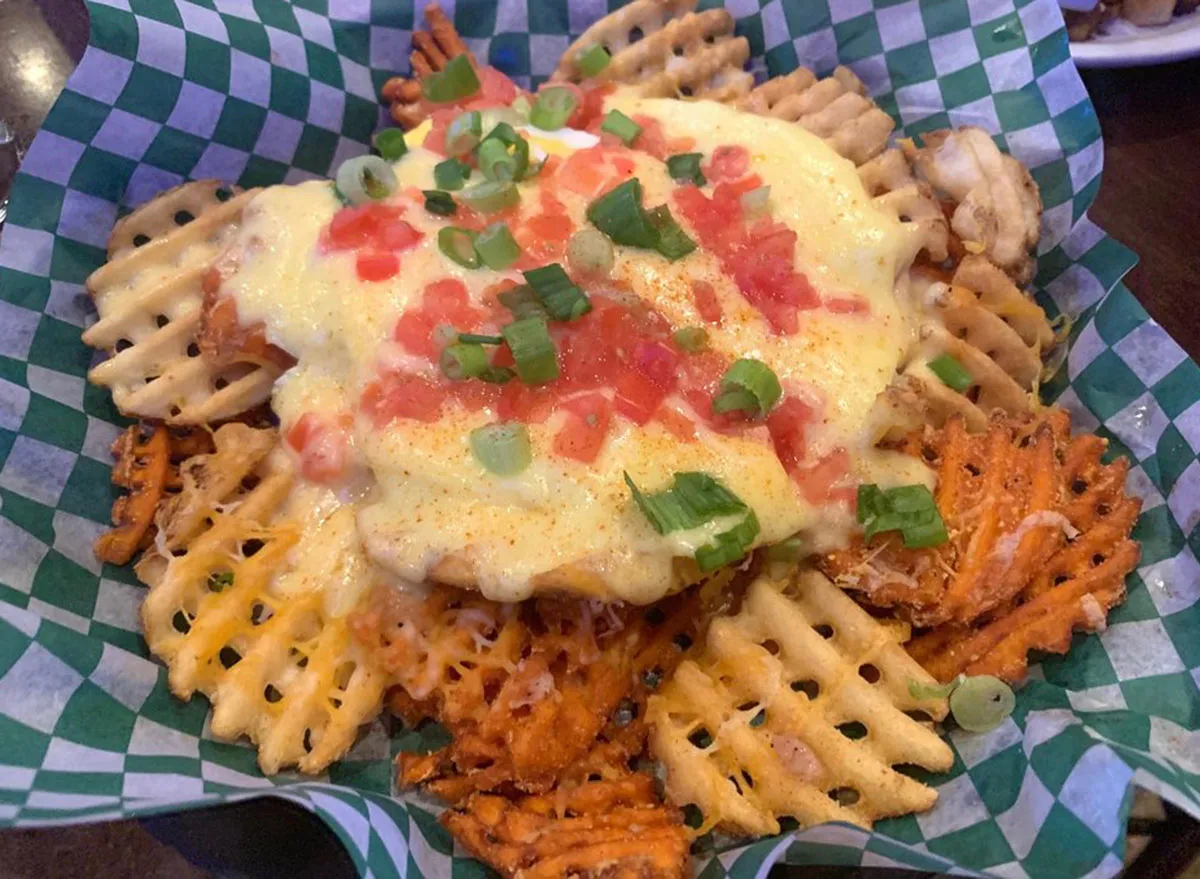 Blarney Stone Irish Pub embraces Irish cuisine with its twist on nachos aptly called "Irish Nachos." Made from a base of waffle fries instead of chips, they're topped with your choice of melted jack-cheddar cheese, tomatoes, jalapenos, green onions, and served with dip and salsa.
"The food here is amazing. We started with the Irish nachos, and got spicy black beans in place of the meat," wrote a reviewer. "The beans were so flavorful and the nachos were delicious without being overly heavy."
OHIO: Olde Town Tavern in Columbus
Olde Town Tavern offers a healthy spin on traditional bar food and the nachos are one of the most popular items on the menu. Made with tortilla chips, jalapeno, sour cream, housemade queso, guacamole, and pico de gallo, you can get them with your choice of vegetarian chili, pulled pork, and black beans, or pulled chicken and black beans.
"The nachos… were top notch with all fresh ingredients," wrote one reviewer. Another declared that "Nachos from the Tavern are the best thing ever." A number of people commented that they love the veggie version, even if they're not vegetarian themselves.
OKLAHOMA: Yucatan Taco Stand in Oklahoma City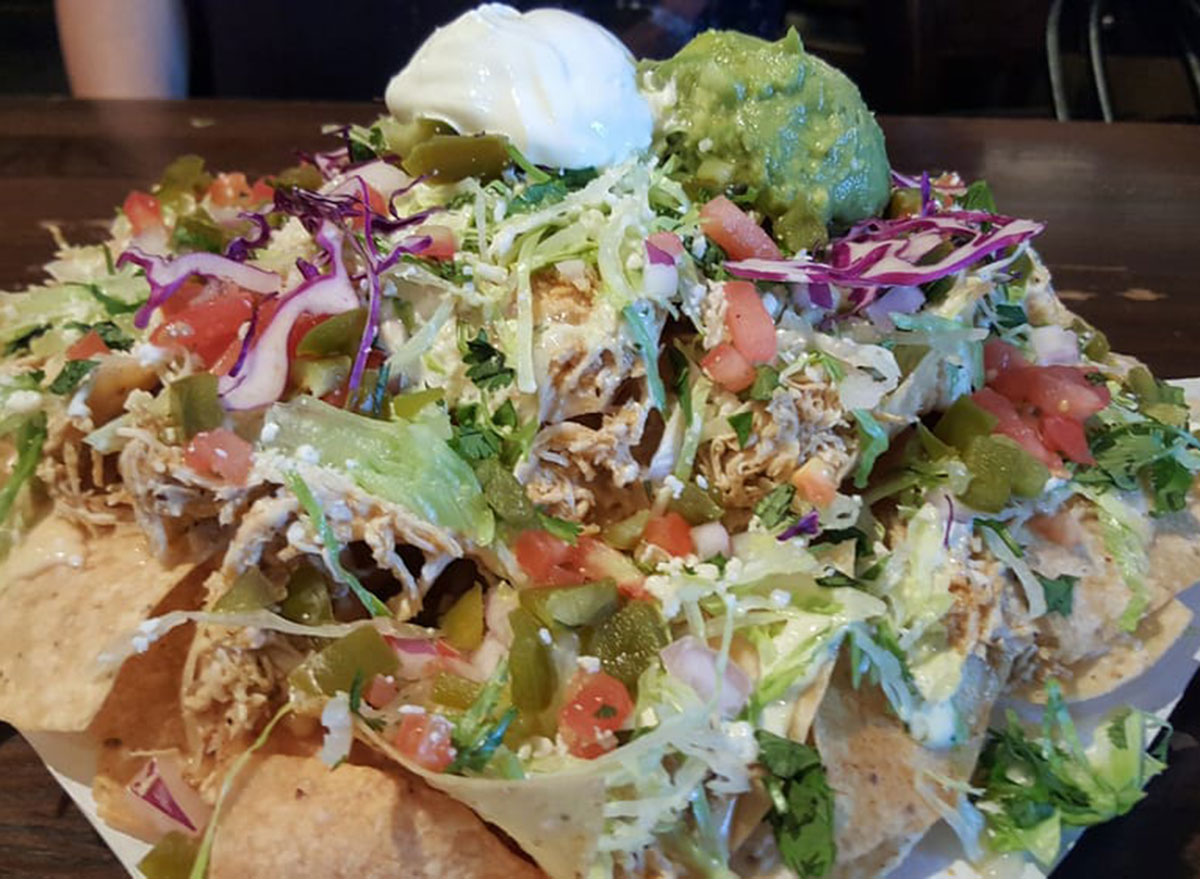 Yucatan Taco Stand's nacho platter is as massive as it is delicious. Made with crispy corn tortilla chips topped with melted chihuahua cheese, queso, roasted garlic aioli sauce, queso fresco, tomato, red onion, cilantro, purple cabbage, sour cream guacamole, and jalapenos, you can add your choice of vegetarian or meat protein.
"Friendly, fast, and festive is always a plus, but when the chicken nachos melt in your mouth it's even better," wrote a reviewer. "Nacho chips were the perfect amount of crisp and the topping had the best balance of OH SO GOOD." Others described the nachos as "amazing," "FIRE," and "honestly the best I've had in my life."
OREGON: Breakside Brewery in Portland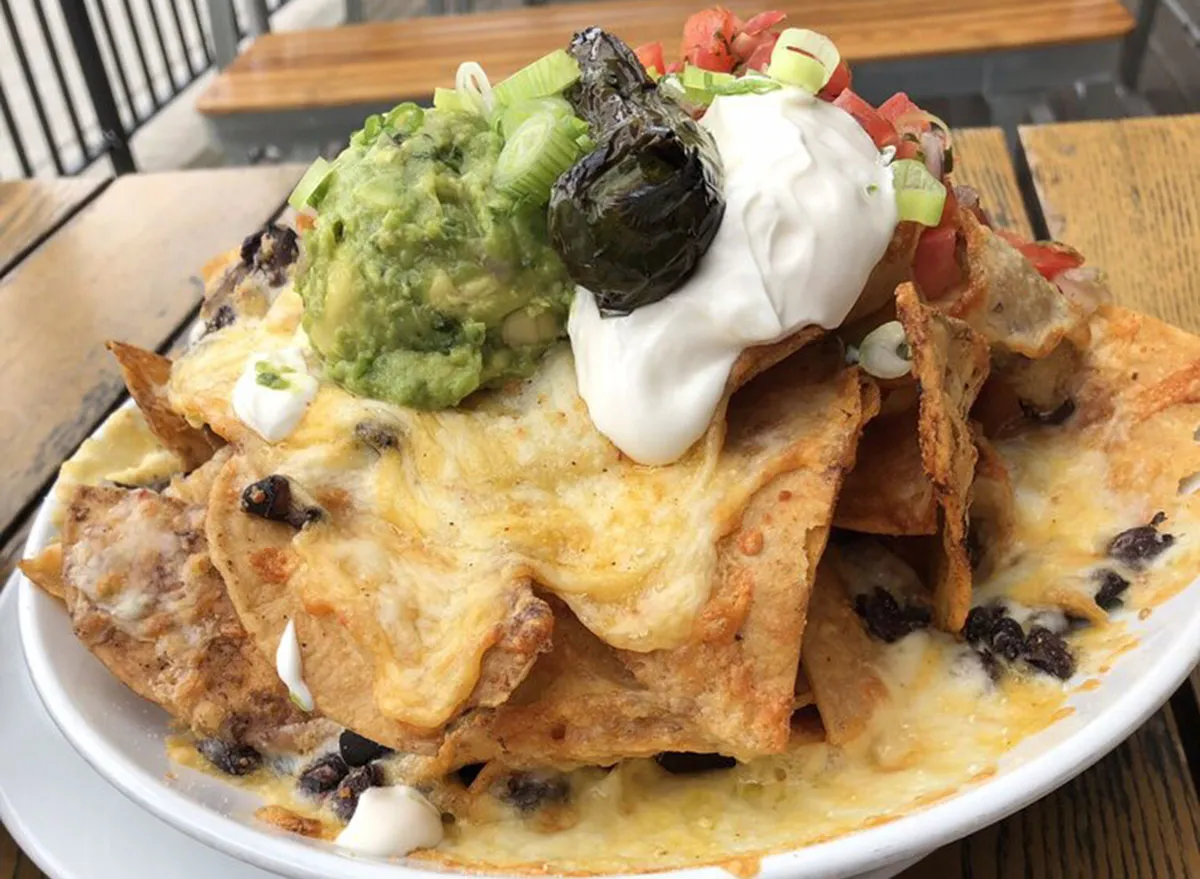 Breakside Brewery's nachos are especially good with the restaurant's peppery pulled pork.
"Definitely recommend the pulled pork nachos. Easy enough to share between two people and they stack it high!" wrote a reviewer. "Plenty of toppings and they melt everything in the oven so everything blends well together." Another described the nachos as "to die for."
PENNSYLVANIA: El Vez in Philadelphia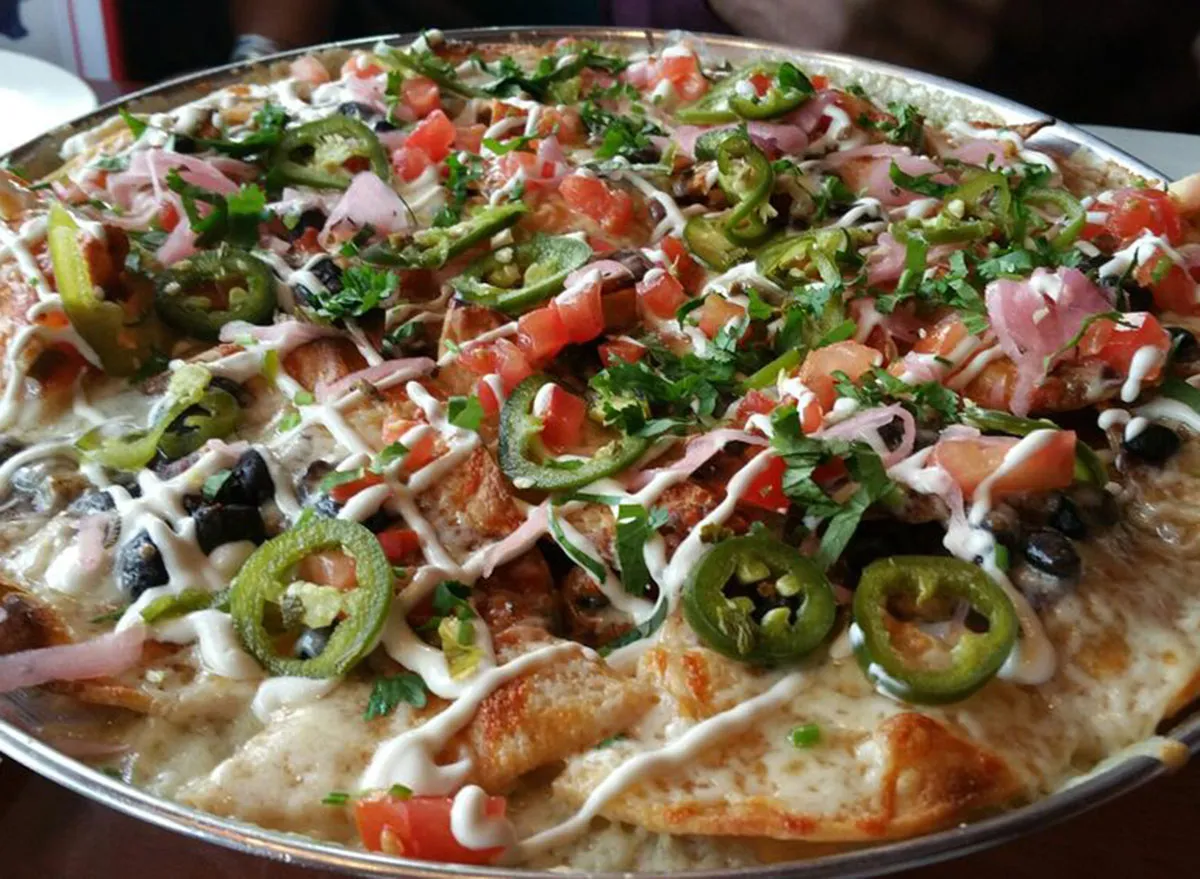 Renowned restaurateur Stephen Starr's Mexican restaurant, El Vez, is known for its nachos and customers confirm that they live up to the hype. El Vez's "Macho Nachos," are made with ​​queso mixto, black beans, salsa ranchera, sour cream, pickled red onion, and jalapeño, along with your choice of chicken or chorizo.
"This is hands down the BEST nachos I've ever had. No chip is empty and the chicken is so flavorful and juicy! The seasonings and ingredients are perfectly balanced to give an authentic Mexican taste to the nachos," wrote a reviewer. "They toasted well enough to melt the cheese so everything is set together perfectly so everything is in every bite."
RHODE ISLAND: Brick Alley Pub in Newport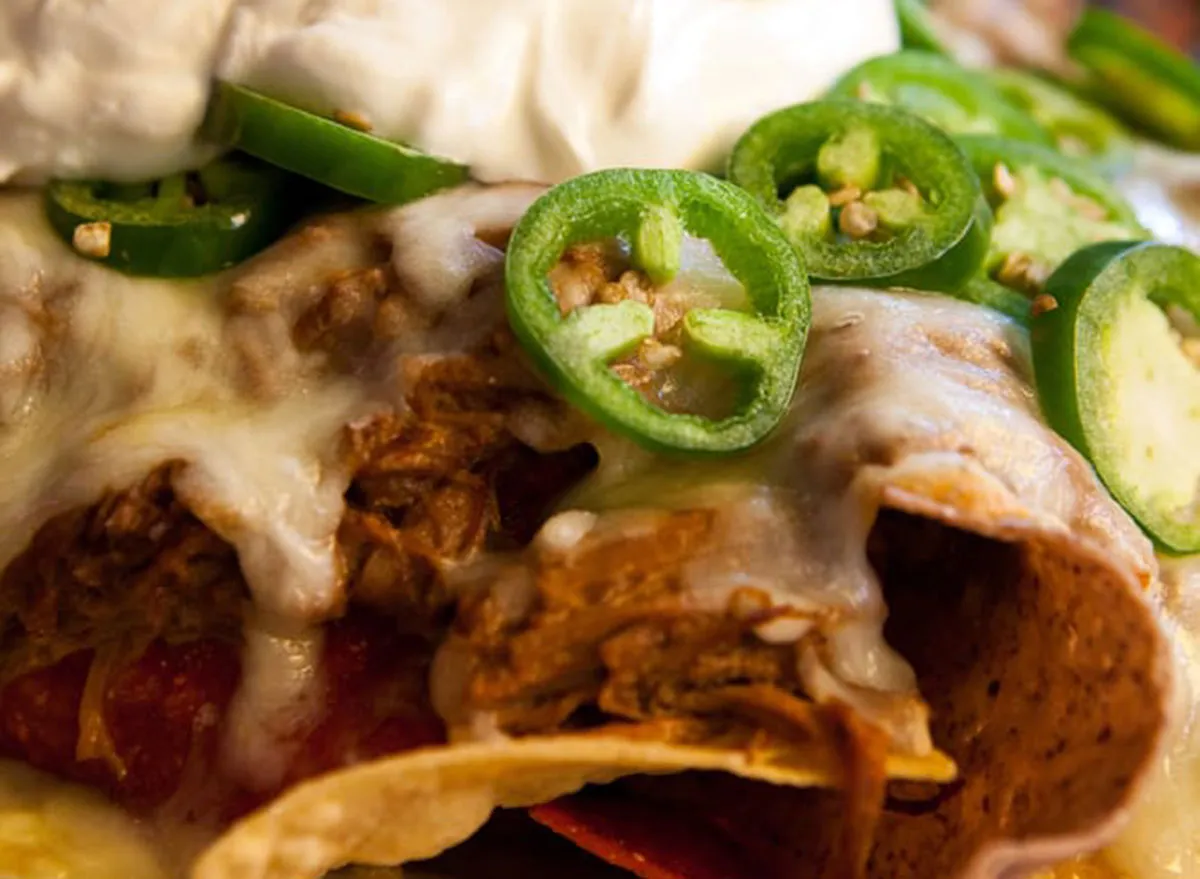 Brick Alley Pub & Restaurant has been voted both the Best Restaurant and the Best Bar in Rhode Island so it's no surprise that they have the best nacho platter in the state. The chicken and machacha beef are especially popular, with reviewers describing them as "out of this world delicious."
"We ordered the nachos which were excellent, lots of meat, perfectly toasted chips, and fresh ingredients," wrote a first time customer, while a regular said that, "Brick Alley Pub never disappoints. Service is always excellent, the food is exceptional and the Nachos are the best in the state."
SOUTH CAROLINA: Nacho Hippo in Myrtle Beach
Nacho Hippo's menu includes eight nacho options, as well as a "Make Your Own" option.
"I really enjoyed eating here on my vacation! I love Nachos and this was a delight!" wrote a reviewer from out of town. "Nachos for every taste, and a wide selection of beverages." Another described the nachos as "absolutely delicious" and noted they were particularly impressed by the "tasty" taco meat used in the dish.
SOUTH DAKOTA: McNally's Irish Pub in Sioux Falls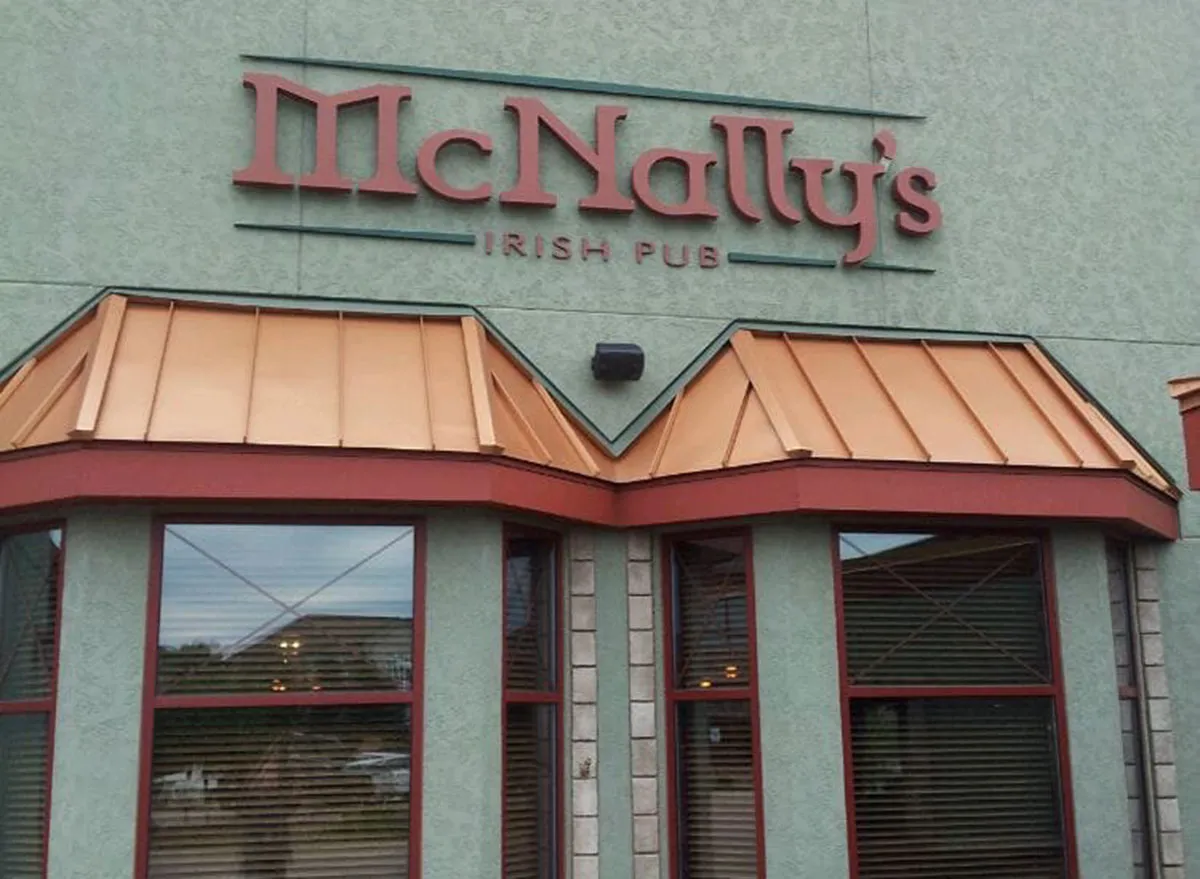 The Irish Nachos at McNally's are made from a heaping pile of kettle chips with shredded pepper jack and cheddar, sirloin and chicken, pico de gallo, and sour cream, and the option of adding guacamole.
"I had the Irish nachos which were delicious!" wrote a reviewer. "The meat was tender and savory. I really liked the decor and atmosphere of this place."
TENNESSEE: Central BBQ in Memphis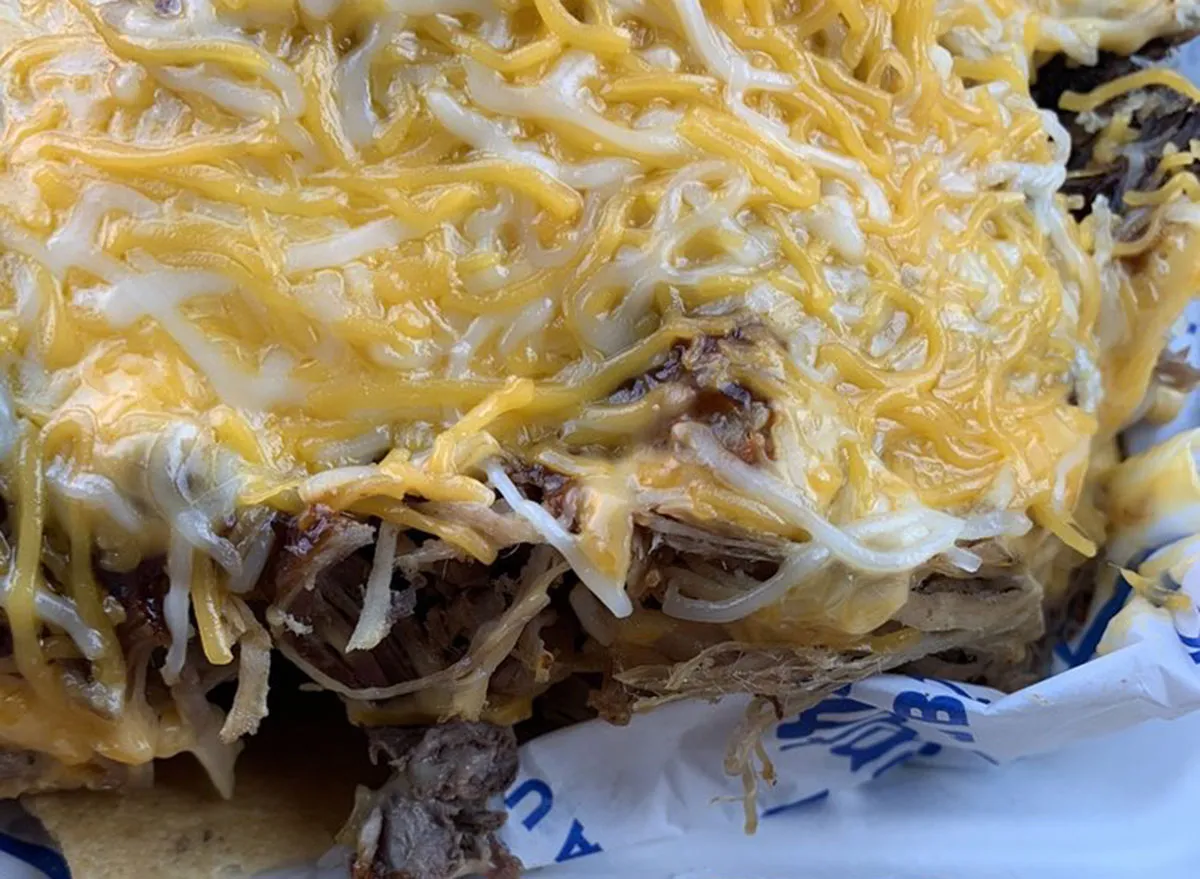 Memphis is the perfect place for barbeque and Central BBQ sticks to its specialty when it comes to nachos. The BBQ Nachos are made with marinated slow-smoked pulled pork or chicken on a bed of tortilla chips and topped with BBQ sauce, cheese sauce, shredded cheese, jalapeños, and finished off with a light dusting of BBQ Shake. You can also get them with beef brisket, but pulled pork appears to be the customer favorite.
"OMG this was some of the best BBQ we've ever had and we're from Texas. Loved this place." wrote a reviewer from out of town. "The pulled pork nachos were insane."
Another described the pulled pork nachos as "amazing" and said they'd order them as a full meal next time they come back. "The cheese and sauce was very flavorful. These nachos were ADDICTING. Huge portion and great for sharing," they wrote. "Chips were still crispy even with all the toppings."
TEXAS: Cora's 471 Grill in Castroville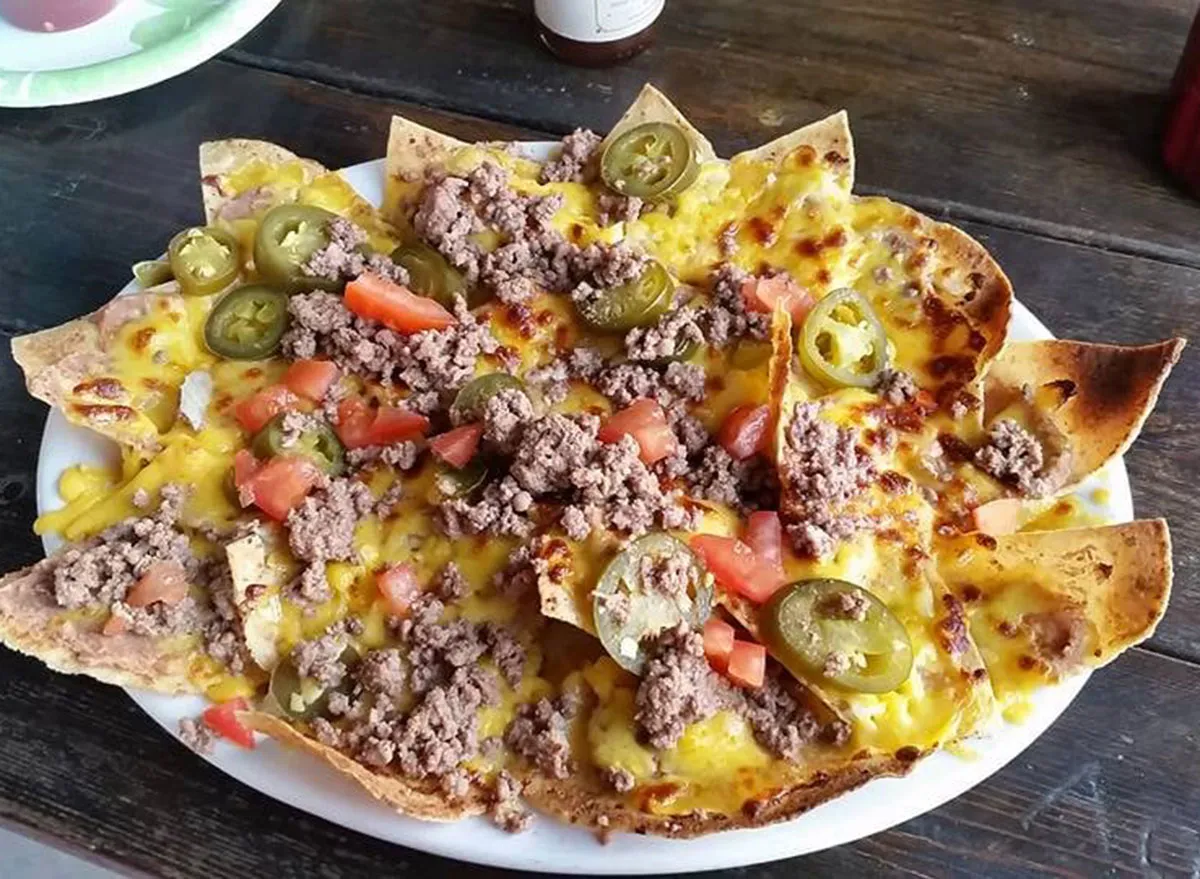 Cora's 471 Grill boasts that it serves "the best damn nachos in Texas." Everything is made from scratch using fresh ingredients each day. Go all out and get The Super Nachos, which are made with ground spiced beef, cheese, jalapenos, tomatoes, and onions.
"The nachos here are just ridiculous!! So good, so tasty with all the toppings, I could go back just for those!" wrote a local reviewer. Another local described the nachos as "stellar" and assured readers that Cora's 471 is not lying when they promise the best nachos in the state.
UTAH: Lake Effect in Salt Lake City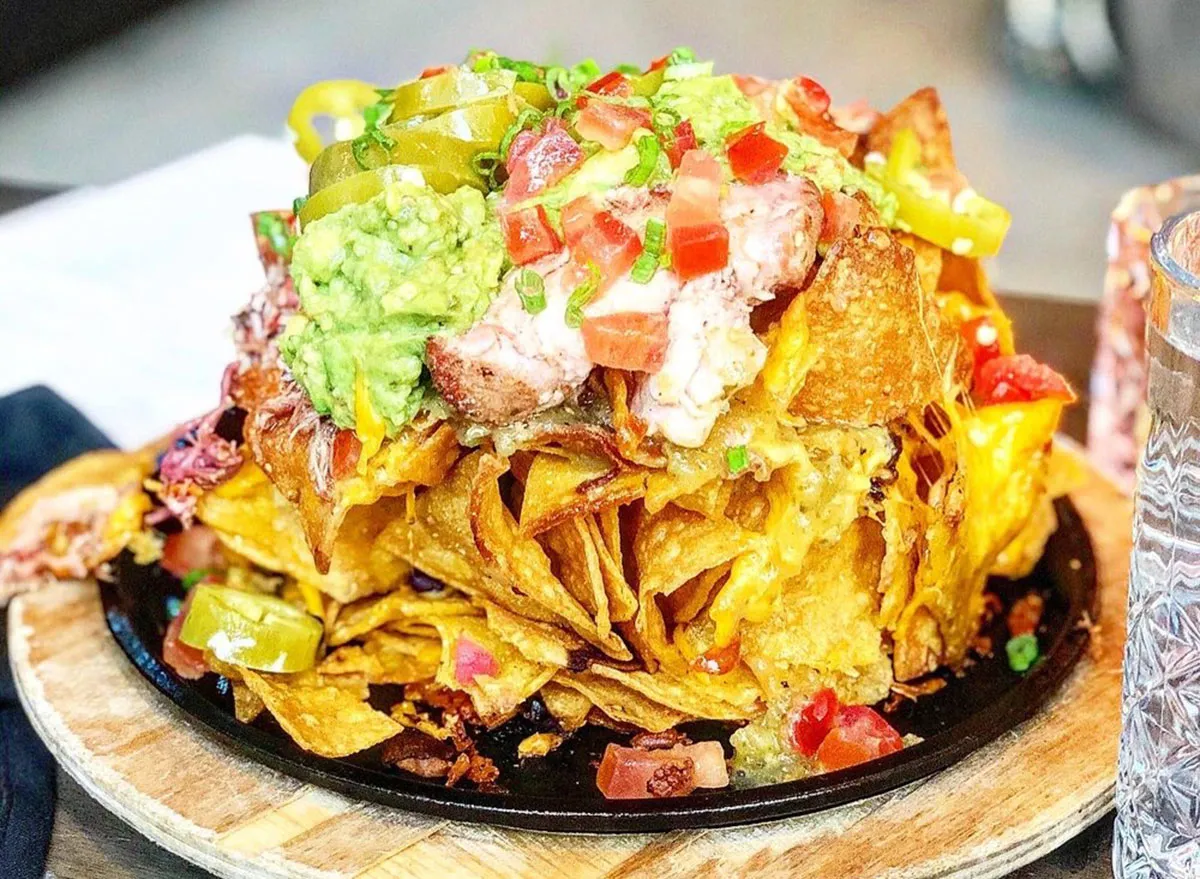 People flock to Lake Effect for the live music and the craft cocktails, but reviewers describe the food as "elevated" compared to other bar food. In particular, customers enjoy the Tin Can Nachos. They're served in layers inside a tin can and made with cheddar cheese, black beans, pickled jalapenos, tomato, salsa verde, scallions, guacamole, and sour cream.
"The Tin Can Nachos were served in a tin can about the size of my head. The waitress then removed the tin can and out poured delicious tortilla chips covered in generous amounts of melted cheese, jalapenos, our cream, and guacamole," wrote a reviewer. "We opted to add Pulled Pork to the nachos and that was definitely the right choice. Two people could easily share this as an entree."
Another described them as the "best nachos I've ever had."
VERMONT: Mojo Cafe in Ludlow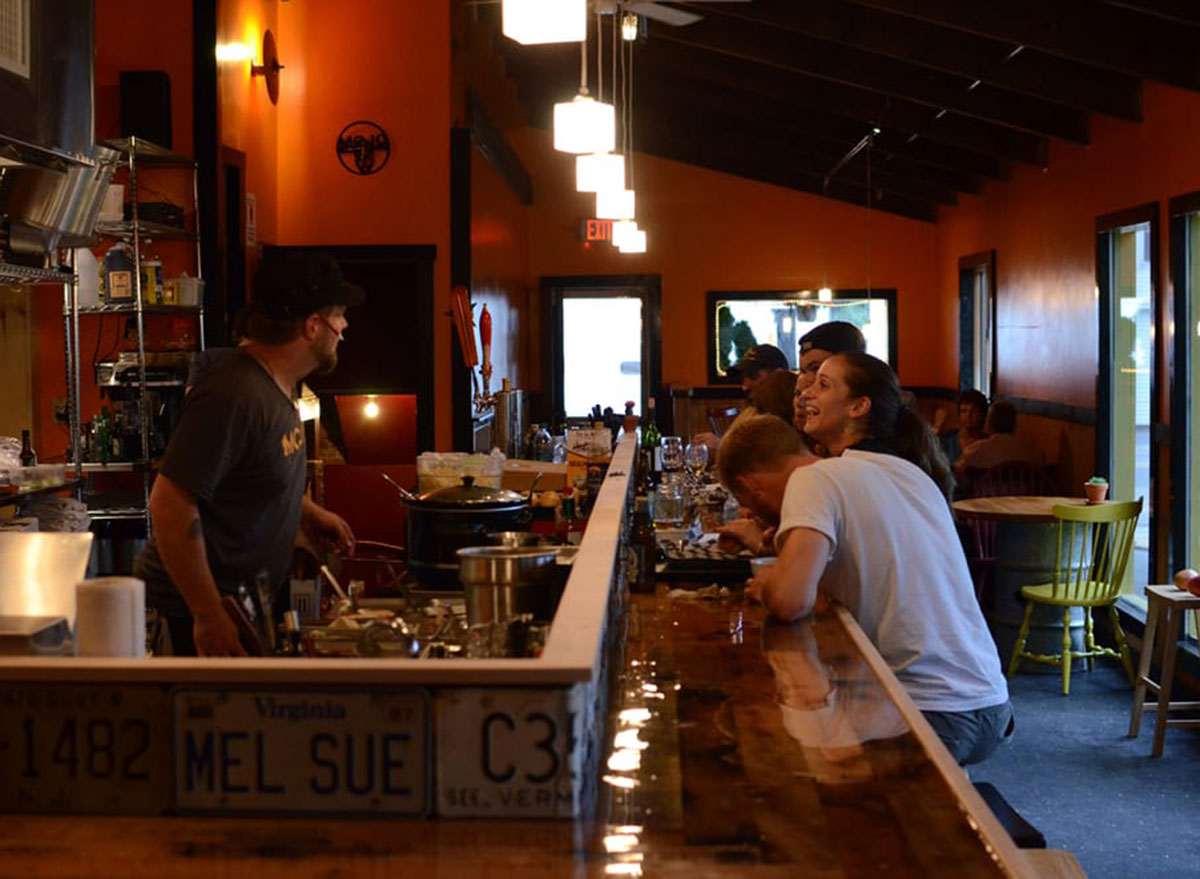 Mojo Cafe's Tempura-Fried Lobster Nachos are unique in the best way possible. Using as many local ingredients as possible, the nachos are made with blue and white corn tortilla chips from Vermont's All Souls Tortilleria. They're fried in-house, topped with hydroponic tomatoes, Cabot Jack and Plymouth cheddar cheeses, pickled red onion, cilantro, scallion, pico de gallo, smoked jalapeno cream, and serrano chile. A rush of heat comes courtesy of the smoked jalapeno cream, the pickled Fresno, and serrano chiles.
Reviewers described the nachos as "flavorful and delicious," "fantastic," and "fresh and prepared perfectly."
VIRGINIA: South Street Brewery in Charlottesville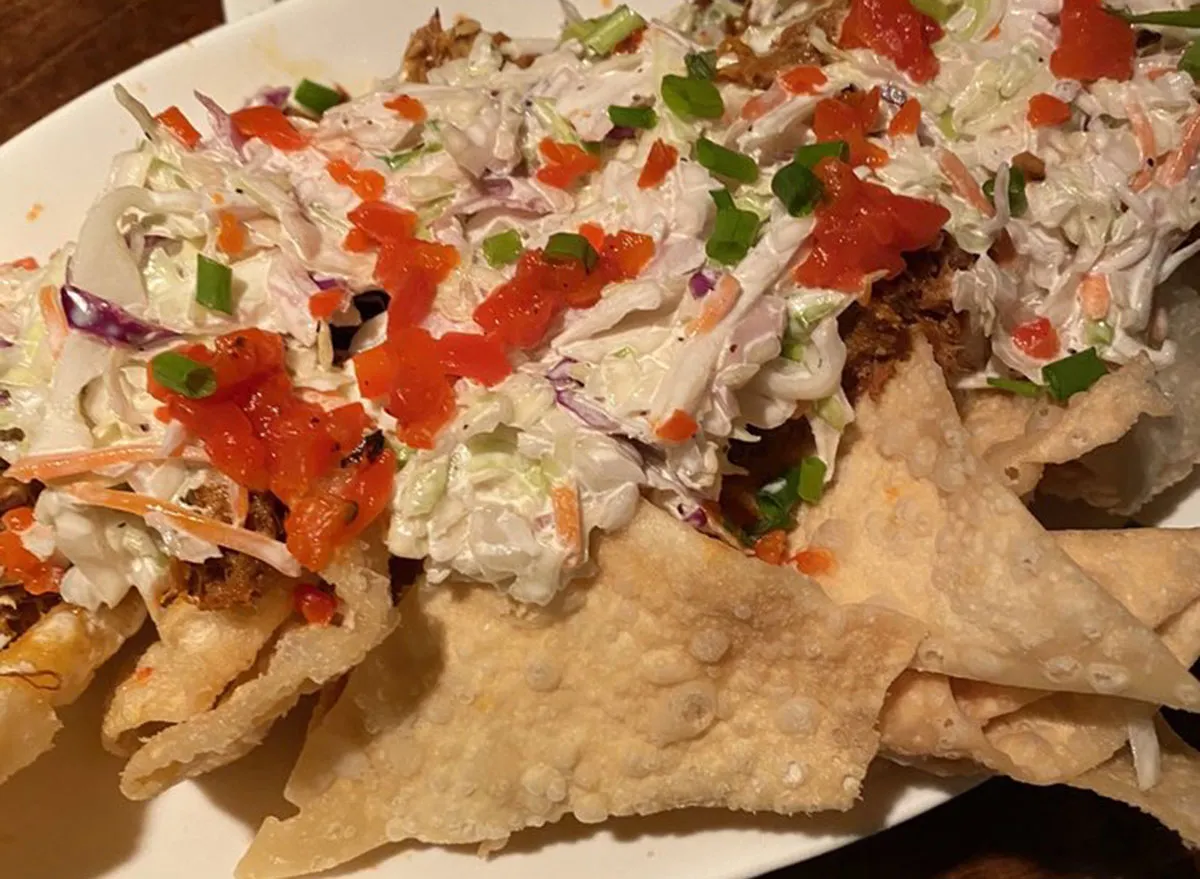 South Street Brewery made a few changes to the traditional nacho recipe and the result is the delicious "Wonchos" which are made with crunchy wontons and piled high with smoked gouda cheese sauce, cilantro sour cream, and your choice of meat or vegetarian chili.
"One word….Wanchos! While we ate many delicious dishes in Charlottesville, the SSB wanchos (wonton nachos) was the best!" wrote a reviewer from out of town. "Basically, it is fried wonton triangles topped with Asian bbq pork and delicious tanging slaw! So simple, but so delicious that I couldn't stop eating them."
Another wrote, "The pulled pork wonchos, which were my fav, were out of this world. The pork is raised locally. I love this twist on the wonton nachos."
WASHINGTON: Pacific Southern in Tacoma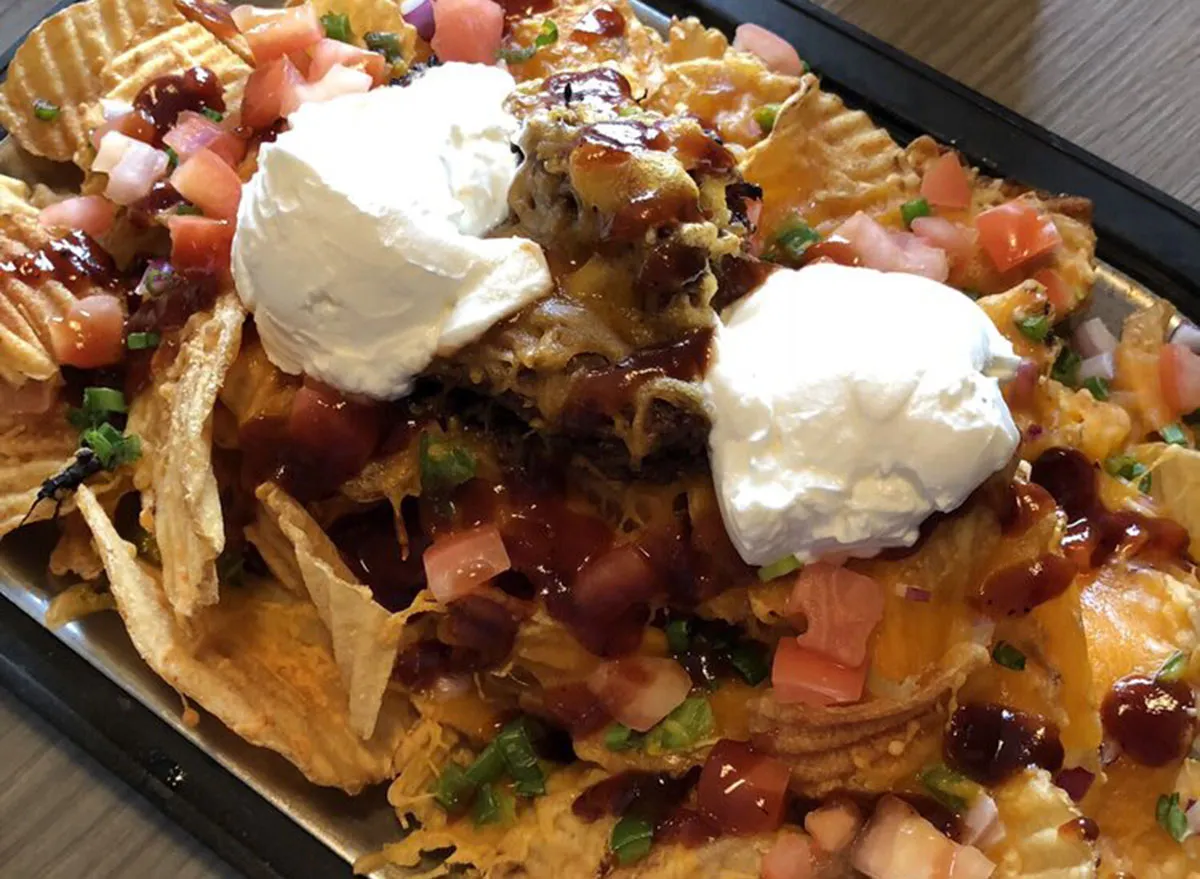 A casual Southern food spot in Tacoma, Pacific Southern's "Buzzfeed Nachos" are made from a base of housemade potato chips and served with your choice of BBQ pulled pork or chicken.
"Best nachos I have had in Washington. Hands down," wrote a reviewer. "The mixture of great food, big portions and atmosphere makes this place a gem."
"Excellent space and their food is perfection. We had the fried chicken dinner and their famous pulled pork BBQ nachos. Huge portions and high quality food," wrote a local. "The staff was welcoming and friendly. We will definitely make this a regular spot."
WEST VIRGINIA: El Mariachi in Beaver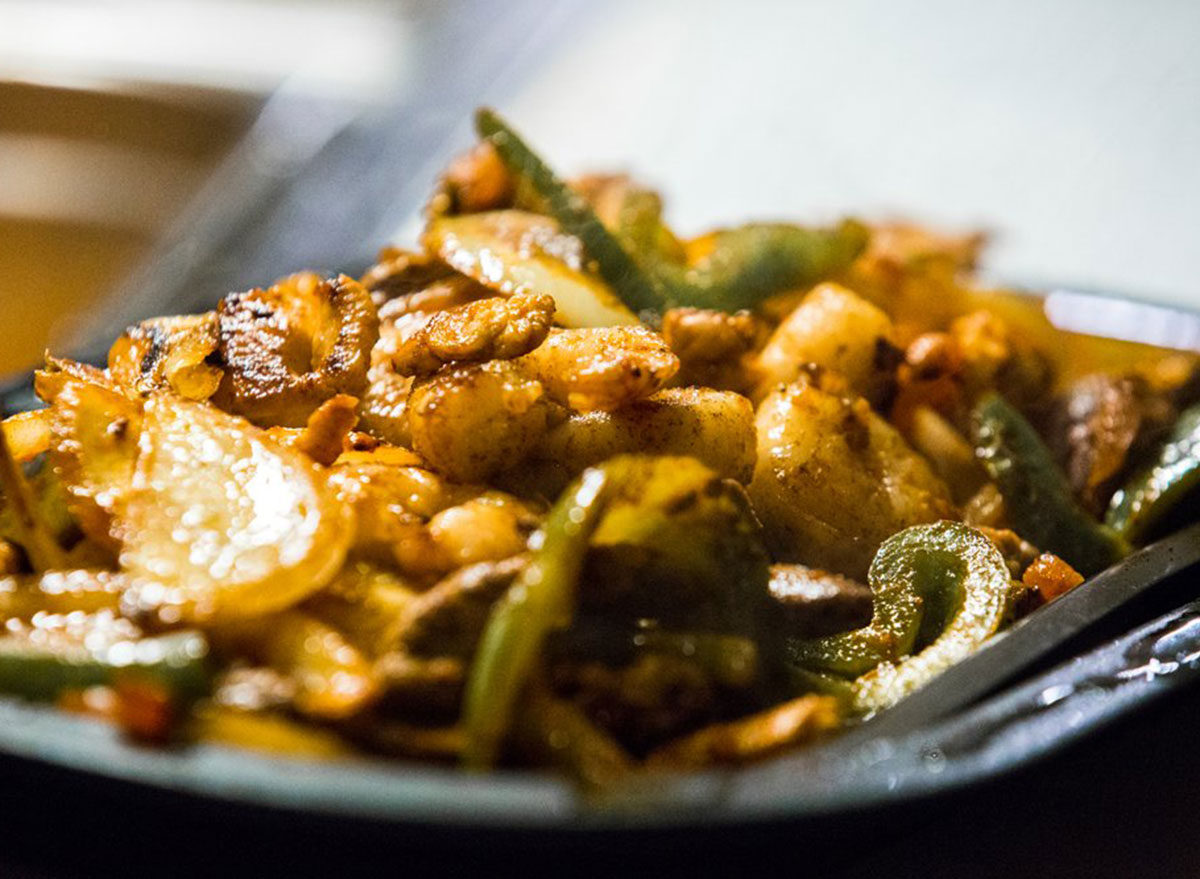 Fajitas and nachos equal Fajita Nachos, which are a popular dish at El Mariachi. You can't go wrong merging two Mexican staple dishes into one mouthwatering combination. The nachos are made with grilled chicken or steak, bell peppers, onions, and tomatoes, and topped with cheese dip, lettuce, shredded cheese, sour cream, and tomato.
"Excellent fajita nachos!" wrote one reviewer, while another said that ever since they'd eaten the nachos, "I am only thinking I would love to have them again."
WISCONSIN: San Pedro Cafe in Hudson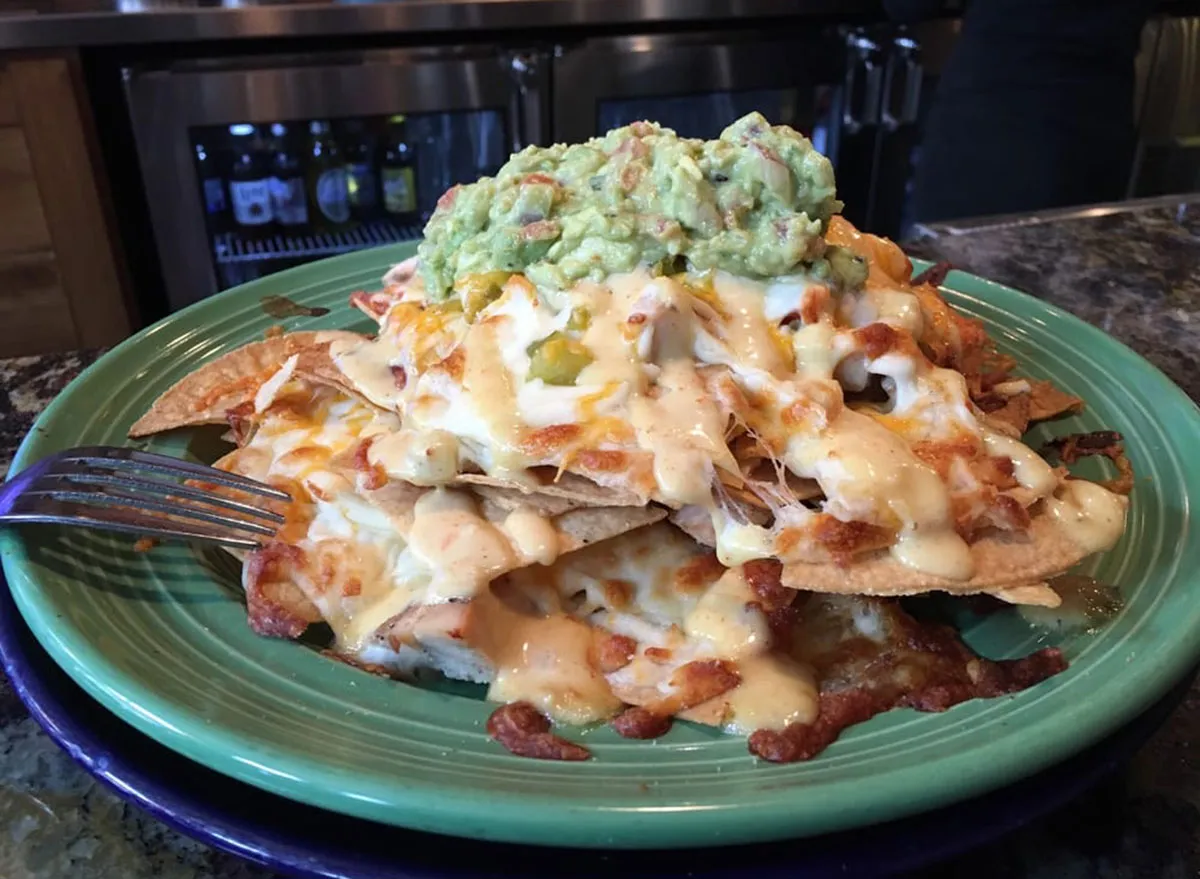 San Pedro Cafe prides itself on its Caribbean cuisine and offers a taste of "island life" in Wisconsin. The three nacho options are each made with a Caribbean twist. First, there's the Duck Nachos, made from smoked duck breast, white corn chips, mozzarella, pico de gallo, tropical mango salsa, and lemon-habanero aioli.
The ingredients in the Chicken Nachos are jerk chicken with white corn chips, cheddar, mozzarella, pico de gallo, green chiles, avocado salsa, lemon-habanero aioli. Lastly, the vegetarian option, Roasted Tomato & Sweet Corn Nachos, sounds equally mouthwatering and is made with cheddar & mozzarella, black beans, sweet corn, pico de gallo, green chiles, fire-kissed salsa, avocado salsa, and lemon habanero aioli.
"The Nachos are lighter on the chips than most places that use them as a filler. These Nachos mean business! The Jerk Chicken was a thrill. Be noted that it is on the spicy side!" wrote a reviewer. "Ask if you want it tamer. I found it perfect. The flavor of the chicken was very 'Caribbean' and was permeated all the way through the meat." Another customer described the nachos as "life-changing."
WYOMING: Trapper Grill in Moran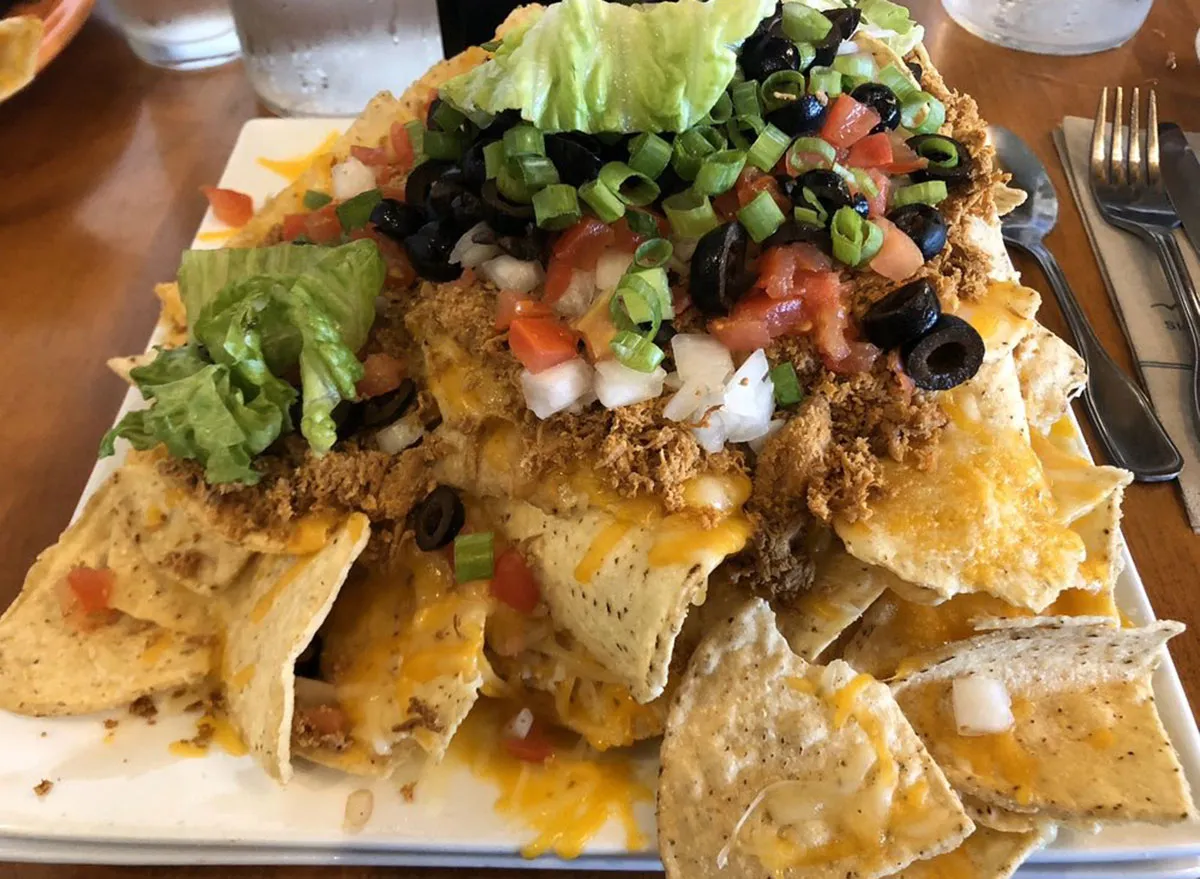 Trapper Grill is located in the Signal Mountain Lodge at the stunning Grand Teton National Park. When you sit down to eat, you can rest assured that you'll get two things: gorgeous views and amazing nachos.
The most popular, well-known dish at Trapper Grill is the "Signal Mountain of Nachos," a massive "appetizer" dish that can feed four. The mountain of chips and fixings is piled so high that you may wonder if it defies gravity, but you'll be distracted by the flavorful toppings of melted cheese, taco beef, shredded chicken, black beans, onions, tomatoes, black olives, sour cream, and housemade salsa. Homemade guacamole costs an extra $3.95 but reviewers say it's worth adding.
"We looked around the room to decide what to order, and it became immediately clear what we had to get…NACHOS. A local couple was sitting next to us having nachos as well, which I thought said a lot about the place," wrote a reviewer visiting from out of town. "The nachos were so tasty, and huge, which was good so that we didn't have to fight over them!"
Caitlin Flynn
Caitlin Flynn is an award-winning writer and reporter who experienced early age corporate burnout in 2015 and traded New York City for the misty air and superior coffee of Seattle.
Read more about Caitlin