The Best Chili in Every State
Chili is one of those iconic comfort foods that appear on menus in many different forms. Here's where to find the best.
Chili is one of those warming comfort foods that appear on menus in many different forms. Piled high on a plate of fries, served with a dollop of sour cream, sprinkled with shredded cheddar cheese, or made sans toppings, this dish is delicious no matter how you like to have it prepared. And lucky for us, there seems to be no shortage of chili found in eateries throughout the country.
From brisket chilis offered at friendly barbecue joints, to chili that is served over heaping mounds of spaghetti at iconic restaurants, here are the best places for chili throughout the 50 states.
ALABAMA: The Blind Mule in Mobile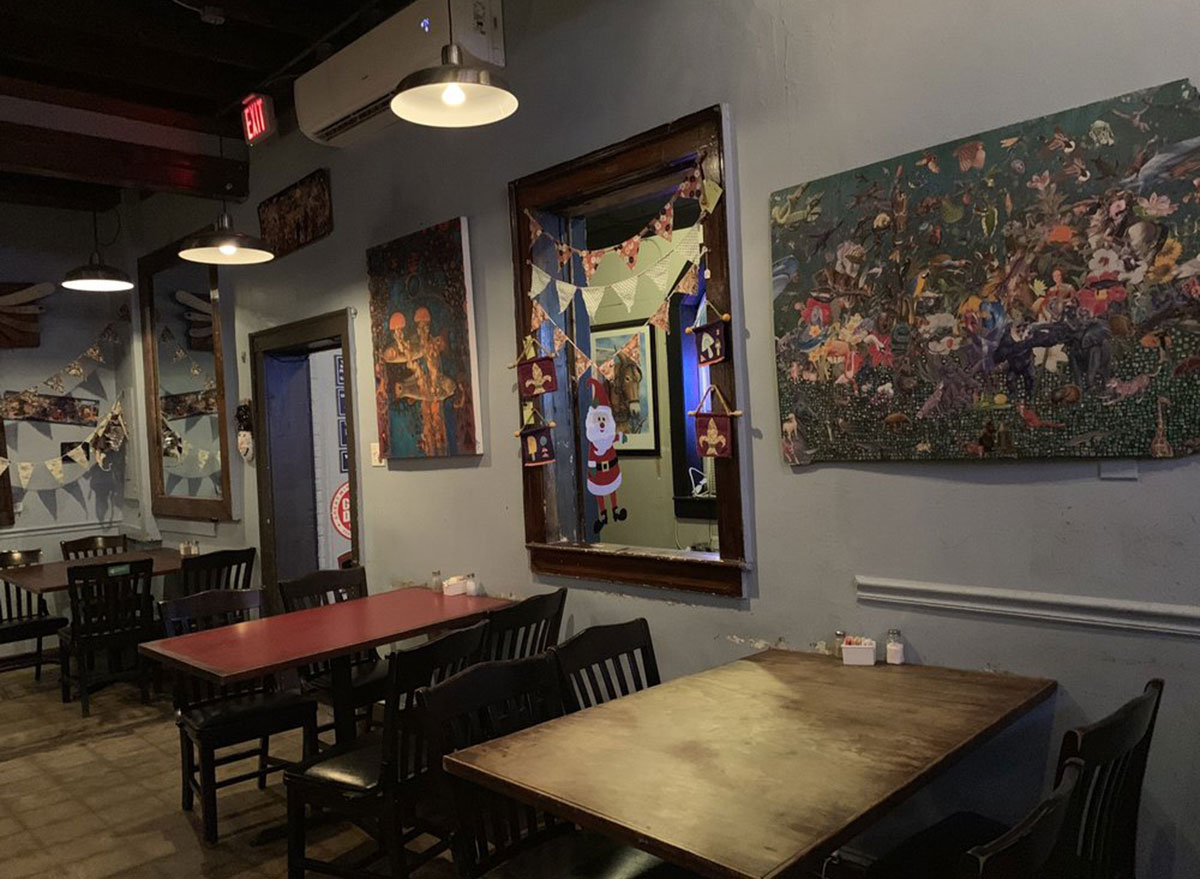 The Blind Mule's homemade "Mule Chili" is made using black beans and is available in two sizes—either a cup or a bowl. Enjoy an order of this delicious dish while sitting in The Blind Mule's "Attic" space which has live music, comedy shows, and art events weekly. Reviewers rave about everything at this "local dive…with heart."
ALASKA: AJ's Gourmet Burgers in Ketchikan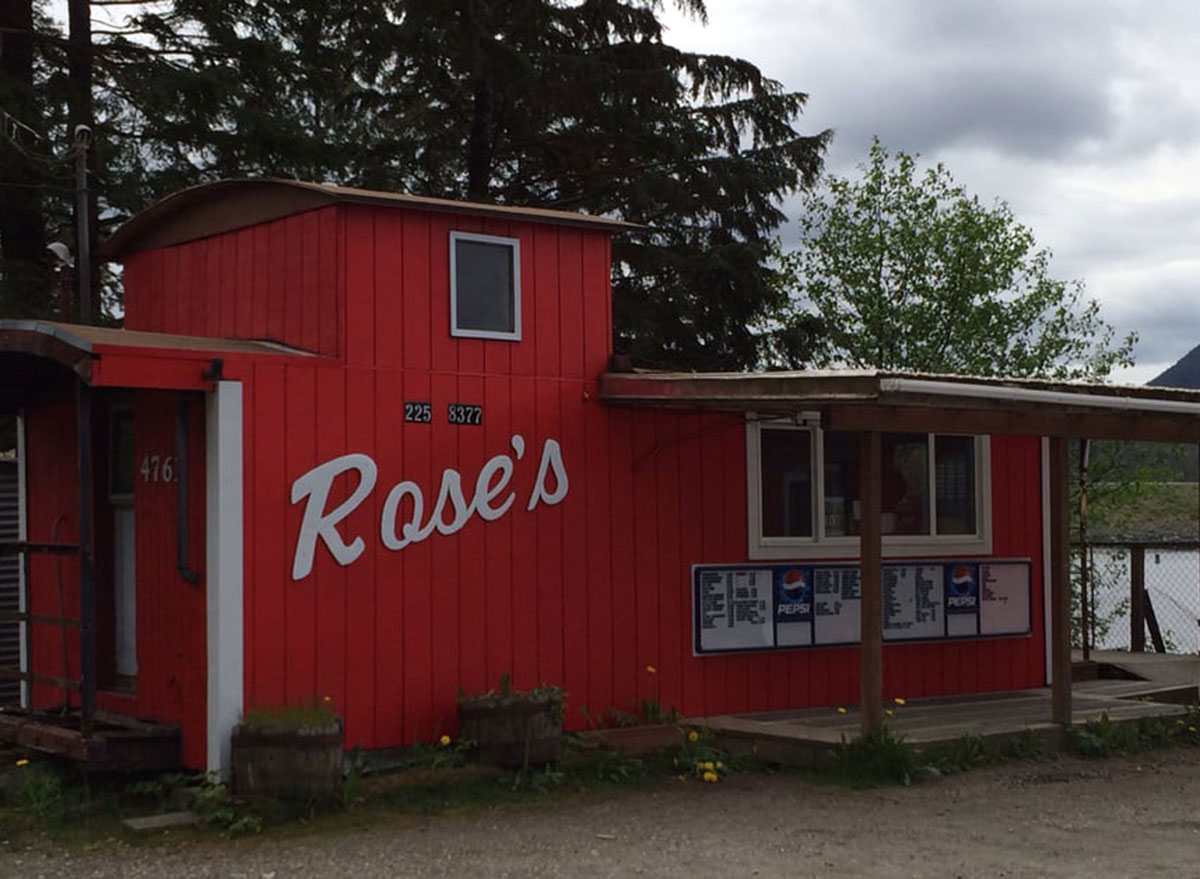 You will find some of the best chili and "the best milkshakes in town" in Alaska at AJ's Gourmet Burgers in Ketchikan. This scrumptious chili graces some of their most popular dishes, such as their Nachos Grande and Chili Cheese Fries.
ARIZONA: Lumberyard Taproom and Grille in Flagstaff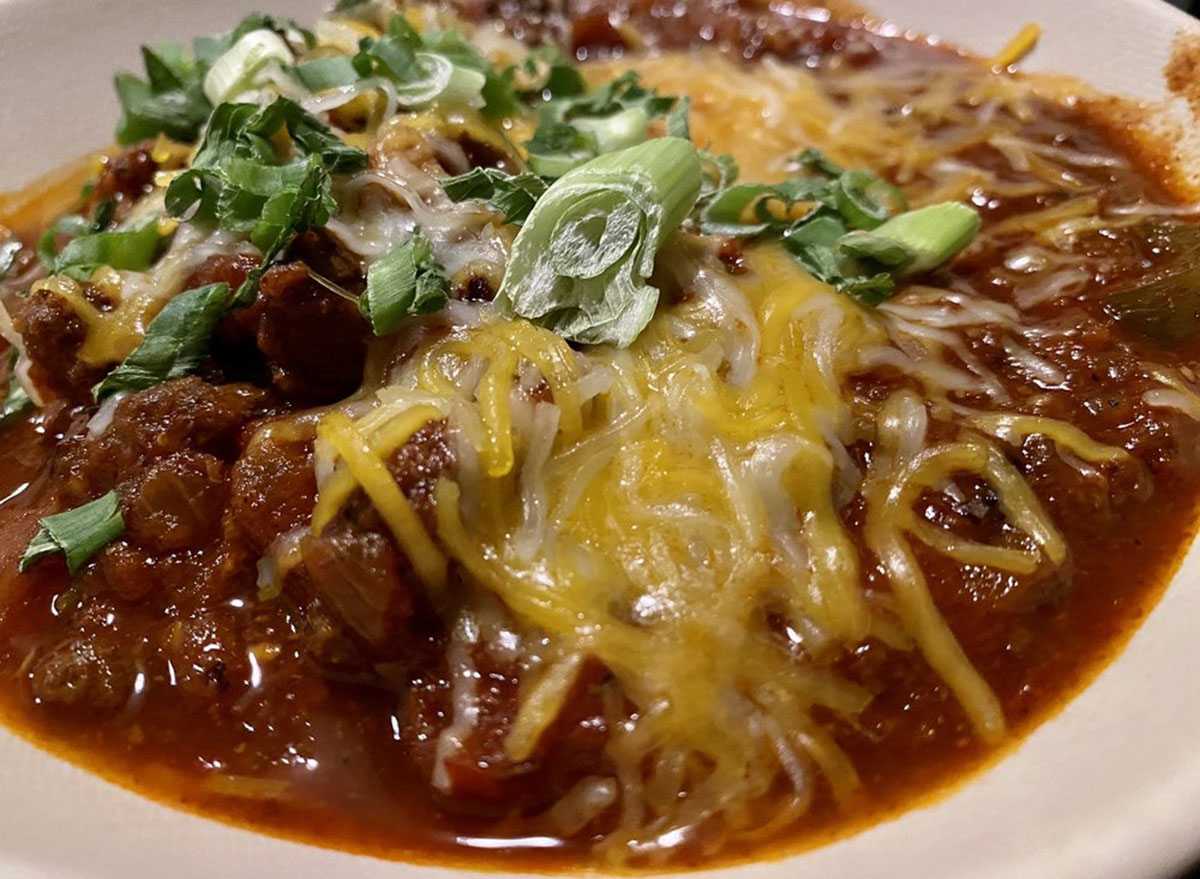 Housed in an old lumber building, Lumberyard Taproom and Grille in Flagstaff has been brewing beer and cooking up amazing comfort food for the community for years. One of restaurant-goers' favorite menu options is The Yard Chili, this all-beef chili can be dressed with assorted toppings such as Colby Jack cheese, sour cream, fresh jalapenos, and red onions. If you are in the mood for pasta, we recommend getting an order of their Lumberjack Mac which is a macaroni and cheese that can also be topped with their mouthwatering chili.
ARKANSAS: Heights Taco and Tamale in Little Rock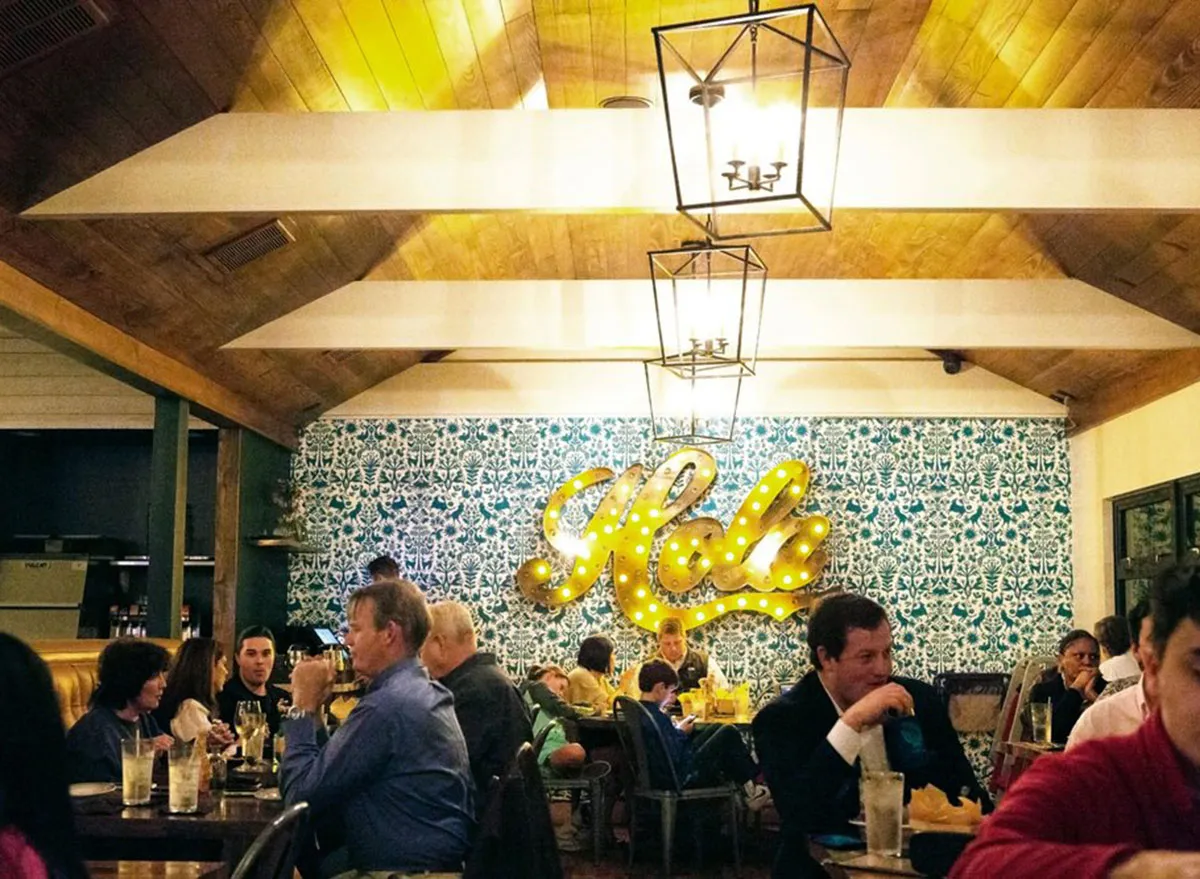 If you are looking for a bowl of perfectly made chili in Arkansas, then look no further than Heights Taco and Tamale in Little Rock. People love ordering their tamales with a side of this meaty, smoky homemade chili.
CALIFORNIA: Chili John's in Burbank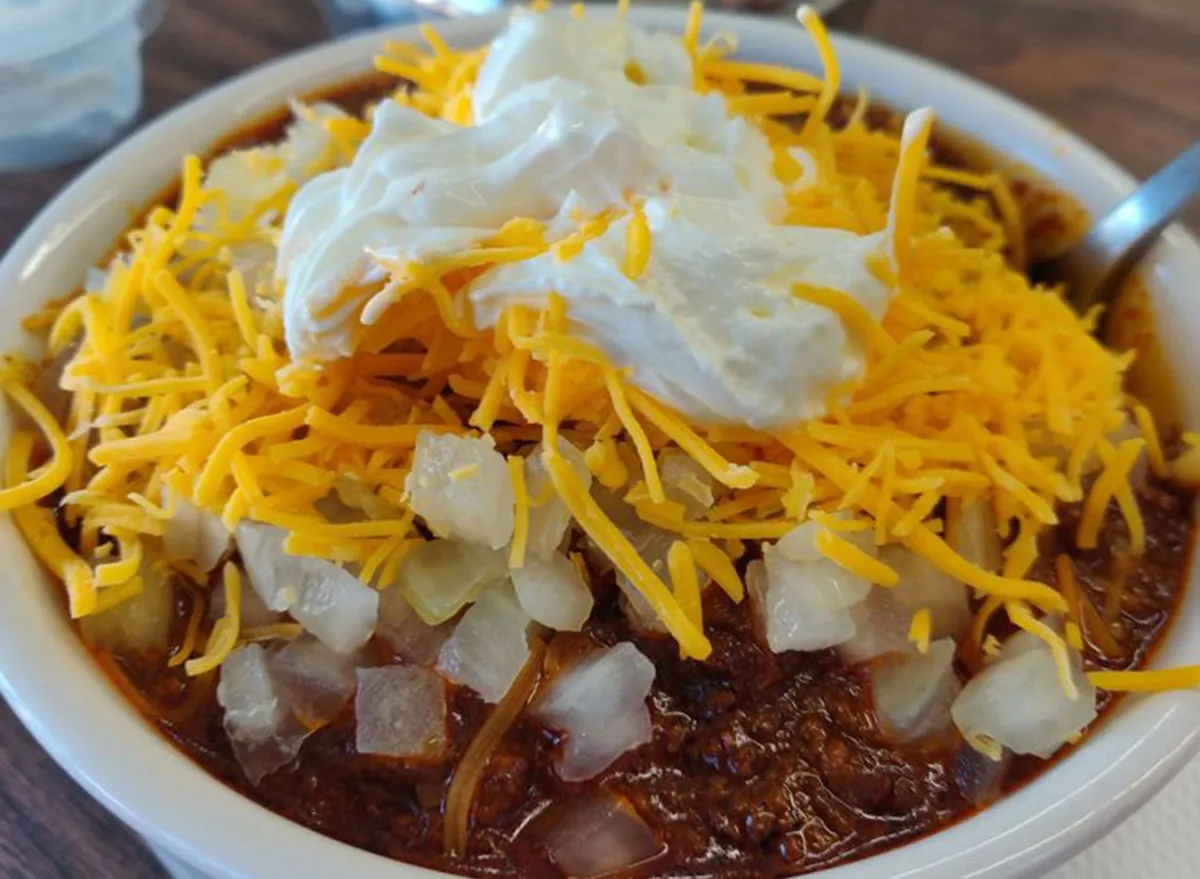 Chili John's in Burbank is famous for—you guessed it—their homemade chili which one reviewer called the "most authentic chili you'll get on the west coast." Their red beef chili is made using original chili spices and is served either mild, medium, or hot. They also offer other chili-centric options, such as chili cheese fries, chili hot dogs, and chili spaghetti.
COLORADO: Cherry Cricket in Denver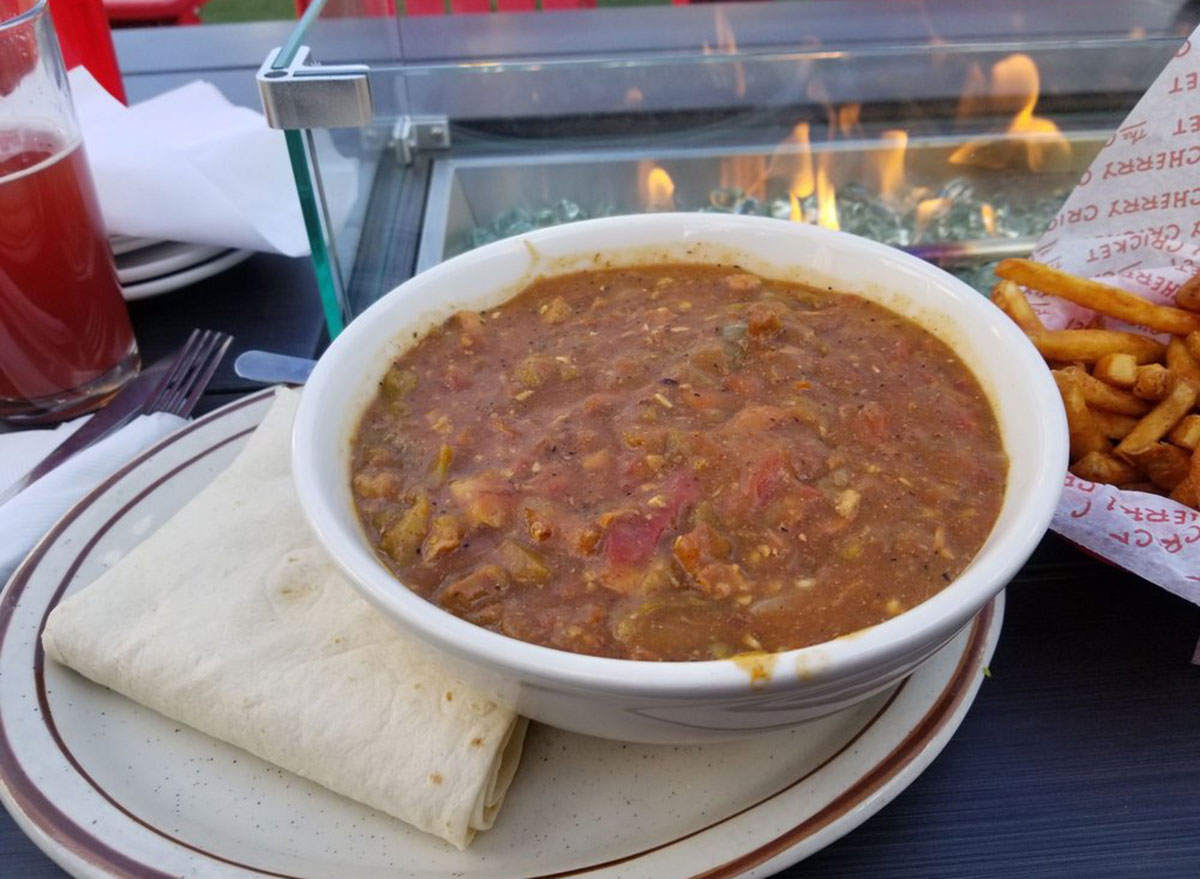 The Cherry Cricket, which is known as one of Denver's first sports bars, has been serving the Coloradan community hearty dishes and brews since the 1940s. A must-have is their R&C Pork Green Chile which is their chef-made Denver-style pork chile that is served with tortillas on the side.
CONNECTICUT: Joey B's Restaurant in Cob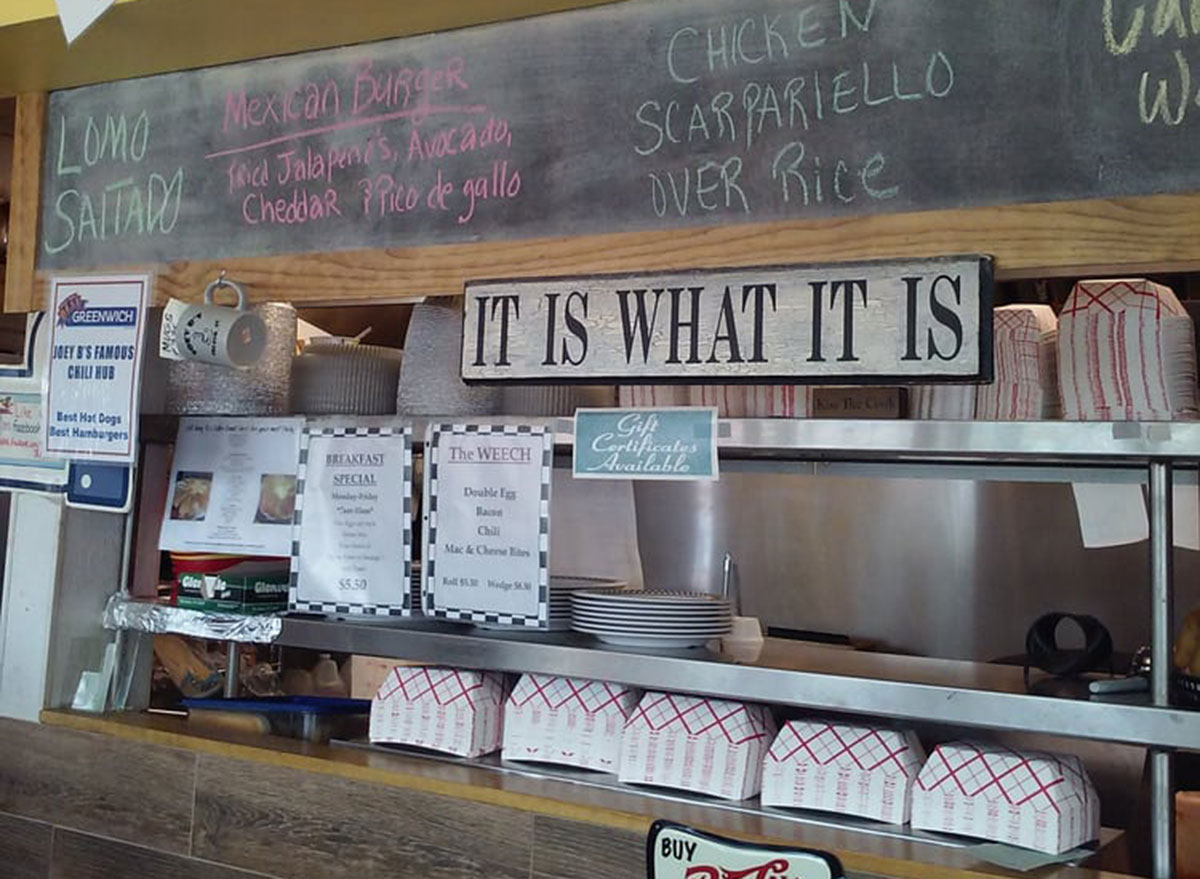 Joey B's Restaurant in Connecticut has been making award-winning fare since 2008 that keeps customers coming back for more. Known as "the famous chili hub," as displayed on their signage, one Yelp reviewer explains how their fabulous chili is crafted from an old family recipe.
DELAWARE: Woody's East Coast Bar & Grill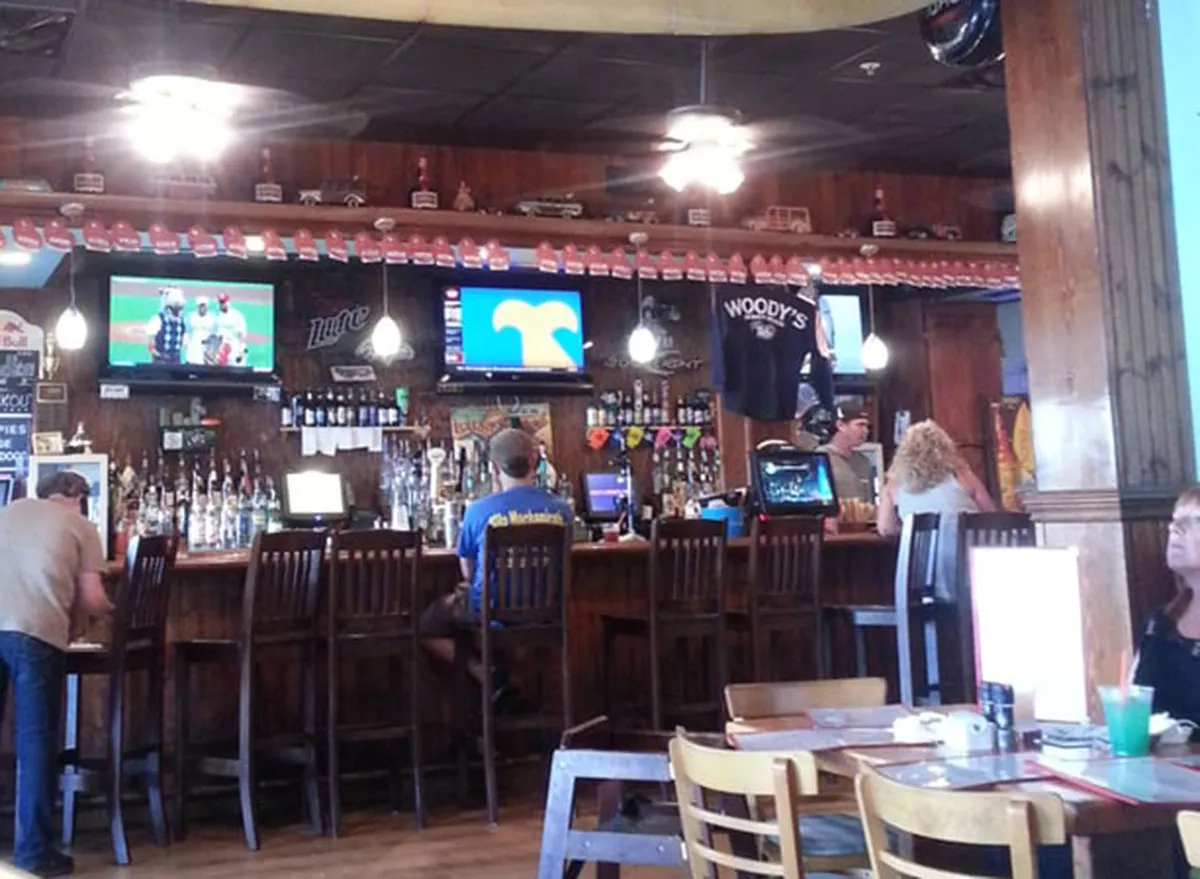 Found just steps away from the sandy shores of Dewey Beach, Woody's East Coast Bar & Grill makes a chili that will knock your socks off. Served with chopped onions, shredded cheese, and sour cream, this tasty dish can be enjoyed great alone or makes a great side to their tantalizing chicken salad sandwich.
FLORIDA: Lokal in Miami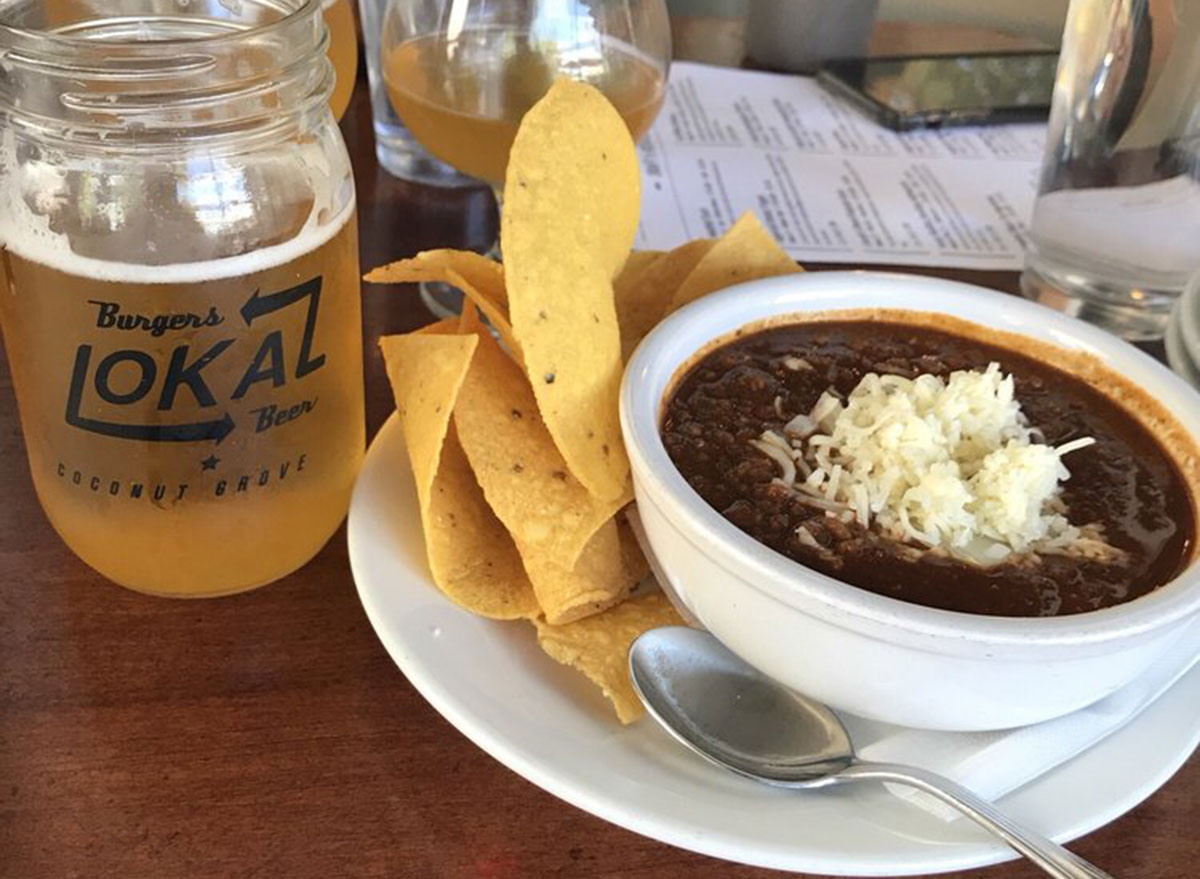 Lokal's famous New Mexico Chili features warm chili topped with an appetizing blend of Monterey Jack cheese and white onions. One reviewer called it, " the best chili in Miami. It's spicy, it's rich, it's hearty, it's what all chilis should be!"
GEORGIA: Fox Bros Bar-B-Q in Atlanta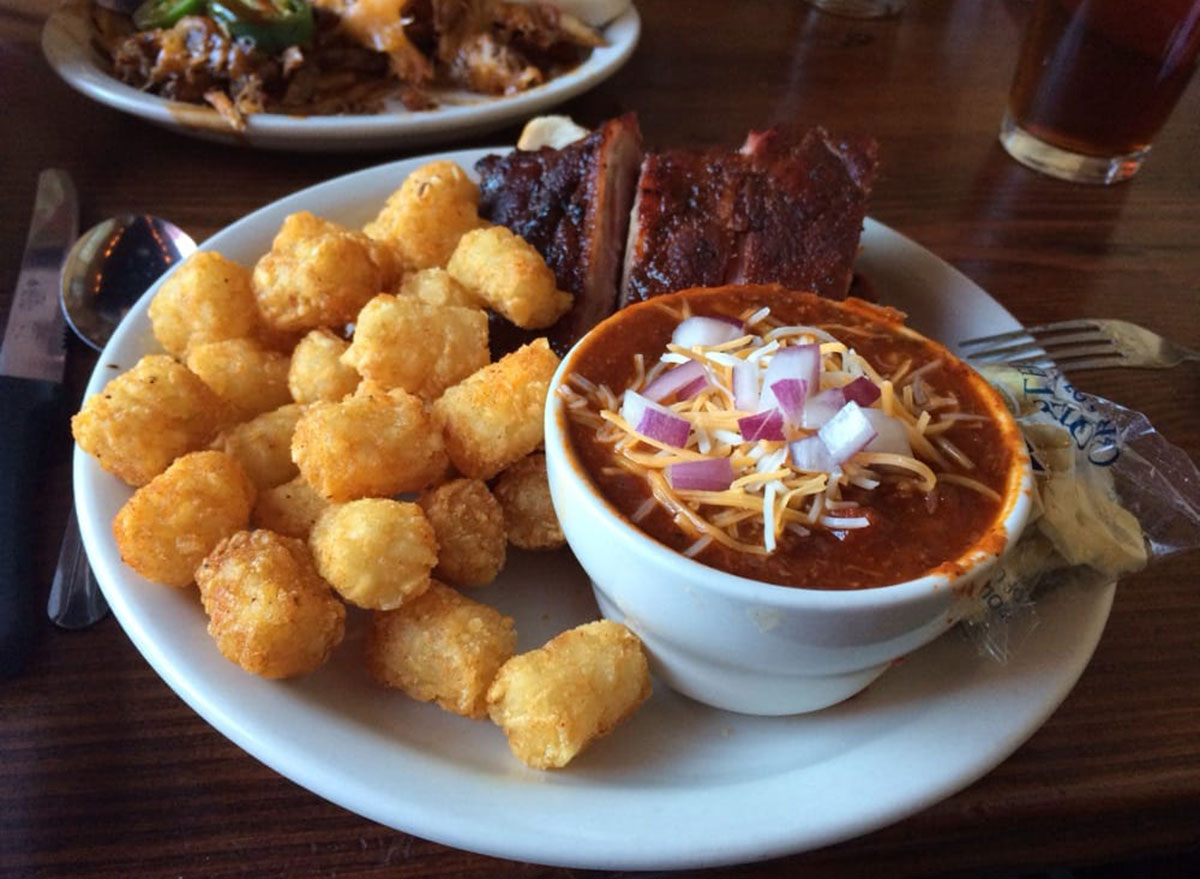 This Atlanta mainstay makes a brisket chili that is seriously out of this world. Enjoyed either alone or in their iconic Frito Pie, this delicious one-of-a-kind chili is one you will definitely be talking about for days.
HAWAII: Cool Cat Cafe in Lahaina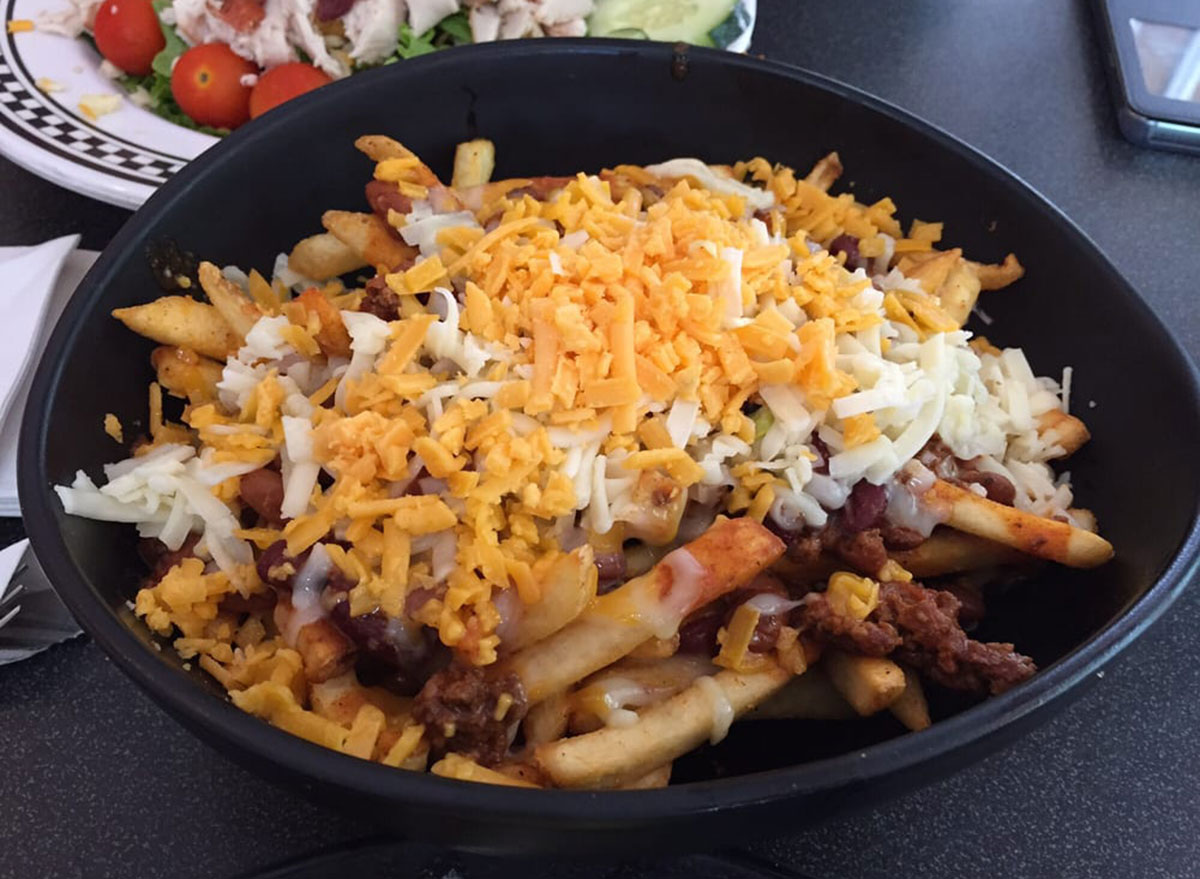 Cool Cat Cafe, the 1950's-themed eatery that serves up some of the best family-style comfort food around, has a seriously soul-warming chili that is topped with heaps of creamy shredded cheese. We suggest ordering this alongside an order of Hula Sticks, which are made using juicy chicken, fresh pineapples, and a sweet Hawaiian sauce.
IDAHO: BBQ4LIFE in Boise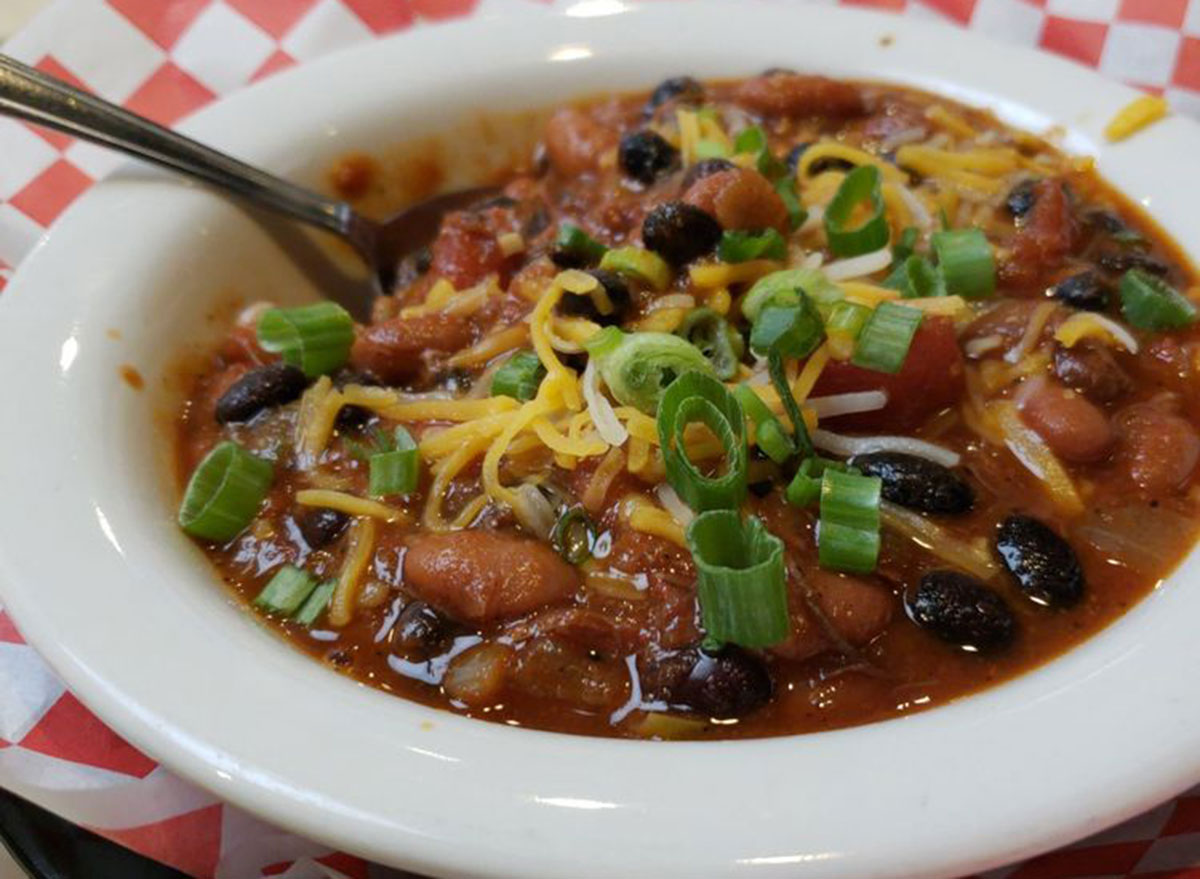 BBQ4LIFE is known for having the best barbecue and smoked vegan food in Boise—and for good reason, their food is amazingly delicious! A dish you cannot miss is their pulled pork chili which Yelp reviewers rave about.
ILLINOIS: Monti's in Chicago
From jumbo hot wings to full-sized pizza pies, Monti's in Chicago has it all. If you stop by, make sure to get an order of Oscar's Famous Chili, which is a "from scratch" chili that is available by the cup. Note: They have temporarily relocated to 4131 N Rockwell St for pick-up and delivery to remodel their Talman location.
INDIANA: Yats in Indianapolis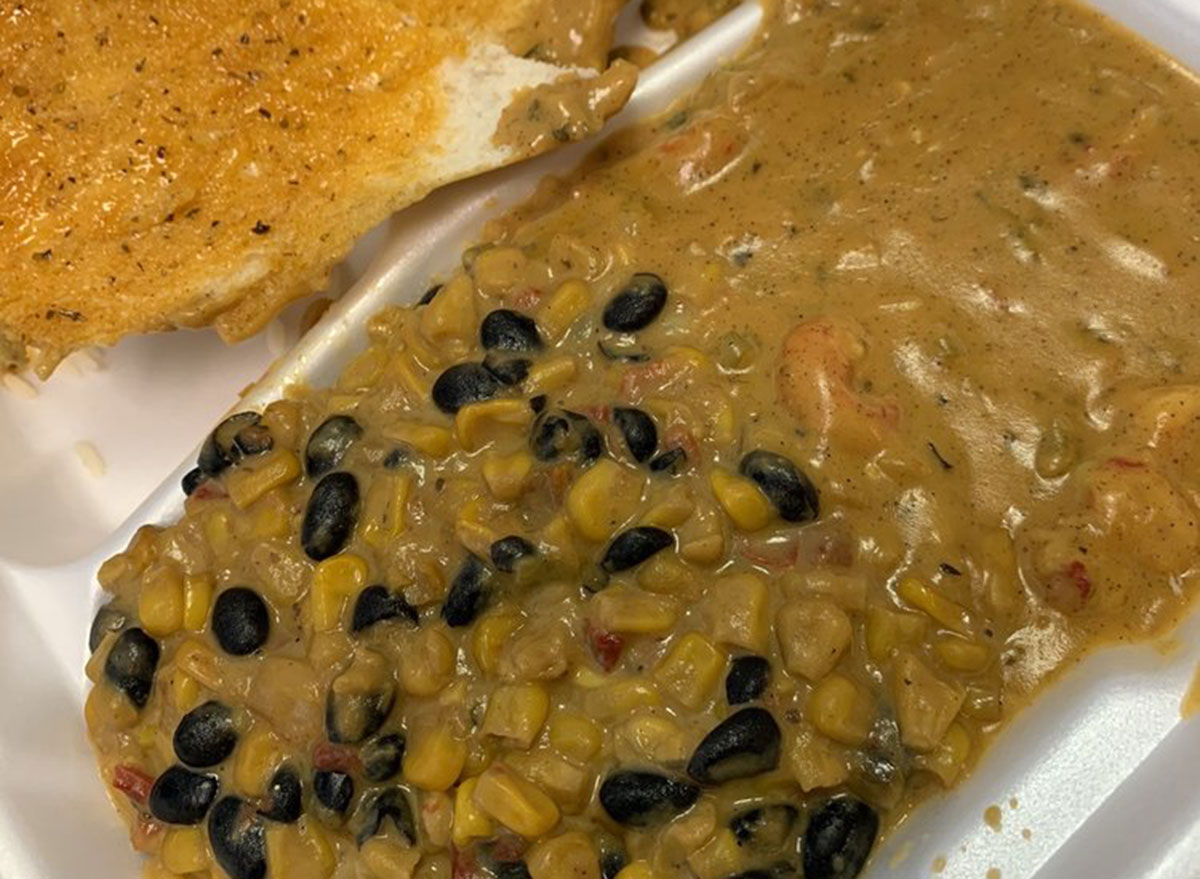 Yats' signature item is their Chili Cheese Etouffee with Crawfish, which is a delectable combination of blonde roux-based sauce with chili seasoning, cumin, and coriander, served with cheddar cheese and fresh crawfish tail meat. Yelp reviewers cannot stop praising this incredibly tasty dish. Don't stop there though. They also offer White Chili with Chicken, a Black Chili, and a Vegan White Chili
IOWA: Railroad Bill's Dining Car in Des Moines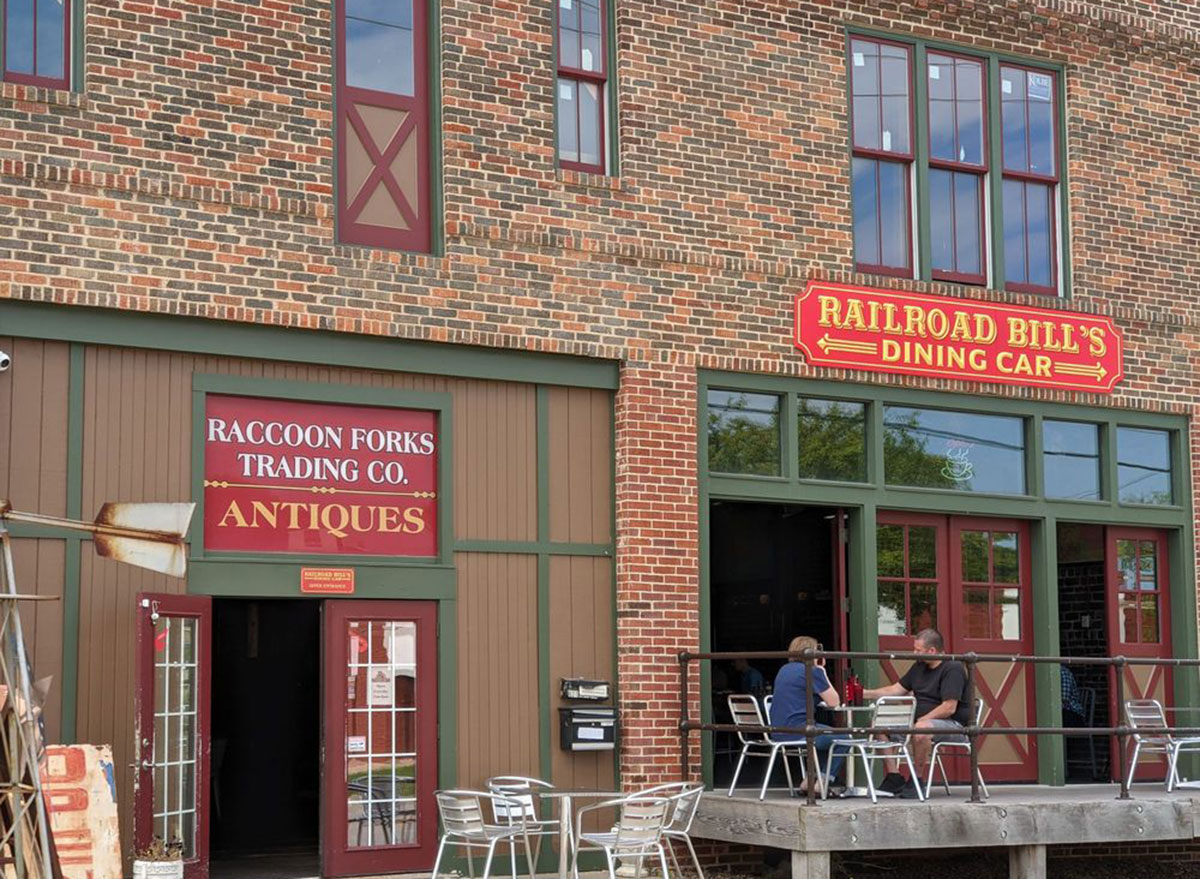 Located in the East Village neighborhood of Iowa's capital city, Railroad Bill's Dining Car makes a homemade chunky chili. Said one reviewer, "The chili was hearty and had just a touch of spice, great flavor throughout. House cut fries were great as the base as well; always appreciative of house cut fries."
KANSAS: Big Larry's Burgers in Valley Center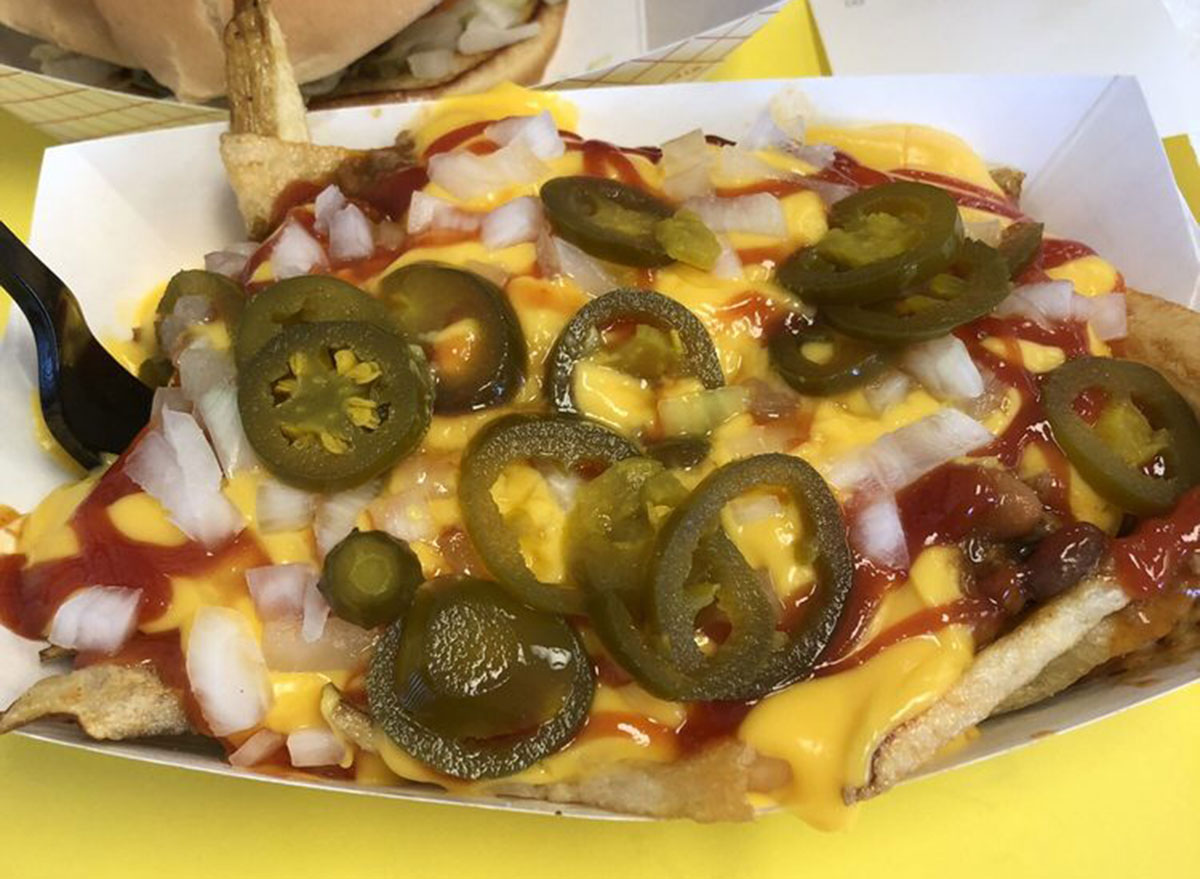 Big Larry's Burgers in Kansas is beloved by many for their wonderful cheeseburgers, fresh-cut fries, and, you guessed it, steamy bowls of chili. Diners  love to enjoy the chili on its own, as well as piled high onto a mound of mouthwatering cheese fries. Wear your stretchy pants.
KENTUCKY: Gourmet Chili in Newport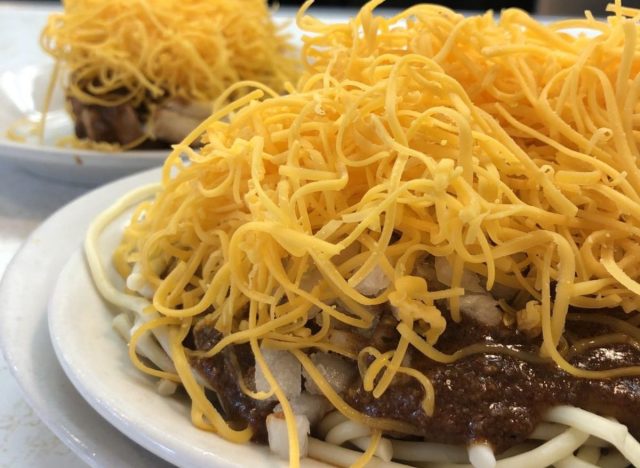 Gourmet Chili is the bustling neighborhood eatery that is known for its amazing chili. Whether you order their plain chili, chili spaghetti, chili, and beans, or 3-,4-, or 5-Way Chili, you are sure to be impressed. "You need an interpreter to order the chili," said one reviewer.
LOUISIANA: Cochon Butcher in New Orleans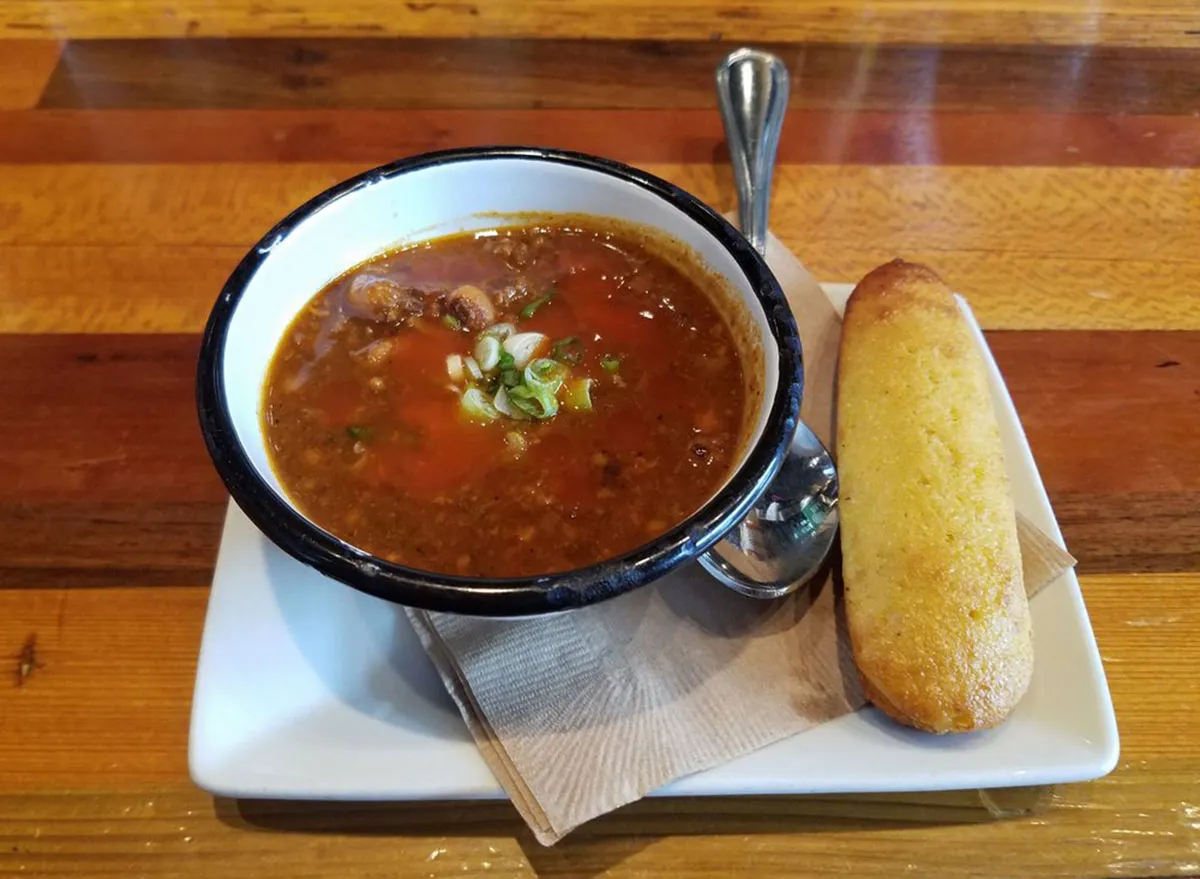 Cochon Butcher is a New Orleans-based eatery with an old-school butcher vibe that prepares over 2,000 pounds of meat in-house weekly. One of their most talked-about menu items is their Black-Eyed Pea Chili which is served with freshly made cornbread.
MAINE: Great Lost Bear in Portland
For over 40 years, the Great Lost Bear in Maine has been dishing out delicious grub and serving up frosty beers on tap for the community—as a matter of fact, Great Lost Bar is so good that it was named the best beer bar in Maine in 2018. However, it isn't all about the beer here, but the chili, too. Aptly listed on the menu as Portland's Best Chili, this warm, mouthwatering chili also comes in a vegan option.
MARYLAND: Hard Times Cafe in College Park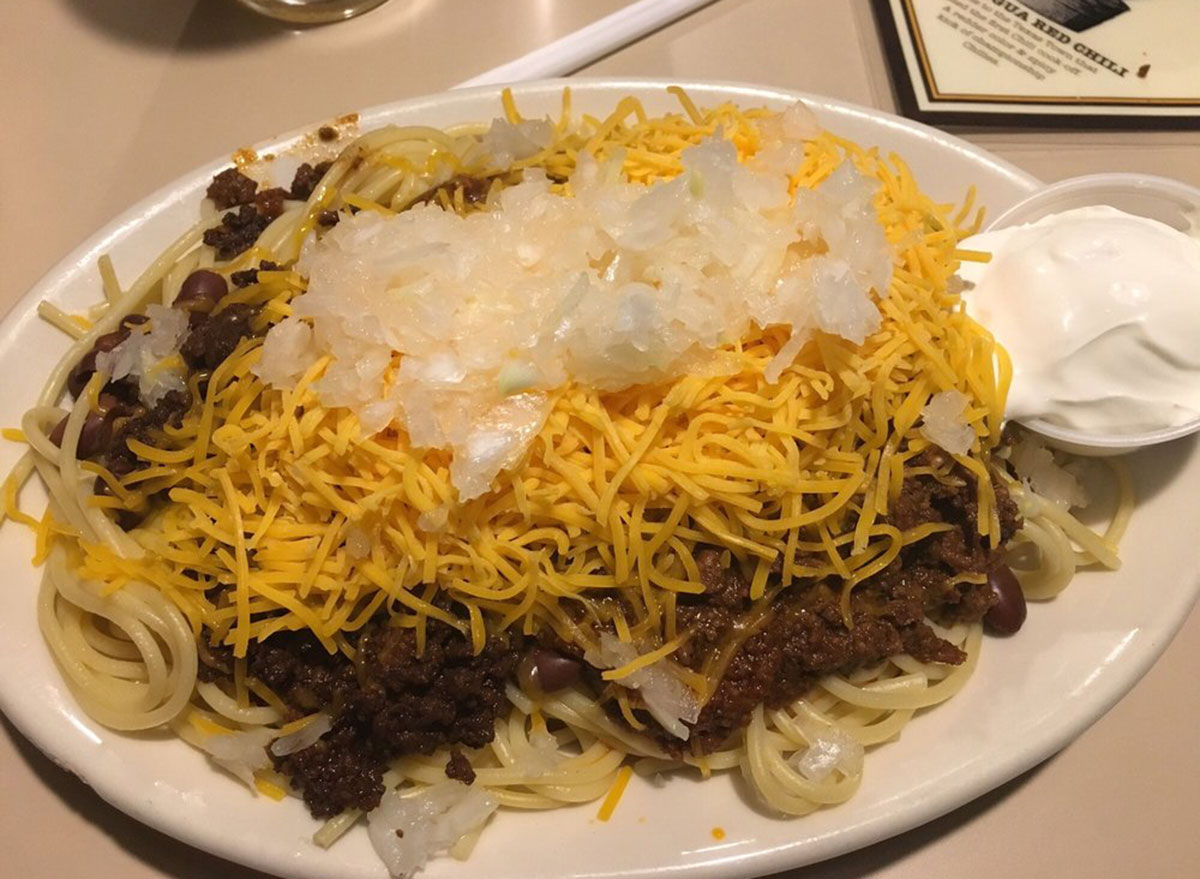 Since the 1980s, Hard Times Cafe and its five locations have been serving up a huge menu for customers that come near and far to experience their mouth-watering plates firsthand. One of the best details about Hard Times is that they offer not just one, but four, authentic chili options. These menu offerings include Texas Chili, Cincinnati Chili, Terlingua Red, and Vegetarian Chili.6254a4d1642c605c54bf1cab17d50f1e
MASSACHUSETTS: All Star Sandwich Bar in Cambridge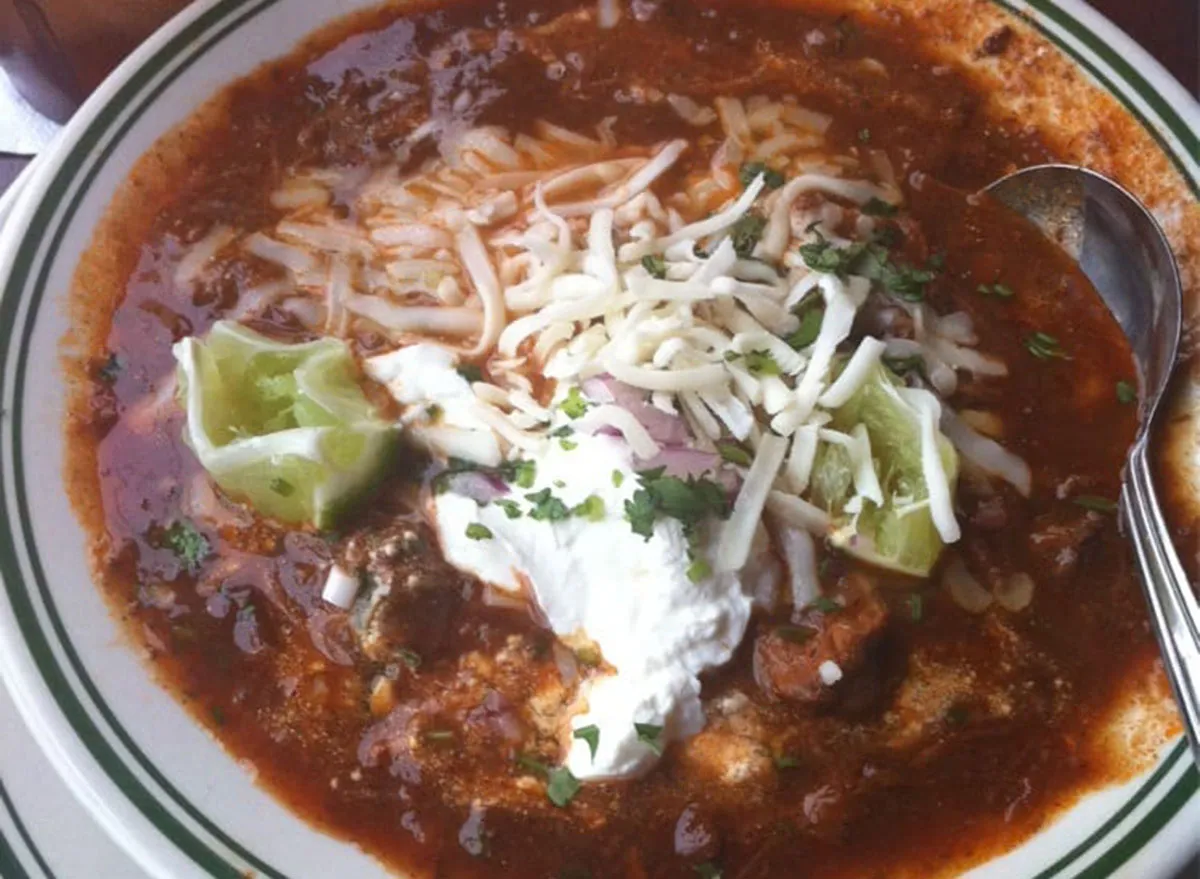 If you are ever in Massachusetts and are struck with a hankering for chili then make sure you stop into All Star Sandwich Bar in Cambridge to satisfy that craving. Yelp reviewers have described the Texas State Penn Chili, which is made with chunks of meat, sour cream, cheese, and lime, as "so good it is ridiculous."
MICHIGAN: Lafayette Coney Island in Detroit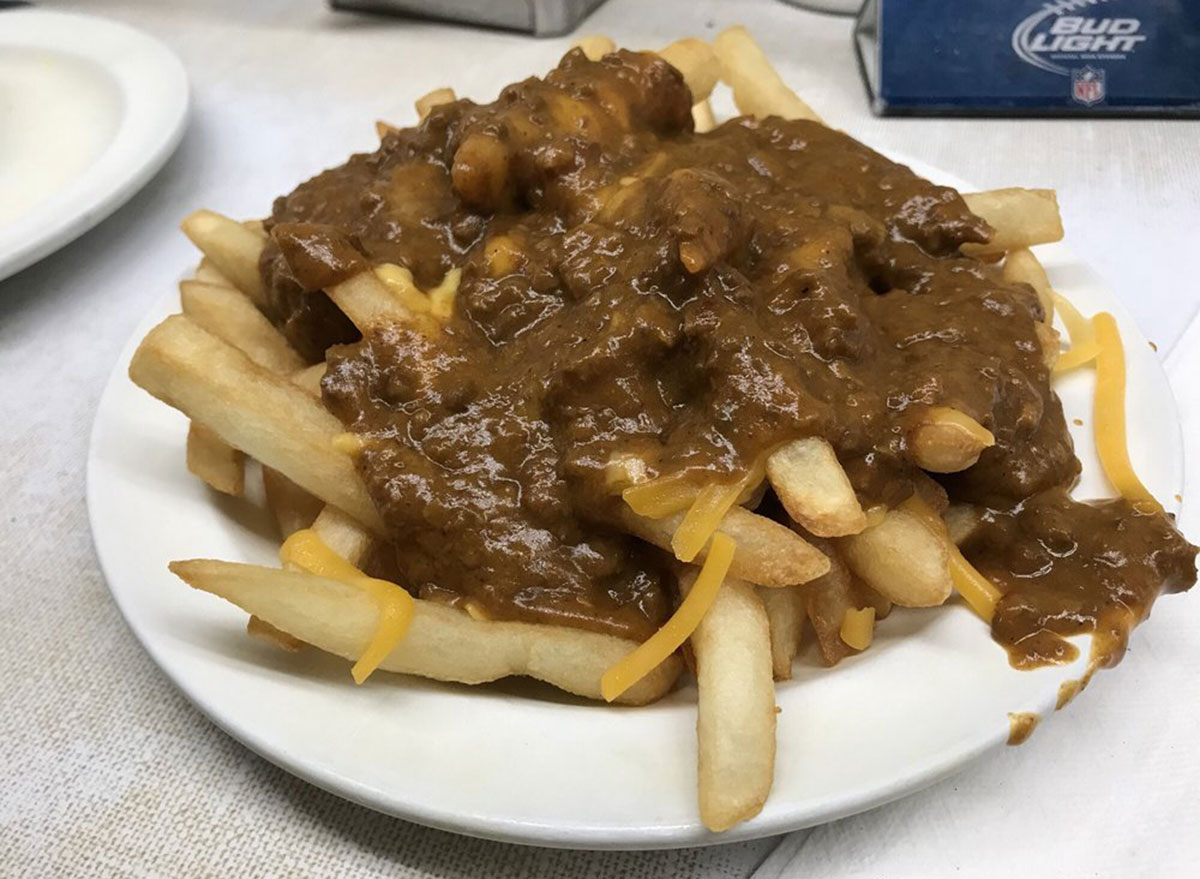 Piled high on warm cheese fries, stuffed onto a hot dog, or served on its own, Lafayette Coney Island in Detroit makes a chili that can be enjoyed in a myriad of ways. There's also a "no bean" chili option that sounds just as good as the original.
MINNESOTA: The Lowbrow in Minneapolis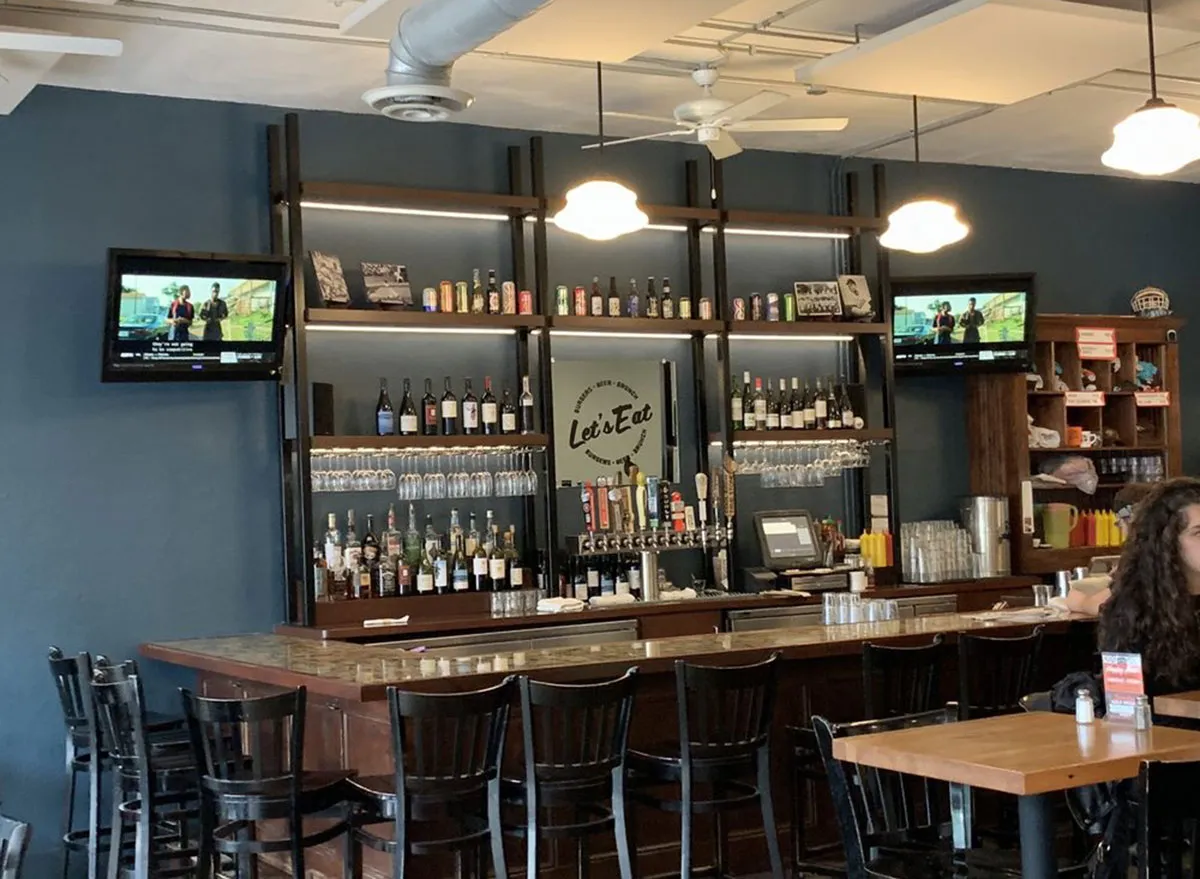 Located just a short drive from Lake Harriet in Minneapolis, The Lowbrow creates scratch-made comfort food that includes tasty options such as raspberry pancakes, chorizo breakfast tacos, pulled pork sandwiches, and homemade fish sticks. One of their most lauded dishes, however, is their Bison Chili, which is a heat and spice-filled chili topped with cheese and sour cream, and served with housemade tortilla chips.
MISSISSIPPI: Soulshine Pizza Factory in Jackson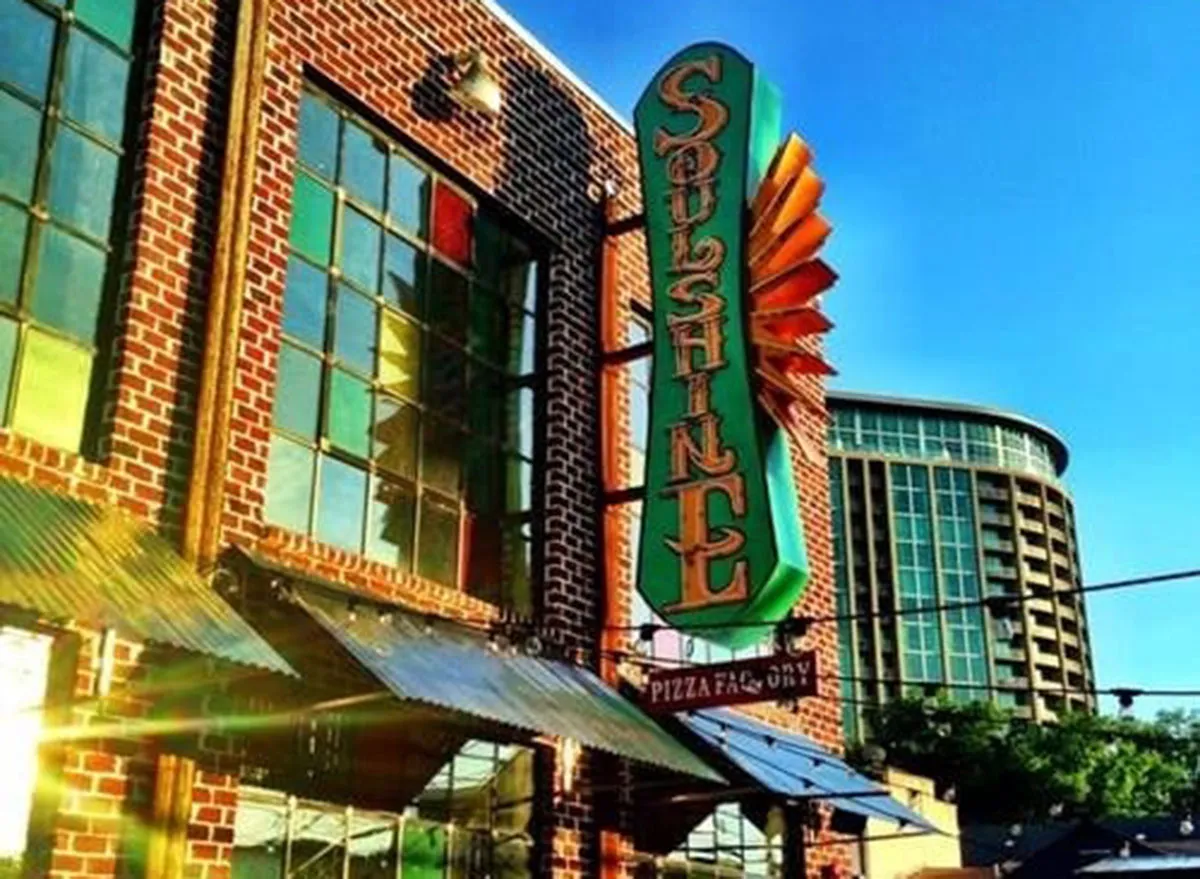 Soulshine Pizza Factory in Mississippi is not just known for its amazing pizza, but also for its flavorful homemade chili. Made with a combination of beef and hearty beans, this slow-simmered dish can be finished off with cheddar cheese, onion, and jalapenos. Get them on the nachos for, as one reviewer puts it, "hands down best chili cheese nachos anywhere!"
MISSOURI: Carl's Drive-In in Brentwood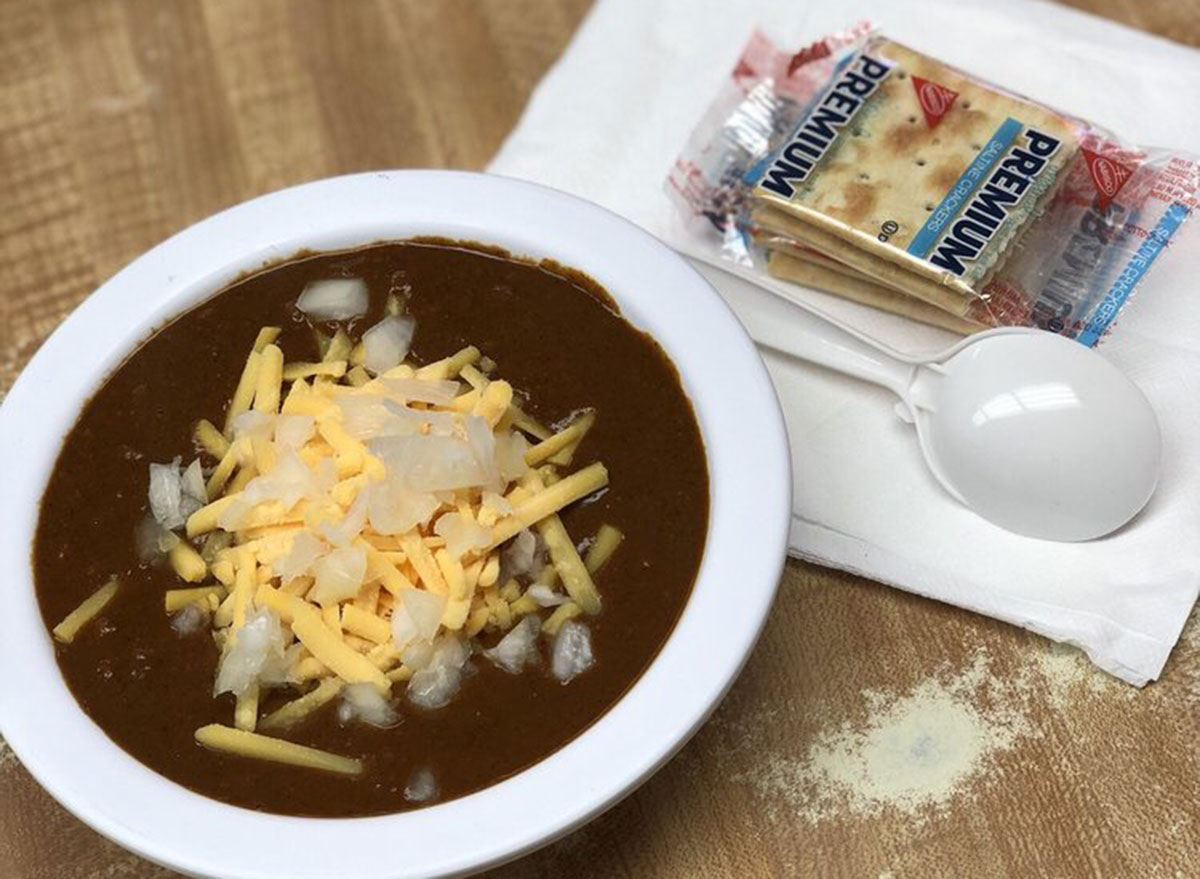 Since 1959, this famous cash-only eatery, housed in an old service station, has been making delicious chili that pairs amazingly with their homemade root beer floats. But be beware, says one reviewer, "The chili is meaty and flavorful and usually comes out hot enough to melt steel so give it a minute or two to cool."
MONTANA: The Burger Dive in Billings
The Burger Dive in Montana makes a hearty chili in-house daily using owner and chef Brad Hallsten's special recipe.
NEBRASKA: Louie M's Burger Lust in Omaha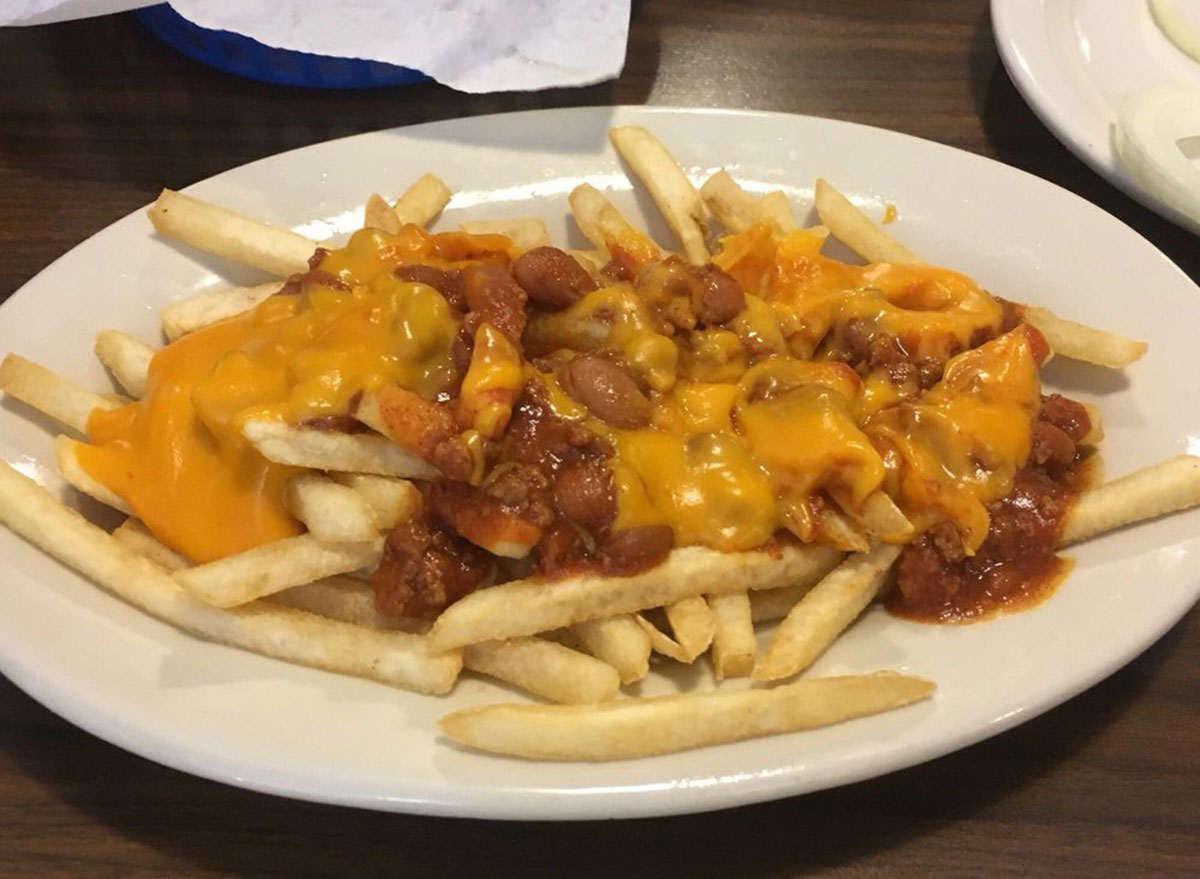 This wonderful local restaurant, which is open 7-days a week, makes a chili con carne and green pork chili that will have you coming back for more, perhaps with extra containers. As one reviewer wrote, "The Green Pork chili was to die for and my husband asked me if we could buy a gallon of it our next time through Omaha!  He wasn't exaggerating."
NEVADA: The Coffee Cup in Boulder City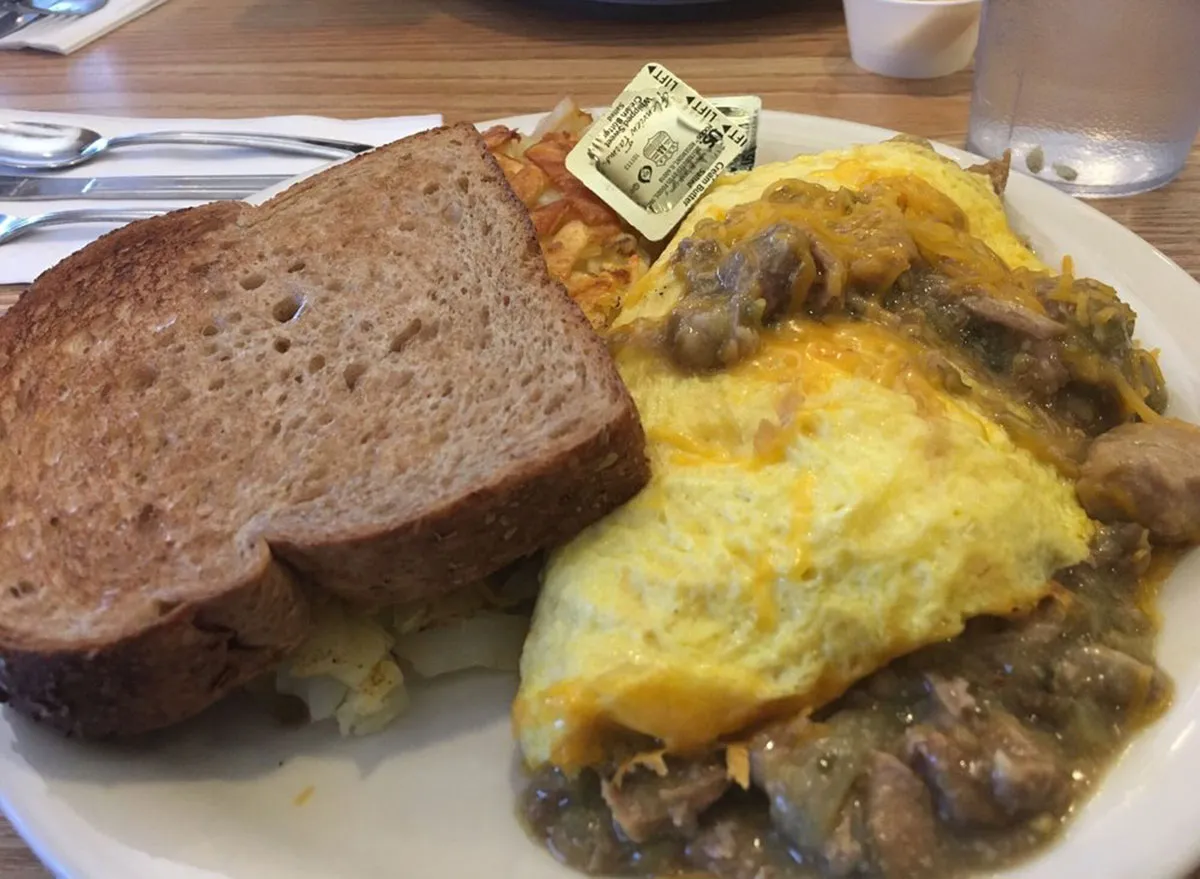 People come from all over the world to try The Coffee Cup's signature Pork Chili Verde omelet, which Yelp reviewers describe as "amazing," "delicious," and "awesome." Made using three eggs, juicy pork smothered in a homemade green chili sauce, and cheddar cheese, you know it is good when even Guy Fieri describes it as "the bomb."
NEW HAMPSHIRE: Red Arrow Diner in Manchester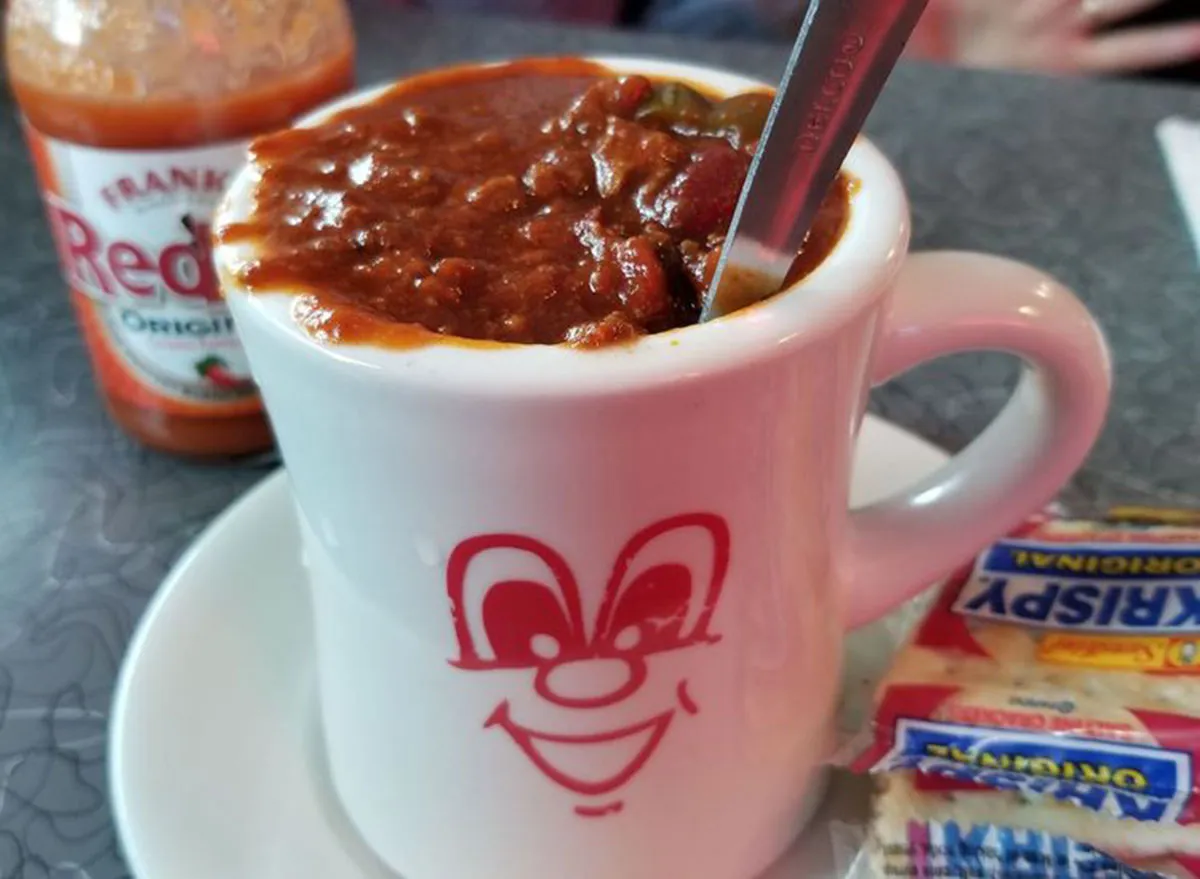 Red Arrow Diner is the 24-hour establishment that makes the best chili, according to USA Today and satisfied customers. Their chili menu options include their Homemade Chili and 5-Alarm Chili, both make great accompaniments to any meal. Fun fact—Red Arrow Diner is a favorite of comedian Adam Sandler who grew up in Manchester from the age of six.
NEW JERSEY: Arthur's Tavern in Morris Plains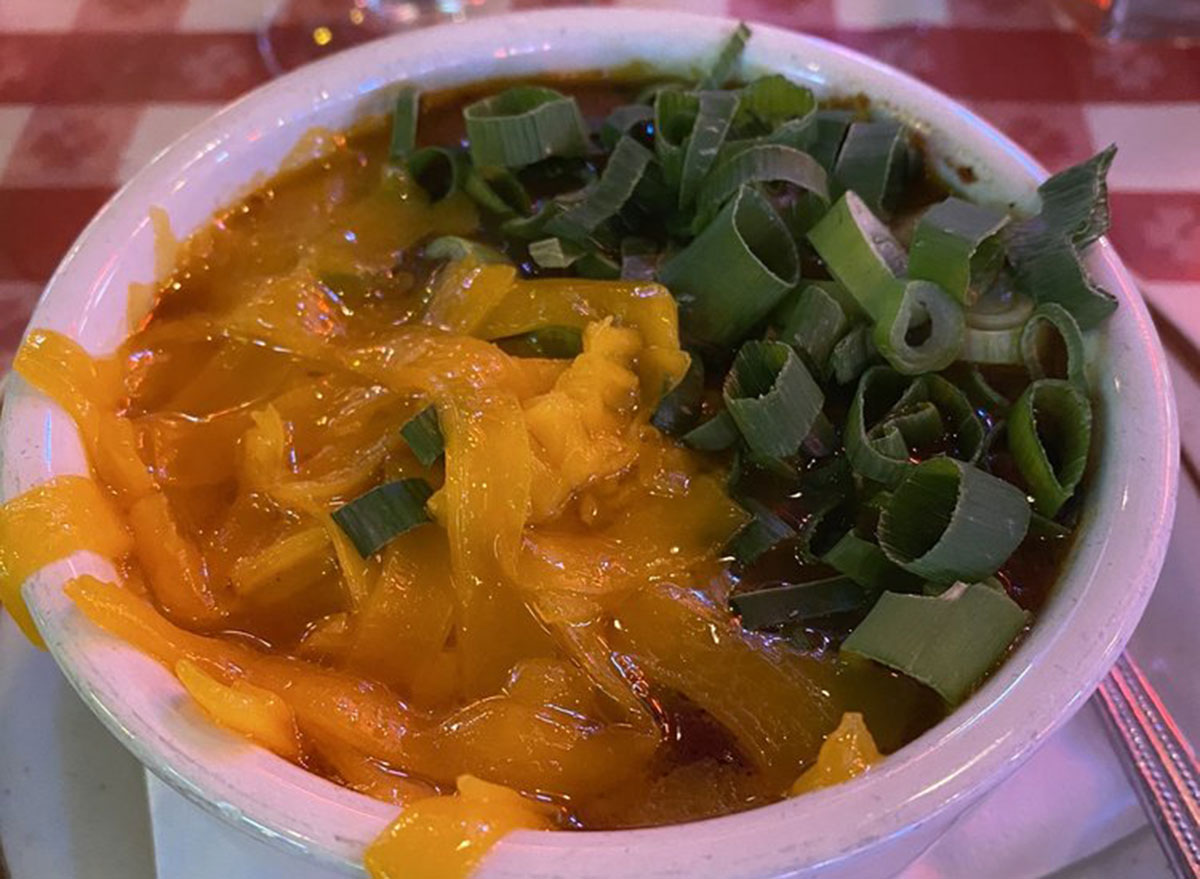 Arthur's Tavern may be famous for their stellar steaks, but that doesn't mean you shouldn't try out some of their delicious chili. Their chili, which Yelp reviewers described as having a bit of a "kick," is great served as an appetizer during lunch or dinner.
NEW MEXICO: Cecilia's Cafe in Albuquerque
Nestled in the heart of Albuquerque is Cecilia's Cafe, a buzzy eatery that serves classic New Mexican dishes in a quaint setting. People rave about their red chili which is made fresh onsite daily and is served with a tortilla on the side.
NEW YORK: The Original Soupman in New York City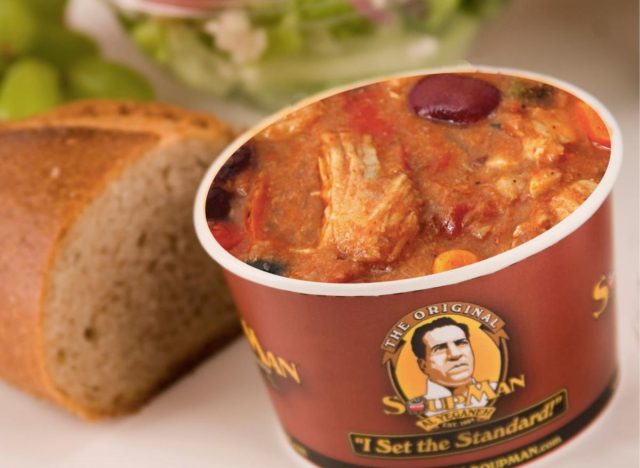 The Original Soupman, the famous New York eatery that inspired episodes of Seinfeld, not only makes some of the Big Apple's best soups but churns out some pretty amazing chili, too. Both the beef and vegetarian chili are a favorite among many customers.
NORTH CAROLINA: Pinky's Westside Grill in Charlotte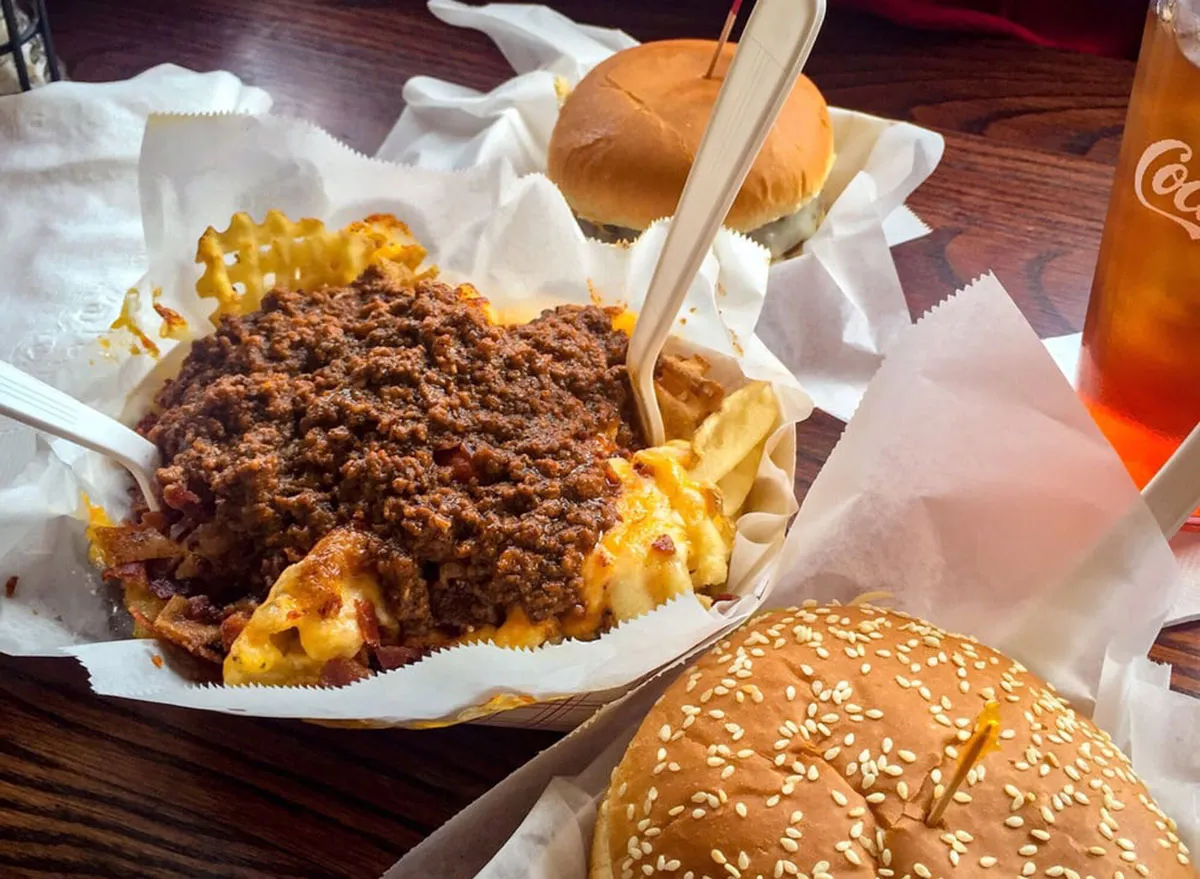 Pinky's Westside Grill, the popular eatery that was named one of the best restaurants in Charlotte by Conde Nast Traveler, makes an amazing veggie chili that will blow you away.
NORTH DAKOTA: Scotty's in Bismarck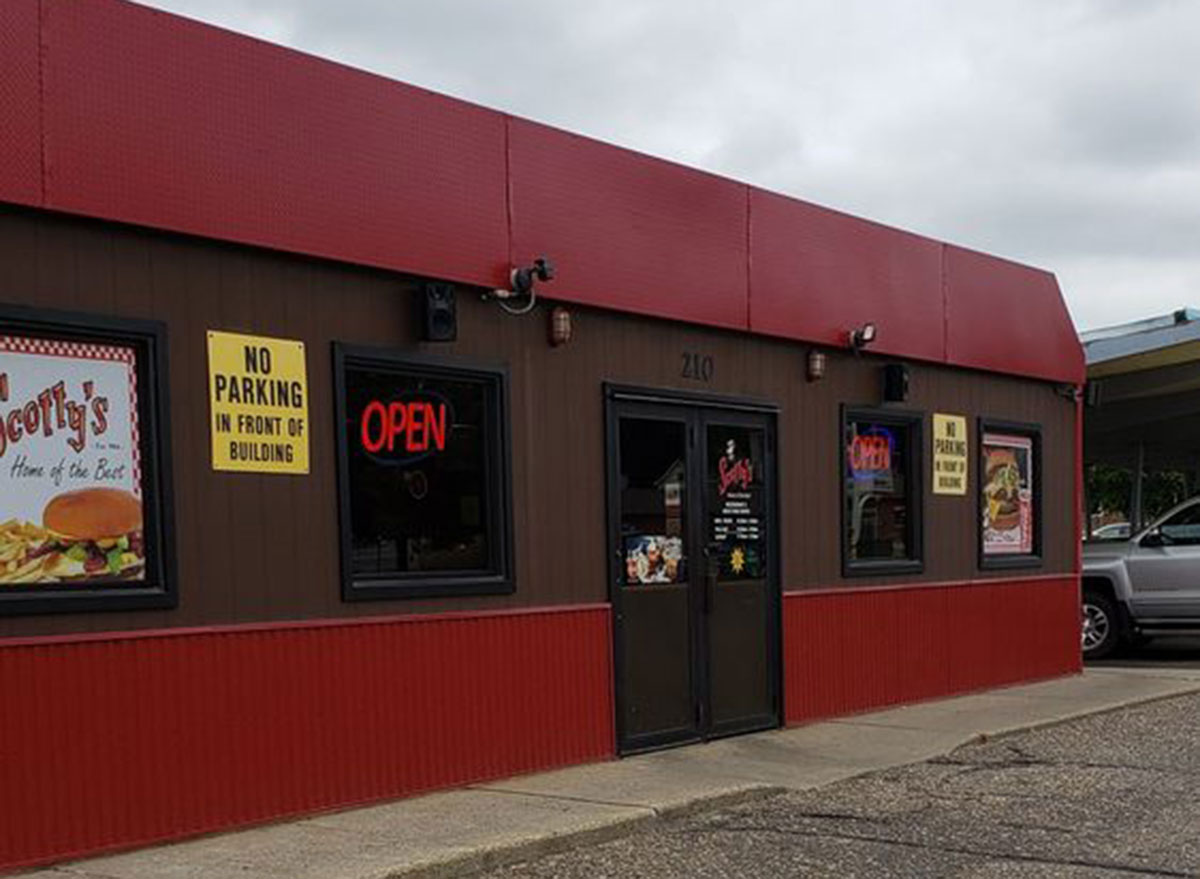 Since the 1960s, Scotty's Drive-In in North Dakota has been making some of the best comfort food in town, including their delicious chili which is available to order in a cup or bowl, or piled high on a hot dog with cheese. If you visit Scotty's be sure to also try their famous Rebel Burger and Tartar Burger—both take beef patties to the next level.
OHIO: Skyline Chili in Cincinnnati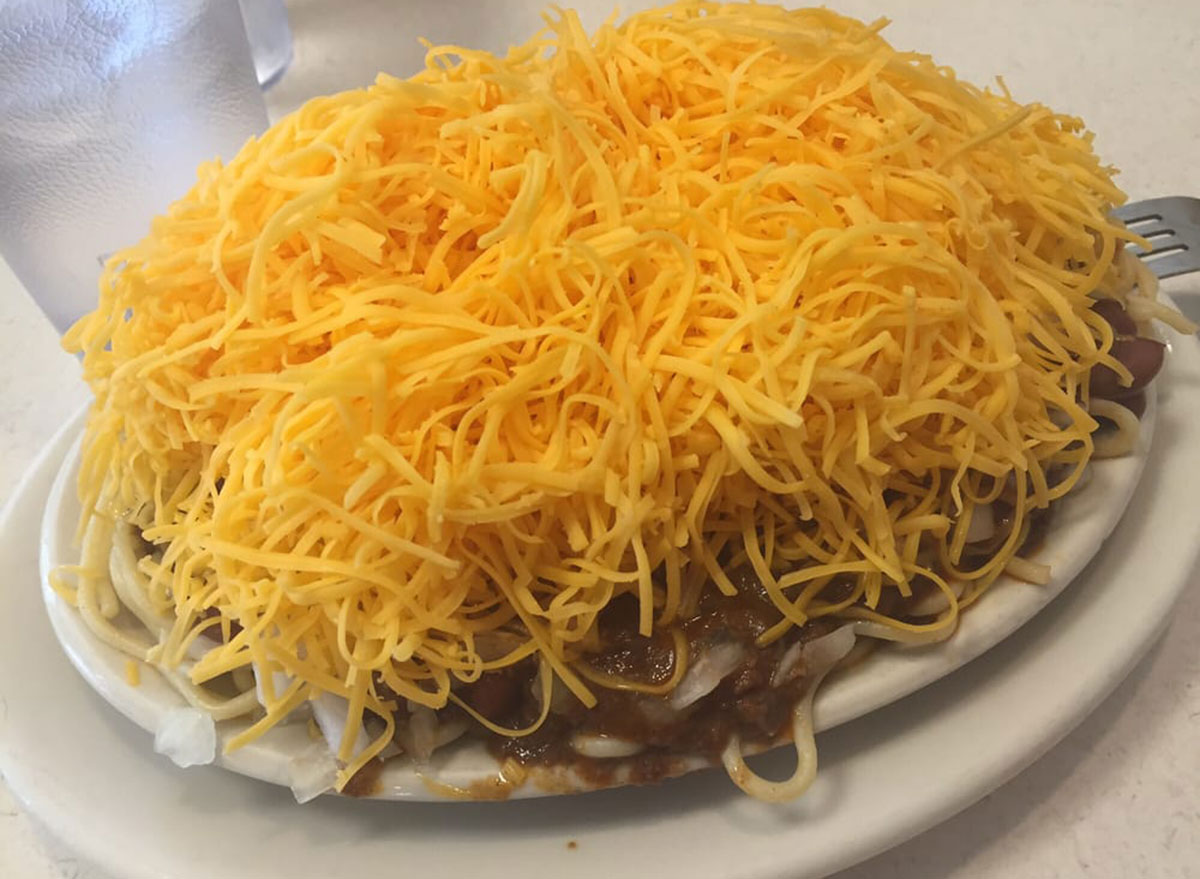 What's a trip to Ohio without visiting the famous Skyline Chili? Skyline, which was founded in the 1940s, makes Cincinnati-style chili that is seriously out of this world. Enjoy a bowl of their homemade chili, made from a secret recipe, of course, or order a Cheese Coney, which is a hot dog topped with their iconic chili.
OKLAHOMA: The Press in Oklahoma City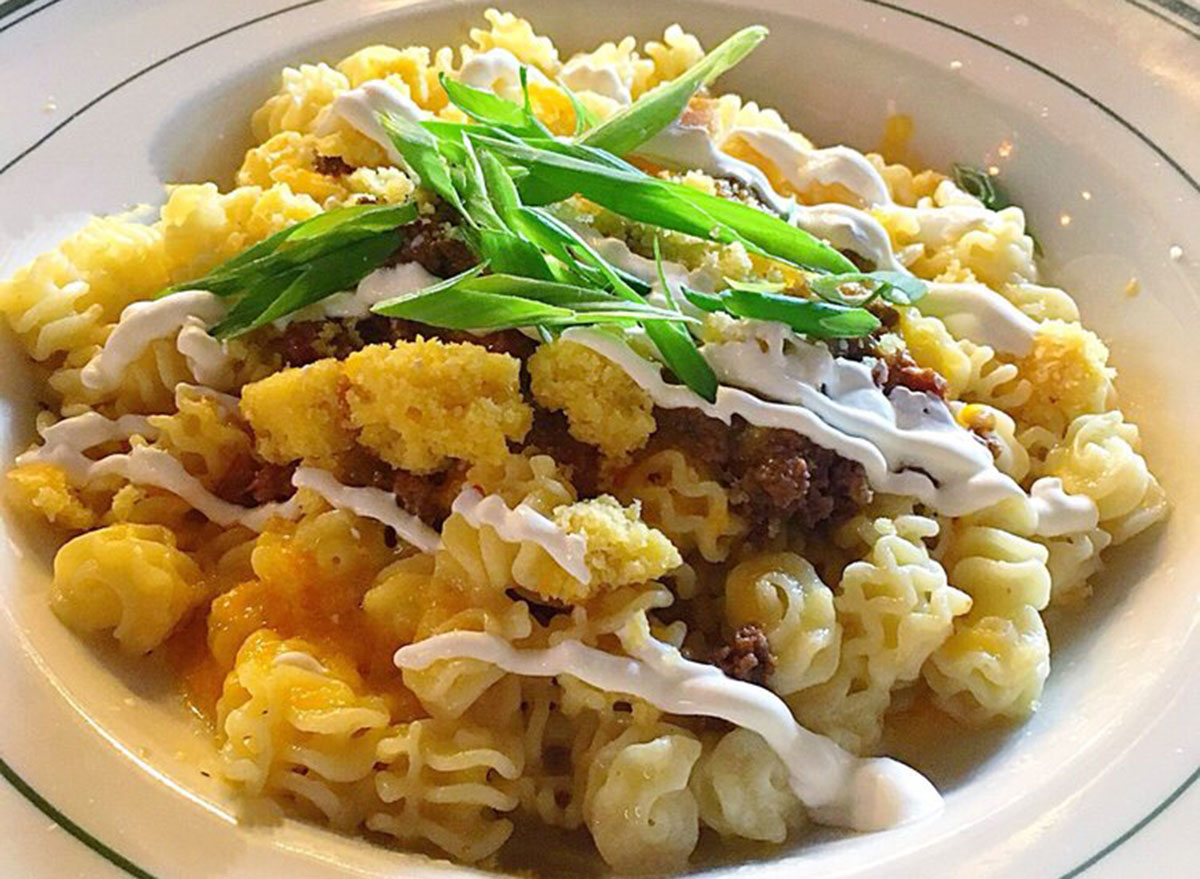 Located in the Plaza District of Oklahoma City is The Press, a buzzy joint that is known for its mouthwatering comfort food, innovative cocktails, and exposed brick facade. If you ever find yourself near The Press be sure to give their beef chili (or their chili mac & cheese) a try—Yelp reviewers have described it as "delicious," "comforting," and "wonderful."
OREGON: Podnah's Pit Barbecue in Portland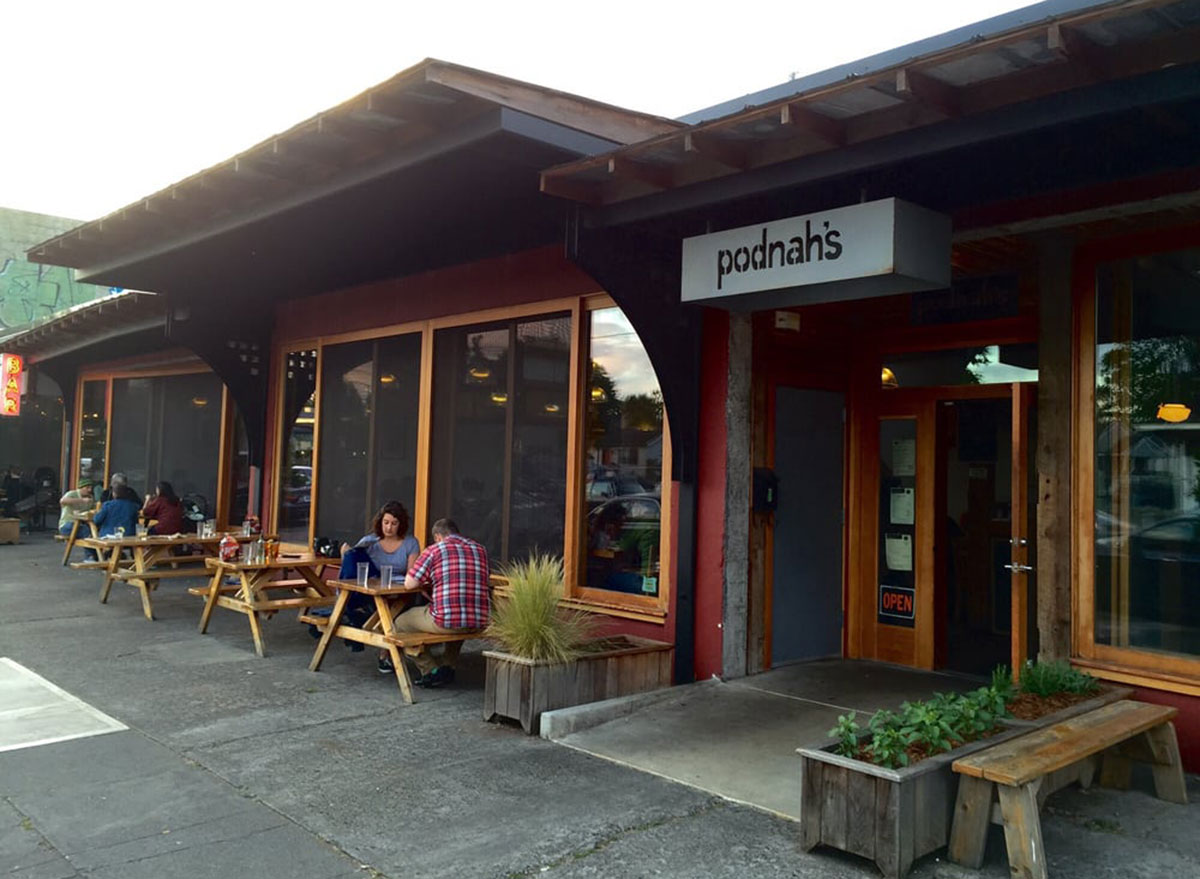 Nicknamed after the owner's grandfather, Podnah's Pit in Portland brings good ole' Lone Star state barbecue to the Pacific Northwest. A dish you can't miss is their Texas Red Chili, which is an all-meat chili served with cornbread. The secret to their amazing barbecued meats is that no shortcuts are taken around here—the team at Podnah's Pit wakes up at 5 am to start firing up the pit and only uses honest oak firewood in the firebox.
PENNSYLVANIA: YinzBurgh BBQ in Pittsburgh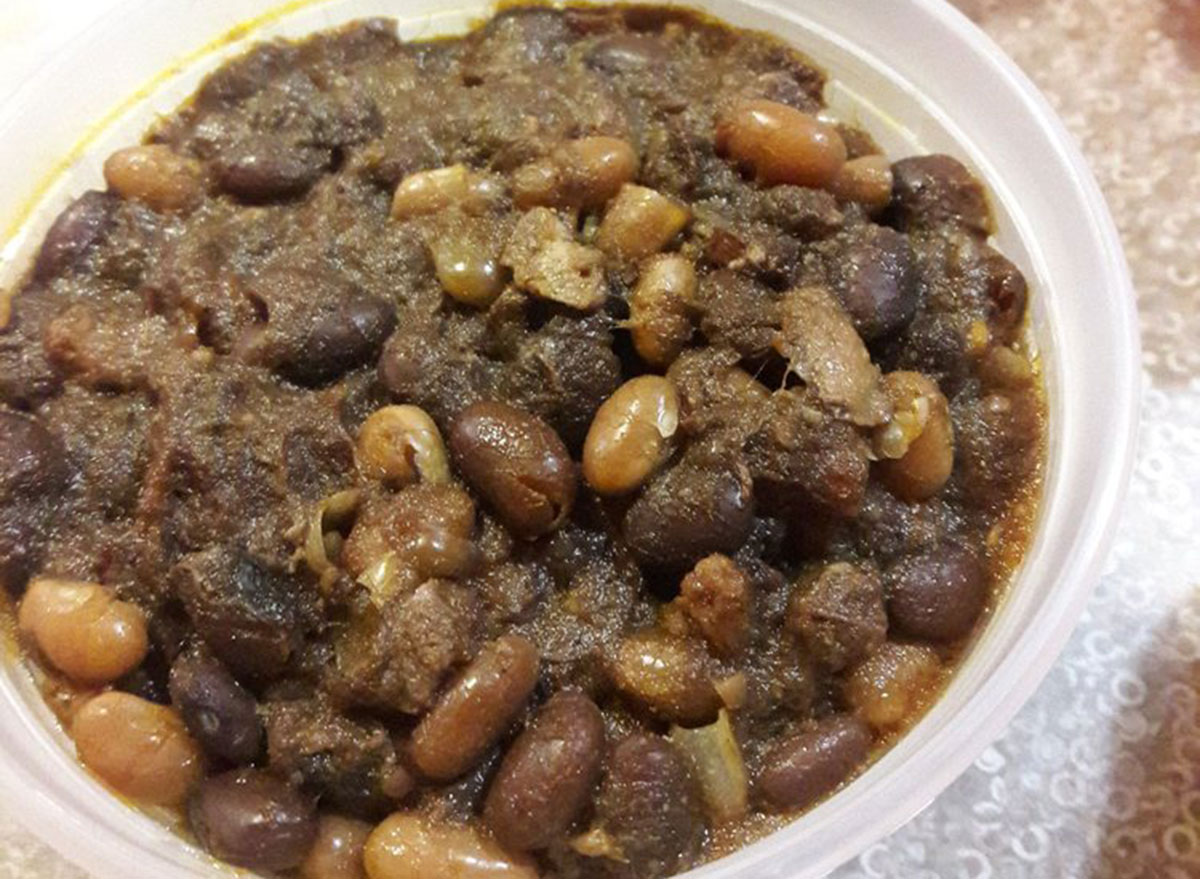 YinzBurgh is the Southern-style barbecue restaurant in Pittsburgh that is known for their Chili-Q, a popular dish that Yelp reviewers describe as a cross between baked beans and chili. We love that they also offer vegan and vegetarian barbecue options for those who don't eat meat (smoked tofu with collard greens, anyone?)
RHODE ISLAND: Ogie's Trailer Park in Providence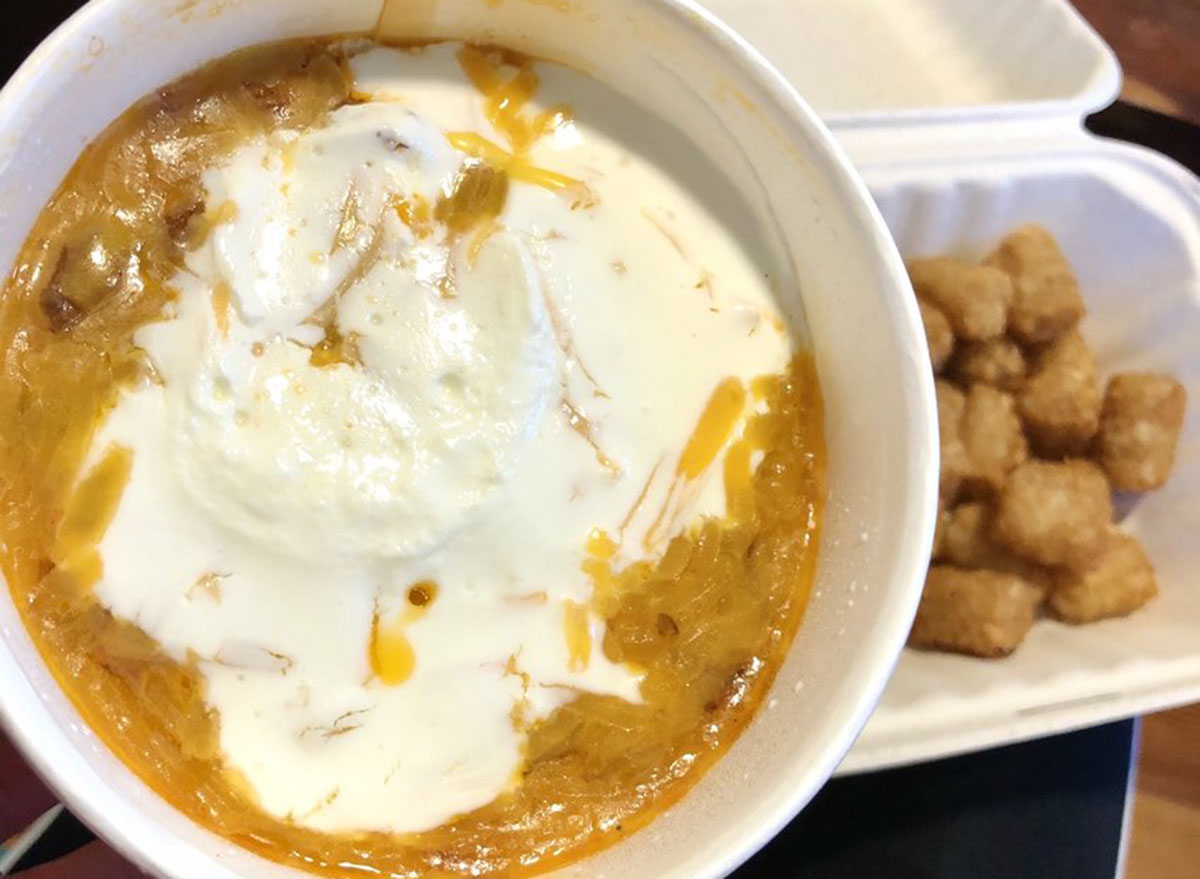 Ogie's Trailer Park is the eccentric Providence eatery outfitted in trailer park decor that makes some of the best home-cooked food in town. People love their 600 Minute Chili, which is made using ground pork, ground beef, a three-bean blend, and lip-puckering pickled jalapenos.
SOUTH CAROLINA: The Tattooed Moose in Charleston
If you have not tried the short rib chili at The Tattooed Moose in South Carolina yet then you are missing out. Cooked bacon and kidney beans take center stage in this chili that is packed with amazing flavor and texture. This chili is topped off with sour cream, green onion, and shredded cheddar, and each order comes with a side of fresh cornbread.
SOUTH DAKOTA: Philips Diner in Sioux Falls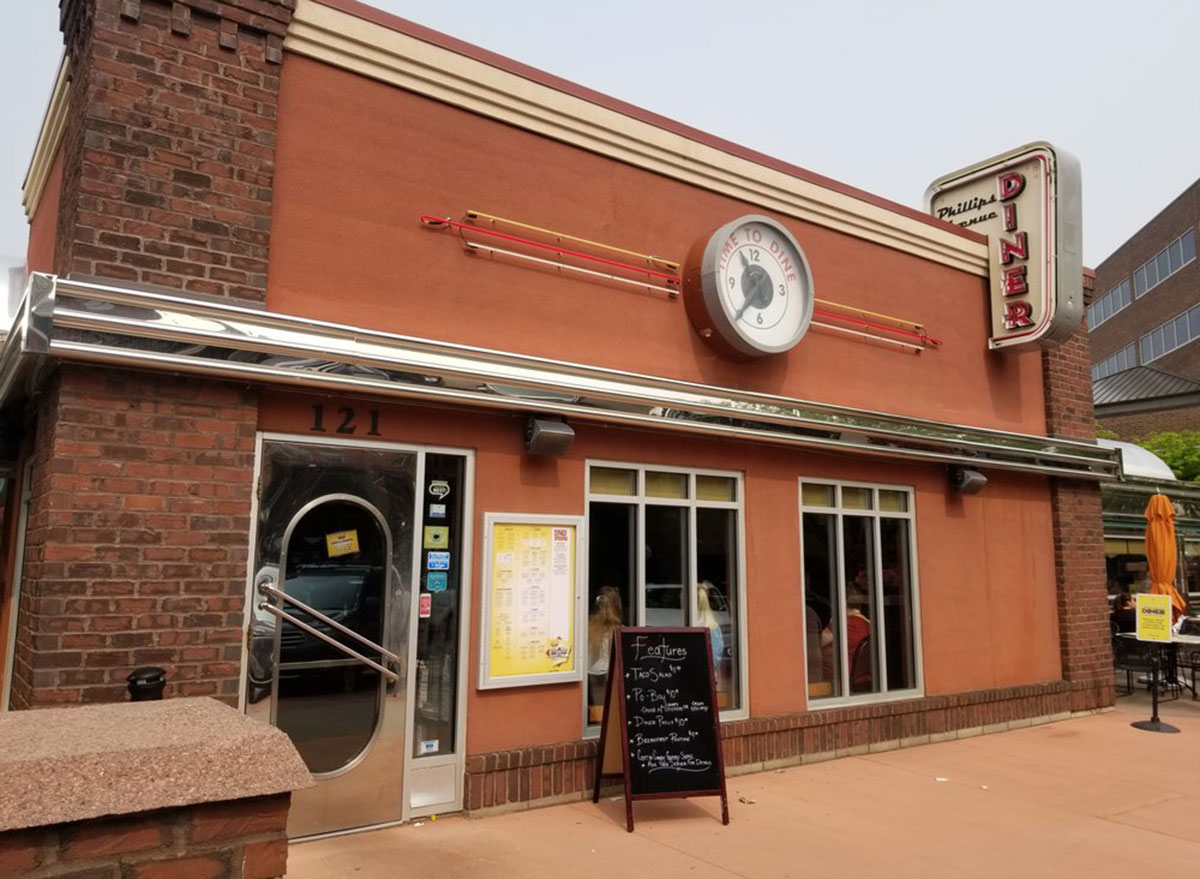 Philips Diner, the popular North Dakotan restaurant that is outfitted in a vintage airstream, makes a chili that is packed with beef, beans, and tons of flavor.
TENNESSEE: D&B's Hot Dogs and Ice Cream in Knoxville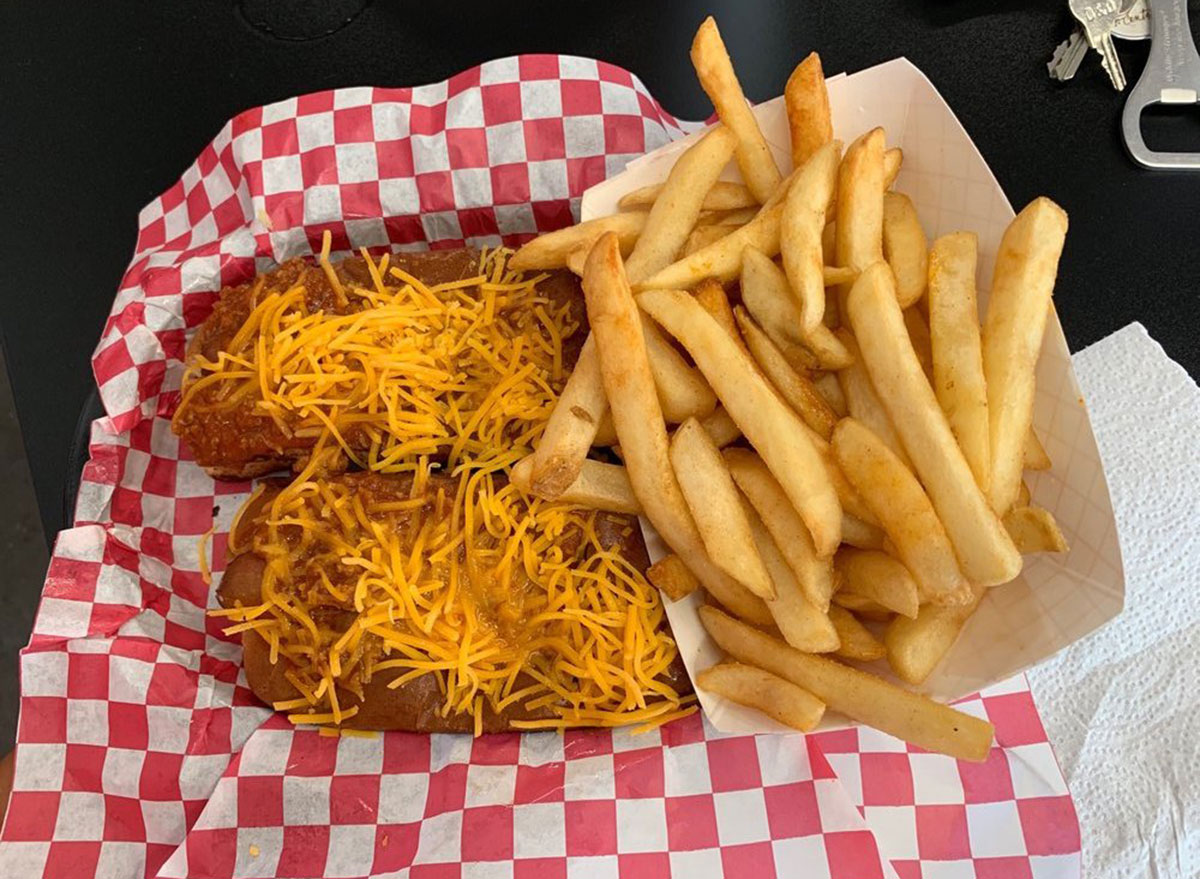 You will find the best chili in Tennessee piled high on a chili cheese dog at D&B's Hot Dogs in Knoxville. Started by two stay-at-home dads, D&B's Hot Dogs and Ice Cream uses family recipes to create their amazing offerings which are made fresh daily by hand.
TEXAS: The Pit Room in Houston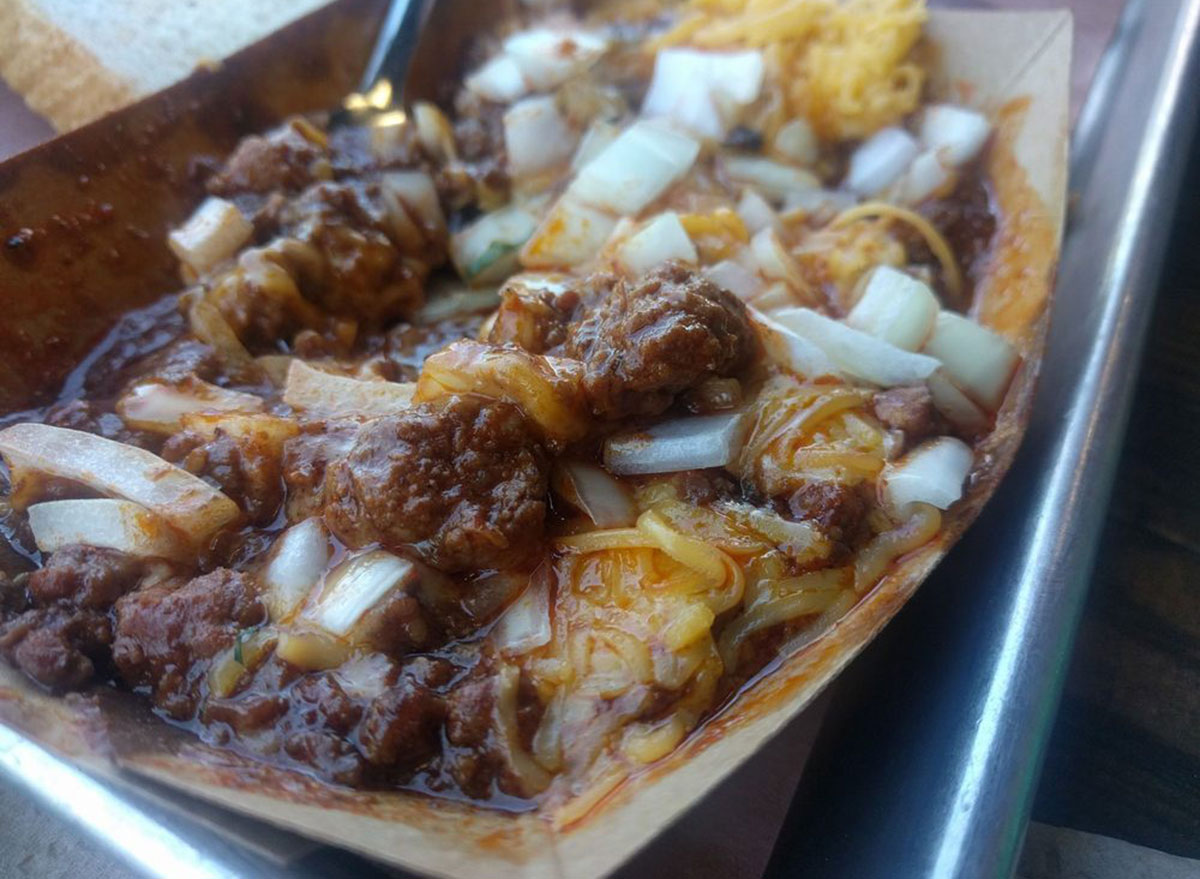 The Pit Room's Texas Red Chili, made with delicious beef and a medley of spices, is brimming with amazing flavor. Some Yelp reviewers have described it as the best chili they have ever had.
UTAH: Cuppa in Ogden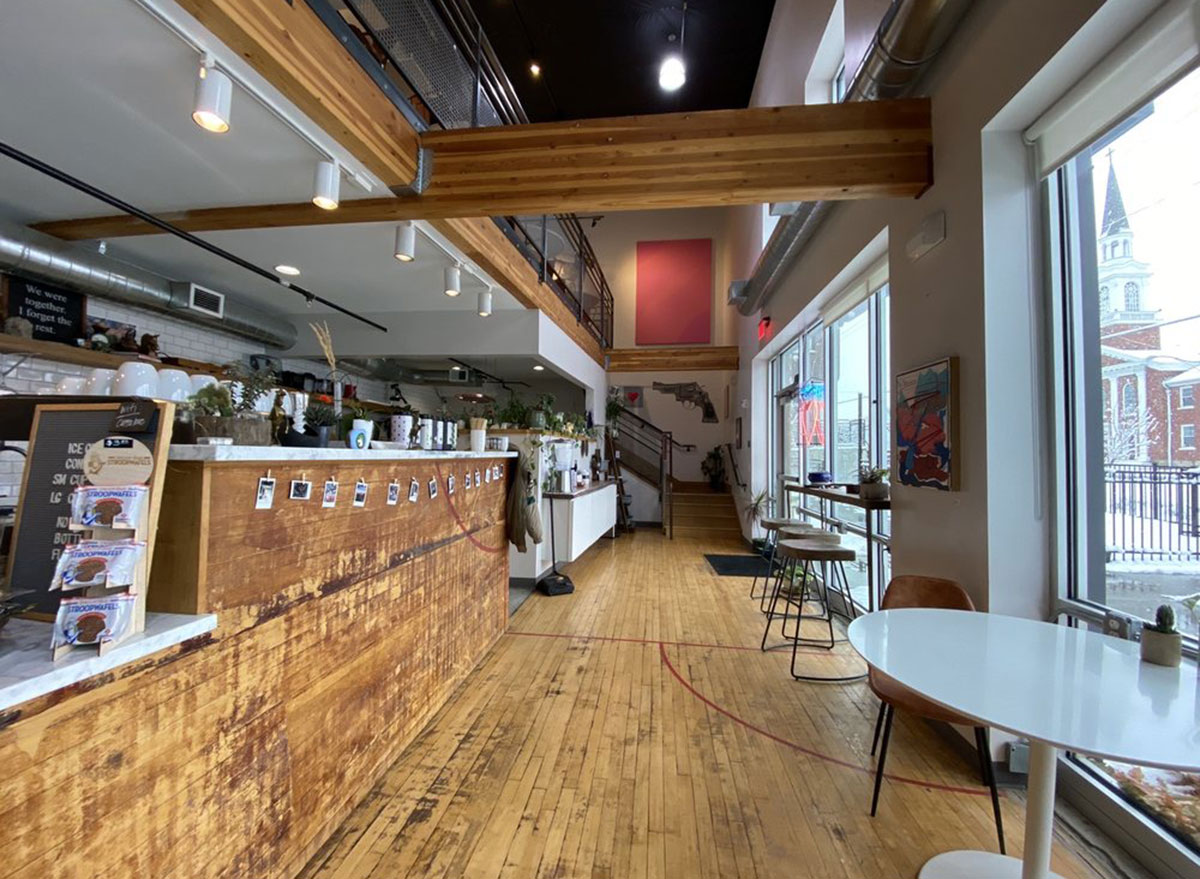 Cuppa in Ogden is an organic plant-based cafe that offers kombucha on tap, live music on Fridays, and a whole menu of tasty meals and snacks that even meat-eaters will love. Their chili, which is also vegan, knocks it out of the ballpark. Just be sure to call ahead to see if it's available.
VERMONT: Switchback Brewing in Burlington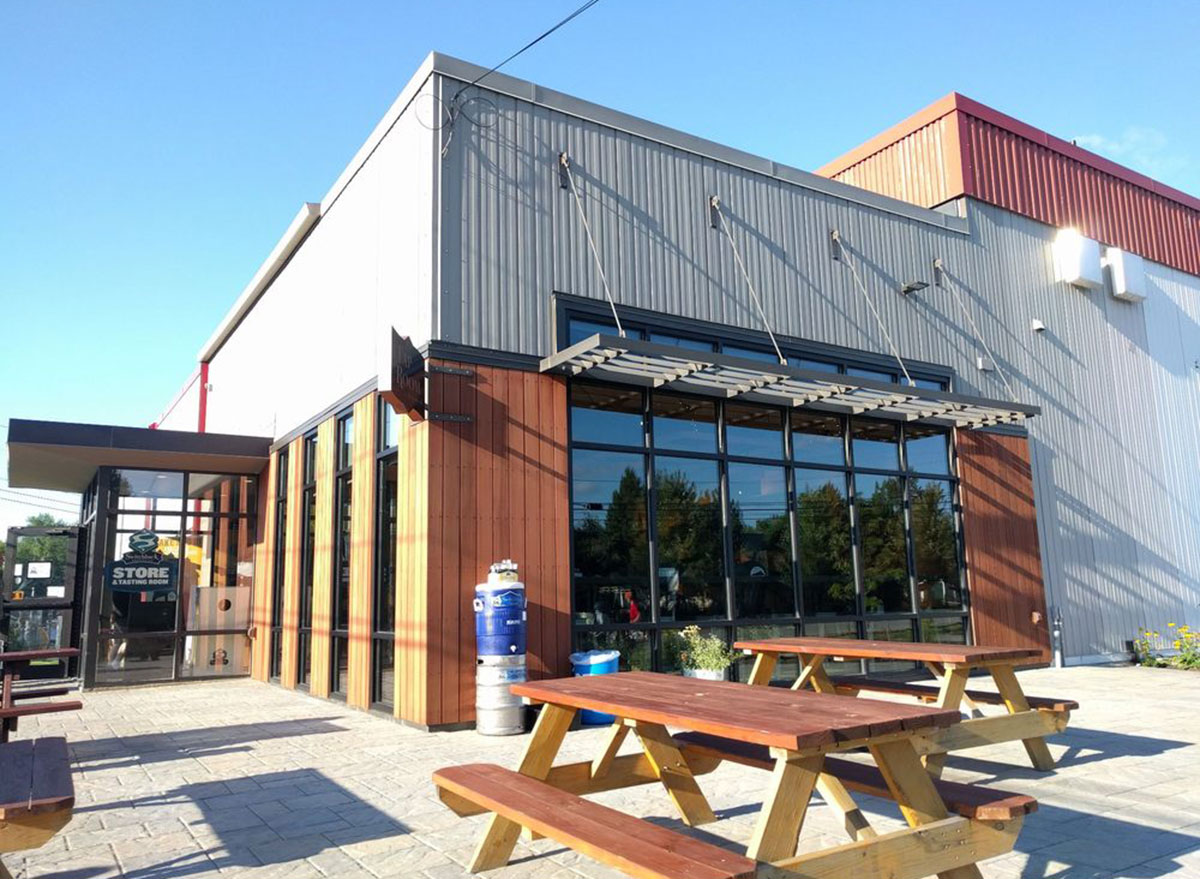 Switchback Brewery, the lively brewery and taproom that has been crafting flavorful beer and snacks since 2002, has a vegan chili on its menu that really hits the spot. Bursting with flavor, this enticing chili is served by itself or can be ordered pleasantly placed on top of comfort food items, such as hot dogs and beer bratwursts.
VIRGINIA: Hogshead Cafe in Henrico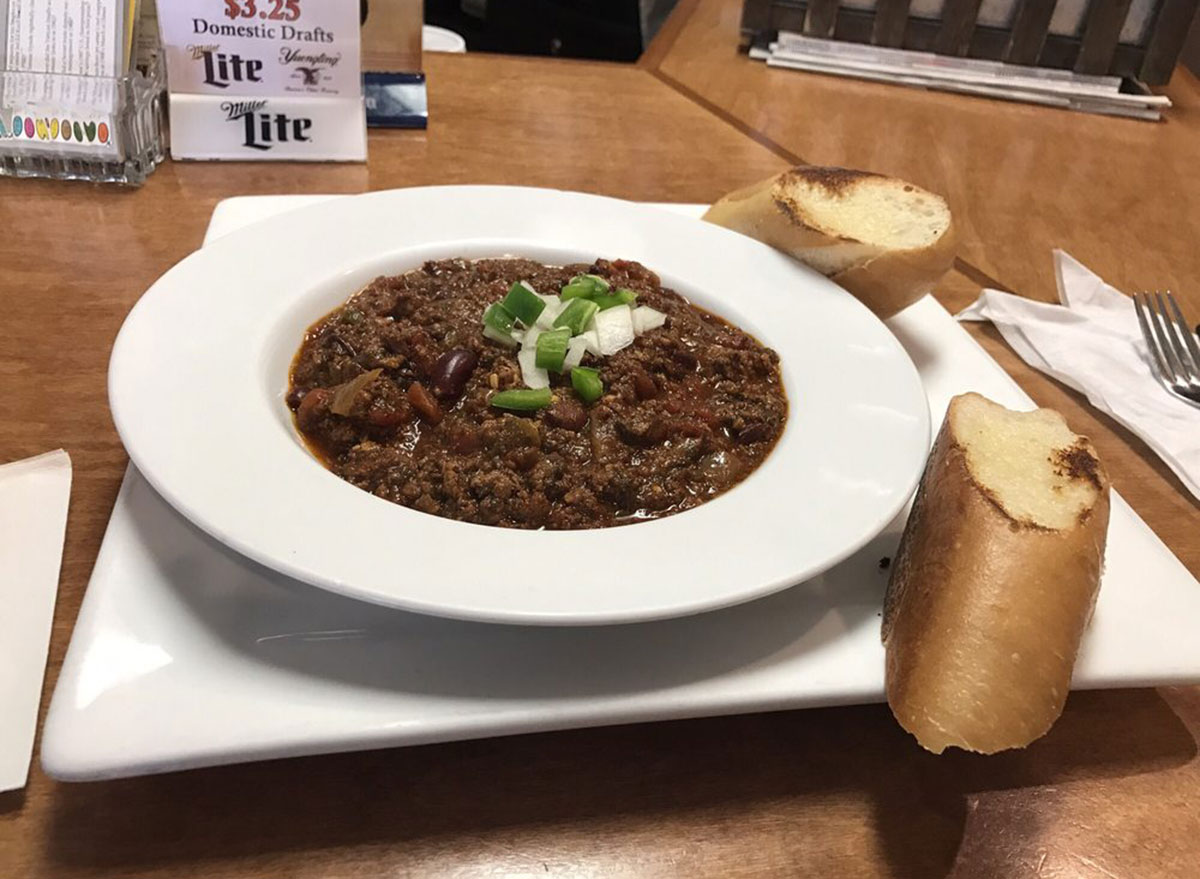 Located just off West Broad Street in the buzzy city of Richmond, Hogshead Cafe is the popular Virginia restaurant that makes some of the best made-to-order food around. They are especially known for their Hog Chili, which is a chunky-style chili full of perfectly cooked beef and juicy pork.
WASHINGTON: Tat's Delicatessen in Seattle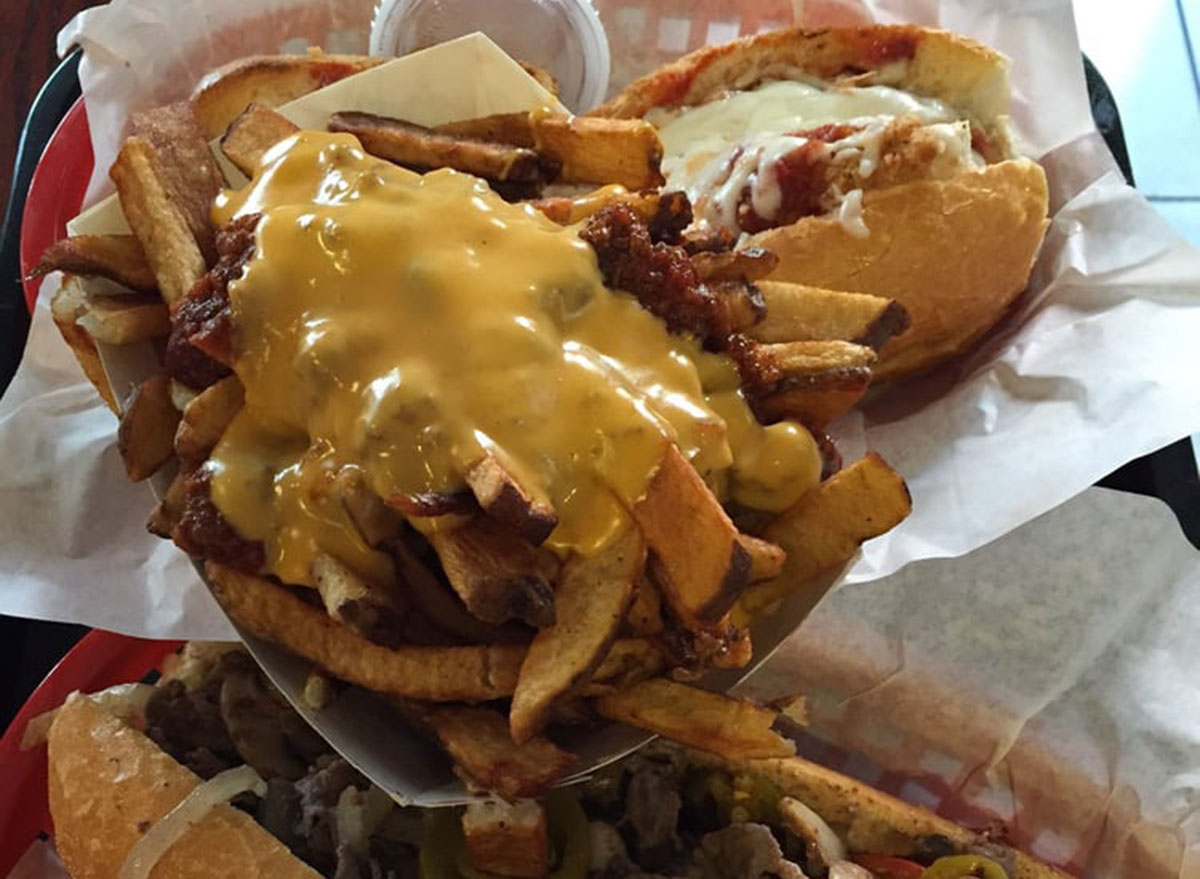 For nearly two decades, Tat's Delicatessen in Seattle has been bringing mouthwatering East Coast deli specialties to Washington. Their menu, which features fan-favorite sandwiches such as their Cajun turkey hoagies, hot pastrami subs, and Philly cheesesteaks, also boasts their very own stout chili which comes in either a cup or bowl.
WEST VIRGINIA: Hillbilly Hotdogs in Lesage
If you are in West Virginia you will find the best chili piled high on perfectly prepared hot dogs, burgers, and cheese fries at Hillbilly Hotdogs in Lesage. For over two decades this lively restaurant has been crafting some of the best chili in the region.
WISCONSIN: The Old Fashioned in Madison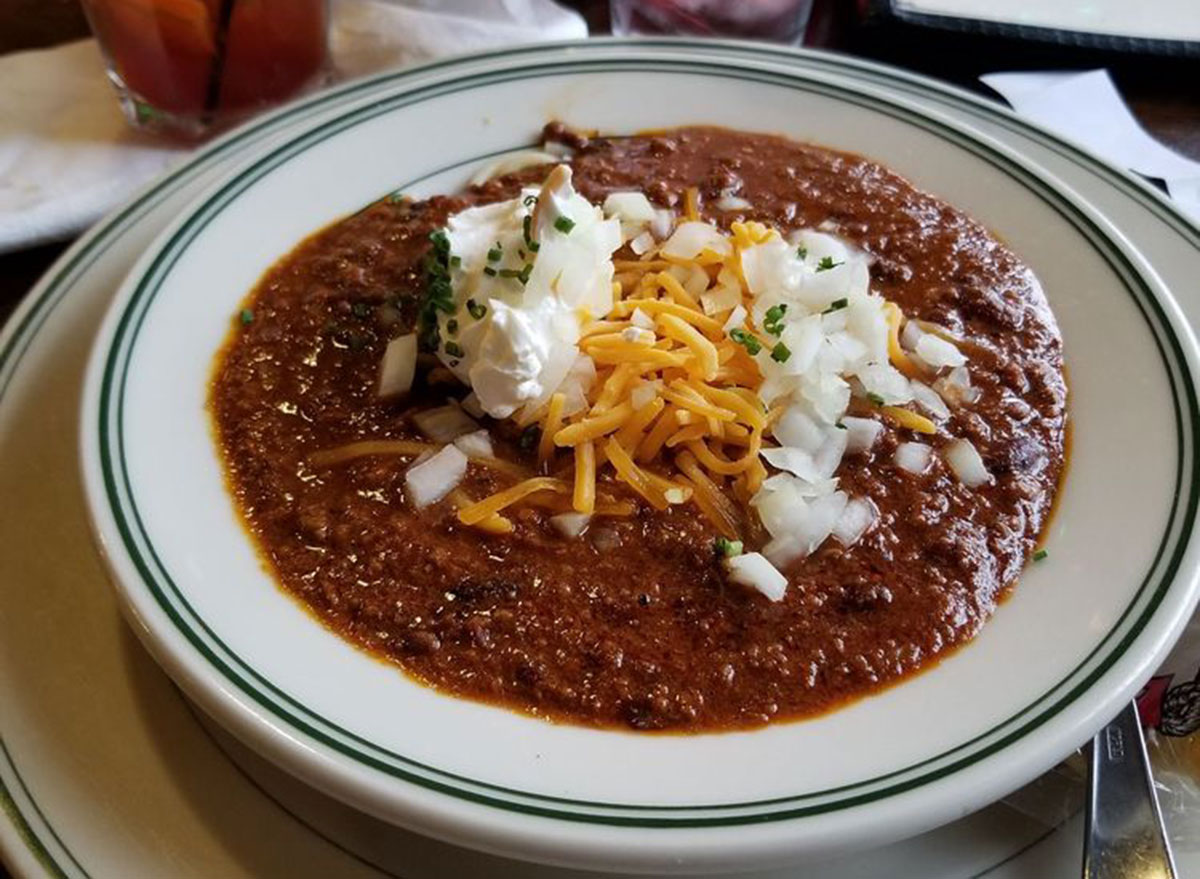 The Old Fashioned in Madison makes a delicious homemade chili that is crafted from their very own secret recipe. Packed with slow-simmered beef and red beans, this tasty chili is served over spaghetti and then garnished with shredded Wisconsin cheddar, chopped onions, and a dollop of sour cream.
WYOMING: HQ BBQ in Evansville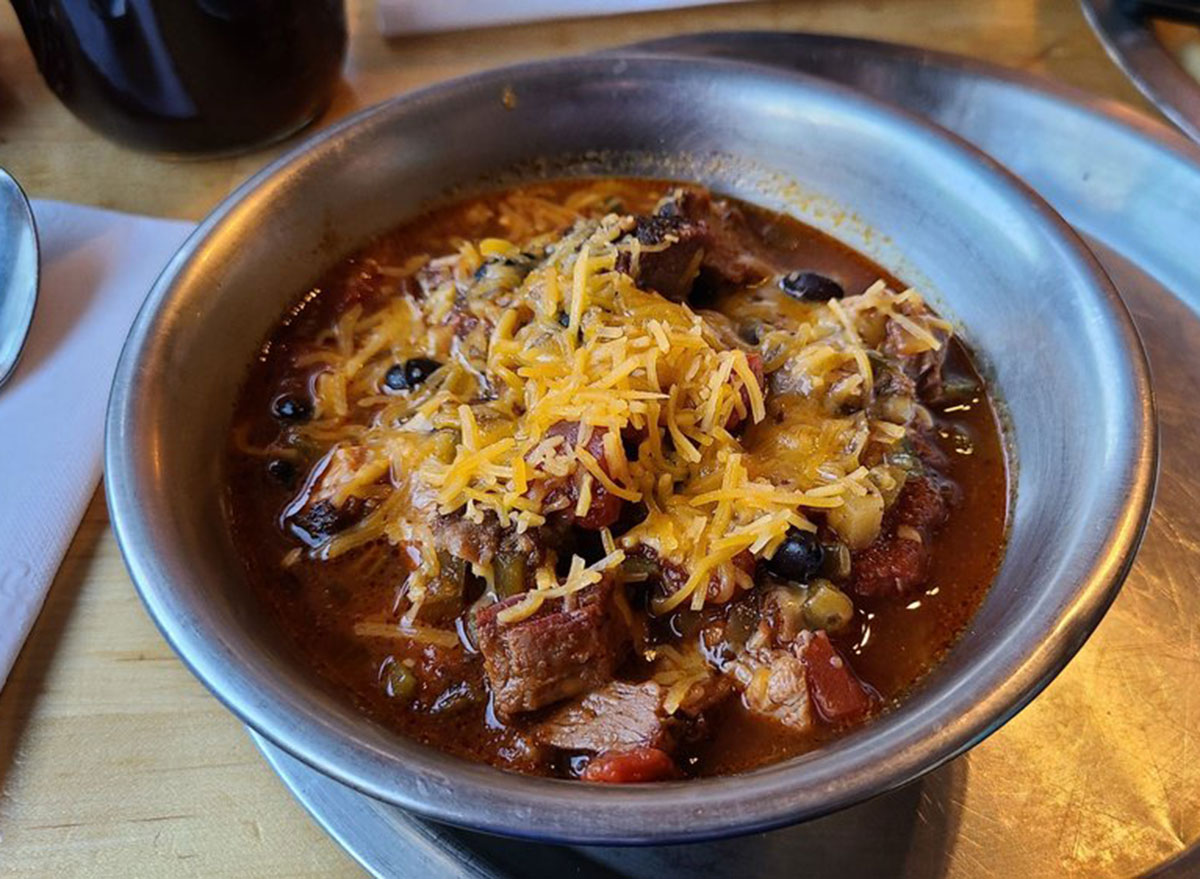 Located on Curtis Street in Evansville, this unassuming barbecue joint makes an outrageously good brisket chili bowl featuring black beans, juicy brisket, and shredded cheddar cheese.
A previous version of this article was originally published on September 14, 2021.