What Celebrities Actually Order at McDonald's
No one is fully immune to the allure of Mickey D's, and if you've ever wondered what fast-food celebs eat, it's probably similar to your order!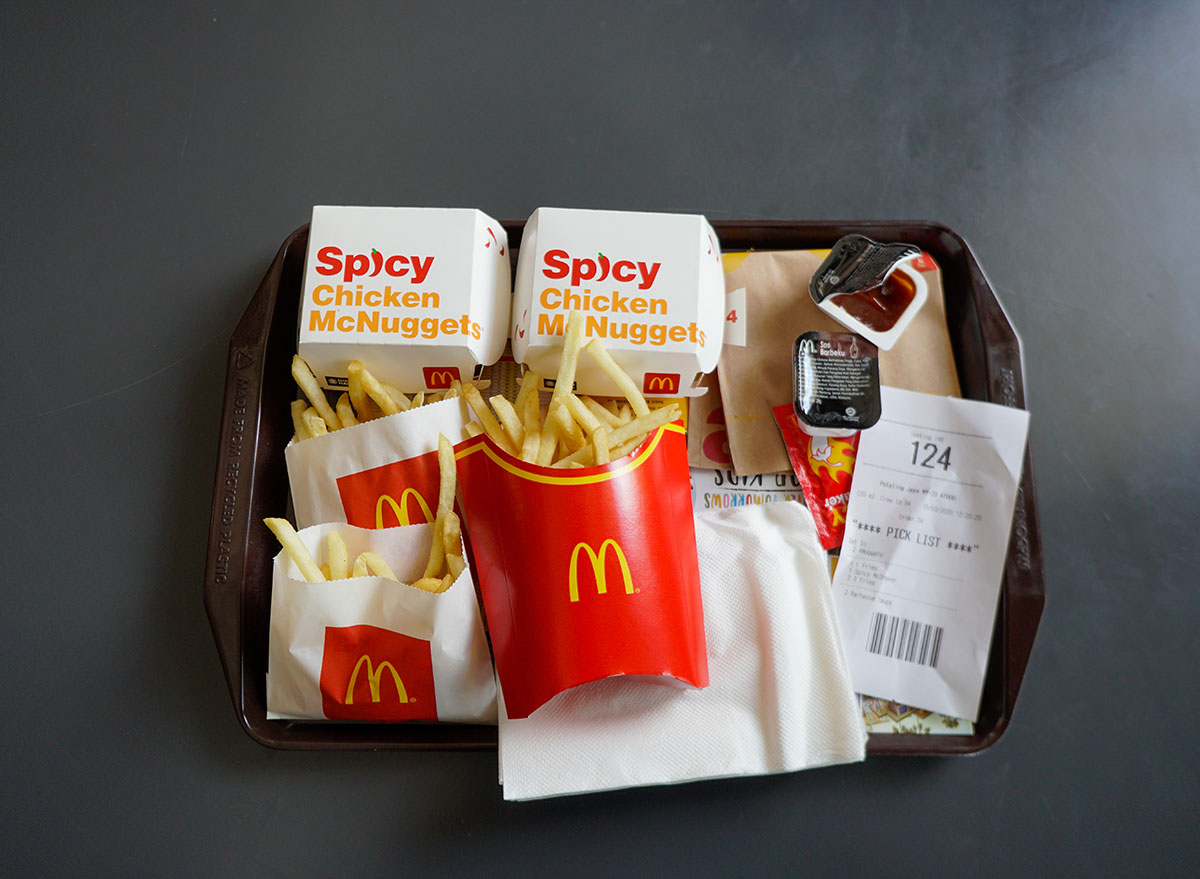 It's safe to say no one can fully resist those Golden Arches. That's right, everyone—and we mean just about everyone—has taken a trip to McDonald's to feast on a classic fast-food meal. And that includes celebrities! We told you, sometimes the charm of some fries and McNuggets just wins.
But what exactly do celebs like to eat when they're paying Mickey D's a visit?
Well, some stars have gone ahead and given the world a glimpse into their favorite cheat meals. You'll see their McDonald's orders are likely not much different than yours! Celebrities really are just like the rest of us, after all.
Uncover what these celebs actually do order at McDonald's, and while you're at it, why not take a trip down memory lane with these 15 Classic American Desserts That Deserve a Comeback.
Yes, even Kim K herself indulges every once in a while. As revealed in McDonald's Famous Orders advertisement, she is a fan of getting a little of everything, going for the six-piece chicken McNuggets, a cheeseburger, a vanilla shake, an apple pie, small fries, and honey dipping sauce. We must say, the most interesting aspect of her order is that she will only dip her nuggets in honey. Guess she's a fan of that sweet and salty combo!6254a4d1642c605c54bf1cab17d50f1e
When Selena Gomez appeared on The Late Late Show With James Corden's Carpool Karaoke segment in 2016, she revealed her favorite order was a No. 7 (a Ranch BLT with either grilled or crispy chicken) with medium fries and a Coke. There have been some menu changes since then and while it's unclear if the "Lose You to Love Me" singer has tried the new chicken sandwich, there is another menu item she adores: the Happy Meal. Can't really ever go wrong with that one!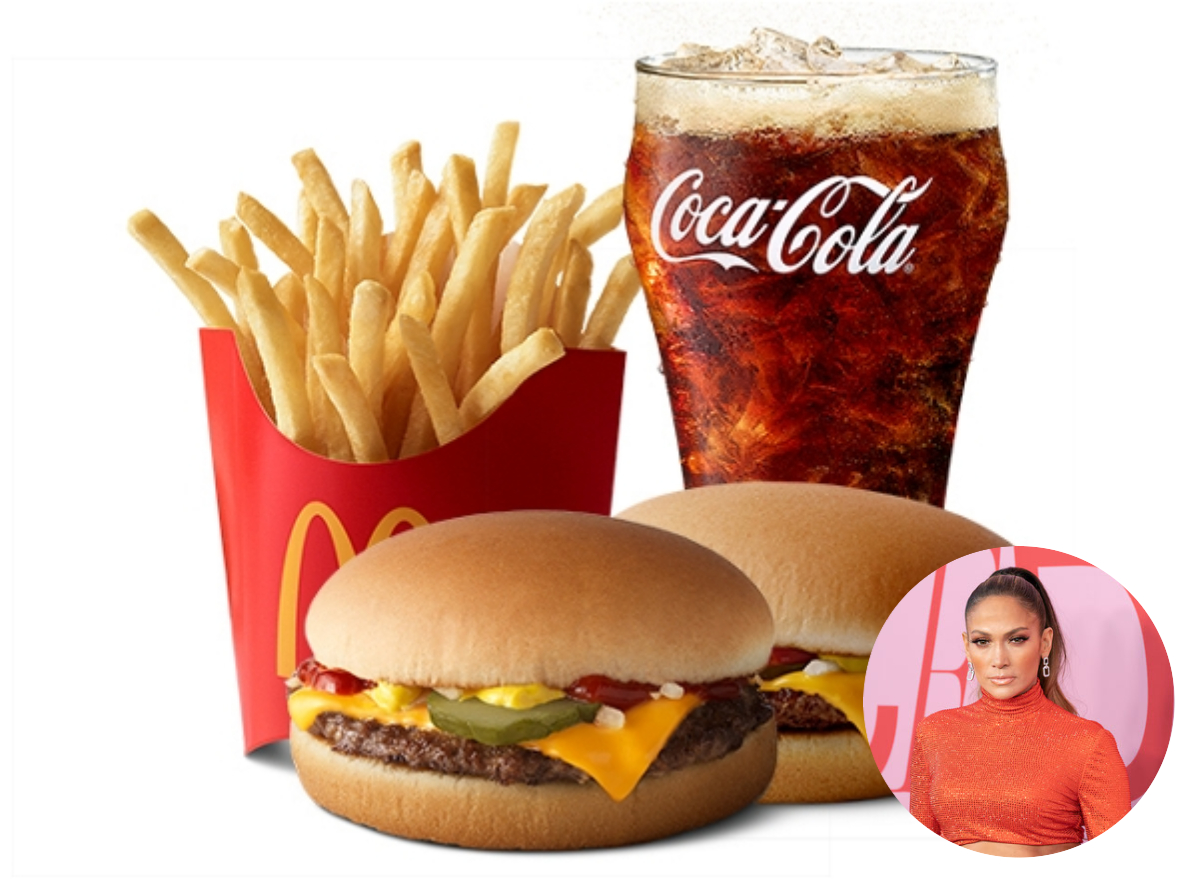 OK, so J.Lo did admit in 2020 she hadn't had McDonald's in three years—talk about dedication! But she decided to celebrate her performance at that year's American Music Awards by taking a trip to the drive-thru with her longtime manager. Her order? A double cheeseburger meal with "lots of ketchup."
And just so you know, your ultimate restaurant and supermarket survival guide is here!
It's no secret that the cookbook author is a huge foodie. If you follow Chrissy Teigen on social media, you know she is always whipping up something delicious in her kitchen. She often documents her fondness for fast food, too, and that, of course, includes McDonald's.
"I love a Sausage McMuffin with egg. I will order two actually, and I'll put two sausages on it and then I just do the bread and cheese on one side as a snack later," she said, adding that she is a fan of the hashbrowns, as well. A girl after our own heart.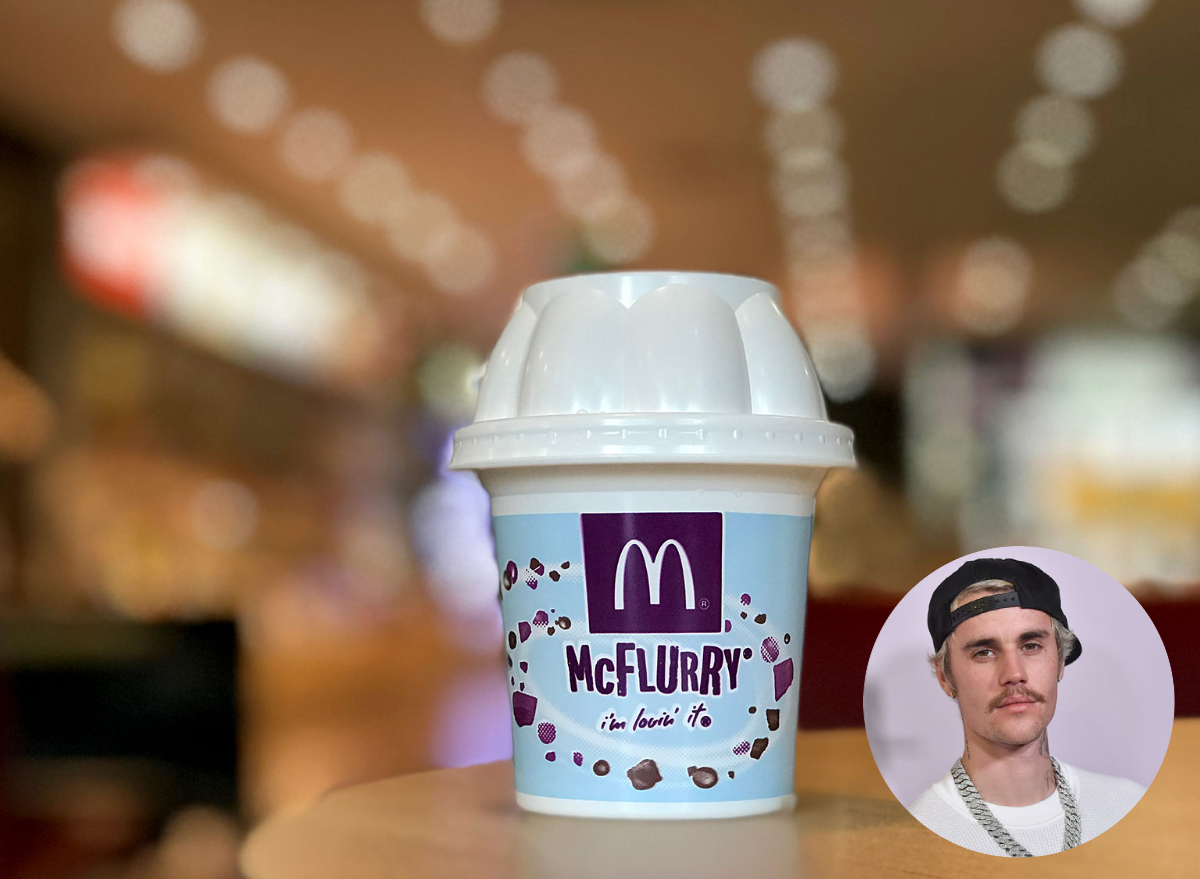 Justin Bieber was spotted in a McDonald's during a trip to Australia chatting with fans inside the restaurant while he munched on a McFlurry. A classic order if we say so ourselves.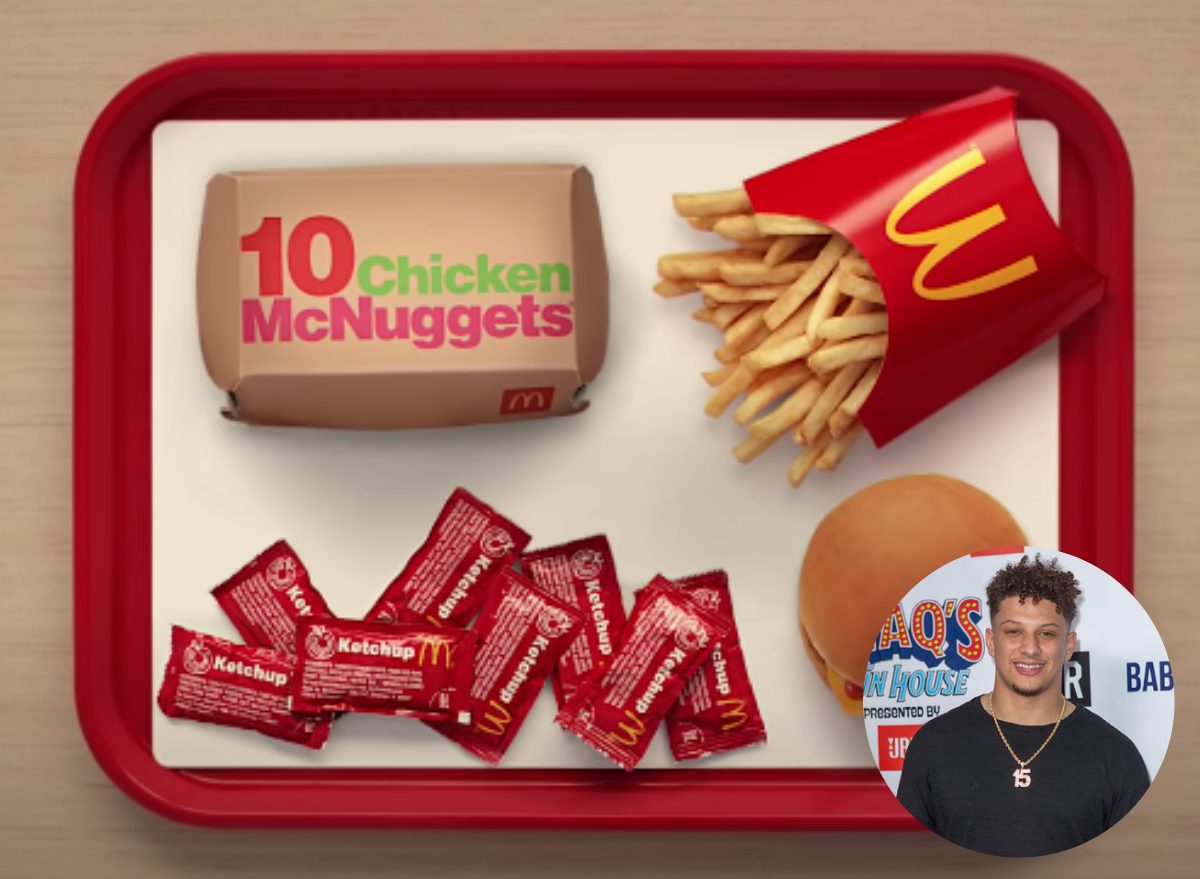 Even football players enjoy McDonald's. Patrick Mahomes—you know, quarterback for the Kansas City Chiefs—chooses to feast on a cheeseburger, 10-piece order of nuggets, fries, and tons of ketchup. Maybe that's how he prepared for the Super Bowl…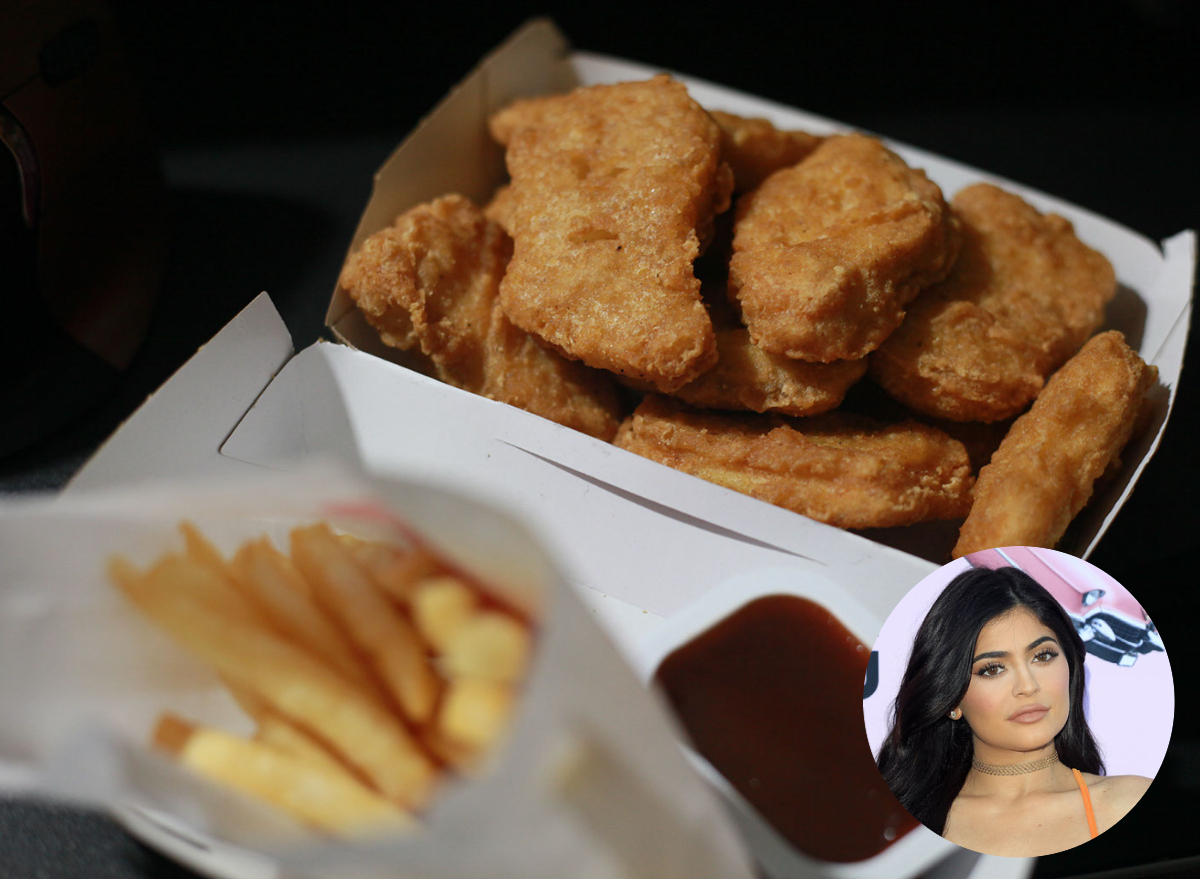 Right before Kylie Jenner gave birth to her daughter Stormi—seven days prior to her little girl's arrival, to be exact—she ordered some McDonald's via Postmates. The beauty mogul dined on an order of 10-piece chicken McNuggets, fries, and an Oreo McFlurry.
Most recently, she documented a trip to Mickey D's on her Instagram Story after a photoshoot with her sister, Kendall, in which she ate fries, spicy chicken McNuggets, cinnamon rolls, and a soda. It was her first time eating McDonald's since she was pregnant, so she clearly wanted to try changing things up a bit. We don't blame her!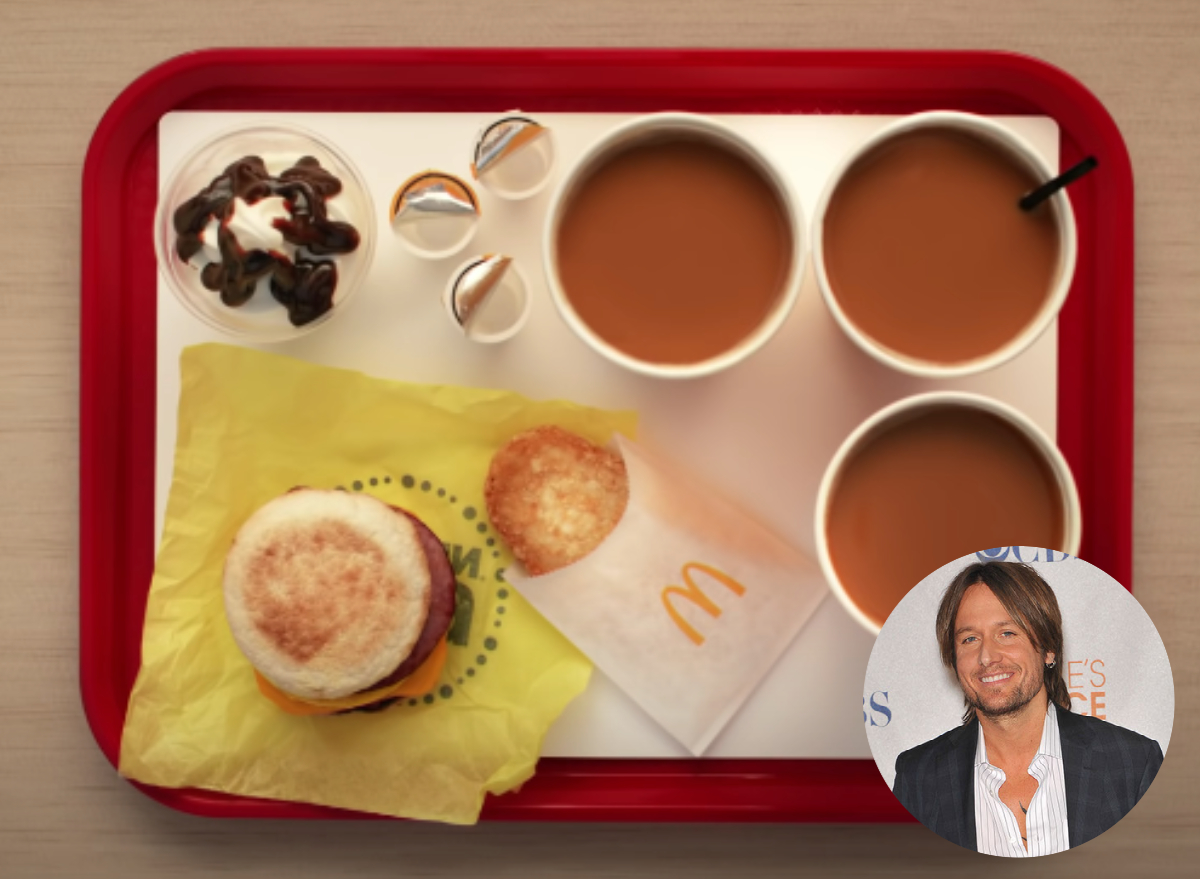 Country singer Keith Urban is all about the Mickey D breakfast, as his go-to meal is an Egg McMuffin, a hashbrown, and three cups of coffee. But he does save room for a hot fudge sundae, too. Balance.
Jennifer Maldonado
Jennifer Maldonado is a senior editor at Eat This, Not That!, specializing in food and health content.
Read more about Jennifer