11 Ways to Lose Weight Before Labor Day
Giving yourself a deadline to lose weight fast is a great way to just get started—so here are some easy tips you can use.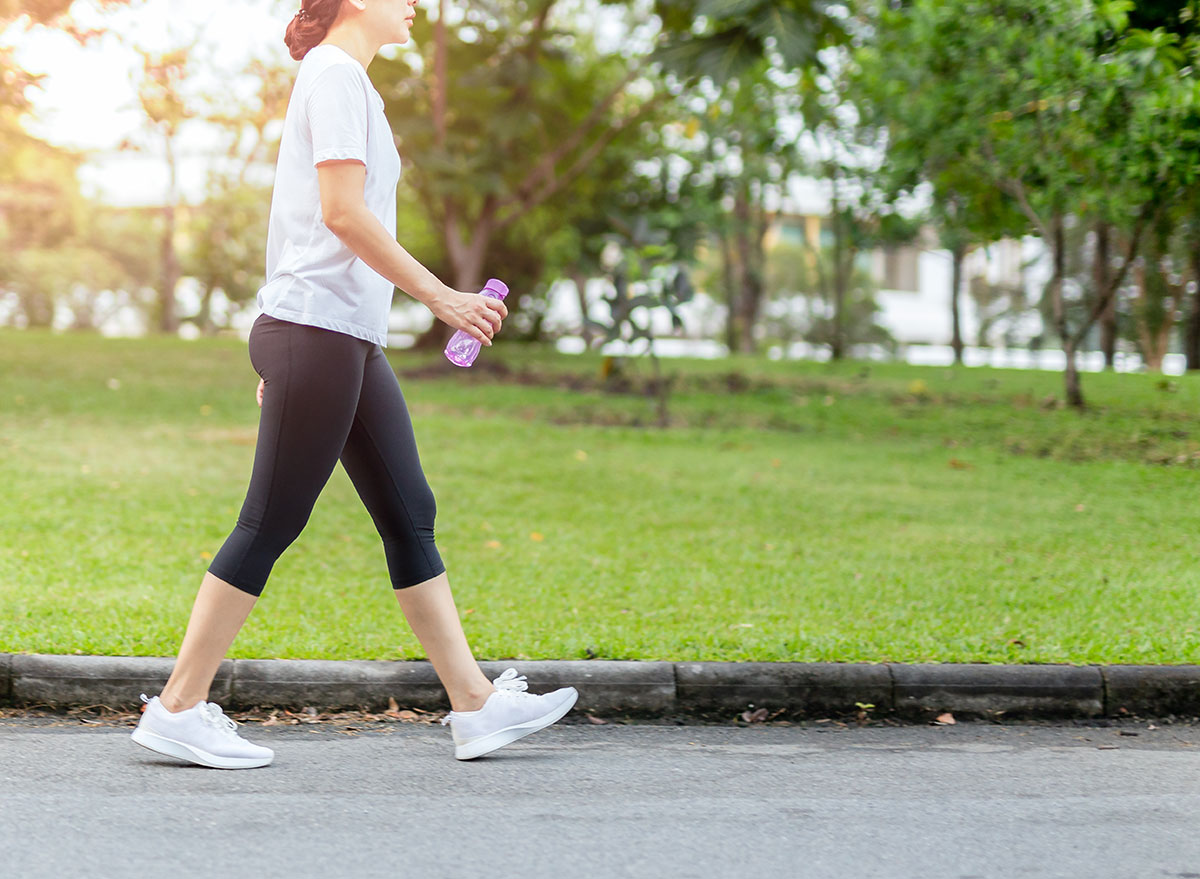 During the current Coronavirus quarantine, you might have put on a little weight while staying inside at home. And you may be looking to shed some summer pounds before the upcoming Labor Day holiday weekend. While it doesn't leave you with a lot of time, it can be done, and in a healthy, safe way.
"It's normal for anyone trying to lose weight to want to do so quickly. However, faster doesn't always mean better, especially in this case," says Charlotte Martin, MS, RDN, CSOWM, CPT, registered dietitian nutritionist and founder of Shaped by Charlotte. "The concern with trying to lose weight too quickly is that it often requires drastic, unsustainable measures, like too much restriction and over-exercising. It is possible to lose a safe amount of weight in a short amount of time with the following tips."
As long as you set manageable goals and expectations, you can lose weight before Labor Day to look and feel your best. And if you want to keep your weight loss going after the end-of-summer holiday, try these ways to lose weight and keep it off.
Start tracking your food and activity.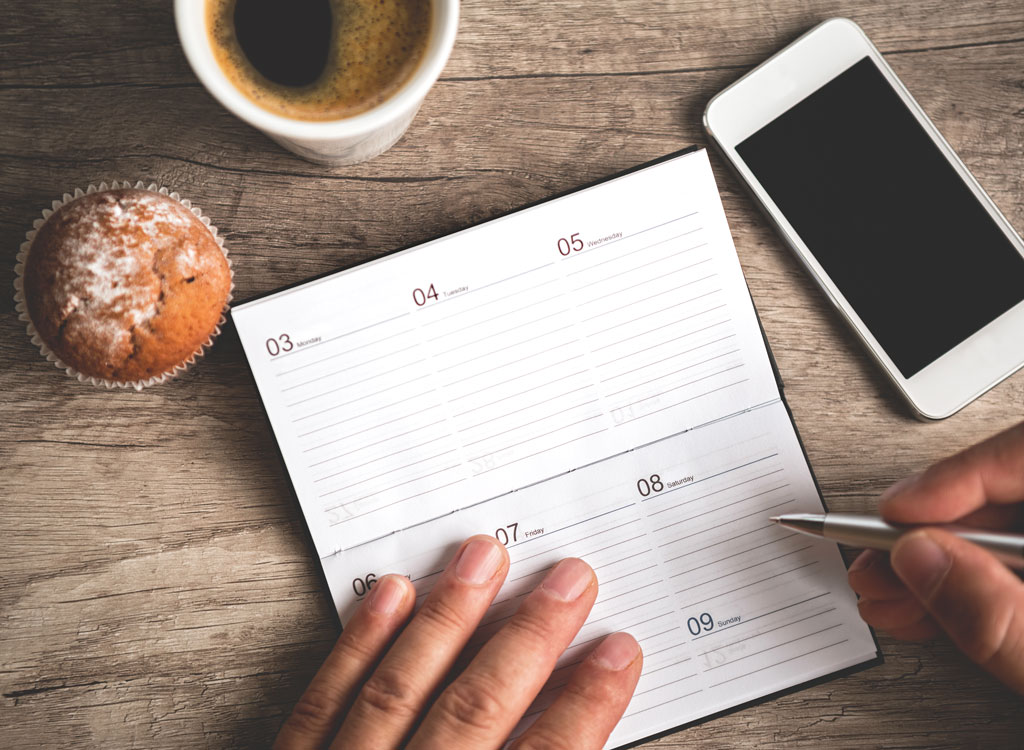 What is the one weight loss trick you should be doing, but aren't? Finding the right calorie amount for your metabolism. "The first trick to lose weight by Labor Day is understanding your caloric intake. Track everything you're eating on a fitness app or write it down to set the standard. When you understand how many calories you are taking in daily then you can improve your daily caloric burn to reach your goal," says CJ Hammond, XPS certified trainer with RSP Nutrition. "Also, using a fitness app you can see your daily caloric burn by tracking everything you do. I highly recommend increasing aerobic exercises to burn more calories daily. Circuit training can be very productive with minimal breaks with high reps and sets of exercises. This helps to keep the heart rate elevated even after training is done." To get you started, we put together a guide to the best diet apps for weight loss.
Eat more protein.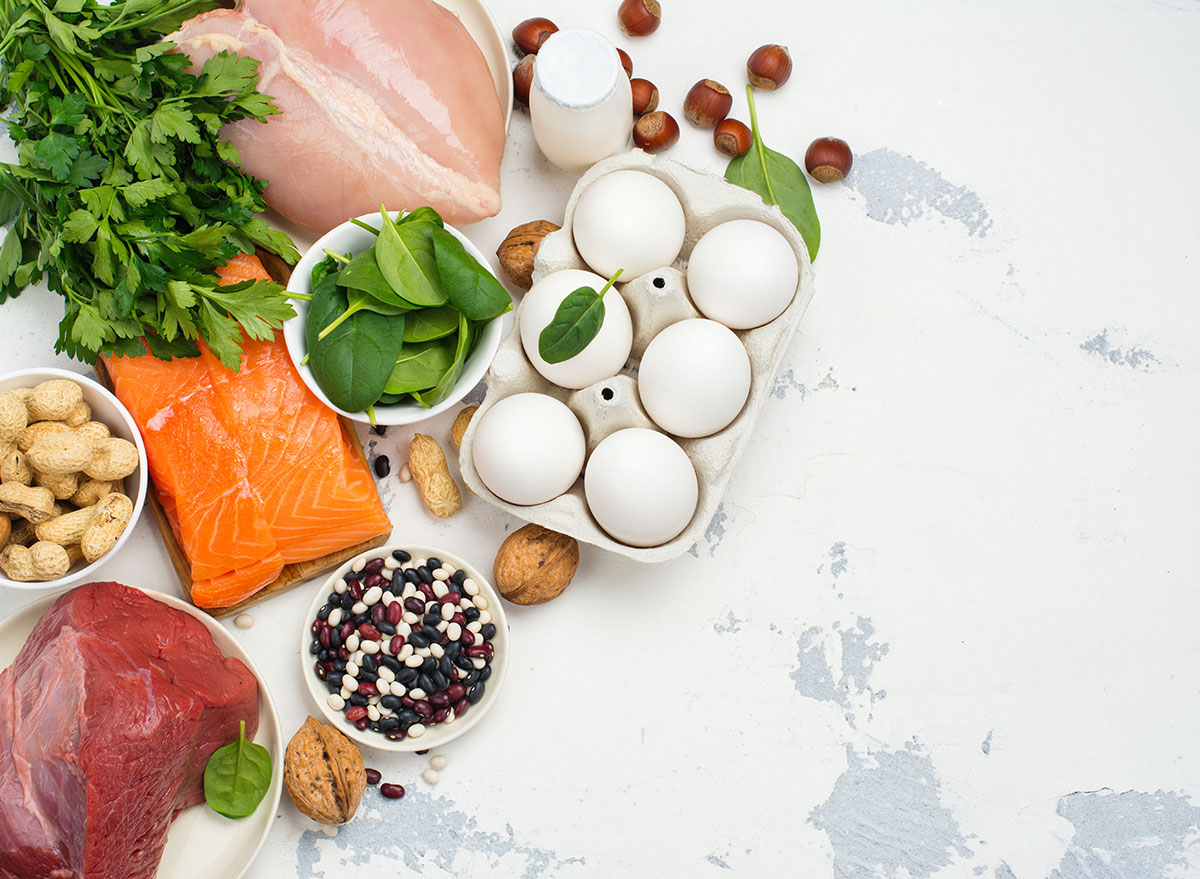 "Protein is the most satiating macronutrient," says Martin."Research suggests that increasing protein intake, especially getting a big dose in the morning with a high-protein breakfast, can increase calorie burn. (That's because it takes more energy for the body to process protein than it does fat and carbohydrates). Following a high-protein diet can also lower nighttime snack cravings and even alter our beloved hormones to reduce hunger and control appetite."6254a4d1642c605c54bf1cab17d50f1e
If you increased your alcohol intake during COVID, consider doing a dry week or month.
"If you are in this boat, you are definitely not alone. This time has been stressful for everyone and, even though 42% of respondents to Lose It!'s recent survey stated they started a new exercise/activity routine during quarantine, drinking is up as well," says Marysa Cardwell, MS, RDN, registered dietitian nutritionist and Lose It! nutrition consultant. "If your alcohol intake has increased, cutting back may be one of the easier ways to reduce overall calories in a healthy way."
STAY INFORMED: Sign up for our newsletter to get the latest food news delivered straight to your inbox.
Plan all meals and snacks.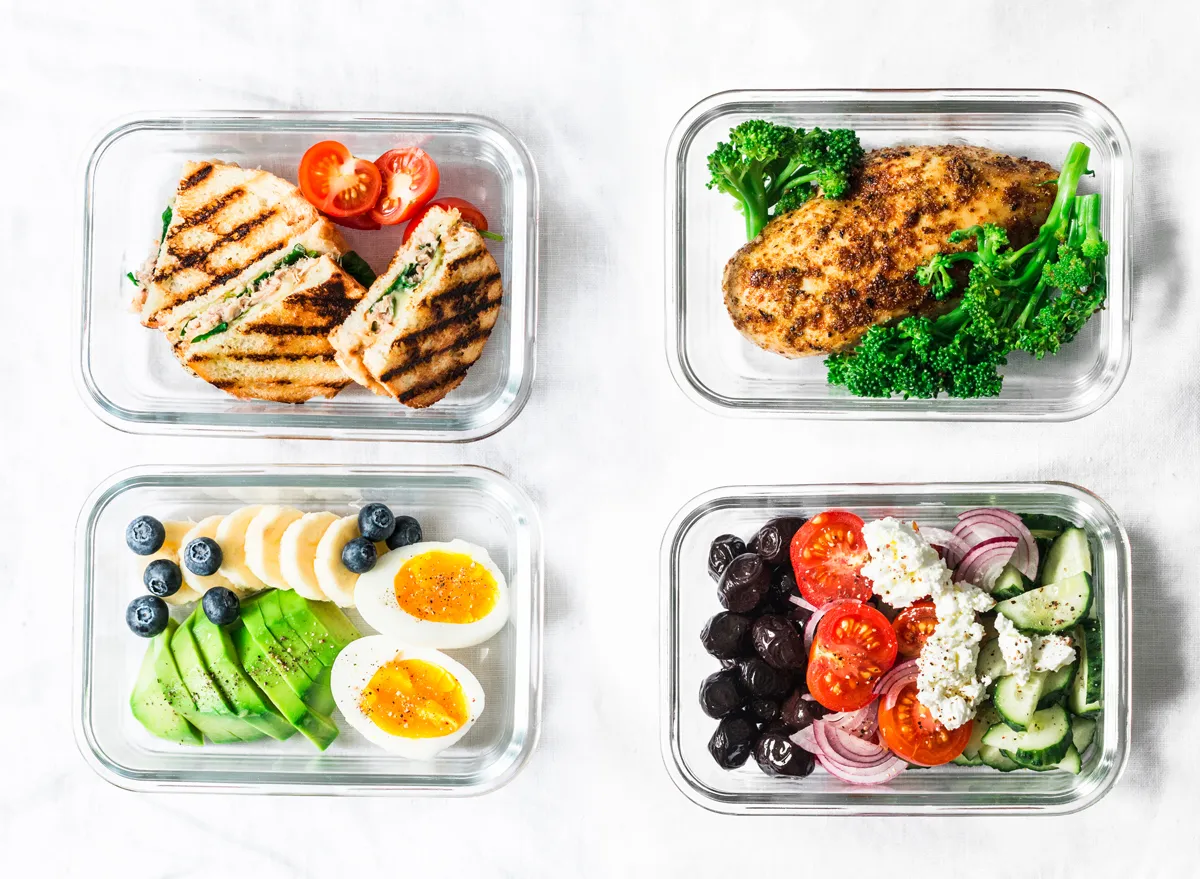 "Get your meals and snacks in order," says Angel Planells, MS, RDN, Seattle-based registered dietitian nutritionist and National Media Spokesperson for the Academy of Nutrition & Dietetics. "Know what snacks you will bring, what meals you need to eat, what things you need to grocery shopping for– jot it on your calendar and make it happen." To plan ahead, start with these healthy snack ideas.
Count calories.
"There's a lot of apps on your phone such as MyFitnessPal and Cronometer that can easily help you count calories, macro, and micronutrients. By counting calories and weighing in daily at the same time, you can get a good idea of your calorie needs and adjust accordingly," says Jonathan Valdez, MBA, RDN, CSG, CDN, owner of Genki Nutrition and media spokesperson for New York State Academy of Nutrition and Dietetics. Valdez has great advice: stepping on the scale is the #1 thing you can do every day to lose weight — here's why.
Drink lots of water.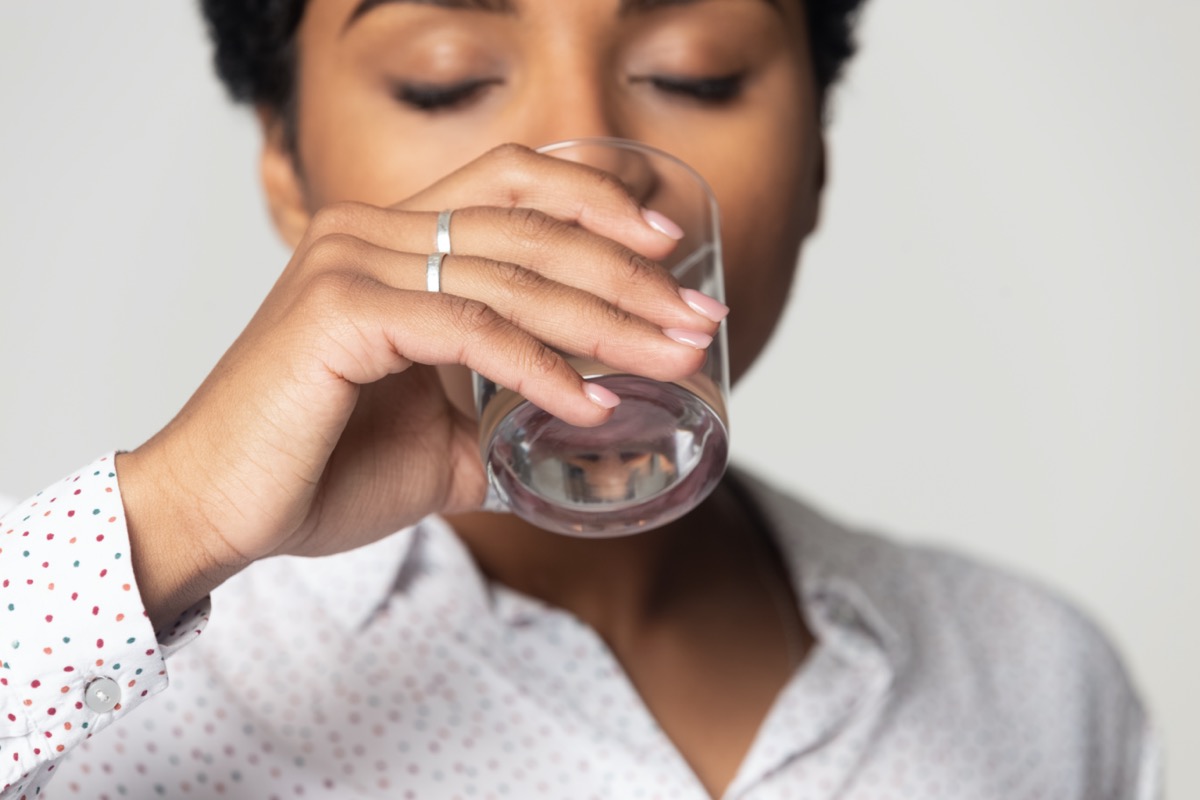 "Water is calorie-free and may even help to decrease calorie intake when consumed before meals. Drinking two cups of water before meals has been shown to result in smaller intakes during those meals," says Martin. "The benefits of drinking water for weight loss are even greater when you use it as a sugar-rich beverage replacement. Bored of plain old water? Try fruit-infused water! Simply combine some still and/or sparkling water with your favorite fruits and herbs in a pitcher and refrigerate (for at least a few hours)." Not sure if you're drinking enough? Here's How to Make Sure You're Drinking Enough Water While You're Stuck at Home.
Find someone to keep you accountable to your goals.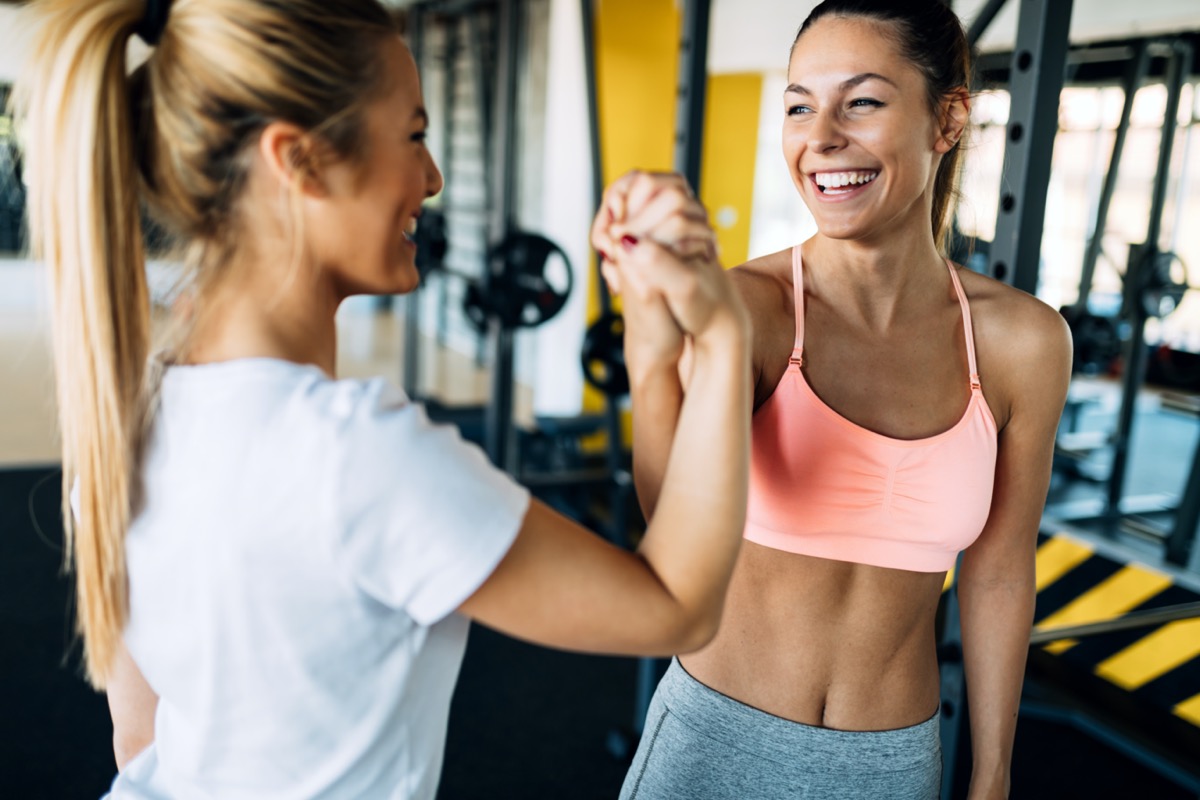 "An accountability partner, coach, friend, family member, or an app can help to increase accountability and keep you on track for meeting your goals," says Cardwell. "Holding yourself accountable for creating habit change works and this can be for any new habit that you are trying to create."
Get in exercise.
"Find a form of exercise that you enjoy! If you don't like running or lifting weights, that's okay. It's important to find something you enjoy and look forward to for at least 30 minutes per day or 150 minutes per week," says Valdez. "That could be climbing, yoga, biking, basketball, or even just walking. This will help burn some calories to lose weight, but more importantly, keep your body strong and healthy so you'll feel even better." Yes, even walking counts as exercise, so get started with these tips for how to walk to lose weight.
Swap fiber-rich carbs for fiber-less ones.
"No need to cut carbs from your life, simply swap out fiber-less carbs for fiber-rich foods!" says Martin. "Fiber fills you up without filling you out by helping stabilize blood sugar levels and reducing cravings."
Eat more fruits and vegetables.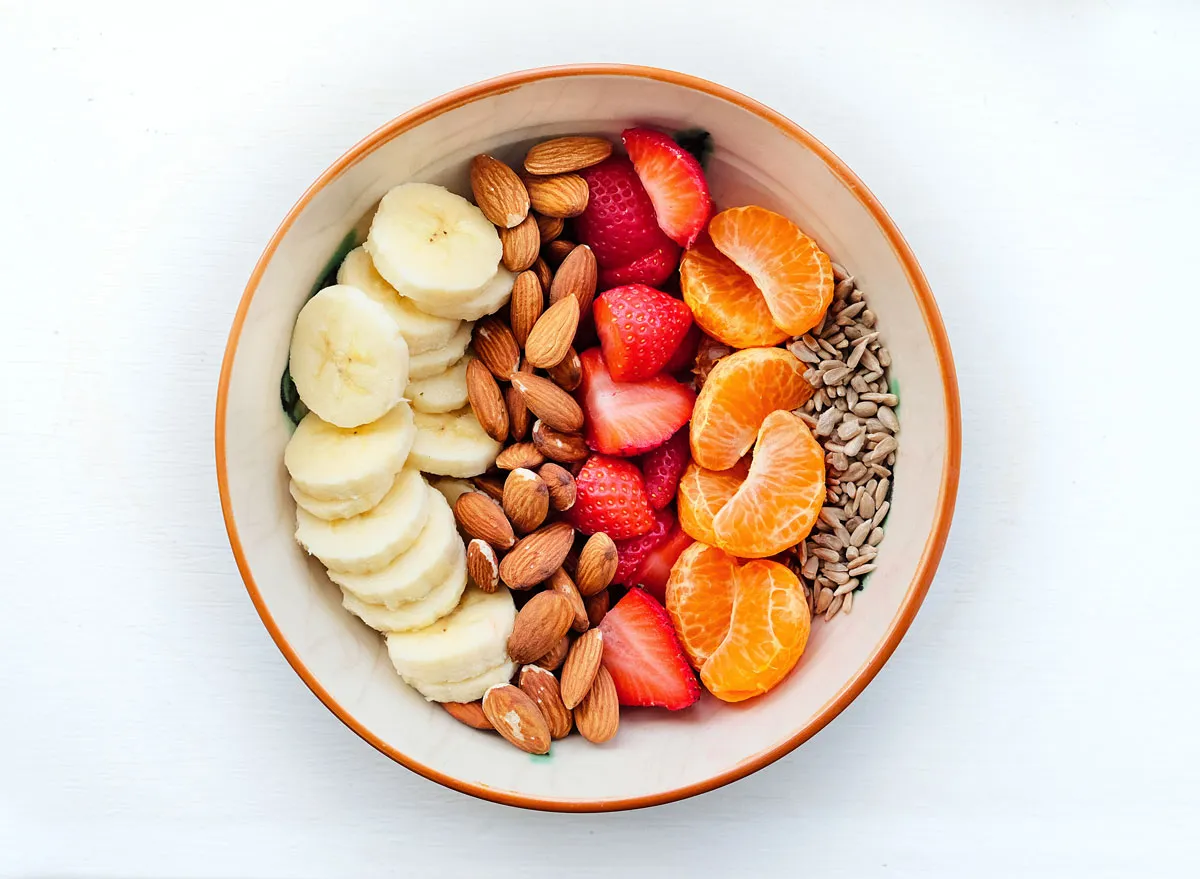 "I find people underestimate the power of fruits and vegetables with their antioxidant properties, high fiber content, high satiety, and overall low-calorie profile," says Valdez. "If you're not making half your meals aren't fruits and/or vegetables you will be making up the satiety and higher amount of calories elsewhere."
Be forgiving if you don't meet the goal.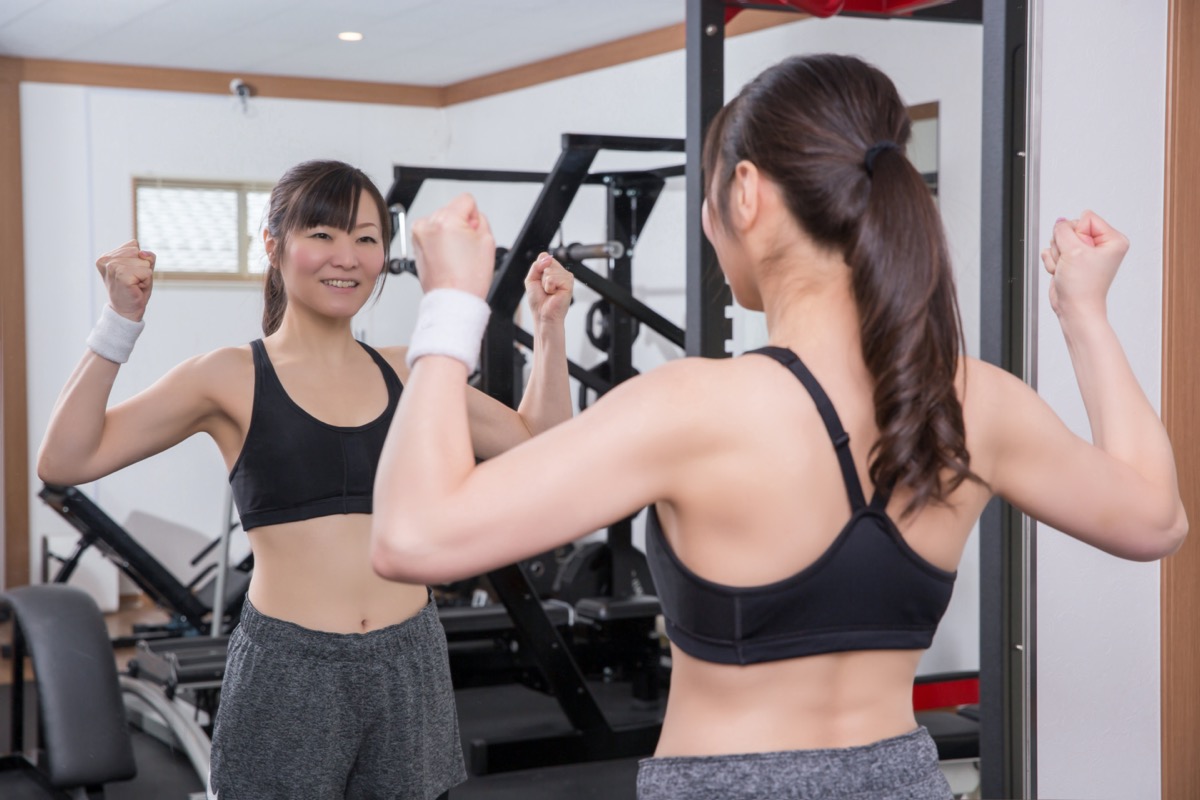 "The hardest part of the journey is starting. If at the end of 3 weeks, you only lose 1 pound. Some may look at this as a bad thing, and I will say bravo, you are 1 pound less than you were when you started," says Planells. "It is about quality of life and feeling good about starting the journey. There is always something you can work on – getting more servings of fruits and vegetables, cooking more, and eating out less, drinking more water, getting more activity." For more science-backed tips to lose weight, don't miss these easy ways to lose 5 pounds.