11 Best Low-Calorie Smoothies for Weight Loss
Drink these to help you pursue your personal health goals, all while enjoying a delicious treat.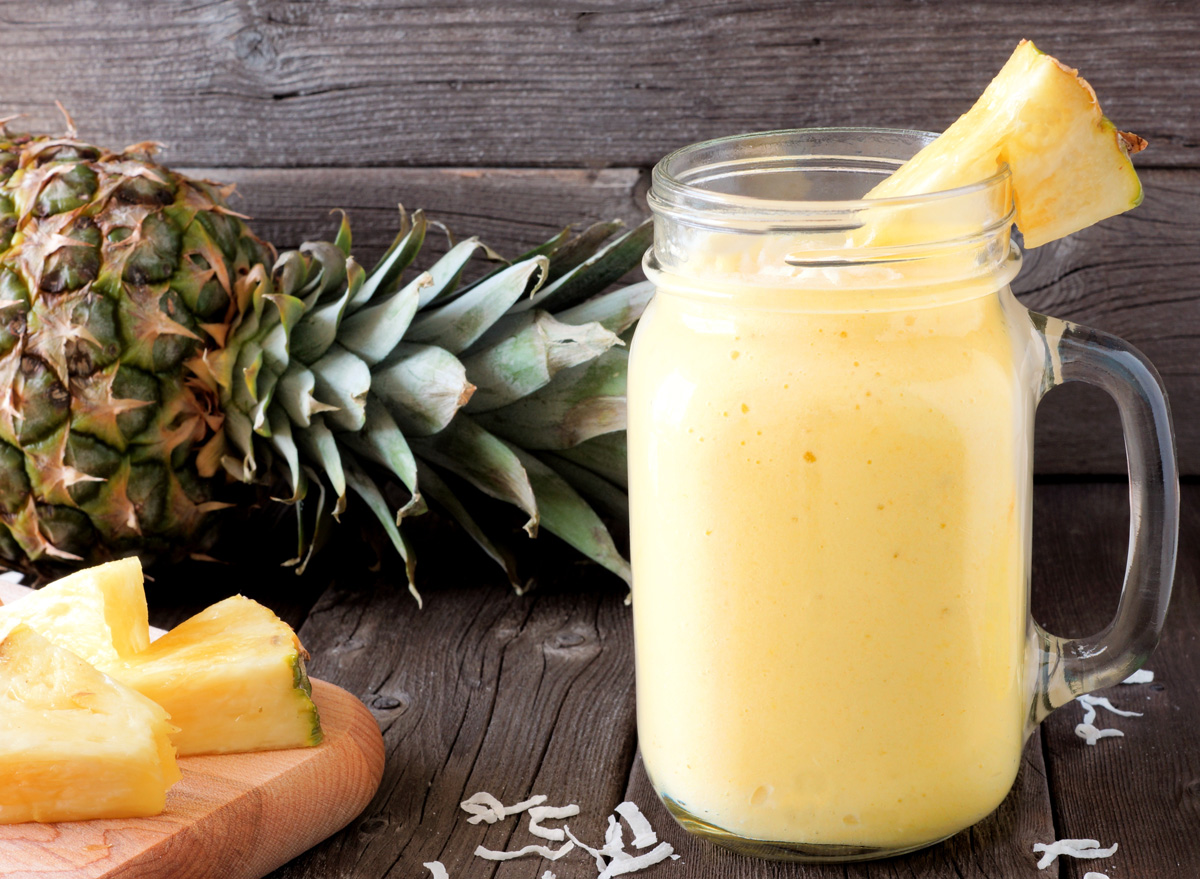 Sustainable, simple, delicious, and effective; that's the perfect equation for developing a weight-loss plan that will show results while still allowing you to care for your body in a healthy way. If your diet makes weight-loss meals both simple and enjoyable, you'll see quicker results that will last longer—and what's easier or more nutritious than a healthy breakfast that's ready to eat at the push of a button? To jumpstart your weight loss journey, start the day with these low-calorie smoothie recipes.
Each of these low-calorie smoothies is under 250 calories, and many of them contain helpful levels of fiber and protein to aid in digestion and keep you feeling full throughout the morning. You can expect to see some results when you substitute any of these low-calorie smoothies for your traditionally heavy breakfast, or even that innocent bowl of cereal and milk, which can rack up 210 empty calories that are completely devoid of healthy fats, fiber, or as much protein as you'll find in these smoothie recipes.
Check out these 11 low-calorie smoothies for morning weight loss inspiration. Then for more helpful tips, check out the Best Morning Drinking Habits To Support Belly Fat Loss.
Chocolate Coconut Banana Smoothie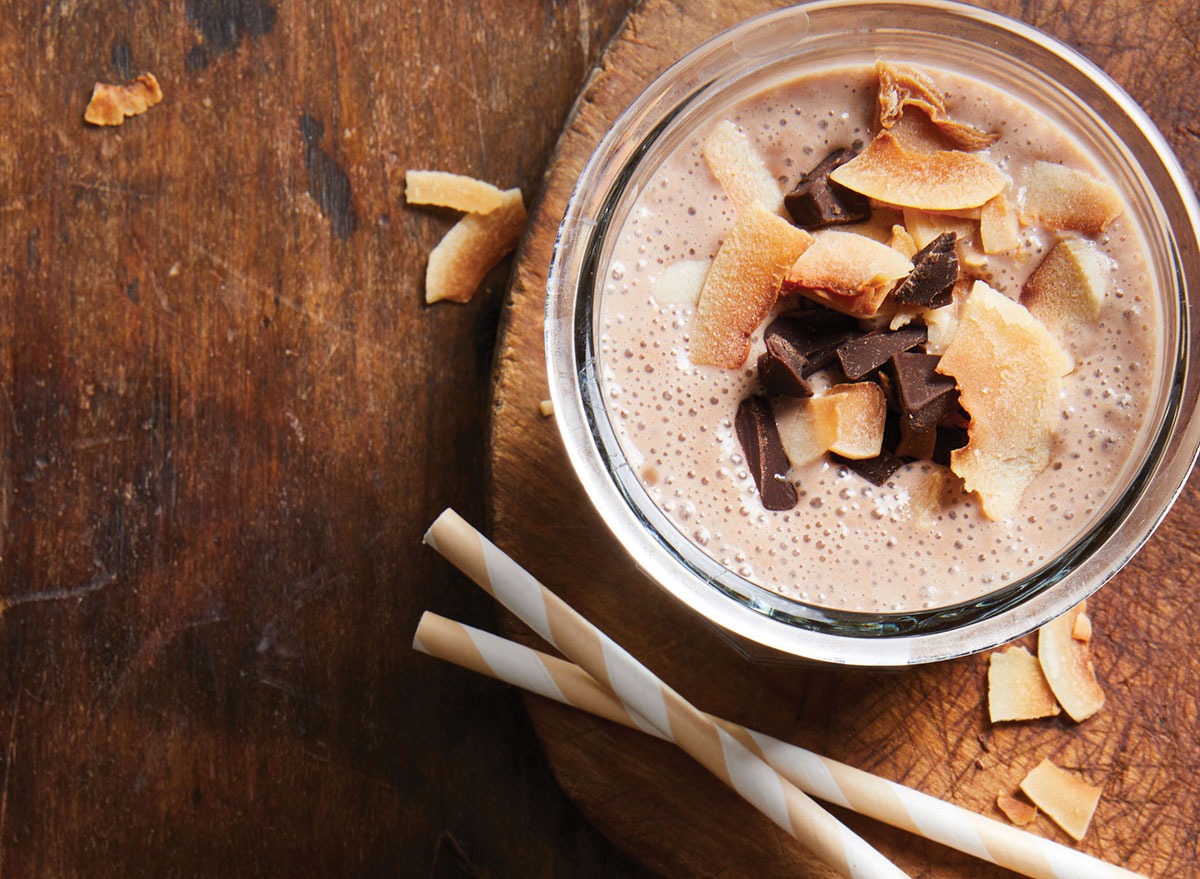 This combination of chocolate, banana, and coconut will satisfy your sweet cravings while helping to keep you full throughout the morning, all while staying under 200 calories. The 6 grams of fat come from healthy sources like yogurt, coconut milk, and coconut flakes, and the banana will give you some potassium, folate, magnesium, and vitamin C.
1 5.3-ounce carton plain Greek yogurt
1 small banana, peeled, sliced, and frozen
1⁄2 cup ice
1⁄2 cup refrigerated unsweetened coconut milk
1 Tbsp unsweetened cocoa powder
1 Tbsp honey
1⁄2 tsp vanilla
1 Tbsp unsweetened flaked coconut, toasted
1 Tbsp finely chopped dark chocolate
NUTRITION: 183 calories / 6 g fat / 3 g fiber / 19 g sugar / 9 g protein
Tropical Dragon Fruit Smoothie Bowl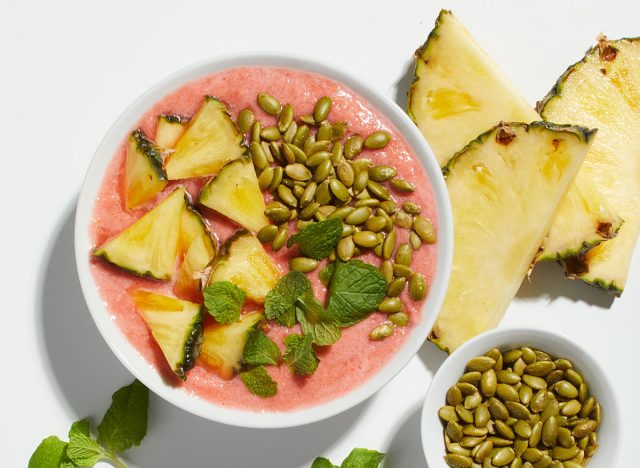 Some prefer enjoying their smoothie in a bowl, especially because you can pile on your favorite toppings. This tropical dragon fruit bowl is refreshing and under 200 calories, while still providing 6 grams of protein and 3 grams of fiber. This is one of the higher-sugar smoothies on our list at 24 grams, but these sugar calories come from natural sources instead of processed.6254a4d1642c605c54bf1cab17d50f1e
1 cup frozen pineapple chunks
1 cup frozen pink dragon fruit flesh
1/2 cup kombucha
1/4 cup water
1 Tbsp vanilla whey protein powder
1/2 cup chopped fresh pineapple
1 1/2 tsp raw pepitas
Fresh mint leaves
NUTRITION: 182 calories / 4 g fat / 3 g fiber / 24 g sugar / 6 g protein
Plant-based Key Lime Pie Smoothie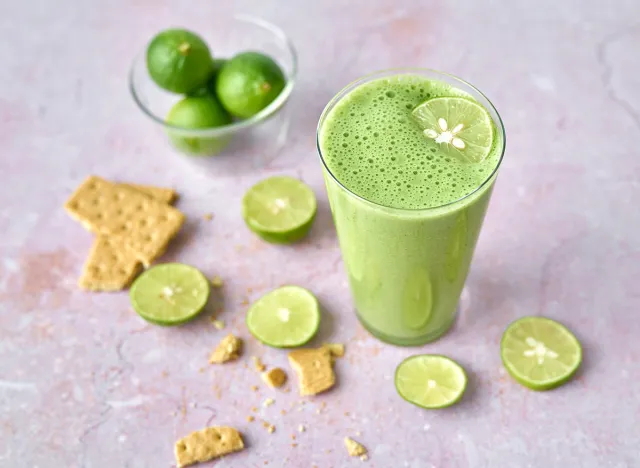 Key lime pie is a dessert perfectly balanced with sweet and tart flavors, but it usually takes a lot of added sugar to counter the sourness from the limes. If you're looking for the same refreshing flavors but with less added sugar to help you sustain your weight loss goals, this smoothie recipe is an obvious choice.
1 frozen banana, broken into chunks
1/2 cup baby spinach
Zest and juice of 1 lime
NUTRITION: 230 calories / 5.5 g fat / 3.5 g fiber / 19 g sugar / 3 g protein
Peanut Butter Sandwich Smoothie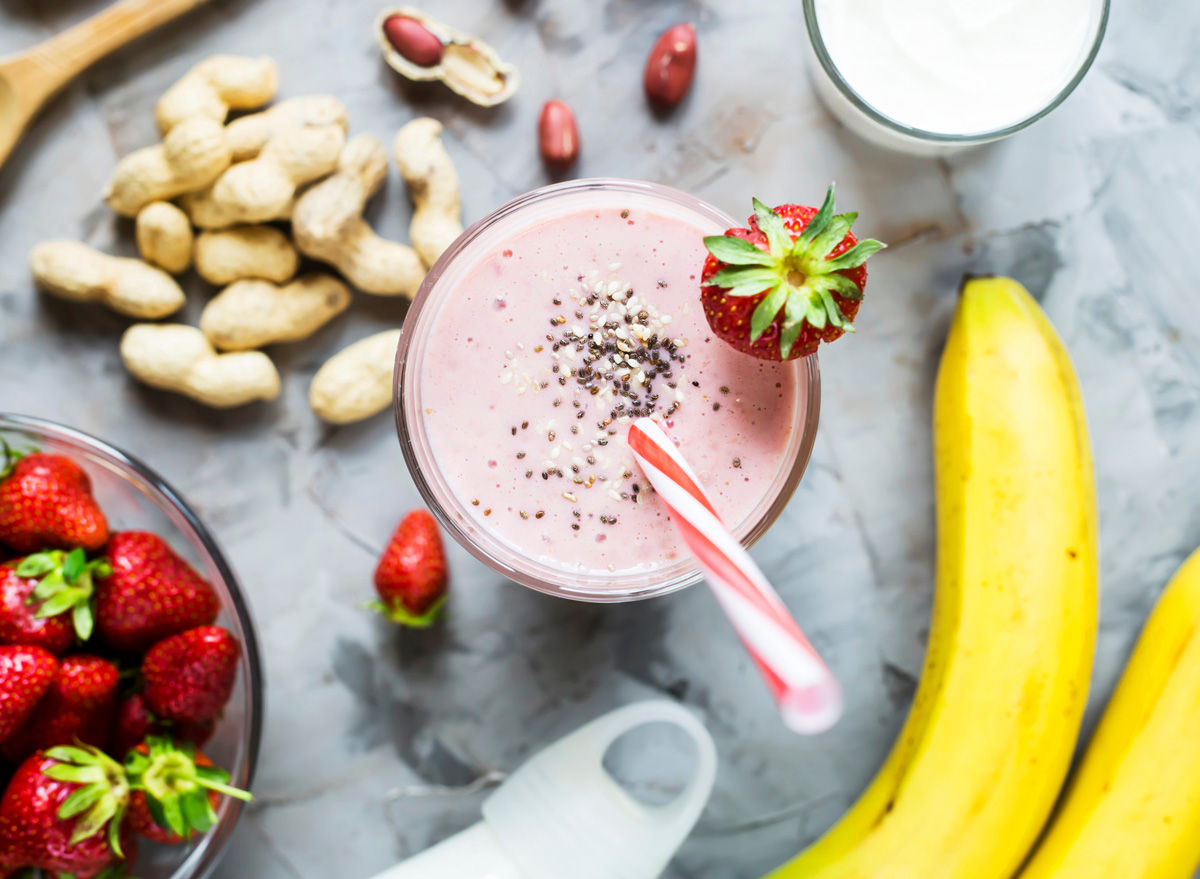 Almost everyone's favorite sandwich as a kid was peanut butter & jelly. To give it a nutritional upgrade, swap out the jelly for fresh berries and toss in a scoop of protein powder. You'll get all the flavor of the classic sandwich, but cutting back on the carbs from the bread makes this a lower-calorie option.
5 raspberries
5 blueberries
3 strawberries
1 tablespoon peanut butter, unsalted
½ cup unsweetened almond milk
¼ cup vanilla plant-based protein powder
½ cup ice cubes
Water to blend (optional)
NUTRITION: 250 calories / 12 g fat / 14 g carb / 4 g fiber / 9 g sugar / 25 g protein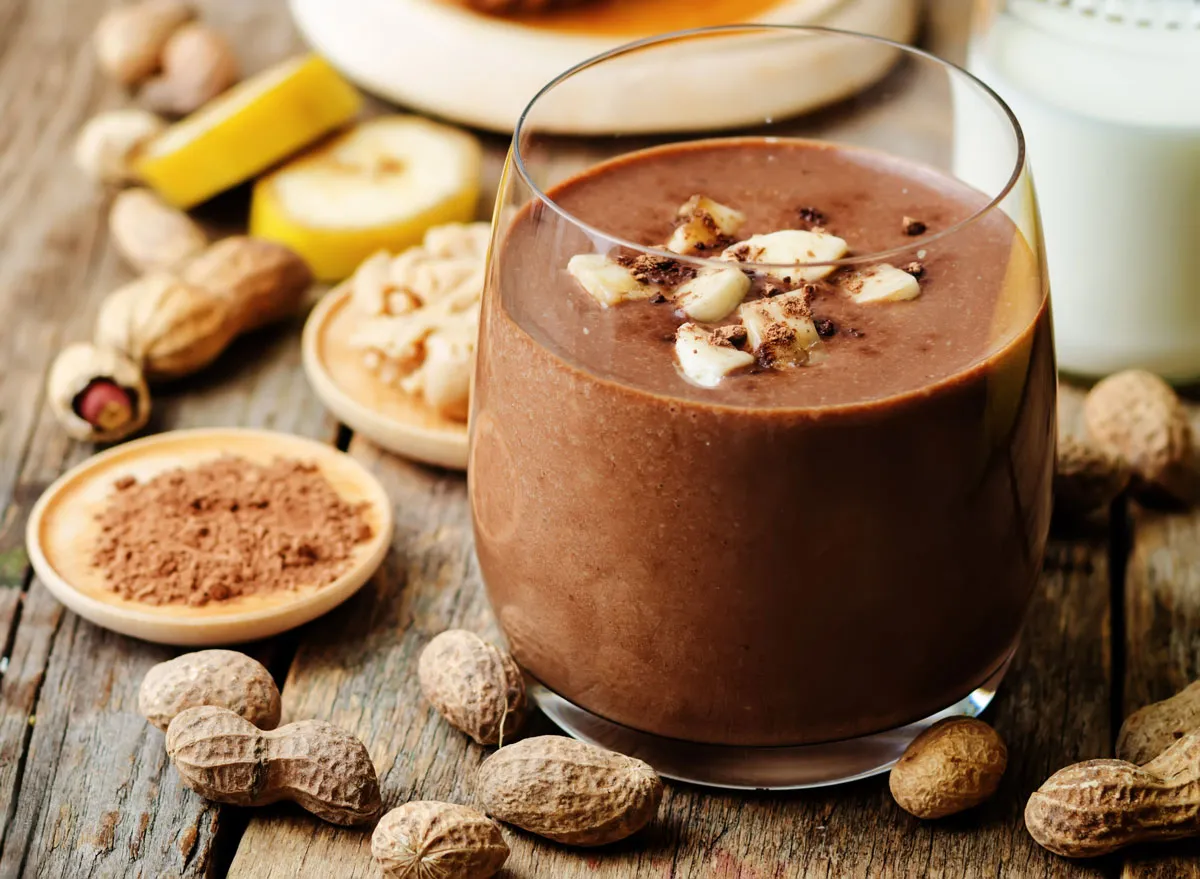 Like a Reese's, but without all of the sugar. This classic smoothie is perfect for those of us who are constantly craving dessert. To satisfy your sweet tooth, you can either opt for this smoothie, or pick one of these 7 Low-Sugar Desserts You'll Want To Try Today.
½ frozen banana
½ tablespoon peanut butter
1 tablespoon unsweetened cocoa powder
½ cup unsweetened almond milk
1 scoop chocolate plant-based protein powder
NUTRITION: 249 calories / 6 g fat / 20 g carbs / 5 g fiber / 14 g sugar / 30 g protein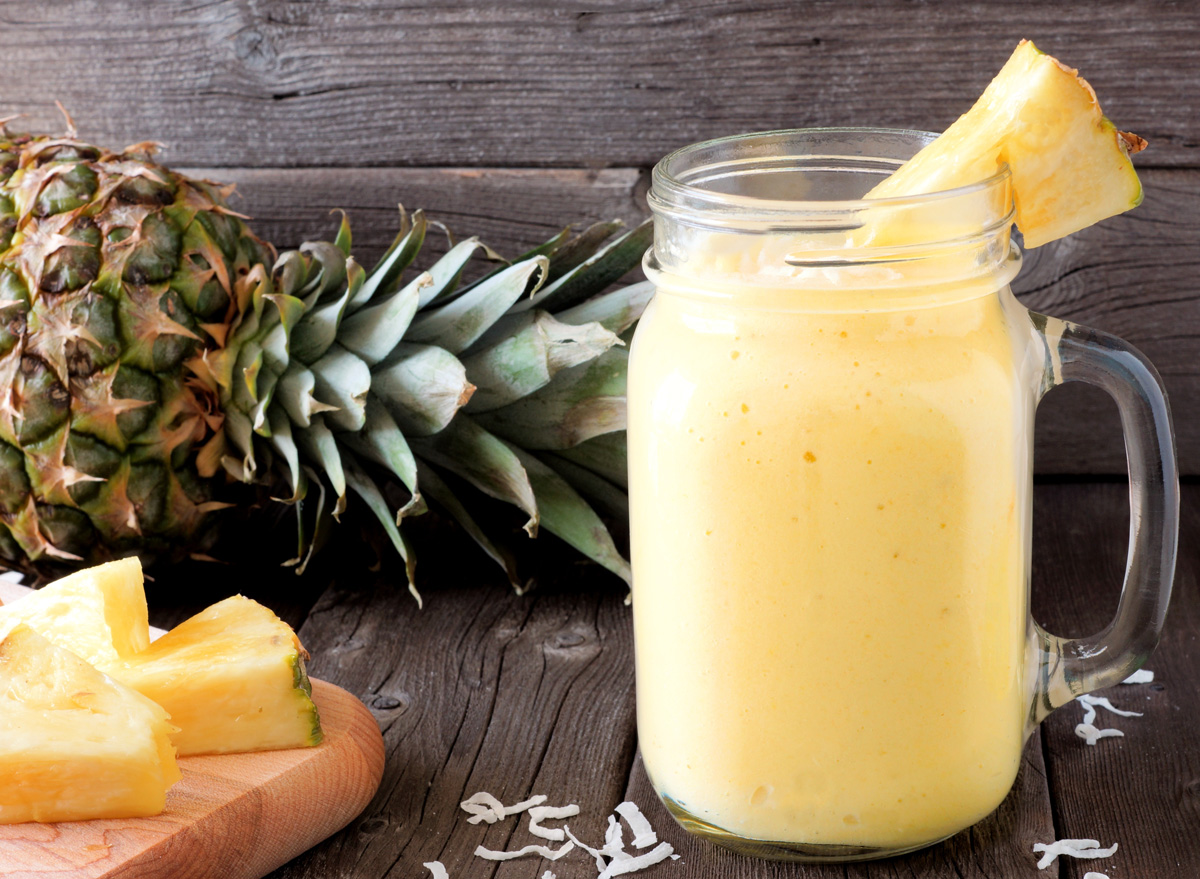 This vitamin-packed smoothie is one of the lowest-calorie ways to get your protein, fiber, and healthy fats. (Resist the urge to add rum!)
½ cup unsweetened light coconut milk
½ cup diced pineapple (fresh, frozen, or canned in juice)
¼ frozen banana
2 fresh basil leaves
½ scoop plain plant-based protein powder
Water to blend (optional)
NUTRITION: 205 calories / 7 g fat / 21 g carbs / 2 g fiber / 11 g sugar / 15 g protein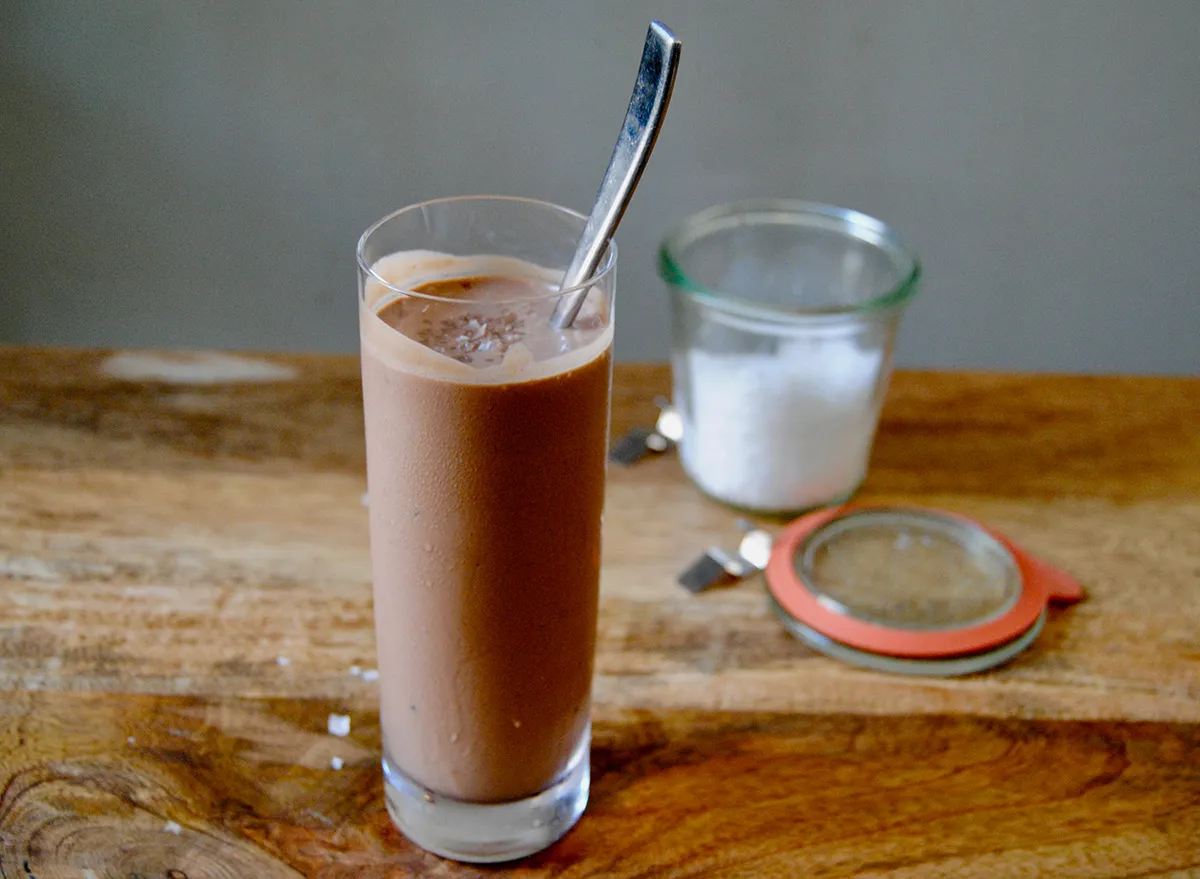 This drink packs a tremendous protein punch, not just from the vanilla powder but from the cacao, which delivers about a gram of protein per teaspoon, and the spirulina, a type of algae that's about 60% protein. Like quinoa, it's a complete protein, meaning it will deliver all the essential amino acids your body needs to convert fat directly into muscle.
1 cup spinach
½ cup blueberries
½ teaspoon spirulina
1 tablespoon cacao powder
1 tablespoon ground chia seeds
½ cup unsweetened almond milk
¼ cup vanilla plant-based protein powder
Water to blend (optional)
NUTRITION: 245 calories / 5 g fat / 27 g carb / 11 g fiber / 8 g sugar / 28 g protein
Green Matcha Tea Smoothie
Matcha is a powdered tea used in Japanese tea ceremonies. One study even found that the concentration of metabolism-boosting EGCG in matcha to be as much as 137 times greater than the amount you'll find in most store-bought green tea. EGCG can simultaneously boost lipolysis (the breakdown of fat) and block adipogenesis (the formation of fat cells), particularly in the belly.
½ cup baby spinach, loosely packed
½ frozen banana
1 teaspoon matcha green tea powder
1 teaspoon ground cinnamon
1 scoop vanilla plant-based protein powder
Water to blend (optional)
NUTRITION: 226 calories / 1.3 g fat / 26 g carbs / 6 g fiber / 13 g sugar / 28 g protein
Want to keep your belly biome happy? To make sure your gut is in good shape, you need to feed your abdominal allies something called fructooligosaccharides (FOS), a type of prebiotic fiber found in fruits and leafy greens. This drink will get the party started and help heal your gut while enticing your taste buds.
1 cup kale
½ cup chopped cucumber, peeled and seeded
½ pear, seeded and quartered
Squeeze of fresh lemon juice
1 scoop plain or vanilla plant-based protein powder
½ cup water
2 ice cubes
NUTRITION: 217 calories / 1 g fat / 26 g carbs / 5 g fiber / 11 g sugar / 28 g protein
Swap this in for your usual A.M. Starbucks order. If you're a fan of a deliciously spicy chai, drinking this instead of a regular chai latte will help keep you full longer and help keep your added sugar content lower.
½ cup chai tea (brewed from a tea bag and chilled)
½ frozen banana
½ teaspoon ground cinnamon
1½ teaspoon natural, no-salt-added almond butter
¼ cup unsweetened almond milk
½ scoop vanilla plant-based protein powder
Water to blend (optional)
NUTRITION: 219 calories / 9 g fat / 20 g carbs / 4 g fiber / 16 g sugar / 17 g protein
Dark Chocolate Banana Nut Smoothie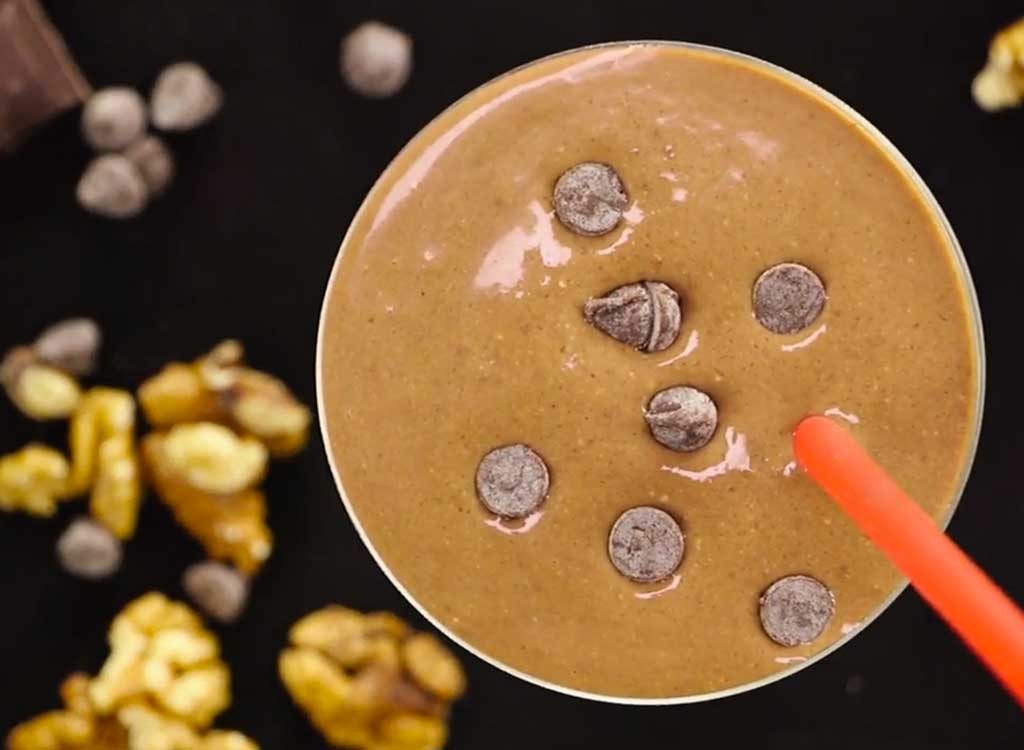 Four words that combine to sound like a jam session at Ben & Jerry's house. The density of the banana will have you convinced you're drinking a milkshake, while the omega-3s in the walnuts will keep your mind sharp and your belly lean.
½ banana
1 teaspoon dark chocolate morsels (dairy free)
1 cup unsweetened almond milk
⅛ cup chopped walnuts
6 ice cubes
⅓ cup chocolate plant-based protein powder
Water to blend (optional)
NUTRITION: 229 calories / 11 g fat / 26 g carbs / 7 g fiber / 10 g sugar / 28 g protein
A previous version of this story was published in September 2020. It has been updated to include additional entries and further refinement of embedded primary source links supporting the factual accuracy of the content.
Olivia Tarantino
Olivia Tarantino is the Managing Editor of Eat This, Not That!, specializing in nutrition, health, and food product coverage.
Read more about Olivia