12 Low-Carb Comfort Food Swaps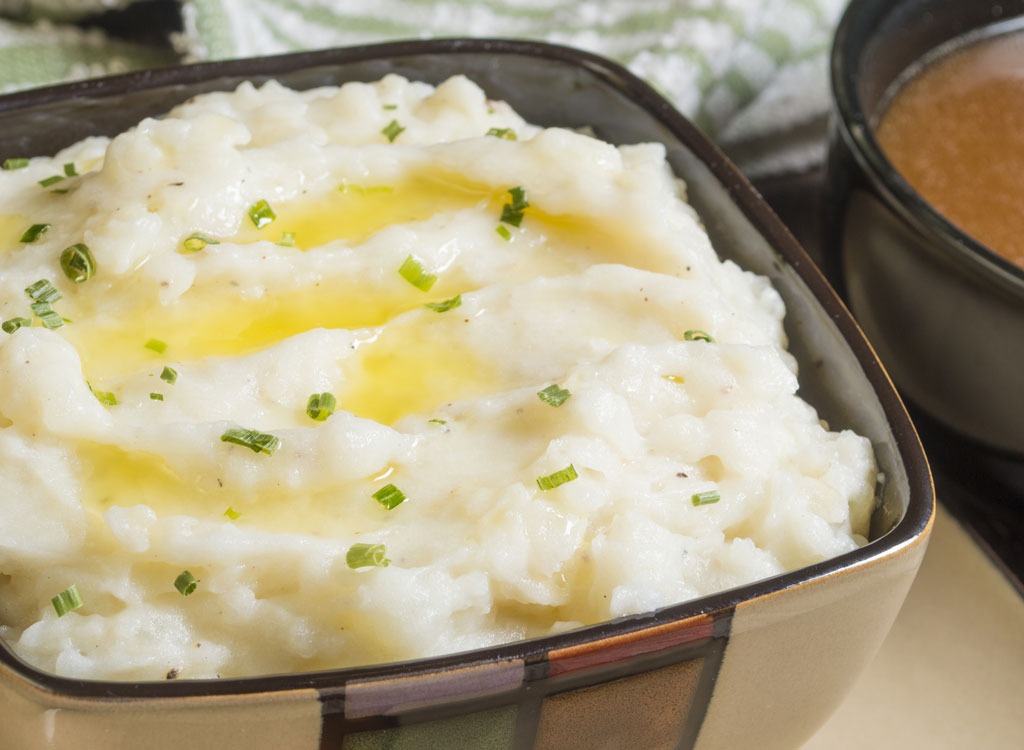 Trade in heavy comfort foods for healthier alternatives with these simple substitutes.
I can't count the number of times I've let my fingers scroll over the plastic laminate of a diner menu only to stop at the first sighting of mac and cheese. There's something about that rich, gooey mixture of four-cheese goodness that just draws me in. From the al dente pasta to the breadcrumb topping, it's a hard dish to pass up.
But right before the waitress walks over and asks, "What do you want, hun?" I often change my mind. I usually opt for something healthier—which for me, translates to low-carb. I pick a salad—dressing on the side—or go for a veggie burger sans fries (and if I'm being "good," without the bun). Sure, it's still delicious, but it's no four-fromage noodle dish.
It wasn't until a friend introduced me to spiralized noodles that everything changed. As it turns out, there's a way to have your pasta and cheese and keep carbs to a minimum, too! So, before you reach for that box of Kraft mac 'n cheese or make a late-night order you'll regret, check out these low-carb, comfort food swaps. A few small switches here and there, and you'll be able to keep carbs in moderation and get on track toward a healthier you in no time. Looking for even more low-carb hacks? Don't miss our special report 22 Carb-Cutting Hacks Diet Experts Love.
Nix Fries & Roast Veggies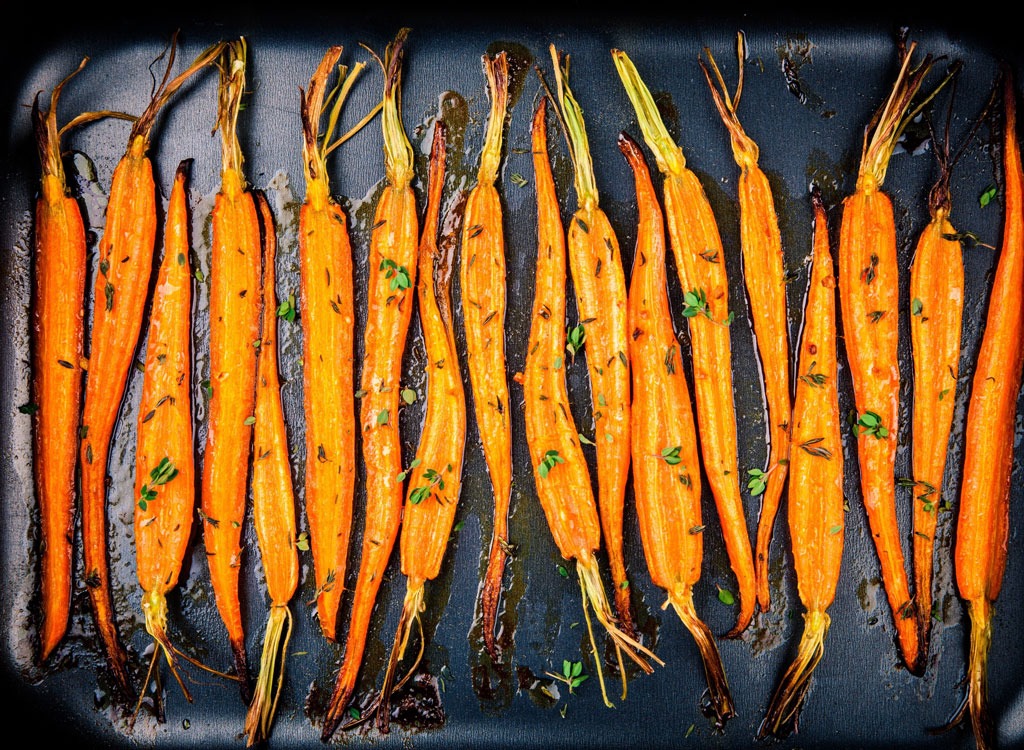 Trade fries drenched in saturated fat for baked root vegetables. Meeting the daily recommendation of 2 to 3 cups of vegetables might be challenging if you're talking boiled broccoli with a pinch of salt, but turning carrots or parsnips into French fry substitutes can make it easier to hit that target. Simply cut the veggies into sticks, drizzle them with olive oil and salt, and roast them on a baking sheet. For example, eating a one cup serving of roasted carrots instead of fried spuds will save you over 30 grams of carbs—and a ton of calories, too! For even more cal-cutting hacks, don't miss our report, 36 Easy Ways to Cut 50+ Calories.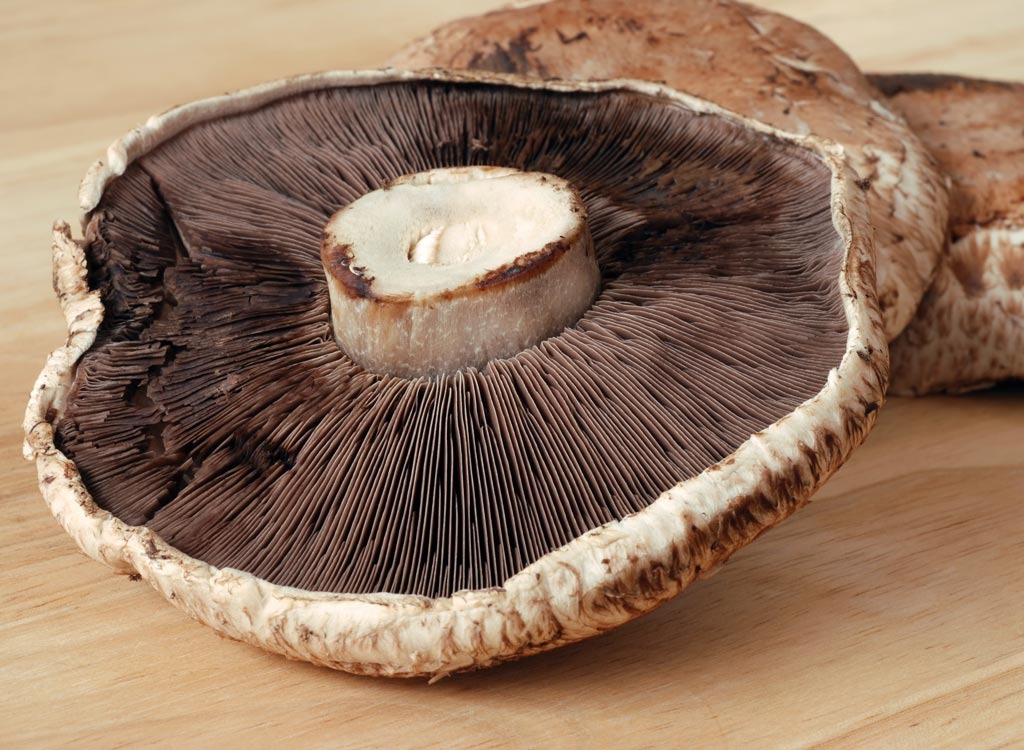 Believe it or not, you can have a burger without the bun. By replacing refined, nutrient-void white bread with two pretty portobellos, you'll do more than just cut carbs—you'll skip out on the blood sugar spike (and subsequent crash) that's brought on by fiber-free, quickly absorbed carbs. You'll also slash your risk for type 2 diabetes and ward off hunger and subsequent weight gain. Less refined carbs might even boost your mood. A study in the American Journal of Clinical Nutrition found a link between refined carbs and depression in postmenopausal women. Sounds like a great reason to ditch that burger bun once and for all!6254a4d1642c605c54bf1cab17d50f1e
Use Eggplant Slices —Not Bread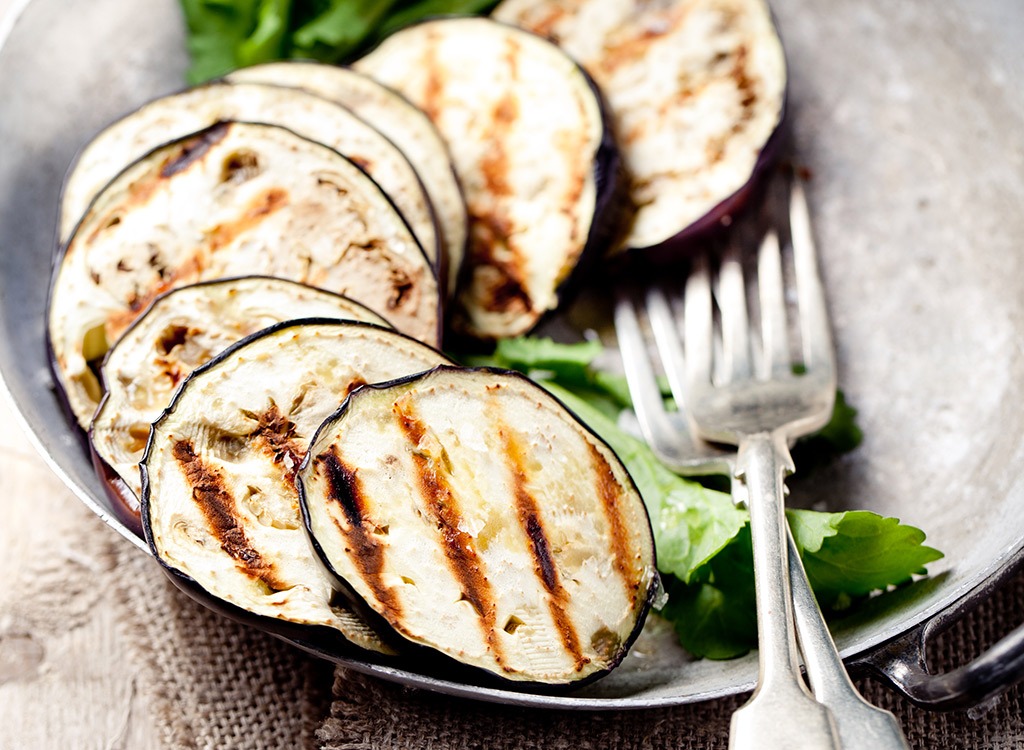 Portobellos aren't alone in their ability to make bread obsolete. If you're looking to clean up your diet and dial back on the starchy stuff, say goodbye to that sliced loaf and hello to eggplant. Not only do grilled eggplant rounds make for a sturdy sandwich, they also a rich source of vitamin C, K, and B6. Need even more of a reason to pick up this purple plant? Eggplant helps support heart health and have been shown to lower levels of harmful cholesterol in the blood. And thanks to its high fiber content (one plant packs about 16 grams, or 64 percent of your daily recommended intake), adding the veggie to your diet can also help keep you fuller longer.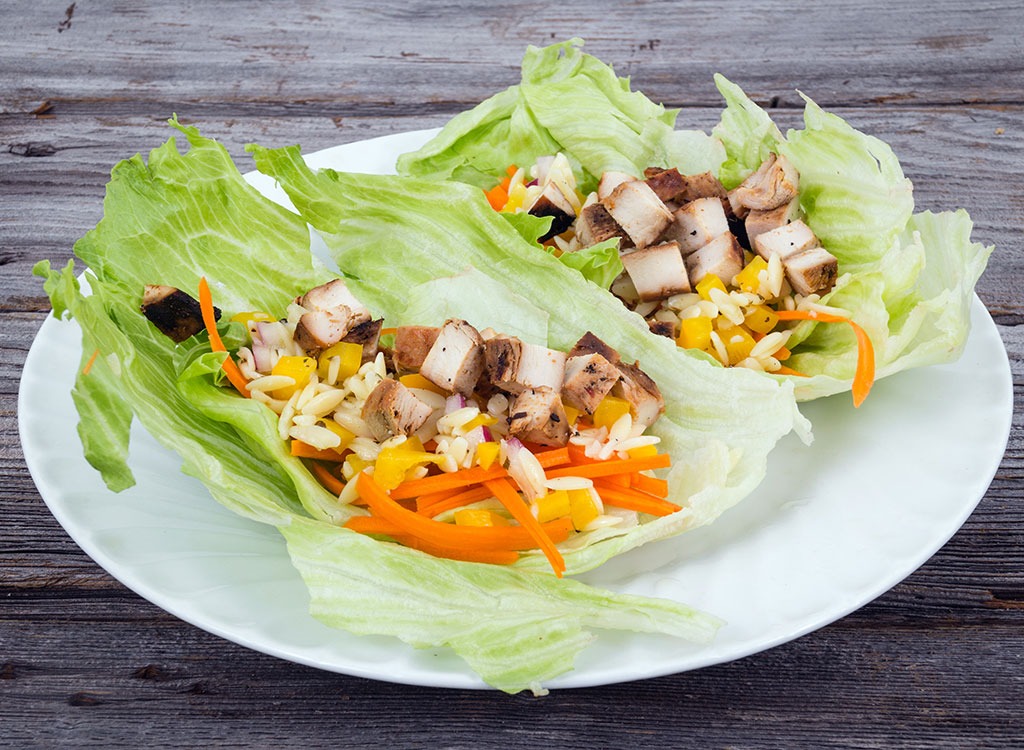 If you're a dieter who hates diet food, lettuce wraps may just be the best carb cutting hack for you! Instead of taco shells or sandwich wraps, use large iceberg or romaine leaves to help transport food to mouth. Whether you use them as a vehicle for turkey, chicken, or even lentils and quinoa, you'll still achieve the much-loved crunch factor that's a trademark of any good finger food. Feeling creative? Top your lettuce tacos with Sriracha or chopped nuts for added layers of flavor.
Make a Veggie-Based Crust
When's the last time you said no to pizza just because it's on the "naughty foods" list? Thanks to low-carb cauliflower, you can kiss the days of missing out on a slice goodbye. Yes, that's right, you can use the cruciferous veggie to craft a grain-free crust. Not only does one serving of the vegetable contain more than 75 percent of the recommended daily value of vitamin C, it's also a good source of protein and fiber. Best of all, it makes a stellar dough replacement; you'll barely be able to tell the difference. To make it, you'll need a head of cauliflower finely processed, 1 cup of cheese (we like a combo of mozzarella and Parmesan), 1 egg, and a mix of herbs. To ensure a firm crust, drain all the water from the cauliflower before mixing and molding into a flat round shape. For even more ways to slim down your slice, dig into our special report, 18 Secrets for Eating Pizza Without Getting Fat.
Grab Ground Almonds Instead of Breadcrumbs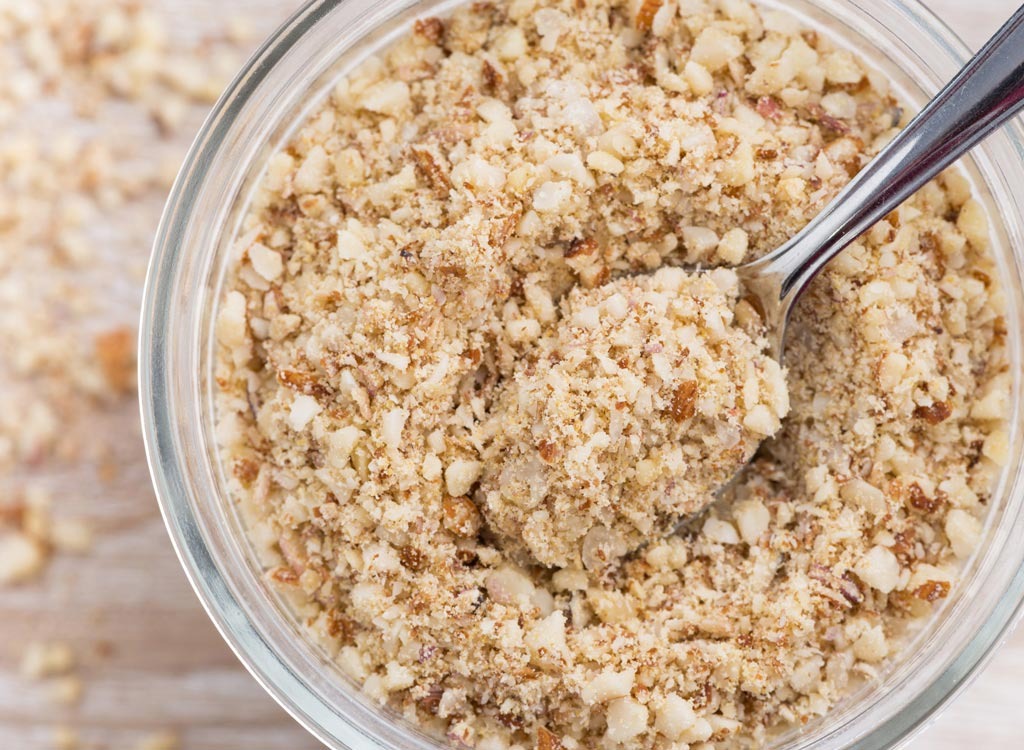 If you're looking for a crunchy coating but want to keep carbs to a minimum, reach for nuts. Almonds contain more protein than breadcrumbs, which means you're adding a muscle-building outer shell to your meal—10 grams per half-cup of almonds, to be exact. Unlike fresh breadcrumbs, almonds also have a longer fridge life. They can stay fresh for up to a year or more!
Choose Zucchini Ribbons Over Spaghetti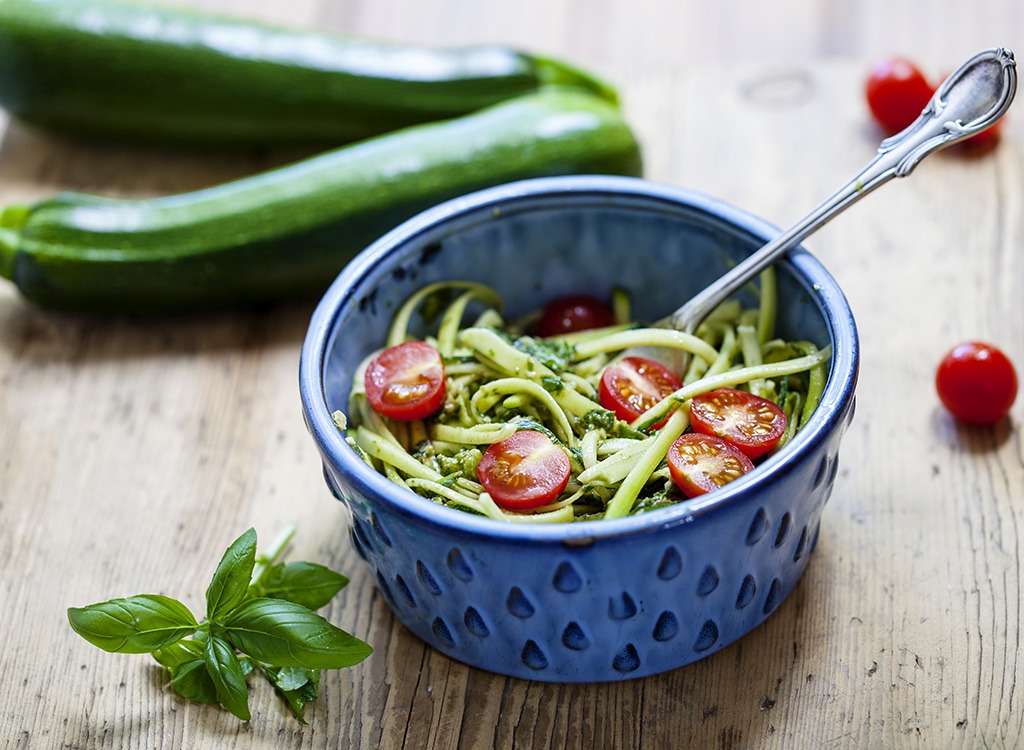 There's nothing like a good bowl of pasta. Whether you pair noodles with meaty marinara sauce, make them the base of your stir fry, or toss them in a light alfredo, zucchini noodles (AKA zoodles), make a great low-carb substitute. You can leave them uncooked or lightly sauté them depending on the texture you prefer. With a mere 10 grams of carbs in one large zucchini—compared to upwards of 50 grams in that plated spaghetti dinner—that spiralized squash can help you back off carbs and still load up on flavor. Not a big fan of zucchini? Carrots make a great low-carb alternative, too!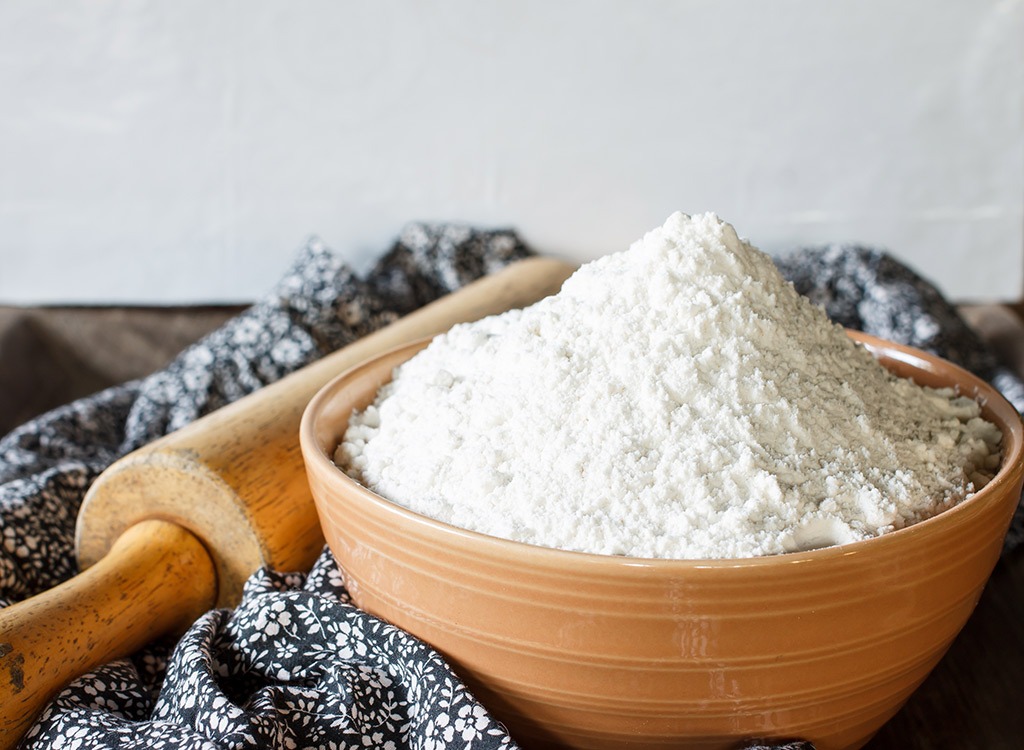 Almond flour is a great low-carb ingredient that can be added to many comfort-food favorites—from pie crusts to holiday breads. While you might first think of the additional fat it carries as a negative, the fat in almond flour is the healthy, monounsaturated type. Almonds also contain blood sugar-balancing magnesium and more calcium than any other nut—243 milligrams per cup! And the good news keeps on coming: A study from the International Journal of Obesity found that almond-eaters had a 62 percent greater reduction in weight, 50 percent greater reduction in waist circumference (yes, that's belly fat!), and a 56 percent greater reduction in overall fat mass compared with those who consumed complex carbs.
Go For Grated Cauliflower Over Rice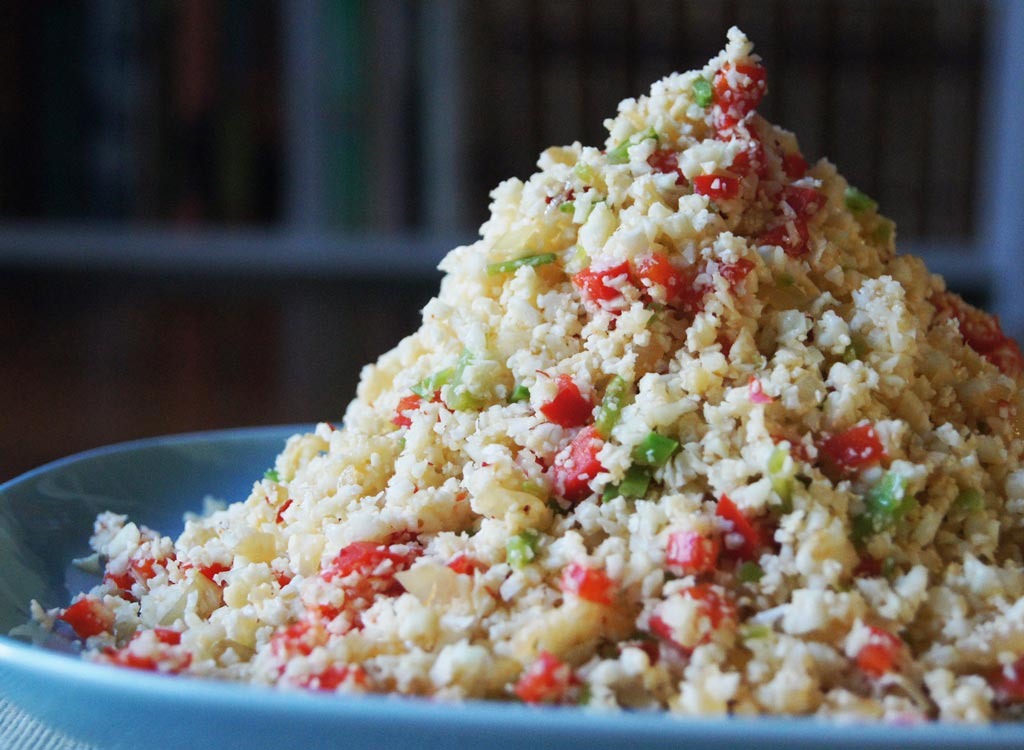 When you're looking for a low-carb substitute for rice, reach for grated cauliflower. With only 29 grams of carbs per head, it's an easy low-carb swap that will help add bulk and nutrients to your meals. Best of all, it's versatile. Use cauliflower rice as a base for rice and beans or when a craving for Chinese food hits, pair it with traditional Asian add-ons like soy sauce, egg, red pepper flakes, and scallions to pack in the flavor. Chef George Stella, who is an expert on curing comfort-food cravings, has a must-try Shrimp Mock Fried Rice recipe that's to die for. Check it out here.
Try Spaghetti Squash Instead of Noodles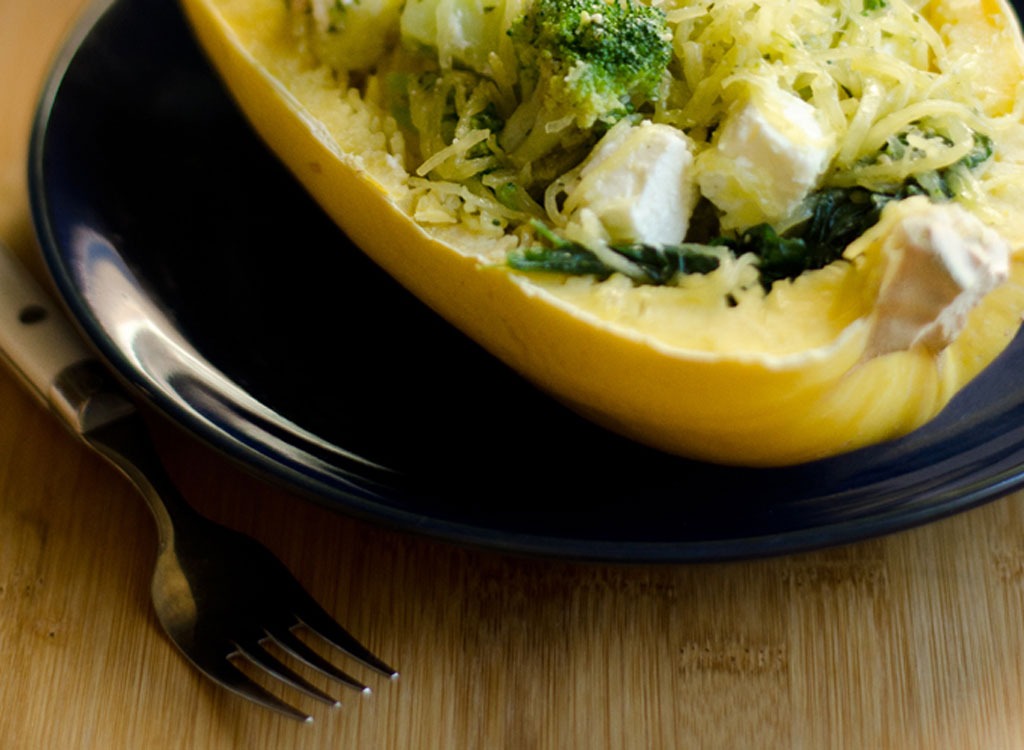 If you're looking to cut back on carbs and load up on antioxidants, spaghetti squash could be the way to go. With only 7 grams of carbs and 31 calories per cup, it's an easy substitute. Better yet, the preparation isn't much more complex than boiling water for pasta. Just cut the squash in half lengthwise, scoop out the seeds, and bake the halves until tender. The way the flesh separates into strands adds to the pasta-like authenticity. Top with your favorite sauce or simply add some olive oil (a super healthy fats) and Parmesan cheese.
Make Banana & Egg Pancakes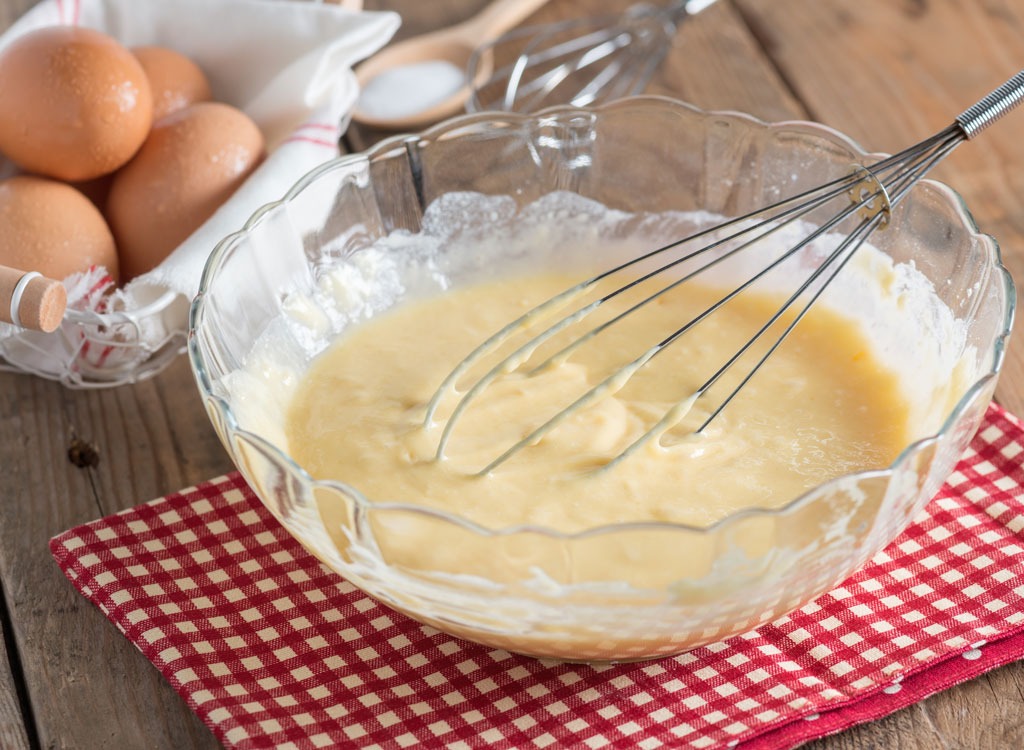 Love the idea of waking up to a plate of fluffy pancakes but not digging the bloated gut that always seems to follow? Ditch the mix and flour-based recipes and make a flapjack out of two eggs and a mashed banana. Simply combine the two ingredients and cook them into pancakes on a griddle. Although the yellow fruit is rich in natural sugars, it will shave off about 3 grams carbs per 4-inch pancake, making it a healthy breakfast idea totally worth trying!
Cauliflower mashed potatoes may have the same color and texture as mashed potatoes, but don't be fooled; this simple swap shaves off 10.5 grams of carbs per ½ cup serving. For some added richness and flavor, mix in some softened cream cheese and a low-sodium bouillon cube.
Eat This, Not That!
Inspired by The New York Times best-selling book series, Eat This, Not That! is a brand that's comprised of an award-winning team of journalists and board-certified experts, doctors, nutritionists, chefs, personal trainers, and dietitians who work together to bring you accurate, timely, informative, and actionable content on food, nutrition, dieting, weight loss, health, wellness, and more.
Read more about Eat This