14 Best Low-Sodium Canned Soups for Heart Health, Approved by Dietitians
Canned soup is a pantry staple, but it's notorious for being high in sodium. Luckily, there are options that have much healthier levels of salt.
This post contains affiliate links. If you use these links to buy something, we may earn a commission.
Finding canned or pre-made soup that both meets that criteria for a low-sodium soup and that actually tastes good is like finding a needle in a haystack. This is because many companies add a certain amount of salt to help prevent the growth of pathogens, extend the soup's shelf life, and because, let's be real, it makes the soup taste really good! As a result, the average serving of canned soup can contain around 600 to 700 milligrams of sodium. (And that's only for half a can!)
Even though it's time-intensive to find a healthy soup that's low in sodium, it's not impossible. To save you the headache, we put together a list of the best low-sodium soup options, why you need them, and our criteria for selecting them.
Why should you buy low-sodium soup?
If you have ever eaten a salty dinner and woken up with bloated "sausage fingers", you already know the effects that eating too much sodium can immediately have on your body. Aside from unpleasant bloat, eating too much sodium puts you at risk for developing serious medical conditions, like high blood pressure, heart disease, and stroke, according to the Center for Disease Control and Prevention.
Guidelines from the 2015–2020 Dietary Guidelines for Americans recommend that Americans consume less than 2,300 milligrams (mg) of sodium per day as part of a healthy eating pattern. However, the majority of adults in the US eat more sodium than they should—an average of more than 3,400 mg each day—with more than 70 percent coming from processed food and restaurant meals according to the report.
How much sodium is in low-sodium soup?
A food can be technically considered "low sodium" if it has less than 140 mg of sodium per serving according to the Food and Drug Administration.
"If a client who is restricting sodium chooses a canned soup that contains less than 20 percent of the FDA's 2,300-milligram sodium limit, I am happy with that," says registered dietitian nutritionist Brittany Scanniello, RDN.
She encourages clients to stick to a maximum of 460 milligrams of sodium per serving while choosing varieties that include ingredients that support heart health like beans and vegetables.
If you are managing your sodium intake and are looking for the best canned or pre-made soups, read on to find the 14 dietitian-approved top picks for low-sodium soup.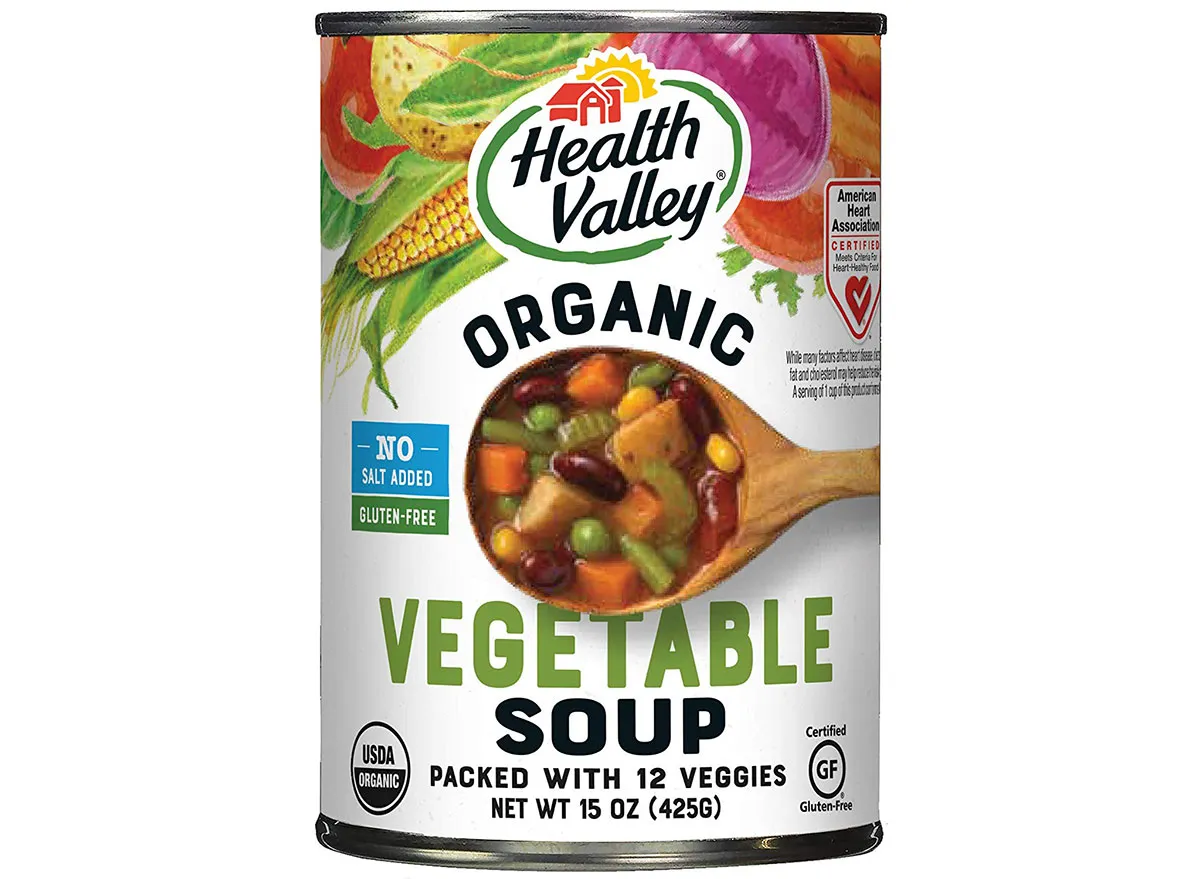 Sodium content: 50 mg per 1-cup serving
"It only has 50 milligrams of sodium per serving. Plus, it's a good source of fiber and vitamins A and C, and most importantly, it tastes great! It's also a convenient way to add more veggies to your diet." says Melissa Nieves, LND, RD, MPH, Founder of Fad Free Nutrition.
Sodium content: 280 mg per 1-cup serving
"My favorite is Amy's Light in Sodium Organic Chunky Tomato Bisque. The entire can has 470 milligrams of sodium. That's about 1/4 the amount of many canned soup brands. It serves as a canvas to add seafood, veggies, and whole grains to make a complete meal." says Lauren Harris-Pincus, MS, RDN, founder of NutritionStarringYOU.com and author of The Protein-Packed Breakfast Club.
Sodium content: 330 mg per 1-cup serving
Pacific foods soups are all organic, with as many ingredients being sourced as locally as possible. Their organic roasted red pepper and tomato soup light in sodium provides 330 milligrams of sodium per serving and is naturally packed with an antioxidant called lycopene. This antioxidant naturally occurs in tomatoes and has been found to support heart health.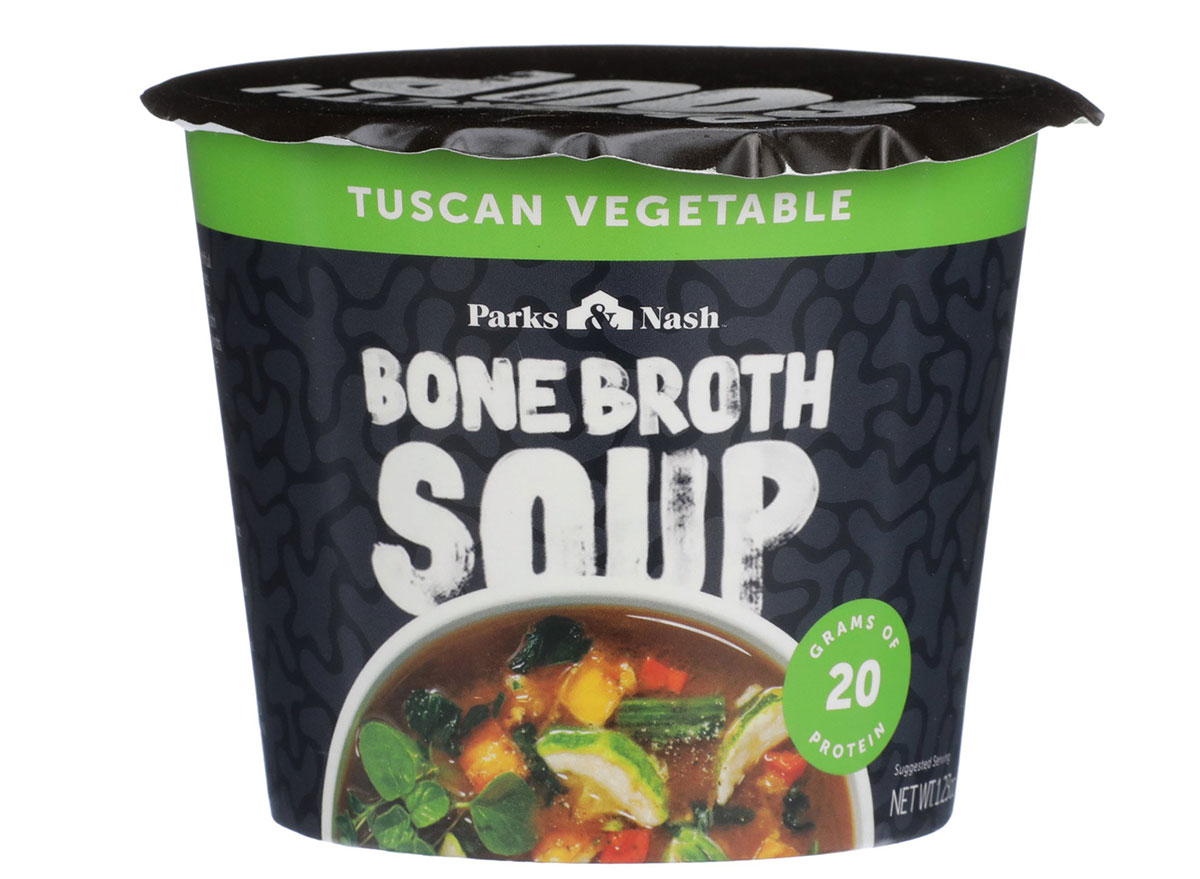 Sodium content: 390 mg per 1-cup serving
This bone broth-based soup provides under 400 mg of sodium per serving, thanks to the chef-created recipe that uses real vegetables for flavor. Although not canned, it is a shelf-stable, convenient, and rich solution when you need a quick cup of filling soup in the middle of a busy day. Simply add water to the soup powder and heat in the microwave for two minutes to enjoy a rich soup that provides 20 grams of protein and 4 grams of fiber to help keep you fueled and satisfied throughout the day.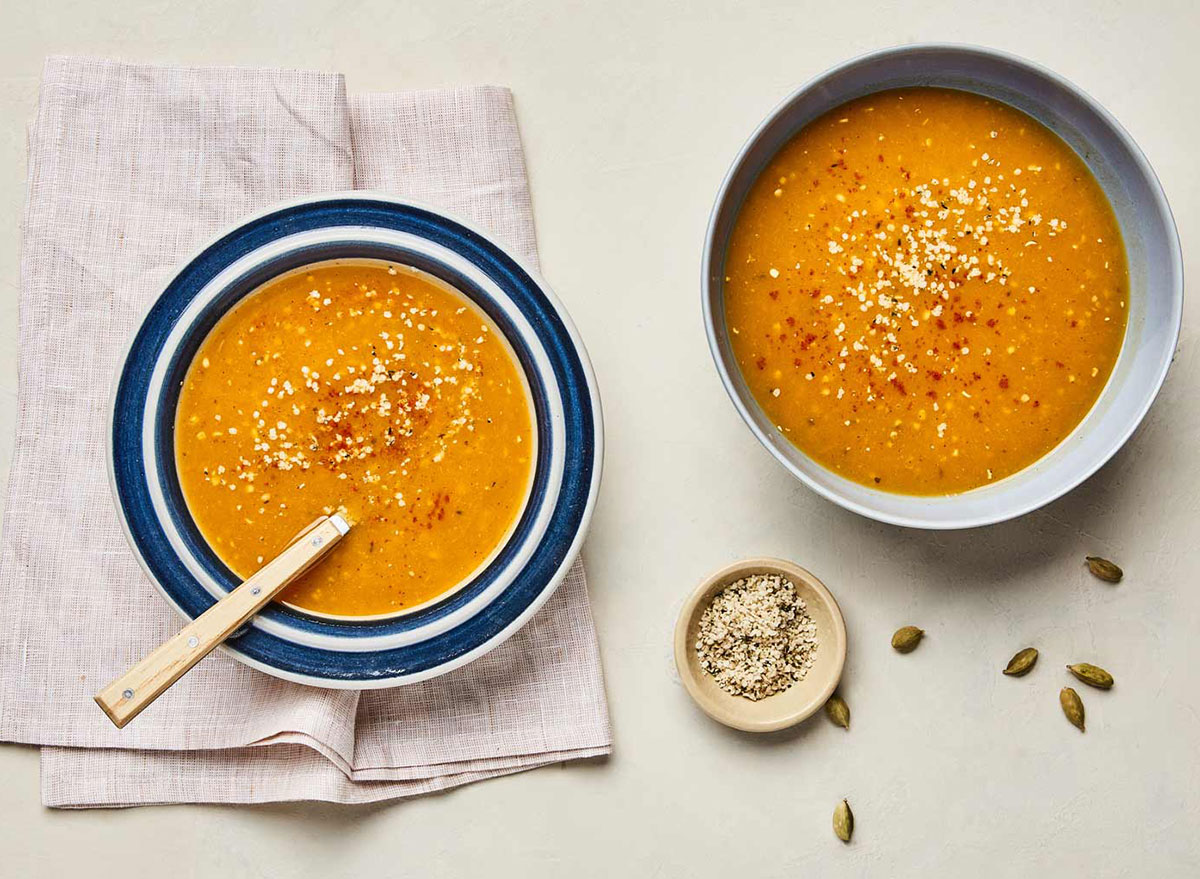 Sodium content: 170 mg per 1-cup serving
Another non-canned option that is delivered right to your door, this soup is under 200 mg of sodium per serving and is ready to serve after heating. It is loaded with real pumpkin and butternut squash, two vegetables that help support heart health. In one study published in Scientific Reports, eating one additional yellow-orange vegetable resulted in a 23 percent heart disease risk in a certain population.
Available through Splendid Spoon.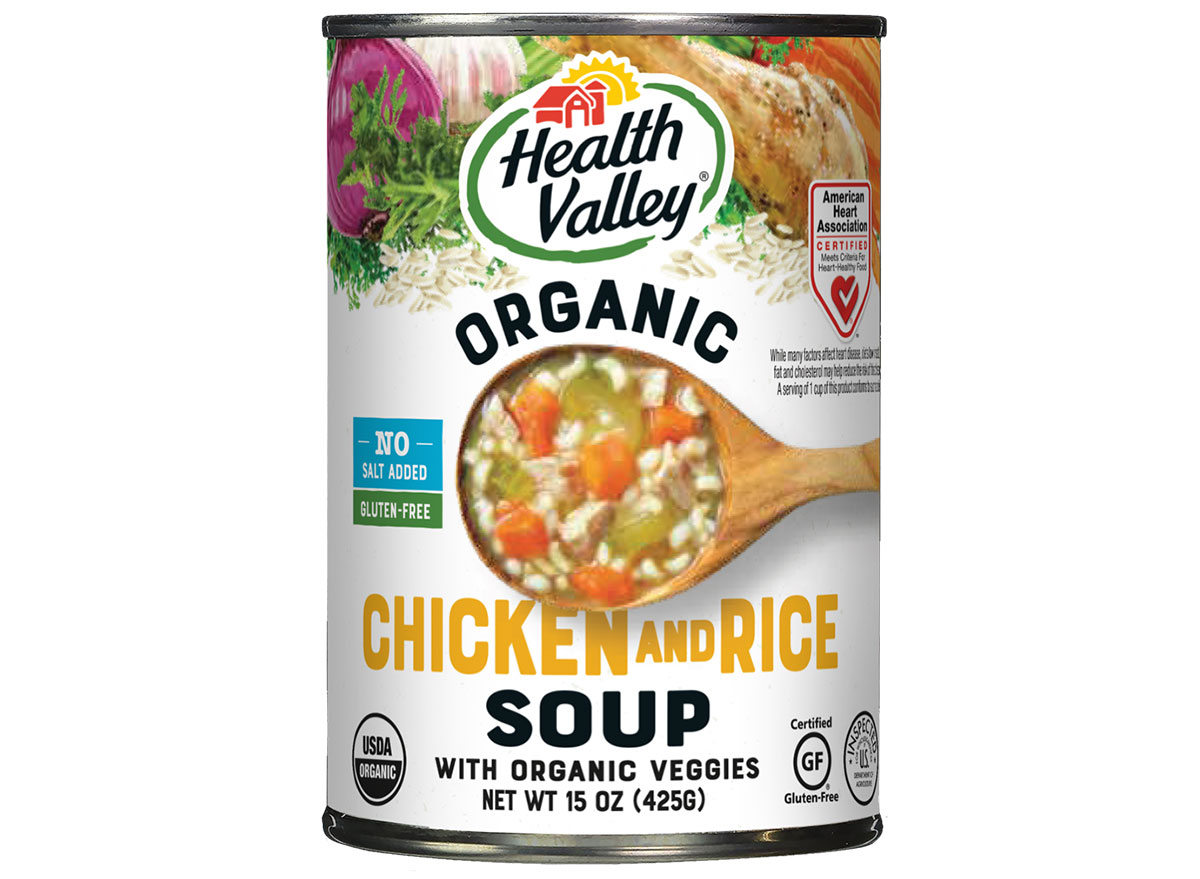 Sodium content: 85 mg per 1-cup serving
Nothing hits the spot like a warm bowl of chicken and rice soup when feeling under the weather. Unfortunately, many canned options can provide more than half of the recommended sodium intake for the day! Health Valley Chicken and Rice Soup No Added Salt provides only 85 milligrams of sodium per serving and is certified by the American Heart Association.
Choosing a protein source like chicken is recommended by experts when taking care of your heart health. This chicken and rice soup makes it easy to comply with expert recommendations in a convenient and nourishing way.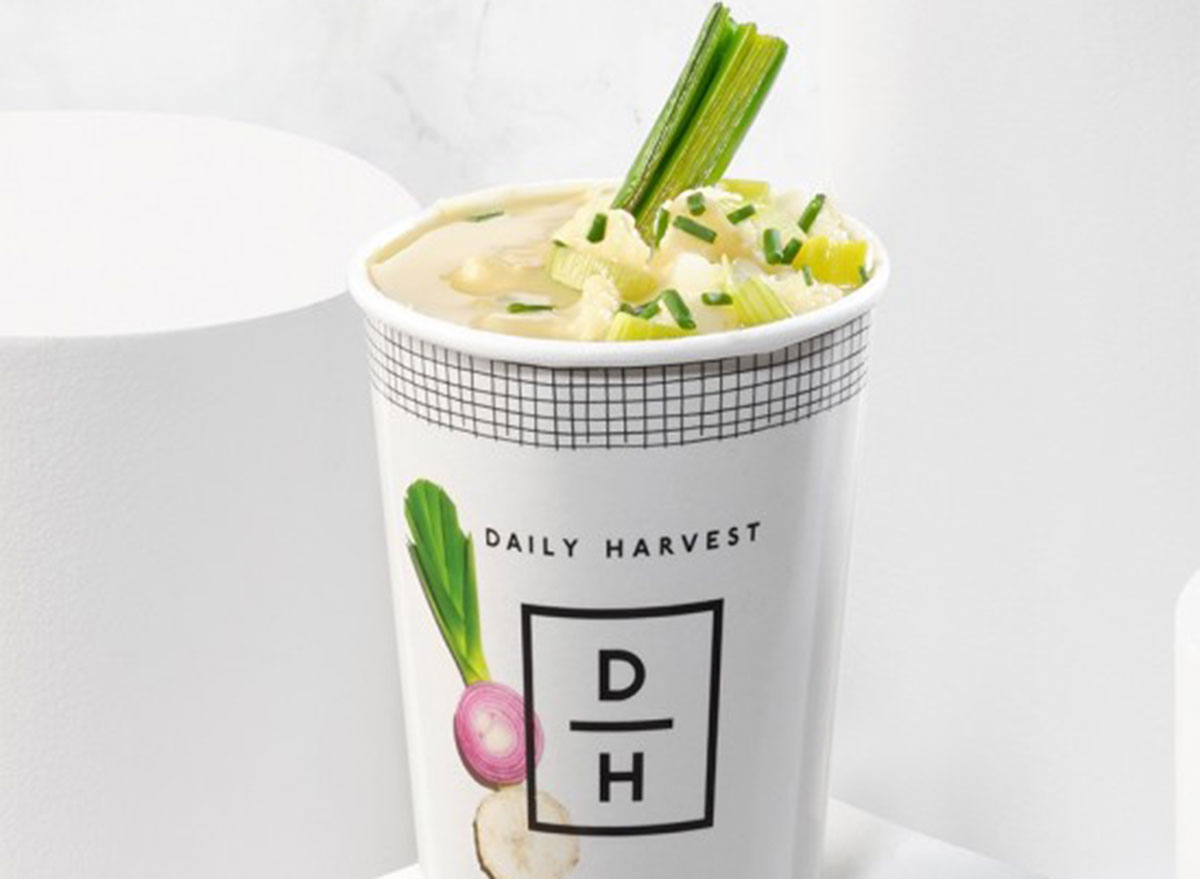 Sodium content: 290 mg per cup serving
Using nutritional yeast instead of salt for flavor results in a delicious soup that is under 300 mg sodium per serving. This soup is frozen instead of canned, so the veggies taste fresh and are not as mushy as canned tends to be.
When it comes to vegetables, leeks are a dietitian's favorite when it comes to heart health due to the potential for reducing the risk of developing heart disease or experiencing stroke. While this soup already contains a good amount of real leeks, feel free to add more yourself!
Available through Daily Harvest.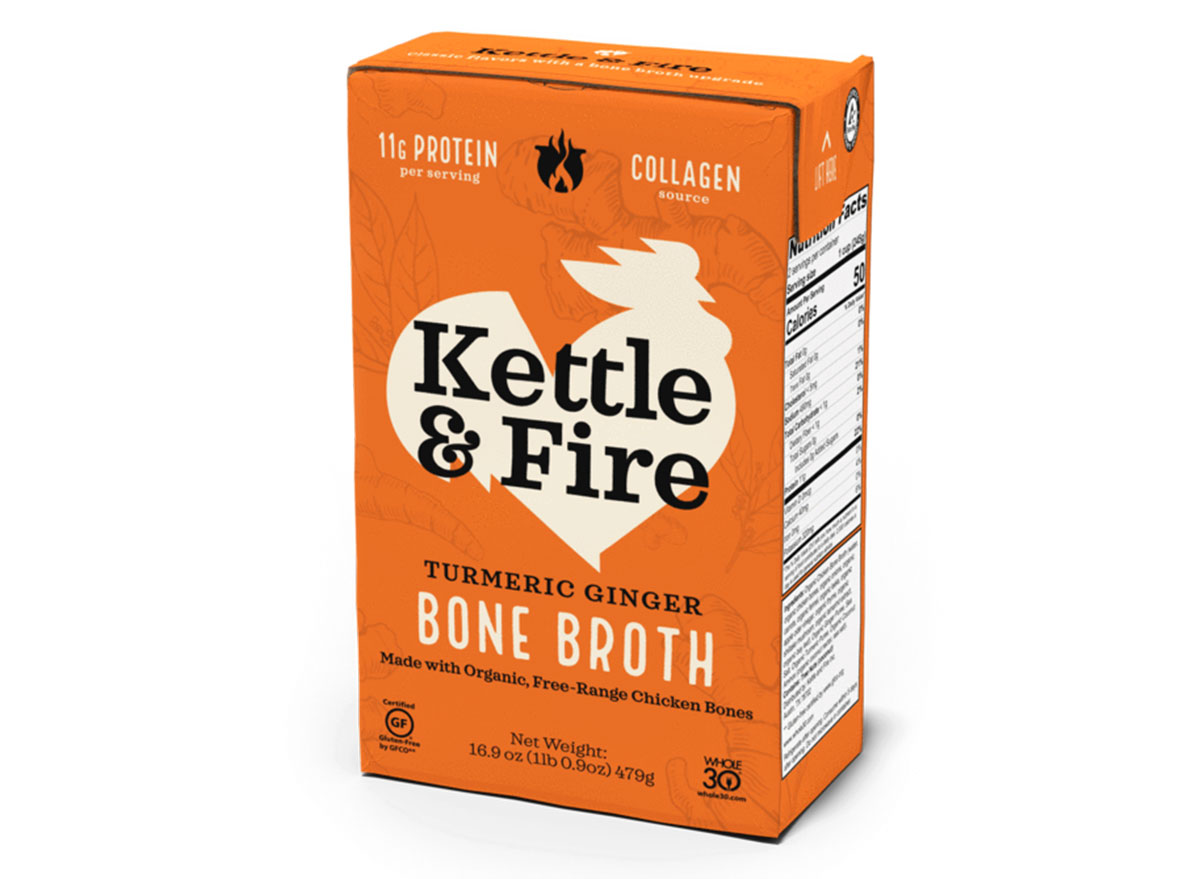 Sodium content: 490 mg per 1-cup serving
Although this soup goes slightly over the sodium limit that dietitians like to stick with, it has so many other redeeming qualities that it had to find it's way on the list.
It has been suggested that turmeric, a spice that is found in this soup, is a potent antioxidant and may be protective against cardiovascular disease.
And bone broth, in general, may be a wise addition to any heart-healthy diet. Results from one study published in the Journal of Agriculture and Food Chemistry suggests that peptides found in cooked bone broth could block enzymes related to heart disease.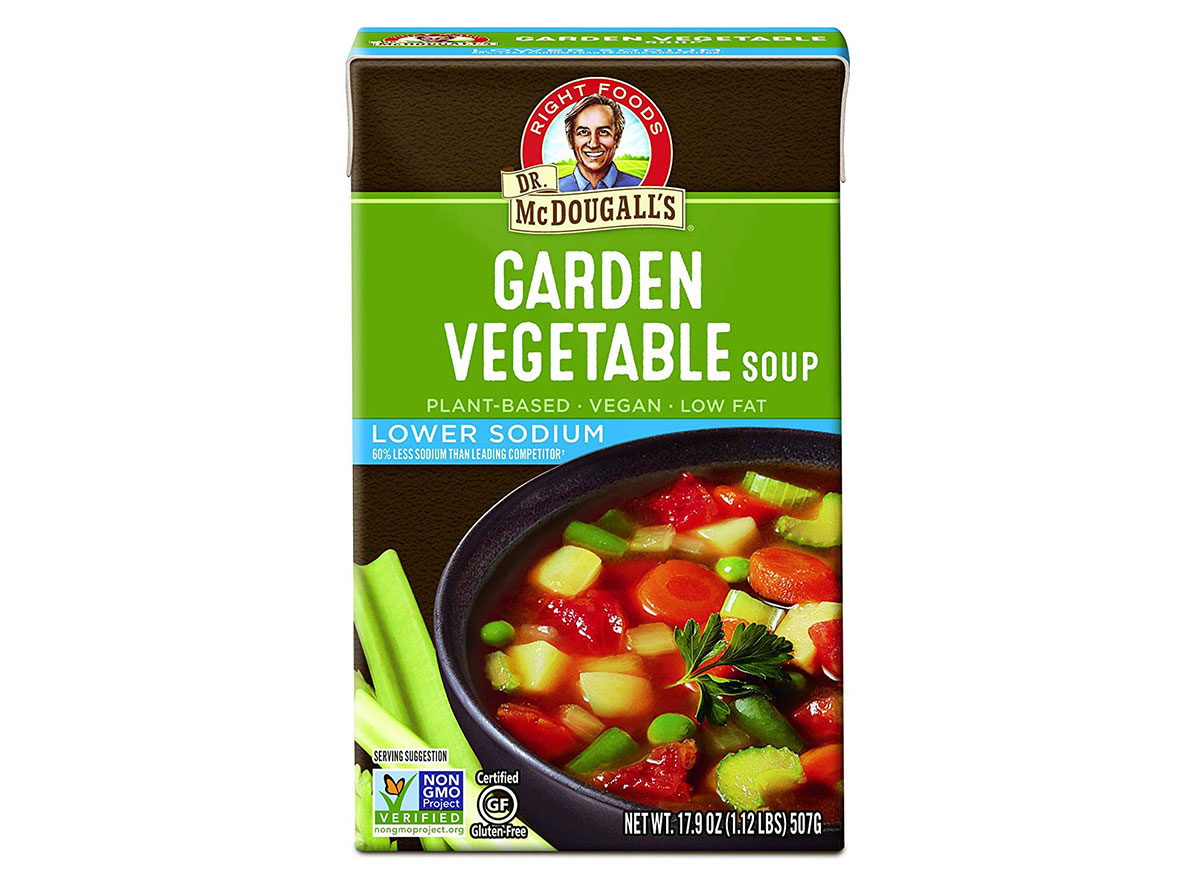 Sodium content: 280 mg per 1-cup serving
Chock-full of heart-healthy vegetables, herbs, and spices, this ready-made soup comes in at under 300 milligrams sodium per serving. Vegetables and heart health go hand-in-hand. Many studies have suggested that vegetable intake has great potential in preventing and treating cardiovascular diseases. Eating your veggies has never been so simple!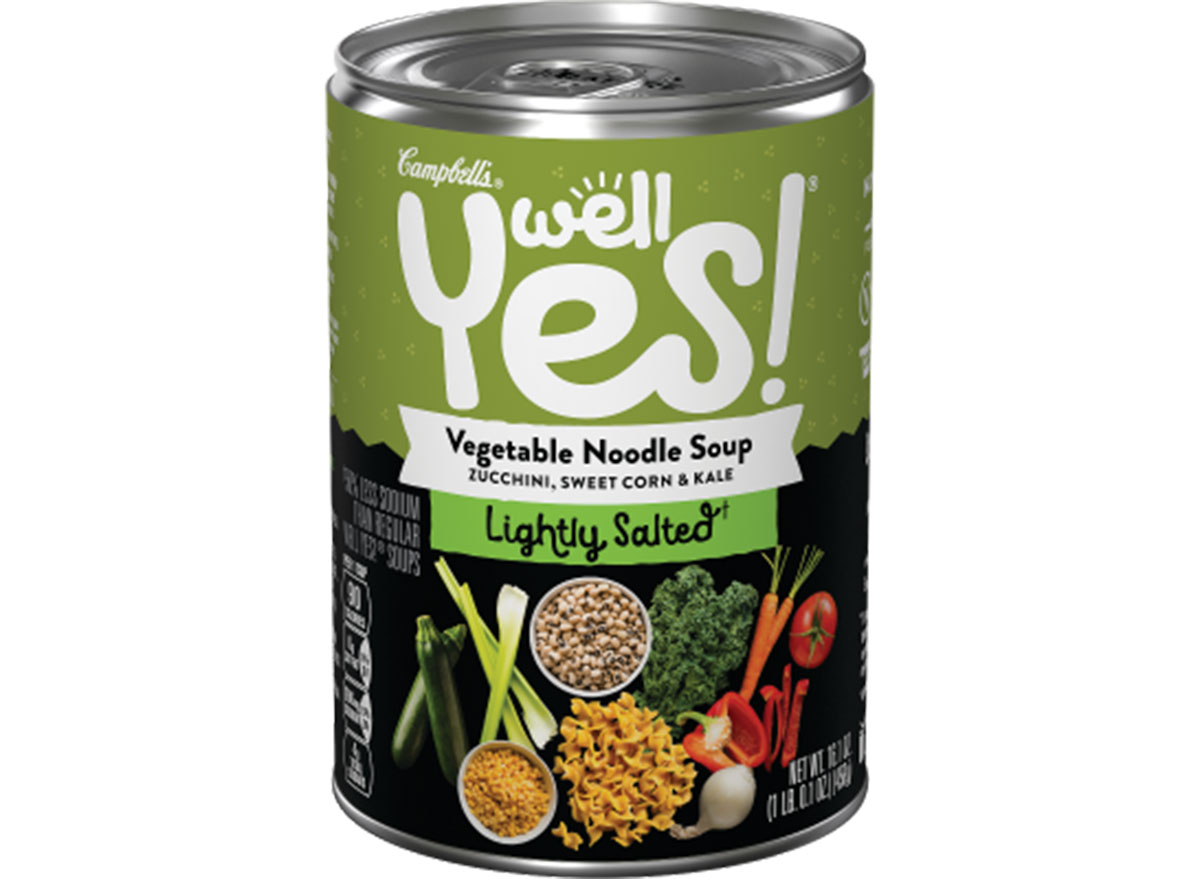 Sodium content: 290 mg per 1-cup serving
This soup contains ingredients like carrots, zucchini, sweet corn, celery, red peppers, and kale, and one serving provides just under 300 mg per serving. Sometimes, simplicity is key.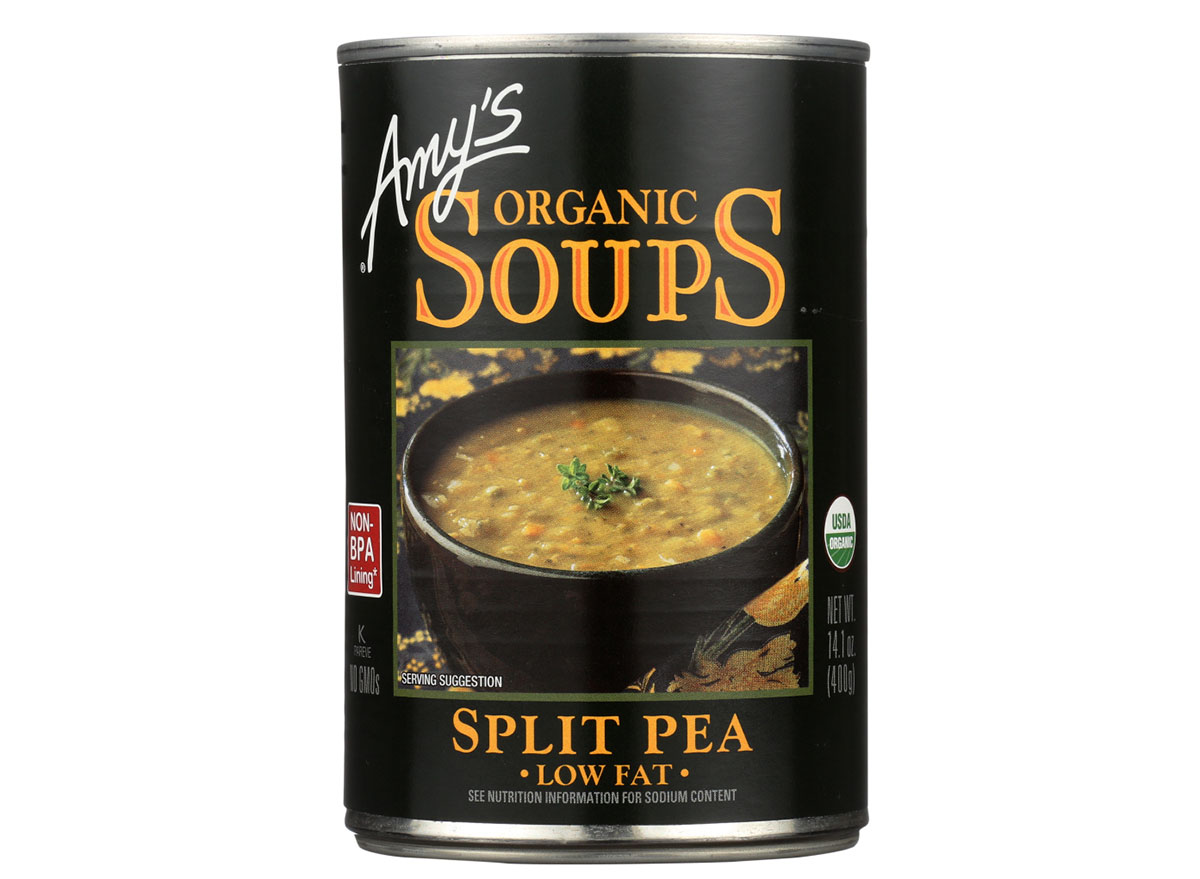 Sodium content: 310 mg per 1-cup serving
While this soup has a little over 500 mg of sodium per can, it has other redeeming qualities that makes it a dietitian favorite when it comes to heart health.
This soup "has 510 mg of sodium per can, which equals about a quarter of the sodium content of most canned soups. It is high in plant protein, has veggies for added vitamins, and only 200 calories per can, 7 grams of fiber, no added sugar, and it tastes great!" says Cristina Svec, RD, a registered dietitian based in California.
Sodium content: 40 mg per 1-cup carton
Chicken broth is a versatile staple found in many pantries. Pre-made broths tend to be loaded with sodium, so it is exciting to find a good-tasting broth that only provides 40 mg of sodium per serving. The broth is made from organic free range chicken and a blend of organic vegetables, herbs, and spices with no added salt. A perfect solution for broth lovers everywhere.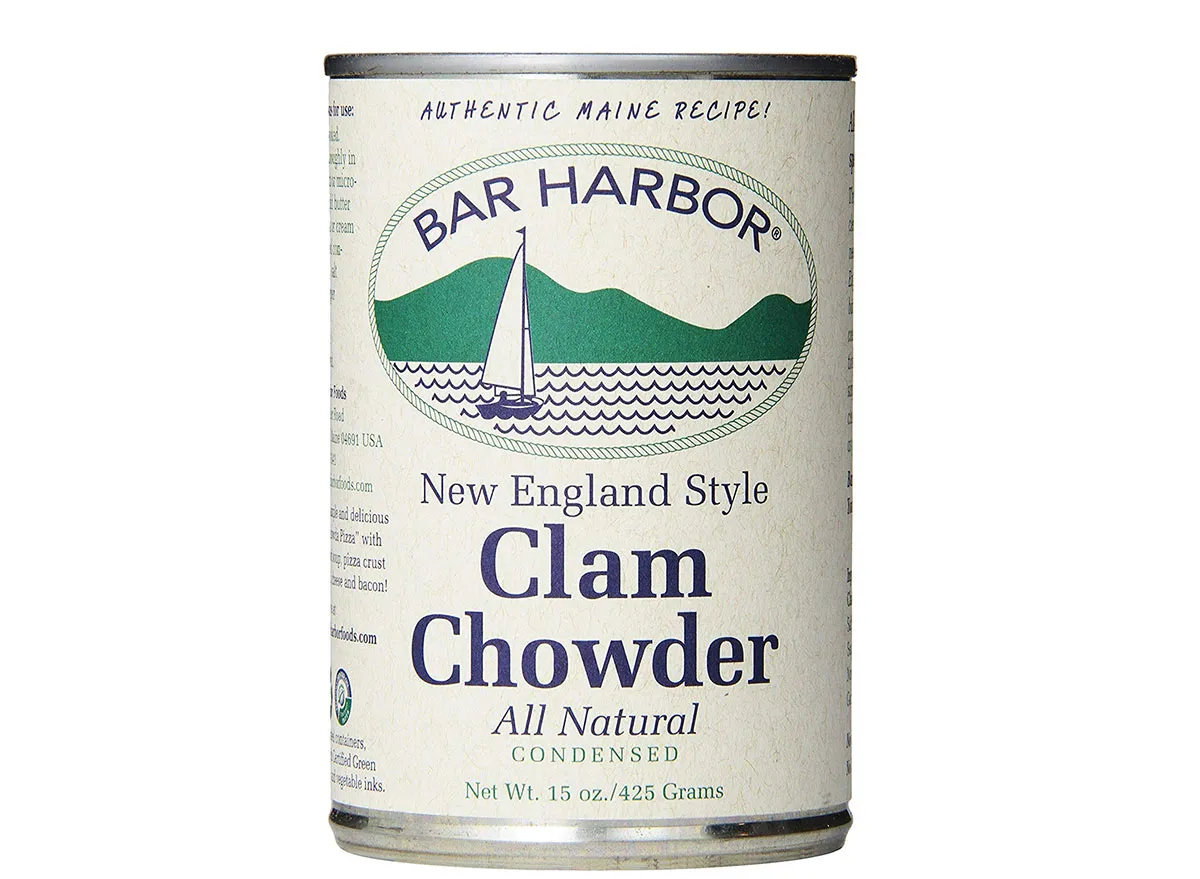 6254a4d1642c605c54bf1cab17d50f1e
Sodium content: 390 mg per 3/4-cup serving
Eating more seafood to support heart health is a recommendation that experts can stand behind. Seafood like clams provide nutrients like omega-3 fatty acids, vitamin B12, and selenium—nutrients that support heart health in various ways.
Bar Harbor Clam Chowder is loaded with real fresh clams, potatoes, and other simple ingredients. Following the USDA's tip to eat seafood twice a week to help prevent heart disease just got a whole lot easier!
Sodium content: 410 mg per 1-cup serving
Campbell's Healthy Request soups meet healthy and heart disease claims on 1 cup servings. This soup contains 410 mg sodium and is chock-full of vegetables, chicken, and black beans. Eating beans may help improve blood cholesterol, a leading cause of heart disease according to the American Heart Association. Eat this soup with some sliced avocado for some healthy fats and you have a nourishing soup with a kick!
Lauren Manaker MS, RDN, LD, CLEC
Lauren Manaker is an award-winning registered dietitian, book author, and recipe developer who has been in practice for almost 20 years.
Read more about Lauren