McDonald's Latest Happy Meal Stunt Is a Letdown for Fans and a Huge Pain for Employees
Some say the Cactus Plant Flea Market collaboration is a disappointing product and a logistical nightmare.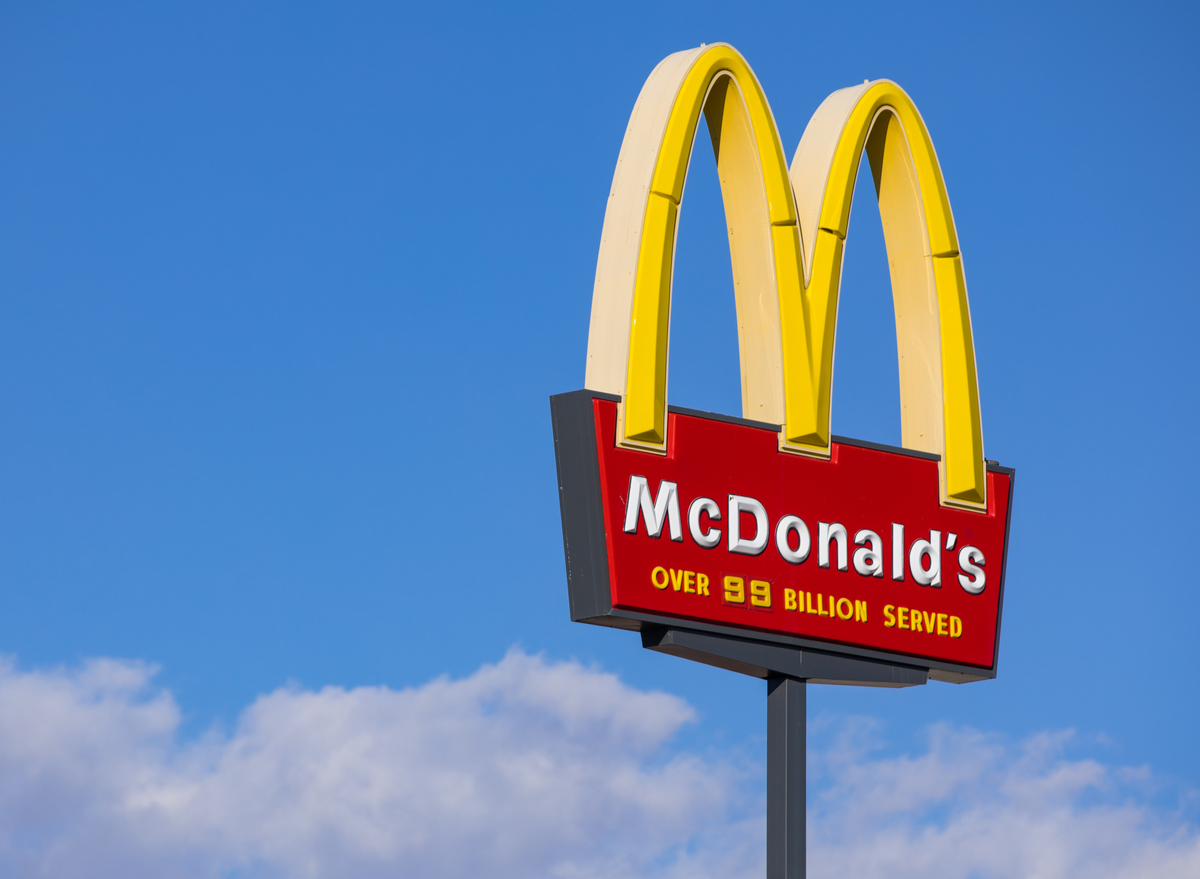 An entire generation of Americans grew up begging their parents to stop at McDonald's for a Happy Meal. And now, the Golden Arches tried to entice them with an adult Happy Meal. The chain bet big on the power of nostalgia with its latest Cactus Plant Flea Market Box, but the early consensus from both customers and staff is that Happy Meals have no business growing up.
The chain launched its collaboration with Cactus Plant Flea Market—an apparel company popularized by celebs like Kanye West—last week, in the form of a limited-time Happy Meal box that consists of either a Big Mac or 10-piece chicken nuggets, medium fries, and a medium drink. It's complete with adult-geared plastic toys—four collectables that depict the chain's old-school mascots Grimace, the Hamburglar, and Birdie, and a new character Cactus Buddy.
"It all starts with the box, which has been totally redesigned in Cactus Plant Flea Market's signature style alongside McD's iconic Golden Arches. The box will be available in-restaurant, in the drive-thru, by delivery or on the McDonald's App starting Oct. 3, while supplies last," McDonald's explained in a press release.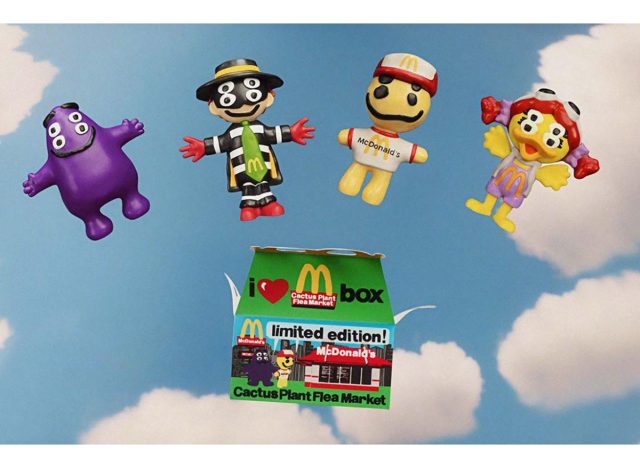 So, adults can enjoy a grown-up portion of food plus get a toy just like back in the good old days. On paper, the idea certainly sounds intriguing, but early reviews were quick to point out its shortcomings.
"Yeah… this is not a nostalgic happy meal for adults. This is weird and artistic and appeals to teenagers," wrote one Reddit user after reading about the promotion. "I was semi interested as a fan of tacky nostalgic Knick knacks, but these don't capture the nostalgia so what's the point," added another Redditor.
It's true, when most adults think back to their cherished childhood memories of Happy Meals, streetwear fashion doesn't immediately come to mind.
"There were so many directions McDonald's could have gone with the toys that would have felt special. Comic book toys. Nickelodeon toys. Ninja Turtle toys. These would have turned the Millennial nostalgia up to 11," Jeremy Schneider of NJ.com opined, and it's hard not to agree with him.6254a4d1642c605c54bf1cab17d50f1e
It doesn't help that all four possible toy options are more creepy than nostalgic. Each character—Grimace, the Hamburgler, Birdie, and the new Cactus Buddy—feature two sets of eyes. It's a safe bet at least a few customers will mistake these toys as a Halloween promotion. The two sets of eyes is part of Cactus Plant Flea Market's branding. "They use a happy face with 4 eyes as the logo most of the time," said one Redditor.
There's also another very adult concern to consider: The price. When you're a kid, you don't worry about footing the fast-food bill, but as an adult, you may balk at the price of a Cactus Plant Flea Market Box.
CNBC's Nicolas Vega picked up a large Cactus Plant Flea Market Box at a New York City McDonald's location, and paid $12.89 before tax. Vega was quick to note that's $2.60 more than he would have paid for a traditional Big Mac Meal—despite the two options offering the exact same amount of food.
"The only differences justifying the $2.60 upcharge—nearly enough money to add an extra McDouble to my order—are the plastic toy and the cardboard box the order comes in," Vega explained.
Meanwhile, McDonald's staff are less than thrilled about the new promotion as well.
One post on Reddit titled "New Adult Happy-meals are killing me" reads "We literally just came off the "buy one get one for a dollar" and we were swamped with Big Mac meals. Now with this we have to literally stockpile them to survive a rush. I hate it."
It seems that a combination of curious customers and logistical considerations have come collided to make the McDonald's workers' days more stressful than they already are.
"The most difficult aspect of this promo for the crew is the sheer volume of these meals that we are selling," one worker told Kotaku. "Most stores I have seen have sold out of either the special boxes, Big Mac buns, or toys. Some places it's more than one of these."
Even worse, the new boxes made for the Cactus Plant Flea Market promotion don't stack on top of each other like regular Happy Meal boxes, no doubt creating a space issue in countless McDonald's locations. One TikTok video shows a McDonald's worker pleading with customers to stop ordering the new adult Happy Meal. "Bro pls don't order those adult McDonald's happy meals bro I'm begging."
While it's clear that people are curious about the novelty, the jury is still very much out on whether this promotion will be seen as a success.
Perhaps The Washington Post's Emily Heil summed it up best with her review: "I just didn't feel that escape from adulthood I'd hoped for. And my feelings about those nuggets inside just confirmed my suspicion that my inner child wasn't coming out to play, no matter how hard McD's tried to lure her out."
Nostalgia is nice, but there's no going back to the past—even for McDonald's.
John Anderer
John Anderer is a writer who specializes in science, health, and lifestyle topics.
Read more about John