We Tried Every Dipping Sauce at McDonald's, Burger King, & Wendy's—and This Was the Winner!
Each of these fast-food giants offers a solid collection of sauces, but only one is the best.
Dipping sauces are the beloved side characters in the fast-food universe. You don't really need them in order to eat burgers, chicken nuggets, and fries, but many consumers view them as a key component of the fast-food experience.
McDonald's fans are so passionate about the famous Big Mac sauce, for example, that they went crazy for the recently launched limited-edition Big Mac sauce dip cups that rolled out to restaurants nationwide this week. And the legendary Szechuan Sauce caused a major uproar when McDonald's brought it back last year for a limited time. 
Needless to say, people are passionate about dipping sauces at McDonald's, Burger King, and Wendy's. Each brand, at any time, offers a handful of different sauces, some completely unique to their chain and the old standy-bys that overlap, like barbecue, ranch, honey mustard, and sweet and sour.
But whose dipping sauces are the absolute best? I tried every single option at these three fast-food giants to finally answer that question.
I rated each sauce on flavor and consistency. The best dipping sauces are well-balanced and bold enough to stand up to the salty, rich foods you get at a fast-food chain. Consistency also matters and needs to be just as good as the flavor, so ranch, for example, should be creamy and not too thin.
With this criteria in mind, I analyzed each individual sauce from McDonald's, Burger King, and Wendy's below. I opted for some simple fries as my dipping vehicle so there wouldn't be too much to distract from the flavor of the actual sauces.
Finally, I picked an overall winning chain, with the best collection of sauces. I also determined the single best dipping sauce from the many options at these three chains. 
McDonald's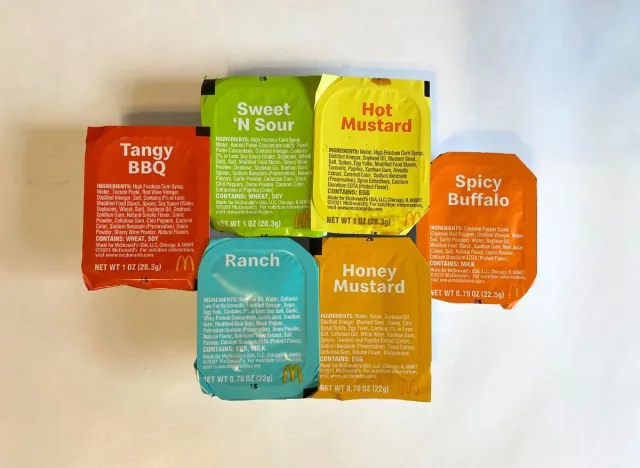 McDonald's offered six different sauces at the time of writing—Tangy BBQ, Ranch, Honey Mustard, Hot Mustard, Sweet N' Sour, and Spicy Buffalo—though it has since launched its limited edition Big Mac sauce dip cups, as mentioned.
Tangy BBQ: This is a great option for anyone who prefers a lot of tang in their barbecue sauces. That tang is balanced well by a hint of smokiness, though I would have liked at least a little zing of heat.
Ranch: This sauce left a little to be desired on a couple of fronts. The ranch was kind of creamy, but just a bit looser than I would have wanted. And while I could taste some nice salty and garlicky flavors, I would have liked more of the herby tanginess that you get in a really good ranch.
Honey Mustard: I know honey mustard is meant to be sweet, but this was just a bit too cloying for my tastes. The flavor isn't necessarily bad, but I wish it was thicker, creamier, and sharper.
Hot Mustard: Honestly, this was much closer to what I was looking for in the honey mustard. The orangey, caramel color of this dipping sauce was a little off-putting at first, but I ultimately found the tangy flavor and slight wasabi-like burn much more enjoyable than I ever would have anticipated.
Sweet 'N Sour: McDonald's seems to have a sugar problem on its hands. I know this will upset the many, many diehard fans of the Sweet 'N Sour sauce…but I just don't get the hype. It wasn't sour enough and it was way too sweet. It almost felt like eating a tablespoon of liquid sugar with a nearly indiscernible sour flavor lurking in the background.
Spicy Buffalo: I was really pleasantly surprised by the heat level in this sauce. For me, fast-food chains are usually a little too restrained with heat in products they call "spicy," but the spice in this sauce hit me almost immediately. My biggest complaint is that McDonald's seemed to sacrifice actual flavor in favor of spice. There wasn't much to write home about apart from the heat.
Burger King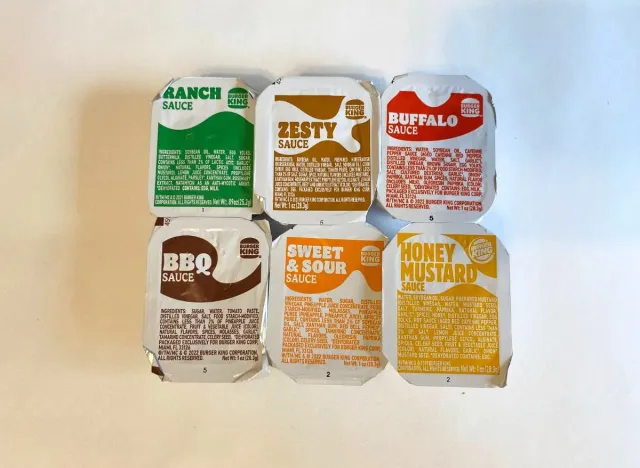 I also tried six sauces from Burger King—BBQ, Ranch, Honey Mustard, Sweet & Sour, Buffalo, and Zesty. The only sauce I did not include in this test was the Marinara.6254a4d1642c605c54bf1cab17d50f1e
BBQ: This barbecue sauce wasn't bad, but it was kind of meh. It was too sweet and needed more smoke and tang in order to balance the sugar. Burger King's take on the iconic dipping sauce did win points, however, for being a little thicker than McDonald's version.
Ranch: This ranch was creamy and not too thin. Paired with the fries, it had a really savory, salty flavor that almost tasted like the onion dip you can whip up in 10 seconds using onion soup mix and sour cream. I would have liked it to be more tangy and herby, though.
Honey Mustard: Burger King's honey mustard also struck me as too sweet, but it still ended up being my favorite out of the three honey mustard options. It's not perfect by any means. I want honey mustard to be creamier, tangier, and more savory than this was to balance the sweetness. However, there was still something about this sauce that made me want to keep dipping.
Sweet & Sour: Many 2weet and sour sauces capitalize on the very importnst sour aspect, and Burger King's version is yet another culprit. Do I really want to dip my fries and chicken nuggets in this glorified corn syrup? No. It still better than McDonald's disappointing version.
Buffalo: I don't usually go for Buffalo as a dipping sauce, but I could still discern after one bite that this was an improvement on McDonald's version. The actual flavor of the sauce was much more interesting since it didn't just rely on heat to pack a punch. My biggest critiques were that it was a little too loose and it lacked the strong heat in the McDonald's Buffalo sauce.
Zesty: This was by far the most unique out of all the sauces I tasted, and the flavor was just as enjoyable as the novelty. Burger King's Zesty sauce is a creamy, rich, and flavorful standout that left a really pleasant horseradish-style burn in its wake.
Wendy's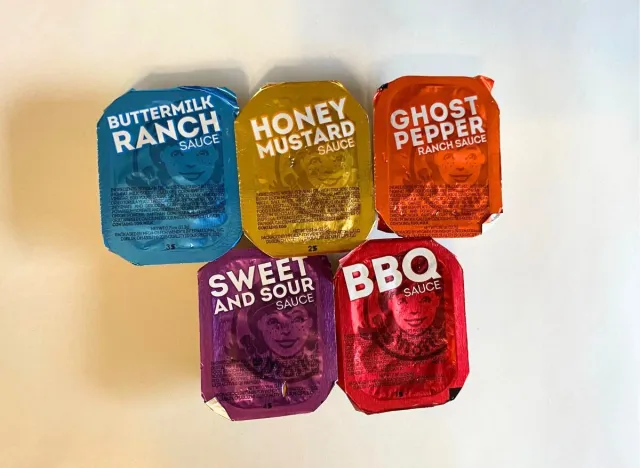 Wendy's offered one less option than the other two chains, with BBQ, Buttermilk Ranch, Ghost Pepper Ranch, Honey Mustard, and Sweet and Sour dipping sauces.
BBQ: If you're not in the tangy camp of barbecue sauce lovers, then you're likely in the sweet camp. And, if you fall into the latter group, I'd bet you'll love this option. The sweetness of Wendy's barbecue works because the sauce is smoky enough to balance it out. This was my personal favorite barbecue out of the three options.
Buttermilk Ranch: Hallelujah! This was the fast-food ranch I'd been searching for this entire experiment. Creamy? Check. Tangy? Check. Savory? Check. I have no notes, except to say that every Wendy's customer should do themselves a favor and try this.
Ghost Pepper Ranch: I'll admit that I didn't give much thought to this presumably spicier version of Wendy's ranch when I took my first bite. In fact, I practically balked when I tasted the sauce because I couldn't detect any spice right off the bat. But with every additional bite, it got spicier and spicier and I quite literally had to eat my words. This sauce tasted just as good as the regular ranch, but it was dialed up a notch with that nice, building heat.
Honey Mustard: This was probably the most disappointing out of all the sauces in Wendy's lineup. At the risk of sounding like a broken record, the third and final honey mustard was too sweet again for me and too thin. I still think it brought a little more to the table than McDonald's in terms of actual flavor, but compared to the other stellar sauces at Wendy's, this option just didn't measure up.
Sweet and Sour: Sweet and sour dip cups will never be my go-to above a ranch or barbecue, but this was undoubtedly the best version of the bunch. That quintessential sweetness wasn't nearly as cloying as the others because it actually had some sour, vinegary flavors to balance it.
Verdict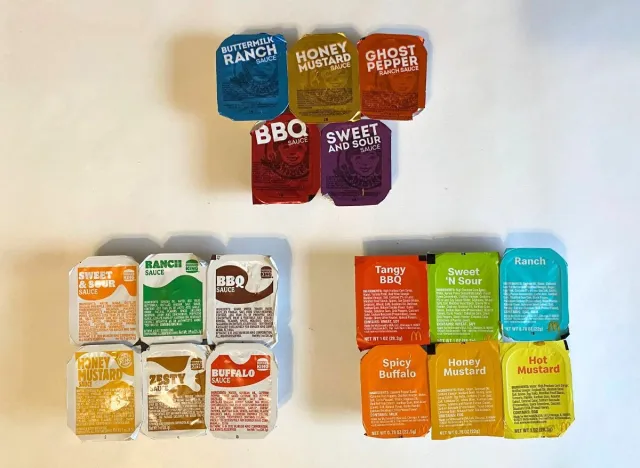 The Best Chain: Wendy's
If you couldn't tell from my glowing reviews for nearly all of their sauces, Wendy's was my undeniable winner in the best overall sauce collection category. Wendy's barbecue, ranch, and sweet and sour sauces all trumped the versions I tasted from McDonald's and Burger King. Plus, the unique Ghost Pepper Ranch was sneakily spicy in a way that left me really pleasantly surprised.  Though Wendy's claimed the #1 spot, McDonald's and Burger King have some really solid options. I've always enjoyed McDonald's barbecue sauce, and the hot mustard was a surprising standout for me. 
The Best Sauce: Wendy's Buttermilk Ranch
My pick for the overall best sauce out of all the options goes to Wendy's Buttermilk Ranch. There's just something so satisfying about a ranch dipping sauce that's executed really well.
The Best Barbecue Sauce: Wendy's BBQ
With the perfect balance of sweet and smokey, Wendy's barbecue sauce was my favorite of the three options by far. The flavor was stellar, and the thick texture was just right.
The Best Sweet and Sour Sauce: Wendy's Sweet and Sour Sauce
This was the only sweet and sour sauce that wasn't overwhelmingly sweet. While I don't anticipate making this my go-to dipping choice at Wendy's, I finally understand
The Best Honey Mustard: Burger King's Honey Mustard
I wasn't blown away by any of the honey mustard options I tried, but I did enjoy Burger King's version more than the others. It was still a bit too sweet, but some extra tang and creaminess made it better balanced than the versions at McDonald's and Wendy's.
The Best Unique Sauce: Burger King's Zesty Sauce
I have to give Burger King's Zesty Sauce an honorable mention in the best overall sauce category just because it was so unique and well done.
Zoe Strozewski
Zoe Strozewski is a News Writer for Eat This, Not That! A Chicago native who now lives in New Jersey, she graduated from Kean University in 2020 with a bachelor's degree in journalism.
Read more about Zoe