8 Fast-Food Chains That Use the Best Quality Dipping Sauces
For some chains, that means making sauces fresh and in-house.
In the land of fast food, it is often the condiments that separate the good from the great. Anyone can flip a perfectly fine burger patty, but it is the sauce that goes on that patty that makes a world of difference to the customer. So if you are in the fast food industry, it is probably to your benefit to make sure you offer the best quality dipping sauces possible.
For some chains, that means making sauces fresh and in-house. According to Food Insight, nearly two-thirds of consumers pay close attention to ingredients when choosing what to eat. In that regard, it is definitely to the restaurant's benefit to prioritize fresh ingredients, from main courses to the sauces that accompany them. And for other chains, it may mean emphasizing bold flavor above all else, even if freshness is not at the top of the ingredient list. If the sauce is not necessarily going to be the healthiest, then it might as well be the tastiest.
Several fast food chains rise above the rest when it comes to quality condiments, both in their dipping sauces and salad dressings. If you have ever wondered what restaurants receive higher marks than others, here is a list of a few standouts that use the highest quality ingredients or that customers can't stop talking about.
Panera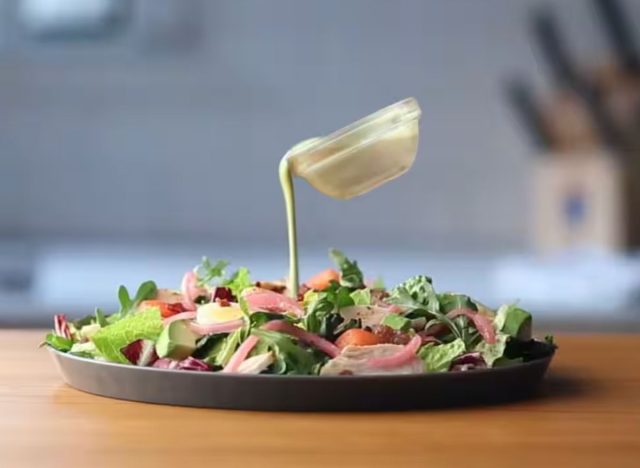 Panera has made great strides in recent years to change the narrative over the quality of its ingredients. This has included announcing its "No No List" in 2015, removing dozens of artificial ingredients, flavorings, and colors from its food. It also meant a commitment to making the freshest food possible, from the bread in its sandwiches to the dressings on top of its salads. Panera's website boldly states that all of its dressings are made fresh and in-house, including the Green Goddess Dressing which comes on top of the fan-favorite salad of the same name.
Raising Cane's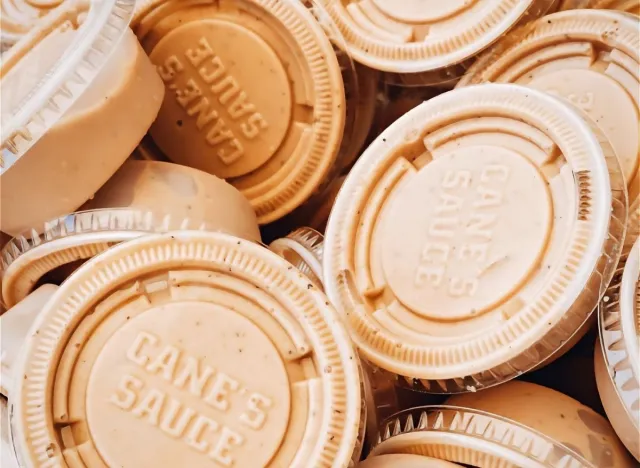 You will find Raising Cane's all across America, but it is probably a more common sighting the further south you live. The chain is best known for its fried chicken fingers, made even more beloved thanks to its dipping sauces.
The signature Cane Sauce has been a well-kept secret for years, with many fans trying and failing to recreate it. In fact, according to a message sent on Twitter, the only employees that know the exact sauce formula are the Restaurant General Managers. Those managers make the sauce in-store every day, per a comment shared on the chain's Facebook page. And while the chain doesn't bottle it, it is sold "in larger quantities" at each location.
In-N-Out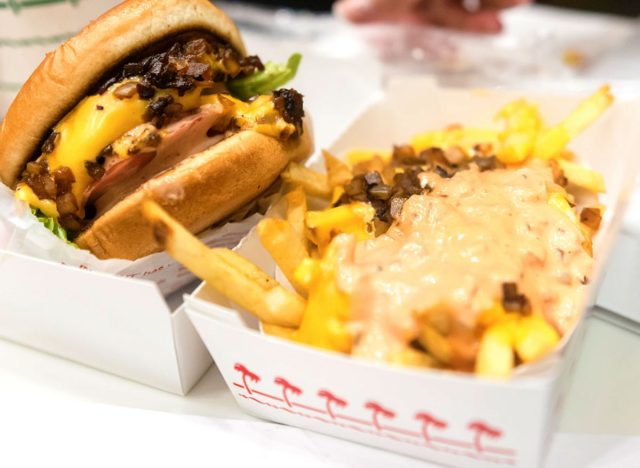 In-N-Out Burger has a reputation for its seriously game-changing sauce, or if you are speaking fluent In-N-Out jargon, "spread." The west coast chain's spread comes standard on all of its burgers, and famously on its french fries if you order them Animal Style off of the not-so-secret menu. In-N-Out also prides itself on serving fresh ingredients, with no freezers or microwaves to be found at any of its restaurants.
Wingstop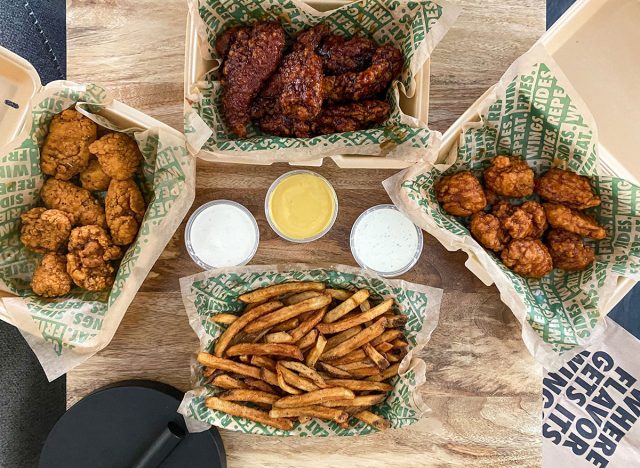 Chicken wing fans can have their choice of sauce at Wingstop. The chain offers over a dozen different wing sauce flavors from Garlic Parmesan to Mango Habanero. It is constantly introducing new, limited-time flavors as well, including Carolina Gold BBQ in late 2022. According to The Takeout and PR Newswire the sauces at Wingstop—like its signature Bleu Cheese and Homemade Ranch disp—are made fresh on-site each day.
Culver's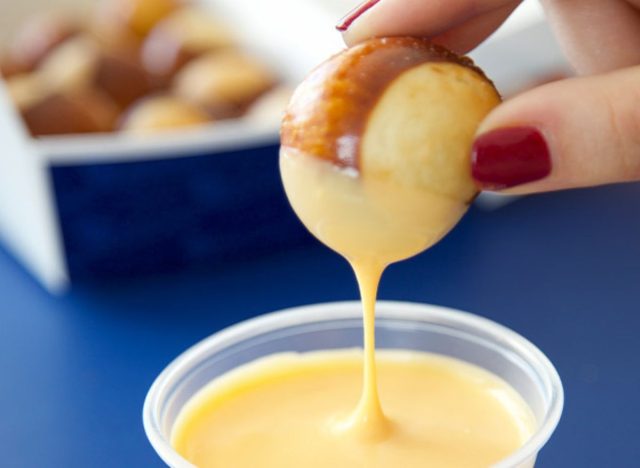 Culver's is highly rated by customers on a lot of different metrics, including its fresh-made burger patties and frozen custard. So it should come as no surprise that the fast food chain hits high marks on just about every menu item, including the sauces and dressing.
In particular, Culver's Wisconsin Cheddar Cheese Sauce is a fan favorite, though Reddit users have stated that the beloved condiment is not made fresh on-site. Still, the chain has a reputation for top-tier dipping sauces, and while it may come frozen, it is still "UBER-legit" and made with real ingredients as one Redditor points out.
Jollibee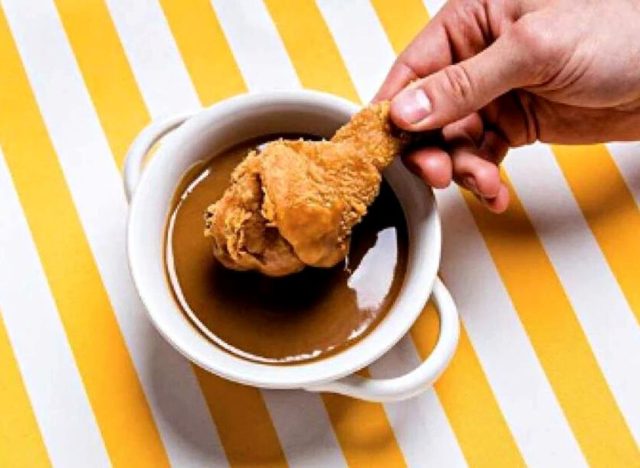 West coast residents are likely most familiar with Jollibee. The fast food chain originated in the Philippines in the 1970s and found its way to the United States 20 years later, now primarily concentrated in California, according to the South China Morning Post.6254a4d1642c605c54bf1cab17d50f1e
For those unfamiliar with Jollibee, its menu is a unique hybrid of spaghetti and fried chicken, with the latter including a gravy sauce that some fans claim is "the best tasting gravy among fast food restaurants." In fact, Thrillist ranks its bucket of fried chicken with gravy as the top menu item at Jollibee, making the condiment a standout amongst other fast food sauces. The chain also offers Banana Ketchup, a Southeast Asian version of the popular condiment.
Hopdoddy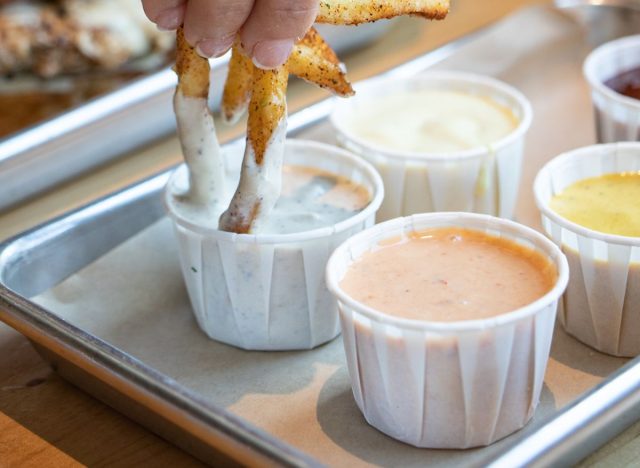 There are a lot of fresh things happening at Hopdoddy, the burger chain that is primarily located along the West Coast. A quick glance at its menu will reveal a multitude of sauce options, including Chipotle Aioli, HD Ranch, and Queso. The variety of sauces is what makes Hopdoddy stand out to many customers, including one who left a review on Tripadvisor saying that "the different sauces but that is what made this place for me." Good news for Hopdoddy sauce fans: As of 2021, the sauces were made available to purchase in bottles so you can add them to your favorite homemade dishes.
Chick-fil-A
There is no denying that Chick-fil-A has an almost cult-like following when it comes to its dipping sauces and salad dressings. Fan favorites include the signature Chick-fil-A sauce, which is so popular these days, you can purchase it at your local grocery store and mega box stores like Walmart. Other popular sauces include Ranch, Honey Mustard, and Polynesian Sauce. But the signature Chick-fil-A sauce reigns supreme. While those pre-packaged portions of condiments are certainly not made fresh on-site, it is obvious that Chick-fil-A has made a bit of a brand for itself on those tasty dipping sauces.
Carly Neil
Carly Neil is a freelance writer specializing in all things food, travel, Disney, and theme parks.
Read more about Carly