This McDonald's Hack Will Save You Money on McNuggets
Plus, it's even the healthier option!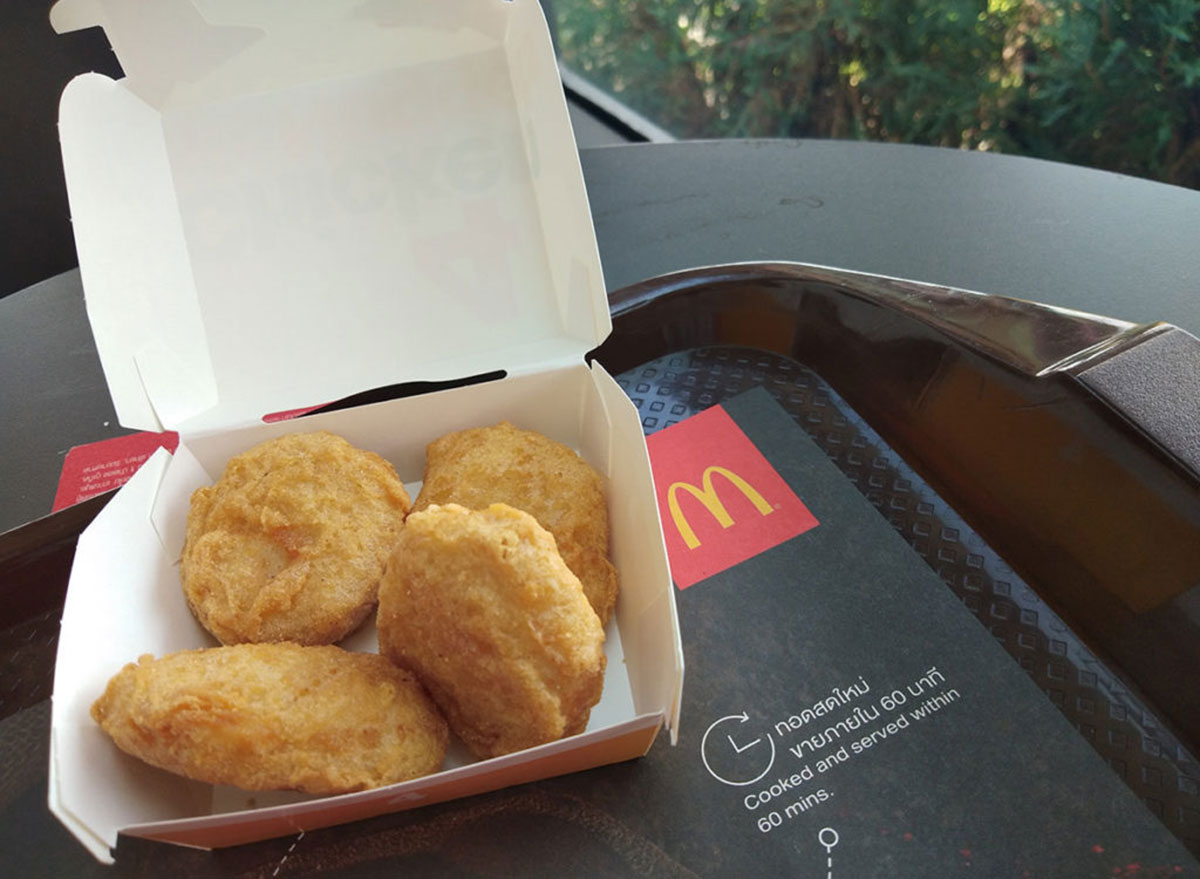 Naturally, you would think that ordering a product in bulk would mean a reduced cost per item. Places like Costco pride themselves on offering bulk items at a reduced rate. However, if you take a close look at some of your favorite menu items—like McDonald's McNuggets—you will not find this to be the case. In fact, if you order the smaller piece, it will actually save you money! Here's our McNuggets hack.
First, take a look at the prices. Prices for each item may vary depending on where you are located. However, when looking at the prices in the Greater New York City area, we did some quick math to determine what the cost per nugget would be per each pack you would order. WYRK News recently did a similar calculation, so we decided to try it ourselves. It's the McNuggets hack you've always wanted!
4 Piece McNuggets: $2.09 (about $0.52 per nugget)
6 Piece McNuggets: $3.89 (about $0.65 per nugget)
10 Piece MgNuggets: $6.19 (about $0.62 per nugget)
That's right! If you buy a 10-piece McNugget, it actually will cost you more money per nugget then it would to buy a simple 4-piece. So if you were to even buy three 4 Piece McNuggets (to make 12 nuggets total), it would only cost you $0.08 more than a 10-Piece would.6254a4d1642c605c54bf1cab17d50f1e
Aren't McNuggets unhealthy?
While it isn't wise to eat fast-food on the regular, surprisingly, McNuggets aren't that bad when you compare them to the nutritional value of other McDonald's items on the menu.
Let's take a look at the 4 Piece McNugget because clearly that is the best bang-for-your-buck option. According to the McDonald's Nutrition Calculator, a 4-Piece McNugget is only 170 calories, 10 grams of fat (1.5 grams saturated), 10 grams of carbs, 9 grams of protein, and get this, zero grams of sugar. This does not include any added dipping sauces
The nutrition of a McNugget looks very different compared to the McChicken Sandwich, which has 400 calories, 21 grams of fat (3.5 grams saturated), 39 grams of carbs, 14 grams of protein, and 5 grams of sugar.
Now, we all know that a 4-Piece McNugget isn't a whole lot in terms of having a meal. Nevertheless, because we have done the math and we know that a 4-Piece McNugget is the better deal, why not double it? This would make it an 8-Piece McNugget meal, and will still be the healthier option compared to the McChicken. That would equal out to 340 calories, 20 grams of fat (3 grams saturated), 20 grams of carbs, 18 grams of protein (more than the McChicken!), and yet again, zero grams of sugar.
So if you're in the mood for a cheat meal and craving a fried chicken meal at McDonald's, ordering two 4-Piece McNuggets is not only the better deal on the menu but also a healthier meal at that. And of course, if you even need more to supplement, we have a few healthy fast food orders you can try.
For more tips, be sure to sign up for our newsletter.