15 Best Mediterranean Diet Recipes
If you love seafood and olive oil, you're in the right place.
For the fourth year in a row, the Mediterranean diet has been named the very best by U.S. News & World Report rankings. Since 2018, experts have agreed that the Mediterranean diet doesn't just aid in weight loss, but it also focuses on the type of foods and flexibility that is most beneficial for our longevity and wellbeing.
Focusing on vegetables, fruits, herbs and spices, nuts, beans, and whole grains, the Mediterranean diet isn't even remotely close to fad dieting but is more so a way of life. Add in moderate amounts of dairy, poultry, eggs, and seafood, and you've got a full fridge to cook up basically anything your heart desires. If you're looking to make the switch in 2021, we want to help. Here are 15 Mediterranean diet recipes to get you started.
And for more, don't miss these 15 Classic American Desserts That Deserve a Comeback.
Simple Homemade Hummus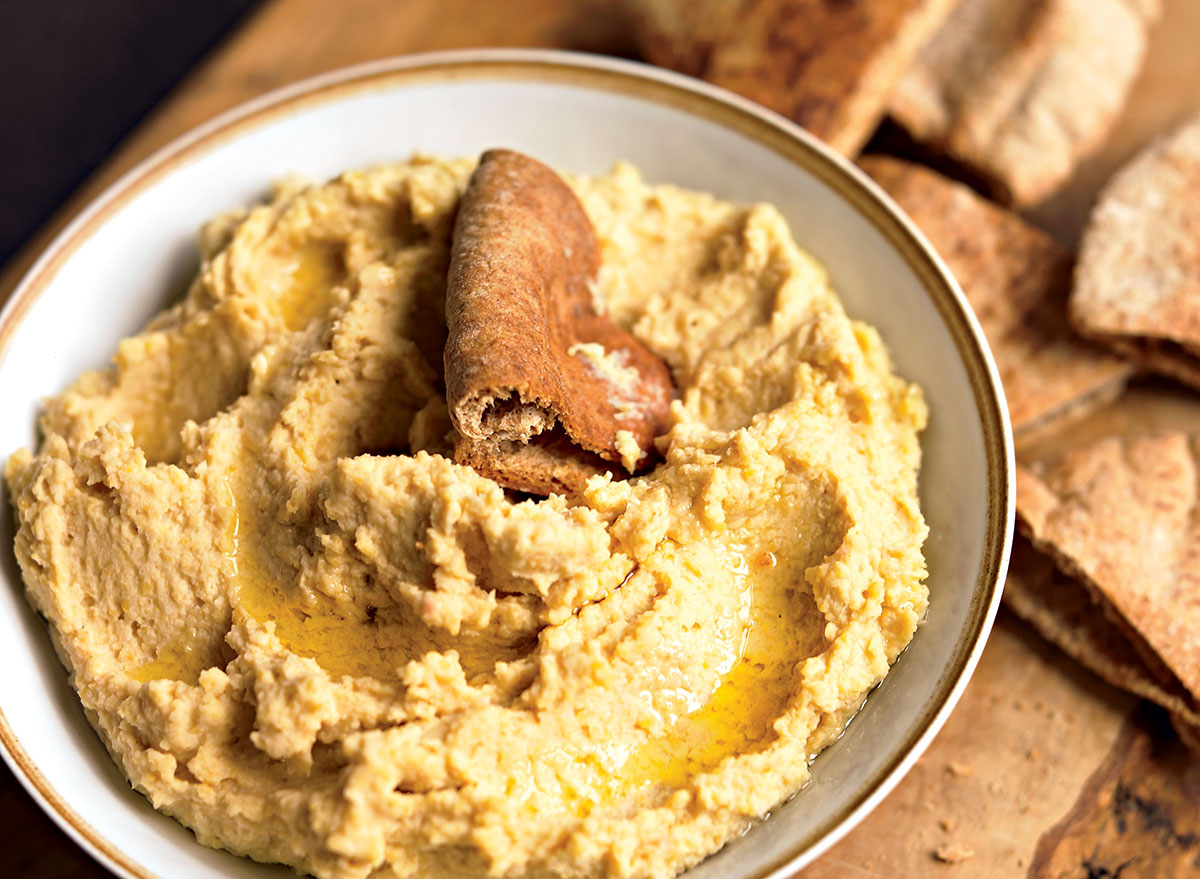 While the Mediterranean diet is so much more than hummus, the creamy, vegan dip is a staple for good reason. Full of nutrient-rich fats and fiber, all you need is a can of chickpeas, lemon, and garlic to get started. The rest is up to you.
Get our recipe for Hummus.
Roast Salmon with Lentils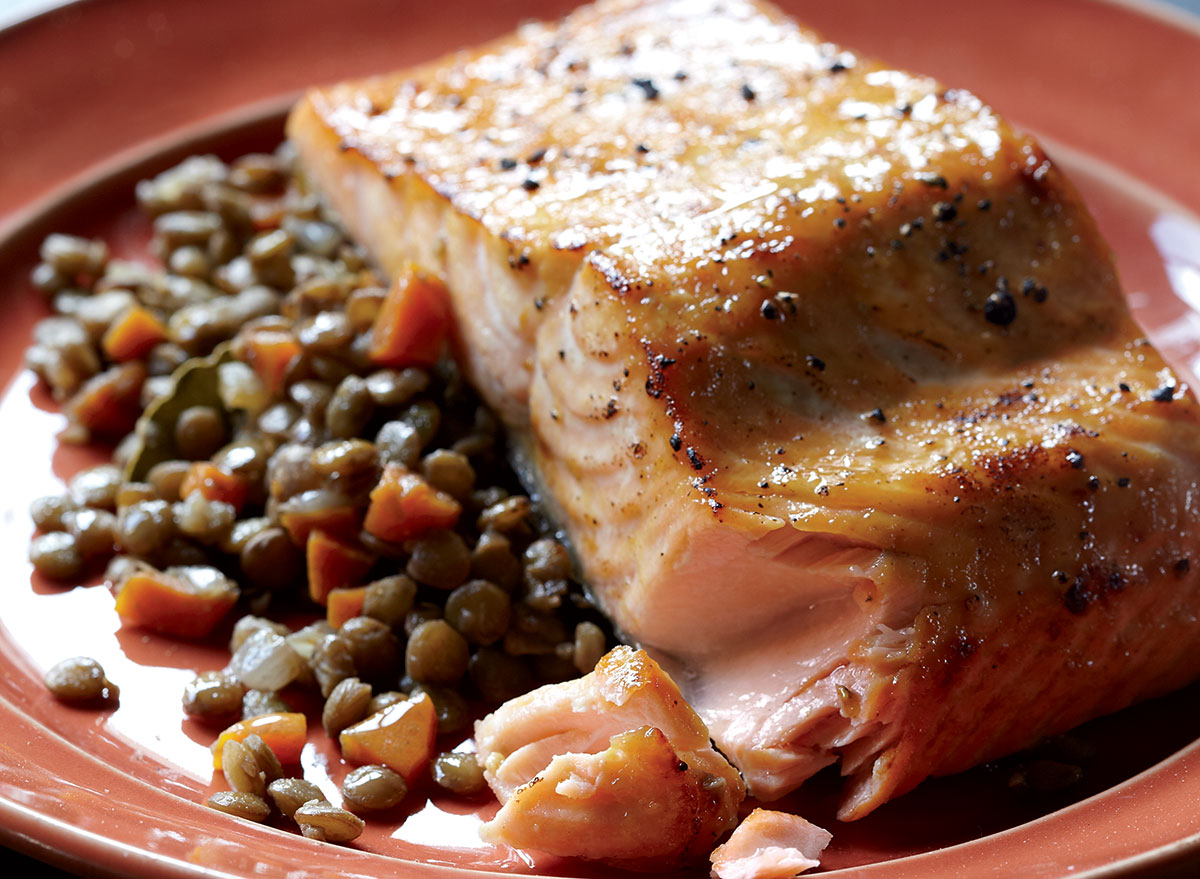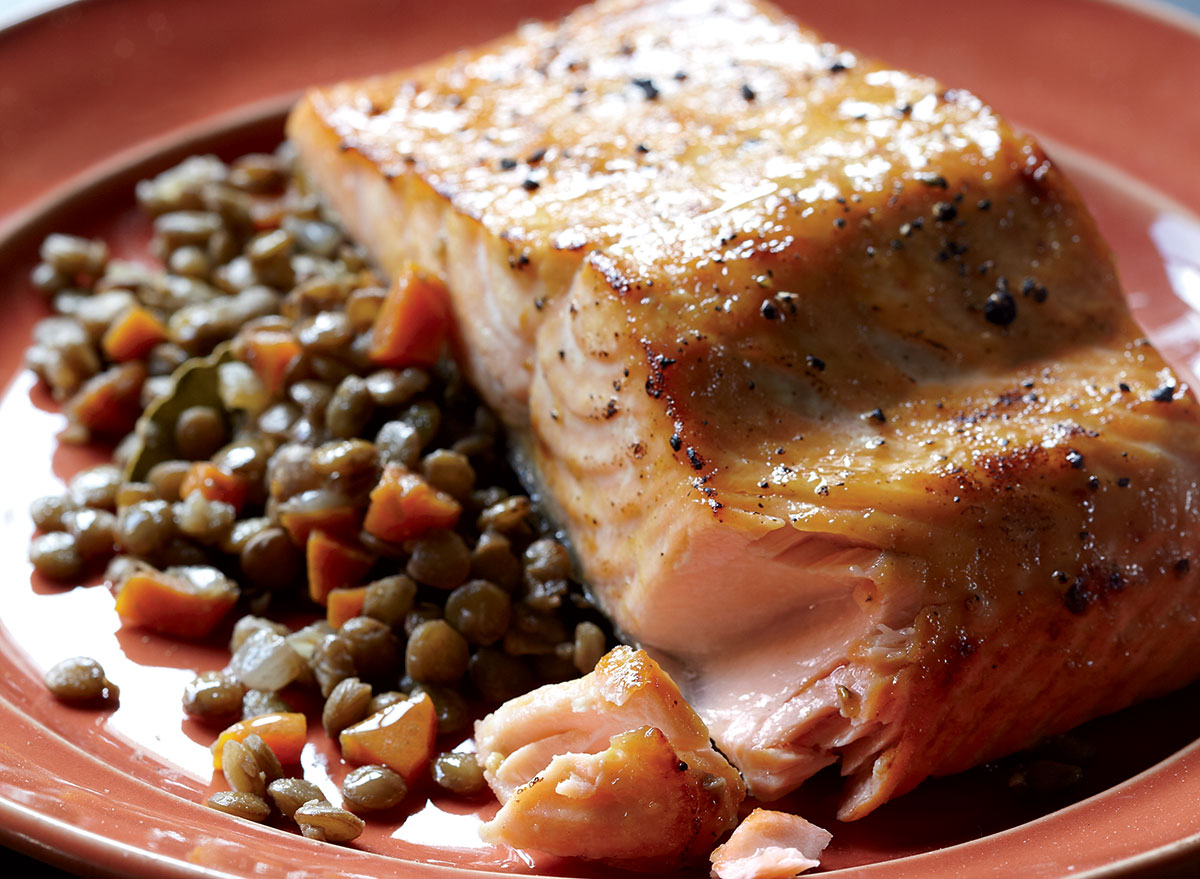 For a fish dish that you can set and forget, try this easy roasted salmon with lentils. As the salmon cooks to perfection in the oven, the lentils steep in flavor thanks to chicken broth, bay leaves, carrots, onion, and garlic.
Get our recipe for Roast Salmon with Lentils.
Air Fryer Falafel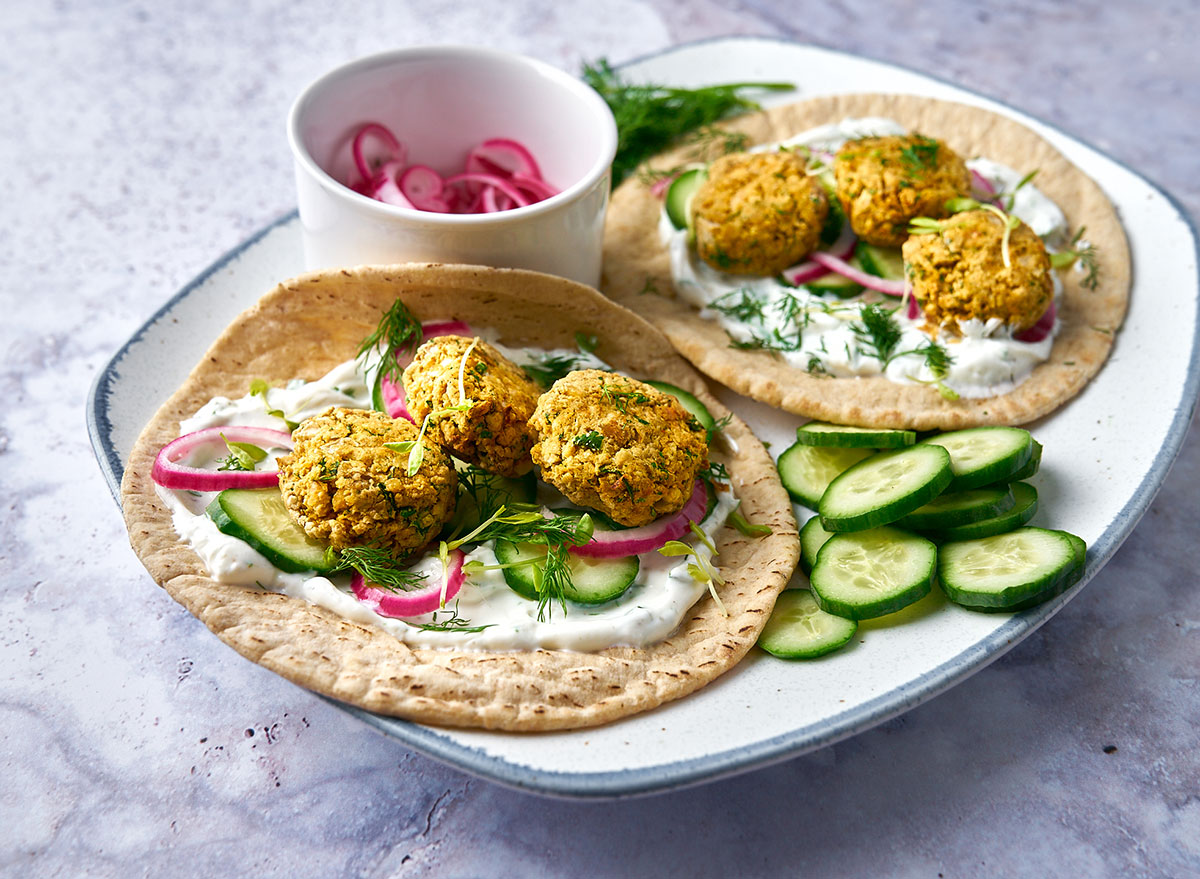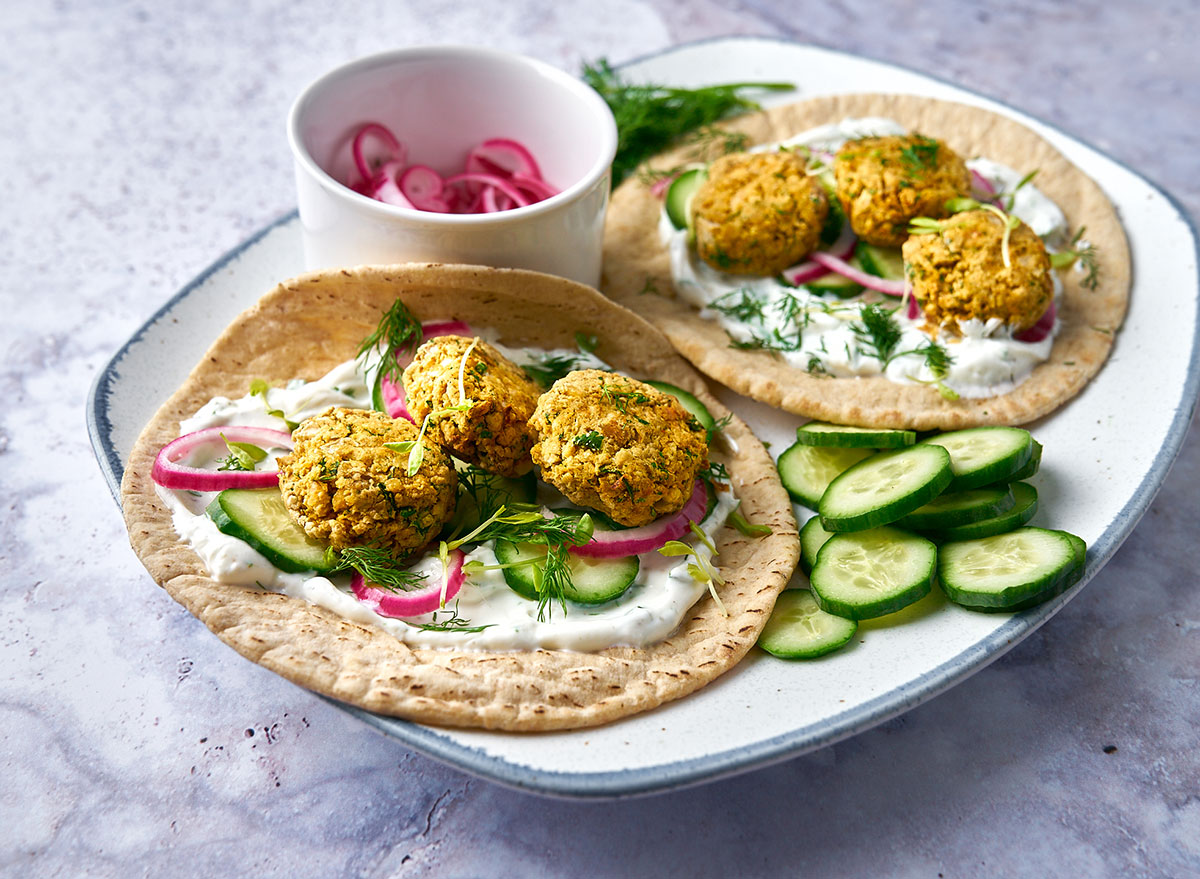 If you already love falafel (and come on, who doesn't?) then you're in luck. This staple of Middle Eastern culture is a popular dish on the Mediterranean diet thanks to ingredients like chickpeas, fresh spices, and fresh herbs. Our recipe goes one step further and uses an air fryer instead of deep frying in oil. Try it out for yourself.
Get our recipe for Air Fryer Falafel.
Shakshuka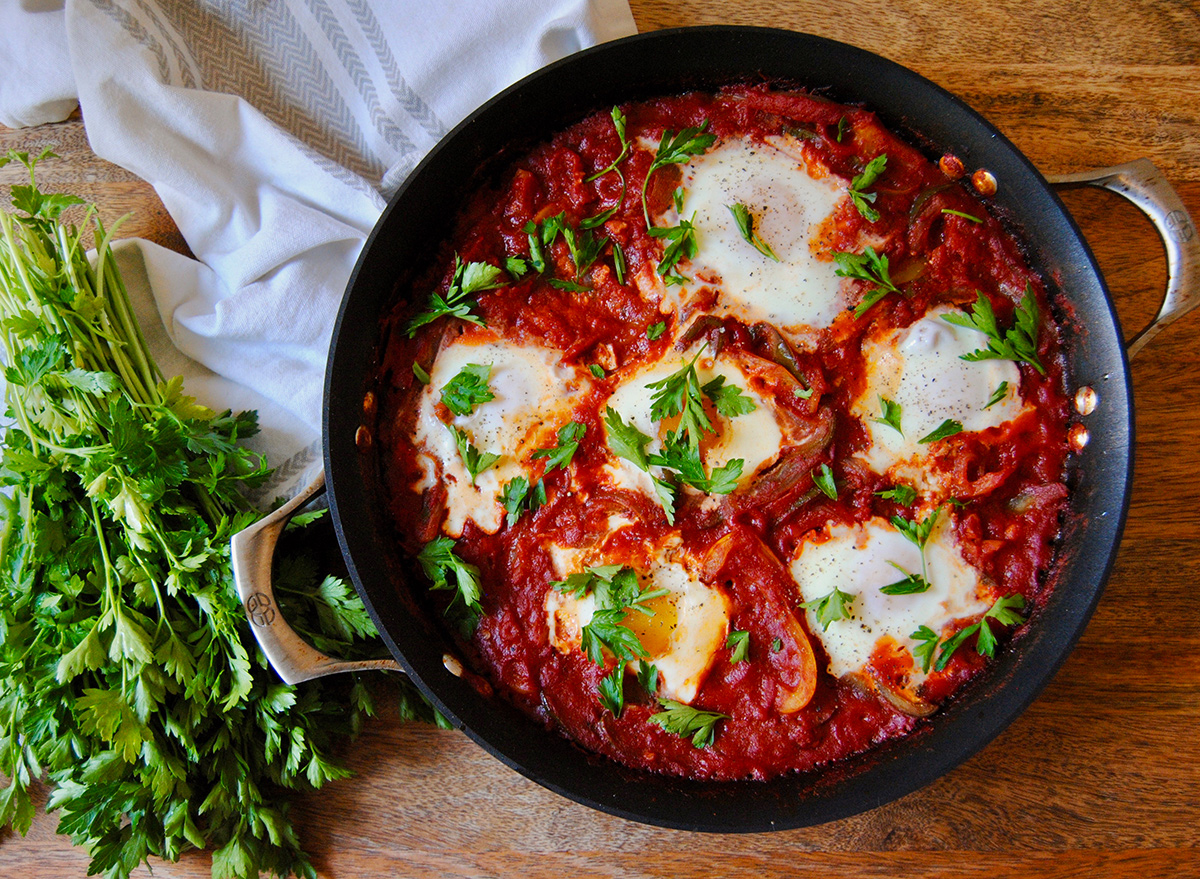 Grab your cast iron skillet, some beautiful, fresh tomatoes, and eggs to start making this Shakshuka. The traditional Middle Eastern and North African baked egg dish is best served with a side of whole-grain bread or pita for dunking.
Get our recipe for Shakshuka. 
Easy Olive Tapenade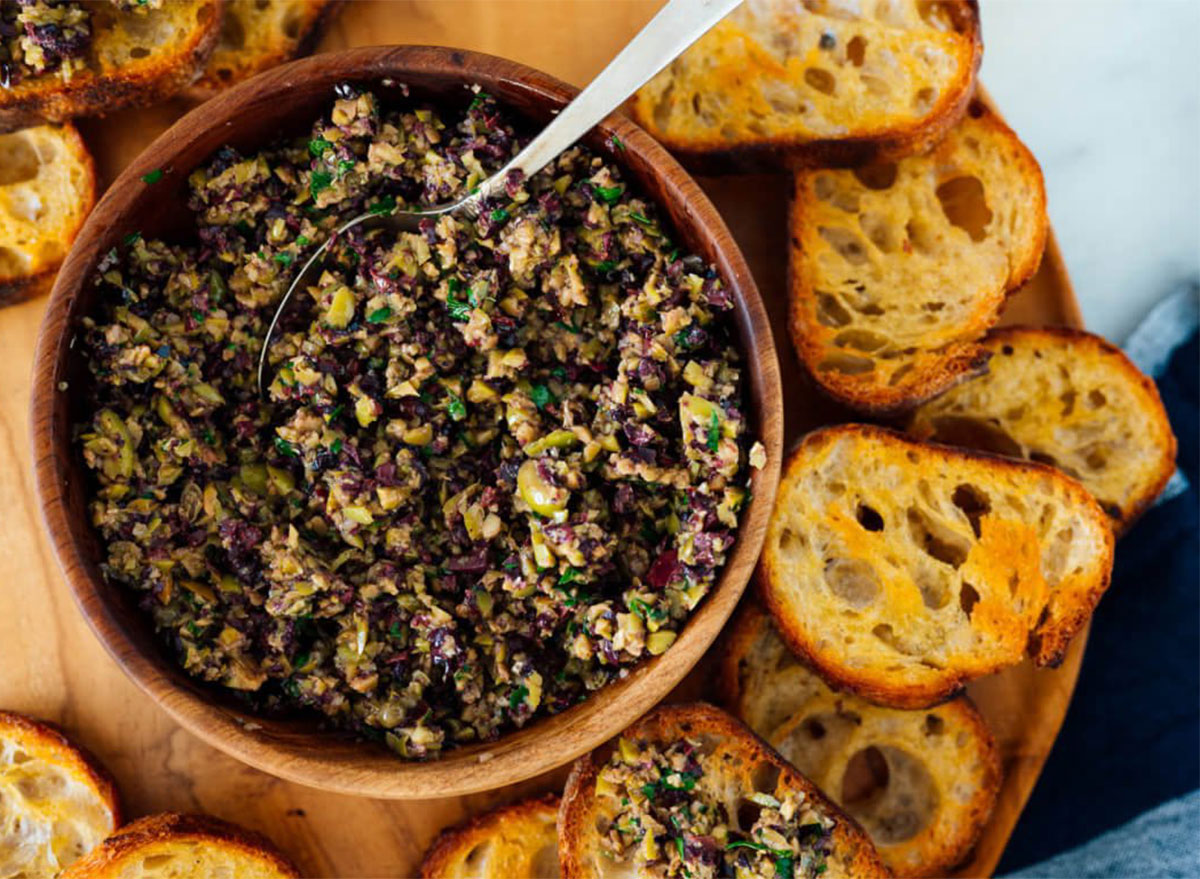 Because olive oil—an extremely healthy fat—is at the core of the Mediterranean diet, it shouldn't surprise you to see this delicious tapenade here. Made with Kalamata and Castelvetrano olives along with lemon, capers, and other goodies, this appetizer comes together in just minutes. Pair with crostini and your favorite red wine.
Get the recipe from Cookie and Kate.
Kale, Grape, and Farro Salad with Feta and White Wine Vinaigrette
To add a heartiness to your salad, try adding farro. This ancient grain is better for you than rice or even quinoa, as it's rich in fiber, protein, vitamins, minerals, and antioxidants. What makes this salad sing is its combo of sweet, tangy, and nutty ingredients. Don't skimp!
Get the recipe from Cooking Classy.
Spiced Lamb and Couscous Stuffed Peppers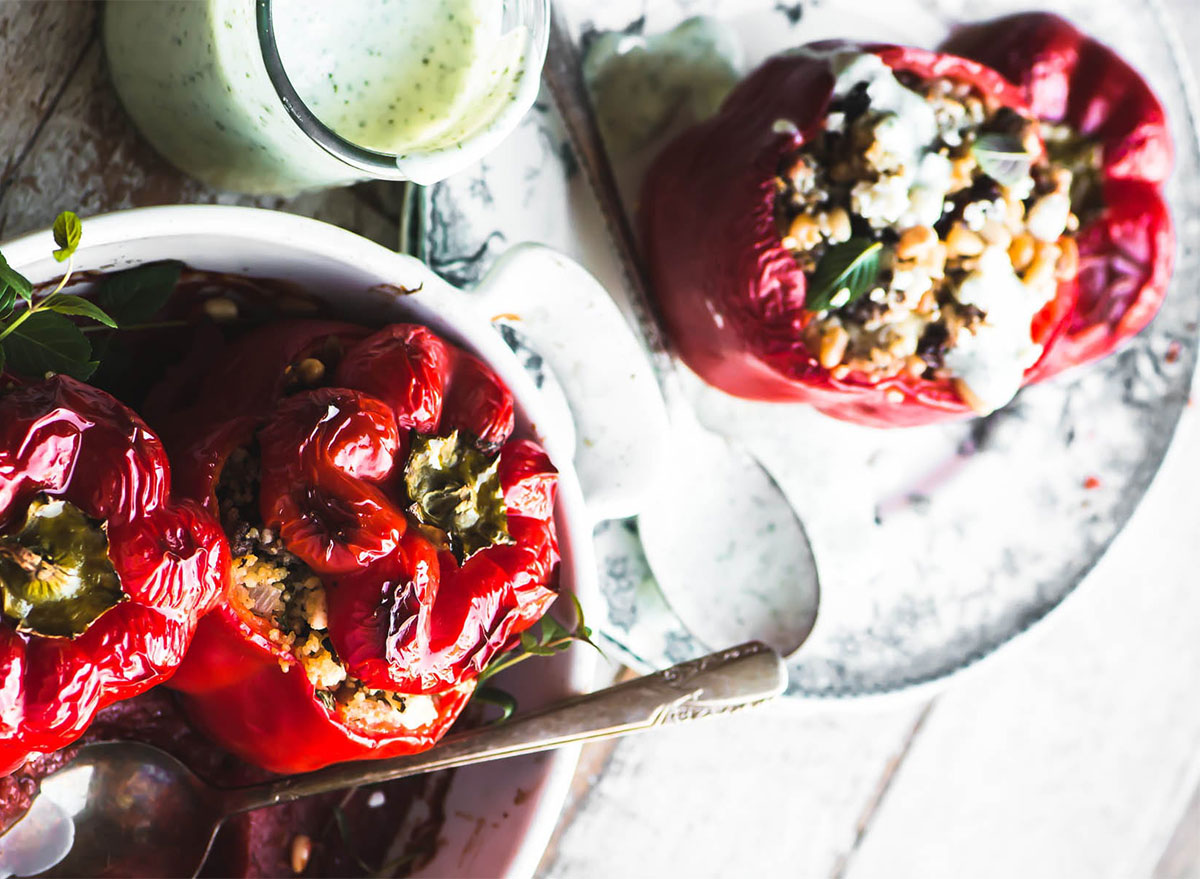 Stuffed peppers are traditionally made with rice and ground beef, but this Mediterranean twist uses decadent lamb and protein-packed couscous. Spices including cinnamon, allspice, cardamom, and nutmeg give this dish layers of flavor before it's topped with crumbly feta cheese.
Get the recipe from The View from Great Island.
Citrus Olive Oil Cake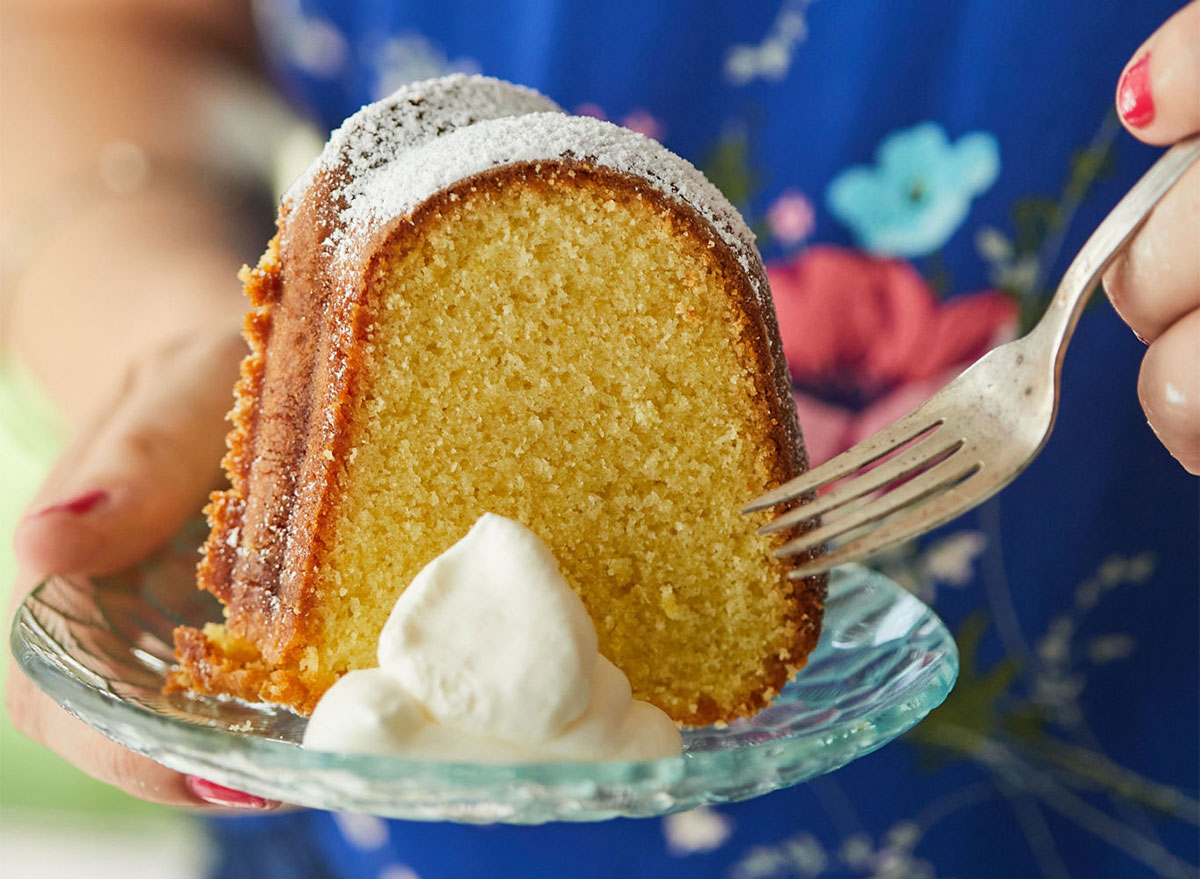 As a reminder that the Mediterranean diet isn't a diet per se but a better-for-you way of eating, behold… cake. It's not forbidden, nor is it even frowned upon. This one simply focuses on whole ingredients like olive oil and orange juice (fresh-squeezed is better) for its rich and lively flavor.
Get the recipe from Bigger Bolder Baking.
Baked Feta Cheese with Tomatoes
Long before baked feta cheese and pasta went viral on TikTok, lovers of the Mediterranean diet recognized its creamy deliciousness and simplicity. This recipe is made in one baking dish and uses minimal ingredients: just feta, cherry tomatoes, parsley, garlic, oregano, and the almighty olive oil. Serve it as an appetizer with bread or try things the TikTok way and mix in your favorite pasta.
Get the recipe from I Heart Vegetables.
Chicken Souvlaki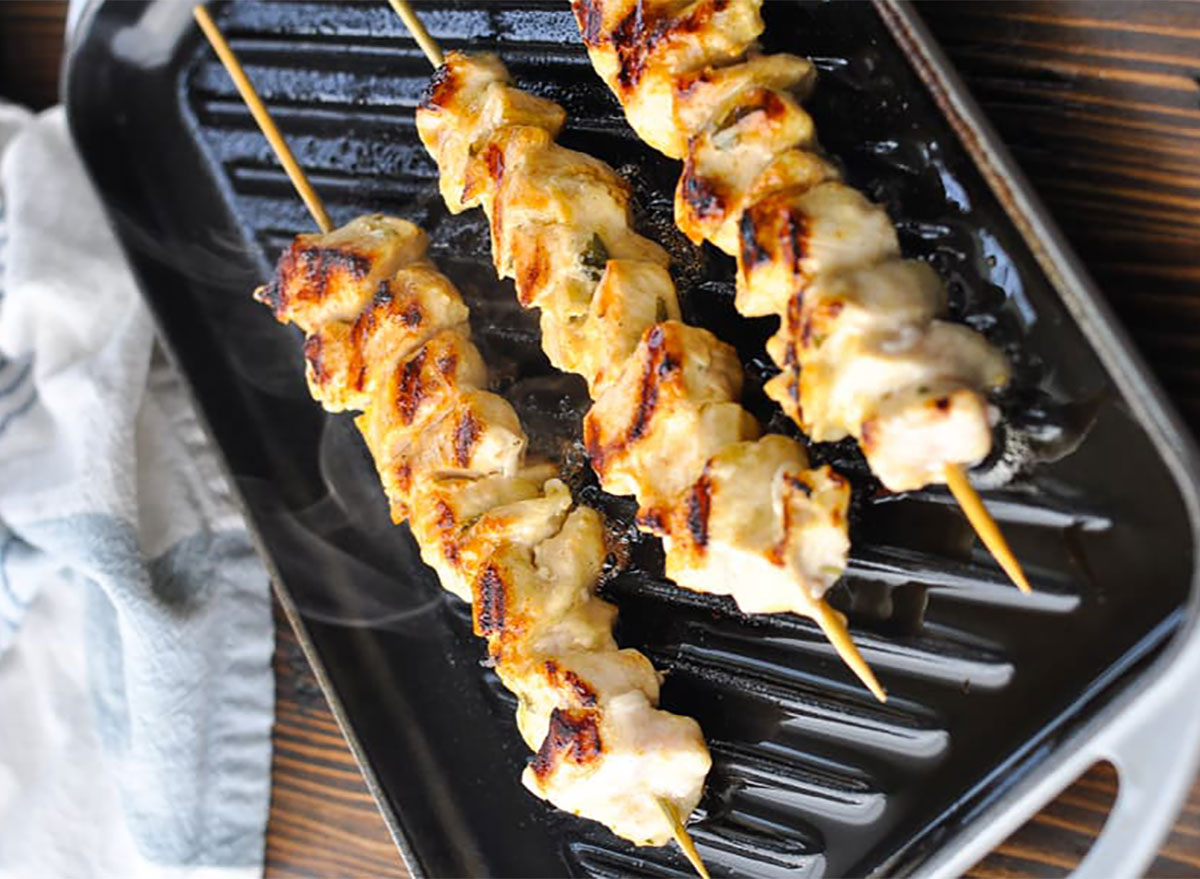 If you're a meat-eater, you know it doesn't get better than perfectly spiced chicken on an open grill. Using high-quality ingredients, even the most humble of meals like this one—skewered chicken served with a crisp veggie salad, fresh pita, rice, and Tzatziki—can end up being your favorite.
Get the recipe from The Seasoned Mom.
Asparagus & Feta Quinoa Salad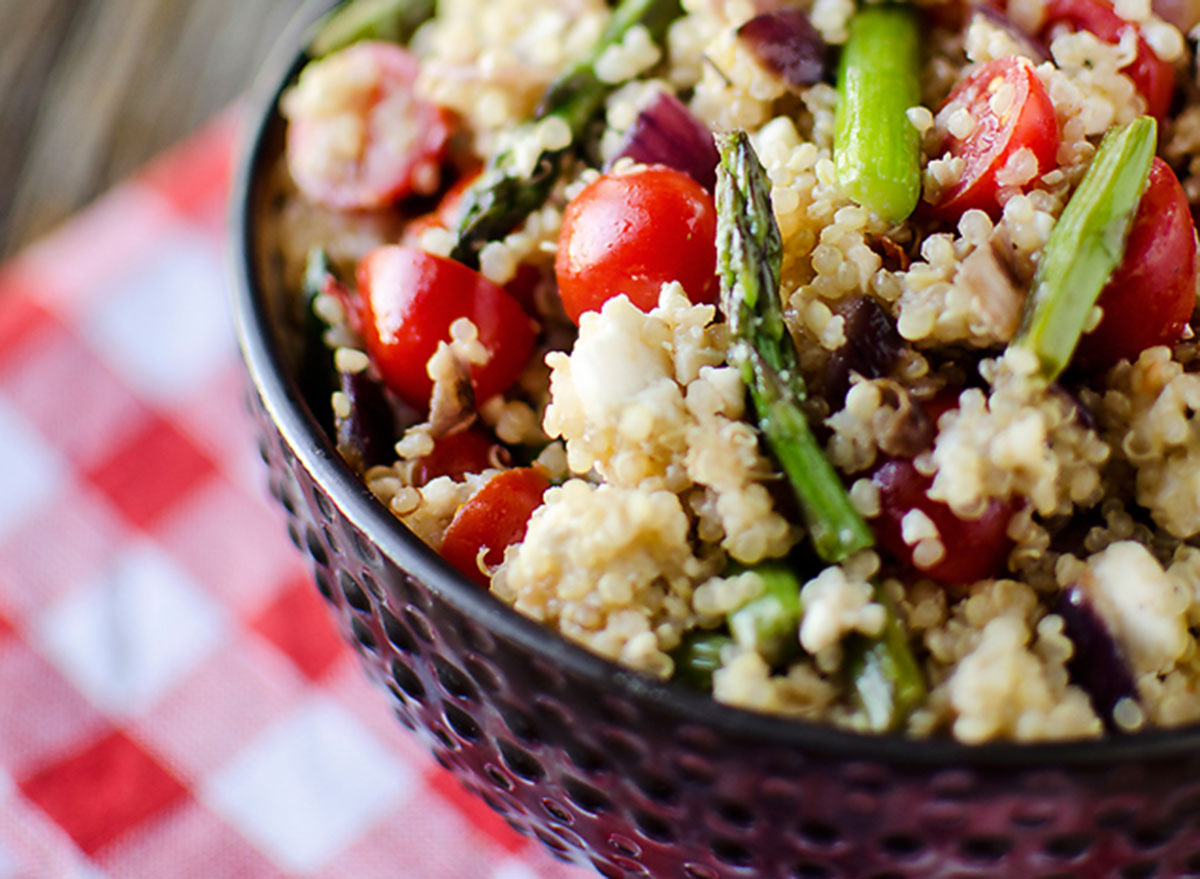 Not only is this salad Mediterranean diet-friendly, but the fresh veggies, cheese, and grains will also keep you full and satisfied. For the extra-hungry family members, try tossing in some grilled chicken to pack an added punch of protein.
Get the recipe from The Creative Bite.
Greek Yogurt Apple Blueberry Bread
Regardless of your diet, it's always a good idea to cut back on refined sugar where you can. This delicious bread—great for breakfast or a midday snack—is sweetened with honey, vanilla extract, and fresh fruit. Plus, Greek yogurt not only acts as a leavening agent but also gives it added flavor.
Get the recipe from Sally's Baking Addiction.
Cauliflower Tabbouleh
A spin on classic Lebanese Tabbouleh salad, this version gets its added heartiness from finely diced cauliflower. But don't worry, the super herbaceous and fragrant dish is still packed with all the classics: parsley, mint, cucumber, and tomatoes. Serve on the side of your main or as part of a Mediterranean mezze platter.6254a4d1642c605c54bf1cab17d50f1e
Get the recipe from The Healthy Maven.
Asparagus Phyllo Bundles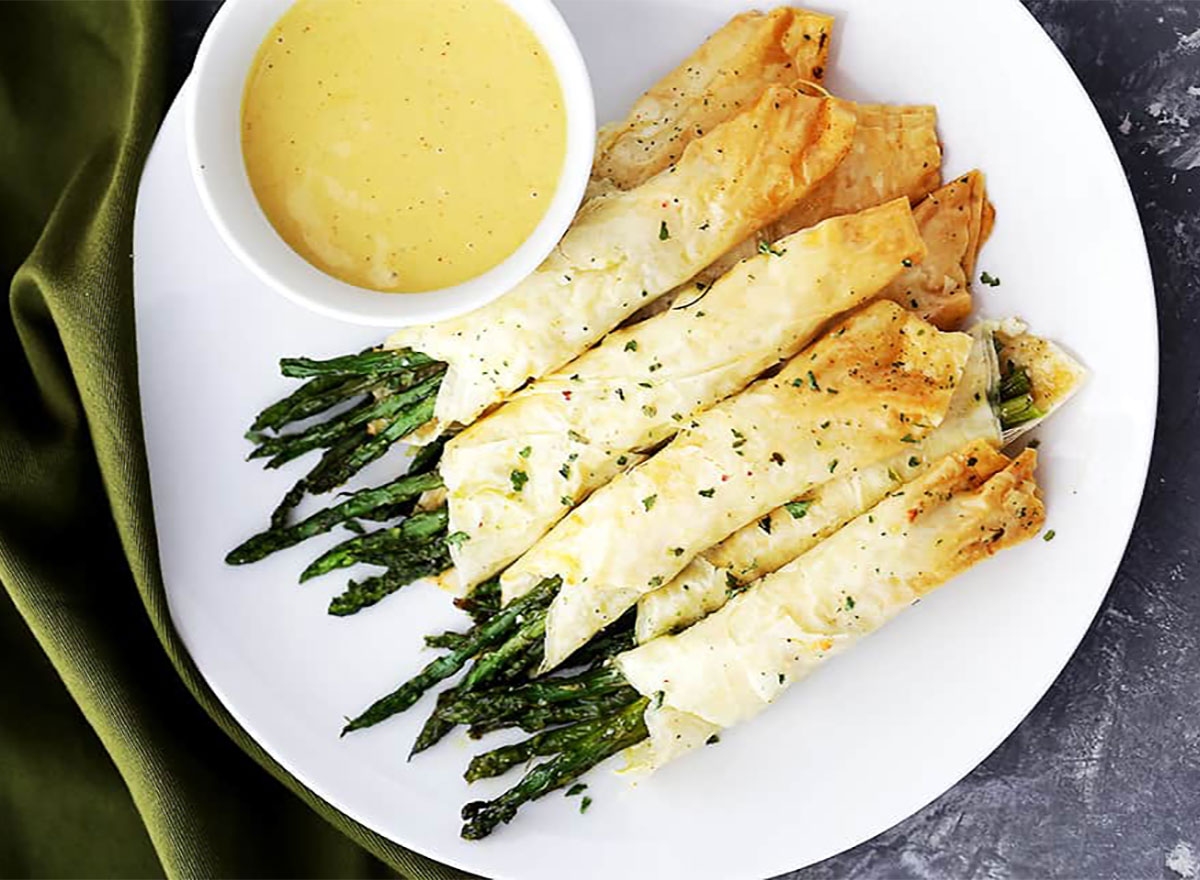 Your life will be exponentially better once you introduce phyllo dough into it. The flaky Greek pastry dough is used in a number of dishes, both sweet and savory, and can be purchased frozen at most grocery stores. This recipe uses phyllo as a blanket for delicious roasted asparagus and seasoned feta.
Get the recipe from Diethood.
Shrimp in Lemon Sauce with Olives
Though fresh shrimp is the star of this dish, it's only made possible by the flavors infused with tangy lemon juice and briny olives. Want to feel like you're sailing off the coast of Greece? This is the dinner for you.
Get the recipe from The View from Great Island.
Rebecca Strassberg
Rebecca Strassberg is a Brooklyn-born and based writer/editor who's worked for Us Weekly, Thrillist, and more.
Read more about Rebecca