Food Network Star Molly Yeh Reveals 5 Essential Ingredients She Always Has In Her Kitchen
The TV host and cookbook author shares some of her go-to staples.
Since 2018, Food Network star Molly Yeh has been inviting TV viewers into her East Grand Forks, Minn., home, where she cooks up dishes inspired by her Jewish and Chinese heritage, along with her midwestern surroundings. Now, the host of Girl Meets Farm is giving home cooks another opportunity to replicate some of her recipes by launching a limited-time meal kit in partnership with meal kit delivery service Blue Apron.
"I just love that it cuts down so many of the steps and you still get delicious, homemade food at the end of the day," Yeh tells Eat This, Not That!
Available until June 19 or while supplies last, her Blue Apron recipes include:
Ginger-Scallion Burgers with Fried Eggs, Pickled Cucumbers, & Hoisin Sauce
Peanut Noodles with Bok Choy
Crunchy Cabbage Slaw with Sweet Chili Mayo & Sesame Seeds
Miso Apple Pie with Pistachio-Coconut Crumble
In addition to using meal kits, having a well-stocked pantry can be the key to whipping up an effortless dinner on busy weeknights. Yeh shared with us six hardworking ingredients she always keeps on hand in order to feed her family at the drop of a hat.
Beans
Nutrient-dense and shelf-stable, beans are a tried-and-true ingredient for Yeh, who says she always has cans of cannellini beans and chickpeas available. She adds that she makes a lot of bean soups, one being her Tomatoey Parmesan Beans, a recipe that can be found in her latest book, Home Is Where the Eggs Are.6254a4d1642c605c54bf1cab17d50f1e
"We do a bunch of beans, a parmesan rind, and then canned tomatoes, and a whole head of garlic," she says. "And you just throw it in and let it simmer for as long as you have, and eat it with really crusty toast."
Tahini & Peanut Butter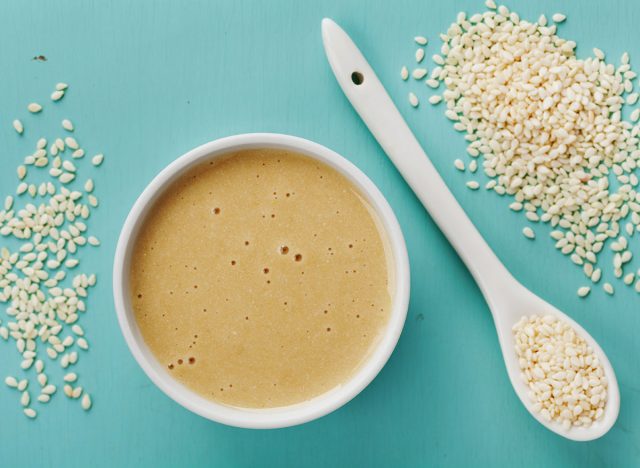 Growing up, Yeh ate a lot of tahini because her mother, who is allergic to peanuts, used it as a substitute ingredient. The ground sesame paste continues to be a huge staple in her own cooking, as she incorporates it into things like her go-to sesame noodle recipe.
"You can always have noodles or pasta on hand. You can always have a nut butter on hand. Add some soy sauce, a little sweetness," she says. "And that's such an easy dish to throw together with pantry staples."
The sesame noodle dish, which is included in Yeh's Blue Apron box, is also made with peanut butter, another grocery item that can typically be found in Yeh's kitchen. The cooking star shares that she'll also frequently tweak her favorite Tahini Monster Cookie recipe by swapping out the sesame paste with peanut butter.
Yogurt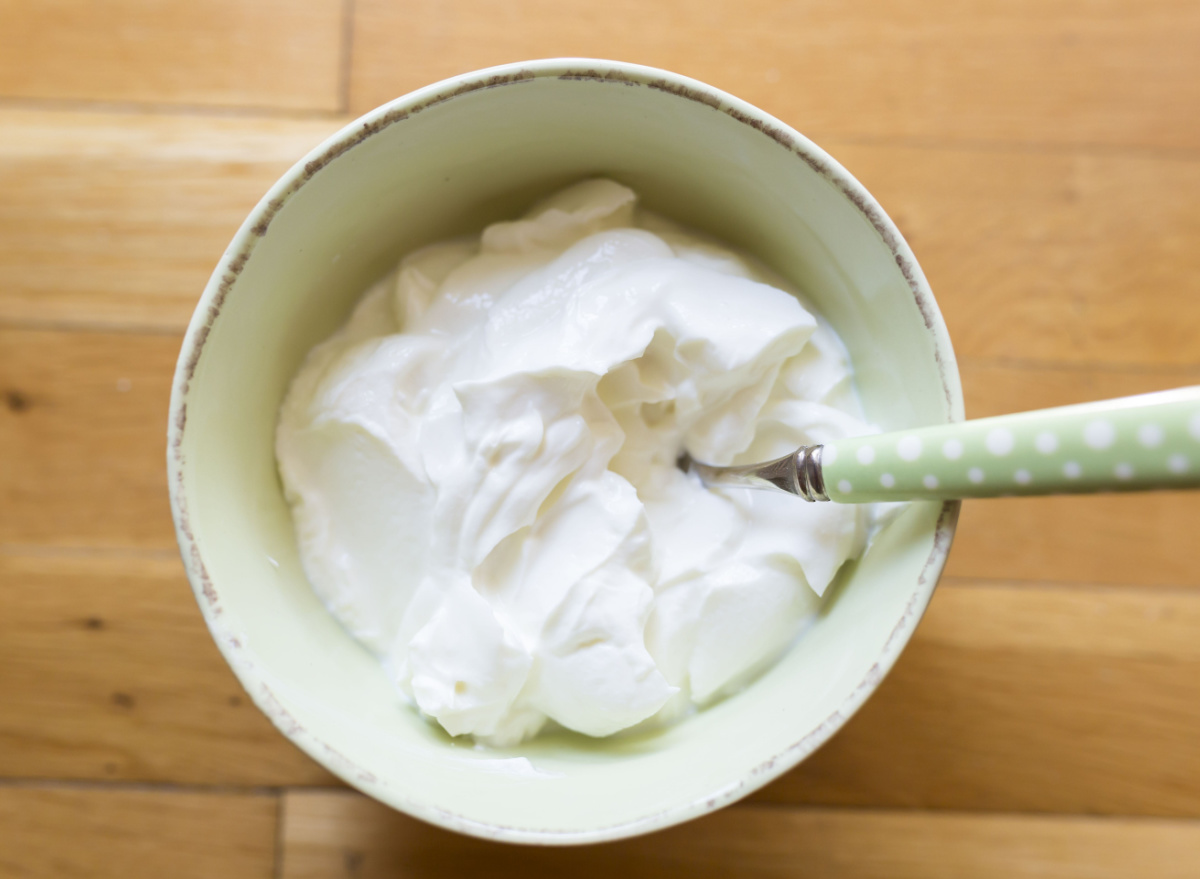 Yeh's love of yogurt is a well-documented one. The TV host, who calls this food "the duct tape of dairy products," even wrote a short cookbook on the subject, showcasing the item's versatility.
"It's a great substitute if I'm out of another dairy product," Yeh says. "If I'm baking, [I] just throw some yogurt in it. It's a great base for sauces and dressings, as well."
Miso Paste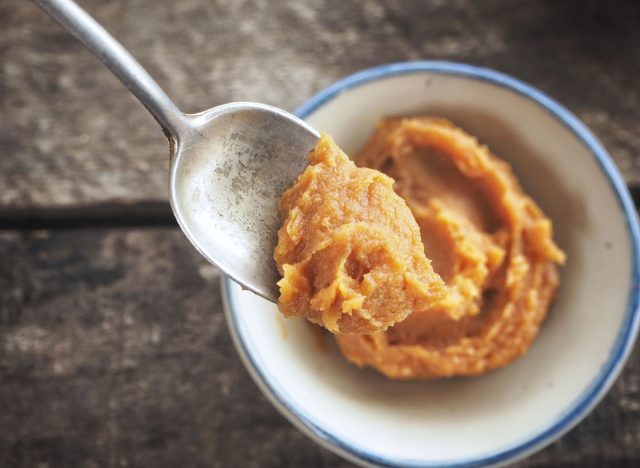 Miso might not be a staple ingredient in most American households, but it's one Yeh recommends using. "So many people know it from miso soup, but it's so versatile in other things," she says, highlighting that miso can be used in both sweet and savory dishes.
"If I'm ever doing something with caramel, of course salt and caramel are really good, but miso adds more depth and more personality, and just a little bit of funkiness." It's an especially good choice, she notes, for out-of-this-world chocolate chip cookies.
Another selling point of the fermented soybean paste? It lasts a long time in the refrigerator—up to one year if refrigerated from the date of purchase.
Ground Rose Petals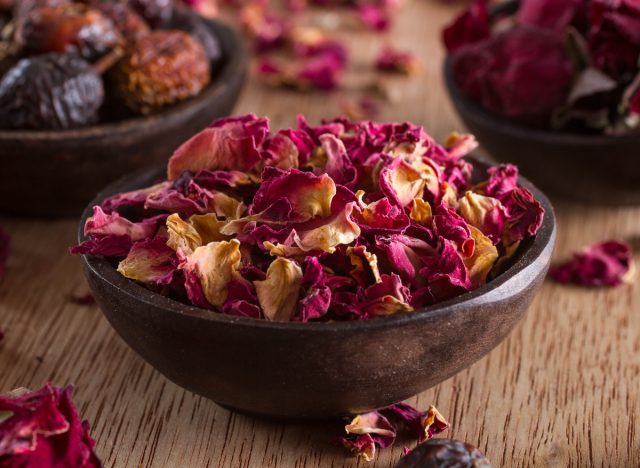 Roses aren't just for bouquets, they can also be used in recipes! Specifically, ground rose petals, which Yeh says she loves so much. "You would use it where you would use rose water," she says.
According to SPICEography, rose petals can be sweet, tart, or slightly spicy, and are often "intensely aromatic." Yeh says she mostly uses this floral ingredient in sweeter dishes, citing her cookie salad that consists of pistachio cookies, a rose water yogurt whipped cream, and raspberries.
Some of Yeh's other recipes with rose include her Rose Jam Donuts with Vanilla Glaze and Pistachios and her Mini Rosewater Trifles with Cardamom Cream.
Brianna Ruback
Brianna is a staff writer at Eat This, Not That! She attended Ithaca College, where she graduated with a degree in Journalism and a minor in Communication Studies.
Read more about Brianna