The 10 Most Iconic Fast-Food Burgers of All Time
These history-making burgers completely changed how we ate beef between buns.
Burgers have been a classic American meal since around the turn of the last century, after the 1904 St. Louis World's Fair. By the 1920s, the first major hamburger stand—White Castle—had opened. Next, McDonald's opened up shop in 1948, and the rest is history. In just 100 years, burgers have become one of the most popular and iconic meals, with Americans in the 21st century eating more than 40 billion hamburgers each year. 
The impact of these fast food burgers on the American diet and culture can't really be understated. They're practically a part of our national identity, right up there with apple pie and coleslaw. And just like those American classics, everyone has a favorite. 
Over the years, there have been many iconic burgers that have become synonymous with American culture. Here are some of the most famous, history-making burgers that changed how we ate beef between buns and how they came to be.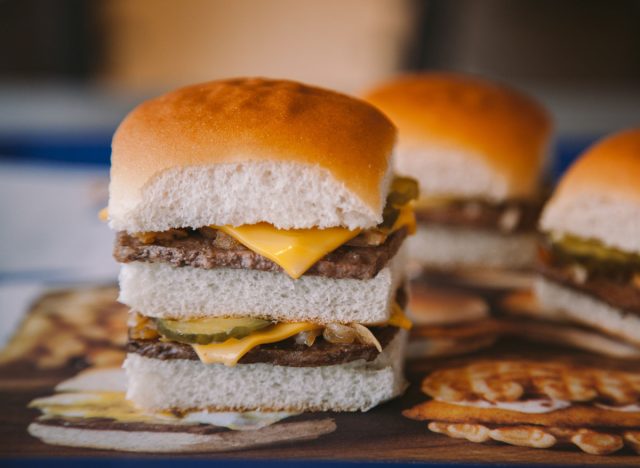 The iconic little square patty, topped with onions and pickles, and served on a tiny bun, debuted in 1921 at the first White Castle in Wichita, Kansas. The burger, which created a small empire, was popular because of the chain's emphasis on cleanliness.
Founder Walt Anderson grilled the burgers right in front of his customers, so they could see for themselves that the meat and the equipment were clean—at the time, ground beef was seen as the food of the poor, and people often became sick from it. Anderson claimed that White Castle's ground beef was delivered twice a day, to ensure freshness. The restaurant also sponsored an experiment at the University of Minnesota, where a medical student there consumed nothing but White Castle burgers and water for 13 weeks. When the student not only survived the experiment but also seemed pretty healthy, people saw burgers as wholesome, not deadly.
McDonald's Classic Hamburger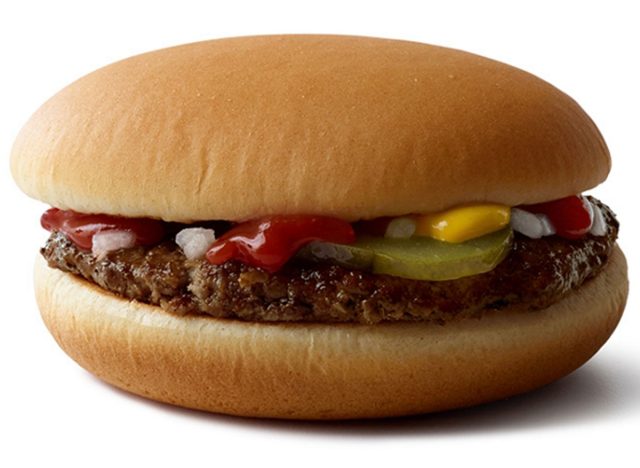 The first McDonald's burger was created in 1948 by brothers Richard and Maurice McDonald. The brothers produced a limited menu, concentrating on just a few items—burgers, fries, and beverages, including shakes—and became known as the "Speedee Service System."
The burger, priced at just 15 cents, was easy to produce and was cooked on a flat-top grill, which gave it a unique flavor and texture. It became a national hit when, after visiting the first location in 1954, businessman Ray Kroc quickly expanded the McDonald's franchise system.
By 1961, he bought out the McDonald brothers. By franchising the method of creating the burgers, Kroc made a simple burger that had a consistent flavor no matter which restaurant you visited. Today, over two billion McDonald's burgers are sold every year. 
Whataburger's Whataburger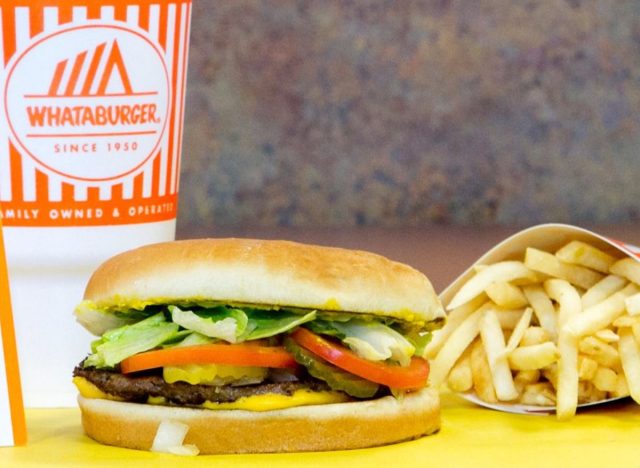 The first Whataburger opened its doors in 1950. The restaurant was helmed by an entrepreneur named Harmon Dobson who had a lofty goal:  To serve a burger so big it took two hands to hold and so good that after one bite customers would say, "What a burger!" And thus, a Texas legend was born.
Unlike many fast food restaurants, every Whataburger is made to order, with 100 percent pure, never-frozen beef and served on a toasted five-inch bun. Diners pick the extras to customize their burger, like the famous Whataburger bacon, grilled jalapeños, or even four slices of cheese if that's your thing— it's always as you like. 
The Whopper, which features a quart-pound beef patty, was introduced in 1957 when co-founder Jim McLamore noticed that another burger joint (not McDonald's!) was having success with an extra-large burger. He chose the name "Whopper" to automatically conjure thoughts of something big, and he also redesigned the cooking process, creating the horizontal broiler conveyor belt still in service today.
Incredibly, Burger King had the national market on extra-large burgers cornered for almost 20 years, as  McDonald's didn't get into the bigger burger business nationally until the 1970s with the invention of the Quarter Pounder.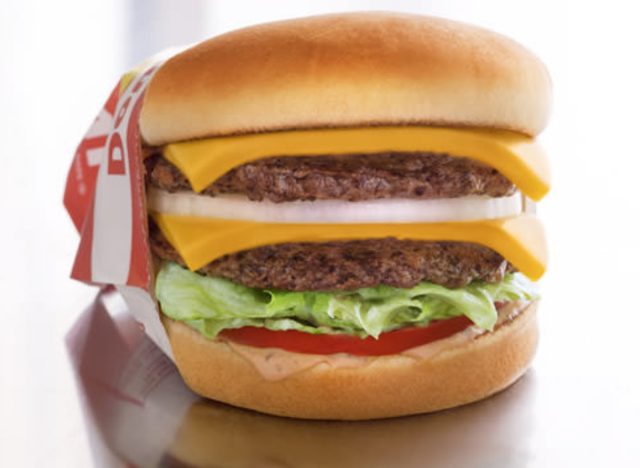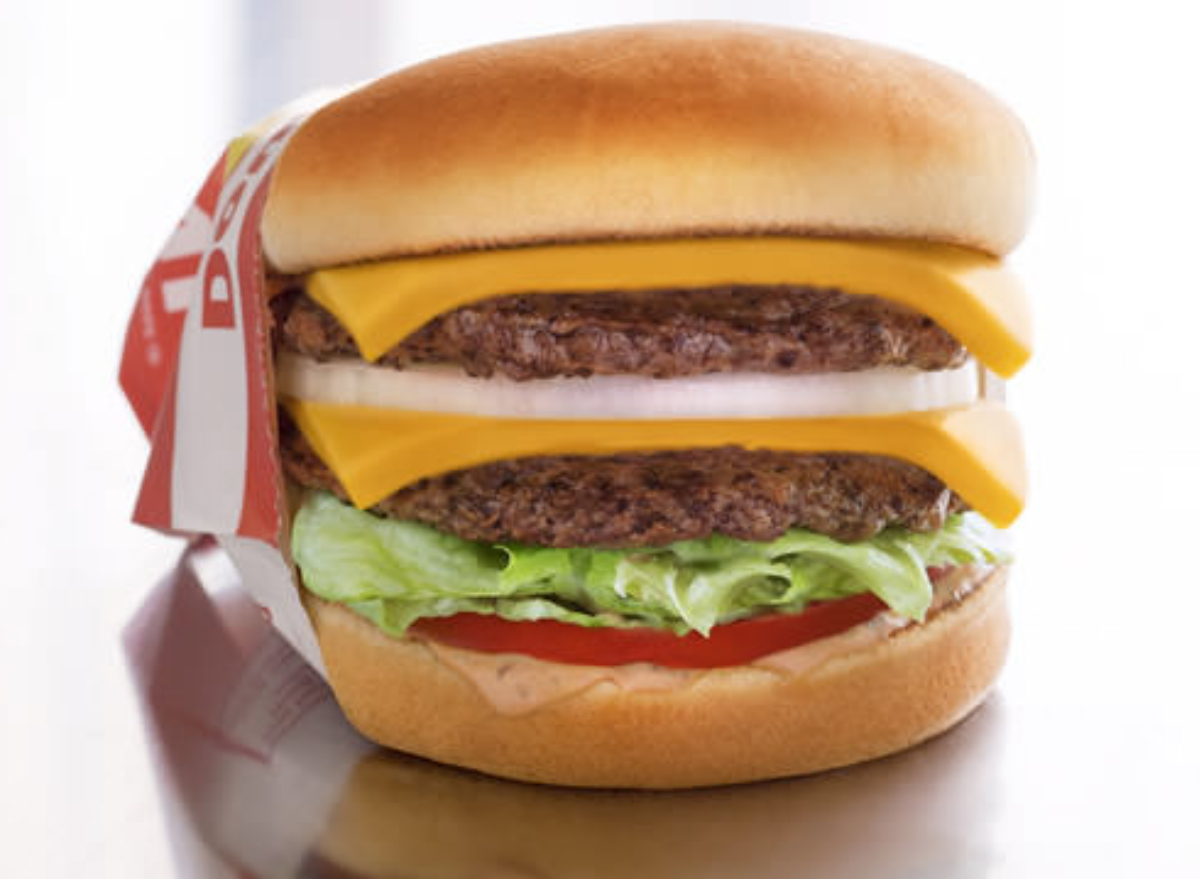 Believe it or not, this beloved West Coast chain opened its doors the same year as Mcdonald's, but while the Golden Arches focused on speed and efficiency, In-N-Out focused on quality. Its signature burger, which debuted in 1948, was made from locally sourced ground beef and fresh vegetables. In-N-Out's most famous burger, the Double Double, with double the meat and cheese, debuted in 1963. While the chain's approach to freshness may have meant that it expanded more slowly, the burgers regularly top best-of lists and have achieved cultish loyalty among fans.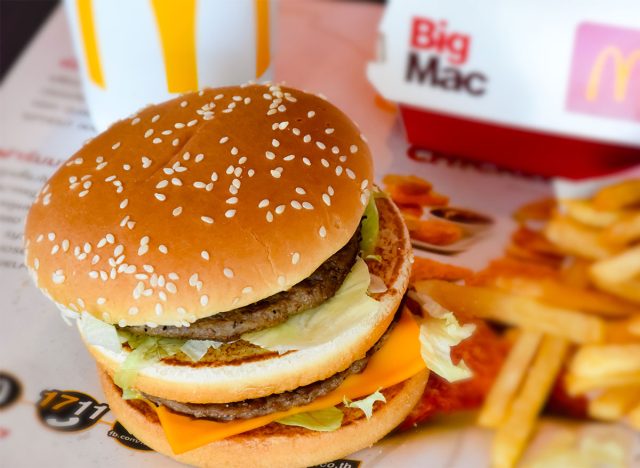 Ray Kroc's burger assembly line process allowed for franchisees to put their own spin on the chain's products, and in the late 60s, Jim Delligatti, a McDonald's franchise owner in Uniontown, Pa. created the sandwich that became the Big Mac. Shortly thereafter the sandwich famously made with two beef patties, a slice of American cheese, lettuce, onion, pickles, and of course, that special sauce, went nationwide. The sandwich remains one of the chain's most popular sandwiches, with McDonald's estimating that 550 million Big Macs are sold each year in the U.S. alone. 
In 1969, Dave Thomas opened his very first Wendy's restaurant in Columbus, Ohio. The quick-service chain quickly became known for its unusual square beef patties, made from fresh beef. To make the burger distinctive, and stand out from his competitors, Thomas formed the fresh ground beef into a square. The thinking behind the square?  Thomas believed that with the meat peeking out, diners would see the quality of the hamburger and it would send the message that the chain doesn't cut corners. Wendy's found success with its unique shape, and the chain is currently neck and neck with Burger King for the second-biggest burger chain in the U.S.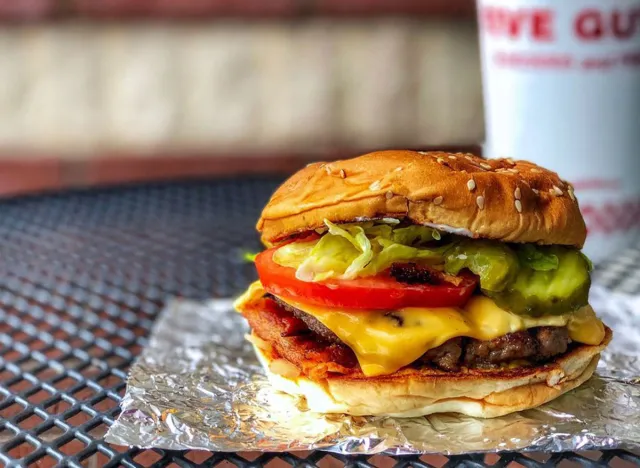 Five Guys has been a Washington, D.C. area favorite since 1986 when Jerry and Janie Murrell gave their sons a choice between starting a business or going to college. The family opened the first Five Guys and focused on hand-formed burgers cooked on a grill along with fresh-cut fries cooked in pure peanut oil. 6254a4d1642c605c54bf1cab17d50f1e
Now, over 30 years later, there are over 1,700 locations worldwide. Using only fresh beef, the Five Guys burger stands out from the pack with its excellent toppings—relish, peppers, BBQ sauce, hot sauce, and more—that are all free, allowing for a burger just the way you like it.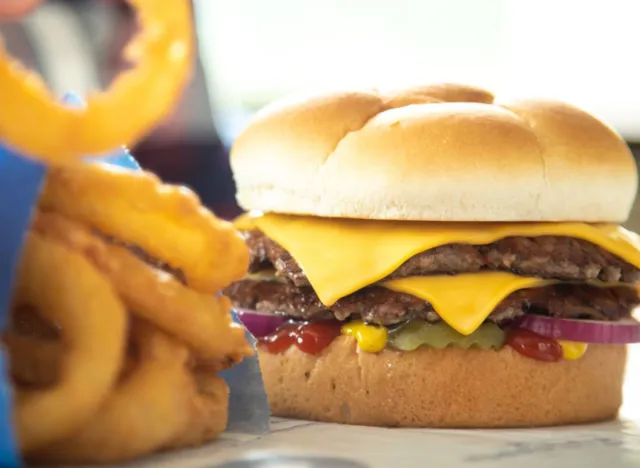 On July 18, 1984, the first Culver's Frozen Custard and ButterBurger restaurant opened in Sauk City, Wis., founded by Craig Culver, who'd grown up in the restaurant business. His parents owned many restaurants as Culver grew up, and he focused on one of his dad's many sayings: "Don't mess with the quality."
That attention to quality paid off and the shop's ButterBurger was inspired by Culver's mom buttering the top of a bun and lightly grill it until toasted. Like many of the iconic burgers on this list, Culver's ButterBurger is made from fresh, never frozen beef, plus it is always made to order and that butter-toasted bun gives it an extra kick of flavor. 
Shake Shake's Shack Burger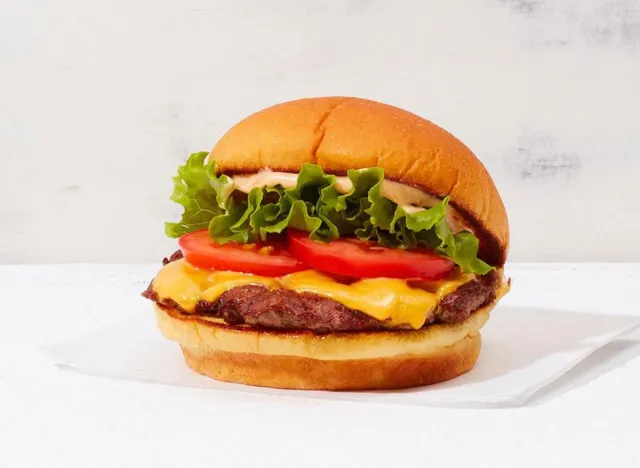 Chef Danny Meyer opened the Shake Shack hot dog stand in 2001 as part of an effort by the city to revitalize Madison Square Park. At the time, Meyer was chef at Eleven Madison Park, one of NYC's finest restaurants, but the lines around the park meant that in 2004, the hot dog cart was turned into a permanent restaurant and debuted the Shack Burger. The prime cut burger, topped with the tangy, addictive ShackSauce launched a craze that had fans waiting for hours for the (at the time) pricey burger, which was $3.95. The price is closer to $6 today, and the chain now has over 200 locations in the U.S. 
Tanya Edwards
Tanya Edwards is a seasoned food and health journalist, who has held roles at Yahoo Health as Managing Editor and at Food Network as Programming Director.
Read more about Tanya