This Is The #1 Most Popular Order at Every Fast-Food Chain
You can't go wrong with these classic meals.
From McDonald's fries to Five Guys' burgers, most fast food joints are recognized for their iconic menu items. While you can probably guess what some of the most popular fast-food menu items are, there are plenty of dishes on this list that'll surprise you.
If you've always wondered what most people order, say, when they get in line at Subway, now's your chance to peek into other people's eating habits. Thanks to a combination of information from brand reps and information that's available online, we've come up with a comprehensive list of the most popular items at fast-food and fast-casual restaurants, along with coffee and dessert chains.
Check out if your go-to order made the list of the 50 most popular fast-food menu items—you might just be inspired to switch things up, too. Plus, don't miss the 8 Worst Fast-Food Burgers to Stay Away From Right Now.
Chipotle: Chicken Burrito Bowl with Rice and Beans
A Chipotle rep confirmed to Eat This, Not That! via email that the most common order at Chipotle is a chicken burrito bowl with white rice and black beans. When you know what you want, why mess with a good thing?
Domino's & Papa John's: Pepperoni Pizza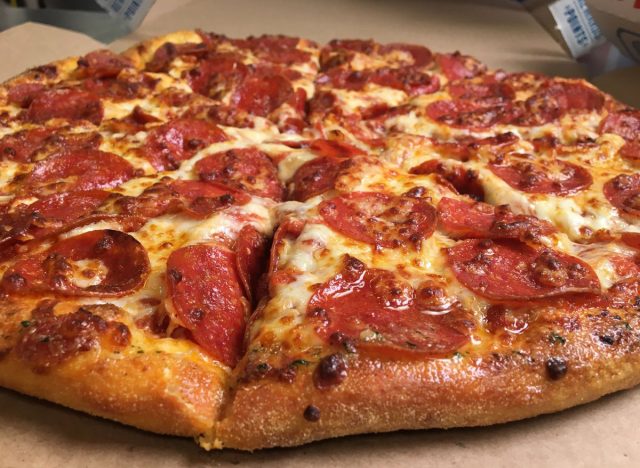 You can't mess with a classic, and that's true at two of the country's biggest pizza chains.
A rep for Domino's said via email that the most common order is "a pepperoni pizza on a hand-tossed crust." The pizza joint's pepperoni slices have a blend of pork, beef, and spices, and a freshly-baked crust with Robust Inspired tomato sauce and mozzarella.
Papa John's, meanwhile, also listed the large pepperoni pizza as its most commonly ordered item.
Boston Market: Rotisserie Chicken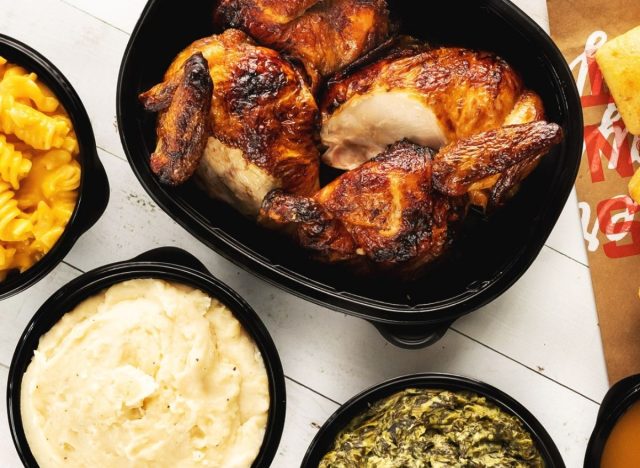 Boston Market skyrocketed to fame thanks to its juicy and perfectly-spiced chicken, and that's still its most popular item.
"The best-selling dish on the Boston Market menu is—without question—its f
arm-fresh, never frozen, all-natural rotisserie chicken," a Boston Market rep explained via email. "They're so popular, in fact, that Boston Market sells more than 21 million wh/qole rotisserie chickens featuring a total of 530,000 pounds of seasoning each year!"
Firehouse Subs: Hook & Ladder Sandwich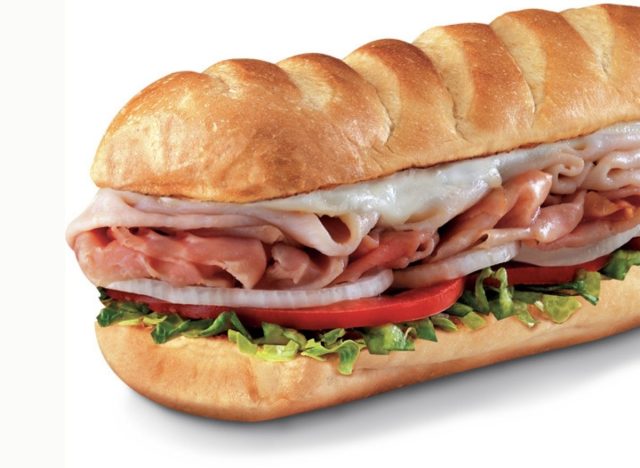 Diners are hooked on the Hook & Ladder sandwich, a Firehouse Subs rep confirmed via email. The sandwich comes stacked with smoked turkey breast and Virginia honey ham smothered with Monterey Jack cheese and served "Fully Involved" with mayo, deli mustard, lettuce, tomato, onion, and a kosher dill pickle on the side.
Noodles World Kitchen: Wisconsin Mac & Cheese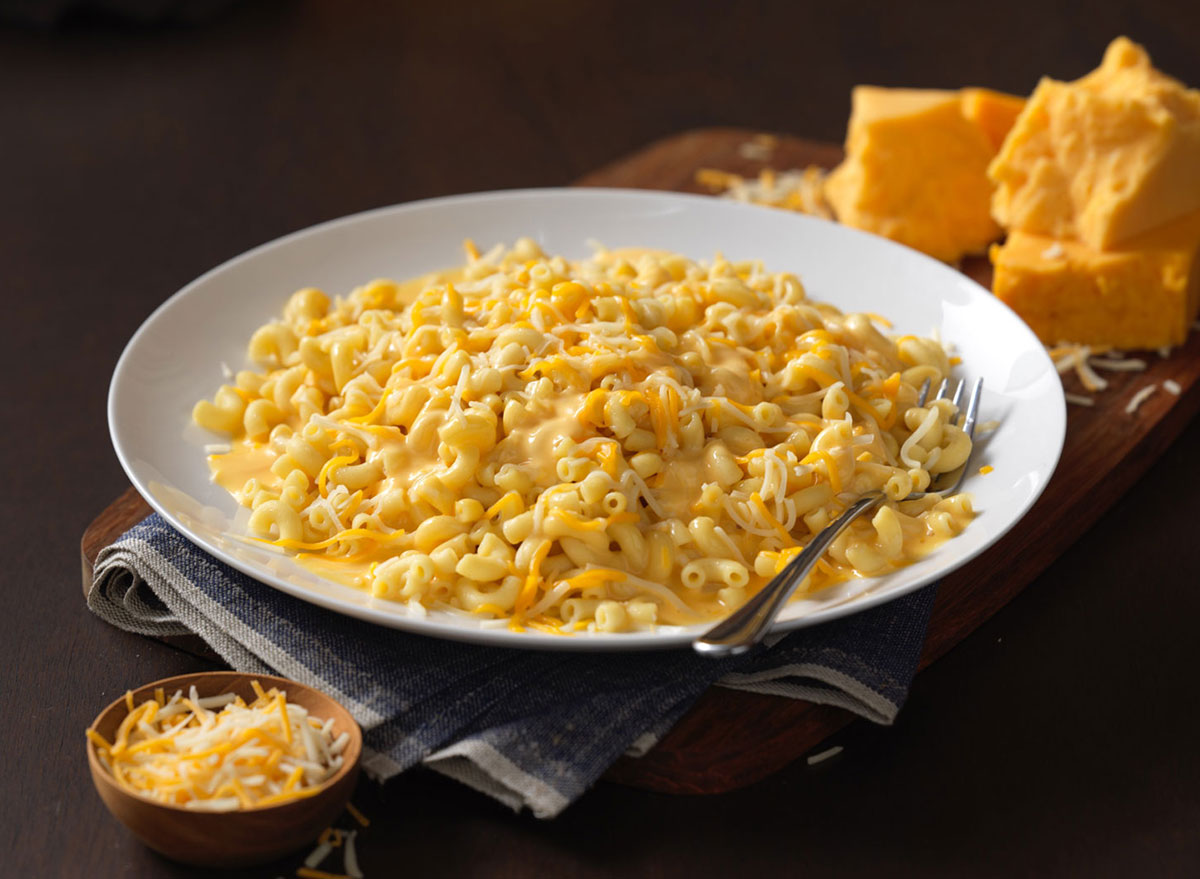 "Our best-selling dish on the menu is our Wisconsin Mac & Cheese," a rep for the company explained via email. "We serve more than 10 million bowls every year, and now with the addition of zucchini noodles, guests have a healthier way to enjoy this dish without sacrificing the cheesy flavor they love. Better yet, a serving of zucchini noodles has 90 percent fewer carbs and calories than a serving of elbow noodles, making Zoodles a great way to enjoy this dish."
However you order it, you can't go wrong with this cheesy dish.
Arby's: Classic Roast Beef Sandwich
No surprise here: Arby's #1 top-seller is the Classic Roast Beef sandwich, a rep for the chain confirmed via email. The joint's signature roast beef is marinated and roasted on the daily and then piled high on a toasted sesame seed bun.
Subway: Footlong Turkey Sub
Health-conscious sandwich lovers flock to Subway for its turkey sub. A rep for the brand said that the most popular Subway order includes a footlong turkey sub and a side of chips.
Chick-fil-A: Waffle Fries
Americans are clearly obsessed with fries. According to the Chicken Wire, Chick-fil-A's blog, the waffle fries were the most-ordered menu item in 2018. The chicken chain's fries have been a hit since its inception, and they're still going strong.
They're dubbed the World Famous Fries for a reason. According to Business Insider, Mickey D's popular crispy spuds remain a mainstay ever since its first menu got customers hooked in the 1950s.
Since Whataburger opened its doors in 1950, it's been serving all-beef burgers on giant, five-inch buns. Fast forward to 2019, and fans are still going crazy for the original No. 1 Whataburger every time, a rep for the chain confirmed.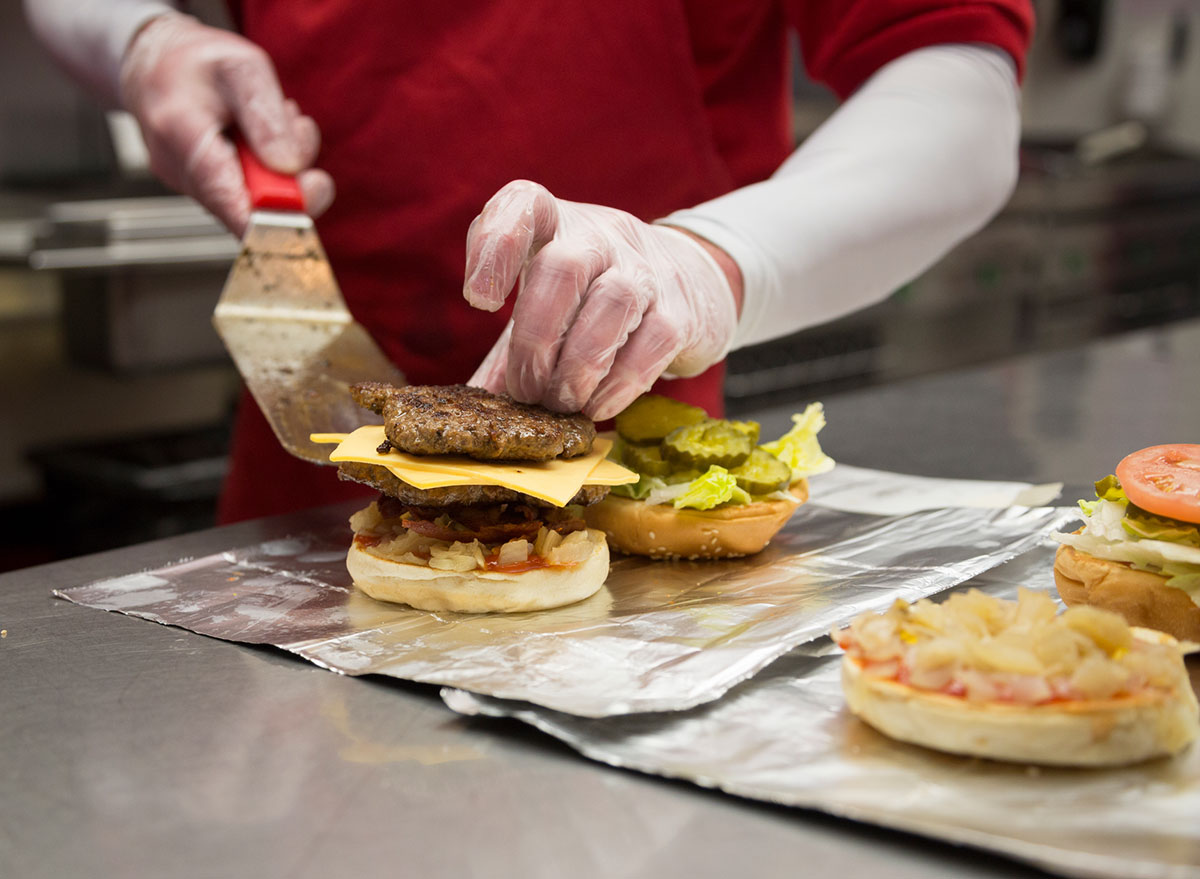 Five Guys is known for its burgers, so it's no surprise that the top item here is the two-patty cheeseburger. "For Five Guys Burgers, we allow 100% customization, and all of our toppings are free," a rep explained via email. "So the most popular toppings are #1 lettuce, followed by ketchup." Simple but classic.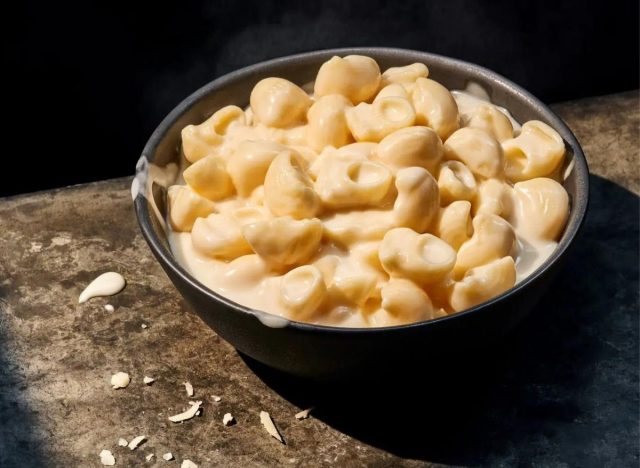 Although Panera won't share its sales numbers, a rep did divulge that the customizable mac and cheese options are "top picks at the moment." Fans can add bacon, barbecue chicken, and even avocado to their mac and cheese bowls. Other popular Panera items include the broccoli and cheddar soup and the Green Goddess Cobb salad.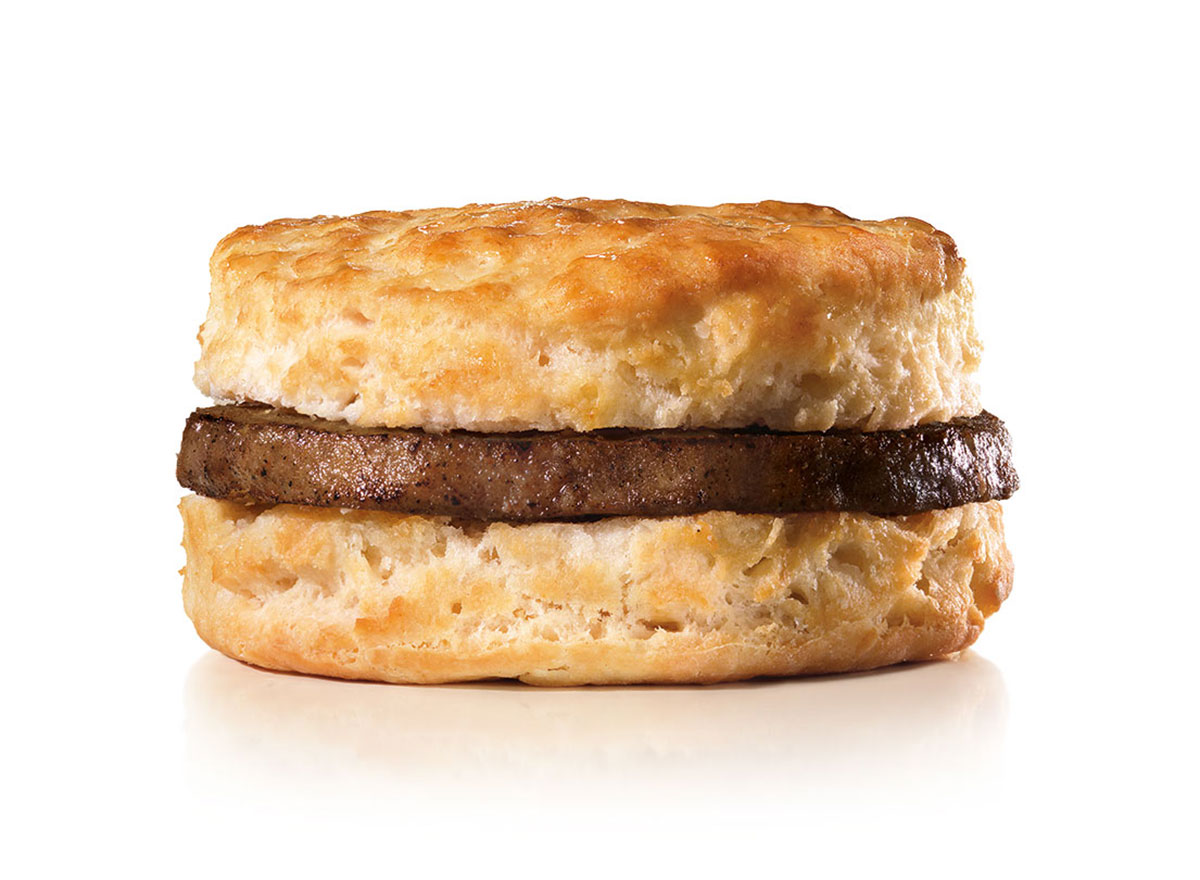 At Hardee's, biscuits reign supreme. "Hardee's most popular menu options are our Made From Scratch biscuits," a rep confirmed via email. "We sell more than 236 million per year!"
Moe's Southwest Grill: Homewrecker Burrito
The original Homewrecker burrito stuffs a massive 12-inch tortilla with seasoned rice, beans, shredded cheese, guacamole, and the protein of the diner's choice. It's no surprise that Moe's burritos, including the Homewrecker and the Joey Bag of Donuts, are the most popular item at this chain. Following the classic burritos, burrito bowls are also a popular Moe's choice. "Those are especially favored by folks on special diets like keto/low carb/vegan or vegetarian because they can be easily customized," a rep explained via email.
Starbucks: Cold Brew & Nitro Cold Brew Coffee
A Starbucks rep shared some of the most popular drinks and food items at the chain, and fans will probably notice some of their favorite specialty items on the list. Among coffee drinks, some of the most popular options include cold brew coffee, the nitro cold brew, lattes, frappuccinos, and cloud macchiatos. For non-coffee drinkers, meanwhile, popular Starbucks drinks are the Teavana iced green tea, the Strawberry Acai Refreshers, and honey citrus mint tea.
And if you prefer to grab food with your drink, you're in good company. Some of Starbucks' most popular food options include the egg and cheese protein box, the sous vide egg bites, the spinach and feta wrap, and the hearty blueberry oatmeal.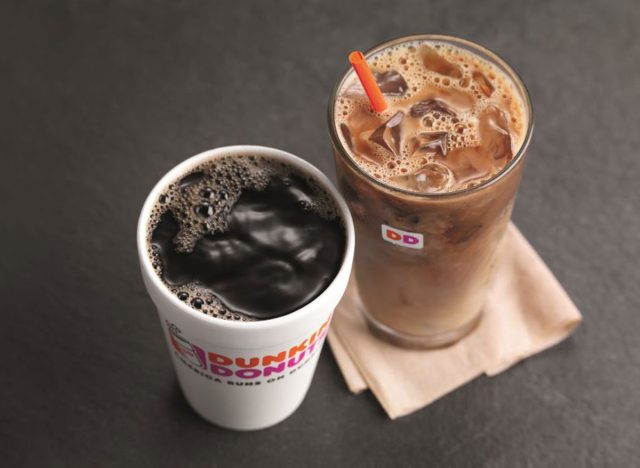 America runs on Dunkin's hot coffee and iced coffee. But when customers are craving a treat along with freshly-brewed Arabica, the glazed, chocolate glazed, Boston Kreme, jelly-filled, and chocolate frosted donuts take the cake.
Ben & Jerry's: Cookie Dough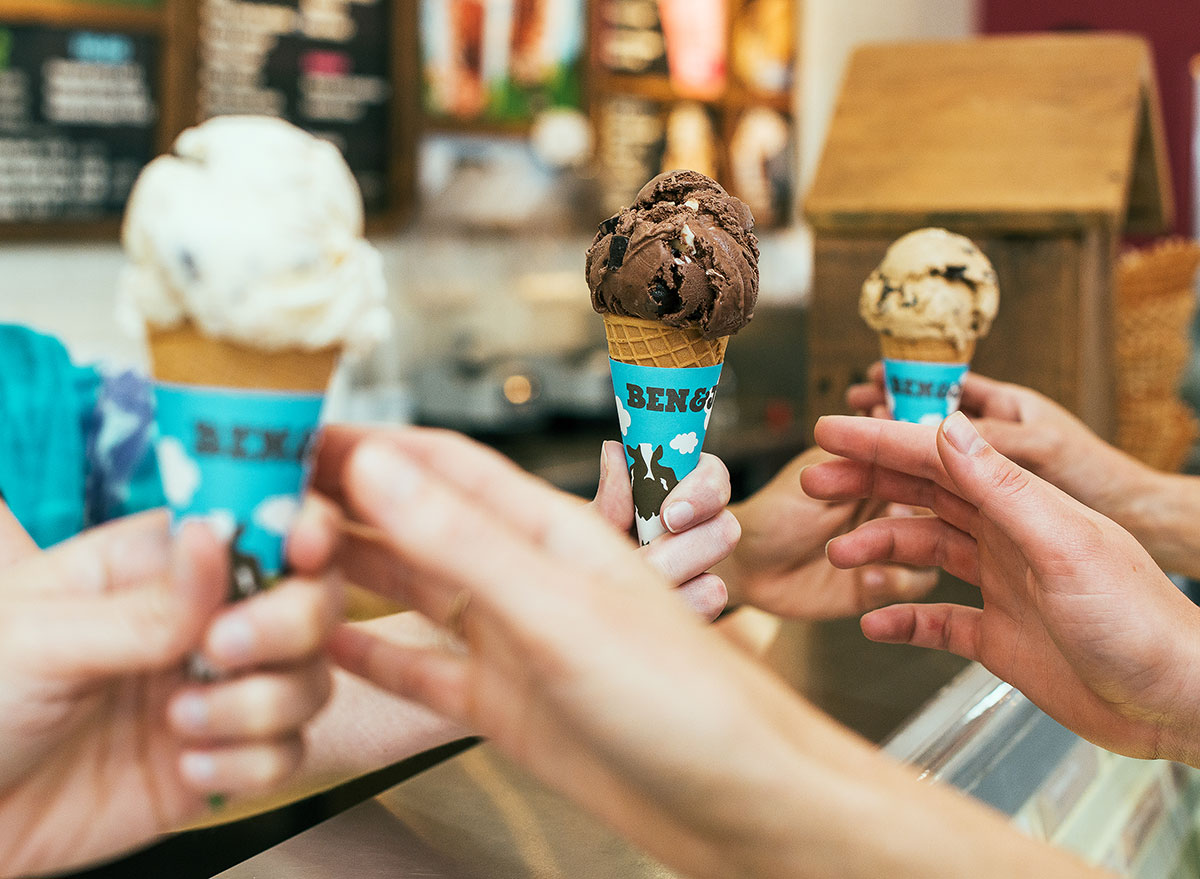 Cookie dough is the most popular flavor at Ben & Jerry's scoop shops, a rep for the company explained via email. The company measures sales by how many tubs of ice cream it goes through, which means that vanilla is a popular flavor, too, since it's the base for many Ben & Jerry's milkshakes. Even taking that into account, though, cookie dough still beat out the classic flavor.
Raising Cane's: Chicken Fingers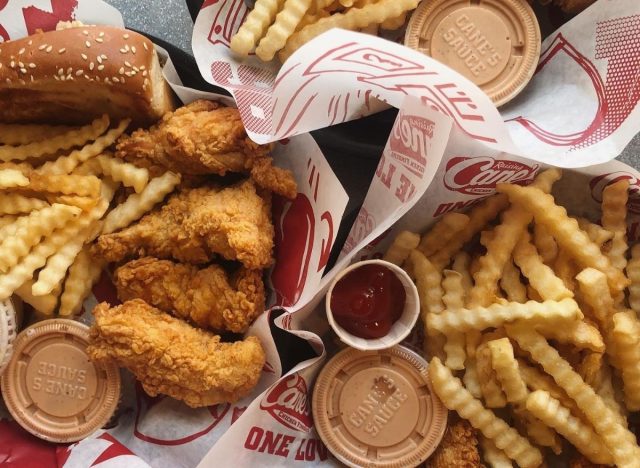 Most folks flock to Raising Cane's for one thing and one thing only: the super crispy yet tender chicken fingers. After all, there isn't much else on the menu.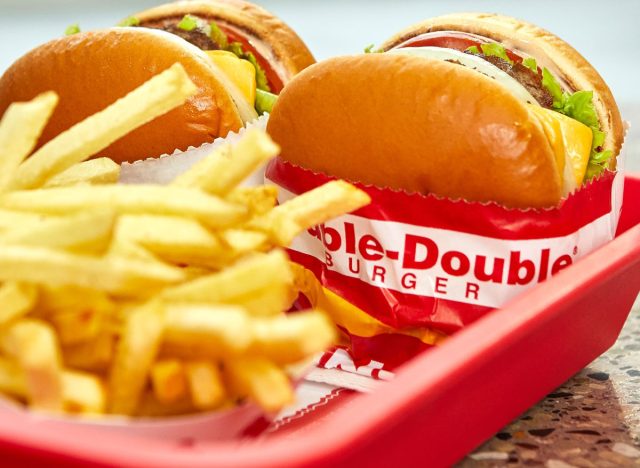 According to an In-N-Out sales rep's extensive experience, the double double is number one at the regional burger joint. As you've probably guessed, the stacked sandwich features two beef patties and two slices of American cheese. Classic.
Culver's: ButterBurger with Cheese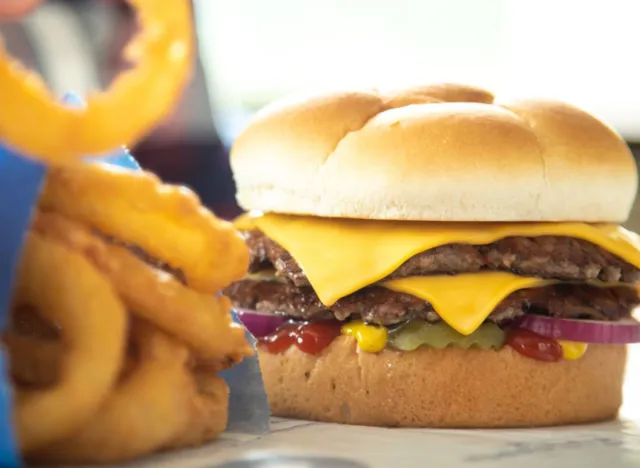 Burgers are the biggest category at Culver's, and the single butterburger cheese takes the cake. It's got an American cheese-topped beef patty sandwiched into a Kaiser bun, proving that simplicity is key.
Auntie Anne's: Original Pretzel Nuggets, Cinnamon Sugar Pretzel Nuggets, & Original Pretzel
Baked with just five ingredients, Auntie Anne's original pretzel was the chain's first-ever recipe, and it's still one of the best-selling items. According to an Auntie Anne's rep, the top items at the chain are the original pretzel nuggets, the cinnamon sugar pretzel nuggets, and the original pretzel.
As far as the chain's non-pretzel items go, Auntie Anne's also sells plenty of cheese dip and lemonade.
Restaurant name aside, the potato oles are a crowd-favorite among Taco John's clientele. Think of these winning spuds as an upgraded version of your regular tater tots. They're fried to a crisp and then dusted with the chain's signature blend of bold spices. Dip the spuds into indulgent nacho cheese or sour cream, or go for a side like guacamole or salsa.
Long John Silver's: Two-Piece Fish Meal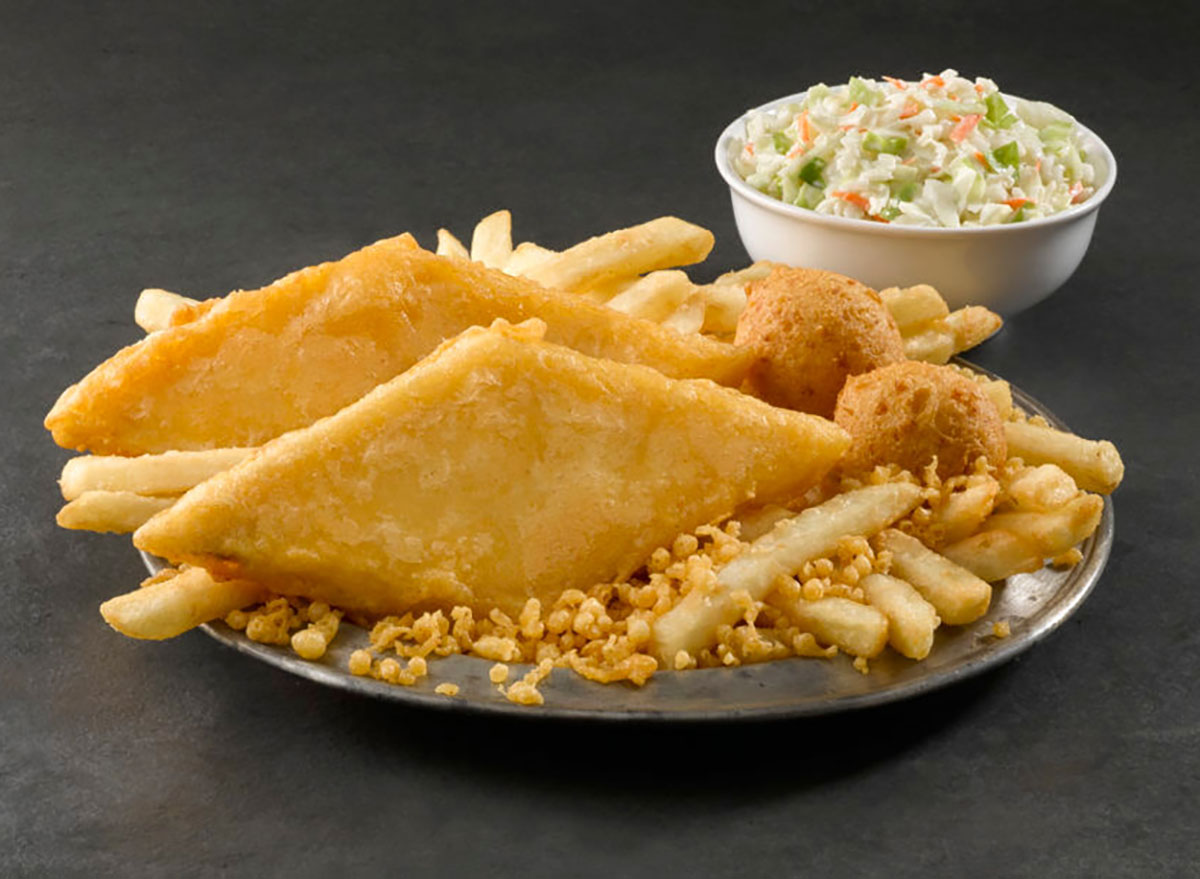 Long John Silver's catch of the day is the two-piece fish meal, which includes battered and fried Alaskan Pollock, two hushpuppies, and two homestyle sides—most often fries and coleslaw. The nation's largest quick-service seafood chain sustainably sources its wild-caught fish, deeming this pick a true winner.
Other popular Long John Silver's items include the chain's new grilled salmon and shrimp tacos, as well as the fish and shrimp variety platter.
Potbelly: A Wreck Sandwich
Potbelly's signature sandwich, A Wreck, is the most-sold item and features a mouthwatering combo of salami, roast beef, turkey, and ham that's toasted with Swiss cheese.
Jason's Deli: Garden Fresh Salad Bar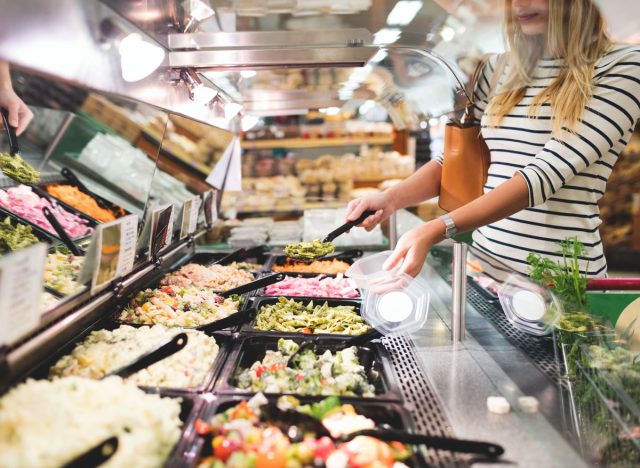 The victor at Jason's Deli remains the Garden Fresh Salad Bar. "We introduced the Garden Fresh Salad Bar nearly 40 years ago and it has consistently been the most popular item we offer on our menu," Blake Parker, Chief Innovation Officer of Jason's Deli, told Eat This, Not That! via email. "It is part of our commitment to serving the same high-quality food in our delis as we do in our homes, with ingredients you can pronounce and feel good about eating." We're sold.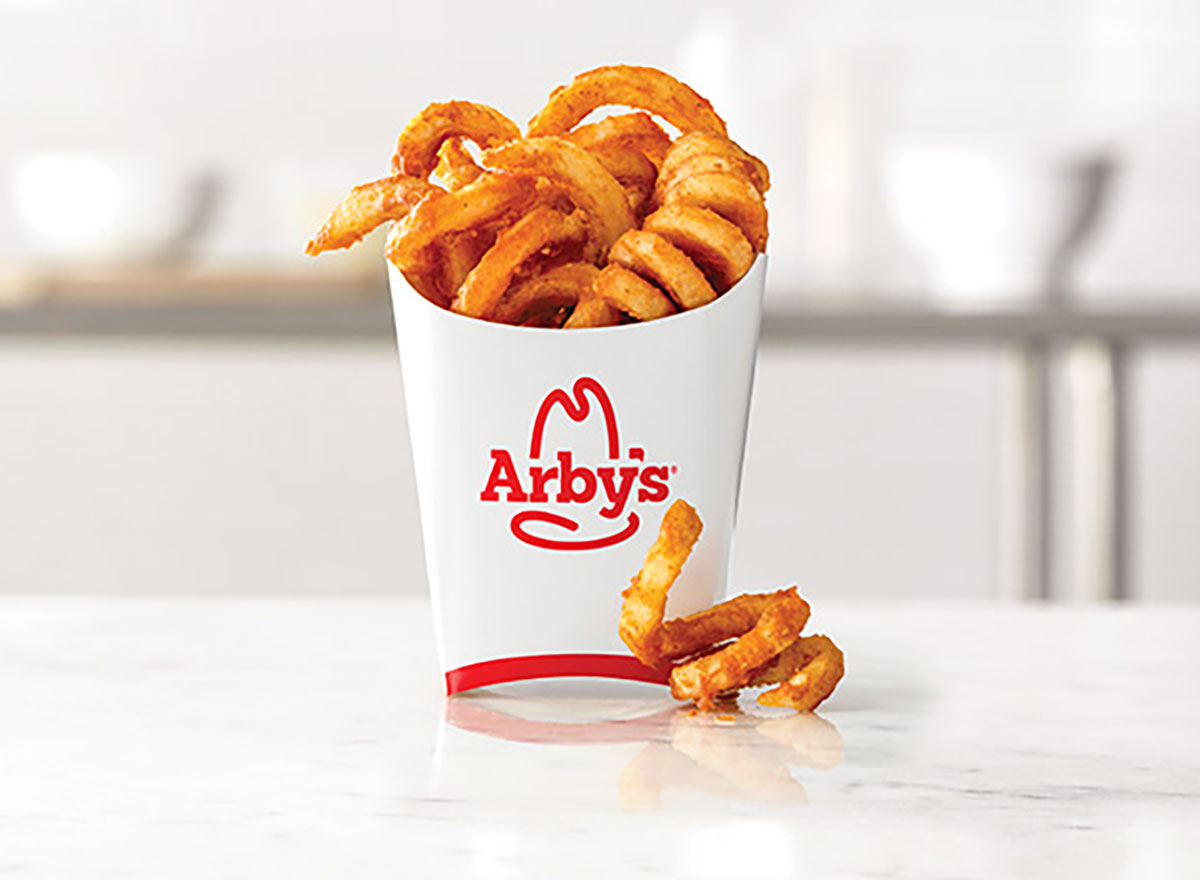 While McDonald's and Chick-fil-A's fries take the top spot on their menus, Arby's sells more of its classic roast beef sandwich than any other item. But its curly fries are a close second, taking the #2 spot on their most popular list, according to an Arby's rep.
Pei Wei Asian Kitchen: Wei Better Orange Chicken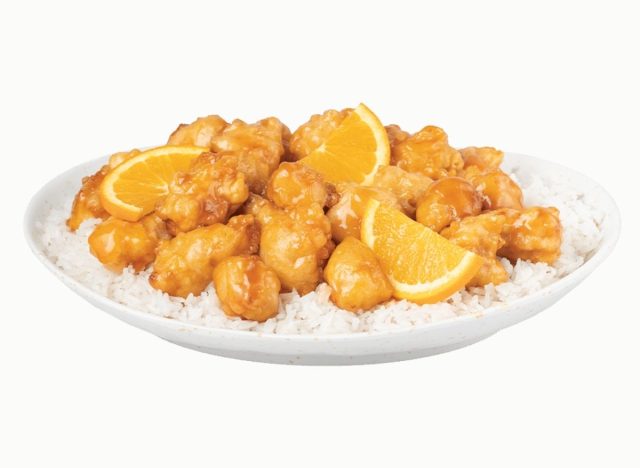 The Wei Better Orange Chicken remains the most popular dish at the fast-food chain. The top seller starts with crispy tempura white-meat chicken wok-seared with orange sauce and garnished with fresh orange slices. The poultry is served over nothing but fluffy rice. If you're looking to add some crunch, the $1 veggie add-on gives your dish red bell peppers, onions, carrots, and snap peas.
In addition to the orange chicken, other popular Pei Wei dishes include the Kung Pao and Mongolian Steak, as well as the new cauliflower rice option.
Del Taco: Crunchy Del Taco
The crunchy Del Taco remains numero uno on the Mexican joint's menu. But if you're looking for a meatless option, rather than the seasoned beef, Del Taco also offers a Beyond Meat taco, complete with avocado.
Wendy's: Dave's Single Cheeseburger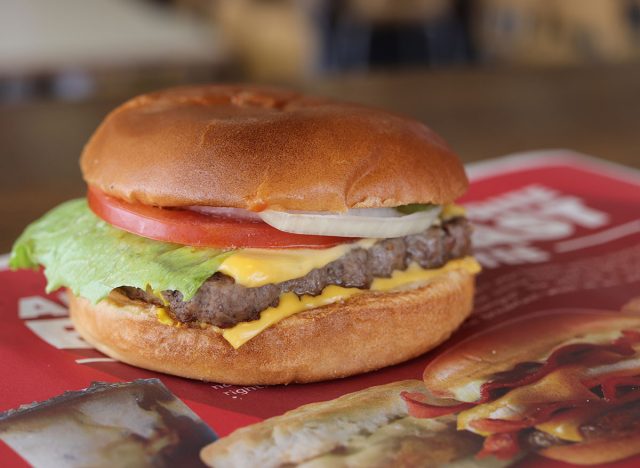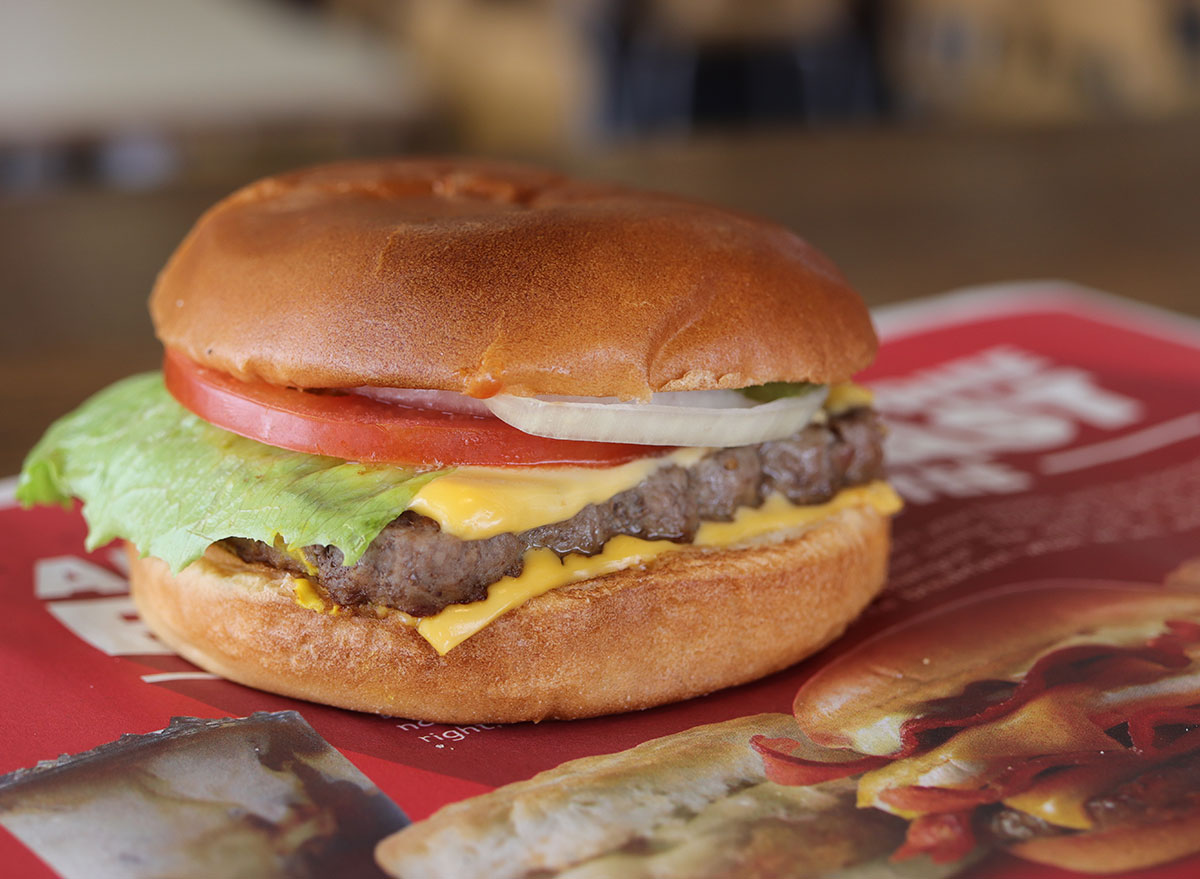 6254a4d1642c605c54bf1cab17d50f1e
According to a Wendy's rep, Dave's Single is a top-seller at the fast-food joint. Just as Wendy's founder Dave Thomas intended, Dave's Single is made with a "quarter-pound of fresh, never frozen beef," the rep explained. Plus, of course, there are all of the delicious toppings like onions, pickles, lettuce, tomatoes, and cheese.
Smashburger: Classic Smash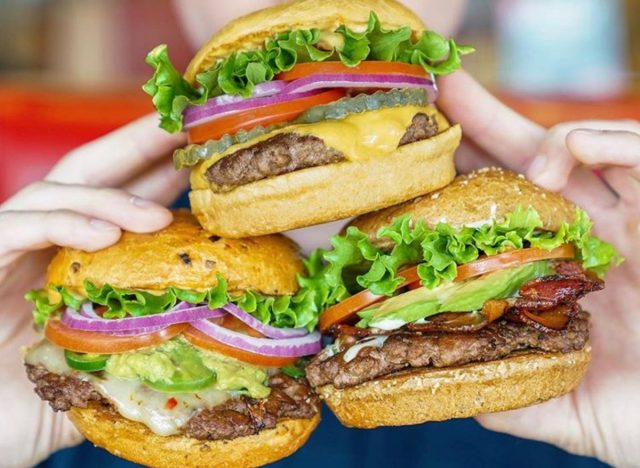 The most popular menu item at the Colorado-founded chain is the Classic Smash. The burger features seared, juicy beef and is topped with lettuce, tomato, onion, pickles, American cheese, ketchup, and Smash Sauce on an egg bun.
Panda Express: Orange Chicken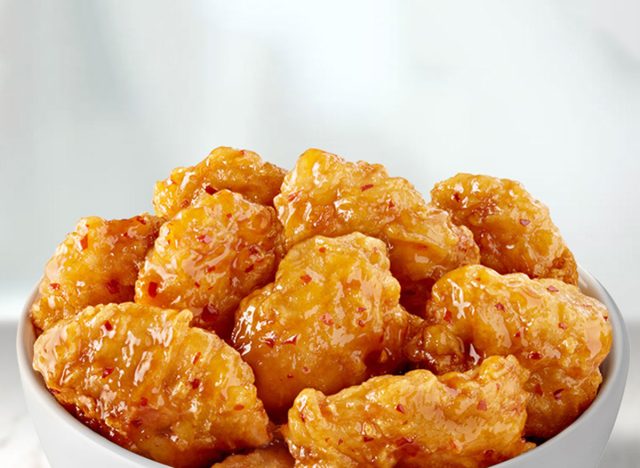 Orange chicken is the top-ordered dish at Panda Express.
Five Guys: Chocolate Milkshake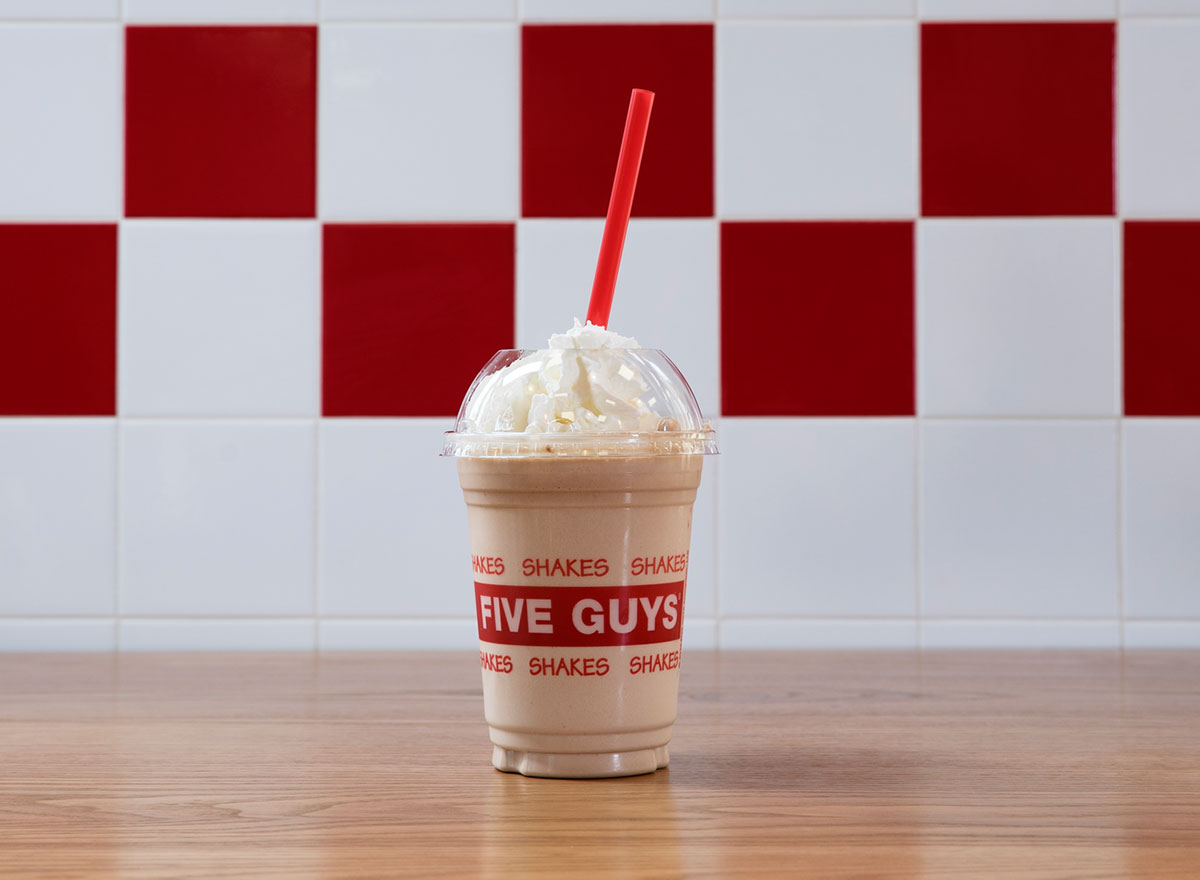 Following the popular burgers, the second most-ordered item at Five Guys is the milkshake, specifically the chocolate shake. After the solid chocolate shake, other popular Five Guys shake flavors include the Oreo cookie flavor, vanilla, strawberry, peanut butter, and salted caramel. Burger fans aren't looking for a caffeine fix with their meal, though: A rep said that coffee is the "least added mix-in" to the creamy drinks.
Church's Chicken: Combo #1
Church's Chicken's most popular menu item is their Combo #1, which comes packed with two pieces of chicken, a side dish, and a made-from-scratch honey butter biscuit. The perfect Southern comfort meal, if you ask us.
Qdoba: Grilled Adobo Chicken Bowl
Qdoba's most-ordered item is the grilled adobo chicken bowl, a rep for the company confirmed. While customers are able to customize their dish however they'd like, the most popular ingredients include Cheese Queso, hand-smashed guacamole, fajita vegetables, pickled jalapenos, and pico de gallo. Yum!
Carl's Jr.: Spicy Chicken Sandwich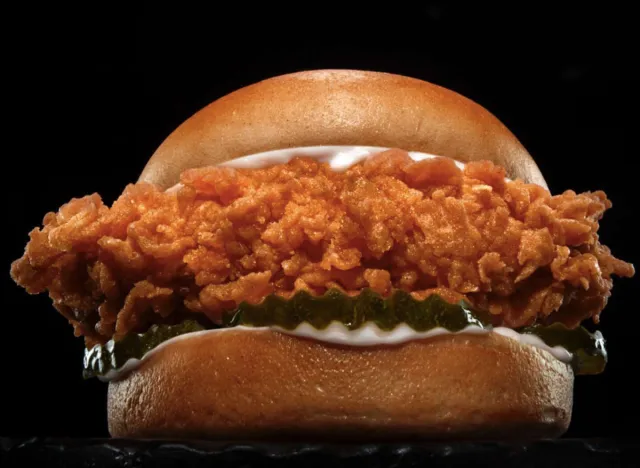 It's no secret that people who drive-thru Carl's Jr. enjoy the more piquant options in life. After all, the spicy chicken sandwich is their best-seller.
Einstein Bros.: Farmhouse Signature Breakfast Sandwich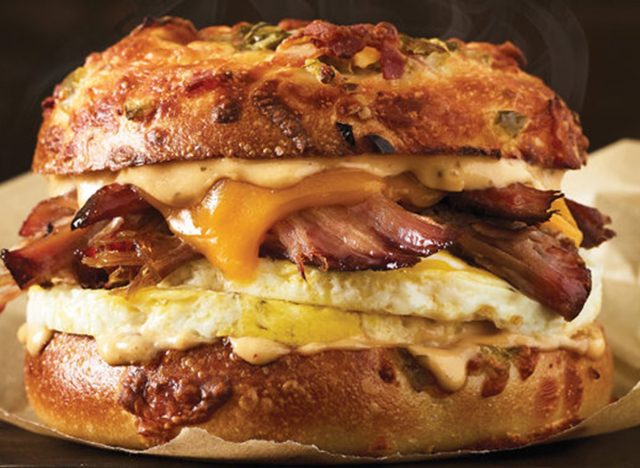 Early birds keep coming back to Einstein Bros. for its farmhouse signature breakfast sandwich. It's piled with cage-free eggs, thick-cut bacon, smoked ham, and cheddar cheese, and has a back-to-the-farm finish with country pepper schmear on a cheesy hashbrown gourmet bagel.
Noodles World Kitchen: Penne Rosa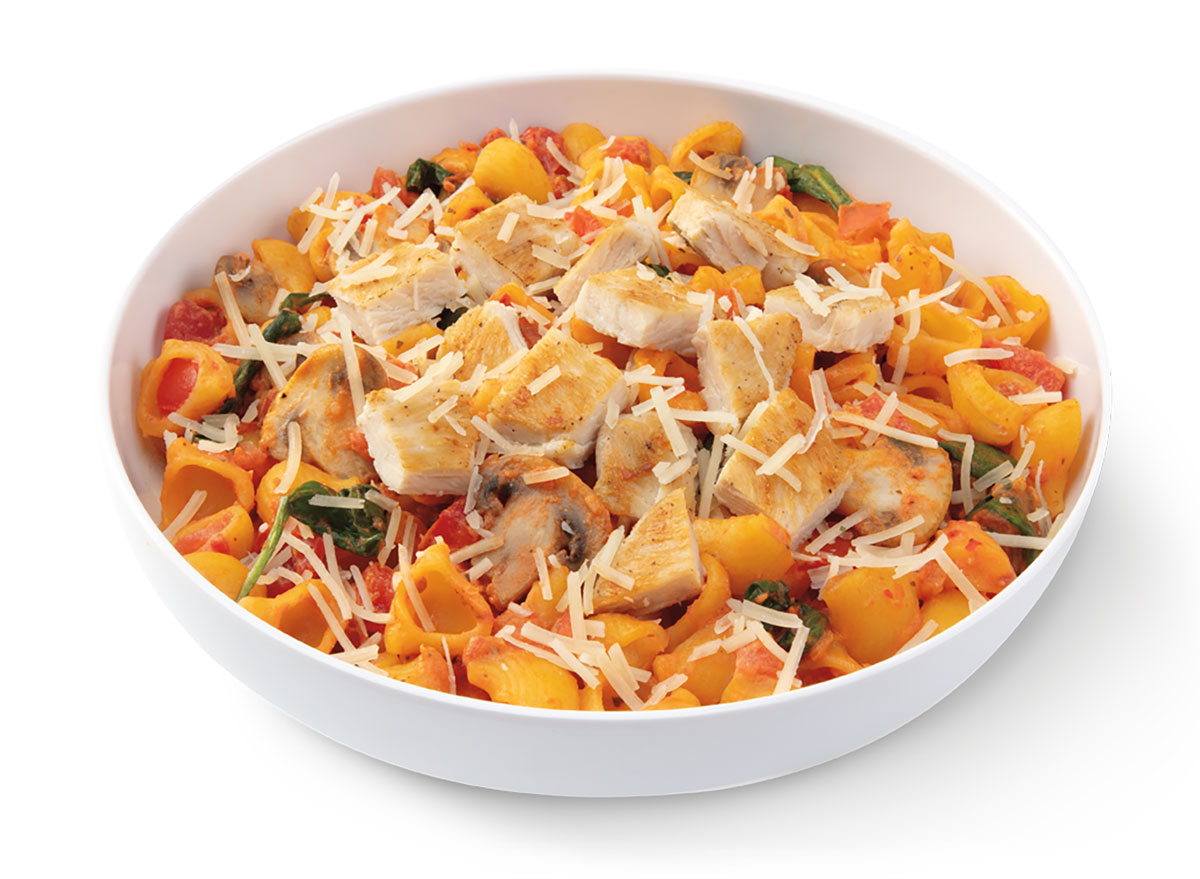 "Another best-seller on our menu is our Penne Rosa, which we are currently featuring with our new gluten-free pipette shell," the Noodles rep said via email. "The dish is composed of a spicy tomato cream sauce, pipette shells, grilled chicken, mushrooms, tomato, spinach, and parmesan. Zoodles can also be substituted into this dish or any other dish on our menu."
Original Chop Shop: Teriyaki Chicken Protein Bowl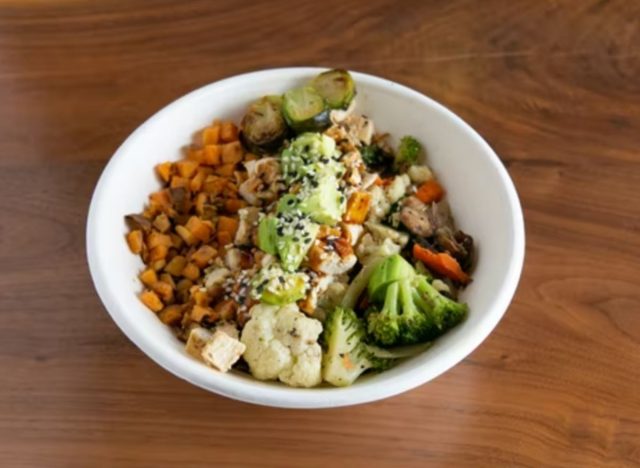 According to a rep for the company, the teriyaki chicken protein bowl is the top pick at this Southwest-based chain. It comes with teriyaki sauce, sesame seeds, Brussels sprouts, and even avocado.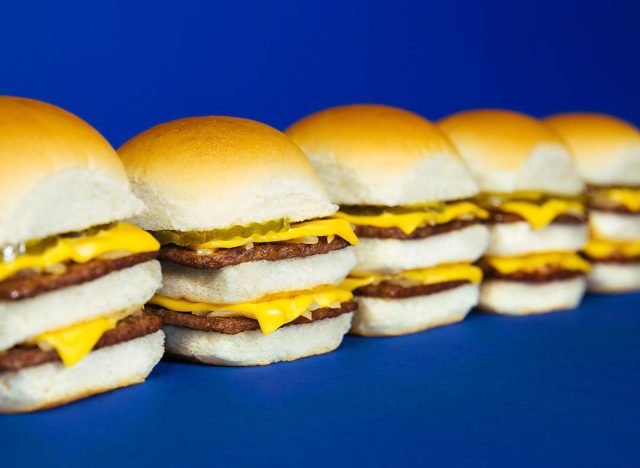 The mini burger purveyor boasts that its sliders are "America's original craving." So it's no surprise that they're a top seller at the chain.
Looking for a plant-based alternative? Don't miss the White Castle Impossible Slider.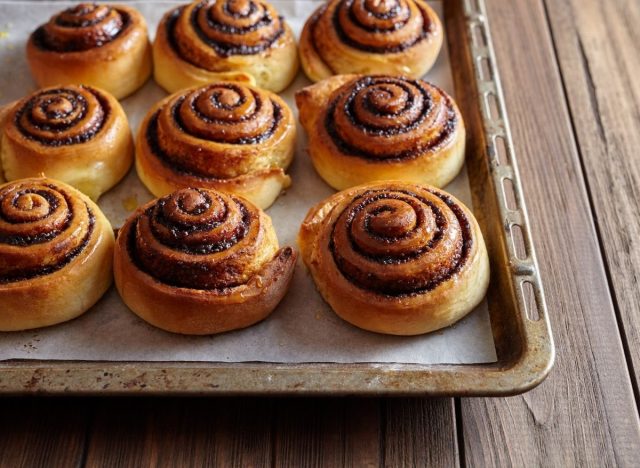 Out of the majority who are tantalized by the warm and comforting aromas wafting out of Cinnabon stores, it's no wonder why the top seller is the freshly-baked classic roll.
Little Caesar's: $5 Hot-N-Ready Classic Pepperoni Pizza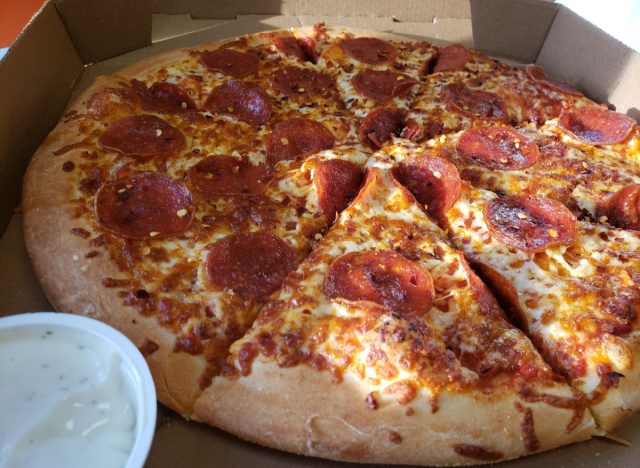 Little Caesar's is all about their jingle-worthy $5 Hot-N-Ready pizzas. So it comes as no surprise that the five-buck classic pepperoni pizza is a fan favorite. And that's not all—the majority of the pizza chain's customers complete their meal with the Crazy Bread.
Ring-a-ding! Taco Bell's top-selling menu item is none other than the crunchy taco with seasoned beef, lettuce, and shredded cheese. Interested in an upgrade? Add some chicken for extra protein or "make it fresco" with invigorating pico de gallo.
Fazoli's: Breadstick Sandwiches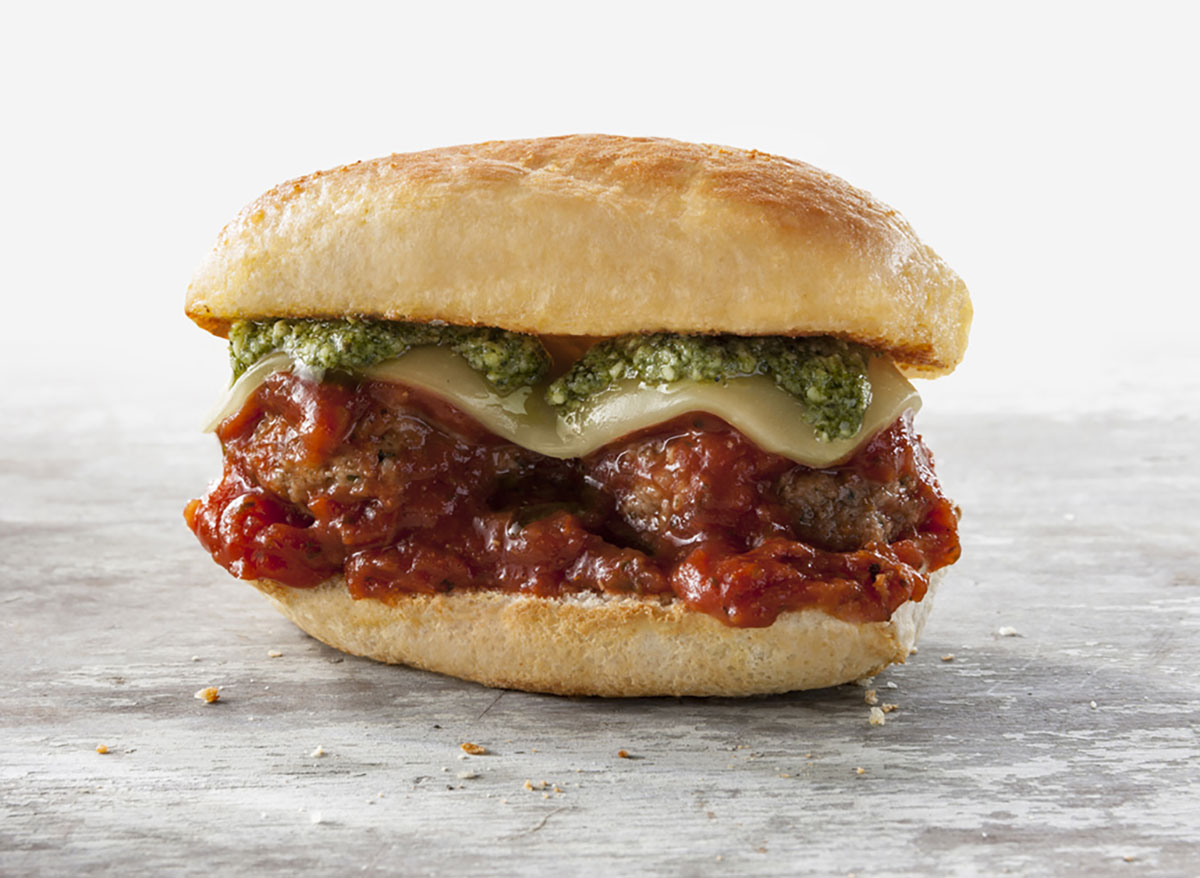 The fast-casual chain is known for its breadsticks, but its breadstick-based sandwiches are even more popular, according to a rep for the company. The smashed meatball slider is a particular hit among guests at the Italian joint.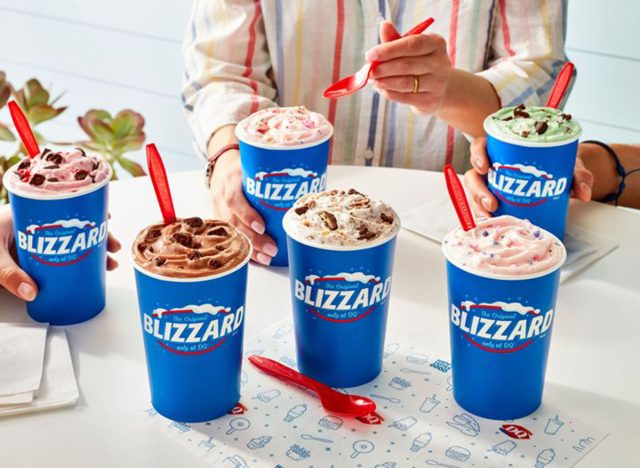 You guessed it—the served-upside-down blizzards are the top item at Dairy Queen. Choose from indulgent flavors such as the signature Turtle Pecan Cluster to the Candy Classics and the limited-time-only treats.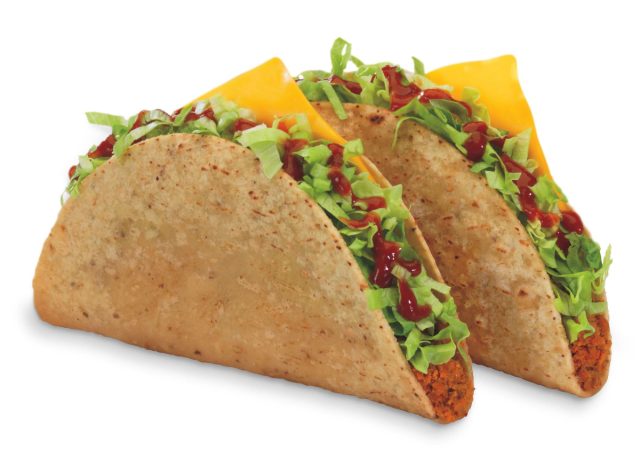 Although Jack in the Box is famous for its burgers, its most popular fast food menu item is the taco. The pocket is stuffed with beef, salsa, lettuce, American cheese, and deep-fried before sending it off.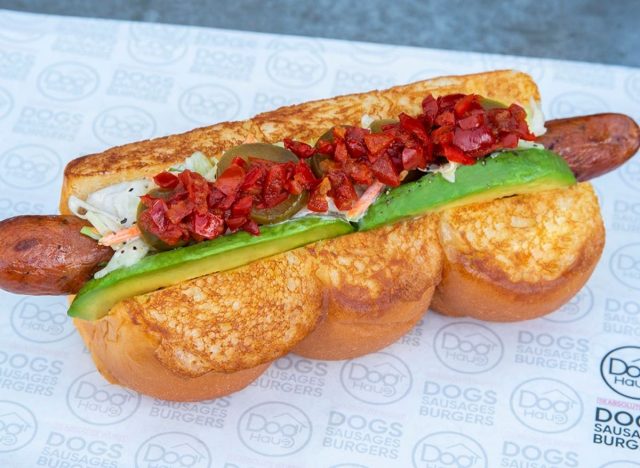 This hot dog chain's most popular dog is the T-Mex, which is inspired by Tex-Mex cuisine. The creative hot dog includes a beef sausage, served with avocado, chipotle aioli, pickled jalepeños and peppers, and slaw on a King's Hawaiian bun.
A rep for the company explained that while the T-Mex was originally only a limited-time item, it was so beloved that it's joined the permanent menu.
McAlister's Deli: Club Sandwich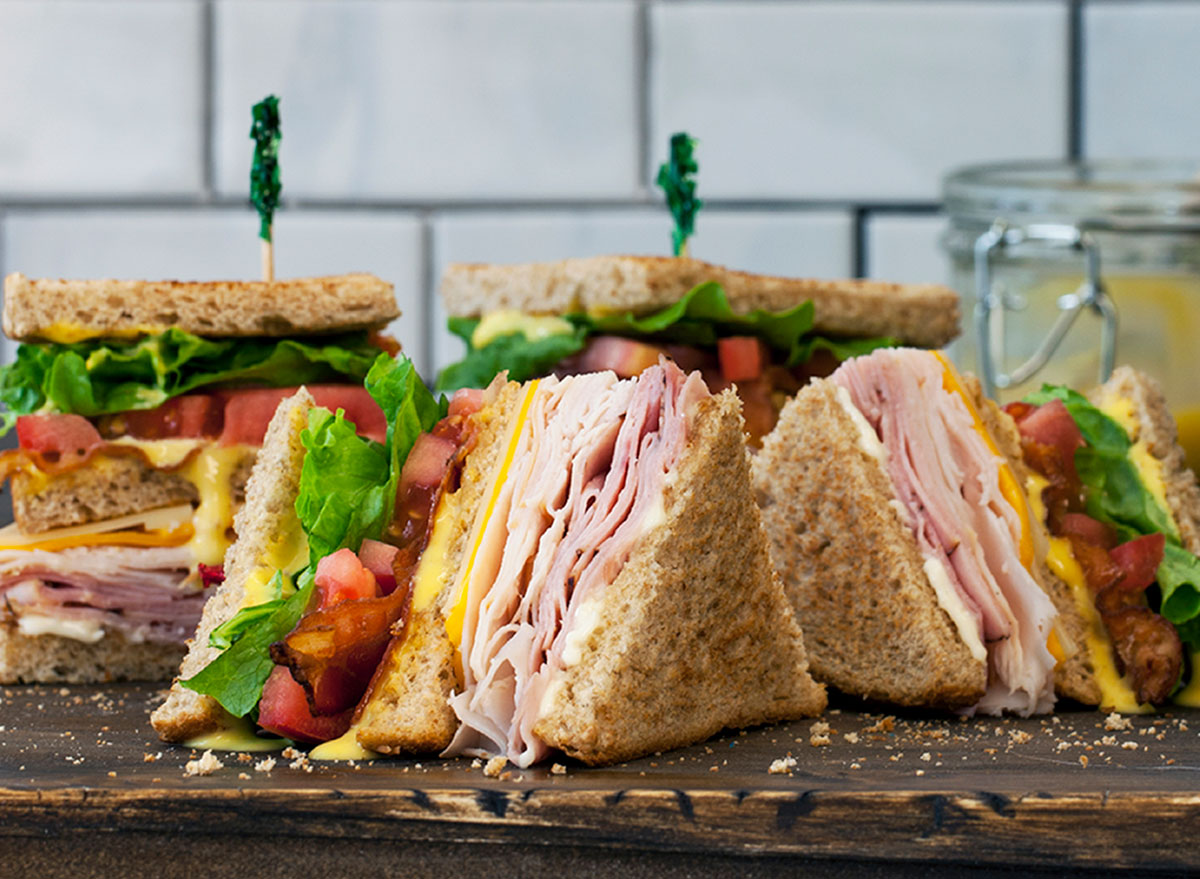 A rep for McAlister's Deli explained via email that the deli club sandwich, which features ham, turkey, and bacon, is among the most popular food offerings. And, of course, fans can't resist the chain's famous sweet tea.
Noodles World Kitchen: Zucchini & Asparagus with Lemon Sauce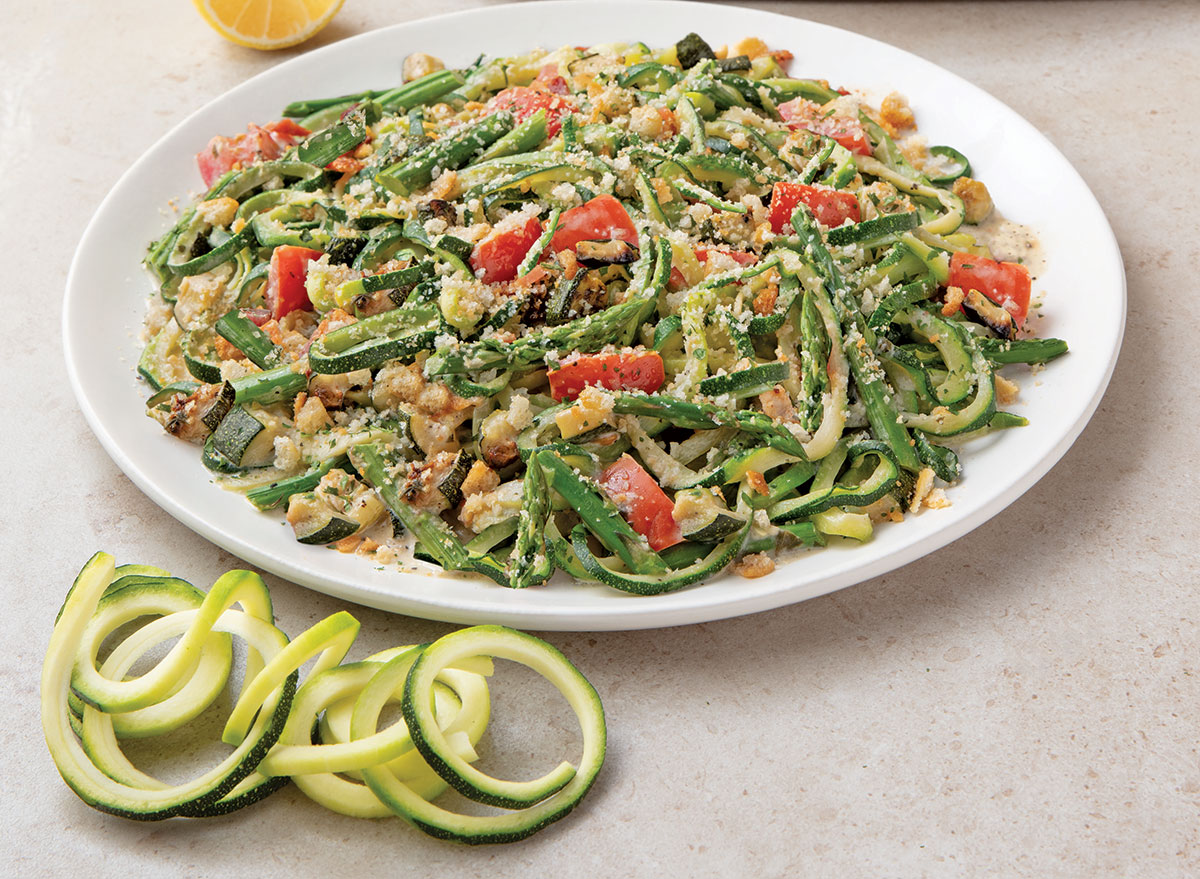 If you're looking for a lighter option at the pasta chain, look no further than this vegetable-heavy dish.
"One of our most popular dishes this summer is our seasonal Zucchini & Asparagus with Lemon Sauce, which features zucchini noodles and asparagus in a lemon cream sauce, Roma tomatoes, and roasted zucchini, all finished with breadcrumbs and parsley," the Noodles rep explained via email.
Arby's: Beef 'n Cheddar Sandwich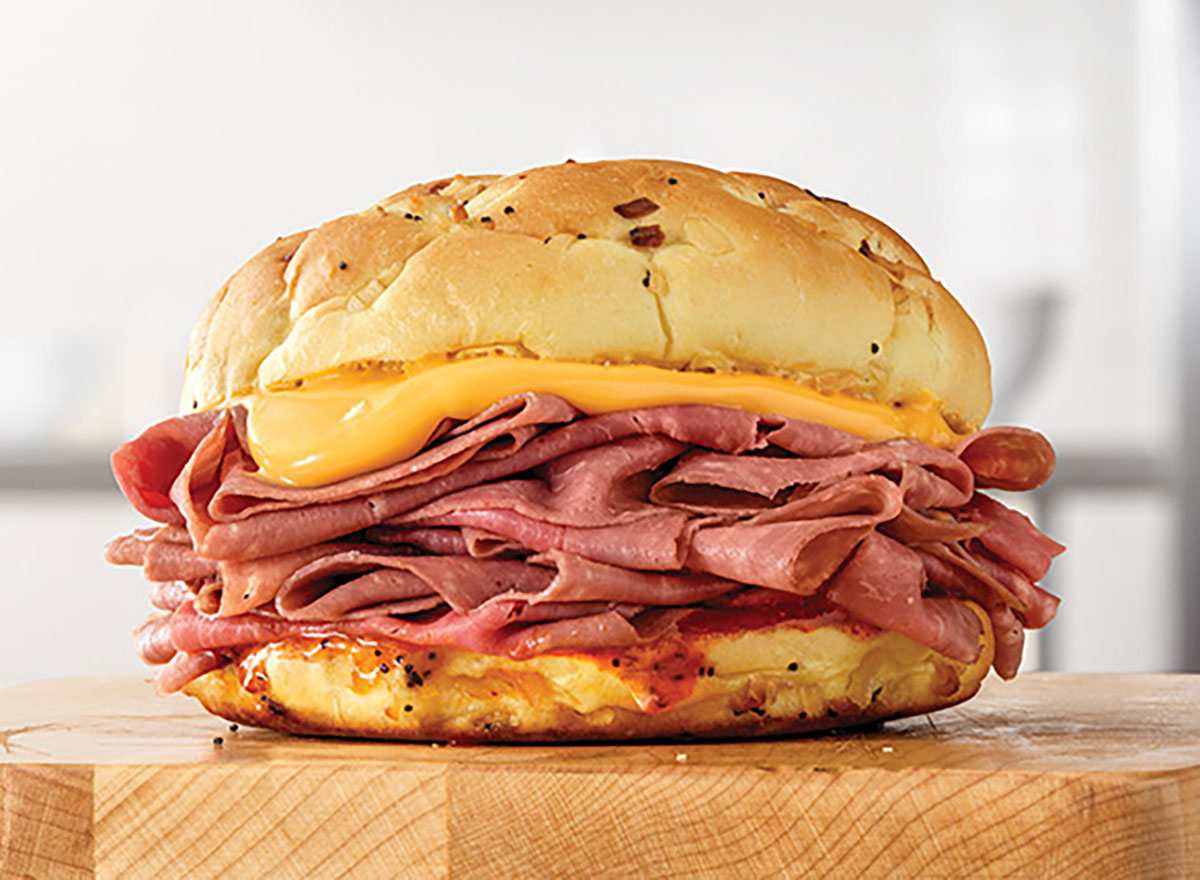 After the classic roast beef and the curly fries, Arby's customers love ordering the Beef 'n Cheddar sandwich. Who wouldn't want melty cheese on top of their roast beef sandwich?
Chick-fil-A: Chicken Nuggets
Shockingly, Chick-fil-A's nuggets are more popular than its chicken sandwich, falling in third place behind waffle fries and the company's soft drinks. Who would have thought that the place that invented the chicken sandwich would become more well-recognized for its nuggets?
Now that you know the most popular fast food menu options, you can make a more informed decision next time you're at one of these chains. Whether you want to go with the flow or try something new, it's fun to see what everyone else is ordering at these popular fast-food restaurants.
April Benshosan
April is a born-and-raised Brooklynite who has a passion for all things health, wellness, and tastebud-related.
Read more about April