9 Most Expensive Chicken Sandwiches at Popular Fast-Food Chains
Most customers report that $10 is way too much for an average chicken sandwich.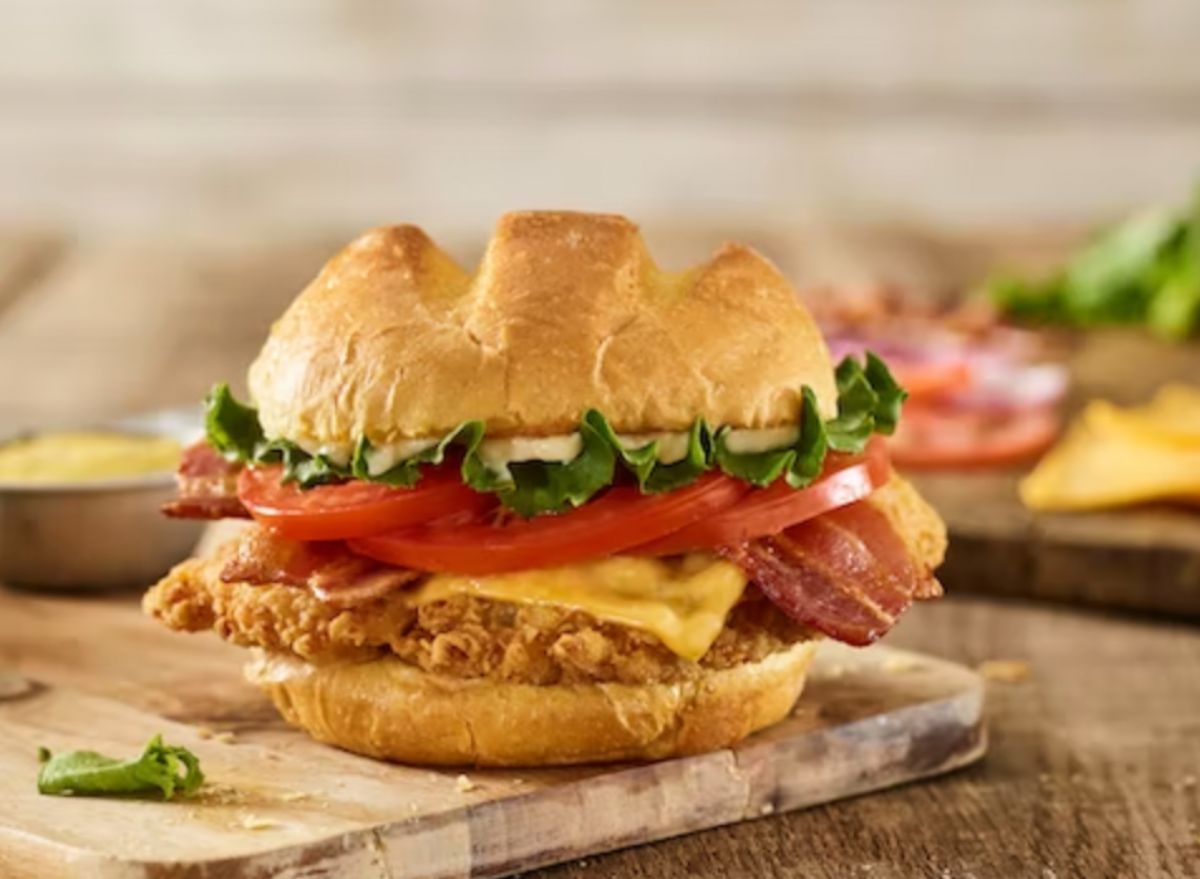 A big, juicy cheeseburger from your favorite fast-food restaurant often hits the spot. But when you're not craving beef, there are plenty of chicken sandwiches out there, both crispy and grilled. However, the tried-and-true fast-food chicken sandwich is looking awfully expensive in some areas recently with some topping the $10 mark.
Customers have reported that the price of fast-food and chicken sandwiches gradually crept up last year. That's no surprise because, at the end of 2022, the price of chicken in America had increased by 10.9% more over 2021. Fast food chains in particular were heavily affected by the chicken shortages and the rise of inflation, and passed the cost on to customers.
Although fast food has become more expensive than fans would prefer, still, the chicken sandwich wars will continue to be a major trend this year. Many chains are launching new creations and heating up the competition with more spice and new flavors. Releases such as Burger King's new line of international chicken sandwiches, Popeye's re-vamped Blacken Chicken Sandwich, and Wingstop's first-ever Chicken Sandwich, signal that the chicken sandwich wars are far from over. While some of the chicken sandwiches newly hitting the market are only available for a limited time—and it might not be a big deal to indulge in the hefty price tag for once—others may end up breaking the bank if ordered on a regular basis.
Whether you're on a budget or you just don't want to spend $10+ on a simple chicken sandwich, beware that these are the nine most expensive chicken sandwiches at popular fast-food chains.
1
Panera – The Signature Take Chicken Sandwich – $13.19
Panera Bread decided to enter the chicken sandwich wars in mid-2022, but it didn't come cheap for customers. The Signature Take Chicken Sandwich goes for about $13.19 (depending on location). It offers up a seasoned and seared chicken breast, topped with parmesan crisps, emerald greens, and garlic aioli. While Panera advertises this as a high-quality chicken sandwich, as it's raised without antibiotics, many customers on Reddit claim that overall the chain is "overpriced hospital food" and this item, in particular, is "overpriced for being as sub-par and small as they are."
2
Shake Shack – Avocado Bacon Chicken Sandwich – $10.49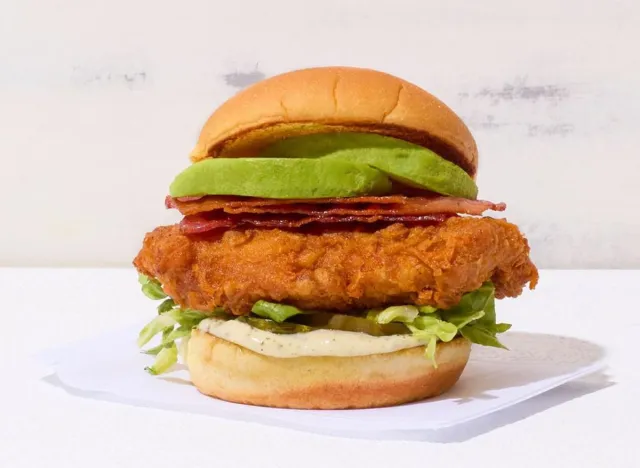 Shake Shack's Avocado Bacon Chicken Sandwich, also breaks the double digits in price. For $10.49, customers get a piece of the chain's signature crispy chicken, layered with sliced avocado, applewood-smoked bacon, lettuce, pickles, and a creamy buttermilk herb mayo. Sure, this chicken sandwich is stacked with protein and veggie toppings, but that all comes at a steep cost. When you're paying that much for a fast-food chicken sandwich, it's easy to have high expectations, but customers have found the chain to be "inconsistent and a little too pricey."
3
Chick-fil-A – Grilled Chicken Club – $9.99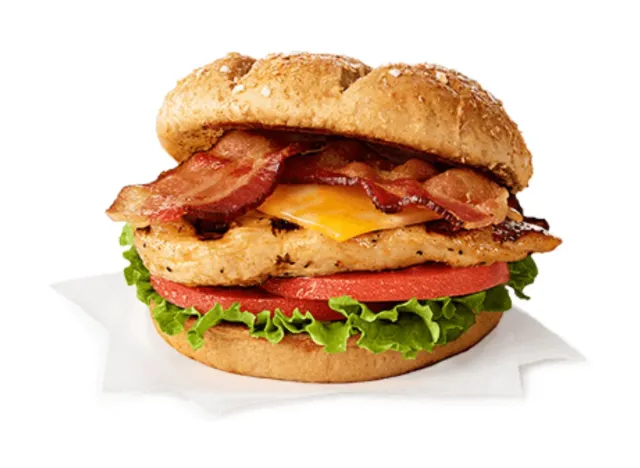 Chick-fil-A is known for having a menu full of delicious chicken products, and there's one sandwich, in particular, that goes for quite a pretty penny. The Grilled Chicken Club comes with all the classics—lettuce, tomato, cheese, and bacon—as well as a honey-roasted BBQ spread and is priced at $9.99. Order this item at your own wallet's risk. Customers are fed up with the prices at the chain as it is. "There's no way a full-grown adult can be satiated without spending at least $10 at chick fil a," one Redditor writes.
4
Smashburger – Bacon Smash Crispy Chicken Sandwich (& others) – $9.99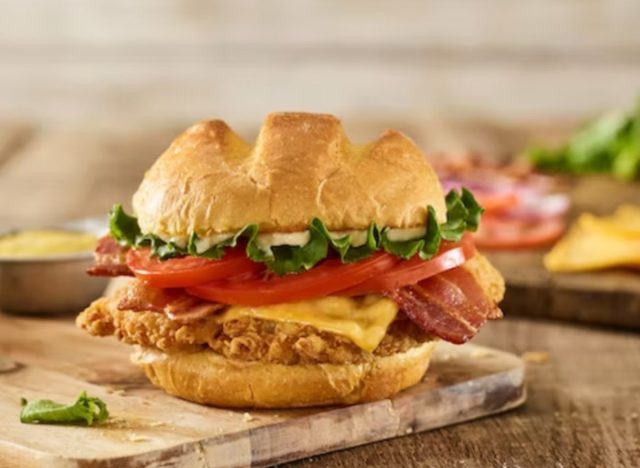 Where there are expensive burgers, there are also expensive chicken sandwiches. Smashburger offers a number of chicken sandwiches for $9.99, including the Bacon Smash Crispy Chicken Sandwich which features crispy chicken, cheese, applewood smoked bacon, lettuce, tomatoes, and mayo. Graanted, these aren't your average chicken sandwiches. Smashburger serves up upgraded, over-the-top versions for customers to choose from, like the Colorado Crispy Chicken Sandwich and the Truffle Mushroom Swiss Crispy Chicken Sandwich. Just remember, each one will cost you nearly $10, before taxes and sides. 
McDonald's – Bacon Ranch Deluxe McCrispy – $9.69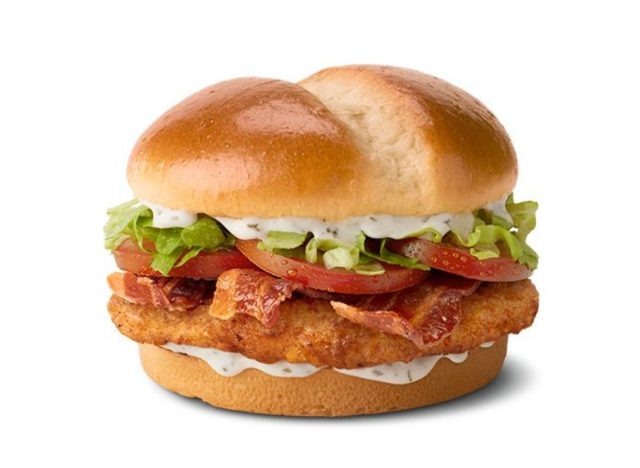 Debuting at McDonald's on Mar. 13, for a limited-time-only, is one of the most expensive chicken sandwiches the chain has offered in quite some time: the Bacon Ranch Deluxe McCrispy. America's favorite fast food chain is rebranding its beloved line of chicken sandwiches to join the "Mc" crew, said by execs to be "a true McDonald's badge of honor." For this item specifically, running for $9.69 (prices may vary by location), a crispy chicken fillet gets layered with applewood smoked bacon, a new Ranch Sauce , tomatoes, and shredded lettuce on a toasted potato roll.
6
KFC – Double Down Chicken Sandwich – $8.99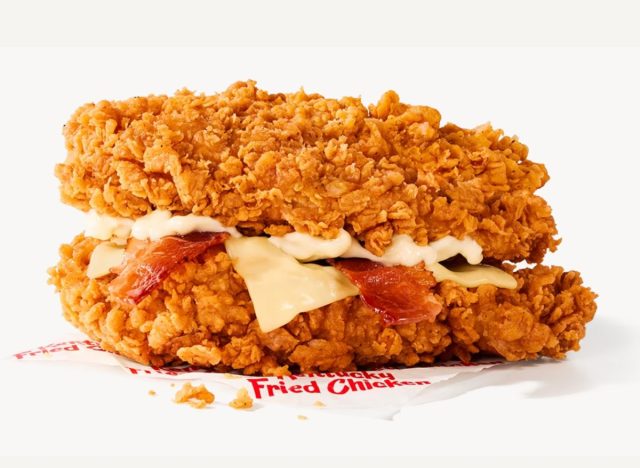 After almost a decade, KFC has finally brought back this iconic (and notorious) chicken sandwich. The Double Down Chicken Sandwich, which has two pieces of fried chicken acting as the buns, first took the country by storm in 2010 and more than 10 million were sold. It's a crowd favorite and fast-food phenomenon, but it's no cheap one, considering it's $8.99 for the "sandwich" alone (and even more when you throw fries and a drink into the mix). 6254a4d1642c605c54bf1cab17d50f1e
7
McDonald – Deluxe McCrispy – $7.49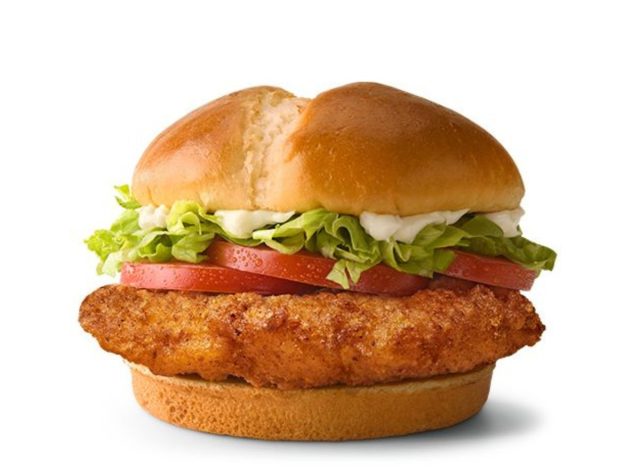 Many customers categorize McDonald's as one of the most affordable fast food chains, mostly due to things like the long-standing value menu and constantly rotating deals and offers. While this does stand true for some items, the Deluxe McCrispy chicken sandwich isn't truly cheap as it starts at $7.49. Plus, going "deluxe" at McDonald's only gets you the additional toppings of shredded lettuce, tomatoes, and mayo, versus the lonely pickles one would receive on the basic McCrispy sandwich. 
8
Buger King – Bacon and Swiss Royal Crispy Chicken Sandwich – $7.49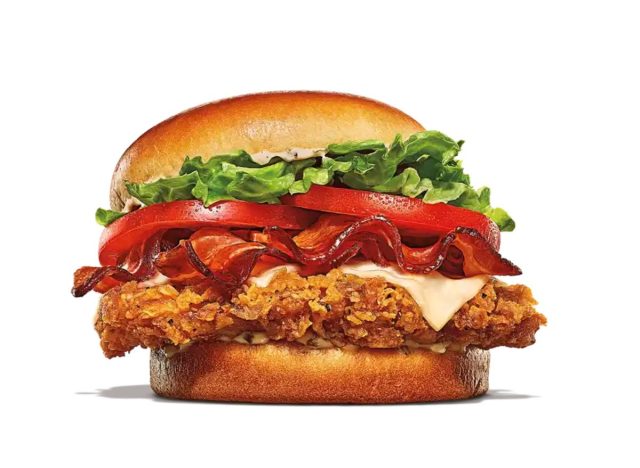 Burger King has many affordable menu options, but that doesn't cover the chain's Bacon and Swiss Royal Crispy Chicken Sandwich. What's inside this expensive sandwich you may ask? It comes with the BK royal sauce spread on each bun, alongside cheese, bacon, lettuce, and tomatoes on top of a big piece of crispy chicken. 
9
Jack in the Box – Homestyle Ranch Chicken Club Sandwich – $7.39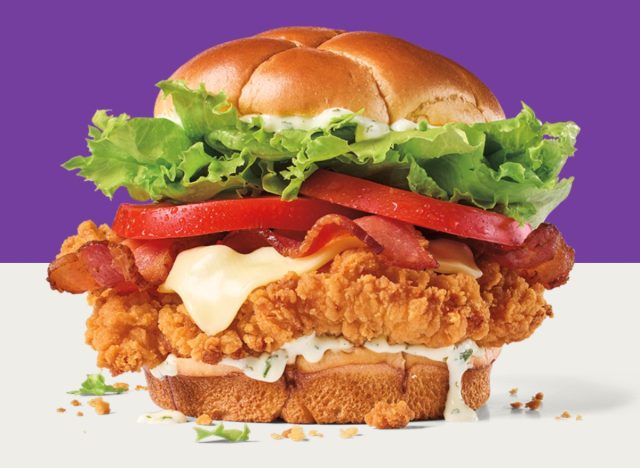 Jack in the Box's Homestyle Ranch Chicken Club Sandwich, not only makes our list of not-so-cheap chicken sandwiches but it's also the most expensive individual menu item the fast food joint offers. Once it's loaded with buttermilk ranch and hickory smoked bacon, the crispy piece of chicken gets topped with the usual cheese, lettuce, and tomato. Jack in the Box stacks it up high, although, you end up paying the price.
Jordan Summers-Marcouillier
Jordan Summers-Marcouillier was born and raised in San Jose, California and now works as a writer in New York, NY.
Read more about Jordan