The Best & Worst Fast-Food Fish Sandwiches to Try Right Now
A dietitian weighs in on where to get your fish fix.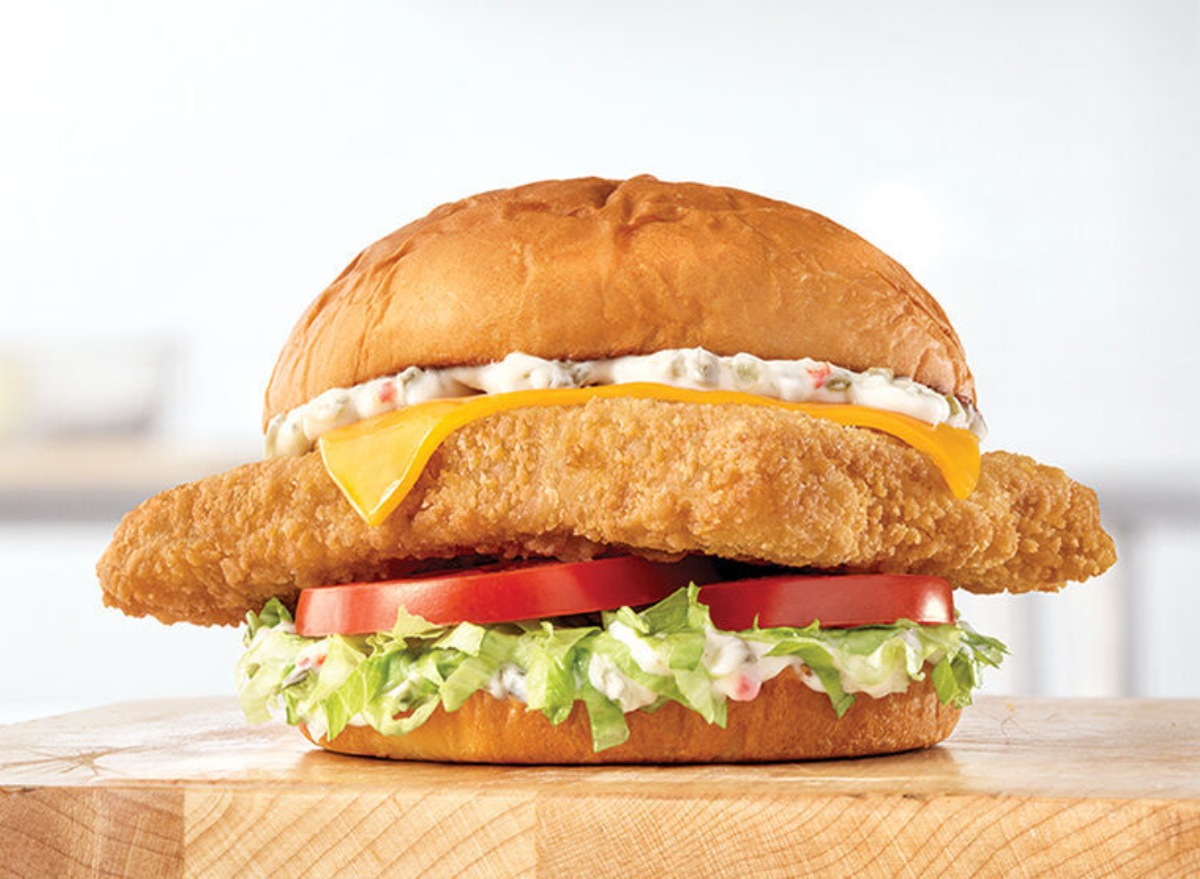 With less than a week until Lent season begins, many fast-food chains have brought back their fan-favorite fish sandwiches and some new ones are joining the seafood game for the very first time! While enjoying some refreshing seafood can be nutritionally valuable, that's not going to be the case for every sandwich available right now.
There are a lot of options on the market this year, which can make it hard to choose the best one of the bunch. Taking a look at the nutrition facts is a good start in picking a fish sandwich winner, however, "the best way to select your "healthiest" is to look for the smallest portion size and calories," says Toby Amidor, MS, RD, CDN, FAND, award-winning nutrition expert and Wall Street Journal best selling author of "The Family Immunity Cookbook".
"If you look at the calories of a typical fish sandwich from a fast food joint, they are significantly higher than a simple burger or a grilled chicken sandwich," she goes on to explain, "in order to know if it is a better-for-you choice: check the website for the calories, the method the fish is cooked, and how it is served (with which condiments and sides)."
Luckily, we've done the nutrition research and listed out, from worst to best, which fast-food fish sandwiches you need to try right now with the help of our expert dietitian. Read on and find the fishy dish is tasty and healthy (well, the healthiest. Let's be honest, it's still fast food!).
Worst: Popeyes Classic Flounder Fish Sandwich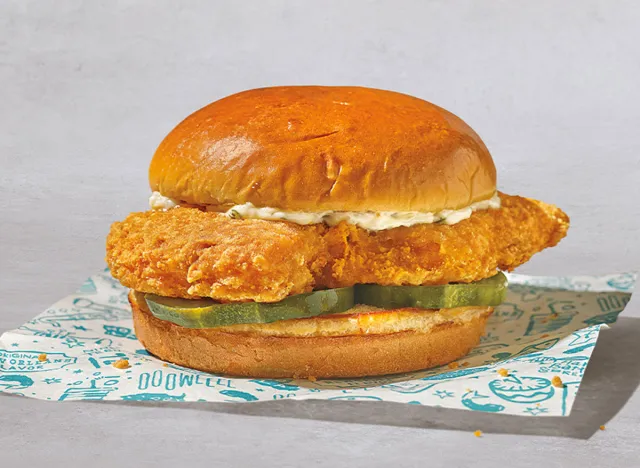 per sandwich
: 681 calories, 35 g fat (9 g saturated fat),
2,386
mg sodium, 65 g carbs (3 g fiber, 8 g sugar), 26 g protein
Fans wait all year to get their hands on Popeyes' Classic Flounder Fish Sandwich. The chain deep-fries a premium flounder filet, which is pre-marinated in "authentic Louisiana herbs & spices," until golden brown and tops the crispy fish patty with a few pickles and tartar sauce.
The reason Popeyes sandwich ranks worst on this list is that "this sandwich provides 26% of your daily recommended max of artery-clogging saturated fat and over 100% the daily recommended max of sodium," Amidor says. "Add fried sides like fries and the calorie and saturated fat can easily climb up the scale."
Long John Silver's Wild Alaska Pollock Sandwich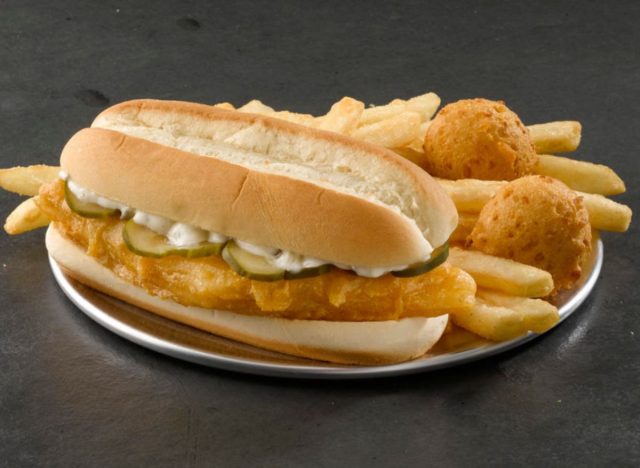 per sandwich
: 400 calories, 16 g fat (2 g saturated fat),
1,230
mg sodium, 44 g carbs (1 g fiber, 7 g sugar), 14 g protein
At Long John Silver's, customers can take advantage of seafood options all year round. One popular item is the Wild Alaska Pollock Sandwich, which features a generous serving of smooth tarter sauce and scattered slices of pickles. This sandwich is tricky because it only has 400 calories, so it seems like a great pick. But with only 14 grams of protein and over 1,000 grams of sodium, you're not going to add much nutritional value to your daily intake from this item.
Carl's Jr./Hardee's Panko-Breaded Fish Sandwich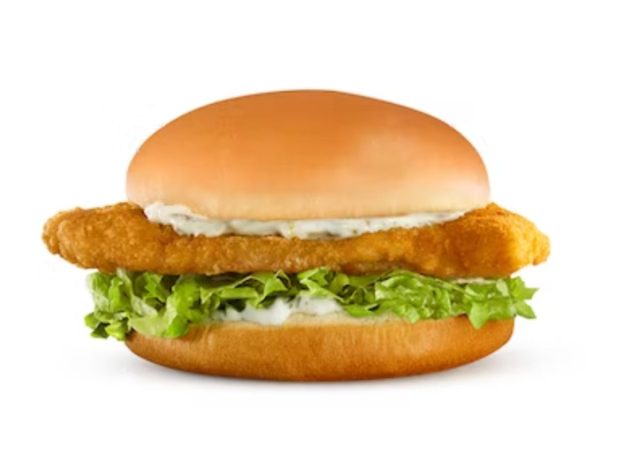 Both Carl's Jr. and Hardees offer a Panko-Breaded Fish Sandwich for a limited time during this time of year. The menu item comes with a crispy, fried pollock fillet layered with tarter sauce (on the top and bottom bun!) and shredded lettuce. With the amount of mayo/cream-based tarter sauce involved in this sandwich a heart-healthy diet may not be in your future (when consumed too often), Amidor recommends finding "the method the fish is cooked and how it is served" or asking for the condiments on the side.
Wendy's
Crispy Panko Fish Sandwich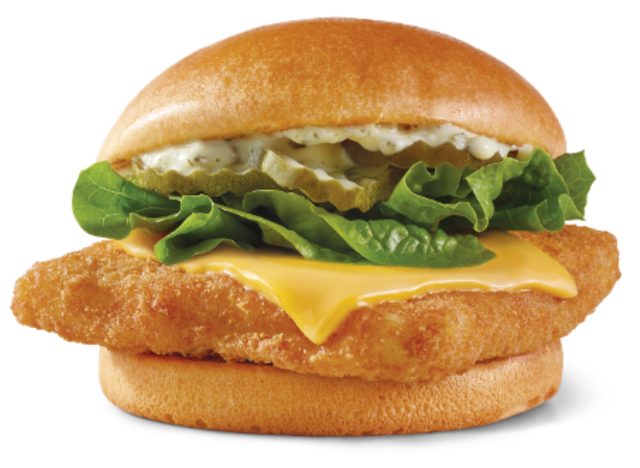 per sandwich
: 520 calories, 25 g fat (9 g saturated fat),
1,240
mg sodium, 51 g carbs (2 g fiber, 5 g sugar), 10 g protein
Wendy's Crispy Panko Fish Sandwich was first launched in 2021 and the chain has brought it back every year since due to such a positive customer response. Starting on Feb. 20, you can pick up this sandwich and devour all of its features: a panko-breaded pollock fillet, lettuce, American cheese, pickles, and a creamy dill tartar sauce. This may not be the worst option, but it does have its caveats; Wendy's fish sandwich is very high in carbs and is a loaded sodium bomb for one single meal, so definitely skip the side of fries.
Burger King's Big Fish Sandwich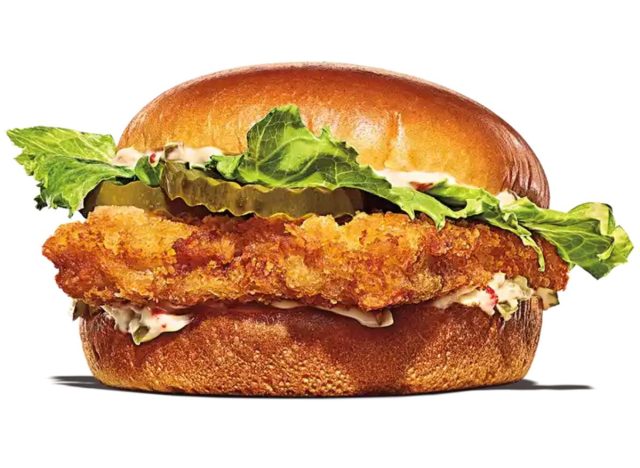 per sandwich
: 560 calories,
30
g fat (6 g saturated fat), 1,275 mg sodium, 55 g carbs (2 g fiber, 9 g sugar), 18 g protein
Burger King's Big Fish Sandwich is one of its kind at the establishment. It's the only seafood option on the menu (any time of year) and it comes with a panko-crusted White Alaskan Pollock patty, topped with a sweet tartar sauce and pickles on a toasted brioche-style bun. You don't want to mess around with the sodium or carbohydrate contents of this sandwich, as they're most likely both going to be a little too much for your body's liking.
Arby's
Hawaiian
 Fish Deluxe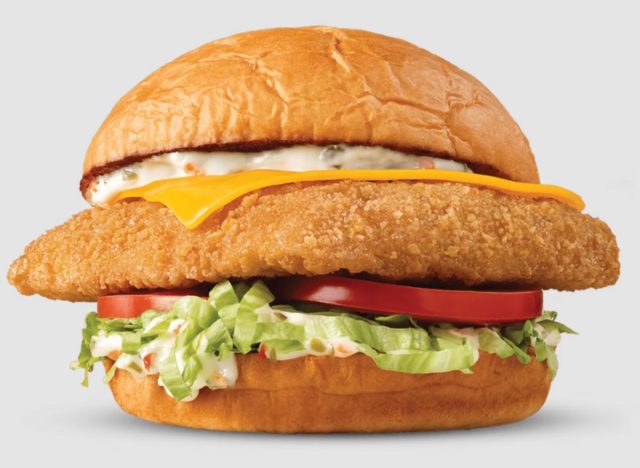 per sandwich
: 695 calories,
34
g fat (10 g saturated fat), 997 mg sodium, 74 g carbs (2 g fiber, 19 g sugar), 25 g protein
Usually, Arby's has "the meat," however, when it comes to Lent season, Arby's also has the fish! For starters, this Hawaiian Fish Deluxe sandwich would have been ranked better on this list if it didn't come with 19 grams of sugar, which is way more than any other item here. Next, the chain uses a sweet Hawaiian bun (somewhat obvious due to the name), contributing to more carbs and overall calories versus its regular sesame seed bun.6254a4d1642c605c54bf1cab17d50f1e
Culver's North Atlantic Cod Filet Sandwich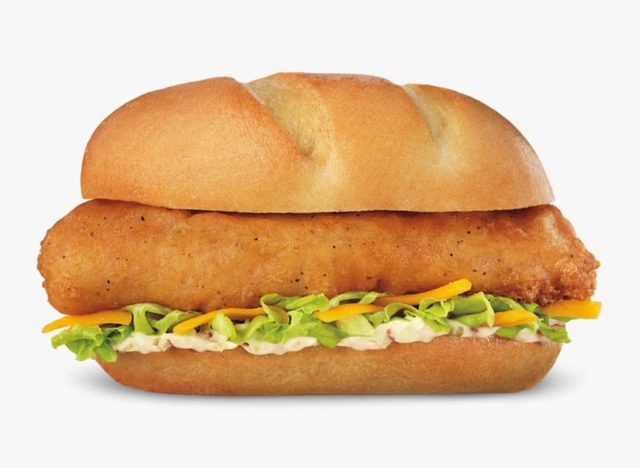 per sandwich
: 600 calories, 33 g fat (8 g saturated fat),
750
mg sodium, 49 g carbs (1 g fiber, 6 g sugar), 27 g protein
In the matter of fish sandwiches, Culver's offers an old-school choice. From the hand-cut, hand-battered, cooked-to-order Atlantic cod filet patty to Culver's family recipe tartar sauce (with olives, capers, and sweet relish), this fast food chain cares about customers' dining experience. The North Atlantic Cod Filet Sandwich isn't terribly high in calories, and "the fat and protein will help keep you feeling fuller for longer," Amidor explains.
Arby's Crispy Fish Sandwich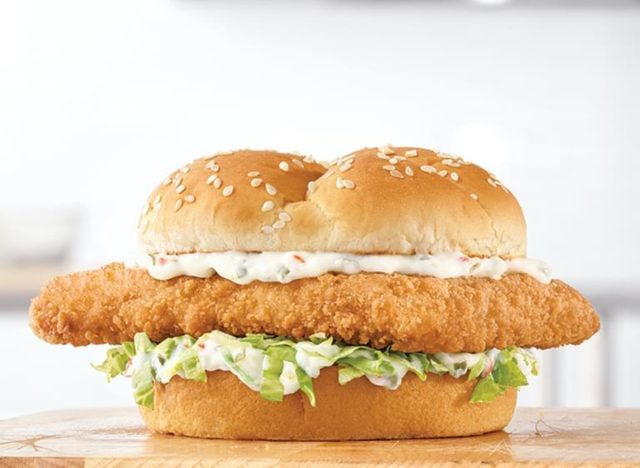 per sandwich
: 566 calories, 25 g fat (4 g saturated fat),
986
mg sodium, 65 g carbs (3 g fiber, 9 g sugar), 20 g protein
In Arby's second fish sandwich menu item, the chain's classic sesame seed bun holds together a crispy fish fillet with shredded lettuce and tartar sauce. Arby's Crispy Fish Sandwich can be a decent option— especially if we're comparing it to the rest—as it has low calories for a big slab of fish, plus, the minimal amount of topping allows for a lower intake of fat and sugars.
White Castle Panko Breaded Fish Slider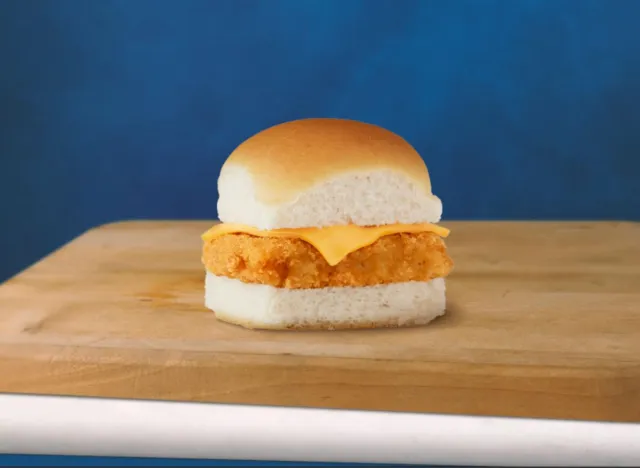 per sandwich
: 340 calories, 22 g fat (5 g saturated fat),
460
mg sodium, 25 g carbs (1 g fiber, 3 g sugar), 11 g protein
Just because White Castle's Panko Breaded Fish Slider is a smaller portion than the rest on this list, doesn't mean it's a perfect option. Considering its size, it comes with quite a lot of calories, as well as sodium, for such a tiny breaded fish patty. If you're the type of person that orders a few of White Castle's mini sliders, for the sake of your body and overall health, try not to overindulge in too many of the seafood ones (if possible).
Best: McDonald's Filet-O-Fish
per sandwich
: 390 calories, 19 g fat (4 g saturated fat),
580
mg sodium, 39 g carbs (2 g fiber, 5 g sugar), 16 g protein
Your best bet when it comes to nutritional value and sticking to a low-cal meal is making your way to McDonald's for a fish sandwich fix. Amidor explains, "I would select the McDonald's Filet-O-Fish with 390 calories and get that with sliced apples on the side instead of fries and a water. This can help keep calories and the saturated fat lower, too."
McDonald's Filet-O-Fish comes with a crispy fish filet patty, melty American cheese, and a spread of the chain's creamy tartar sauce, all in between two warm, steamed buns. You can skip the cheese too to save a few more calories.
Jordan Summers-Marcouillier
Jordan Summers-Marcouillier was born and raised in San Jose, California and now works as a writer in New York, NY.
Read more about Jordan