The #1 Most Popular Margarita in America, Says New Data
Are you an on the rocks or frozen person? Where you live might influence your choice.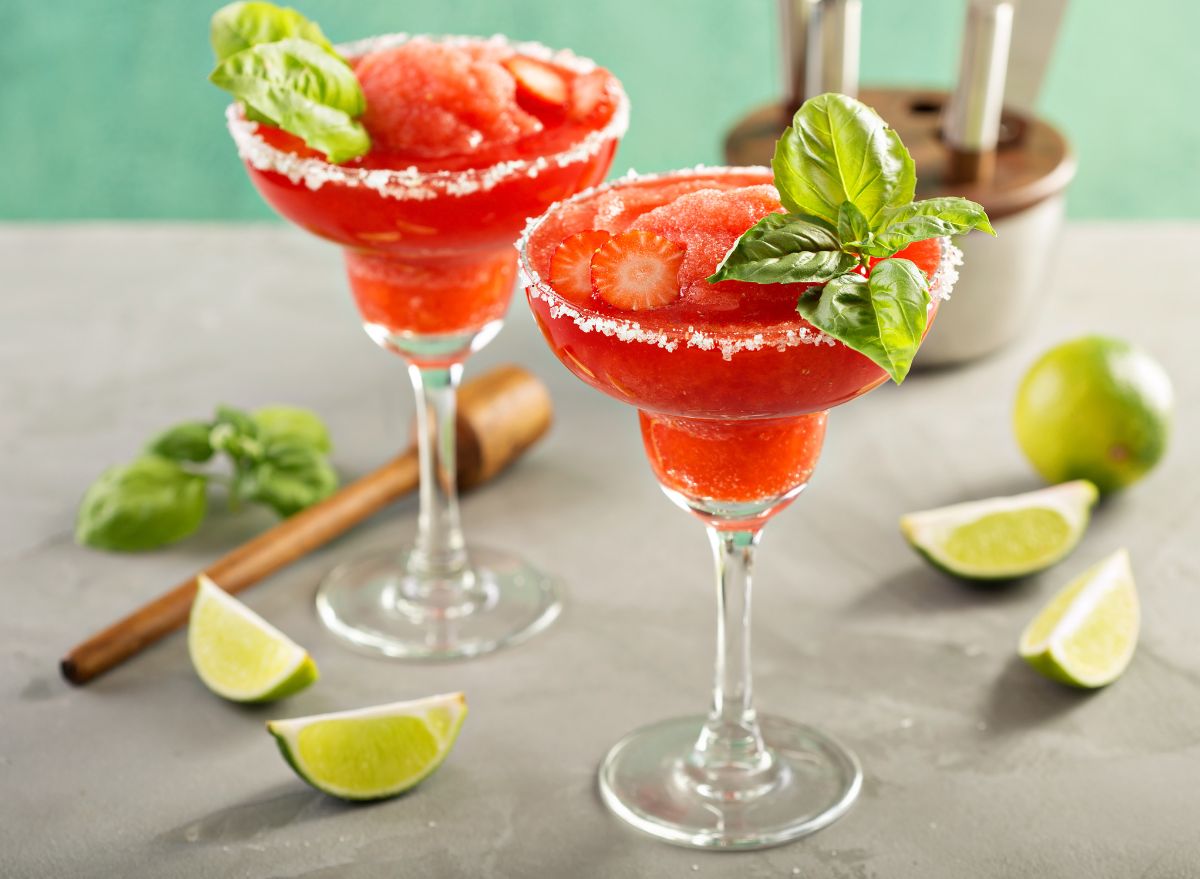 The results are in, Americans love their margaritas. When jewelry company Shane Co. surveyed 2,600 American drinkers, aged 21+ and asked them to choose their favorite cocktail from a list of 14 popular beverages, 87% chose the margarita. They then broke down all of the ways that margaritas could be served—including top flavors—and organized them by state to find the most popular margarita style in America.
The results show a country squarely divided by brand and rocks vs. frozen. Of the 2,600 respondents, 35% chose Patrón and 34% chose Jose Cuervo. Don Julio (13%), Casamigos (8%), and Espolón (3%) rounded out the country. Surprisingly, the country was evenly divided between those who prefer their margaritas on the rocks (52%) as opposed to frozen (48%). For adornment, the majority, 29%, went with sea salt, 24% liked to sweeten things up with a little sugar, and 20% went for plain old table salt. A respectable 14% turned to chili lime salt to kick things up a notch, while 13% went with no seasoning at all.
Next, they broke down how each state prefers to drink its margarita. Read on for the 12 most popular flavors, styles, and adornments by state, ranked from least to most popular, and see how your margarita order stacks up against others in your state.
(And, if you're out enjoying a margarita, be sure to skip these 8 Worst Fast-Food Burgers to Stay Away From Right Now.)
Patrón, frozen, regular salt – 1 state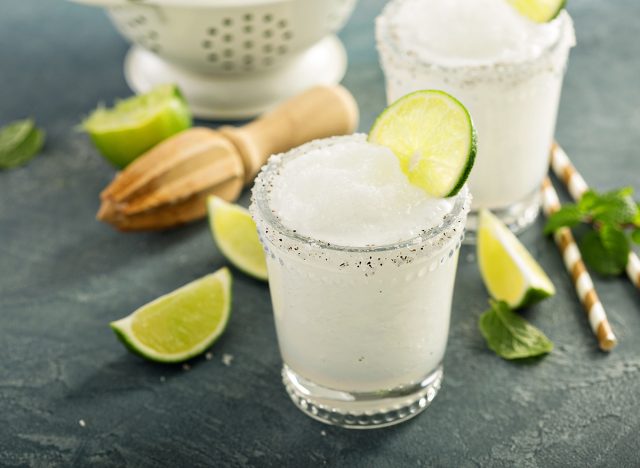 Only one state, Louisiana, favored the combination of Patrón, frozen, and regular salt. Frankly, it might be a sin to blend top-shelf Patrón with ice. Lots of folks in the Bayou state are getting down with the jalapeno margarita as well.
Patrón, frozen, sugar – 1 state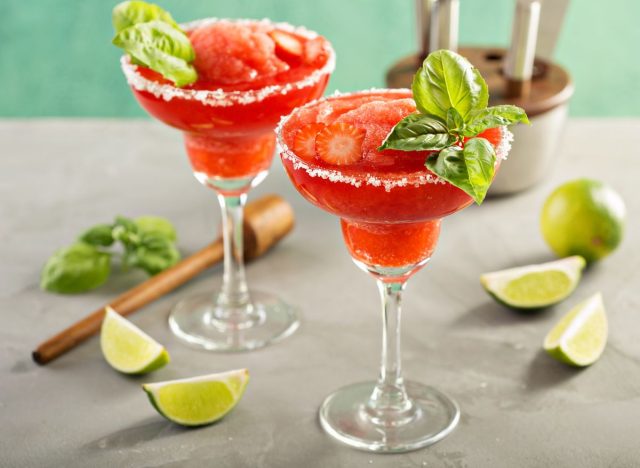 Kansas was the only state to rim its boozy Patrón slushie with sugar. Strawberry was the preferred flavor.
Casamigos, on the rocks, sea salt – 1 state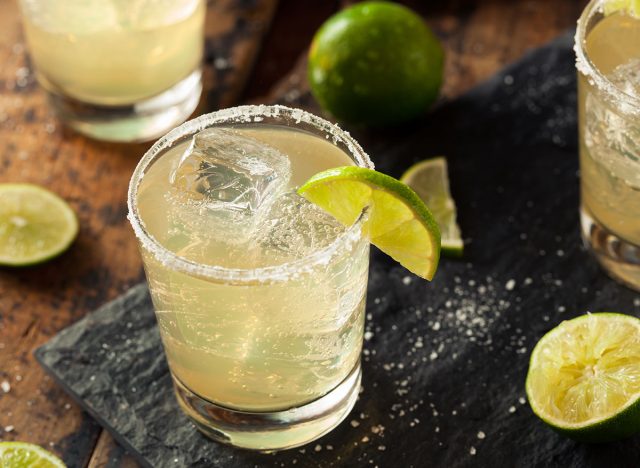 Illinois was the only state to favor Casamigos as its tequila of choice. The people of Illinois prefer a classic margarita, which was the overwhelmingly popular flavor, favored by 20 states.
Don Julio, on the Rocks, sea salt – 2 states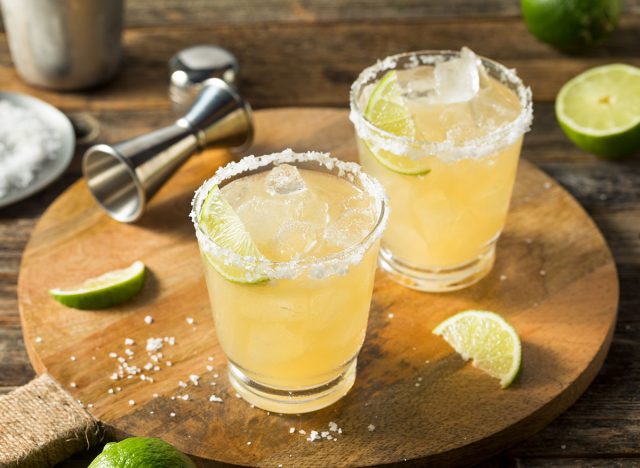 California and New Mexico like their Don Julio-based beverage on the rocks with sea salt. Cali goes classic while New Mexico brings the party with a passionfruit margarita.
Jose Cuervo, rocks, sugar – 2 states
In Oregon and Washington folks like their classic margaritas made with Cuervo served on the rocks with a sweet rim of sugar.
Jose Cuervo, frozen, sugar – 3 states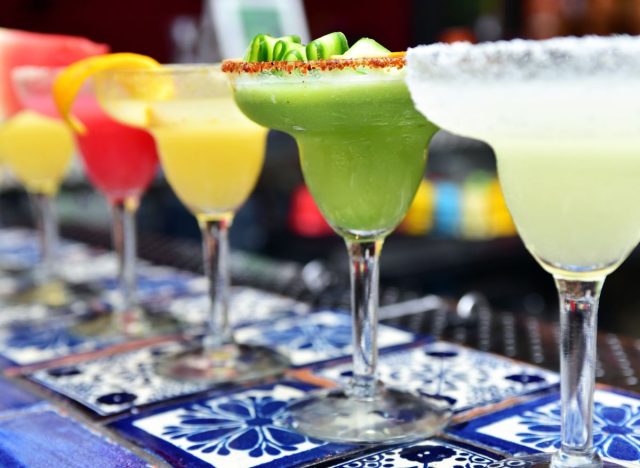 Iowa, Maine, and West Virginia take their Jose Cuervo strawberry margaritas frozen with a sparkling rim of sugar. Strawberry was the most popular flavor after classic, preferred by 14 states.6254a4d1642c605c54bf1cab17d50f1e
Patrón, frozen, sugar – 3 states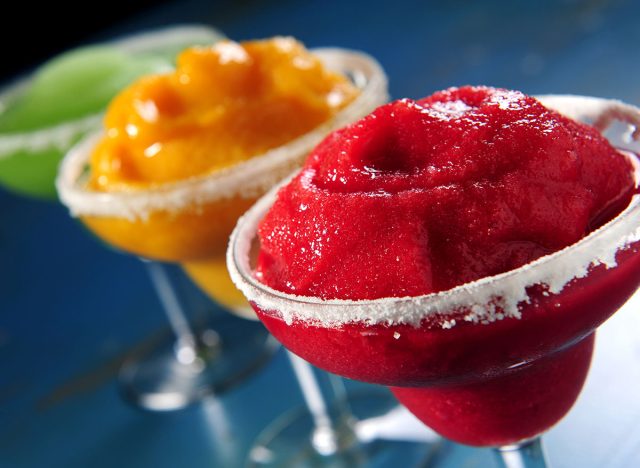 Chances are on Cinco de Mayo, the people of Arkansas, Kansas, and Nebraska are blending up some strawberry Patrón margaritas with a rim of sugar.
Patrón, frozen, sea salt – 3 states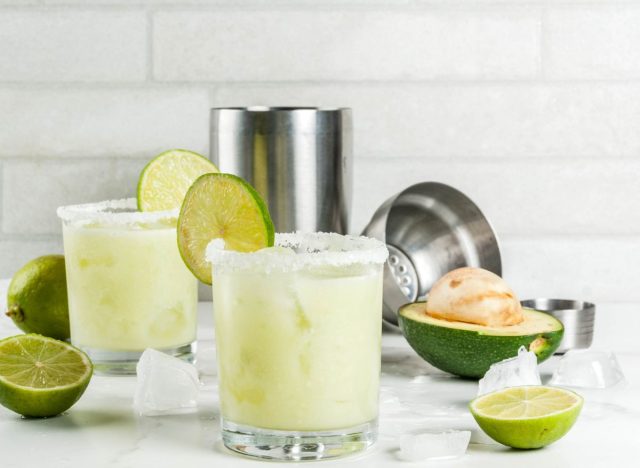 In Idaho, Oklahoma, and Tennessee the classic frozen margarita made with Patron and a rim of sea salt wins
Patrón, on the rocks, regular salt – 4 states
Four states prefer this method of making a margarita: Florida, Minnesota, Nevada, and Utah. All but Flordia go strawberry, the Sunshine State prefers to keep it classic.
Jose Cuervo, frozen, sea salt – 6 states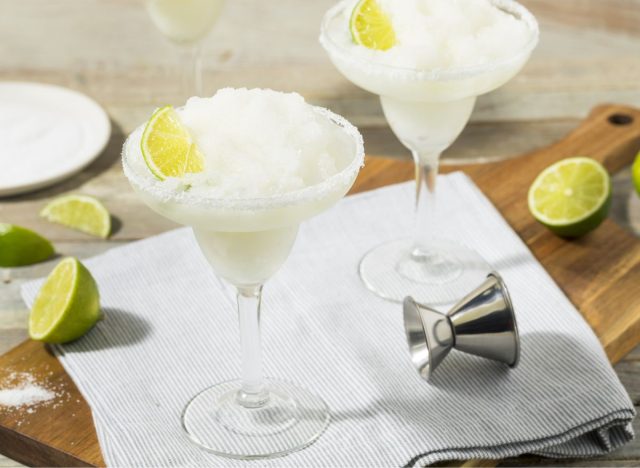 Delaware, Indiana, Maryland, Mississippi, Missouri, and South Carolina take their frozen margaritas with Jose Cuervo frozen with a little sea salt. In terms of flavor, Delaware and Maryland go classic, while Indiana and Missouri blend in some mangos, and Mississippi and South Carolina opt for strawberry.
Patrón, on the rocks, sea salt – 9 states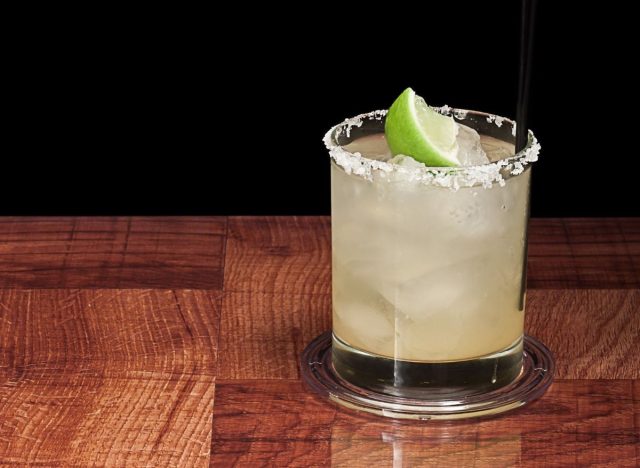 Colorado, Connecticut, Massachusetts, New Jersey, New York, North Carolina, Pennsylvania, Texas, and Virginia go with this blend. This is the second most popular way to have a margarita in the U.S. and a popular way to drink it on the East Coast! Having this cocktail on the rocks lets the flavor of an expensive tequila, like Patrón, shine through. Salt, by the way, enhances your taste buds by increasing salivation and it works to tone down any bitter notes in the tequila and citrus flavors of the cocktail. All of these states take their drink classic except Connecticut which opts for passionfruit, Massachusetts which gets down with watermelon, and New York which favors mango.
Jose Cuervo, on the Rocks, sea salt – 10 states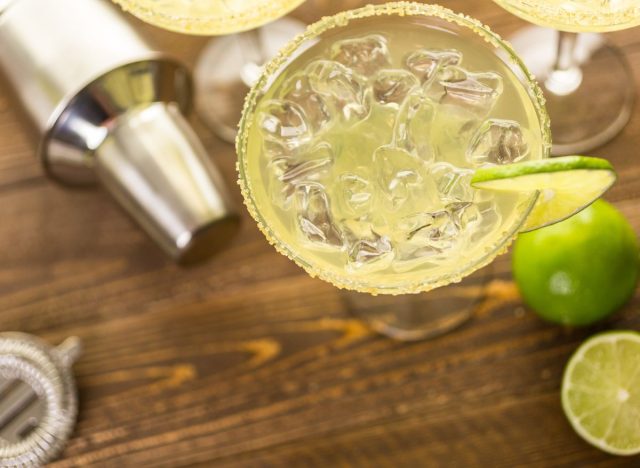 According to the Jose Cuervo site, in 1795, Jose María Guadalupe de Cuervo began selling the very first tequila commercially. Jose Cuervo beats out fancy Patrón by one state. It is the favorite tequila to use in a margarita on the rocks with sea salt. Arizona, Rhode Island, Michigan, Washington and Kentucky opt for the classic flavor. While Georgia, Alabama, and Wisconsin go strawberry. New Hampshire and Ohio are spicing their drinks up with a little jalapeno.
However you take your margarita, be sure to always hydrate and drink responsibly!
Alaska, Hawaii, Montana, North Dakota, South Dakota, Vermont, and Wyoming are not included due to a small pool of participants.