The Best Margarita in Every State
Here's where to find the best version of this classic cocktail near you.
Tequila and lime pair best with sunshine (and tacos, don't forget tacos), so when it's sunny and warm out, it's hard not to crave that perfect balance of tequila, lime, and salt that make the margarita America's favorite libation.
And, what's great about margaritas is there are so many variations. You can jazz them up with fruit, spice them up with jalapenos, and even lend a savory note with cucumber and basil. There really is something for everyone. If you start with some good tequila—crafted from the distilled hearts of the blue agave, a succulent grown in the Mexican state of Jalisco—add lime, triple sec or an orange liqueur, fruit purees and have it up, on the rocks, or frozen, and with salt if that's your thing.
If you're headed out for Cinco de Mayo and want the best of the best, we canvassed the country talking to locals, looking back on personal visits, and researching online reviews. One thing's for sure, there's no shortage of margaritas in the country, and the sky's the limit when it comes to creativity. Read on for the best margarita in every state.
(Plus, make sure to skip these 8 Worst Fast-Food Burgers to Stay Away From Right Now.)
ALABAMA: Mayawell in Birmingham
This cocktail bar specializes in tequila and mezcal so, naturally, margaritas are a big part of their repertoire. The house margarita, made with Casamigos blanco tequila and agave syrup is a good place to start, and the spicy and strawberry options are also favorites.
ALASKA: Tequila 61 in Anchorage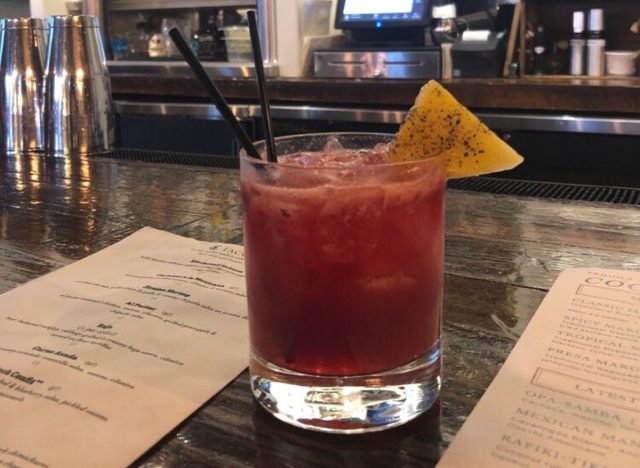 Don't let the chilly air stop you from enjoying this crisp, cooling cocktail (drink enough and you'll warm up anyway), just head to this self-described "Mexican gastropub" for gourmet tacos and craft cocktails like the signature margarita, which you can upgrade to top shelf—just tell them to "make it a Cadillac."
ARIZONA: CRUjiente Tacos in Phoenix
At this popular taco spot in Phoenix, try the Premier Cru margarita: 100 percent blue agave tequila, house agave syrup, freshly squeezed lime, and a muddled orange to give it extra acidity.
ARKANSAS: Local Lime in Little Rock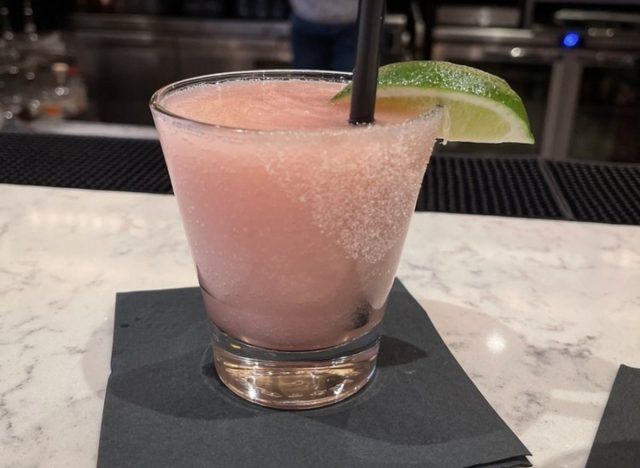 Try craft margaritas, like the signature house margarita, available fresh over the rock or frozen. This locally owned taqueria has a solid happy hour, where you can try the margs for just $5.
CALIFORNIA: El Coyote in Los Angeles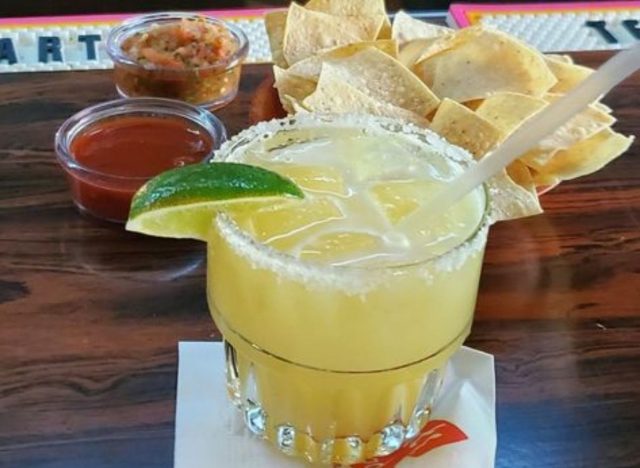 With nearly year-round sunshine and a plethora of Mexican restaurants, there's no doubt Los Angeles is one of the best places to grab margs in the US. Open since 1931, this giant restaurant is a classic. We're not that hype on the food, but the atmosphere and super strong drinks are all you need. We love the less sweet Scratch (Tequila Plata, Triple Sec, and sweet and sour), but the house on the rocks will also do the trick. Did we mention these are very strong? Be careful!
COLORADO: Tamayo in Denver
Elevate your mood, and yourself, with an inventive margarita at this upscale spot's expansive roof deck. With a deep tequila list, you can pick your poison—try the Ancho Chile margarita for something different.
CONNECTICUT: Rio Salado in Mystic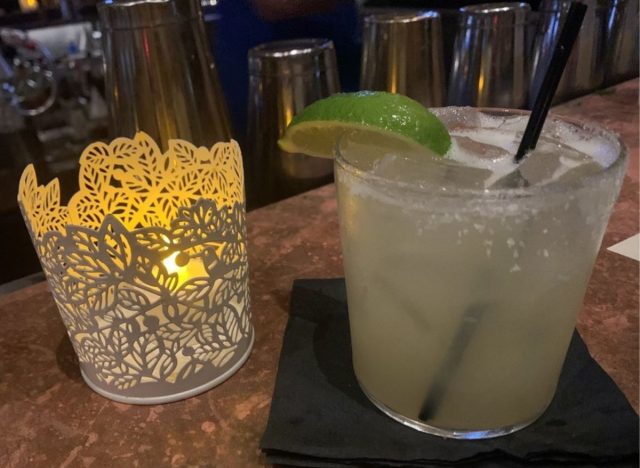 One of the many must-visit spots in Mystic, Rio Salado is cozy and fun, with atmosphere to spare. Locals swear by the house margarita.
DELAWARE: Del Pez Mexican Gastropub in Wilmington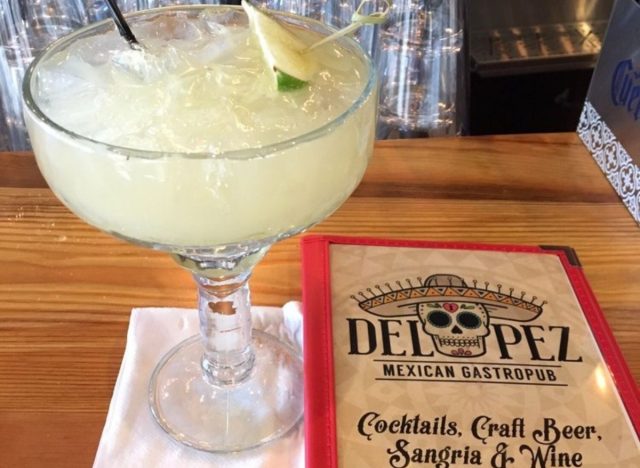 With a diverse and inspired menu that celebrates the foods of Latin America, you'll find a nice margarita line-up that includes a signature, skinny, and hibiscus margaritas to name a few.
FLORIDA: Le Chick Miami
It's hot in Miami, and there's nothing better on a warm day than an ice-cold frozen margarita. Get the party started with Le Chick's frozen summer classic, which is only $7 during happy hour.
GEORGIA: Zocalo Mexican Kitchen & Cantina in Atlanta
Get the house margarita fresh or frozen, and take it to the rooftop for some serious relaxing. Don't sleep on the Atlantarita, with blanco tequila, peach liqueur, and citrus juice on the rocks.
HAWAII: Milagros Food Co. in Paia, Maui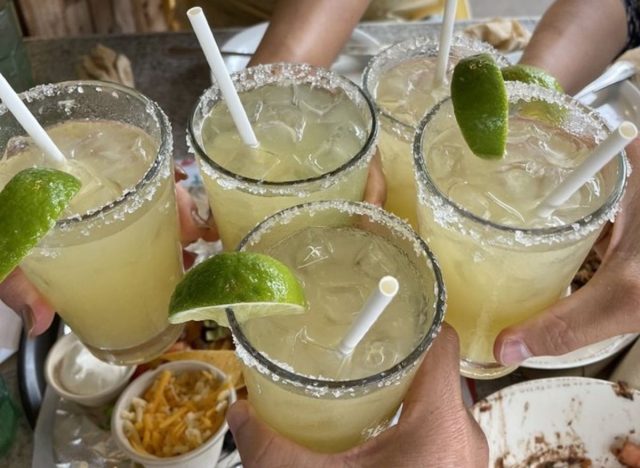 This family-run restaurant, open for 20 years, Milagros offers the best happy hour in Maui. With a sizable tequila collection, you can pick from blanco, silver, anejo, and more to create your perfect margarita.
IDAHO: Luna Bar at Barbacoa in Boise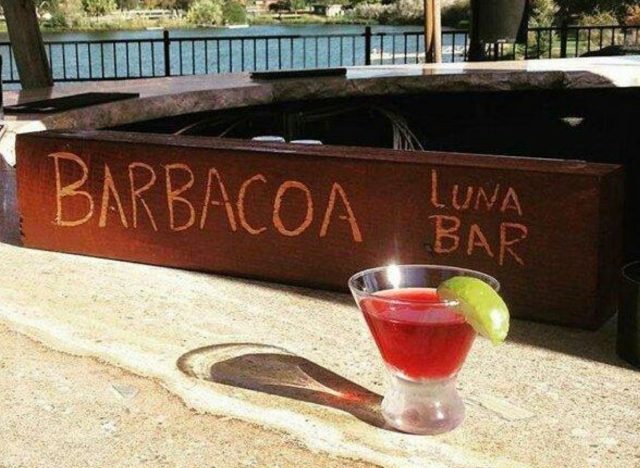 This roof deck bar on top of this Spanish restaurant offers a killer happy hour with buy-one-get-one deals. Locals love "The Heat" margarita that's got a gentle spiciness and loads of cilantro for flavor.
ILLINOIS: Mi Tocaya Antojería in Chicago
Step into this lively spot for regional Mexican food, which perfectly pairs with their house margarita (tequila blanco, lime juice, cointreau, agave). Don't miss their other tequila-based creations like El Grito which blends tequila reposado almendrado, aquafaba (aka chickpea water), and orange bitters and El Jefe De Jefes which features tequila blanco, mezcal, pickled apple, and mesquite.
INDIANA: Revolucion in Indianapolis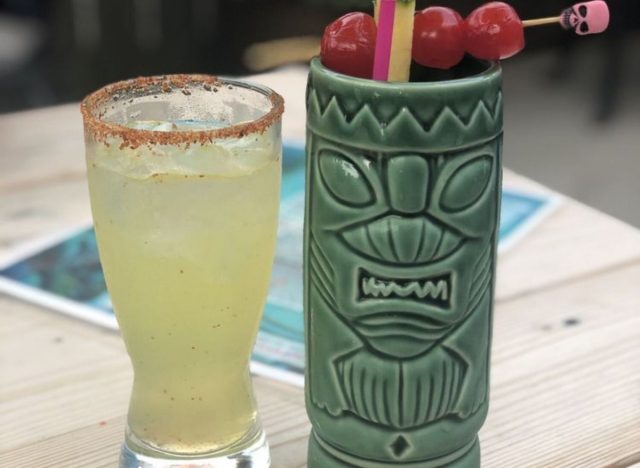 This quirky tiki bar has indoor and outdoor seating, drinks in fun, tiki-style glasses, and a memorable jalapeno-infused spicy margarita.
IOWA: Mi Mexico in Des Moines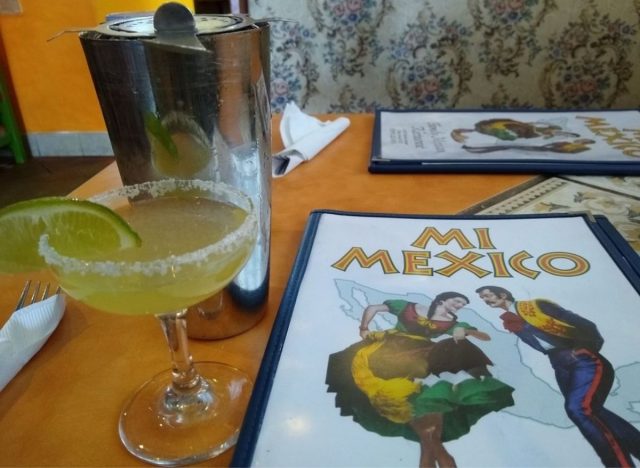 The fine drinkers of Des Moines have ranked this the top margarita in town, primarily thanks to the drinks coming with a shaker sidecar that gives you about three margaritas for $10. What's not to like?
KANSAS: Redrock Canyon Grill in Wichita and Overland Park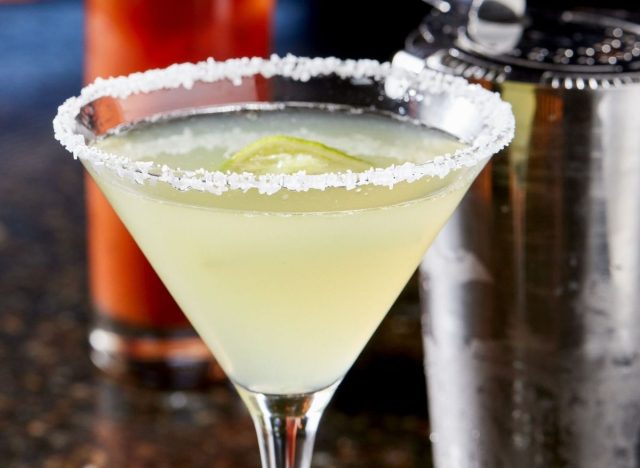 This hearty grill serves up a mighty margarita with both Cuervo and Patron, Grand Marnier, and house-made sweet and sour mix that will knock your socks off.
KENTUCKY: ​​Las Cazuelas Mexican Cuisine in Louisville
Locals love the hearty portions of both food and drink at this casual spot. The traditional margarita is available both on the rocks and frozen, and you can order flavors such as lime, strawberry, raspberry, peach, mango, and blueberry. Yum!
LOUISIANA: The Velvet Cactus in New Orleans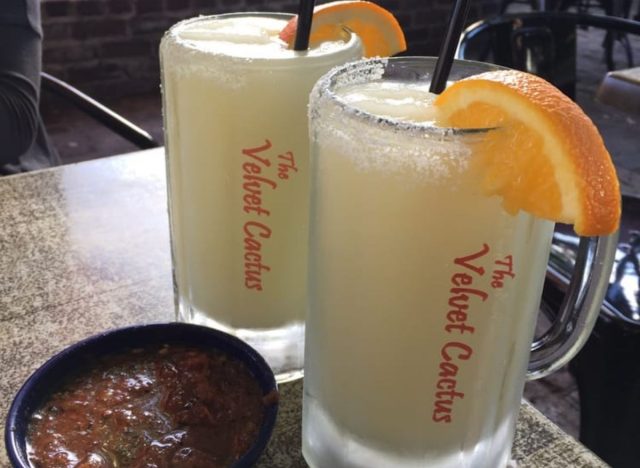 With a margarita menu that changes by the seasons, sit outside on the buzzy patio and sip flavor blends like coconut, mango, and habanero.
MAINE: Terlingua in Portland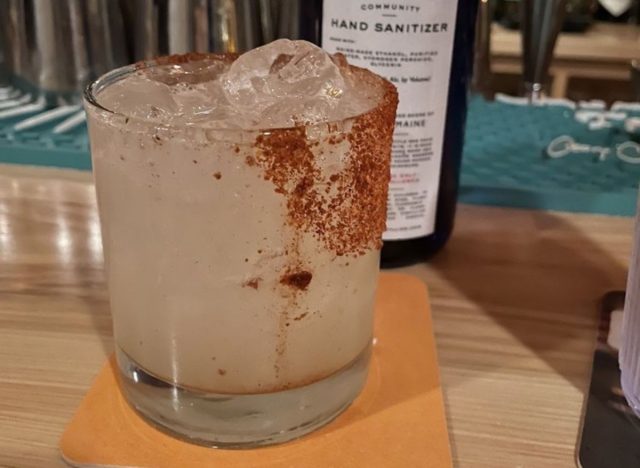 With a menu packed with BBQ and Mexican favorites, you'll have no problem pairing your house margarita—with fresh-squeezed lime, agave, and a chili rim—or try mezcal, spicy or even get a Grand Marnier floater.
MARYLAND: El Bufalo Taco Bar and Kitchen in Baltimore
When a restaurant has a dedicated spot for margaritas on the menu, you know they've upped the game. Flavors to please every palate include strawberry, coconut, cucumber basil, sweet heat, and the "Fizzy Bellini Marg" topped with Champagne.
MASSACHUSETTS: Yellow Door Taqueria in Boston
While the Commonwealth is a bit north of the border, there's no shortage of creative and delicious margaritas to be found and this popular taco bar, with locations in Dorchester and the South End, has a margarita menu worth swooning over. With flavors like lime leaf and ginger, coconut, and spiced pear, there's something for everyone.
MICHIGAN: Los Galanes in Detroit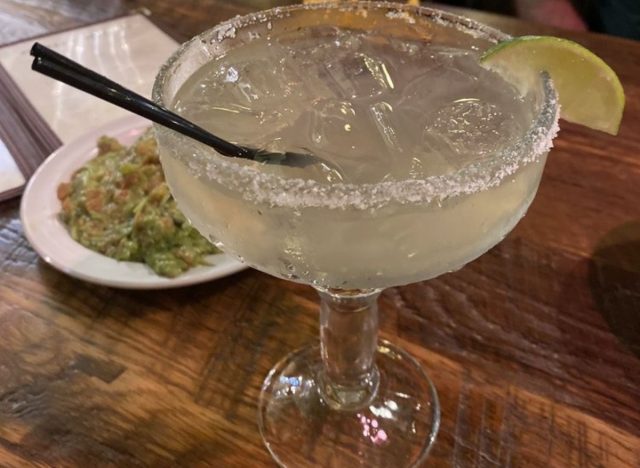 Head to Mexicantown in the D for tons of great margarita options, but don't skip margs on the patio at Los Galanes. The restaurant offers a variety of fruit-flavored frozen margaritas as well as options like the fresh lime with Patron. You can also get half and full liters of margaritas because sometimes one glass isn't enough.
MINNESOTA: Pajarito in St. Paul
This spot claims their house margarita is the "best in the Midwest" and they might be right! Made with Herradura Double Barrel Reposado, key lime, and orange-scented agave, this refreshing drink also comes in a spicy version.
MISSISSIPPI: Babalu in Jackson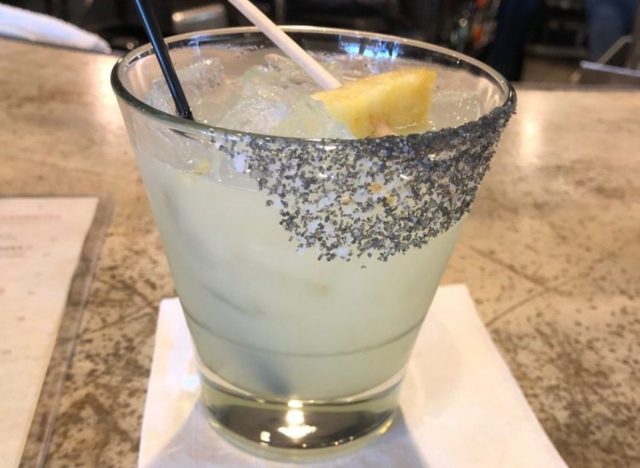 Known for their Southern cuisine with Latin flair, this spot's margaritas are made with fresh juices and made-from-scratch purees.
MISSOURI: Mission Taco Joint in St. Louis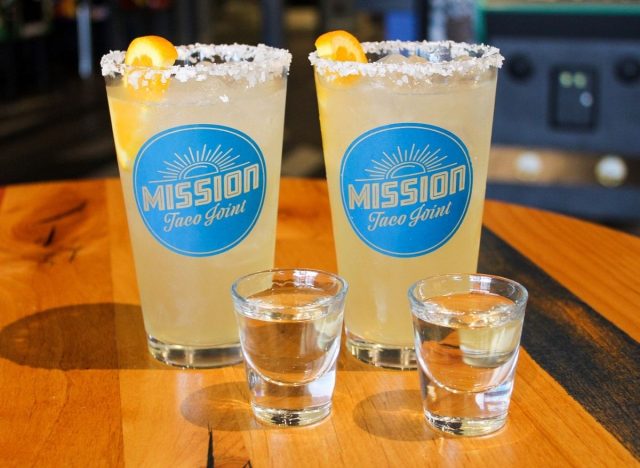 With several locations around St. Lou, this Mexican spot is beloved by locals. The Mission Margarita is made with nothing but tequila, fresh lime juice, agave, and orange curacao. It's the perfect balance of tart and sweet while still very tequila forward.
MONTANA: Montana Ale Works in Bozeman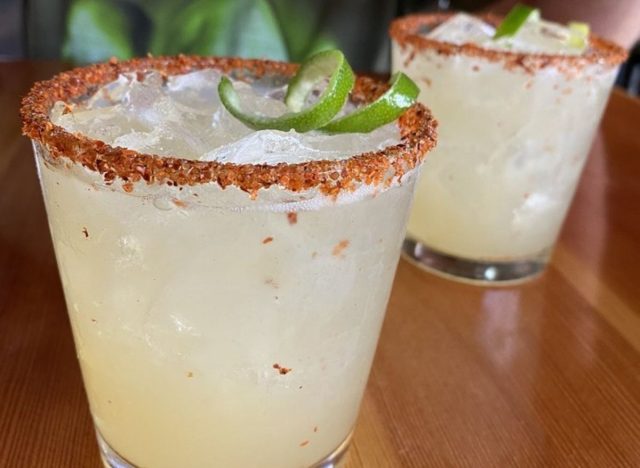 Yes, this is a brewhouse, but locals flock to this spot for great margaritas as well. You can choose between drinks like the signature Ale Works Marg, a Railcar Marg, or the PJ Marg, which is made from house-infused pineapple and jalapeño tequila.
NEBRASKA: Roja Grill in Omaha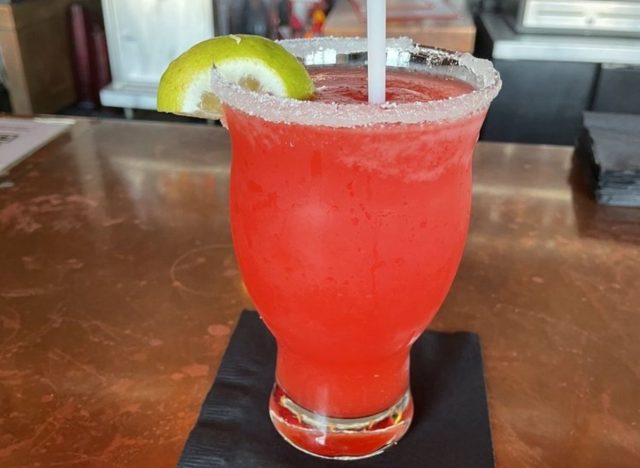 In the mood for Tex-Mex with your margarita? Roja's got the food and drinks covered. In fact, the Omaha World-Herald named El Traditional the best in town. The top-shelf El Traditional is made with Don Julio, Cointreau, and fresh lime juice.
NEVADA: Viva Mercado's in Las Vegas
Some of the best spots in Vegas are off the strip, like this Mexican restaurant, which is located in a shopping plaza. Hit the happy hour, which runs until 7 pm for $5 margaritas, including traditional and flavored versions such as pomegranate.
NEW HAMPSHIRE: Vida Cantina in Portsmouth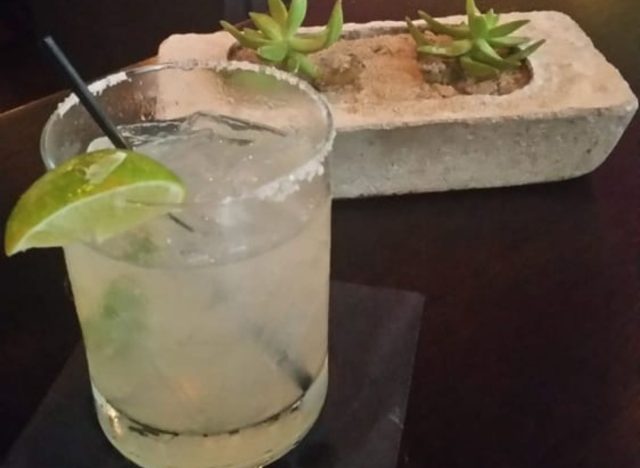 This James Beard-nominated restaurant is worth a visit even if you're teetotaling, but the margaritas are top-notch. Trust us, get the margarita flight, your tastebuds will thank you.
NEW JERSEY: Orale in Jersey City and Hoboken
A beautiful restaurant with beautiful margaritas, this spot has a classic frozen with a new flavor daily, a house on the rocks, a smokey marg, and even a skinny version, so the whole crew will drink happy.
NEW MEXICO: The Shed in Santa Fe
Family run since 1953, this locals favorite has a James Beard award and ambiance to spare. Try the house "build your own" margarita with a fresh fruit puree.
NEW YORK: Empellón al Pastor in NYC
Sit at the counter, get a cheeseburger taco and order a ¿Porque No? at this near-perfect taqueria. The blend of Azteca Azul blanco tequila with cilantro and pineapple is tangy and the serrano chilies add heat and a touch of smokiness.
NORTH CAROLINA: Salt and Lime Cabo Grill in Raleigh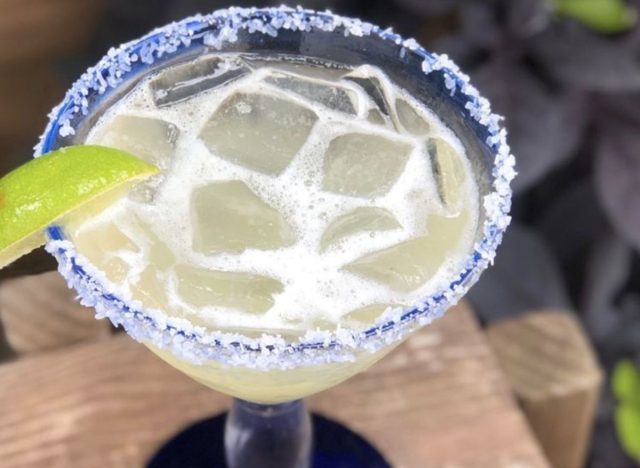 This Baja-style Mexican restaurant offers a deep margarita menu—16 different options—that locals love. Try the Beach Bum if you're feeling tropical, or the Grilled Grapefruit if you like it tart.
NORTH DAKOTA: La Carreta in Bismarck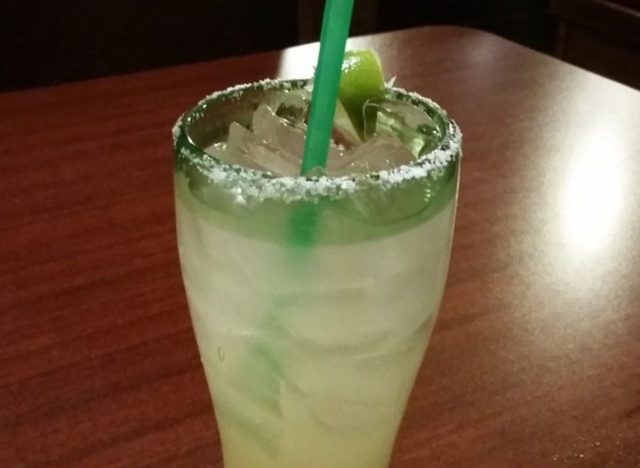 This restaurant promises fresh food made with local ingredients, and they've been delivering that for 15 years. Try the sangria-rita for a unique mix of the two drinks.
OHIO: Blue Habanero in Cleveland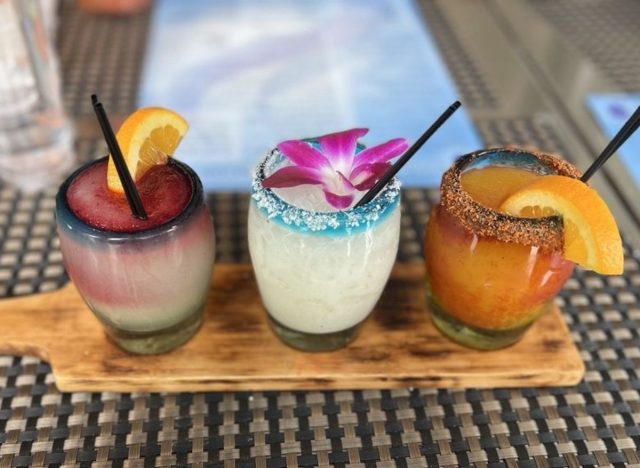 Have a fab night out at one of the most fun spots in Cleveland. With street tacos on the menu and craft margaritas like tamarind and raspberry mint, you're sure to have a great time.
OKLAHOMA: Rev Tacos and Tequila in Oklahoma City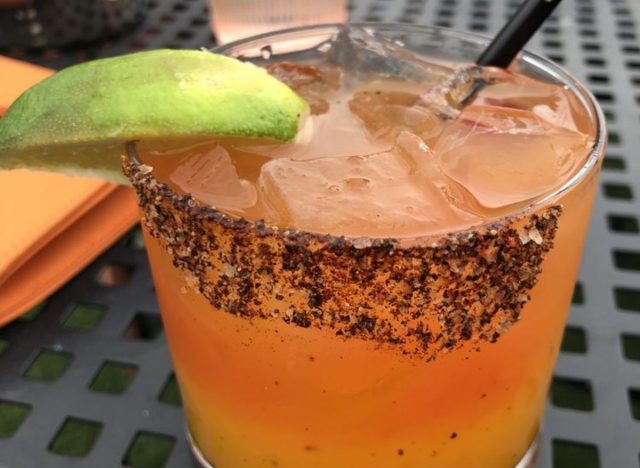 Step into this Instagram-friendly shop for tacos and a deep, fun margarita menu. Try the OG Cannonball, a frozen margarita topped with a sangria snowcone.6254a4d1642c605c54bf1cab17d50f1e
OREGON: Guero in Portland
This torta shop is a true gem with inventive sandwiches and a nice cocktail menu. The mezcal margarita, with touch of grapefruit rosé, is our pick for the best marg on it.
PENNSYLVANIA: Jose Pistolas in Philadelphia
Head to any of the three Pistola locations in Philly for excellent margaritas that locals love. Try the standard, fruit versions and the spicy El Diablo.
RHODE ISLAND: Xaco Taco in Providence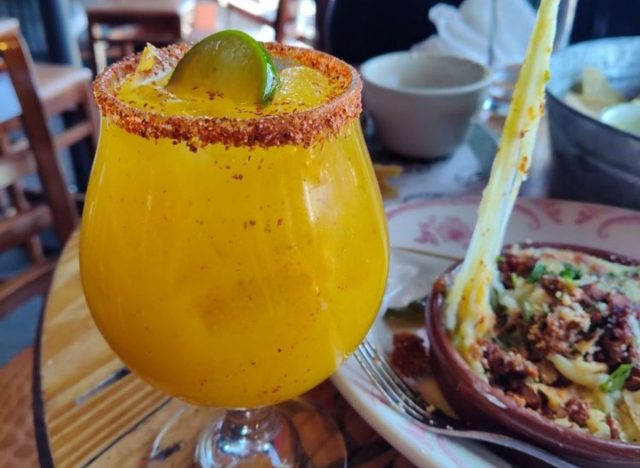 This spot for modern Mexican street food has a great special—$2 tacos every afternoon, with the purchase of a drink. We suggest the taco shop's blood orange margarita.
SOUTH CAROLINA: Mesu in Charleston
Margaritas might not be the first drink that pops to mind when you think of South Carolina, but Charleston's cocktail scene ensures delicious options. Go for Mesu's passion mango version to pair with the tacos and sushi on the menu.
SOUTH DAKOTA: Azteca in Sioux Falls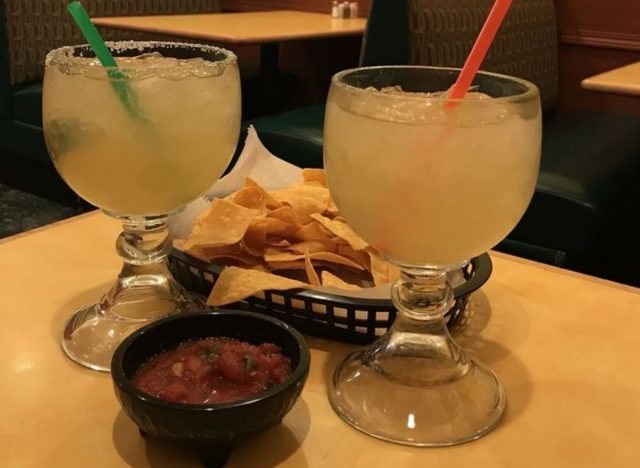 This local chain has several locations and several great—and enormous—margaritas. Locals love the heavy pours and fruit and spicy flavors.
TENNESSEE: Rosepepper Cantina in Nashville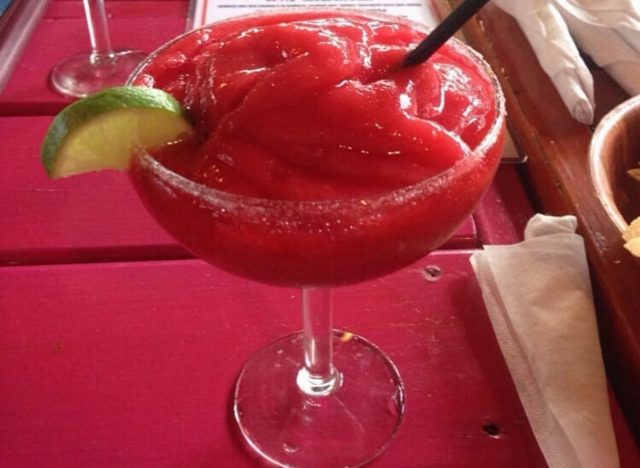 Open since 2001, this Sonoran-style Mexican spot serves the city's best queso and offers margaritas by the glass or pitcher. Try the classic marg and add fresh fruit that's blended right at the bar for a refreshing drink.
TEXAS: Rattlesnake Bar in Dallas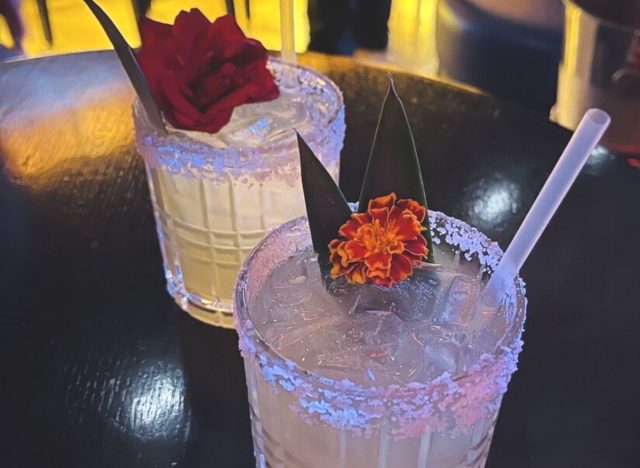 Picking the best margarita in Texas is a tall order, so we went with the fanciest margarita in town (it's hard to go wrong here). Nestled in the Ritz-Carlton, the bar's signature margarita is the definition of an easy drinker with Avion Anejo tequila,
Damiana liqueur, agave nectar, a fresh squeeze of lime juice, and a perfect salt rim.
UTAH: Red Iguana in Salt Lake City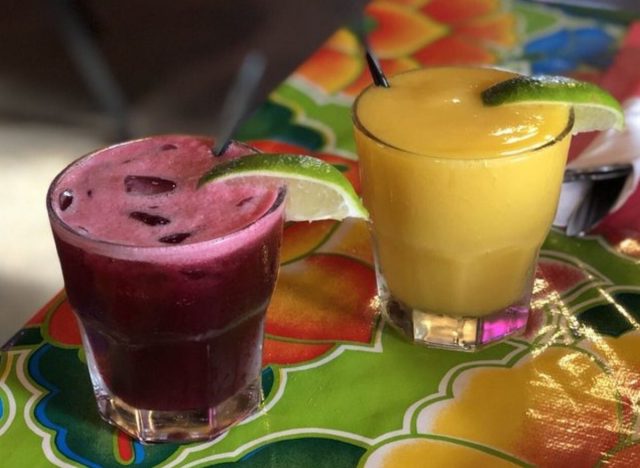 One of our top stops when we swing through the Beehive state, just pick your tequila and they'll do you up right with fresh lime juice, brandy, orange liqueur, and just a splash of simple syrup. While you're there, get any of the signature mole dishes, you won't regret it.
VERMONT: Taco Gordo in Burlington
You wouldn't think you could get great tacos and margs in Vermont, but you'd be wrong. Try the offbeat tacos, such as chicken tinga, and the fun cocktail list with classics and even a Bentley margarita made with mezcal.
VIRGINIA: Coyote Grille in Fairfax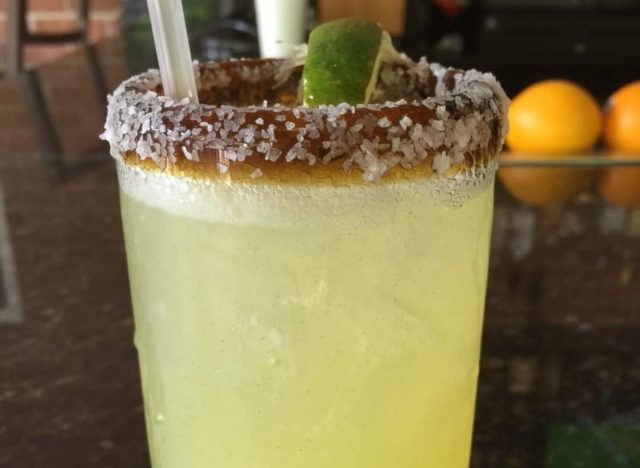 This spot for southwestern favorites is known for having an excellent patio bar that's open all year. With 15 plus margaritas on the menu, from fruit-infused to spicy, everyone's sure to find a favorite—we like the Lime in the Coconut, a rocks marg with lots of lime and coconut flavors.
WASHINGTON: El Camino in Seattle
This long-running local favorite, in business for 23 years, serves all your Mexican favorites and offers a deep margarita list. Start with the house and add a fresh fruit puree or blood orange for a tart take.
WEST VIRGINIA: Del Sol Cantina and Grill in Lewisburg
Try new twists on Latin American cuisine at Del Sol, with tacos, burritos, enchiladas, and chimichangas taking center stage. The perfect pairing? The restaurant's refreshing, popular cucumber margarita.
WISCONSIN: Café Corazón in Milwaukee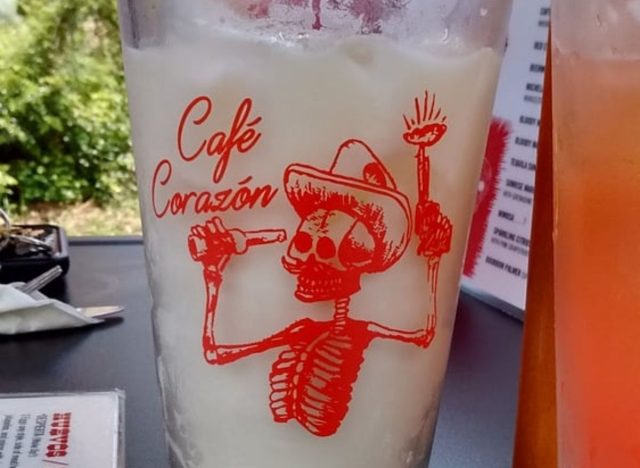 This fun, family-owned spot serves burritos and tacos with meat from the family farm. Pair them with a house margarita, served with lime over ice, for a perfect night out.
WYOMING: Hatch Taqueria and Tequila in Jackson Hole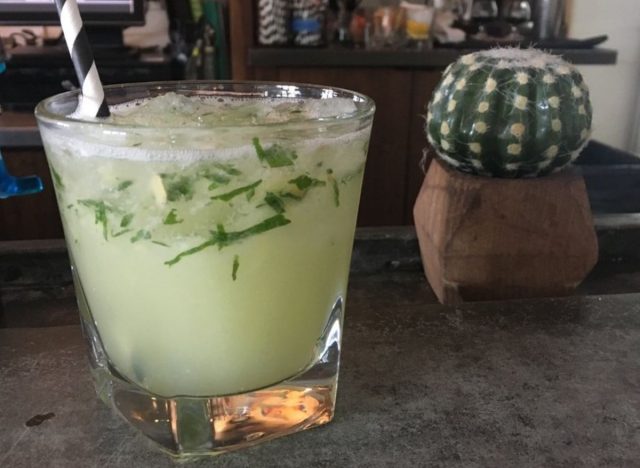 This casual bar and taqueria serves traditional Mexican cuisine, along with a margarita menu including a chipotle mango version, traditional, spicy, huckleberry, and our favorite—a mezcal margarita.
Tanya Edwards
Tanya Edwards is a seasoned food and health journalist, who has held roles at Yahoo Health as Managing Editor and at Food Network as Programming Director.
Read more about Tanya