These New COVID Habits Are Secretly Giving You "Step Debt"
Beware—they're so bad for your health.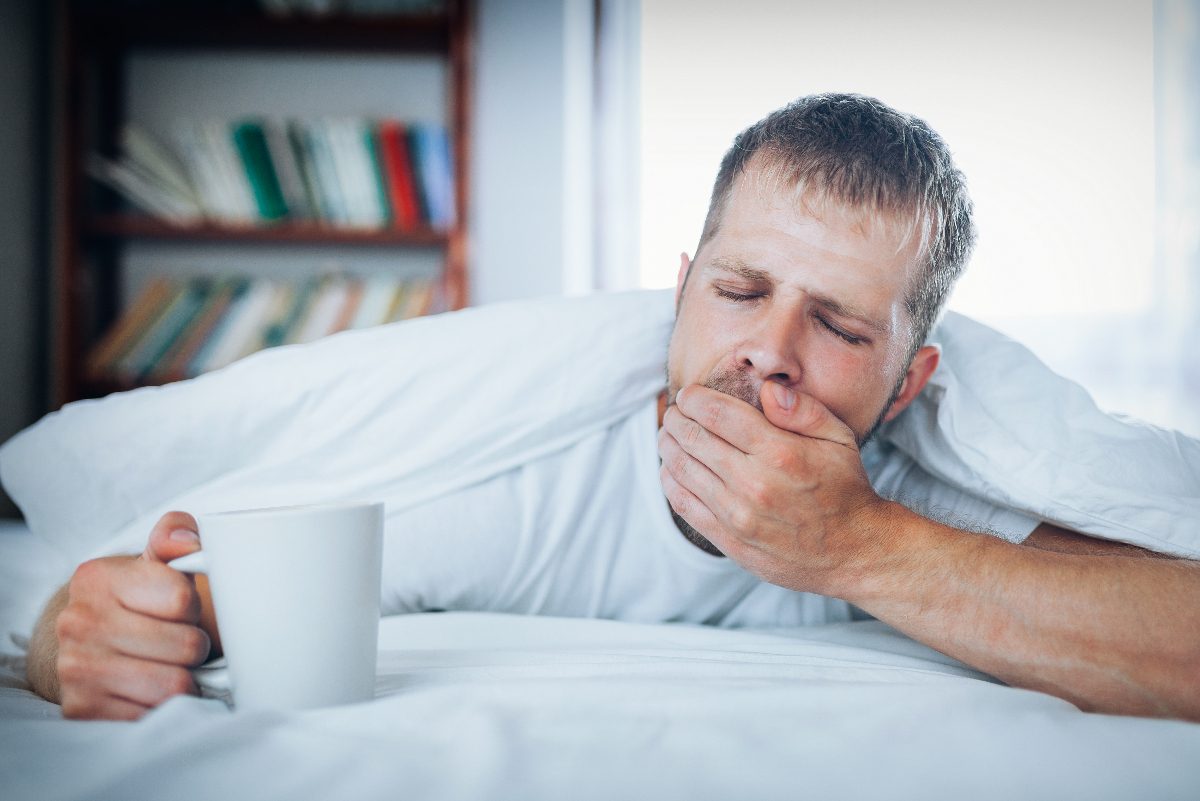 Everyone is more than anxious to move beyond life during the COVID-19 pandemic. It has definitely worn out its welcome, and "back to normal" sounds truly glorious. But no matter how much we get past the many changes the virus bestowed upon the world, many things have changed to influence lifestyles in not the best of ways. COVID life has created what's called a "step debt," which means physical activity has decreased because of the pandemic, and it's pretty detrimental to your health.
There are many great changes that occurred for some individuals during the past couple of years. For instance, quarantining enabled some families to have extra time together at home. It also provided more time to get projects done and create and enjoy more functional, enjoyable living spaces. But other deficits have developed that can negatively impact your health and wellness.
Eat This, Not That! spoke with Dr. Wesley Milks, a cardiologist and assistant professor of clinical medicine at The Ohio State University Wexner Medical Center, who explains, "The concept of step debt is how much less physical activity we may be getting these days. Many folks have changed their habits throughout the pandemic, and this can be from a variety of reasons."
Read on to learn more about these unhealthy habits that are contributing to your step debt and how to address them. And next up, don't miss The 6 Best Exercises for Strong and Toned Arms in 2022, Trainer Says.
Working from home and not commuting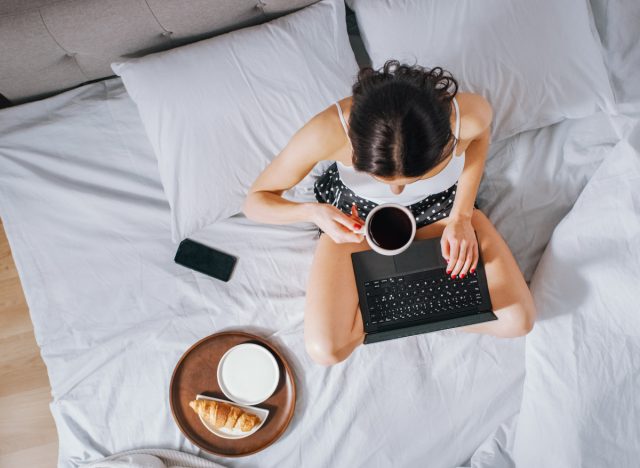 Many individuals actually enjoy the flexibility of working from their own home. Plus, it can be a great timesaver for those employees who used to commute by car or train. But beware, this tweak in your daily lifestyle can be contributing to your step debt. Dr. Milks points out, "A lot of folks accumulate steps throughout a workday in the office by walking from parking, ascending stairs, attending meetings, etc."6254a4d1642c605c54bf1cab17d50f1e
Related: 3 Quick Ways To Burn Calories Without "Exercising," Trainer Says
Spending less time exercising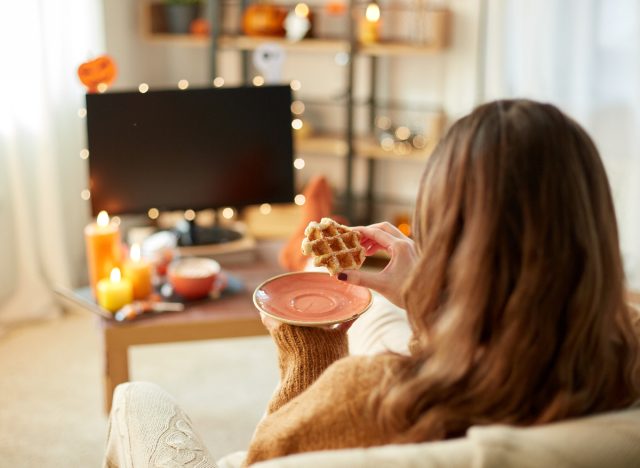 Some people stepped up their game when it came to exercising and spending time incorporating healthy habits into their daily routine during the pandemic. But in other cases, not so much.
Dr. Milks tells us, "I would say the majority of my own patients have become more sedentary throughout the pandemic, many of whom have gotten out of the habit of attending structured fitness activities like going to a gym or community fitness center." He adds, "Even if the current fear of infection has waned somewhat, the habits could remain and there may be inertia to rebuild positive habits."
Related: Lose Fat in Your Waistline With These 5 Cardio Tricks, Trainer Says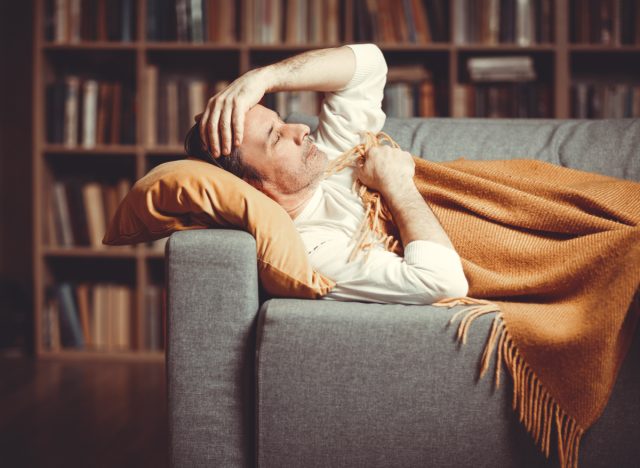 According to Dr. Milks, a percentage of patients who developed COVID-19 during the pandemic can possibly be experiencing "long COVID." Some of these cases are related to tiredness, which in turn leads to more and more sedentary behaviors.
Here's how you can address these unhealthy behaviors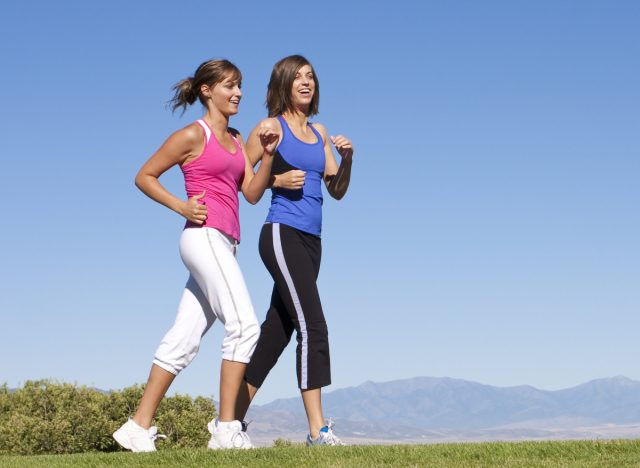 The most important thing to avoid any of these unhealthy habits is to be aware of them. Dr. Milks recommends, "Think about your daily schedule and opportunities to add activities to it. I have one patient who works from home who makes a point to do calisthenics between meetings." He also suggests, "Consider a standing desk. Make it a point to go for a walk after lunch before your afternoon obligations begin. Many ascribe to the 'structured day hypothesis,' meaning that intentional planning of one's day can lead to increased physical activity and weight loss."
Whatever you do, it's crucial to make it a point to include more activity in each day to kick that step debt to the curb. Think about getting back to the gym, where you can also socialize. Opt for an evening walk instead of watching television. Give thought to the ways "pandemic habits" have negatively impacted your routine, and see how you can make new routines to include moving around more frequently.
It's essential to be physically active in order to maintain good overall health. Dr. Milks advises, "Public health guidelines suggest that we should get 150 minutes per week of accumulated physical activity of moderate intensity, technically defined as 3-6 metabolic equivalents, which for many constitutes the equivalent of a brisk walk or moderate effort on a bicycle or aerobic exercise equipment." He further mentions, "One estimate suggests that a 10% increase in physical activity globally could avoid 1/2 million deaths every year. One suggested definition of a sedentary lifestyle is getting <5000 steps/day, although physical activity that does not involve 'steps' eg cycling or swimming should not be ignored."
A habit of being sedentary can cause many chronic health problems, including diabetes, obesity, and heart disease. It can also cause depression. "One recent randomized study showed that use of an app-based at-home exercise regimen was associated with reduced indicators of depression," Dr. Milks shares.
Alexa Mellardo
Alexa is the Mind + Body Deputy Editor of Eat This, Not That!, overseeing the M+B channel and delivering compelling fitness, wellness, and self-care topics to readers.
Read more about Alexa