Walmart and Amazon May Face More Food Delays Because of This
New lockdowns could mean packages are delivered late.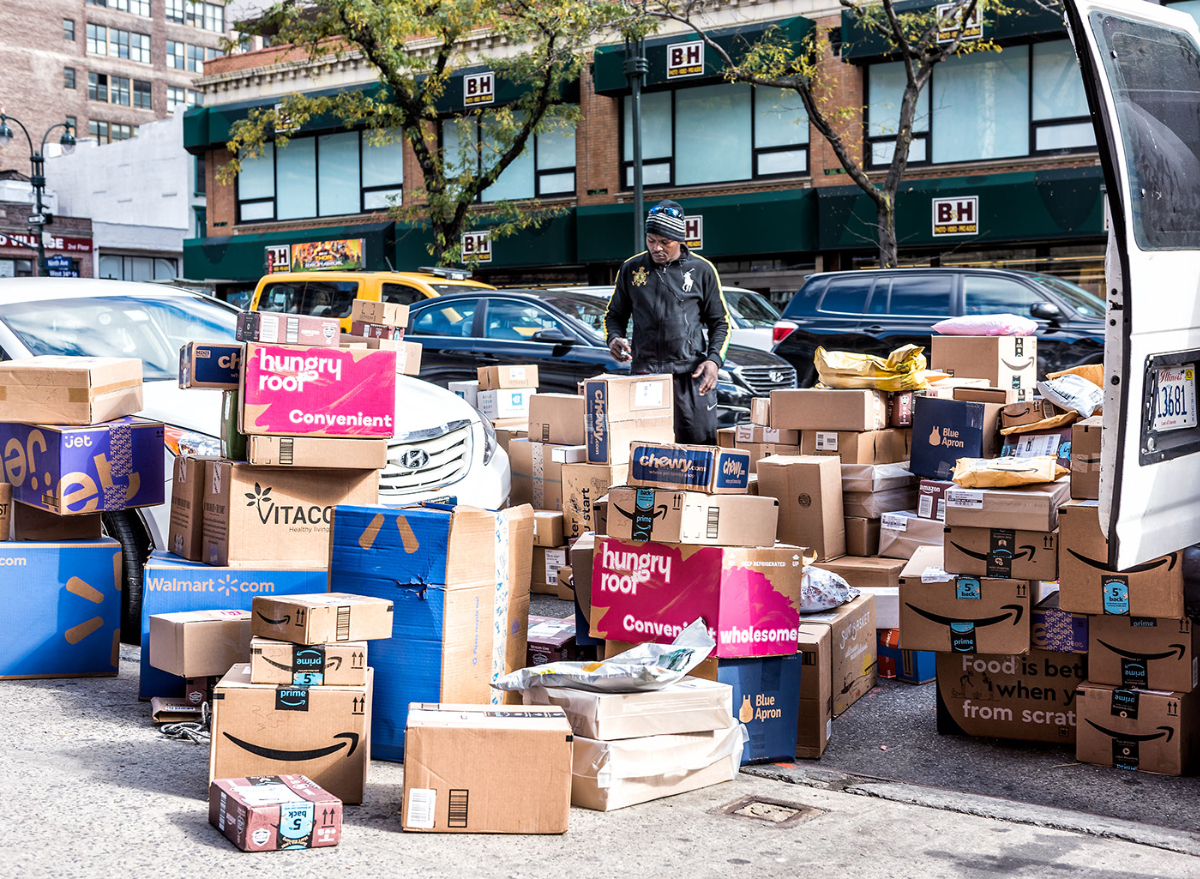 Amazon and its new digital order rival Walmart may soon face shipping delays because a rise in COVID-19 cases in one Chinese city is causing new lockdowns, industry experts say.
Shenzhen is one of the biggest shipping cities in the country and its 17.5 million citizens recently went under a lockdown, Bloomberg News says. All non-essential businesses in addition to public transportation were shut down. Some factories that require testing and have employees operate in "bubbles" are allowed to stay open, but there is no word on whether these are used by Amazon or Walmart.
Amazon has already diverted its freight to warehouses in other areas to try and prevent delays, according to Reuters. A company spokesperson said that they do not anticipate a significant disruption in business because they were able to send shipments elsewhere, but a Shenzhen local e-commerce association that works with Amazon and other companies said there would probably be some short-term impacts and packages not being delivered on time.
Although the pandemic and supply chain problems started around two years ago, issues like this are still coming up. Low-cost grocery chain ALDI is also facing shipping delays, telling shoppers that "We are experiencing shipping delays and are working around the clock to fix it. We know it is frustrating, and we are sorry for any and all inconveniences. These delays mean that…ALDI Finds may not be in store on the advertised on sale date."
Costco CFO Richard Galanti also recently admitted that "virtually all departments are impacted [by] less product and packaging challenges." To combat this, he said the company is chartering seven cargo ships to use between Asia, Canada, and the U.S.
Although shoppers may have to wait longer to get online orders, there is good news if you shop in-store—several grocery items are super cheap right now.
Amanda McDonald
Amanda has a master's degree in journalism from Northwestern University and a bachelor's degree in digital journalism from Loyola University Chicago.
Read more about Amanda