This Is America's #1 Favorite Trader Joe's Cheese
According to the grocery store's 12th Annual Customer Choice Awards! Get your charcuterie board ready.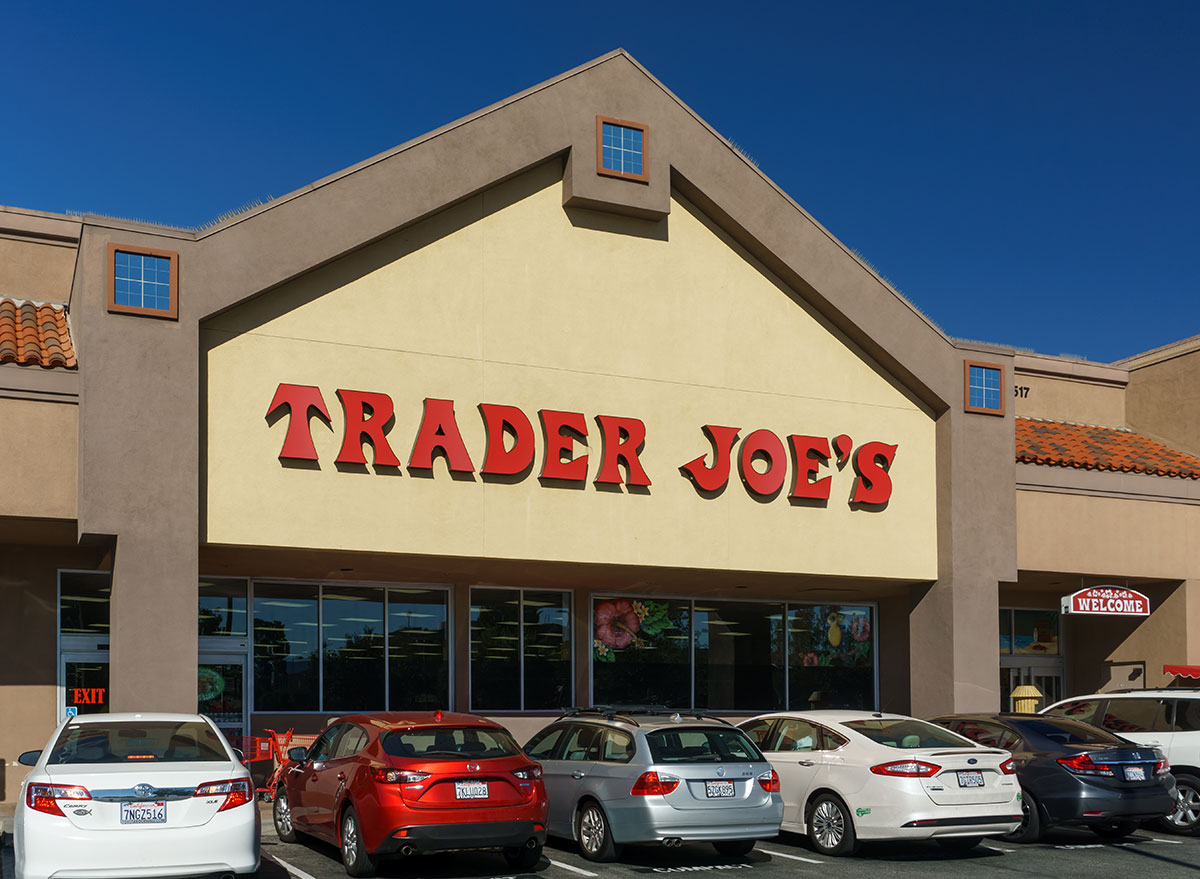 The cheese selection at Trader Joe's is second to none, so choosing our favorite would be tough. Luckily, the beloved grocery store chain's 12th Annual Customer Choice Awards winners were recently announced, and the "Favorite Cheese" category was full of cheesy winners and runners-up favorites.
Some of the other awards categories, like "Favorite Dessert," "Favorite Beverage," "Favorite Snack," and "Favorite Overall" also feature classic Trader Joe's items as well as new and/or seasonal treats.
Read on to find out exactly which cheeses sold at the grocery store chain made the top five—and which is America's #1 favorite Trader Joe's cheese! And for more, make sure to check out the Grocery Shortages to Expect in 2021.
Runner-up: English Cheddar with Caramelized Onions
This cheese elevated any dish it's featured in, according to the Customer Choice Awards. It's made in England (hence its name) with a flavor profile marked by the two distinct sweet and savory ingredients. The "blending artists mix caramelized onion marmalade into the Cheddar, giving it a balanced sweet-savory bite and pleasing onion aroma," TJ's says of its creation. "It's firm, creamy, and adorned throughout with bits of onion, just like the combination of elements to make it a darling amongst customers and Crew alike."
Runner-up: Wild Blueberry & Vanilla Chèvre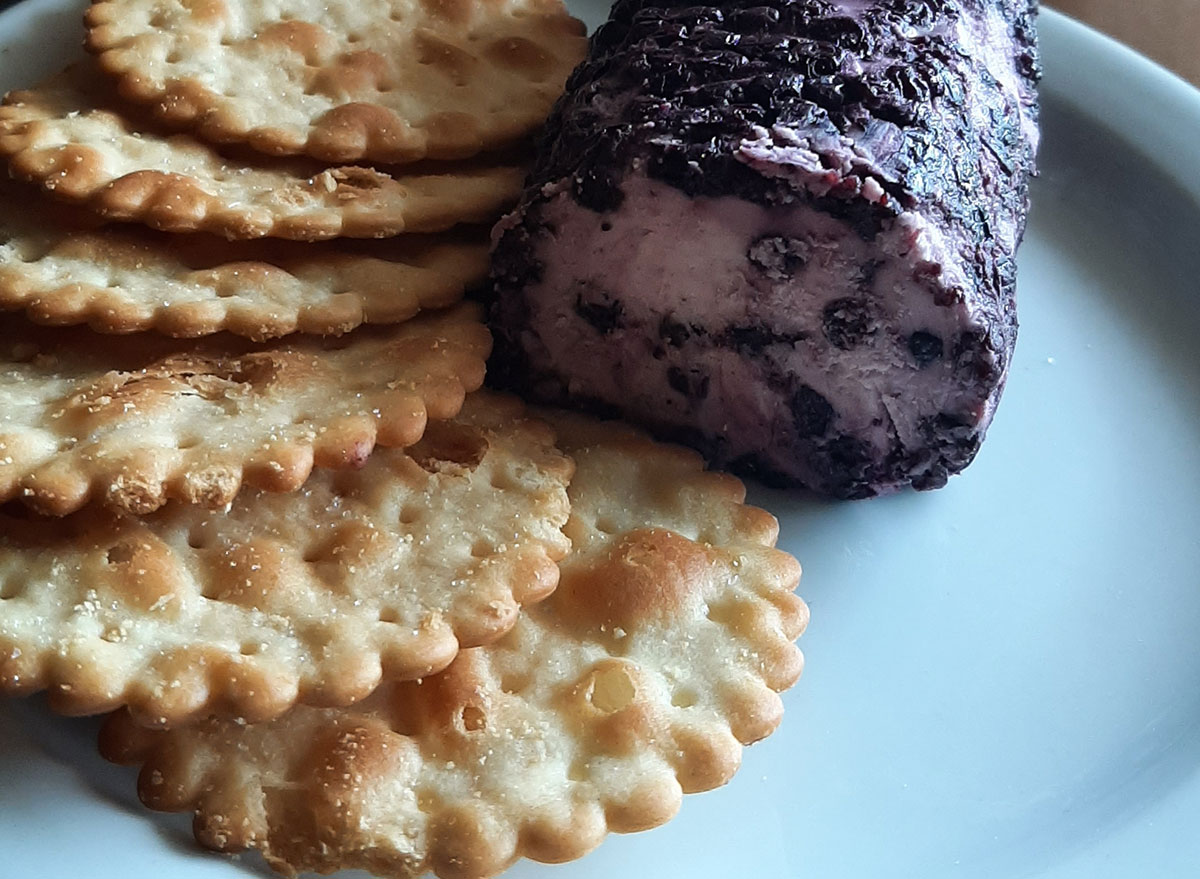 This is another cheese on the list of America's favorite cheeses from Trader JOe's that combines two flavors into one. The Wild Blueberry & Vanilla Chèvre is a soft blue goat cheese (not related to Blue Cheese, FYI) and perfect for your next Charcuterie board, as per a post from Instagram account @traderjoescheese.
"The key to this gorgeous presentation is to slice the log and then fan out the slices on your board," they say. "It helps to stick in the freezer for 15 minutes or so before slicing so that the creamy cheese holds up and doesn't crumble."
Runner-up: Creamy Toscano Soaked in Syrah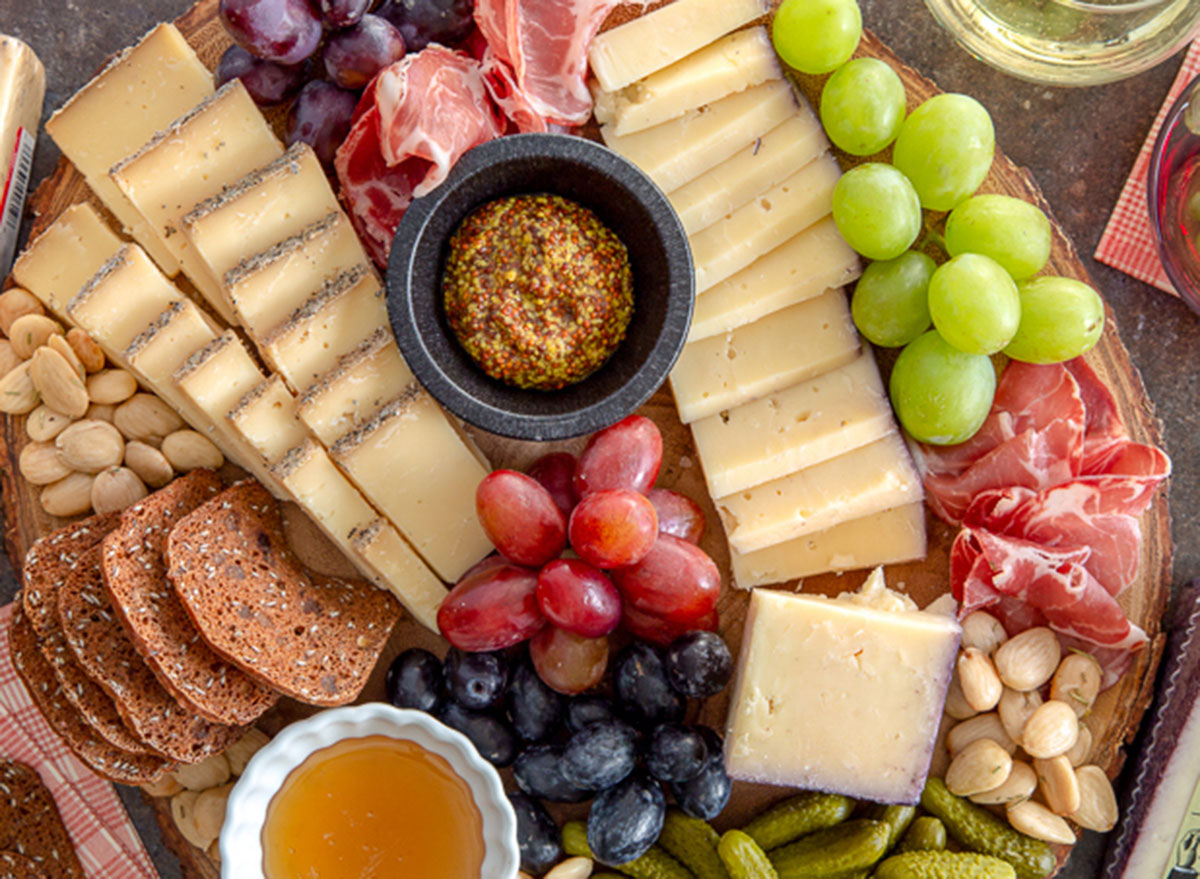 Speaking of cheese boards—this fan-favorite is also a TJ's favorite, and they recommend including it with all the other trendy additions. This Toscano variation is drenched in a Shiraz wine, giving it a purple outer hue. The grocery chain says it has jammy blackberry and plum notes, and pairs well with honey, whole grain mustard, fresh grapes, and your favorite Trader Joe's crackers, of course.
Runner-up: Baked Lemon Ricotta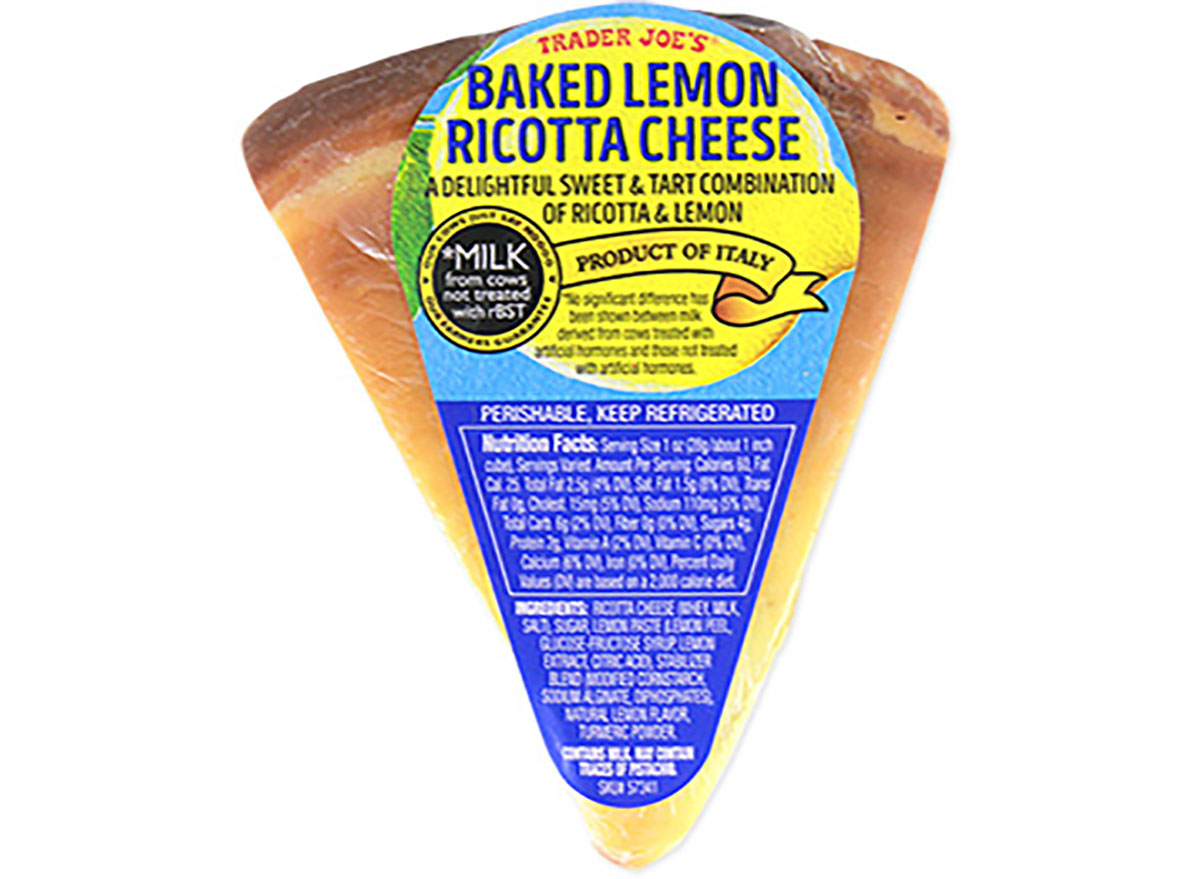 "Buttery yellow with a cheesecake-like texture and fragrant lemon notes, Trader Joe's Baked Lemon Ricotta Cheese has the power to pull double-duty in both savory and sweet applications," the grocery store chain says of this Favorite Cheese runner-up in a Fearless Flyer post. "The Italian cheesemaker blends fresh milk, salt, and whey with lemon cream (a mix of Italian lemons and sugar) and bakes the whole thing at low temperatures to achieve this cheesy, dreamy, masterpiece."6254a4d1642c605c54bf1cab17d50f1e
And the Trader Joe's Cheese voted #1 by customers is…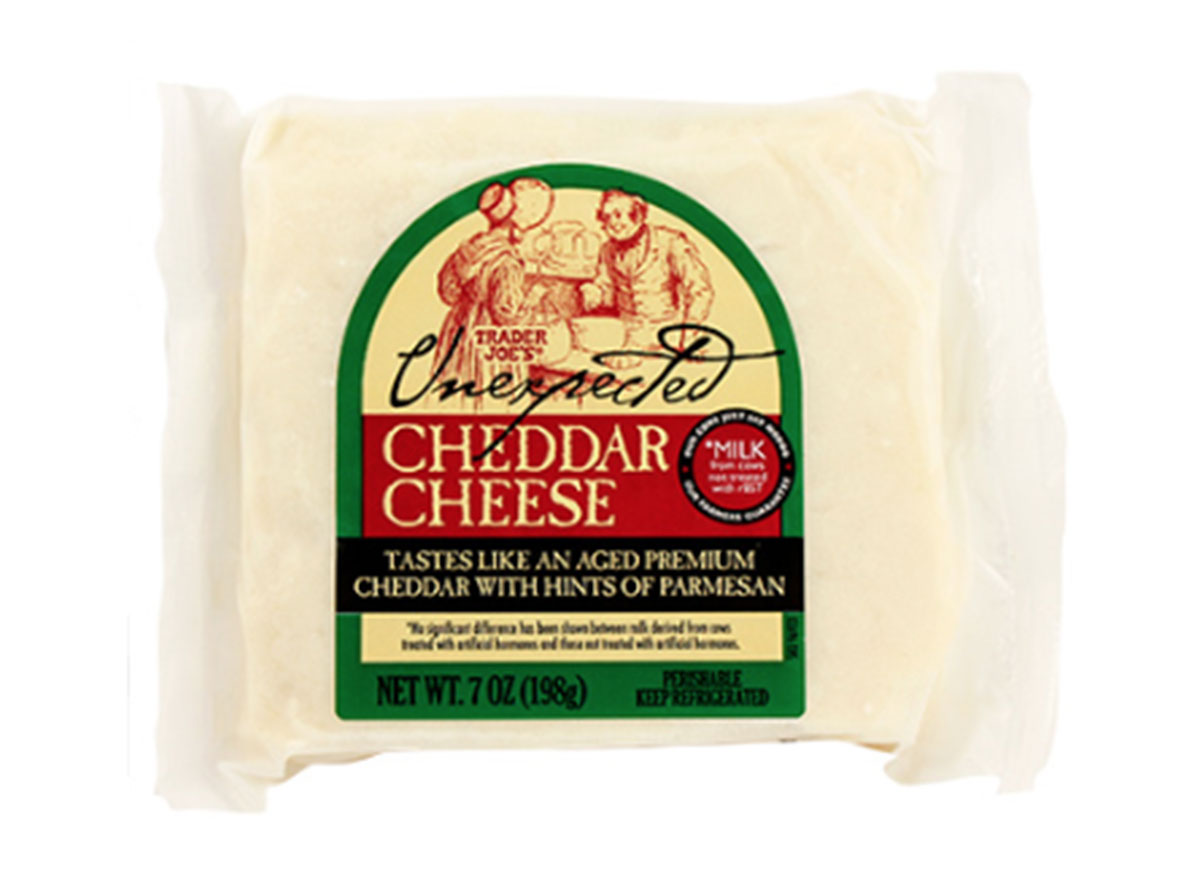 There's nothing unexpected about this cheese landing in the top spot among customer's favorite Trader Joe's cheeses. It was also a runner-up in the "Favorite Overall" category.
"At first bite, Trader Joe's Unexpected Cheddar tastes like an aged Cheddar. And then something unexpected happens," it says of the winner. "The smooth creaminess of the Cheddar gives way to a tangy flavor and slightly crumbly texture, a subtle hint of salt crystallization is discovered, and it begins to taste like an aged Parmesan. Surprising, astonishing, and unanticipated. Unexpected indeed!"
Find out exactly what to make with this or another top TJ's cheese by reading through our list of The Best Cheese Recipes.
Amanda McDonald
Amanda has a master's degree in journalism from Northwestern University and a bachelor's degree in digital journalism from Loyola University Chicago.
Read more about Amanda
More content from
Groceries