Denny's Is Now Serving Endless Breakfast
This may be the best deal around.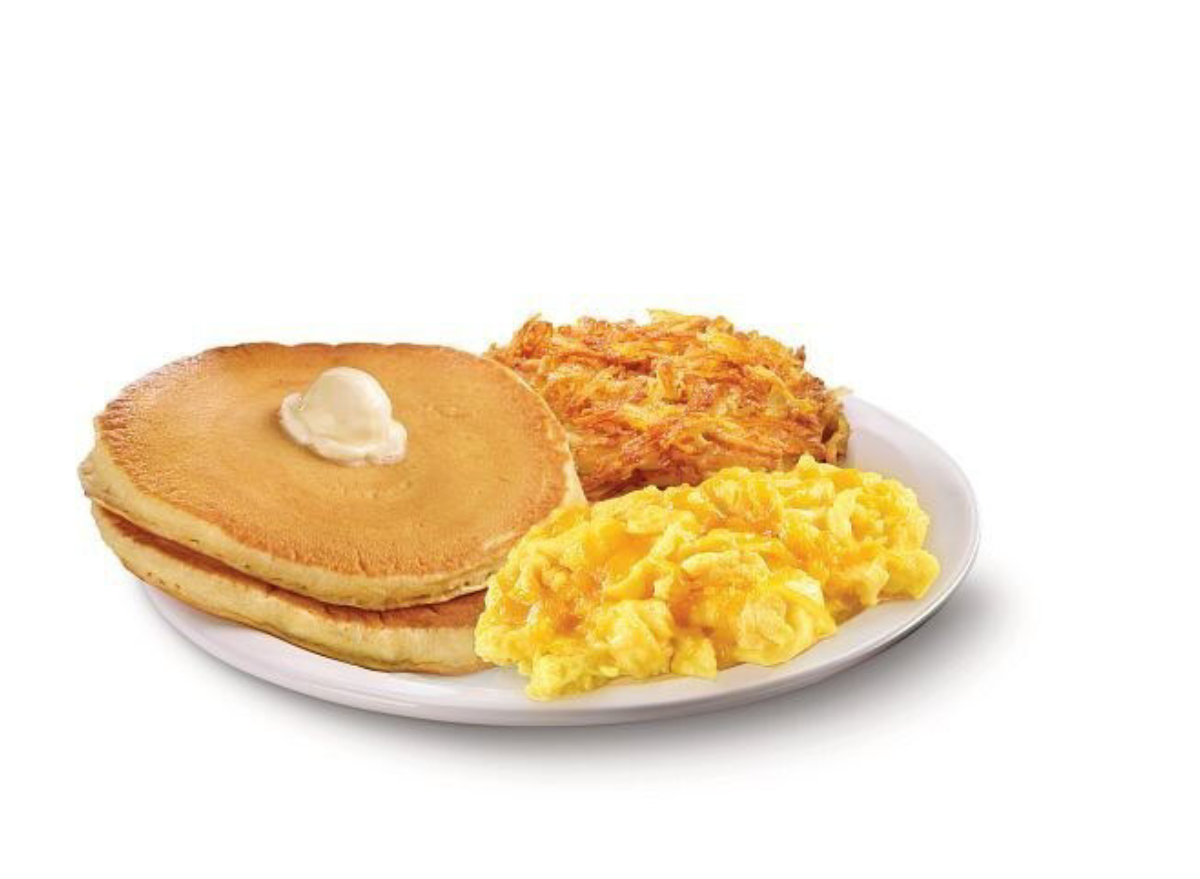 If you've ever eaten at Denny's, you know the breakfast chain offers a lot of bang for your buck. The famous Grand Slam Breakfast, for example, will get you about half of your daily calories for just $7.99.
But now, Denny's is kicking things up a notch, with a new Endless Breakfast deal. Lasting until June 21, Denny's customers can get unlimited pancakes, scrambled eggs, and hash browns for as little as $6.99 (prices vary by market). A side of bacon or sausage can be purchased for just $0.99 per serving.
Denny's is hoping the deal will offer some relief to customers struggling with ongoing inflation. In the past year, prices for consumer goods like groceries and gasoline have been steadily increasing, with inflation rates reaching a forty-year high just last month.
To be sure, buttermilk pancakes aren't going to make your gas bill any cheaper. But consumers are still looking for the best value in their restaurant meals, and this Denny's deal may just check that box when it comes to breakfast.
"Denny's is proud to bring our guests Endless Breakfast at a time when we know each dollar matters," Denny's Chief Brand Officer John Dillon said in a press release. "Quality food at great value has always been at the core of what we do and with our investments in high-quality menu items, dining at Denny's has never been better."
In 2009, the diner chain treated the whole country to breakfast, offering free Grand Slams at its more than 1,500 locations.
This time around, the breakfast isn't free. But at $6.99 for unlimited servings of flapjacks, eggs, and hash browns, it's the next best thing.
Endless Breakfast is the latest offering in the chain's ongoing Open for Anything marketing campaign, which kicked off in February with a run of celebrity meal collaborations.
Owen Duff
Owen Duff is a freelance journalist based in Vermont, home of Ben & Jerry's.
Read more about Owen