The Benefits Of Pickleball Will Make It Your Favorite Way To Get Fit
It's not just a sport—it's a lifestyle.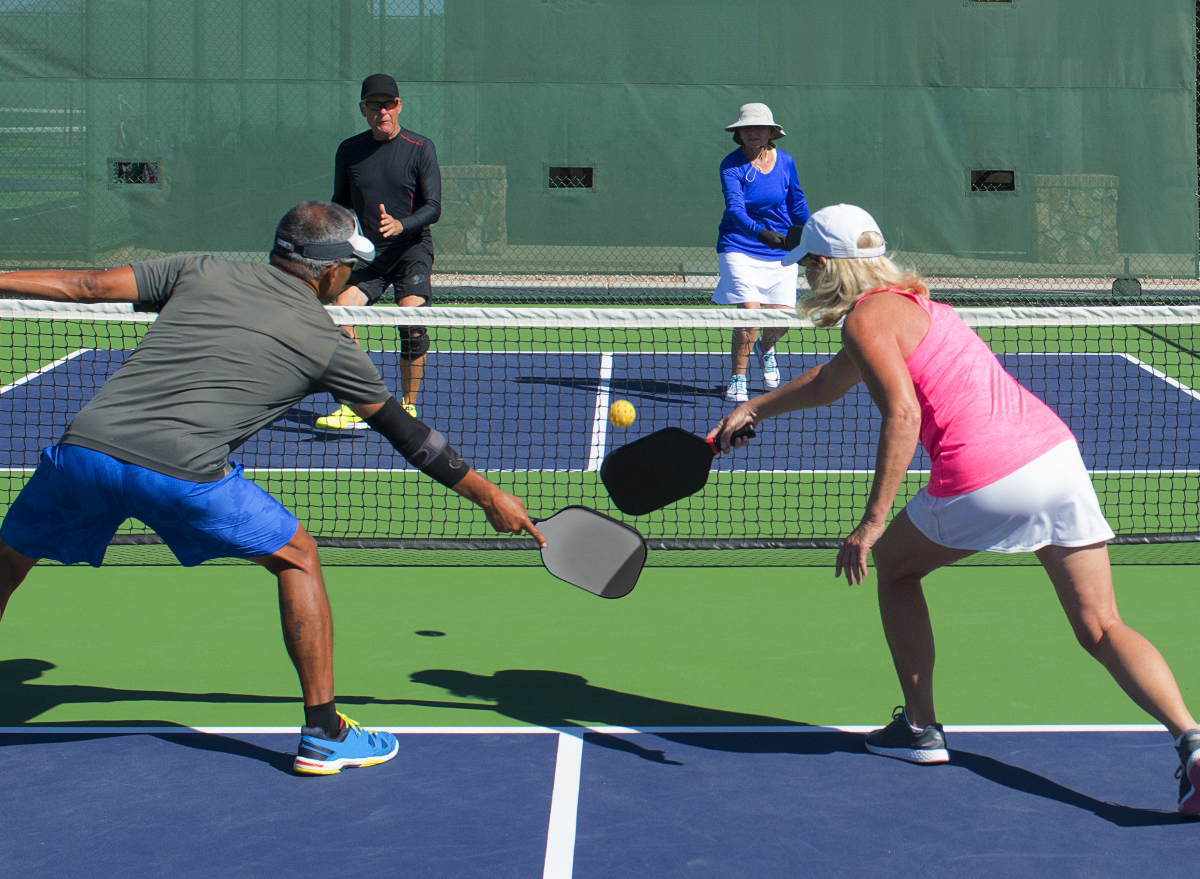 Pickleball isn't just a sport—it's a lifestyle you'll want in on. Aside from being the hottest game in town right now (the #pickleball hashtag is currently at 132.6M views on TikTok), this sport just so happens to be serving up a ton of health benefits. Not only has it been spreading like wildfire and getting everyone ready to hit the pickleball court, but it's a fun way to make some new friends or catch up with old ones. If you didn't already know, pickleball is a combination of ping pong, tennis, and badminton. In addition to a super great aerobic workout, the game provides a new social network that's proven to be life-changing for all enthusiasts of the sport.
Pickleball is incredible in improving physical fitness and fighting depression, and there are actually studies we'll discuss that prove just that. Read on to learn more about this social sport, and next, check out The 6 Best Exercises for Strong and Toned Arms in 2022, Trainer Says.
A little background info on this silly-named game
The very social game, which is said to have been named after a four-legged fur baby named Pickles, isn't new. According to USA Pickleball Association, it's been around since 1965 and was initially started by a friend group on Bainbridge Island in Washington State. The name quickly gained popularity in the U.S. and is now going global. The sport has attracted as many as 4.8 million picklers (yes, pickleball players have a name!) in the country in 2022, a 39.3% increase since 2020.6254a4d1642c605c54bf1cab17d50f1e
Pickleball is governed by the USA Pickleball Association. The association manages the regulations, handles tournaments, and player ratings.
Related: Speed Up Belly Fat Loss In Your 50s With These Exercises, Trainer Says
It will give your immune system a solid boost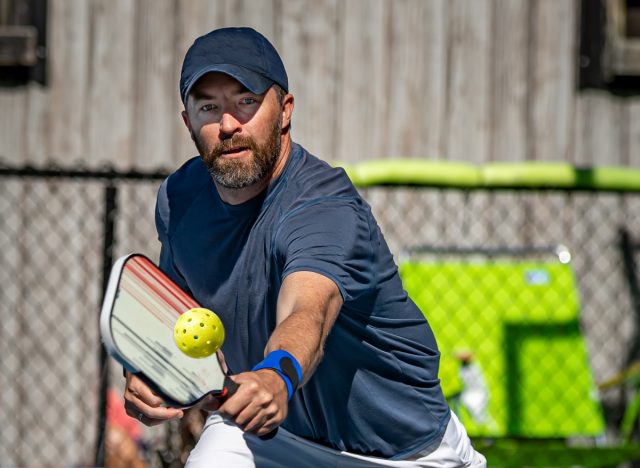 The social fun that comes along with playing the swift movements will keep you active while strengthening your immune system. You'll be less prone to diseases and infections, too. The game requires much coordination, which will take both your mental and physical fitness to new levels.
It can help you avoid certain heart conditions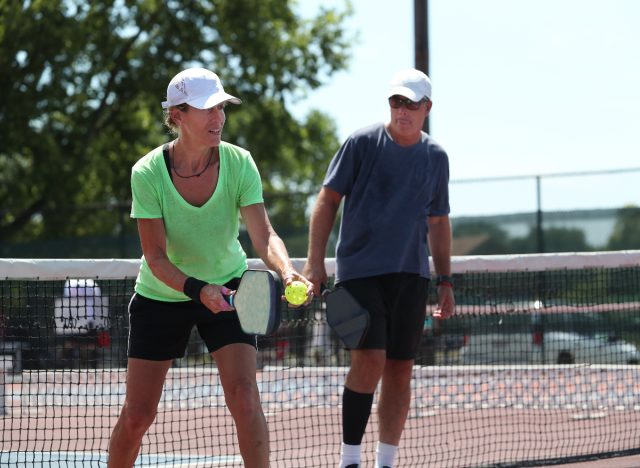 We're not done serving up these secret side effects of the game, so keep your eye on the ball. This activity is a complete game-changer and can help you avoid many heart conditions including stroke, hypertension, and heart attack. Pickleball will also get your endorphins pumping, which will lift your spirits and make you feel so great.
Related: "Unhealthy" Workout Habits To Quit In Your 60s, Trainer Says
It can better your cardiorespiratory fitness and blood pressure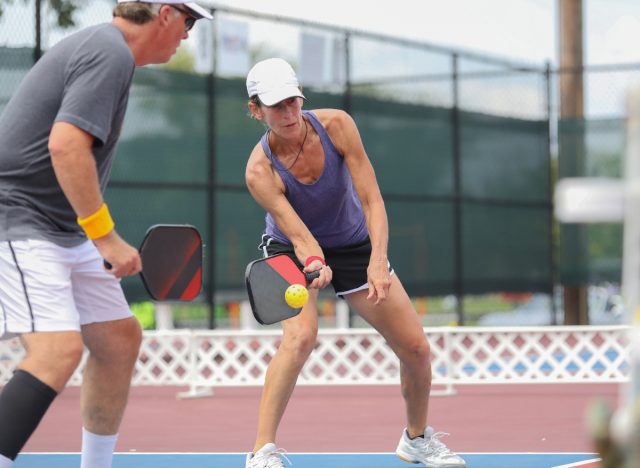 The International Journal of Research in Exercise Physiology published a study performed by Western State Colorado University (via AARP). Researchers studied 15 picklers who were around 50 years old and older and participated in the sport regularly. Over a six-week period, the individuals played three times each week for 60 minutes. The players were found to have enhanced cardiorespiratory fitness and blood pressure. In fact, the observers noted that this moderately intense workout, in addition to the "fun factor" it provides, make it a really great form of physical activity for people in this age group.
It can decrease depression and improve your mood
Additionally, the journal Leisure Studies published a study done in Japan that involved 153 mature pickleball tournament competitors (via AARP). The researchers categorized the sport as "serious leisure," adding the health benefits, including decreased depression levels. The study concluded the social aspect of this new phenomenon is a big contributor to one's overall health.
Related: The 5 Best Floor Exercises To Increase Your Visceral Fat Burn, Trainer Says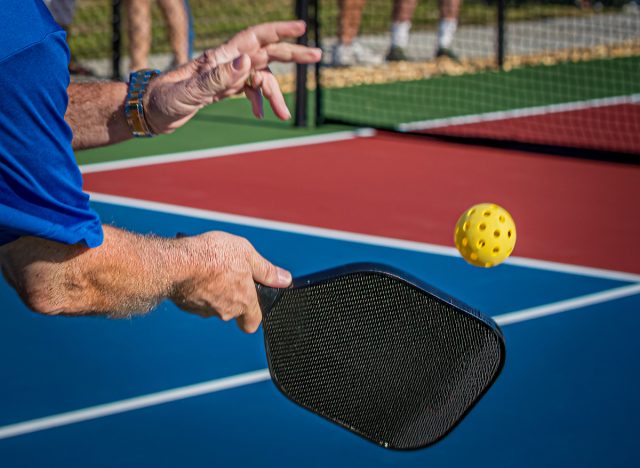 A pickleball court is smaller than a tennis court, making it easier for the ball to remain in play for longer periods. Hence, you can achieve more exercise in every 11-point game. With a smaller play area, that means less work on your joints, including ankles, hips, and knees, and less stress on your arm muscles and tendons because of an underhand serve, according to Medical Univerity of South Carolina. Unlike tennis, pickleball is played with a paddle and a soft ball that has holes in it.
How you can get started playing pickleball today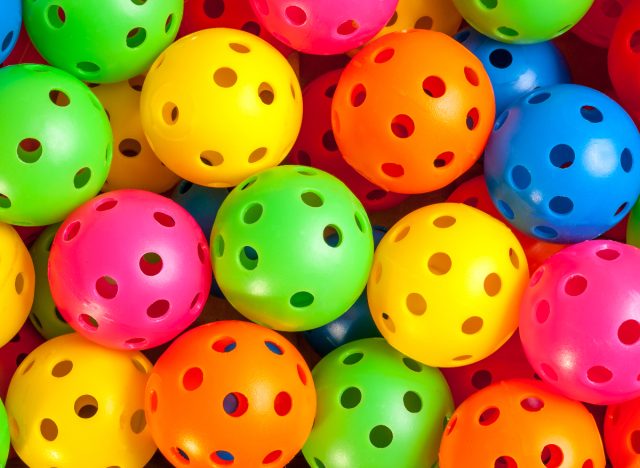 How can you get started? All you need is a paddle, a few balls, and some friends (via Pickleballer). But don't worry about the friend part, as you'll be sure to make many. The health benefits of all racket sports are truly endless.
Alexa Mellardo
Alexa is the Mind + Body Deputy Editor of Eat This, Not That!, overseeing the M+B channel and delivering compelling fitness, wellness, and self-care topics to readers.
Read more about Alexa