We Tried New Seasonal Fast-Food Items, and This Is the Best One
'Tis the season to indulge—that's how the saying goes, right? Bells are ringing, children singing, and if you're choosing to celebrate the holidays with copious calorie consumption, we're not here to judge.
Neither, apparently, is the fast-food industry. As is more or less a festive tradition at this point, fast-food chains big and small have released their specialty holiday menu items. The specifics of these limited-time offers vary, but they all have one thing very much in common: sugar. Lots of it.
Hopelessly lured by the jolly marketing promos and the way anything with red and green sprinkles on it seems to guarantee cheer, I decided to make it official with this season's holiday treats and sampled the best of the best from the 2021 lineup. I present you with a ranking of the merriest menu items currently on the market.
For more, check out We Tasted Every McDonald's Dessert and This Is the Best One.
Shake Shack's Christmas Cookie Shake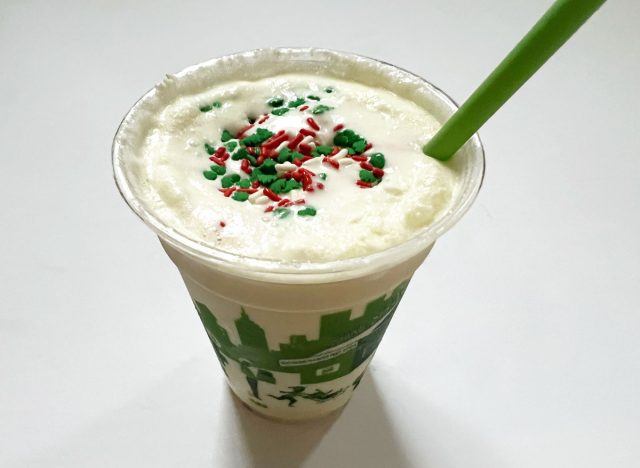 Shake Shack's Christmas Cookie Shake is about the tinsel, not the taste. The red and green, festively-shaped sprinkles make for an appealing look, and when they inevitably fall into the shake, they add a nice bit of crunch. However, that occasional texture is not enough to bring this shake any higher up in the ranking. It's absolutely decadent and very apparently made with heavy cream, but verges on being too sweet, even for a holiday treat.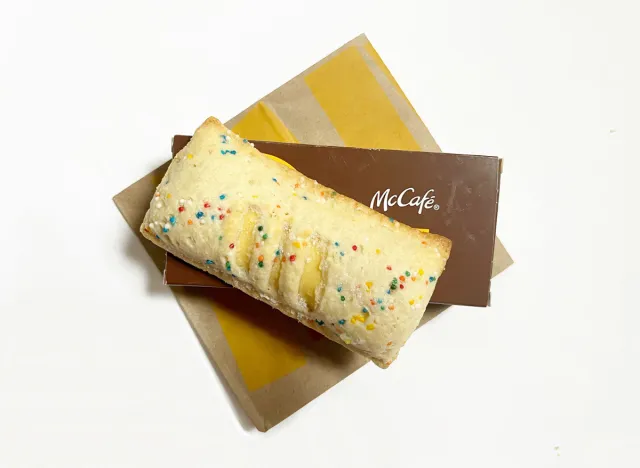 People love the holiday pie. Every year, when Mickey D's rolls it out, fanfare ensues. I was excited to taste what the hype was all about, and on some level I get it. Regardless of flavor, it's fun to order this rainbow-sprinkled specialty. However, when it comes to actually evaluating the pie itself, I have to be honest—it's just mediocre. From the outside, it's great: the pie crust smells exactly like a sugar cookie and is delightfully crunchy. But by the time you get to the cream, you might be disappointed. It's bland and has a questionable texture which is more slimy than anything else. There's a slightly bitter aftertaste, too. My take? Eat it for the pie crust, but skip out on the filling.
Dunkin's Holly Berry Sprinkles Donut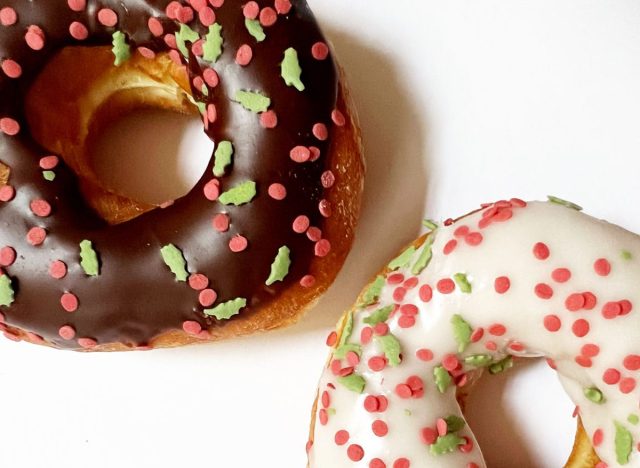 Christmas is certainly a time for classics, and there is perhaps nothing more classic than a glazed, sprinkled donut. Dunkin' releases a version of these bad boys annually, and as is the case every time around, they are perfectly predictable and good. The glaze is just thick enough, the sprinkles are scattered to provide the ideal crunch level, and the donut itself is cakey and light. The Holly Berry donut lands squarely in the middle of my roundup because while it is dependable and solid, it's not the most innovative.6254a4d1642c605c54bf1cab17d50f1e
IHOP's Winter Wonderland Pancakes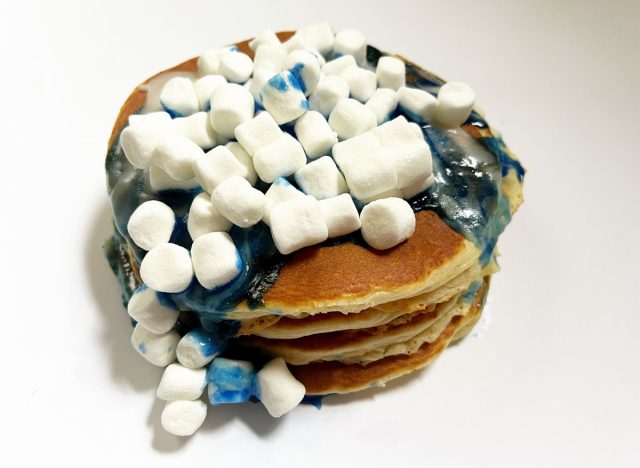 Speaking of interesting, these pancakes might be as interesting as it gets. Blue-goo icing and marshmallows on top of a stack of pancakes? Seems like the brainchild of Buddy the Elf himself. Which is why I was surprised by how delicious they were. The overarching flavor here is, obviously, sweet. The marshmallows are an interesting texture to pair with pancakes—there's a lot of fluff happening, but somehow it works. The blue icing has a tangy taste that surprised me in the best way possible, and even though ultimately this stack is absurdly sticky and sugary, I would definitely order again.
Starbucks' Reindeer Cake Pop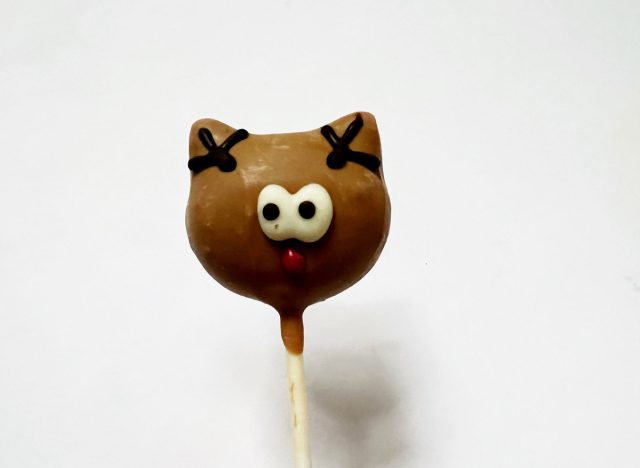 Here it is, the number one holiday treat of the season. And honestly, look at it: would you expect anything less than first place for this adorable little cake pop? Appearance aside, Starbucks has truly nailed this one. The ratio of chocolate icing to vanilla cake is perfect, and you get a bit of texture from the harder frosting that's used for the eyes and nose. The drawback, of course, is that this reindeer pop is so precious that it almost feels inhumane to eat. When you do dig in though, it's worth every bite.
For more, check out the 108 Most Popular Sodas Ranked By How Toxic They Are.