We Tasted 8 Bacon Brands & This Is the Best
This surprising pick was the perfect balance of crispy, chewy, sweet, and salty.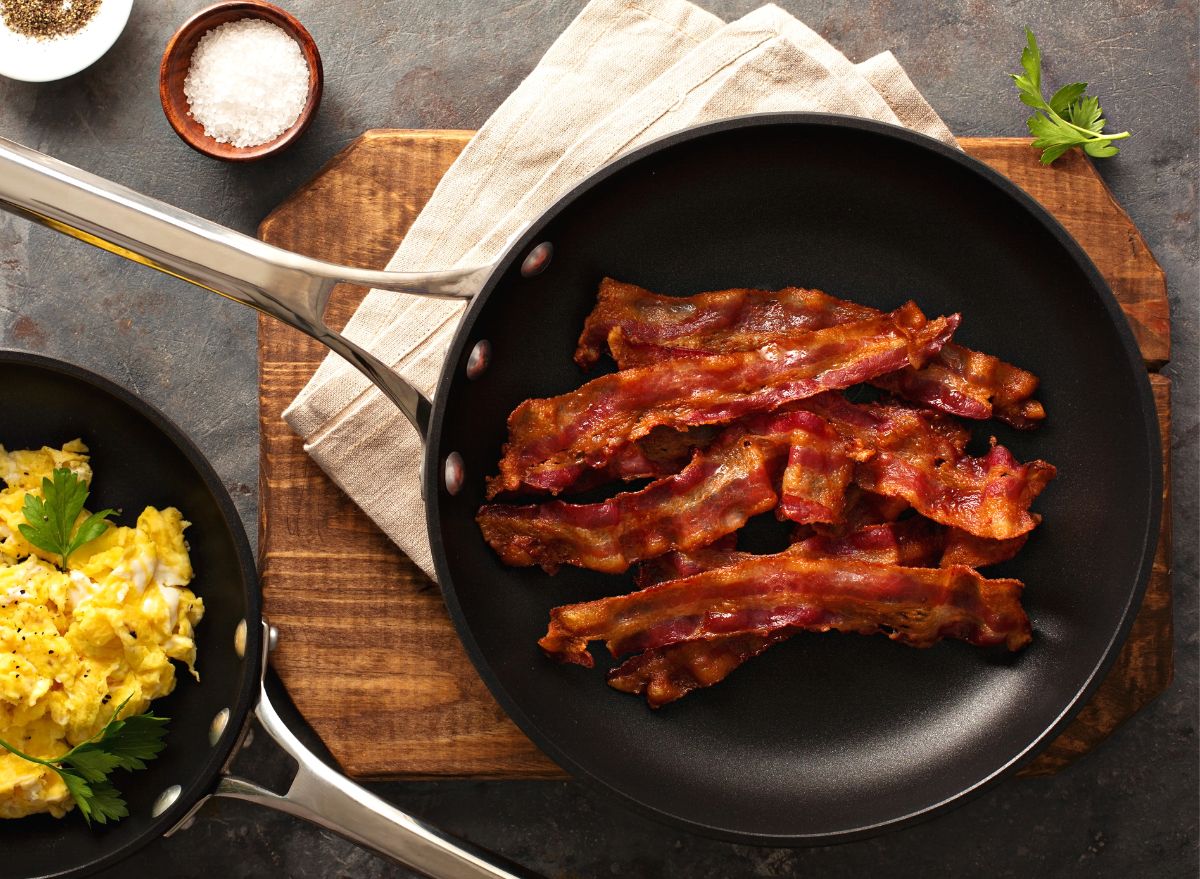 Fact: Bacon makes everything taste better. While traditionally viewed as a breakfast food, bacon is also at home on a perfect BLT for lunch or wrapped around something for dinner.
Bacon is a truly versatile food that carnivores have revered for ages. It's also one of those foods that elicits an emotional connection for many people. The smell of frying bacon is one of the most recognizable scents in the kitchen and can be intensely nostalgic. As a result, many people use the brand that their mothers used, but is that really the best-tasting bacon on the shelves? With a small team of tasters, we set out to determine which brand was actually the best.
We tried 8 different brands and baked them into a 375-degree oven–truly, the best way to cook bacon–until they were perfectly cooked and crispy. Our taste-testing crew had a good balance of those who preferred meaty to crispy bacon, so the bias didn't skew in either direction.
Here are the brands we tried:
Applegate No Sugar Uncured
Boar's Head Traditional
Greenfield Applewood Smoked Uncured
Hatfield Applewood Smoked Bacon
Hormel Black Label Thick Cut
Jimmy Dean Premium Bacon
Oscar Meyer Center Cut – Naturally Hardwood Smoked
ShopRite Thick Sliced Bacon
Read on to see which surprising brand took the title of the best-tasting bacon in America! And then, don't miss We Tasted 8 Hot Dog Brands & This Is the Best.
Plus, don't miss These Are Costco's Most Popular Items Right Now.
Greenfield Applewood Smoked Uncured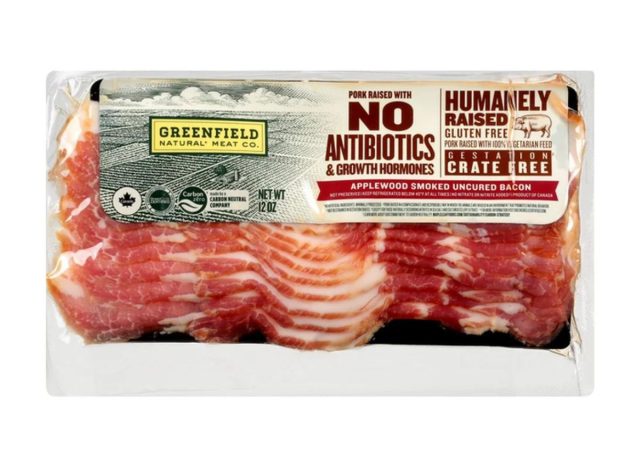 Coming in last was the bacon from Greenfield which, in the end, suffered most from an inconsistent slice. The Greenfield was not bad—none of these bacons were bad—but it was so thin that it became brittle in spots and chewy in others rather than the perfect combo of meaty, fatty, and crispy. Most tasters thought it had a nice flavor and balanced salt, though one said it wasn't sweet enough to counter the saltiness.6254a4d1642c605c54bf1cab17d50f1e
Applegate No Sugar Uncured
The Applegate bacon had the opposite issue, it was far too thick resulting in a meaty bacon that didn't achieve crispy edges. One taster found it "hard to chew" and another said it "tastes like a steak" which isn't optimal for a breakfast bacon. This bacon would be good in a soup or a stew where crispness isn't important because the flavor was nice and beefy. If you like a chewier bacon, this could be one to try.
Hatfield Applewood Smoked Bacon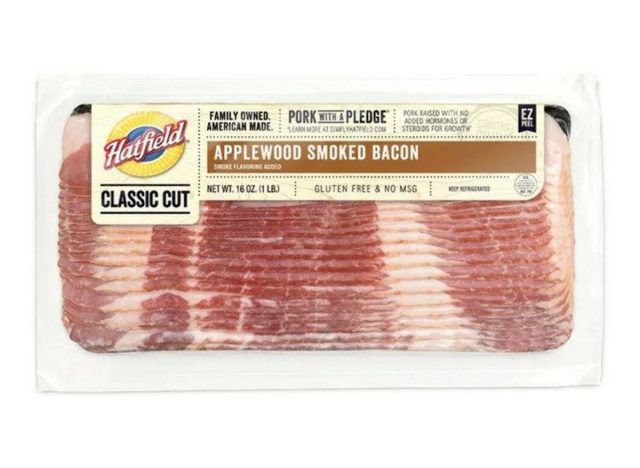 The Hatfield slice suffered from a lack of overall flavor. One taster praised the fattier nature of this bacon while another thought it was too greasy. It was very middle-of-the-road in all other ways, being "moderately crunchy," "a little chewy," and "somewhat bland." In the end, it didn't have a "wow factor" that would keep the tasters coming back for another bite.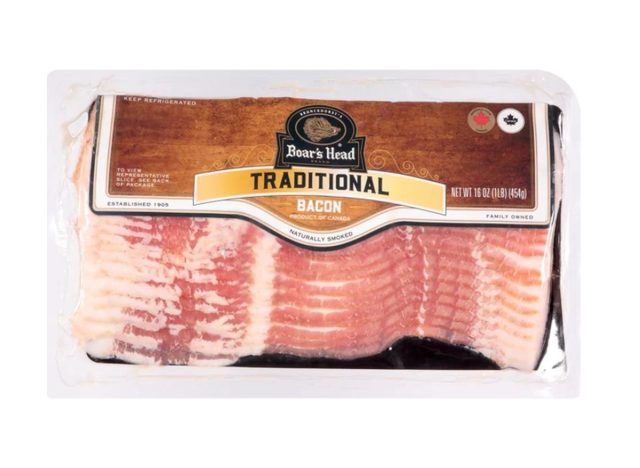 If you expected Boar's Head to be up higher in the list considering its premium price, you wouldn't have been the only one. The Boar's Head bacon slice did not peel easily from the bunch of bacon, slightly tearing and fraying as it was removed. It was not as thick as even the thinner sliced bacons on the list. This thin cut resulted in a crispier bacon with less fat that had a "different and appealing" taste to one taster. The bacon had a good level of salt and a good taste, but the imperfections with cut seemed to drop it a few spots in the list, but it still landed solidly in the center of the pack.
Hormel Black Label Thick Cut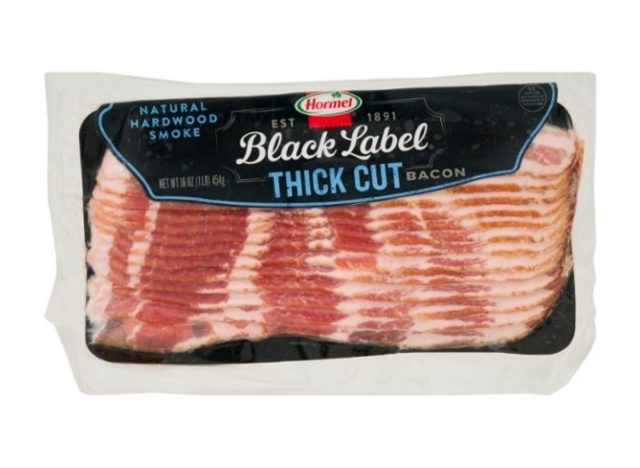 The Hormel bacon didn't wow the tasters with texture, but the flavor boosted it just over the Boar's Head. Most tasters found it rich in flavor with strong maple or molasses undertones. One thought it was the perfect balance of salty and smoky. It suffered from a lack of fat which made it slightly chewier than the favorite bacons to come. It was crunchy without achieving the desired crispiness, which was probably because it had too little fat and too much meat.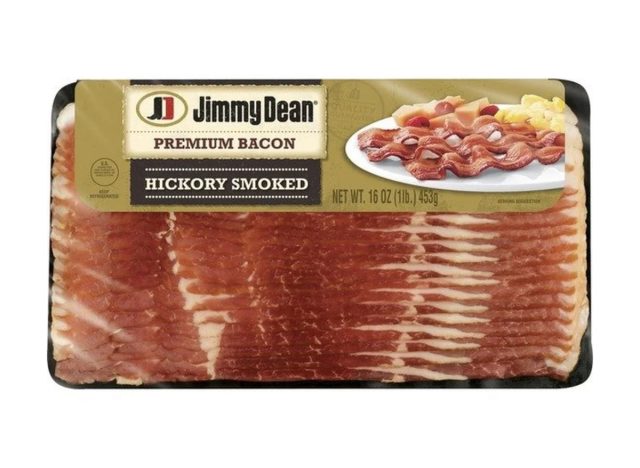 Most tasters adored the flavor and texture of the Jimmy Dean bacon. The slice cooked up very consistently throughout, resulting in a good balance of meaty, crispy, and fatty. One taster thought it was a bit too crunchy and suggested it could use more "chew." Another gave it high praise by noting that it "tastes like bacon."
Oscar Meyer Center Cut – Naturally Hardwood Smoked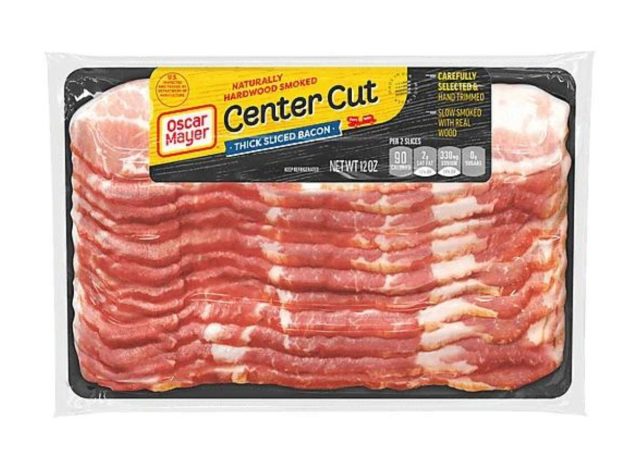 If this is your momma's brand, you're not alone. According to Statista, more Americans choose Oscar Meyer Bacon than any other brand. And, it appears there's a good reason. This is good stuff! The bacon cooked up into a crunchy, salty, chewy slice that had a hint of sweetness and smokiness. It was balanced in all ways, with perhaps a slightly chewy center. It had that "melt in your mouth" quality that a perfect breakfast bacon should have while still having some bite to it.
ShopRite Thick Sliced Bacon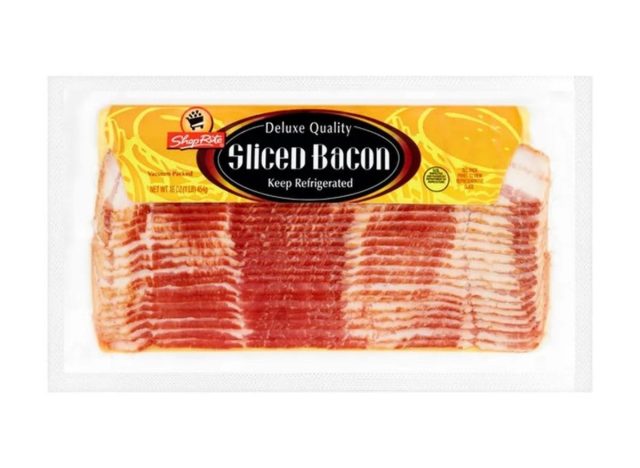 Say what?! Yeah, we were shocked too. Most of the tasters thought this bacon was the Oscar Meyer brand because of the perfect rendering and spot-on texture–though one was not fooled. Like the Oscar Meyer, the balance of crispy, salty, and chewy made this slice hard to stop eating. The "shattering crunch" and "melt in your mouth" flavor melded into the perfect slice for the majority of the tasters. "I would never stop eating this, and that would be a problem," gushed one taster. While you have to, obviously, go to ShopRite to grab the ShopRite-brand bacon, the moral is don't be afraid to try your local supermarket's store brand. Sometimes you end up pleasantly surprised!
Plus, check out more of our exclusive taste tests: