8 Eating Habits Blake Lively Swears By to Stay in Shape
What the Met Gala's 2022 co-chair eats regularly to keep herself looking radiant.
Hands down, Blake Lively topped the Met Gala best-dressed list last night. The actor, who was co-chair of the event along with her husband, Ryan Reynolds, as well as Lin-Manuel Miranda and Regina King, stunned as her copper-hued dress inspired by the Statue of Liberty transformed into a teal gown decorated by the same constellations you'll find painted on the ceiling of Grand Central Terminal in New York City.
While we can go on for days about her gown alone, it's also worth mentioning that the founder of the newly-launched non-alcoholic mixer brand, Betty Buzz, looked gorgeous, healthy, and confident as she floated up the stairs of the Met. It really made us wonder: "what's the secret behind how the 34-year-old keeps herself looking radiant?"
The actor's love of food, fitness, and cooking is well-documented on social media and in interviews, so we combed through the archives to find out exactly what eating habits Lively swears by to keep her happy and healthy. Read on to find out what they are, and for more on how to eat healthy, don't miss The #1 Best Juice to Drink Every Day, Says Science.
She doesn't drink alcohol.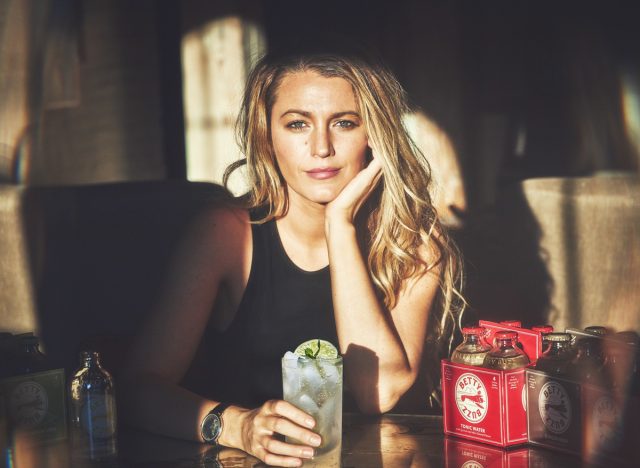 It may sound surprising to hear that Lively doesn't drink considering her husband, Ryan Reynolds, is the former co-owner of Aviation Gin, but it's true that the actor has sworn off booze. "I don't drink because I don't like the effects of alcohol, but I like being a part of it," she told People. "I like being social. I like people coming together. I found that sometimes not drinking, the thing that was interesting was that it was a little alienating because you don't feel—and maybe it's just in your own head—but you just don't really feel a part of it."
Although alcohol doesn't have a place in her diet, Lively recently launched a non-alcoholic sparkling mixer business, Betty Buzz. She explained that the motivation for the launch of the company stemmed from many years of mixing but not drinking cocktails, when "it became clear mixers are the unsung heroes of the drink world and deserve just as much love as alcohol."
She eats breakfast.
A tip that many registered dietitians recommend, Lively starts her day with a glass of water and a healthy breakfast. For breakfast, "Blake might make herself a couple of eggs cooked in coconut oil, and she might throw some fresh vegetables in there," Lively's long-term trainer, Don Saladino told Cosmopolitan. Depending on the day, Lively may even supplement her egg breakfast with some gluten-free oats and fruit. Saladino notes that having breakfast helps Lively balance her sugar levels, keeping her full for longer and giving her energy to tackle the day. And when it comes to brunch, you'll often see her ordering eggs benedict, as she revealed in a Vogue 73 Questions interview.6254a4d1642c605c54bf1cab17d50f1e
She eats four small meals a day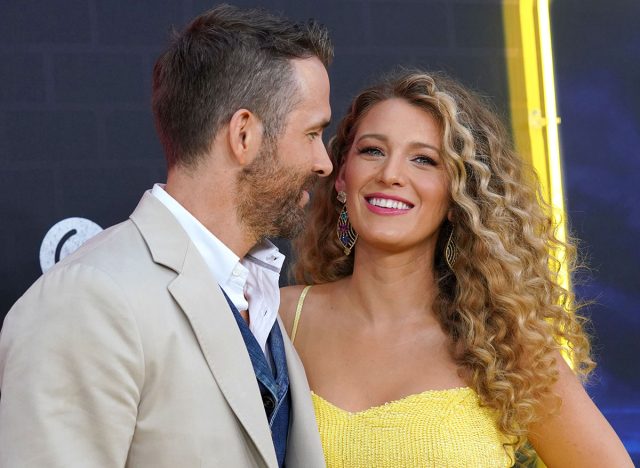 When Lively was training for The Shallows back in 2015, Saladino recommended that Lively consult with a nutritionist who encouraged Lively to eat four small meals a day. Eating regularly throughout the day can help manage blood sugar levels and keep your appetite in check, lowering the risk of over-eating during meals.
Her meals are well-balanced.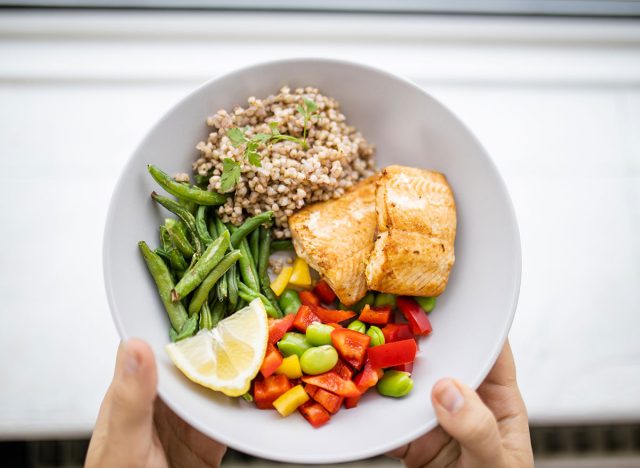 "We made sure that her meals were well-balanced. She had a protein, a vegetable, and a slow-burning carb," Saladino told PEOPLE. "We tried to give her enough so that she wasn't stuffed, but she was comfortable."
She eats mostly slow-burning carbs.
Unlike what you'll read about many celebrities' diets, Lively's still contains carbohydrates. As long as you eat the "right" type of carbs, "complex" carbs, these types of foods still deserve a place in your diet as they're the main source of energy for your body. Specifically, Lively enjoys carbohydrate-containing foods like sweet potatoes, gluten-free oatmeal, and fruit—all of which contain high levels of digestion-slowing fiber. "If you're gonna have something like sweet potato or fruits, which are high in micronutrients and high in fiber, these are the foods that are going to help really fuel our bodies, and they're powerful foods," Saladino told E! News when discussing Lively's diet.
She makes her food at home as much as possible.
Although she certainly has the means to do it, Lively doesn't have a private chef. "She cooks a lot of her own stuff," Saladino says. "She really enjoys the kitchen."
She eats high-quality, whole foods.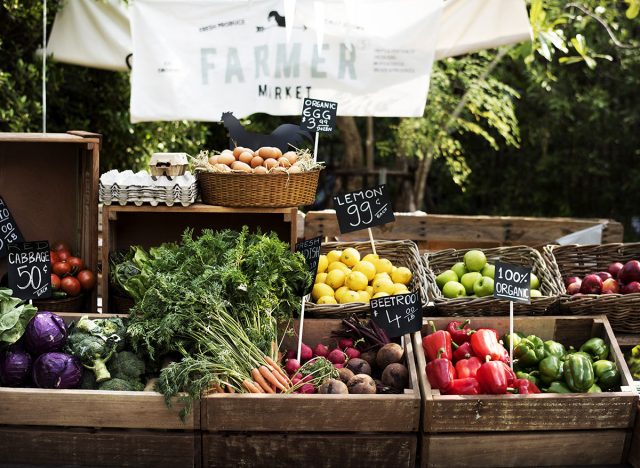 You won't see too many processed foods in Lively's pantry. "She and Ryan really enjoy shopping at farmers' markets, and they pay really good attention to the things they put into their body," Saladino says. It's no wonder that her new line of mixers from Betty Buzz doesn't use any artificial colors or sweeteners.
She doesn't restrict herself.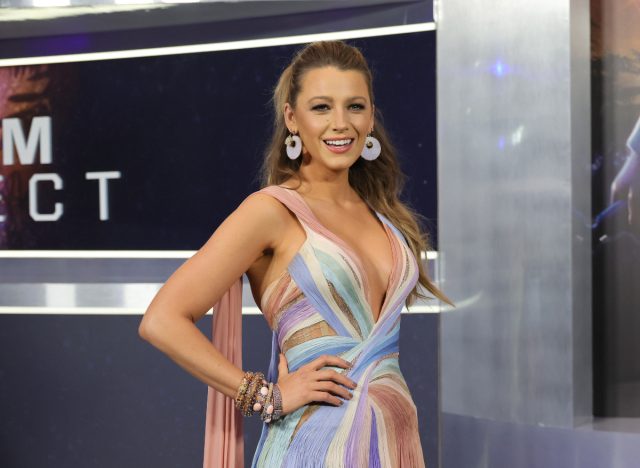 At the end of the day, Lively enjoys the foods she wants to enjoy—even comfort foods and sweets! She's been known to indulge in boxed mac and cheese (one of our favorite new products, Goodles), and has also posted more than one photo on Instagram of her enjoying sweet treats from cupcakes to macarons. She also mentioned to Vogue that her favorite dessert is chocolate souffle, and if she was up at 4 a.m. on a Saturday night, it would only be because she'd be baking cookies. Invite us over, Blake?
Olivia Tarantino
Olivia Tarantino is the Managing Editor of Eat This, Not That!, specializing in nutrition, health, and food product coverage.
Read more about Olivia